Seattle, WA
Seattle
Monster Energy AMA Supercross Championship
Jason Weigandt also contributed to this report.
It's been said that when it's your year to win, things just seem to go your way, and that's certainly proving to be true for Cooper Webb. The Red Bull KTM rider finished off the podium, saw his main title rival, Marvin Musquin, win the race, and should have had his fourteen-point lead cut in half. Yet somehow he still managed to escape Seattle with a fourteen-point lead over Musquin. But wait, how is that even possible? Let's dive into this weekend's Saturday Night Live to find out.
Early in the 450SX main event there was a midair collision, and Chad Reed and Justin Brayton went down hard, prompting a medical flag for several laps. On one of those laps Musquin, who was leading the race, slowed for the yellow flags but failed to keep his wheels on the ground for the medical flag, which is a violation of the rules. The rulebook, which was changed after Ryan Dungey did the same thing several years ago, states that Musquin is allowed to keep the win (which is important in the event of a possible tie at the end of the season), but is penalized points and purse equal to two positions in the final results, plus an additional two points. Since Musquin won, his penalty is a loss of seven points, leaving him with nineteen points on the night, which also happens to be the exact number of points Webb earned with his fourth-place finish. How crazy is that?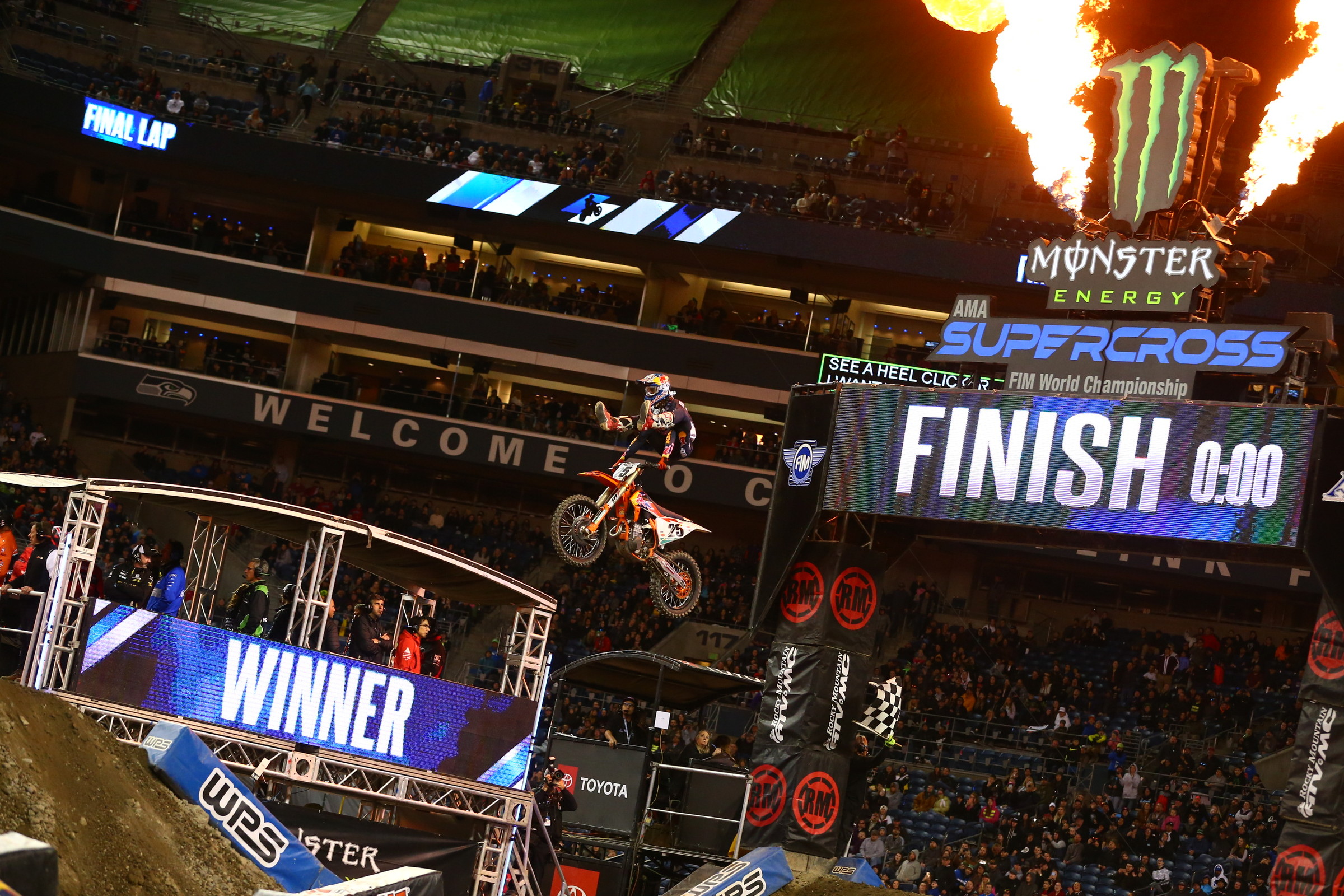 "I know what I did wrong, no excuses," said Musquin. "I was leading and obviously when you're leading on the first lap, I was going for it, and yeah, I saw the yellows, and I made a mistake and I did slow down but still I did jump. Nothing I can do now. Right after that I was definitely slowing down and not knowing what to do. Right after that Kenny was catching me and right behind me, but I rode a really solid main and I was happy with my riding, can't take that away."
Musquin feels like he's been riding well lately, the only major difference that kicked off his recent two-race win streak is better starts.
"Good starts, and to be out front like that, you just have to put everything together. Obviously the last few weekends before this I wish I had passed the guys in front of me, and I think I was going faster than some of them, but anyway that's the past. I was looking forward to this weekend and getting two in a row. It's far from done so I'm looking forward to more."
If you're wondering what happened to Brayton and Reed, the news isn't great. Afterward we spoke with Brayton, who was on crutches, and while nothing is confirmed, he fears he tore ligaments in his knee. When we checked in on Reed, his team told his he's looking at a possible broken arm and ribs. Like Brayton, nothing's confirmed yet but Reed did take a trip to the hospital after having difficulty breathing.
Several other riders had rough nights too, although not to the same degree as Brayton and Reed. Justin Barcia, whose body is still beat up from his crash several weeks ago that caused him to miss several rounds, had a pair of crashes, one in his heat and one in the main, and was riding in pretty obvious pain. He was rolling sections and even got lapped. Not the night he was hoping for, but he should be back at it again next week in Houston.
The hits weren't limited to the 450SX Class either. Colt Nichols went down hard early as he was exiting a rhythm section and was unable to rejoin the race. We talked to him after and he doesn't have any broken bones or serious injuries that he's aware of, but the damage to his championships hopes is irreversible. Mathematically he's still in it, but his chances are now slim at best.
"I'm not really sure what happened. I'd been doing that section all day the same and I thought I did it the same that time, but apparently not," Nichols said. "I just came up a little short on that second triple and caught something on my thigh. I don't know if it was the bar or the footpeg or something, but I had a little laceration on my thigh. We were worried I'd done something to my femur but it's fine. Just a little bruised up but other than that we're good to go."
Shane McElrath rode in qualifying but didn't end up racing. Why, you ask? So did we, and were told that he'd hurt his back in Atlanta on press day and reinjured it last Monday. After a visit to the doctor and taking some time off he tried riding Thursday and today. It reportedly got worse and worse, prompting him to get an injection before the final practice session. Unfortunately it didn't work and his back locked up on him. It's unlikely we'll see him race any more supercross races this year. But if there's an upside for McElrath, he won't point out this year, as he almost certainly would have had he raced in Seattle.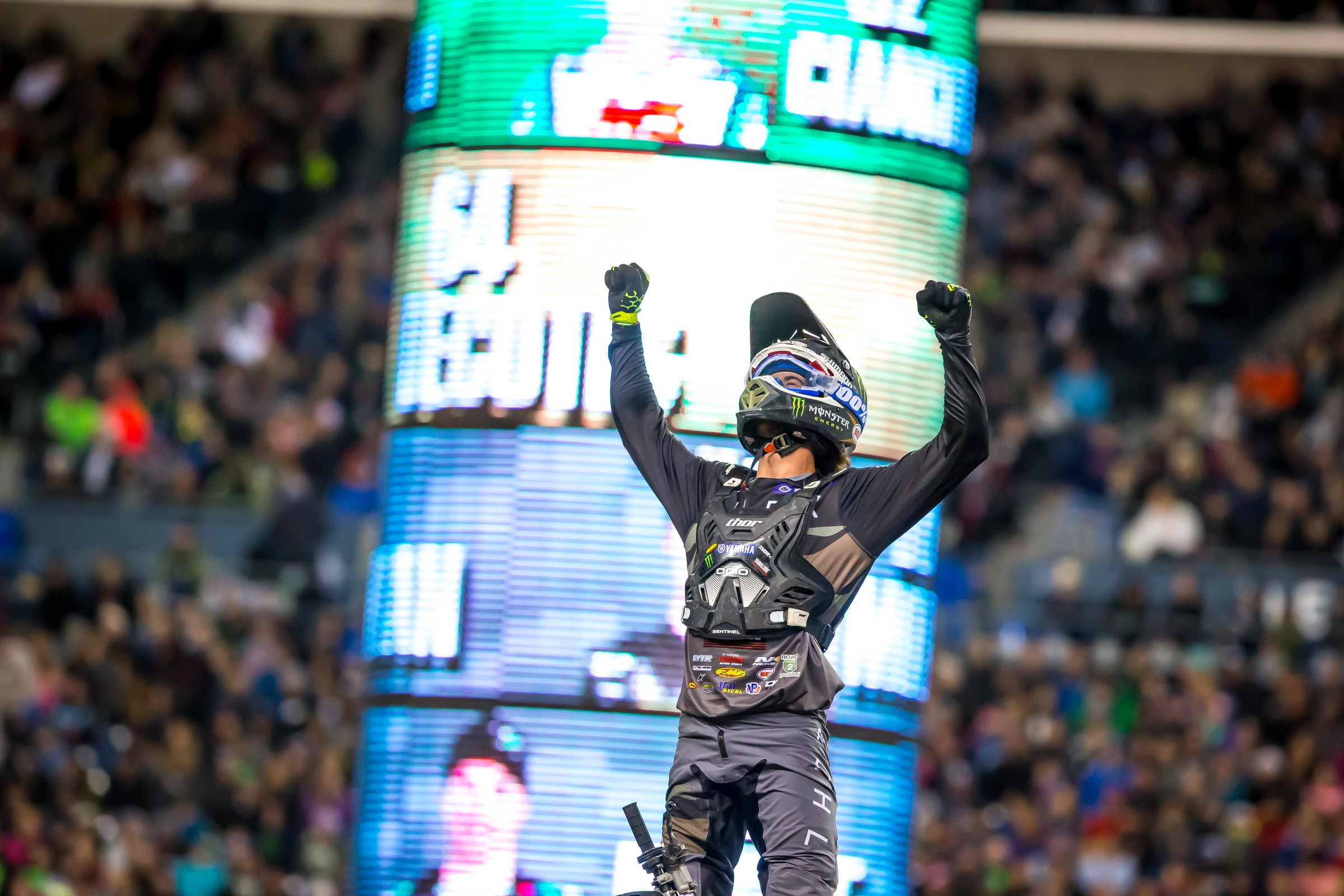 Finally, in the world of doom and gloom, Jacob Hayes hurt his left hand when trying to put a move on Garrett Marchbanks. As Hayes was coming into the corner Marchbanks started washing out and the two collided. Hayes had crashed several weeks ago and hurt his left hand then, and when he went down with Marchbanks he worsened an injury he was already struggling with. He'll get it checked out during the week, which will dictate his status for Houston.
Of course, it wasn't all bad. Ken Roczen, who hadn't been on the podium since Arlington, put in strong ride for second place in Seattle.
"I'm just happy with how I bounced back this weekend," said Roczen, who was out of the top five at the last two races and cited in a Honda press release that he's feeling run down and out of energy lately. "I started feeling better on Friday, started going uphill a little bit. I told Oscar [mechanic] I felt a lot better today than I did last week, but as of today I don't have any test results so I have to kind of wait it out and see what we learn this week."
Roczen saw Musquin jump through the red cross section, but he wasn't into stirring up any drama over it.
"As it happened I noticed it, but honestly I had the whole main ahead of us, and even when I went over the finish line I forgot about it until someone said something to us," Roczen said
Eli Tomac ended up third, although he was nowhere near the leading duo of Musquin and Roczen, and nearly got zapped by Cooper Webb, who took fourth on the night. It's the first time the Red Bull KTM rider hasn't been on the podium since the mud-fest in San Diego, and it's the first time this season he's gone three races in a row without winning.
"All year my starts have been good but tonight I didn't execute," Webb said in his post-race television interview. "Once I started doing that I started making some passes. Yeah, fourth place, those guys rode great tonight and straight up outrode me. We'll make some changes and come back."
Supercross
| Position | Rider | Hometown | Points |
| --- | --- | --- | --- |
| 1 | Cooper Webb | Newport, NC | 379 |
| 2 | Eli Tomac | Cortez, CO | 361 |
| 3 | Marvin Musquin | La Reole | 350 |
| 4 | Ken Roczen | Mattstedt | 319 |
| 5 | Blake Baggett | Grand Terrace, CA | 290 |
Full Standings
In 250 action Dylan Ferrandis broke through for the first win of his 250SX career in America.
"Three years in America and I finally get my first win, it was really long but I finally did it," Ferrandis said. "It was not easy because I am always getting a bad start and having to come to the front. Tonight I took a good start and my teammate crashed in front of me and I took the lead. I just was leading the main and it was new for me a little bit. I tried not to make mistakes and right clean, AC [Adam Cianciarulo] was on my butt and it was a good battle—really challenging for me. I think for the future this is going to help me a lot. I finally did it, I've been dreaming of this for a long time, and now that I did it I think it can help me for the future races, I can be more relaxed a little bit. We'll see."
Adam Cianciarulo was second, but kept Ferrandis within striking distance for most of the race, although Ferrandis was able to stretch the lead out briefly a few times as the two came through traffic.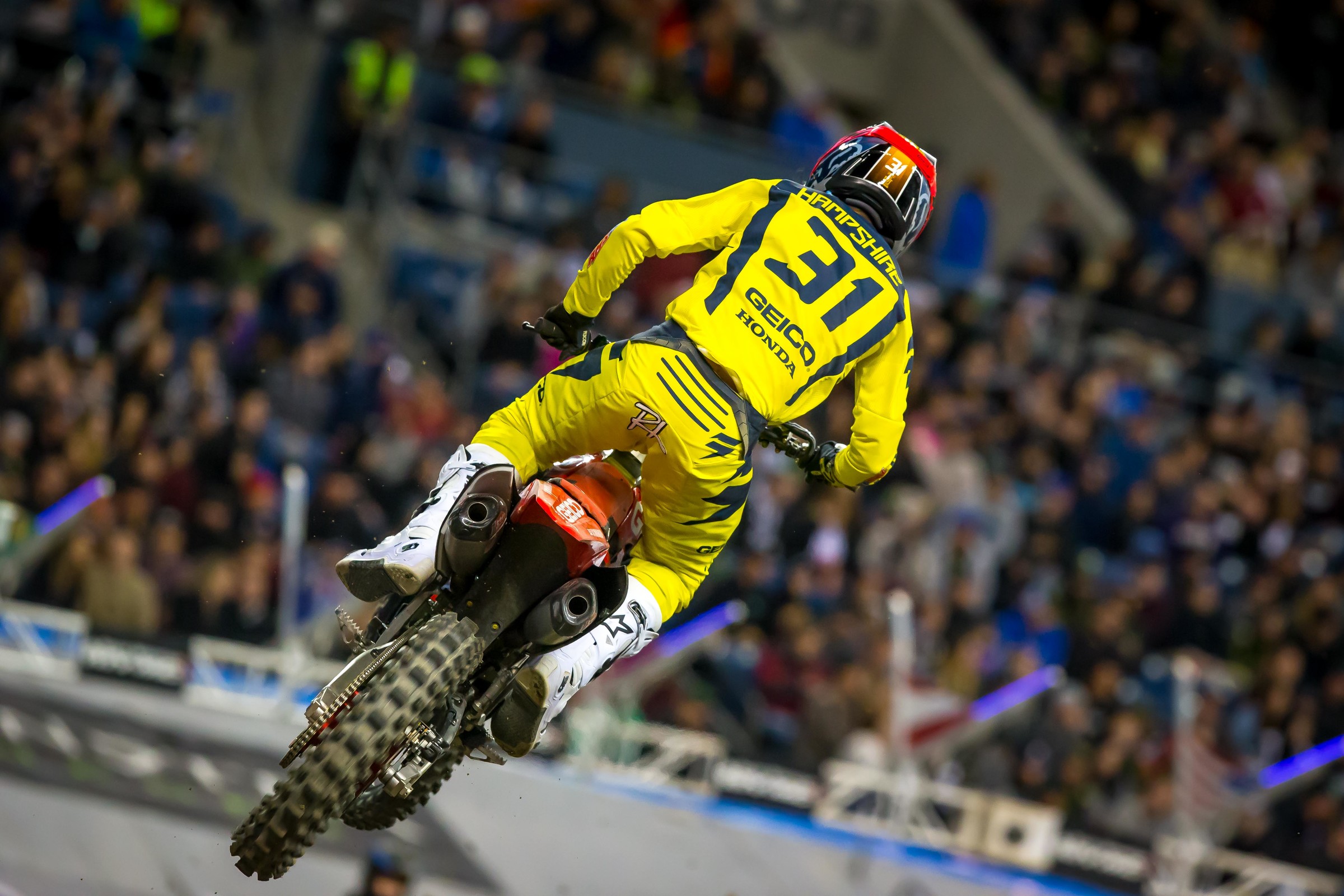 "The beginning was a little bit crazy, I thought I had the start but I pushed my front end a little bit," Cianciarulo said. "I think I was next to Colt [Nichols], he hooked a right on accident, I would assume, and he jumped on the same hand Forkner landed on in Atlanta, dude! My knuckles got bloody again! I survived that and I kind of had to tell myself to chill out a little bit, because in my mind when something like that happens I'm like 'Pass someone or do something!' So I kind of chilled out. Unfortunately Colt went down. I was able to get Jimmy, and I knew it would be difficult to beat Dylan, he's been riding great all year. All in all, I think I rode good and left my best out there, but I kind of feel like I rode a little bit too smart or too patient, but taking nothing away from Dylan. We'll have a great race next weekend."
Jimmy Decotis put in an extremely strong ride to take his second podium of the season, and he used fantastic whoop speed to do it.
"Whoops were honestly really good, all day," Decotis said. "I think I was one of the better guys through them, but these two [Ferrandis and Cianciarulo] also I felt were strong in there. In the main they developed a jump line and I wasn't really confident in the jump line, but I went with what everyone else was doing. I like having big whoops to separate guys. Overall, we're racing professional supercross—we should have big whoops."