Atlanta, GA
Atlanta
Monster Energy AMA Supercross Championship
It was another intense night of racing in Monster Energy Supercross, with lots of parity and lots of opportunity for a variety of riders to win. But as has happened so many times this year, the man who executed best when it counted was Cooper Webb, who led every lap of the Atlanta main event despite dealing with intense pressure from both Blake Baggett and Marvin Musquin. The series still feels close and it still feels like anyone can win—but the score sheets say Webb has won five races in nine rounds, and continues to stretch his points lead. Is he the flat-out fastest guy? Maybe, maybe not. But he's been the best the most times when it counted.
Unlike last weekend's race in Detroit, though, when Webb wasn't feeling it and had to dig into his entire bag of tricks to dig out a runner-up finish, this time he felt comfortable throughout the day.
"Yeah it was good, I was right up there in practice, I felt good all day," said the Red Bull KTM rider. "I liked the track and felt comfortable again. I knew a start would be important and I was able to execute that. I haven't led a long main event like that in a little while, so I was a little nervous, for sure."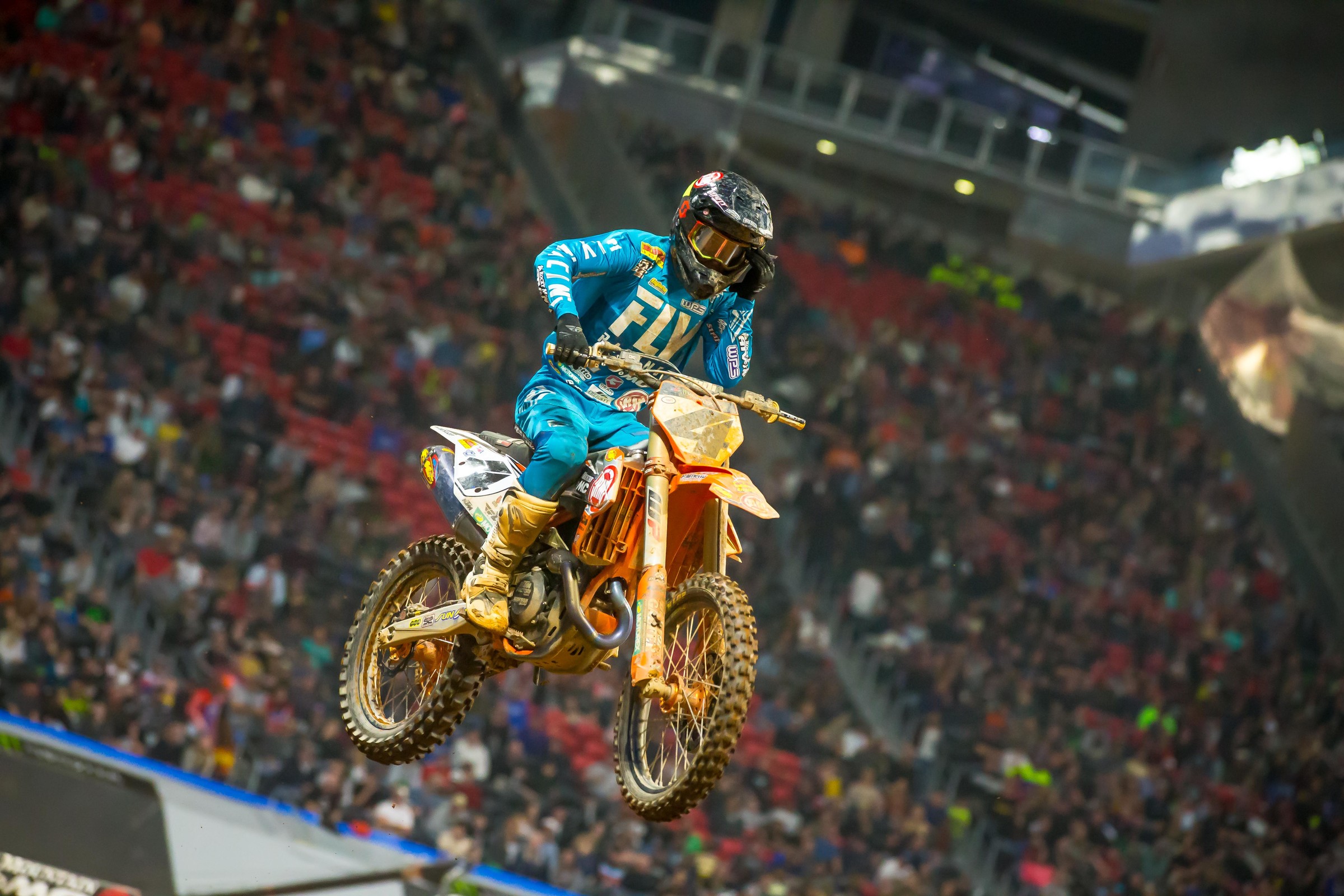 Starts used to be a Webb weakness, but now they're a strength, and that saved him again because as well as Baggett and Musquin rode, they just couldn't find a place to pass. They both had a better line in the turn after the start straight, running wide and carrying more momentum into a triple-triple rhythm. This set them up to try to make a pass in the whoops which came next, but there wasn't any room in the next corner to set anything up. After that, they would hit the sand, and Webb would get away.
"Yeah just tough to pass," said Baggett. "You could make a run on someone, and I think Marv and Cooper were making runs on each other, I could see it going on in front of me, and same thing with me and Marv. But when they have that horseshoe sand section before the tunnel, definitely, hands down I will tell you my opinion on it, it should be steep obstacles and no sand in supercross. It's just tough, you can make a run on somebody but then you're just covered (in roost) and you can't see, and it's just one lined. It's already bad enough when the rest of the track gets that goat trail around it. Makes it tough to pass, once I got into second I was kind of in that middle position. I couldn't take a chance because Marvin was there to capitalize on it. It is what it is, second."
"Obviously I'm really happy with the riding tonight, but being the chaser it was tough. I knew I could make a pass, but you come to the sand section and you just have to follow. Through the whoops was kind of the same thing, I didn't want to chance it on the right side. It was definitely a tough track, everyone would make mistakes and the gap would go back and forth, but for me it was hard to make a pass, and for Blake it was hard to make a pass.
"It was intense, we were right there, really close, but not much going on," added Musquin. "Just tough to pass, but it was definitely intense. It kind of went by quick to me. I guess when you're battling like that it goes by quick."
Marvin took several looks at getting Webb in the whoops, but the sand would do him in each time, and then he tried to change his line in the sand and bobbled, allowing Baggett to sneak through. Then Baggett put some heat on Webb, but Webb didn't falter.
"It was tough, the track was changing a lot, and I knew where I was good, but I was also getting caught by Marvin in places," said Webb. "I knew where, but, I wasn't sure what line he was doing—when you're out front you can't see where they are or not. I was just hitting my marks and I felt that they weren't working as well as I wanted them to. So I started searching, I found some better lines. I knew Blake was coming, he was good in the whoops like he always is, I knew that was his spot, but the sand, you almost feel bad, sand blasting the guys. They won't be able to eat tonight. That's kind of the way it went—it feels good to win tonight."
Baggett held off Musquin all the way for second. The Rocky Mountain ATV/MC KTM rider hasn't been quite as consistent as the points leaders, but on any given week he can hang with anyone. Musquin's third is his sixth podium in the last seven races. He says he's still getting better and stronger physically after a rough off-season with knee surgery, but as good as the podiums are, his number-one goal is to finally get a race win this season.
Fourth came Honda HRC's Ken Roczen, who got off rhythm in the first jump section after the first turn and got shuffled behind Aaron Plessinger. He couldn't figure out a way to get the position back until Plessinger crashed in the sand, and by then Kenny was in fourth but a good distance back from the KTM trio up front. Kenny is still second in the standings, but his deficit to Webb is now 13 points. After his fall, Monster Energy Yamaha's Plessinger got back to fifth, which is a career-best. Beyond just the result, it probably the best ride we've seen so far this year for the rookie.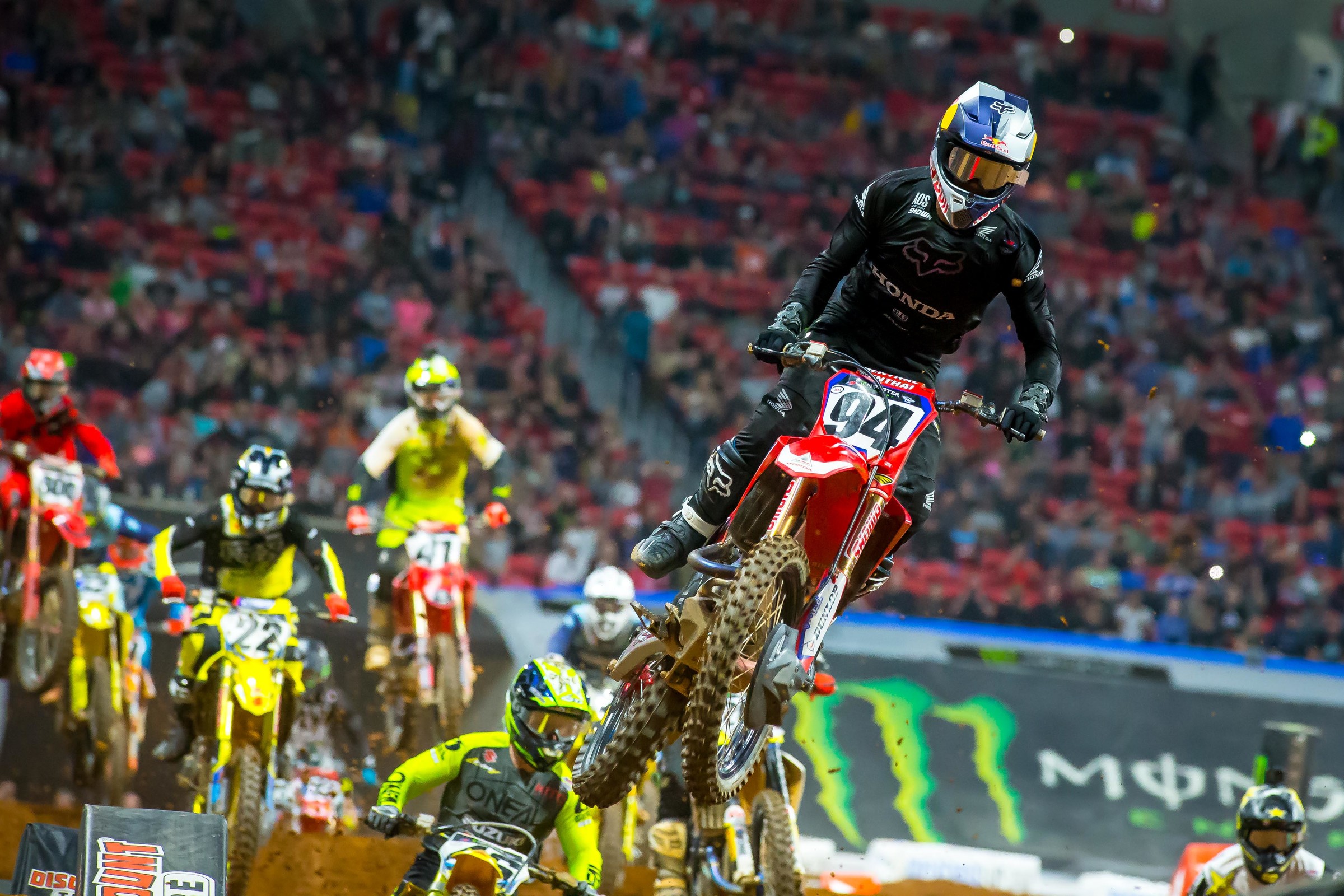 Eli Tomac won the race in San Diego. The next weekend in Minneapolis the Monster Energy Kawasaki rider got a bad start in the main and finished sixth. Eli Tomac won last weekend's race in Detroit. Here in Atlanta he got a bad start and finished in sixth. Tomac has gone 1-6-12-1-6 the last five races and now finds himself 22 points down on Webb in the standings.
Supercross
| | Rider | Time | Interval | Best Lap | Hometown | Bike |
| --- | --- | --- | --- | --- | --- | --- |
| 1 | Cooper Webb | 47.471 | 26 Laps | | Newport, NC | KTM 450 SX-F |
| 2 | Blake Baggett | 47.655 | +01.167 | | Grand Terrace, CA | KTM 450 SX-F |
| 3 | Marvin Musquin | 47.553 | +02.141 | | La Reole | KTM 450 SX-F |
| 4 | Ken Roczen | 48.134 | +18.325 | | Mattstedt | Honda CRF450R |
| 5 | Aaron Plessinger | 47.756 | +20.418 | | Hamilton, OH | Yamaha YZ450F |
Full Results
For years, Adam Cianciarulo has been known as a rider with great speed, but a rider who makes mistakes and doesn't let the race come to him. His mission was to turn that around this year, and he proved it by winning the 250 East/West Showdown in a new fashion—he said he felt terrible in his heat race, and then Austin Forkner and Chase Sexton were faster earlier in the main. Cianciarulo let it come to him though, and by the halfway mark he was going faster and made quick work of them to get the lead.
Cianciarulo thinks having three weeks off (as a West racer during the break) hurt his intensity early in the program. He said he had a "terrible" heat race, and "it put me on the outside, fifth gate pick, kind of close to the box. It's scary out there because if you don't get a good jump you're going to get pushed wide and be back there in like tenth, and you'll probably stay there the whole time. I was able to make that adjustment, just stayed patient with Chase, I was able to get him, then with Austin I just didn't want to do anything stupid. That was the first thing in my mind, to have a good race, solid race, mistake free."
Forkner, like Cianciarulo of Monster Energy/Pro Circuit Kawasaki, started the year on fire in the east with three-straight wins and leading nearly every lap. He led early this time but Cianciarulo and Ferrandis got him.
"I tried to latch on to Adam when he passed me, they were probably a little bit quicker than me everywhere, but specifically in the whoops. I had two crashes in practice in the whoops, so I told myself I was going to jump through these and that's as fast as I was going to go. I didn't want a repeat of practice. I did that, Adam got me, I tried to latch on, boom, Dylan got me."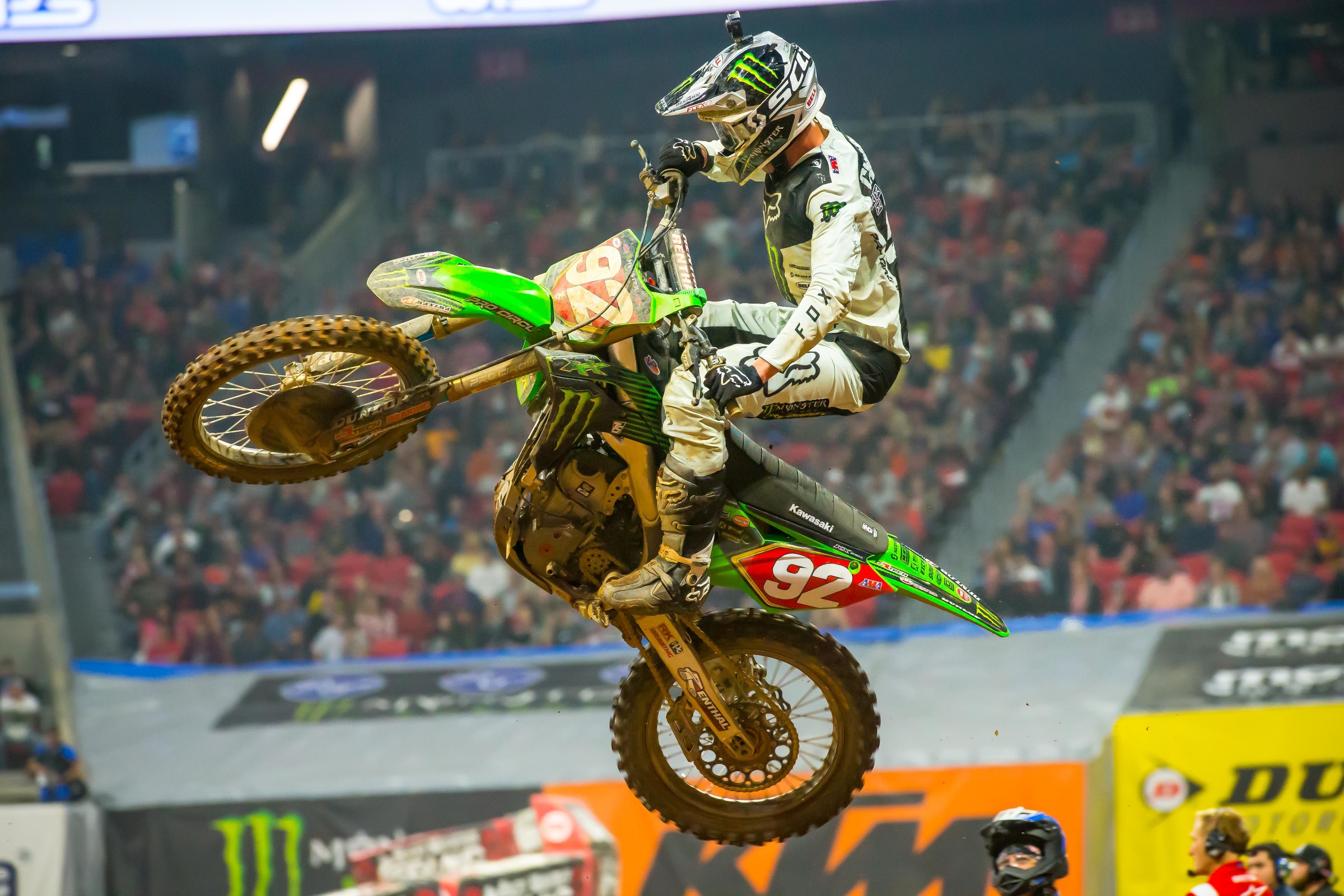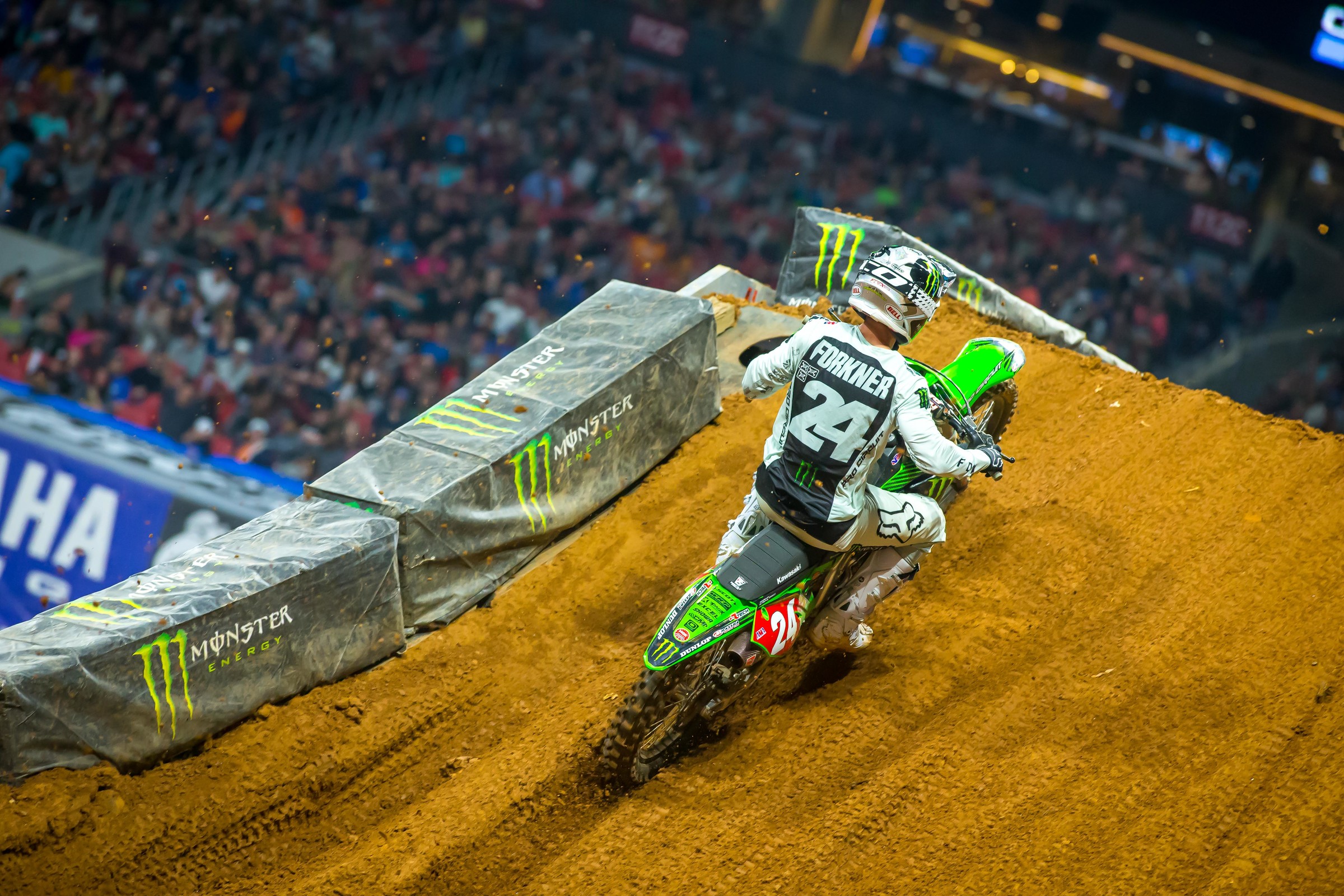 From there, Forkner focused on the championship—he still outscored everyone from his 250SX East group. "This is a win for me, east coast and kind of with the night I had I'd be happy to salvage third. Track was getting gnarly and I made a few mistakes that set me back."
Ferrandis' was second again—disappointing for a rider still looking for his first career supercross win, but he'll take it in Atlanta.
"I leave this stadium last year with a broken arm, broken teeth broken jaw, so for sure it's good this year to be on the podium," said the Monster Energy/Star Racing Yamaha rider. "I think I tried not to think about it but I did think about it a little bit when I was racing. Maybe. I was riding with a little fear, maybe. We showed the west guys our strong, we were good but AC was faster for sure tonight, but I'm happy."
Supercross
| | Rider | Time | Interval | Best Lap | Hometown | Bike |
| --- | --- | --- | --- | --- | --- | --- |
| 1 | Adam Cianciarulo | 48.285 | 20 Laps | | Port Orange, FL | Kawasaki KX250 |
| 2 | Dylan Ferrandis | 47.922 | +04.821 | | Avignon | Yamaha YZ250F |
| 3 | Austin Forkner | 48.160 | +11.301 | | Richards, MO | Kawasaki KX250F |
| 4 | Chase Sexton | 48.323 | +14.015 | | La Moille, IL | Honda CRF250R |
| 5 | Justin Cooper | 48.991 | +16.444 | | Cold Spring Harbor, NY | Yamaha YZ250F |
Full Results