Detroit, MI
Detroit
Monster Energy AMA Supercross Championship
Smartop/Bullfrog Spas/MotoConcepts Honda's Justin Brayton suffered a partially torn ligament in his heat race in San Diego that held him out of the main event, but he didn't miss any time as he raced in Minneapolis and finished fifth.
Last Saturday in Detroit, Brayton's thumb wasn't an issue, as he got the holeshot and led 15 laps in the first race of the Triple Crown, before finishing second. Although he was passed by Monster Energy Kawasaki's Eli Tomac late in the race, Brayton looked solid throughout the entire race.
Brayton finished 12th in the second race and ninth in the third race for ninth overall. A veteran of the premier class, Brayton sits in 10th in the standings, and his ninth-place finish in Detroit was his fourth top-10 finish of the season.
We talked with Brayton after the race.
Racer X: Man, you almost won that first one.
Justin Brayton: Yeah that was close. I actually thought I had it because I had a good gap on Chad [Reed] in second, and I was watching where he was and just trying to manage it. Then Eli [Tomac] just came out of nowhere. At that point there was really no stopping him! I knew he must have come from a ways back. That was a good first one for sure, really the whole day really, qualifying third, overall just a really solid day. Definitely bummed on the second main, that's the one that really killed me with a 12th, it was a real bummer. Overall a positive day and I'm happy with the way I'm riding. It's just crazy right now, if you're just a tiny bit off, you end up eighth or ninth.
Yeah, can you even point to anything that results in that change? Just the start or is it something in the riding that makes that tiny difference?
The second one was start for sure, but still I needed to be better. I was in the mix and I just didn't make the pass on a guy. I just followed him around and it controlled my race pretty much. It's something I have to get better at—passing a guy when I catch him. I've gotta get by him right away, and it's my nature to be nice, maybe pass him in the whoops or something, but I'm just being too nice. I've gotta stop being so nice!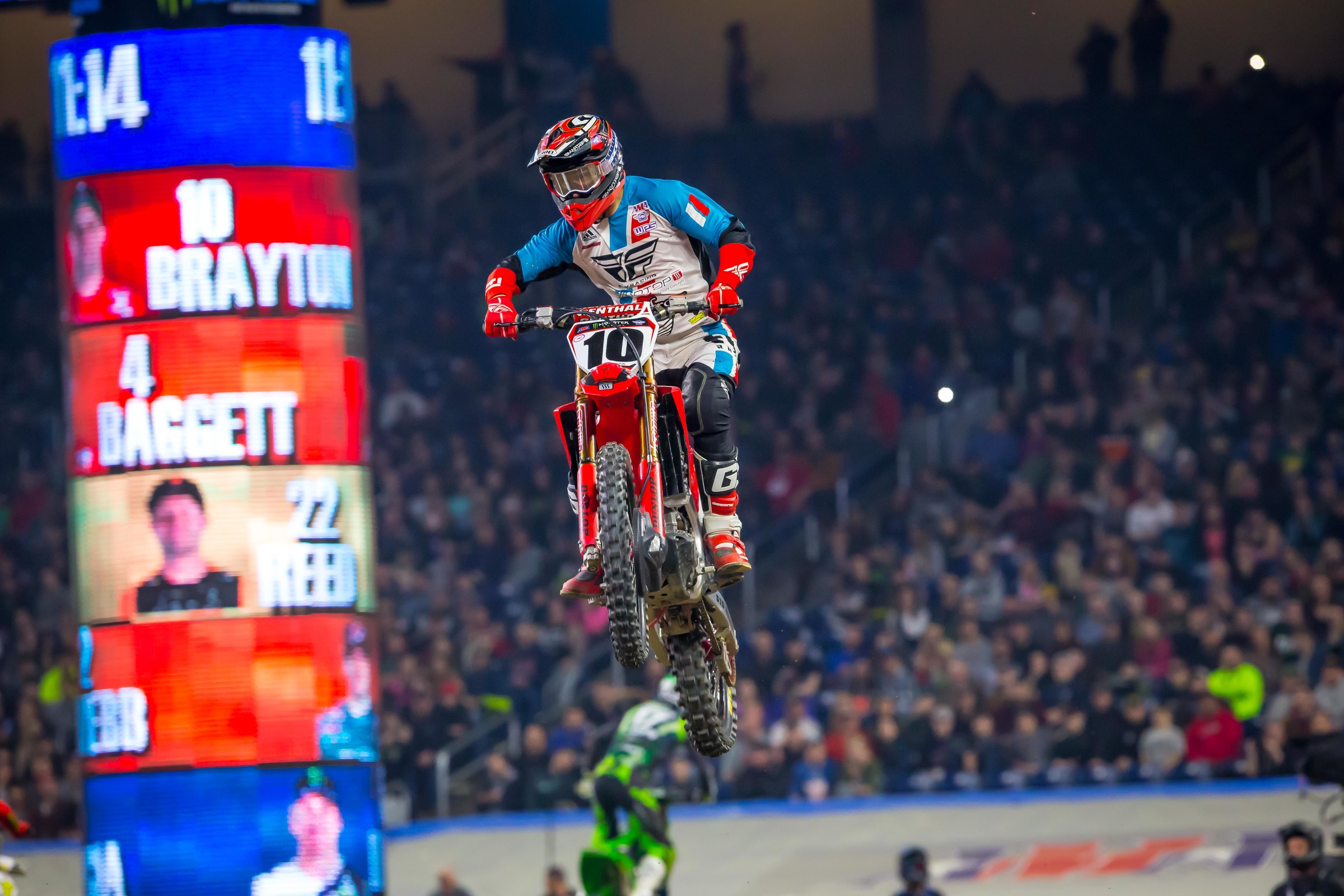 It's funny how you're still working on things!
Oh yeah!
You've said this to yourself after a lot of races.
Oh yeah. Afterwards I'll be like "I just need to blow him off the track" but I won't do that. When I look back, I realized if I would have just done that I could have finished fourth or fifth, you know? One pass and it can be a totally different night.
Every year we say the 450SX class is stacked, you've been around a while, and you've probably heard it over and over. But still, this year seems exceptionally tight for halfway through a season.
By far it's the most stacked that I've ever been involved [in]. Actually someone posted lap times at Dallas compared to ten years ago at Dallas, and it was crazy the difference between the top ten guys then, while now we're all on the same second. If you look at the field, there are 14 or 15 guys that have 250 championships or 450 race wins. That's what I'm talking about. You can be second in one race, and then next race you're 10th, and not that much even changed.
How is the thumb injury from a few weeks ago? Is that a problem?
No, not bad. I had to manage it for couple of weeks, but it's a lot better than I thought it was going to be. I was happy about that. It could have gone either way on Sunday morning, it was either going to be really bad, but it wasn't terrible.
So was it literally, when you woke up the day after the race, when you first went to move your thumb, you didn't know what it was going to be like?
Pretty much. I had the same injury to my left thumb, and I literally had to cut a hole in my grip so I could kind of hold with my thumb sideways. On the right side you can't do that because of the throttle housing and all that. So right when I did it, I was pretty nervous. I thought this could be like a six-week thing. But it turned out to be something that was just nagging, and I was actually even able to ride that week.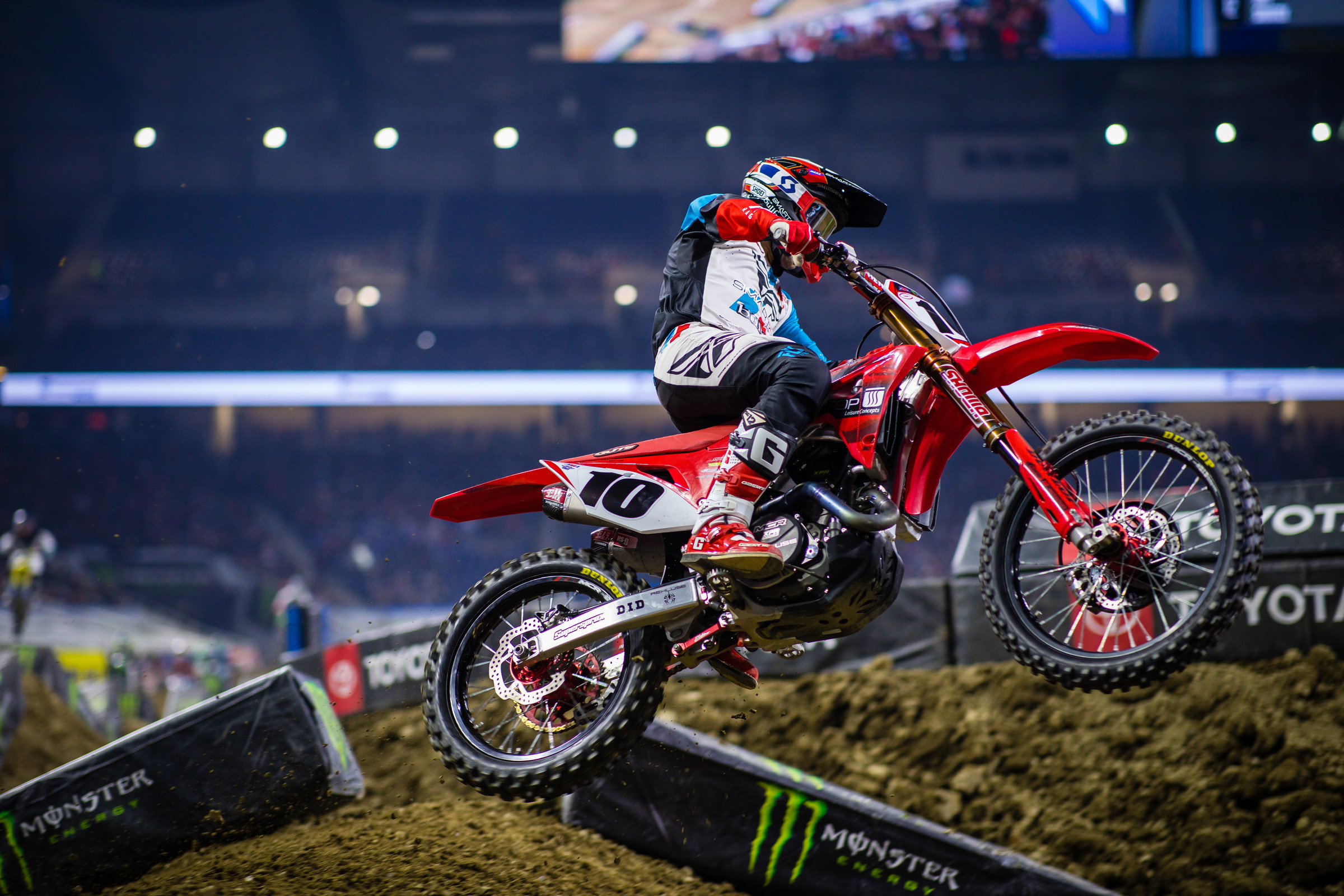 Yeah, your team really needs you right now.
It's been a rough few weeks but yeah I'm holding it down. And it was really fun in that first main, having me and Chad up there. People really talk a lot about our age, but it just goes to show that if you still really want something—we're still in the fight.
One last thing, ClubMX has a team with CTR Racing here in 250SX East. Do you know those guys and work with those guys?
Oh yeah I know them really well. Actually my practice mechanic Brett Duffy, who used to be my race mechanic, he's the race mechanic here for one of those guys. But yeah him, [ClubMX owner] Branden Haas, I'm really close with. That whole crew. What's crazy is, those guys ride so good during the week, they just need to translate that to the weekend. I've been there, so it's fun for me to give them some wisdom, I guess, or if they ask me something I'll give them my opinion. It's pretty fun to help them out, they work really hard. Man, especially [Josh] Osby, he's got a ton of speed.
Dude you can see that Osby is super fast.
Yeah, he's super fast. As a matter of fact, one of the motos we did during the week this week, his best lap time was faster than mine. It just shows you.
Then we come to the race and you almost win one of the 450SX main events.
Yup. Then we come to the race and it's three or four seconds per lap.