Detroit, MI
Detroit
Monster Energy AMA Supercross Championship
Tonight we got to experience our second look at the 450SX in the new Triple Crown format. The night program featured lots of really tight battles back and forth, a different track layout than we have seen in recent weeks, and really provided us with another great night of racing. While the top four riders in the class have started to separate themselves from the rest of the group, they were still all in the championship hunt coming into tonight. And they all leave still in it as well.
The night featured a few tough falls, but for the most part the 90-degree left turn starts weren't as bad as they could have been. Given the importance of starts in these Triple Crown races, and the fact that these kind of starts can result in some tough get-offs and we had six races between the two classes to get through, the starts were pretty clean for the most part.
Monster Energy Kawasaki's Eli Tomac returned to the 2017 and 2018 Eli Tomac that we had become accustomed to: the catches everybody in front of him by absolutely flying Eli Tomac. After washing his front end out last week, he struggled and went backwards. But tonight, we saw him work his way back up through the pack. Through lap one in the first heat, Tomac was in 11th but he worked his way to the top and overthrew Smartop/Bullfrog Spas/MotoConcepts Honda's Justin Brayton for the win in the end.
His second start was better, coming through lap one in third. In the third race he was next to Rockstar Energy Husqvarna's Dean Wilson, who is a solid starter and was bumped back (in Minneapolis when Wilson was next to Tomac, Wilson's quickness out of the gate dropped Tomac into the thick of the pack early), and didn't get the start he was looking for.
But the biggest thing with Tomac tonight was that he was comfortable. He didn't really have any slow sections—he was crushing the triple-quad split section, he was fast in the turns and through the whoops and got around riders quickly when they bobbled or slipped up in front of him. He wasn't perfect tonight, but he was definitely better than he was last weekend.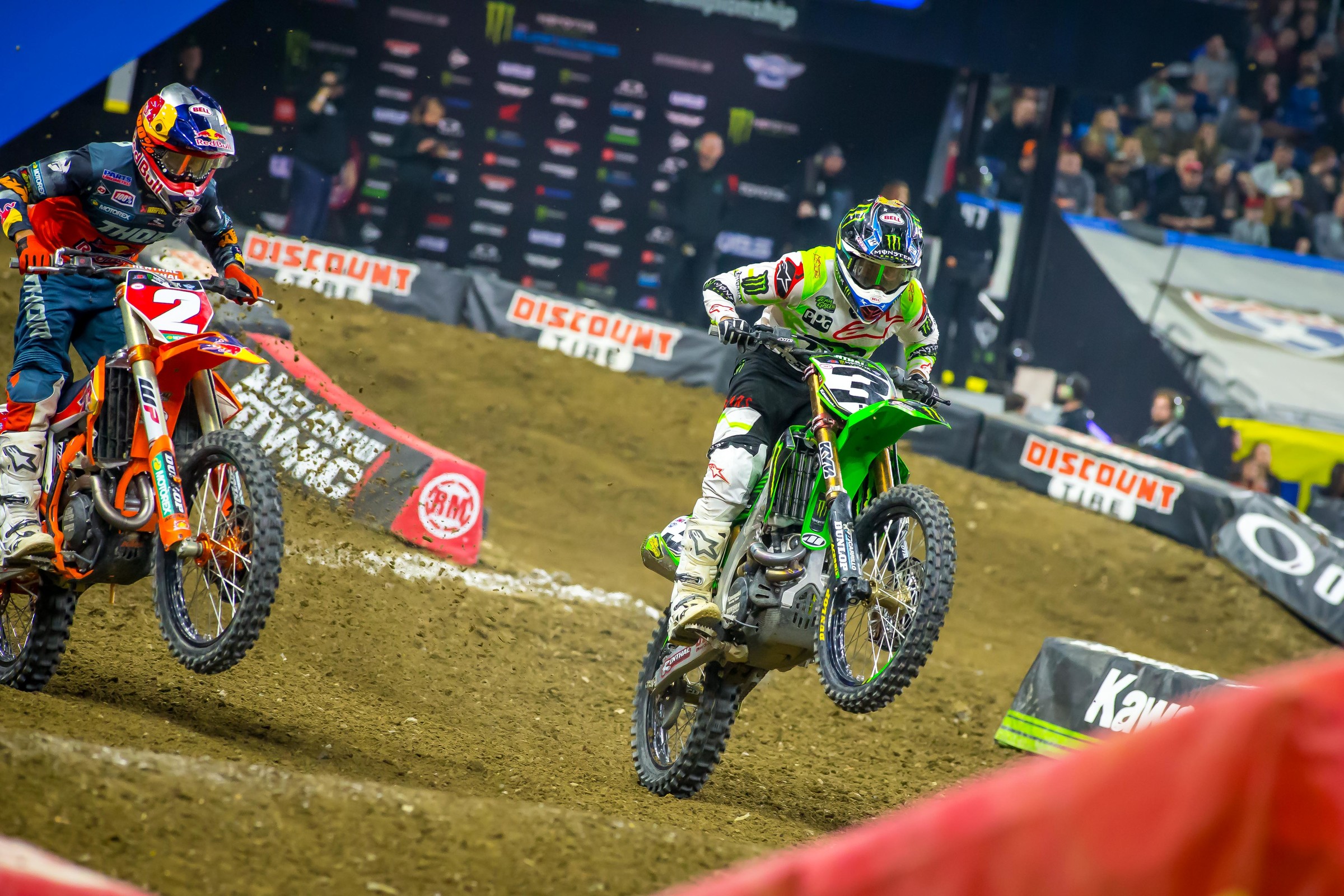 "It was a light switch really, last week all I did was go backwards," said Tomac. "We went to California this week, did some work, got comfier. It was good that way—good to see the testing and stuff pay off."
Tomac was clear that he needed a good race tonight to get back into the championship picture.
"That's the way it was—tonight would have been a big swing," he said," if I had another race like I had last week, it would have been close to being over as far as the championship. So, gosh, such a better weekend, we were just feeling it through all of those practices, and of course going into that third main there with that big cushion, you get a little too comfy. Totally blew the start and had another place where I went flying off and almost hit the haybale. Of course Coop is up there charging up front and I was like 'Gosh, I got to get going.' But overall such a better weekend for us. Feels good to be here."
Tomac knew the overall situation as he closed on sixth, which he needed.
"Kranz [mechanic, Brian] did a good job tonight putting it on the board, telling me my position on there. At one point he put 'Need three guys' and I was like 'Wow, this is going to take a lot of work.' With Deano going down, that made it a little easier on us. But either way it was pretty tough."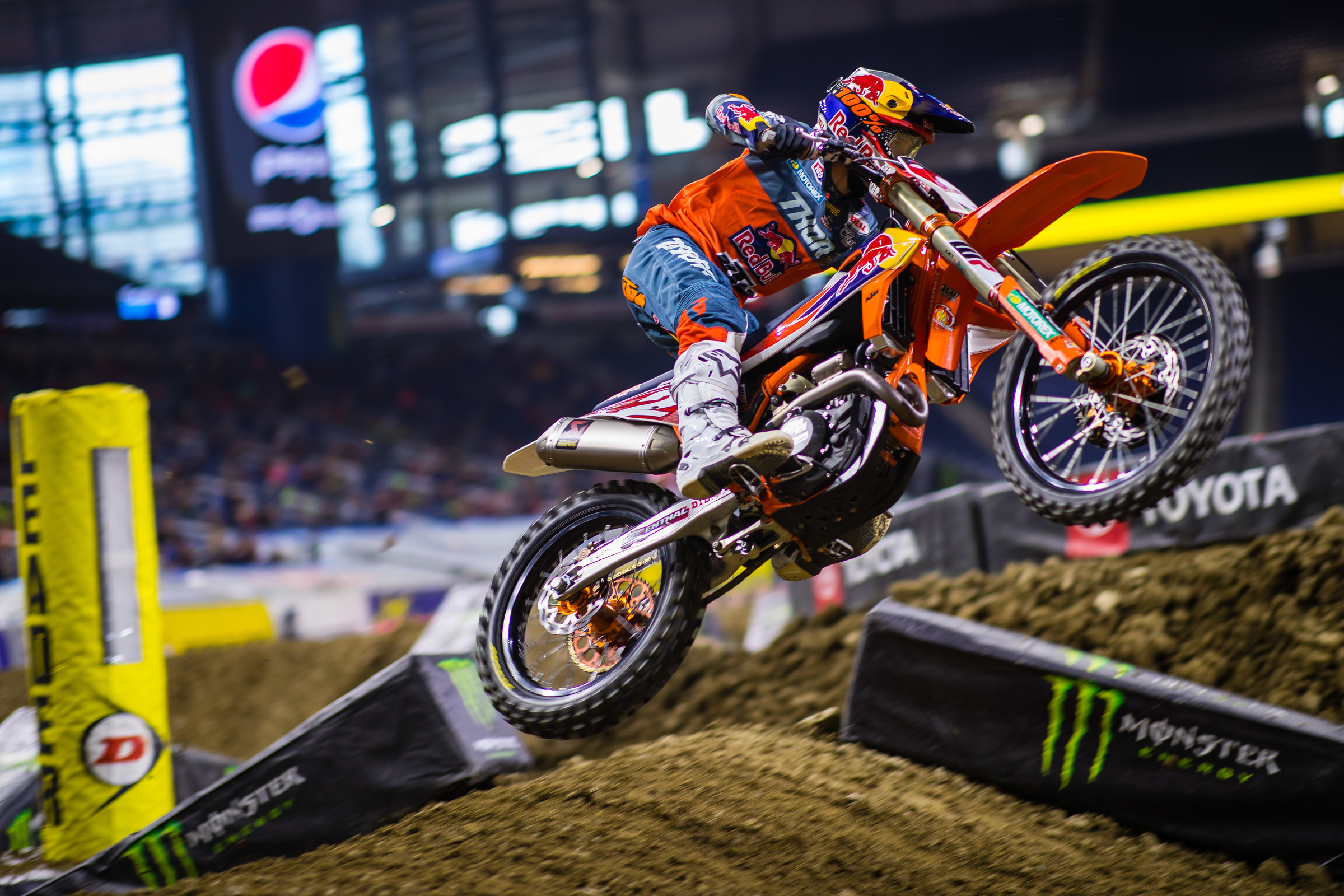 For as massively improved as Tomac was from last week, Red Bull KTM's Cooper Webb had a turn—albeit not as dramatic, in the other direction. He was amazing last week but things did not come easy all day and night this time. His starts, which have been strong most of the season, helped in the Triple Crown format, and he improved with each race. He holeshot and won the final race to end up second overall—a nice points haul on a night when he didn't have his best stuff.
"Yeah it was a tougher day for sure, it was more of a struggle for me today in practice," said Webb. "I knew going into the mains from practice that gate picks would be key so I wish I had a better time. I was messing with the bike a lot and not really getting anywhere, so I went back to what I knew. Eli was obviously the best guy today, by far, but it was good to get a good start, make some passes [in the second race] and get better and still be on the podium with a second. Shows I got plenty of work to do to keep this going."
The whoops were a big struggle for Webb most of the time—they were big, blitzing whoops, and uneven across the top, instead of the jumping whoops we've witnessed at a lot of the races this year. Webb said bike changes didn't help and he actually felt better in the final race when he went back to his regular settings. He also credited Tomac from the first race—Eli blew by him and Cooper actually picked up on his lines a bit, which did help.
Third overall, was JGR/Yoshimura Factory Suzuki Racing's Chad Reed, certainly a popular one for the fans. The 36-year old just looked solid all night, and 3-5-7 scores got it done.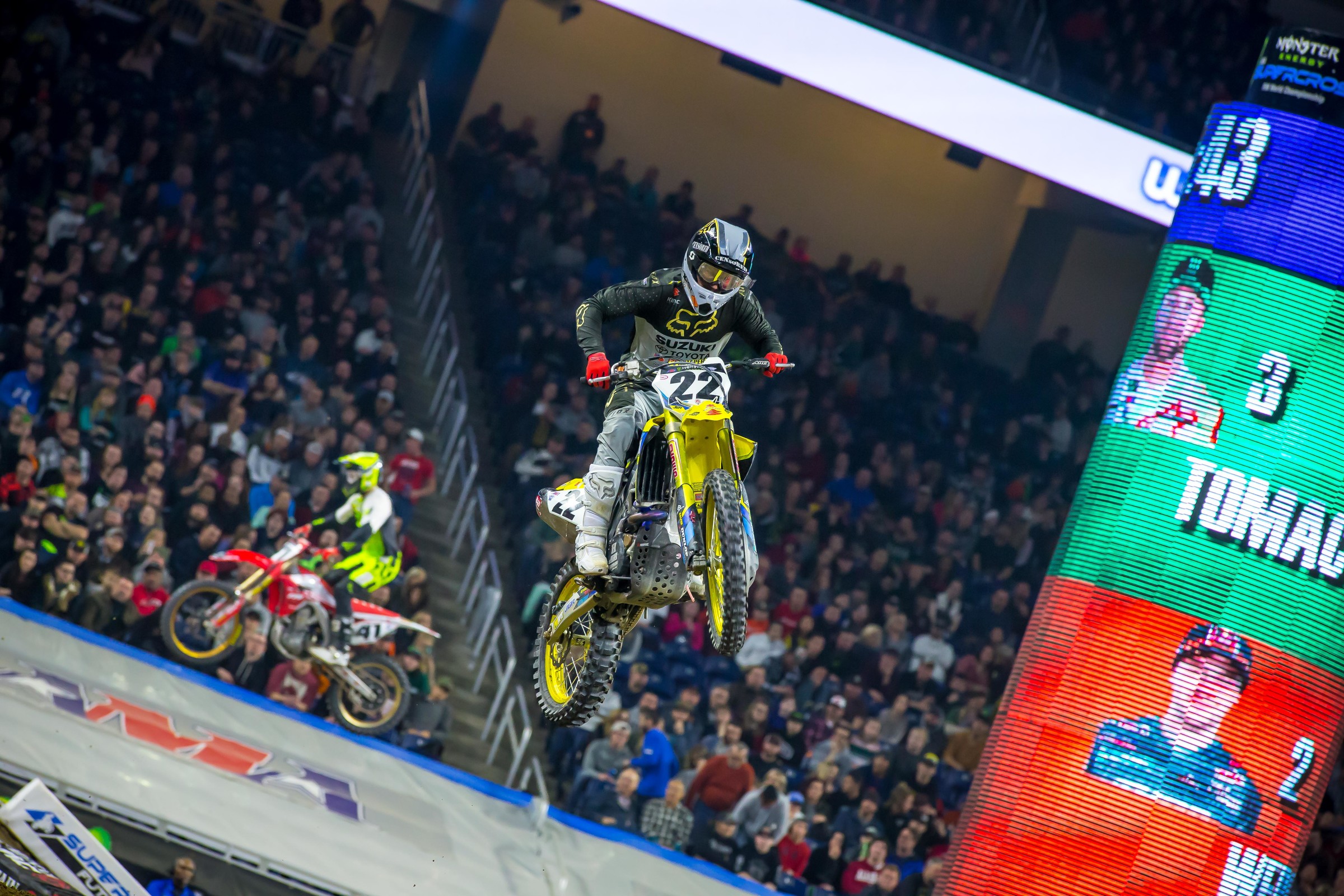 "At this point in my career, I'm a fill in guy. I'm an ambassador for the sport," said Reed with a bit of a laugh. "It always feels good to be up here and doing my job. No doubt about it, I do this because I believe I can be here, I don't work my ass off during the week to get the positions I have been getting. It's been extremely frustrating the last couple of years, so to have a night where you go out and you're fighting for those top positions, it's fun. It's something I'm used to. You get in the back and you're just, those guys, their rhythm is different. The more forward you go the better they race you—they don't jump from one side of the track to the other, it's just enjoyable. It's an honor to be part of JGR. We changed the bike a lot this week, and I think it's always nice that they have trust in me, and then to give them a result like this."
The rest of the packed and stacked 450 field? It was all over the place in the Triple Crown. Honda HRC's Ken Roczen wasn't amazing but snagged fourth with 5-6-5 scores, Rocky Mountain ATV/MC-KTM-WPS' Blake Baggett was fifth with 4-11-2 finishes and he pressured Webb all the way to the end of the last race, nearly getting him in the final jumps before the finish to steal the win. Red Bull KTM's Marvin Musquin's recent run of podiums ended on a sub-par night, with 9-4-4 scores and sixth overall.
Monster Energy Yamaha Factory Racing Justin Barcia, Monster Energy Kawasaki's Joey Savatgy, Brayton and Rockstar Energy Husqvarna's Zach Osborne rounded out the top ten. Honda HRC's Cole Seely did not participate in the night program after getting hit by a rock in timed qualifying earlier today.
Supercross
Rider
Hometown
Pos

ition

Bike
1
Eli Tomac
Cortez, CO

United States

1 - 1 - 6
Kawasaki KX450
2
Cooper Webb
Newport, NC

United States

6 - 2 - 1
KTM 450 SX-F
3
Chad Reed
Kurri Kurri

Australia

3 - 5 - 7
Suzuki RM-Z450
4
Ken Roczen
Mattstedt

Germany

5 - 6 - 5
Honda CRF450R
5
Blake Baggett
Grand Terrace, CA

United States

4 - 11 - 2
KTM 450 SX-F
6
Marvin Musquin
La Reole

France

9 - 4 - 4
KTM 450 SX-F
7
Justin Barcia
Monroe, NY

United States

10 - 7 - 3
Yamaha YZ450F
8
Joey Savatgy
Thomasville, GA

United States

8 - 3 - 11
Kawasaki KX450
9

Justin Brayton
Fort Dodge, IA

United States

2 - 12 - 9
Honda CRF450R
10

Zach Osborne
Abingdon, VA

United States

11 - 8 - 10
Husqvarna FC 450
11
Dean Wilson
Scotland

United Kingdom

7 - 9 - 13
Husqvarna FC 450
12
Aaron Plessinger
Hamilton, OH

United States

12 - 10 - 8
Yamaha YZ450F
13
Justin Hill
Yoncalla, OR

United States

13 - 14 - 12
Suzuki RM-Z450
14
Tyler Bowers
Danville, KY

United States

15 - 13 - 14
Kawasaki KX450
15

Chris Blose
Phoenix, AZ

United States

16 - 15 - 15
Husqvarna FC 450
16
Justin Bogle
Cushing, OK

United States

14 - 19 - 17
KTM 450 SX-F
17
Ben LaMay
Anchorage, AK

United States

21 - 16 - 16
Honda CRF450R
18
Kyle Chisholm
Clearwater, FL

United States

17 - 21 - 18
Suzuki RM-Z450
19
Ryan Breece
Coeur D' Alene, ID

United States

18 - 20 - 19
Yamaha YZ450F
20
Carlen Gardner
Paso Robles, CA

United States

19 - 17 - 21
Honda CRF450R
21
AJ Catanzaro
Portland, CT

United States

20 - 18 - 20
Kawasaki KX450
22
Cole Martinez
Rimrock, AZ

United States

22 - 22 - 22
Suzuki RM-Z450
Full Results
Supercross
| Position | Rider | Hometown | Points |
| --- | --- | --- | --- |
| 1 | Cooper Webb | Newport, NC | 379 |
| 2 | Eli Tomac | Cortez, CO | 361 |
| 3 | Marvin Musquin | La Reole | 350 |
| 4 | Ken Roczen | Mattstedt | 319 |
| 5 | Blake Baggett | Grand Terrace, CA | 290 |
| 6 | Dean Wilson | Scotland | 223 |
| 7 | Cole Seely | Newbury Park, CA | 211 |
| 8 | Joey Savatgy | Thomasville, GA | 208 |
| 9 | Justin Bogle | Cushing, OK | 171 |
| 10 | Justin Brayton | Fort Dodge, IA | 163 |
Full Standings
---
Monster Energy Kawasaki's Austin Forkner's amazing season continued by sweeping all three Triple Crown main events, a match for now winning the first three races of the season.
"I mean obviously I want to keep winning. [The win streak] It doesn't change anything, I want to keep winning, and it doesn't matter if it's the first race or the third race, these guys want to beat me," said Forkner. "Not really thinking about championship stuff right now, obviously if I keep getting podiums or wins it's good for the championship anyway."
Forkner's starts have been lights out all season, and he nailed them again in all three mains and it helped having the clear track in front of him.
"I haven't started worse than second I think, this year, and that's huge," Forkner said. "That's one of the biggest things this year is starts—they've been dialed. I can just run my laps and focus on me. I want to say its's a combination of a few different things, and everything is clicking for me."
Troy Lee Designs KTM's Jordon Smith was nursing a wrist injury after last weekend's crash in the whoops. He tried a 10-minute moto at home on Thursday and could barely do it, and was worried he wouldn't be able to race. A combo of therapy, taping, a wrist brace and adrenaline got him through. He also adjusted his bike settings.
"We had it checked and I didn't break anything or hurt any ligaments, it was just a bone bruise," said Smith. "To get up on the podium is all I could ask for."
Still, Smith had to give Forkner credit—his starts are on point but so is his riding.
"It's frustrating—every time you come off the gate and he's right there," said Smith. "Tonight I got really good starts but he was riding really good, I was trying to manage things a bit with the wrist but even still he was riding really good. It's going to be getting good starts and keeping some pressure on him. He's doing a good job breaking away early and not dealing with too much pressure."
GEICO Honda's Chase Sexton ended up third for the second-straight race. He's starting well but not as well as Forkner.
"He's pretty lights out with the starts, like he said, you get to run clean laps," Sexton said. "Top five isn't good enough. I felt pretty good on the bike today and thought maybe tonight was the night I was going to get a win. Didn't happen, he's riding really good. Go back to work this week and be ready for East/West Shootout."
Sexton didn't get the starts he had wanted to in the first two races but in the third race he was only behind Forkner. We thought we might see a battle between the two because of how Sexton is capable of—and did last week—laying down the fastest lap in the class and catching Forkner. Last week in Arlington, Sexton was catching Forkner two mistakes set him back. Tonight, in the final race, he had the chance to track down Forkner, but slipped up early on, which allowed for Forkner to set sail. While we have seen improvements in Sexton in his starts and his lap times, these small mistakes are what he will have to eliminate if he wants to catch Forkner and get a victory of his own.
Monster Energy/Yamalube/Star Racing Yamaha's Justin Cooper and Monster Energy Kawasaki's Martin Davalos rounded out the top five.
Supercross
Rider
Hometown
Pos

ition

Bike
1
Austin Forkner
Richards, MO

United States

1 - 1 - 1
Kawasaki KX250F
2

Jordon Smith
Belmont, NC

United States

2 - 2 - 4
KTM 250 SX-F
3
Chase Sexton
La Moille, IL

United States

4 - 4 - 2
Honda CRF250R
4
Justin Cooper
Cold Spring Harbor, NY

United States

3 - 5 - 3
Yamaha YZ250F
5

Martin Davalos
Quito

Ecuador

5 - 7 - 5
Kawasaki KX250F
6

Alex Martin
Millville, MN

United States

10 - 3 - 6
Suzuki RM-Z250
7

Mitchell Oldenburg
Alvord, TX

United States

6 - 6 - 8
Yamaha YZ250F
8
Kyle Peters
Greensboro, NC

United States

11 - 8 - 7
Suzuki RM-Z250
9
Kyle Cunningham
Aledo, TX

United States

8 - 11 - 10
Honda CRF250R
10
Blake Wharton
Pilot Point, TX

United States

9 - 10 - 16
Honda CRF250R
11
Brandon Hartranft
Brick, NJ

United States

7 - 9 - 21
Yamaha YZ250F
12
Lorenzo Locurcio

Venezuela

13 - 14 - 11
Kawasaki KX250
13
Henry Miller
Rochester, MN

United States

12 - 13 - 15
KTM 250 SX-F
14
Josh Cartwright
Tallahassee, FL

United States

14 - 15 - 12
Yamaha YZ250F
15

Jordan Bailey
Orlando, FL

United States

22 - 12 - 9
Husqvarna FC 250
16
John Short
Pilot Point, TX

United States

20 - 16 - 13
Honda CRF250R
17
Steven Clarke

United Kingdom

17 - 22 - 14
Honda CRF250R
18
Josh Osby
Valparaiso, IN

United States

16 - 20 - 17
Yamaha YZ250F
19

Chase Marquier
Newcastle, OK

United States

18 - 19 - 18
Husqvarna FC 250
20

Justin Thompson

South Africa

19 - 17 - 20
Yamaha YZ250F
21
Wilson Fleming
New Canaan, CT

United States

21 - 18 - 19
Husqvarna FC 250
22
Ramyller Alves
Coconut Creek, FL

United States

15 - 21 - 22
Yamaha YZ250F
Full Results