Arlington, TX
Arlington (Dallas)
Monster Energy AMA Supercross Championship
Former pro Denny Stephenson posted his thoughts on Instagram following the Minneapolis Supercross and the close finish by Red Bull KTM's Cooper Webb and Honda HRC's Ken Roczen at the Arlington Supercross, which have been slightly edited.
And he then gives us his thoughts on Eli Tomac and his evil doppelganger, Elito Mac.
1.) Talk about the chess match of tracks breaking down, and having to switch lines while in the heat of battle, like we saw in Minneapolis:
So here we go. Minneapolis 450 main is exactly three minutes and 35 seconds into its 20 plus one. And these are the six who have already firmly established themselves as the lead pack for the night: Savatgy, Webb, Roczen, Baggett, Marvin, Brayton. Eli grenaded his start and at this point has only passed the Bowers as he sits in 13th, a second behind Reed. He knows the red plates are lost and it's time to go into points recovery mode. I leaned over to Gilly [my buddy Cody Gilmore] and suggested he would be lucky to get to seventh. But I have gotten ahead of myself. We all watched it. The track was basic and simple at best. When the first and 20th place timed qualifiers are all jumping the exact same around the track, and the heat races maybe gave us four passes, it's usually not a good sign.
In this pic, it's Versace [Joey Savatgy], Coop, Ken, BB [Blake Baggett], Brayton, and Marv. At the beginning they all took turns dive bombing one another in the 180s. Then suddenly the six realized, passes weren't coming easy and why risk some contact only to lose two spots. So like an old western game of poker, they chose to sit and wait. Not show their hands but rather just apply pressure and see who folds first. It was now a mental game.
JB [Justin Brayton] was the first to make a mistake after a torrid and intense pace of pure snake. But now with 22 riders running the same line, that main line is going to break down. So which rider will realize it before it's too late and make the change? The corner after the finish had three lines and with 8:42 plus one lap left, Savatgy decided the ruts were getting too deep and choppy and went to the smooth line around the outside bowl. Webb had decided that there was still another lap left in the tightest inside one as he dropped in for the pass. Coop never wavered on his line choices while Savatgy simply guessed wrong a lap to soon because ironically the next lap around, as he began to pull away, gave up on those same ruts and ran the wide bowl line. A couple laps later, Blake goes down and the veterans pushed past the 17. Such a fun race to watch and break down. Those six chopped off absolutely perfect laps as long as they could. Webb got the better start and locked down another win and the momentum. Damn. This is getting fun. #MinnysohtaSX19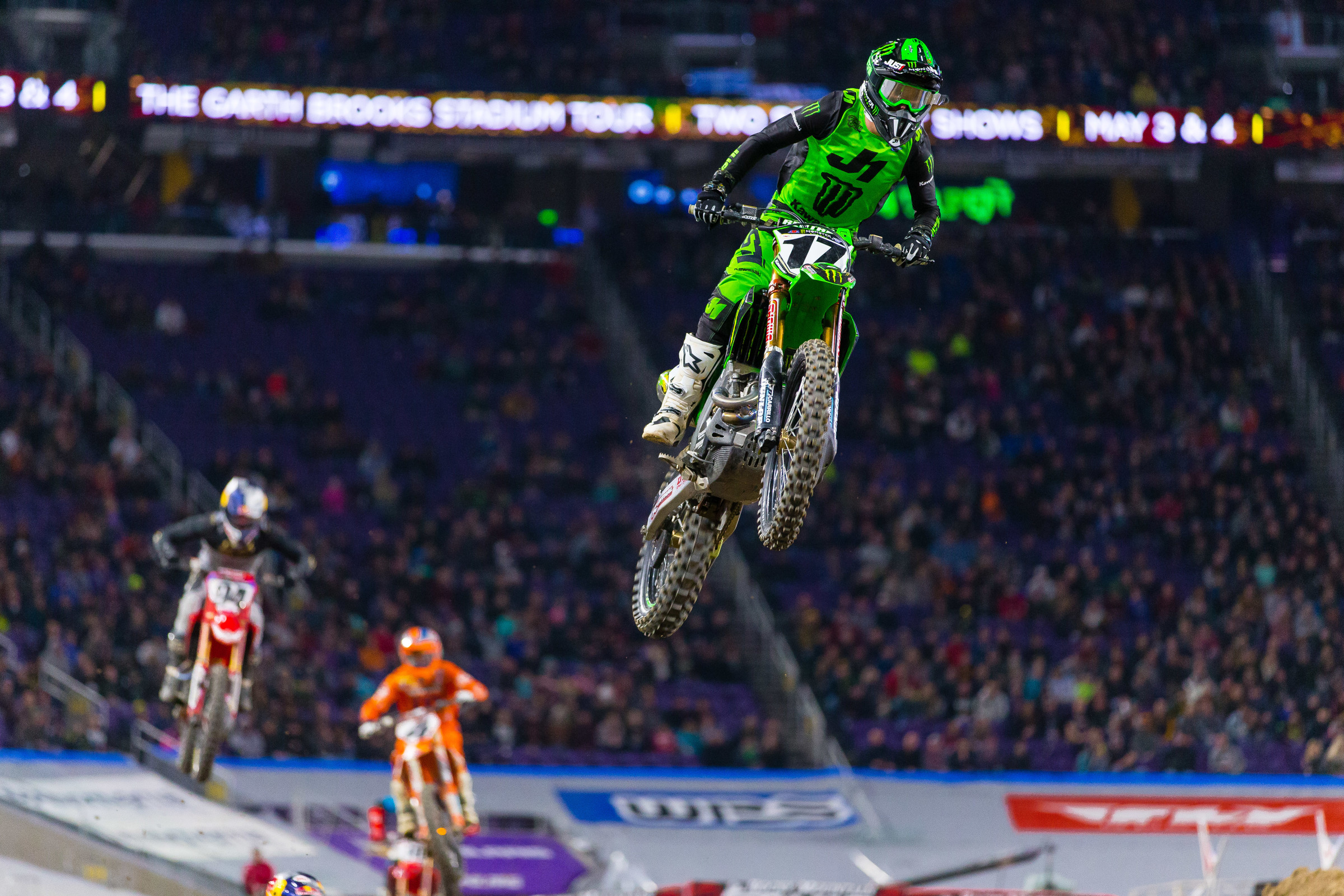 2.) What could Ken Roczen have done differently in the last corner or the last lap in general, of the 450SX main event at Arlington?
Ohhhh Kenny, Kenny, Kenny. As a fan and an old school racer, you have defied the odds and are an absolute beast. A never-say-die fighter. But as of Sunday, February 17, Cooper Webb owns you. Your smooth and precise line choices are faster and smarter than anyone else out there. But you're still afraid to pull the trigger. Your emotions and ego got the best of you last season with Webb. But now you have allowed him to get into your head. Swipe right and all the yellow area is where you should have been [the inside]. It was the final lap and corner of a 450 main. And your season points rival was behind and on the outside of you. You admitted in your interview you felt sloppy in the whoops. The lap before you ran the bowl and felt Webb dive in on you. Yet with a hundred feet to go on the last lap, you did it again. Stop. Drop. And block, man.
You went so far wide you may have just drove to the Men's Club for a kickass filet and a lap dance. All of the yellow zone was where you had to go to prevent the inevitable… That was your race to lose and you did. You avoided that inside line like you had a budget in the champagne room. Back at my house, we had a room of family and friends yelling, "Don't go wide!" You let the third-year-old kid chase you down from seventh and steal the red plates away. You're smarter than that 94. Detroit Triple Crown. Time to steal it back or forever remember that night in Arlington. #dontgowide
3.) Would you like to talk about Eli Tomac?
It had been officially four months and nine days since the bizarre Eli Tomac, who I call Elito Mac, had been seen at the track. He's been gone since the RedBud MXoN where Kevin Windham and Travis Pastrana were the most celebrated Americans. An off-season had passed and 2019 Monster Energy AMA Supercross had begun. The past was just that. The #3 was no doubt the favorite heading into A1. But after a month of races, it had become obvious, the three vets of Eli, Marv, and Kenny had decided to attack this new SX season in a much different fashion. Between these initial favorites, by round three of 2018, they had all already pissed it all away with crashes and injuries and the sleeper Jason Anderson walked away with the title.
So 2019 kicks off with a Barcia win in the mud, Blake stuns the world in Glendale, and where the hell did Coop come from at the Triple Crown of A2? Like it or not Kenny, Marv, and Eli had officially went into the off-season with the thought process of, simply winning eight races will NOT win a title. It's time to become the ultimate efficient racer that kicked all their asses, Ryan Dungey. Someone I would argue about his raw speed but, consistent podium speed wins a title over a demanding 17 round schedule. And that's what we all saw from Eli for the first month. Then he wins the third main of A2 and then knocks down the win at round four. Eli is an animal and can put the rest of the class on the ropes and on notice with his ability to get in a rhythm and bang out three or four wins in a row with a good start. But not only did Eli look like he was simply racing for podiums early on, he wasn't himself.
Gone were the early grenade mistakes but he looked tired with five minutes left. I was guessing arm pump as he has dealt with that in the past. Also, fans were questioning his adaptability to the new Kawasaki 450, which he obviously flopped on in Michigan (but ruled on at Monster Energy Cup). Then he knocks out the San Diego win and admits he had been coming off a preseason back injury but is now 100 percent healthy.
By admitting that, he was officially playing the mental game and making a statement to his competitors, "I'm back, bitches!" The #3 holeshots Arlington and our room of friends and family watching in Omaha all collectively said, "Eli is gone." But like he has done in the past and continues to do, the evil season-destroying Elito Mac comes out of nowhere! We hadn't seen him in months! A basic crash where he pushed the front wheel against the rut, only to remount and immediately fade to 12th. From what I heard there were no bike issues. Even my dad was yelling out that it had to be a front rotor issue from his crash. I'm gonna guess it was simply arm pump. The act of panic during an accelerated heart rate and mental thought of, "Oh f***, what did I just do?!"
I say that because that was my thought process, but I was a career eighth to 15th supercrosser. It's never the way the current points leader of the most prestigious dirt bike series should feel, react, and respond to that kind of tip over crash. Eli is a beast. There's no questioning that. But his evil doppelganger Elito Mac's complete mental breakdown is an anomaly and almost unprecedented for a rider of his unquestionable speed, talent, and win record. Heading into the half way point the #3 has dropped to 16 points down in a season where a good start is astronomically everything and Cooper just proved he's the only one able to come from outside the top five and win. If you're going to change your mindset and strategy that eight main event wins won't win you a title, but the proven Dungey Diesel podium consistency will, that bomb of a 12th place in Arlington just grenaded everything. It's time to lay down some wins with raw speed and aggressive "move people out of your way" style. The preseason plan is out the window, how does the #3 respond?