Joey Savatgy Update [Update]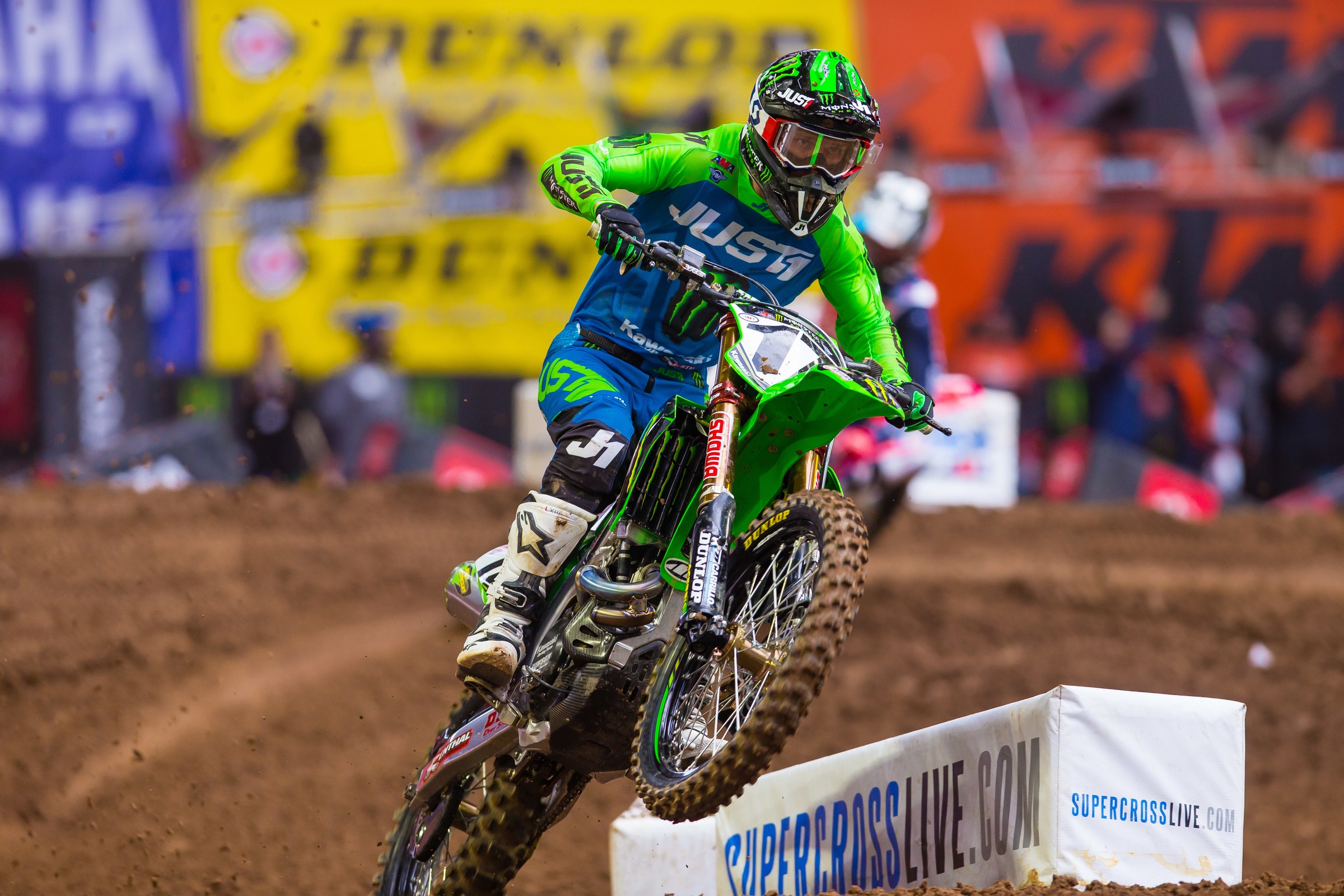 Glendale, AZ
Glendale (Phoenix)
Monster Energy AMA Supercross Championship
According to the Monster Energy Kawasaki team, Joey Savatgy was diagnosed with a concussion last night following a crash in his heat race at round two of the championship in Glendale, Arizona.
The crash was not caught on TV, but NBC cameras did show Savatgy talking with the Alpinestars Mobile Medical Unit staff following the crash. He did not return for the LCQ.
According to the concussion program for Monster Energy AMA Supercross, "If concussion is suspected, the rider is required to go directly to the Alpinestars Mobile Medical Unit. The athlete is not allowed to return to practice and/or racing until additional testing is performed."
We will update Savatgy's status for round three of the championship once more information is available.
---
[Update: Wednesday, Jan. 16]
Monster Energy Kawasaki's Joey Savatgy wrote on Instagram that he will race round three of Monster Energy AMA Supercross at Anaheim this weekend.
Of course, Savatgy will have to be cleared under the concussion program.
Here is how it works once a concussion is confirmed:
When Concussion is Confirmed:
The athlete and/or caretaker will receive a concussion injury education and advice sheet including a detailed handout of the Return to Ride Protocol.
Athlete contact information will be recorded, and forwarded to the Concussion Coordinator and/or Medical Director.
The athlete will be contacted by the Coordinator on Monday morning.
Riders must be evaluated by a physician or neuropsychologist experienced in the evaluation and treatment of SRC.
The Coordinator will assist the athlete in obtaining care in their local area. The treating physician will arrange for administration of a proctored ImPACT neurocognitive examination (not online). Only after the physician examination is normal, all symptoms have resolved, and the ImPACT test has returned to baseline standard can the athlete begin the supervised Return to Ride Protocol.
The Protocol:
The protocol has five phases with the first being the brain and physical rest until symptom free for 24 hours.
The protocol requires no symptoms throughout the exercises to advance to the next phase.
The five phases progress from non-impact activities, through supervised exercises, cardio and strength training using very specific exertion rates and progressions. Supervised riding is not introduced until Phase four and five and again through a very specific exertion rates and stepped progressions.
Once the protocol is completed, the physician and observer sign off.