The Paris Supercross is one of the biggest off-season supercross races in the world. Every year the race features a ton of top talent and this year was no different.
Supercross champion Jason Anderson won King of Paris honors, with Dylan Ferrandis and Zach Osborne rounding out the podium.
Following the second day of racing on Sunday, Steve Matthes caught up with Ferrandis and Osborne to chat about their weekend.
Dylan Ferrandis | 3-1-4-10-4-2 For Second Overall
Racer X: Not the day you wanted today. Crashes, some bad starts, but overall, second place. Good speed. You had some wins. Felt good?
Dylan Ferrandis: Yeah, definitely. It was a tough weekend. It's been a while since I ride in front of my home crowd and on my home soil. It was definitely a good pressure. I showed some good speed. For sure every time on the lap time I was strong in front. I won the Superpole, so the one lap time. I showed some good things. For sure some small mistakes. Yesterday for the first night in the last moto I crashed when I was second behind Zach [Osborne] and a stupid crash, but I came back strong which was good. Today first moto I got a good start and crashed again with another rider at the start. It cost me I think a lot of time. But I showed some good things. What I will remember forever is the first night when I won the second main. It was really an unbelievable feeling. I couldn't hear my engine when I was riding. It was insane. The public was so crazy. It's definitely I think a check on my bucket list, to do in my career. It's something that I will remember forever. It was awesome.
I remember when you were here on a Kawasaki. You were good, but you weren't winning, right?
Yeah, but also I rode in 250 and I was young. Not so much experience on supercross. It was different now. I came like an American rider. A lot of experience, much more experience. I came for wins. So it's make a big difference. For sure Jason [Anderson] was the man to beat. He's not champion for nothing. He was really strong this weekend. But I'm really happy to finish second overall.
It's one of those things where you crashed and then you couldn't get a good gate pick for the next one, and then you crashed. So was it like a gate pick issue too?
No. A little bit, but no. It was the same for everybody.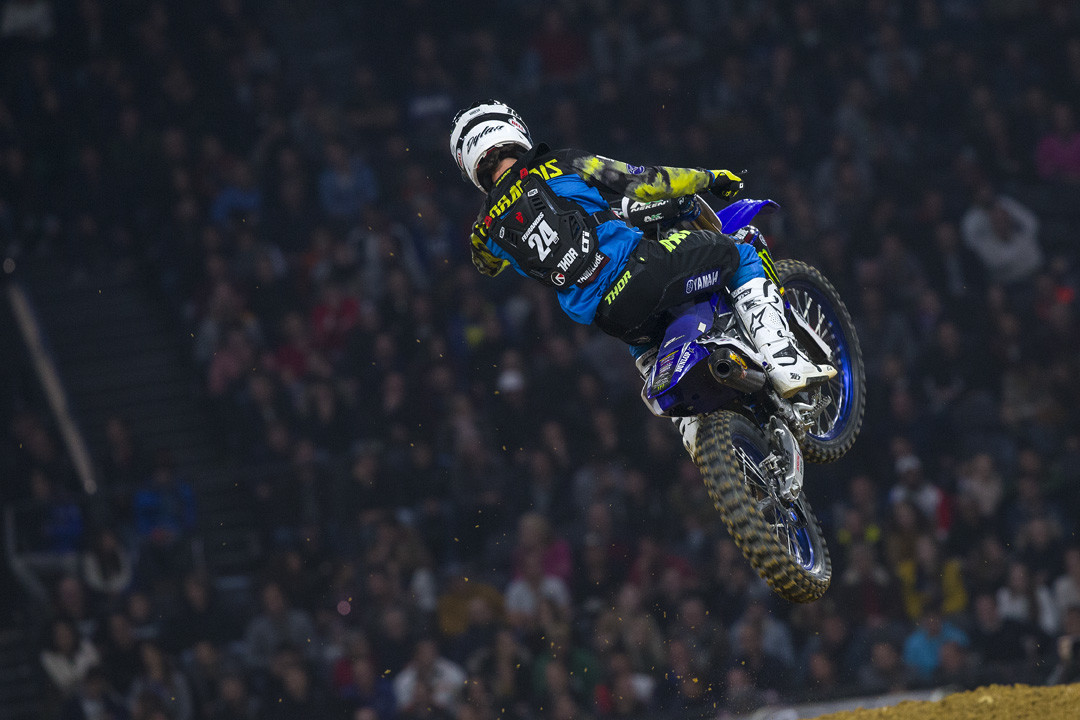 Slick out there, huh?
Oh yeah. The layout was really, really good. Good whoops section and stuff, but the dirt… I think we need to speak with the guy to improve on the dirt because kind of hard pack and a little bit slippery.
Been a good off-season for you. Motocross des Nations and here and everything. It's been fun.
Yeah. Not so much an off-season. We always work hard for every time we show up on the gate. It's no off-season. It was on the plan and we did it. Now I think we go back home tomorrow, take one or two days off and after that go back to work for the main goal. Our main goal is the American championship supercross. I don't know yet which coast I will do, but I hope to do West Coast. We will see. If I can ride Anaheim 1 and be at 100 percent it's my goal right now.
I think for you, and I'm sure this is your goal, you can be a double champion next year. I think you have the speed. You have the fitness. You could be a supercross and motocross champion. That's got to be anything less than that and you're probably going to be a little bit bummed out, huh?
Yeah, for sure. This year was also my goal to be double champion, but I broke my arm in supercross. But I showed some good things. For sure, yeah, next year more experience. That's my goal, definitely. We'll see. I don't want to hurt myself. I think right now to be really strong on the long career is to don't have so much injury, and I had a lot in the past. Just want to be consistent and we'll see. But for sure my goal is to be double champion next year.
How many times did [David] Vuillemin tell you all about how he won everything all those years here in Paris?
Too much, too much. Told me all the stories when he was here, what to do and stuff. When he beat [Jeremy] McGrath because I was too young and I don't remember, but after [that] I was [old enough to remember his races], that's what I said. Ten years ago I was in the stadium and dreaming to have a jersey. I remember one year in Bercy I asked Zach Osborne. So I was maybe 13 or 14 and I asked for his jersey because I was a fan. My goal was always to be a professional rider, but when you're young you dream about it. I tried to give everything I can to my fans this weekend. Right now I have nothing. I finished naked and I have just nothing [gave everything to the fans].
I was a mechanic when he [Vuillemin] was winning and when he won all the main events and swept everything. I don't know if I've heard a louder arena in my life. That Bercy place… He would catch McGrath and pass him and it was insane. It had to have been so cool.
Yeah, I can imagine. I don't remember because I was too young, but I can imagine that it was insane. Me, like I said, just last night when I won the second moto, I couldn't hear my engine. Was almost difficult for me because sometimes I didn't know what power was on my engine. Unbelievable. It's definitely only in France that you can live that stuff. Unfortunately for the other countries, it's only when you are French.
Zach Osborne | 6-2-2-1-2-12 For Third Overall
Racer X: Damn it, flat tire in that last main event. You still got third overall. You still rode really well. But that kind of sucks.
Zach Osborne: Yeah, it's a bummer to end the weekend that way, but there's a lot of positives to take away.
Blame [mechanic, Dave] Feeney?
No, of course not. We had a really good weekend. One big note is my starts are back. That's one thing I really, really struggled with on the 250 was starts. So to come out and pull four or five holeshots on the weekend…

You were unbelievable, until [Justin] Brayton figured out his clutch today.
Yeah, Brayton was good today. Still, there's a lot of positives to take away. I had a crappy first main event which hurt me kind of for the whole deal. Otherwise I could have been a little closer to Jason going into the last final as far as points went. But really I felt like I rode quite well. As far as conditions go, this is kind of my worst-case scenario with it being really slick.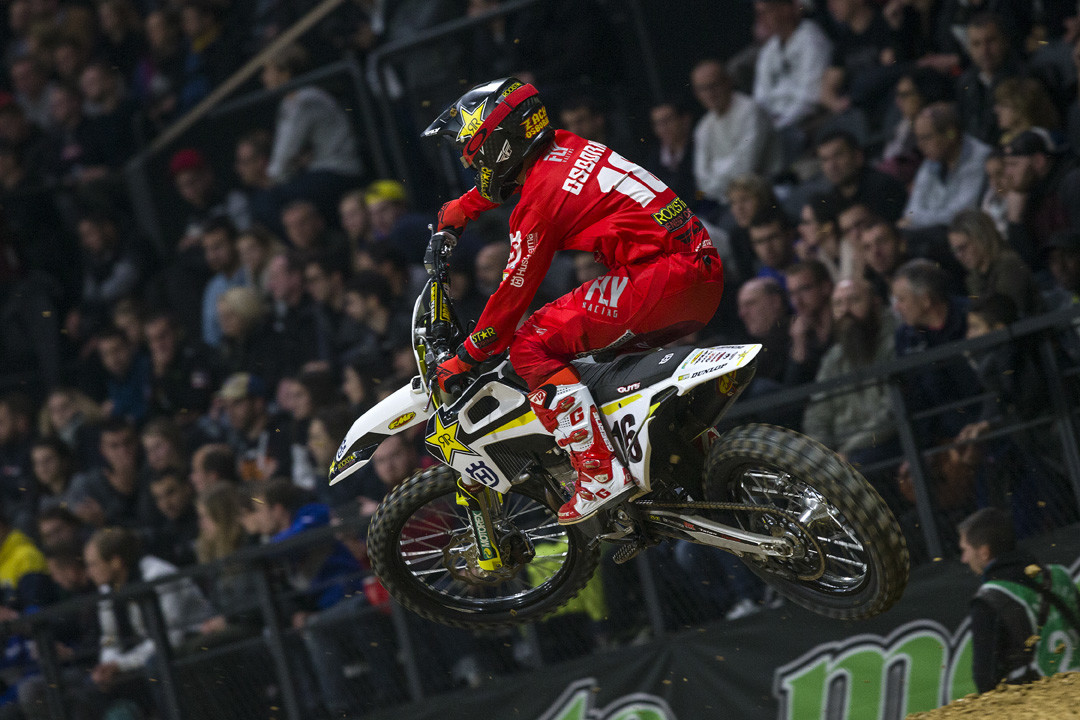 How bad was it?
Slick, dude. Like Vegas wet.
That's bad.
Yeah, it's really strange because typically at home and most dirt if it's moist it's not going to get hard, but this was like moist and hard. It was super strange. It was like extra slick, which Jason is super good at that. Spinning the corner with the rear wheel.
His speed coming off the center double was insane.
I felt like I could get closer to him over here in the rhythm lane and he was a little bit better than me in the whoops, and I could kind of catch him the rest of the track, but on that center double he was putting four bike lengths a lap. I'm like, damn it, I'm fighting this whole lap to get back to here so he can pull me again. There was nothing I could do. Tried outside, inside, more sweeping. He's really good when it comes to that.
I think you were impressive all weekend. You were one of the only guys to catch him. He's supercross champion and on this track you caught him a few times and got on his back tire, which has to feel good.
For sure. I feel like actually I've been riding a little bit better at home than what I did today, just because the conditions and whatnot. So I feel like there's still some more in the tank. Hopefully I can just continue to build all the way to Anaheim and I think I'll be right where I need to be. I feel really good about it. My bike is really good. It has been since day one. The main thing now is me fine-tuning it, but also having enough hours to be able to tell them what I'm looking for, what I'm feeling, where I'm wanting to go, and things like that. So it's just a game of putting in the time now and keep building. Like I said, I feel like Geneva will be a little better for me because it's a little bit ruttier. I'd like to go there and be able to win.
I think that for me as an ex-mechanic and if I put myself in your shoes, I would love these off-season races. A.) You make a ton of money and you're already so rich it's ridiculous, B.) It's gate drops, it's real racing, it's real intensity. You learn about your bike. You learn about your body. I know Aldon and Swanny and all these guys hate these things. I don't care.
Aldon's really not that against it, especially when we're mid-November now and I'm in a good place as far as my training and fitness and everything goes. He's fine with it.
He's fine with it, but Dunge and Villopoto never did anything.
I can't explain that one. But he has no problem with me and I was very adamant with Husky and Aldon that if I don't race these races, then I'm not going to have raced since I crashed in Lakewood. So I need these races. I need to feel starts. I need to be able to go out there and race and get into situations and make some passes, which I was able to do tonight so I was really happy with that. I was a little worried about my race craft and race trim, but it was really good.
Vince Friese was a huge surprise this weekend, and I think you were also a huge surprise. I was really impressed all weekend, for sure. I heard you were flying in Florida, but I didn't really believe it. It could have just been your hype machine, but now I think I'll buy in.
Thank you. I was actually impressed with Vince, too. He was really good all weekend. But he was good at Monster Cup, too. Like, quietly good. You didn't really realize, but he was good. All in all, a good weekend. Really hope Weston's [Peick] okay. I know he's doing okay, but I hope he gets better quick.
That really put a damper on the whole weekend. I texted you a couple times with some good lines. How were those lines?
Good lines. Sometimes when you text me lines it's like, what is this guy talking about? But this weekend it was like, yeah, I know. I'm going to fix it.
I was on my game.
Yeah, you were good. Riding coach. DV who?