Smartop/Bullfrog Spas/MotoConcepts Honda teammates Vince Friese and Justin Brayton had an excellent Paris Supercross, with the duo finishing fourth and fifth overall, respectively, on the weekend.
JGR/Yoshimura Suzuki's Justin Hill was a super late addition to the event after Marvin Musquin withdrew due to a knee injury. Hill fast all weekend in qualifying and the Superpole, but bad starts and a crash did him in in the main events. Still, he finished a respectable seventh overall.
Steve Matthes spoke with all three riders on Sunday.
Vince Friese | 4-5-6-2-5-4 for fourth overall
Racer X: Nice work this weekend, man. Starts were on point. You battled hard. I was really impressed with you all weekend. You had to be happy.
Vince Friese: Yeah, thank you. I was. This is what I was expecting for myself, but it's always hard coming to a race and actually getting the job done. But my riding at home has been really good. I've been training with Malcolm [Stewart] a lot, and these guys have been making the bike so good. The way I've been feeling at home, this is what I expected. But it's always tough to execute, so I was happy with that. I just want to thank all these guys for having me here and my whole team. Look at us. We got the whole crew here making the bike on point and all that. So that made it easier on me. I had a blast. This is fun and hopefully I can do more of these.
Were you happy with your whoops? We talked last year. You improved them last year a lot. I thought this weekend you were also pretty good in them. What'd you think?
Yeah. I think [Jason] Anderson and [Justin] Brayton were on another level still in the whoops, but I was happy with where I was. I think I was on par with all the rest of the guys. I think I was better than the Euro guys. The one moto I did get a bad start, it felt nice to actually pass some guys in the whoops. They're good guys too, but obviously they don't specialize in supercross. So it felt good to make some passes in the whoops. Confidence builder and all that.
You guys ride a lot here over two days. By the end of that last main, are you feeling it at all? The mains were pretty long for such a short track. Does it catch up to you at all?
Dude. This morning when I woke up I was hurting. Something about a race day drains me. I think it's because I don't eat a ton. You want to keep yourself kind of light, and then you obviously work really hard mentally and physically all day. So I always wake up the day after the race tired and sore. I woke up like that this morning and I was like, "Man, I've got to go do that all over?" But once I got going, after that first practice and we did the Superpole deal and all that, I started actually to feel pretty good. I've been working really hard. I had the summer off but we were working hard, me and my trainer, Charles Dao. Obviously I said I've been riding with Malcolm. We've been pushing each other really hard. I think my fitness kicked in later today and it got me through it. But two days in a row is tough.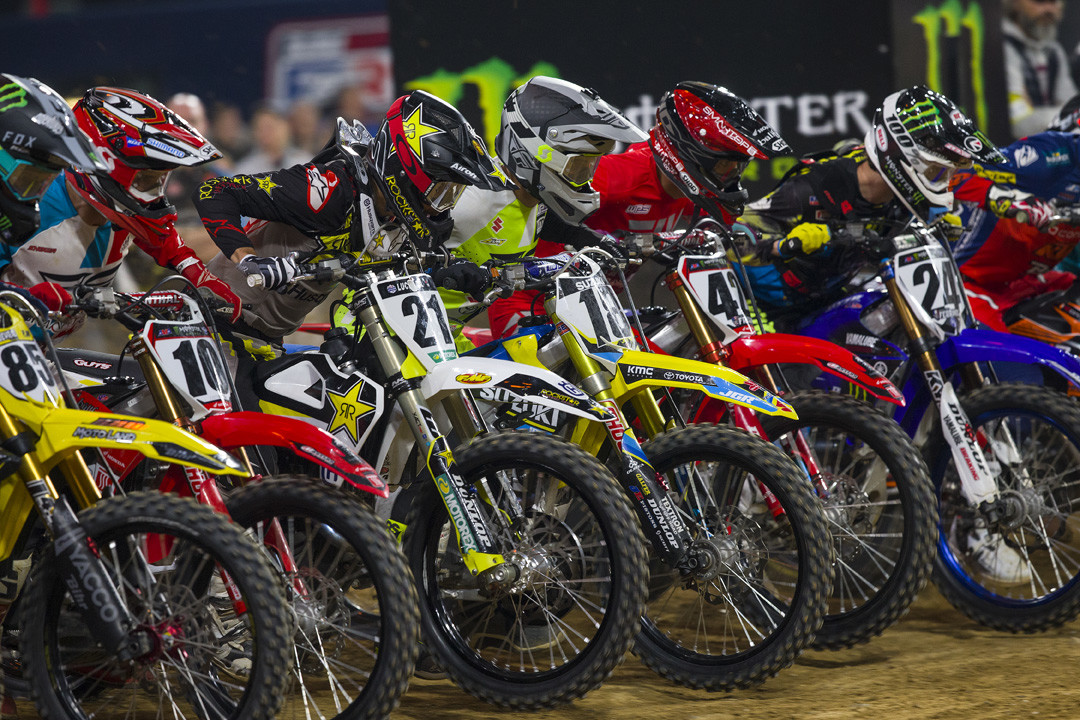 Justin Brayton | 9-6-3-4-3-3 for fifth overall
Racer X: Better starts today. Your team manager, Tony Alessi, told me you'd get better starts today. You guys made a bike change and damn it, it really worked because your starts were much better today.
Justin Brayton: Yeah. They were a lot better. The cool thing about these overseas races is you learn stuff about the bike. I hadn't had much time on the '19, and there were some different clutch changes that I wasn't really used to so we changed some stuff. I'm a real feel guy with the clutch. I like kind of a stiffer pull, and that's pretty much what happened. We got a little bit stiffer pull so I could feel it and I holeshotted two out of three. It changed the whole night for me compared to last night. Just struggled with breathing. It's nice to get out front and kind of do my own thing and be able to battle with those guys rather than sit back there in eighth place trying to deal with them. So a much better night and definitely started with getting better starts.
It looked like you let Osborne by a little bit, and Ferrandis. You made a couple mistakes and you were like, "Hey, go."
For sure the last one. It was fun racing with Jason [Anderson] in the second one, and then the last one I did pretty much let them by. I'm realistic. I'm pretty smart with that as far as being mature about not pushing my boundaries. I didn't have 20 laps in me tonight. That was just the bottom line.
I even tweeted, "bike problems?" because that was how much I was like not really used to seeing that.
Honestly, just with having pneumonia and bronchitis, it's been crazy. I really can't stress that enough how I've been feeling. Thankful to even be able to do what I've done this weekend and not push the envelope and battle with those guys.
The second semifinal with Anderson, like you said, that was intense. You guys were going for it. You definitely didn't want to let him by. He was pushing you hard. It was a cool race.
Yeah, it was fun. He got me. I holeshotted, then he got me in the second turn and then I passed him back after the whoops. It was a good race. He's interesting to race because you can't ever leave your insides open, so then he could kind of rail the turns, but actually some insides were good, and some lines he had were good. So that was pretty fun.
I saw you do a shoulder check one time. Like, where is he right now?
Yeah, exactly. After the finish I was like, okay, is he coming in right now? So overall it was a fun night, fun weekend. It was cool to be here with the team and start building with these guys and this bike.
You got into it a little bit in practice with him yesterday?
Yeah, I did, with Anderson. I was lining myself up for a fast lap in the last turn, and I guess he was on a fast lap. I didn't see him. I would never intentionally get in somebody's way. He just roosted me and did his thing. We talked about it afterwards and I just said, "You're the champion, man. You've got to grow up, basically." But he was cool after that. It is what it is. I'm a true believer in that, man. He's got the number one plate and there's a little bit of a responsibility with that, and to do that in practice… We had 15 minutes on a 40-second track. It's like, come on. I would never intentionally do that to anybody.
You have New Zealand coming up and then you're in Geneva. You got time to get better here, JB, physically?
Yeah, I'm definitely clawing my way out of it. A week ago it was really bad. Now I'm getting better. I'm just looking at it as I'll be able to sit on an airplane, hopefully sleep, and if I was at home I'd be probably wanting to train or wanting to ride or wanting to go test something. So it's kind of forcing me to rest a little bit and then race on the weekends. On some antibiotics so that will run its course in the next few days and hopefully be better. Then I'll get a little bit of a break for the last half of December, and hopefully come into Anaheim fresh and healthy and ready to go.
Justin Hill | 5-27-7-9-6-5 for seventh overall

Racer X: The whole weekend kind of has a pall over it with Weston's injury, obviously your teammate. Sucks. We wish him well. How much did it bug you all weekend? I think probably quite a bit.
Justin Hill: [Bugged me] Since the second it happened. That moto I came to a dead stop. I saw him obviously kind of just flop down. Instead of worrying about myself I was definitely paying attention to, where is he? We're in a different country. There's only a few of us here. I was worried. Last night we were trying to find our way. Thank God Eric Peronnard is with us and he's able to kind of navigate us and get us in there to at least get some information. It was tough. I didn't get a lot of sleep.
Were you thinking about not racing today?
I considered it. Eric was gracious and said I did not have to, but I'm here to race. I'm also pretty beat up. I crashed the same way Weston crashed. I just got lucky and got missed and hit my hip instead.
The second one, right?
Yeah, the second moto yesterday. I considered it, but we'll get through it. It's the sport we do. I thought, "I'm better off getting through it than I am going, Oh, no, I'm going to just…"
Plus, if you didn't, Weston would call you out.
True. He deserves it.
Superpole winner. Fast in qualifying. So you got that part down. You've got to be stoked about that.
Yeah. I definitely had the speed, it was just one of those things where my starts were killing me. It's last minute and we don't really have everything kind of dialed with the bike.
Osborne, Anderson, they're on their full factory stuff. Brayton's got the head and cams.
It just killed me on the starts, really. People don't really understand how much horsepower you gain with a works engine, a factory engine, and just those little pieces. It killed me on the starts, but more than anything the gates are different and I kept hitting them and my device was popping. Four out of the six motos my device popped up. It didn't even matter at that point. Just, "I'm last. All right." So there was that. It was a learning curve. It was so last-minute. Ten, eleven hours before we flew out is when I got the call to go. It was just one of those things last-minute deals. Next year I want to come back, 100 percent. I had a blast. I love this town. This event was really good.
You've never been here before, right?
I've never been here before. You never really know what it's going to be over here or somewhere. It was good. It was legit. It was ran well. The track was prepped. The track was good. I would 100 percent come back. I would just like to do it how Husky and MotoConcepts was doing it and make sure that we come here with our full setup and use this as a test and actually shake down our race idea. We didn't do that. We just sort of showed up because we were asked to show up.
For the last-second thing, it's pretty good for how you guys came out. It really helped the show.
I just wanted to show that I had the speed, and obviously after Weston crashed… First moto was four minutes plus something. It was short. I was dead last. I came from dead last to fifth in four minutes. So my first moto was bitchin'.
We saw your qualifying speed. We saw your superpole stuff.
It was all good. Second moto, big crash. Third moto, Weston, [it] just kind of devastated me. Not to try to lean on that super hard, but it affected me, 100 percent.
One of the riders told me it was Vegas with water out there. What do you think?
It was. It was slick. It was slick, but for me it was good practice because you don't get those race lines at your practice track. You don't get any of that. You don't get the gate drop. You don't get the intensity. You don't get the battles. You don't get the entire having to pass a dude in the whoops and all that stuff. So I actually gained from this event, 100 percent. I'm healthy enough. I'm just bruised up, just beat up. So I'll be fine in a couple of days and I'll be ready to get back to work.
I don't understand some trainers don't want their riders to do these off-season races. You want to ride the same six-inch groove around the track that you can ride with your eyes closed as opposed to making some good money, getting some gate drops, intensity of racing. To me, this is a no-brainer to come to these things.
I agree. I don't do the goat trail at the test track. I don't do it. I do me. I do different things. I change up the laps. I change up the lines. I ride the track backwards. I do everything else.
Well you're rare, because most guys don't.
Most guys don't. They ride a six-inch line, and as soon as somebody comes to the inside they're like whoa! And it's like a whole thing. I don't do it that way. I feel like I'm a creative person and I don't just stick to a routine like that.
How's the album sales?
We don't know yet. We'll know in a couple days. Probably three days we'll get a report or something. I don't really care about that. I make it because I like it. I feel like grunge is dead and I'm trying to resurrect it. That's it.
It is dead.
That's all I'm trying to do is just bring back some whole sound, real grunge rock, like '90s. I'm all about the '90s. I just want to bring the '90s back.
Honestly, 722 will hate this but it's much better than his stuff he puts out. I can't stand it. I'm too old for that.
We're coming out with something together. He called me and he's like, let's do something. Normally I'm not like a hip-hop guy at all. But he called me and I'm like, all right. Send me the file and we'll see. I feel like I can do anything. It doesn't really matter. I'll just try. And I love it! It turned out good. He's mixing it and doing his part. I'll probably end up putting a guitar solo in it somewhere. I did kind of a hook and a verse and a chorus. I rap in it and it sounds to me pretty good.
That's the most exciting thing to come out of this weekend.
I like the writing. That's my thing. You're never going to hear a bunch of BS out of me. There's something there every time. I'm throwing out a piece of me everything I do.