Paris Supercross Results (Saturday)
November 17, 2018 10:40am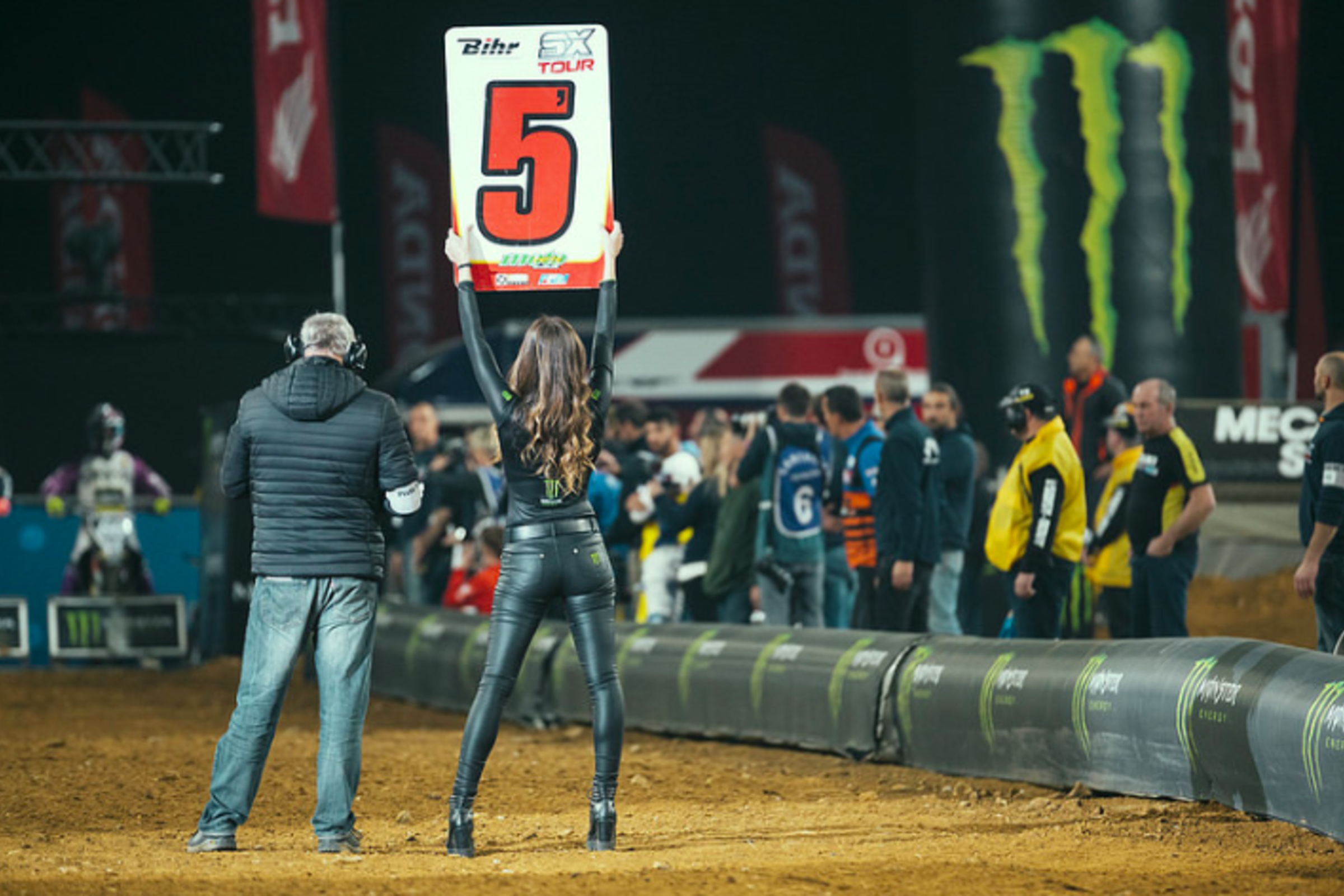 The first night of Paris Supercross is underway and it features a lot of top riders, including Jason Anderson, Justin Hill, Justin Brayton, Zach Osborne, Dylan Ferrandis, and more.
You can watch qualifying (in French) here. We will be posting live updates on our Twitter account and will have a full breakdown once the racing is done.
Follow along here for results throughout the day.
SX1 Qualifying
| | | |
| --- | --- | --- |
| Pos | Rider | Time |
| 1 | Justin Hill | 41.36 |
| 2 | Dylan Ferrandis | 41.47 |
| 3 | Justin Brayton | 41.63 |
| 4 | Zach Osborne | 41.69 |
| 5 | Vince Friese | 41.94 |
| 6 | Jordi Tixier | 42.121 |
| 7 | Gregory Aranda | 42.129 |
| 8 | Jason Anderson | 42.16 |
| 9 | Valentin Teilliet | 42.46 |
| 10 | Fabien Izoird | 42.57 |
| 11 | Nicolas Aubin | 42.65 |
| 12 | Weston Peick | 42.87 |
| 13 | Florent Richier | 42.92 |
| 14 | Cedric Souberyas | 42.95 |
| 15 | Tyler Bowers | 43.06 |
SX2 Qualifying
| | | |
| --- | --- | --- |
| Pos | Rider | Time |
| 1 | Thomas Do | 43.652 |
| 2 | Cameron McAdoo | 43.89 |
| 3 | Adrien Escoffier | 44.13 |
| 4 | Anthony Bourdon | 44.33 |
| 5 | Arnaud Aubin | 44.58 |
| 6 | Jace Owen | 44.59 |
| 7 | Brian Moreau | 44.75 |
| 8 | Julien Roussaly | 44.96 |
| 9 | Pierre Lozzi | 45.11 |
| 10 | Melvin Regnier | 45.81 |
SX1 Superpole
| | |
| --- | --- |
| Pos | Rider |
| 1 | Justin Hill |
| 2 | Dylan Ferrandis |
| 3 | Justin Brayton |
| 4 | Gregory Aranda |
| 5 | Jason Anderson |
| 6 | Jordi Tixier |
| 7 | Zach Osborne |
| 8 | Vince Friese |
| 9 | Valentin Teillet |
| 10 | Fabien Izoird |
SX 2 - Sprint 1
| | |
| --- | --- |
| Pos | Rider |
| 1 | Jace Owen |
| 2 | Adrien Escoffier |
| 3 | Anthony Bourdon |
| 4 | Cameron McAddo |
| 5 | Brian Moreau |
| 6 | Thomas Do |
| 7 | Lorenzo Camporese |
| 8 | Francois Dore |
| 9 | Julien Roussaly |
| 10 | Robin Kappel |
SX1 - Sprint 1
| | |
| --- | --- |
| Pos | Rider |
| 1 | Jason Anderson |
| 2 | Weston Peick |
| 3 | Dylan Ferrandis |
| 4 | Vince Friese |
| 5 | Justin Hill |
| 6 | Zach Osborne |
| 7 | Fabien Izoird |
| 8 | Jordi Tixier |
| 9 | Justin Brayton |
| 10 | Gregory Aranda |
| 11 | Ben LaMay |
| 12 | Valentin Teillet |
| 13 | Cedric Soubeyras |
| 14 | Gaetan Le Hir |
| 15 | Nicolas Aubin |
| 16 | Xavier Boog |
| 17 | Florent Richier |
| 18 | Tyler Bowers |
SX2 - Sprint 2
| | |
| --- | --- |
| Pos | Rider |
| 1 | Cameron McAdoo |
| 2 | Jace Owen |
| 3 | Thomas Do |
| 4 | Adrien Escoffier |
| 5 | Anthony Bourdon |
| 6 | Lorenzo Camporese |
| 7 | Brian Moreau |
| 8 | Pierre Lozzi |
| 9 | Francois Dore |
| 10 | Calvin Fonvieille |
SX1 - Sprint 2
| | |
| --- | --- |
| Pos | Rider |
| 1 | Dylan Ferrandis |
| 2 | Zach Osborne |
| 3 | Jason Anderson |
| 4 | Weston Peick |
| 5 | Vince Friese |
| 6 | Justin Brayton |
| 7 | Jordi Tixier |
| 8 | Cedric Soubeyras |
| 9 | Gregory Aranda |
| 10 | Fabien Izoird |
| 11 | Nicolas Aubin |
| 12 | Florent Richier |
| 13 | Xavier Boog |
| 14 | Tyler Bowers |
| 15 | Ben LaMay |
| 16 | Gaetan Le Hir |
| 17 | Justin Hill |
| 18 | Valentin Teillet |
SX2 - Final
| | |
| --- | --- |
| Pos | Rider |
| 1 | Jace Owen |
| 2 | Adrien Escoffier |
| 3 | Cameron McAdoo |
| 4 | Pierre Lozzi |
| 5 | Brian Moreau |
| 6 | Thomas Do |
| 7 | Lorenzo Camporese |
| 8 | Anthony Bourdon |
| 9 | Calvin Fonvieille |
| 10 | Francois Dore |
SX1 - Final
| | |
| --- | --- |
| Pos | Rider |
| 1 | Jason Anderson |
| 2 | Zach Osborne |
| 3 | Justin Brayton |
| 4 | Dylan Ferrandis |
| 5 | Jordi Tixier |
| 6 | Vince Friese |
| 7 | Justin Hill |
| 8 | Gregory Aranda |
| 9 | Fabien Izoird |
| 10 | Nicolas Aubin |
| 11 | Valentin Teillet |
| 12 | Ben LaMay |
| 13 | Xavier Boog |
| 14 | Tyler Bowers |
| 15 | Cedric Soubeyras |
| 16 | Gaetan Le Hir |
| 17 | Florent Richier |
| 18 | Weston Peick |
SX1 Overall
| | | |
| --- | --- | --- |
| Pos | Rider | Results |
| 1 | Jason Anderson | 1-3-1 |
| 2 | Dylan Ferrandis | 3-1-4 |
| 3 | Zach Osborne | 6-2-2 |
| 4 | Vince Friese | 4-5-6 |
| 5 | Justin Brayton | 9-6-3 |
| 6 | Jordi Tixier | 8-7-5 |
| 7 | Weston Peick | 2-4-18 |
| 8 | Fabien Izoird | 7-10-9 |
| 9 | Gregory Aranda | 10-9-8 |
| 10 | Justin Hill | 10-9-8 |
SX2 Overall
| | | |
| --- | --- | --- |
| Pos | Rider | Results |
| 1 | Jace Owen | 1-2-1 |
| 2 | Adrien Escoffier | 2-4-2 |
| 3 | Cameron McAdoo | 4-1-3 |
| 4 | Thomas Do | 6-3-6 |
| 5 | Anthony Bourdon | 3-5-8 |
| 6 | Brian Moreau | 5-7-5 |
| 7 | Lorenzo Camporese | 7-6-7 |
| 8 | Pierre Lozzi | 13-8-4 |
| 9 | Francois Dore | 8-10-10 |
| 10 | Calvin Fonvieille | 12-9-9 |