Jeremy Martin went down and down hard at the Muddy Creek round of Lucas Oil Pro Motocross, ending his bid for a third 250 National Motocross Championship. The back injury—a burst fracture of a vertebrae—not only knocked him out of the title fight, but the recovery process is so long it might drag into the 2019 season. Jeremy might not even be back on a motorcycle until January, so he's not sure about his prospects for Monster Energy Supercross at this time. Right now, he's just focused on getting strong and healing up. Once he starts riding, he'll have a better idea of a return date.
Jeremy is back to Eli Tomac's spot out in Colorado to continue training. We checked in with him last week for an update.
Racer X: You're back in Colorado.
Jeremy Martin: Yeah! I'm back in Colorado. I enjoyed Minnesota but it was starting to get pretty cold so I headed back here. I'm finally getting back to where I can start some outdoor training on the road bike so I had to migrate to where it's better weather.
Minnesota has to be bad if the mountains of Colorado are actually a much warmer alternative.
[Laughs] Well we're pretty fortunate here at Eli's, it's kind of like the higher desert, sort of. So we do get the elevation but we get better weather, also.
Do you have to ditch for California at some point?
Yeah you usually have to ditch around Thanksgiving so we're getting to the end, but then you can come back around East Coast Supercross time. But Minnesota, you've got to be out of there by now.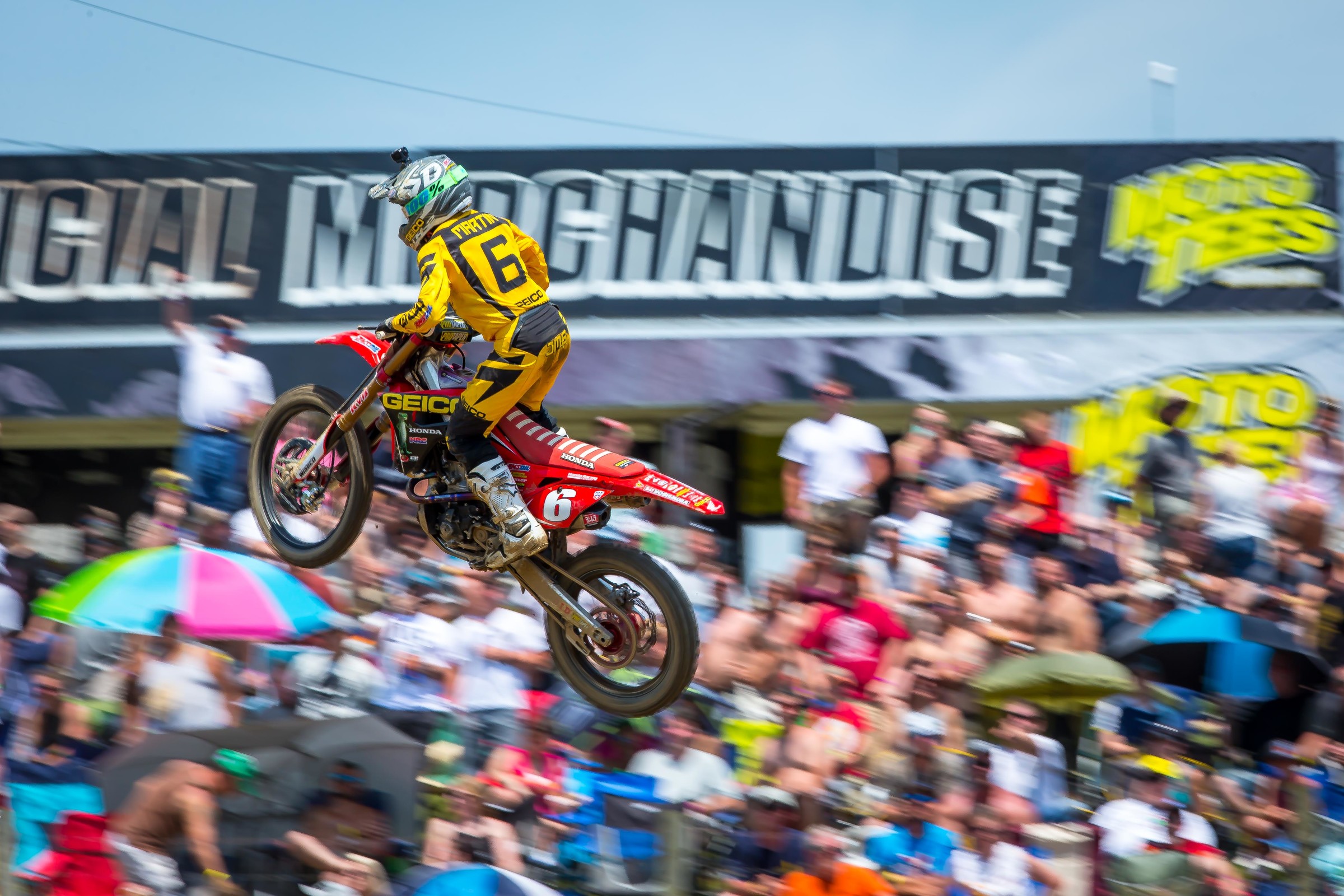 So I see a picture of you in Colorado on a road bike. I was assuming the dirt bike riding photos were coming soon. But it sounds like that's not the case?
Yeah, the back is now okay to go out on the road and handle the bumps and cracks, but we're still a ways out before we can ride a dirt bike. We're hoping to maybe start in January or right around there. We've got a ways to go yet with PT [physical therapy] and stuff. It was a really nasty injury, and you've only got one back. Racing is important to me, but there's a life after moto and I want to have a good back and a good body when I'm done. So I'm not going to come back until I'm 100 percent ready, and GEICO Honda feels I'm ready.
When you crashed, it was scary. I'm announcing the race for TV and all we have is basically what the viewers see at home—we have a monitor that shows you on the ground in pain. When we first saw you laying there, you weren't really moving. Whenever we see a guy moving his head but not his legs, that's scary. Did you have any loss of feeling or movement or anything like that?
So initially, when [Justin] Cooper kind of came over on me and we hit, I was like "Man, this ain't gonna be pretty." The way I landed, my ass hit the ground first and it was the most excruciating pain in my life. I've never felt anything like that. I moved my toes so I knew I was good, but I was just in so much pain I just couldn't move.
So you just couldn't move because you were in too much pain! Did you feel like you had just exploded on impact?
I had a massive fracture and it just felt like my back was going to give out. It's not like an arm or a leg—it was a feeling I'd never had before. I was just trying to be as calm as I could in that situation.
Also we know in that situation, even if you do have feeling and movement immediately, everyone has to be very careful when moving someone around who has a serious back injury. So what was the whole process from getting off of the track and to the hospital?
Yeah it was tough, but the Alpinestars [Mobile Medical Unit] guys did a great job. When they came over they knew what was going on right away and I chatted with them a little bit, then we got in the ambulance and got to the hospital and got to the process of what was wrong and what to do.
I've always wondered about this when a guy gets a gnarly injury. Where's the separation between being a racer and just being a guy who is hurt. On Saturday night after that crash, were you only thinking about how badly you were hurt, or were you already thinking about the points, the championship being over, and things like that?
I think it's only natural to think about the racing. The first thing I said, and I talked to people in my circle about it, I was like "What did I do wrong?" But they all told me there wasn't anything I could do about it. I slid out exiting the turn, and I was back a ways, and no one else was on the inside. So I thought I had a clear path, like "I'm good, I'm not even in the main line." It was just a freak race deal, and that's how I look at it. But I was definitely in a good position. I would have won the weekend before at High Point, I was leading the second moto until I had a DNF. Then I won the first moto at Muddy Creek, easily, honestly, there. We had just found a new setting on the bike, and it was the best I had felt since 2015. I was comfortable on the bike, and my body felt good. I think I would have won Muddy Creek as well, and it was setting up to be, basically, I thought I would have won the championship. There was no doubt in my mind. Then we had a nasty race incident like that.
And that's what I'm asking. Saturday night, when you're in crazy pain and trying to get surgery scheduled, are you only thinking about the back or are you already thinking about the title slipping away?
I was thinking about my back, but then your mind shifts. You think about the title. I had a DNF, but at Muddy Creek I won the first moto and Aaron [Plessinger] went down. I had already cut the points down. I think I would have had a good race in the second moto and I think Aaron struggled that moto. So it was setting up to be another epic championship battle again, and it would have been close. So you definitely have your moments. But you calm down and you start thinking about other things. My mom flew in, my brother was there, the GEICO guys, the Tomacs, so I had a lot of good people there.
Sounds like a pretty tough road. How long until you were up and walking and stuff like that?
It's actually pretty gnarly what they do these days. I ended up standing probably 15 hours after surgery. It was just really, really gnarly to just stand up and get into that position, and I was so weak with the trauma and stuff. First I just had to just try to stand for a minute or two minutes. I had to build the body back up and get strong.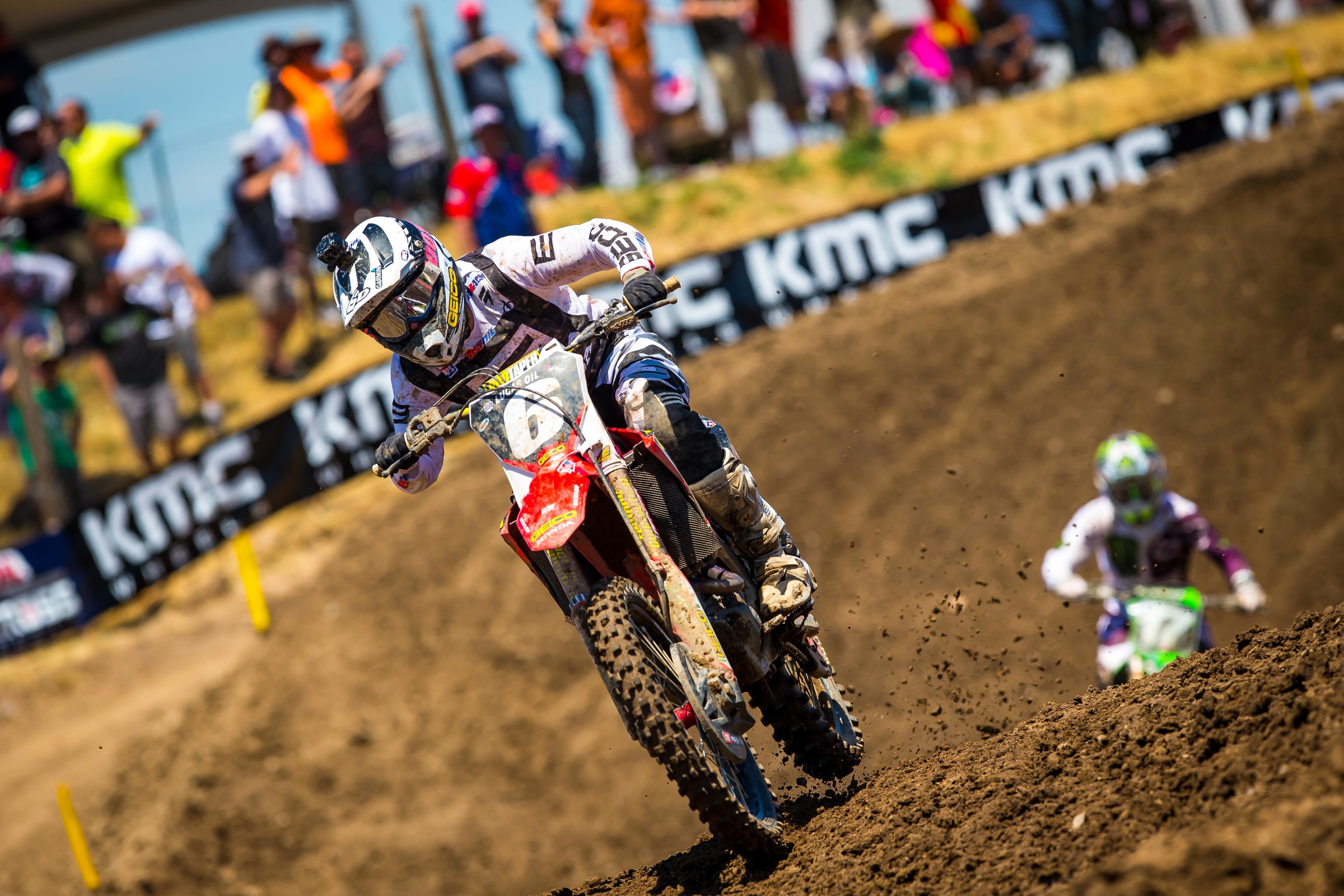 Plus, when you have a big injury like that and it's so hard to move around, suddenly things you took for granted are so hard. Like just getting over to the fridge to get something to drink!
Yeah, I'd like to say I felt pretty fortunate in life for things before, but now I have an even greater appreciation for the little things in life.
How bored did you get?
I'm just trying to stay busy. I've had a lot of time to think about stuff, so what I've been thinking about is what am I going to do when I'm done racing dirt bikes? What am I going to do when I retire? And I think that's something that a lot of guys struggle with. You go from week in week out traveling and you have a single focus. You have that focus day after day, year after year, and then it stops. You have to think about what you want to do, so that's what I've been thinking about. Hopefully that makes the transition easier when that day comes.
Well then that begs the question, did you ever think about just not coming back from this injury right now?
No, not at all. Even when it first happened, I thought about how much I really love what I do. I do it for me. There's something about the feeling of riding a dirt bike that's unlike anything else. Even at the end of the season, I was talking to my brother and he was like, "Man, I'm tired, the season is wearing on me." I told him "Al, you have no idea how much I would just appreciate getting to do that." The freedom you get when you ride a dirt bike, the adrenaline. I miss that feeling and to me, I dig it, so I'm definitely missing riding a dirt bike and racing.