Things are getting nutty up in Canada with just one round left in the Rockstar Triple Crown series. This is the first year of a new idea in Canadian racing to combine points from supercross, motocross, and arenacross races to determine an overall Triple Crown Champion and hand out $100,000.
Thor KTM Canada's Cole Thompson leads the series after extending his points lead last week in Quebec City with a last lap, last corner pass on the rider second in the points, GDR Honda's Colton Facciotti. The contact left Facciotti with some injuries and he's most likely out for the final round.
But there's a lot more to the story.
Facciotti's 250 Class teammate Dylan Wright was going to jump on a 450 for the Quebec City race in hopes of possibly finishing in front of Thompson and helping Facciotti make up some points, but when series promoters Jetwerx realized this, it announced quadruple fines for any rider determined to be using team tactics. In the end, Facciotti's team decided to not even have Wright race, just to make sure no one thought they were trying something sinister. (It's worth noting that Jetwerx is run by the family of Cole Thompson, and this will always add drama regarding rule changes and decisions, fair or unfair.)
Then in the race, the battle for the win boiled down to Thompson versus Facciotti, and it came down to the last turn on the last lap. Here are Facciotti's thoughts.
Racer X: First things first, how are the injuries? We all saw you fly off the side of the track there.
Colton Facciotti: Yeah, it was pretty scary with how I felt right when it happened. Just coughing up blood and all that kind of stuff. Feeling a lot better now. I've been getting kind of a little bit of the run-around with doctors and all that kind of stuff. I went to the hospital in Quebec and stayed overnight there. Got CT scans and all that. I wanted to get those to my doctor. We're having a hard time getting those sent from Quebec because of the language barrier and that. So at this point we're just going to go try to get an MRI and get right to the bottom of things. So that's kind of where we're at on that. Definitely feeling a lot better than I was the first couple days. A little bit more movement and that kind of thing. Still pretty sore. Doing all right, though.
What a crazy deal. Take us through the events how you saw them starting from the beginning of the day. You were eleven points down on Cole Thompson. Obviously, something that we've seen in the U.S. time and time again is teams trying to help themselves win a title. So your team owner, Derek Schuster, puts Dylan Wright who rides 250s up to 450s, and then everything goes sideways from there, right?
Yeah. I don't even know where you want me to start.
Do you have any problem with Dylan riding in the 450 Class for you to try to get in-between you and Cole?
Yeah, that was the whole plan. I talked to Dylan before the race. I told him, you're out there to try to steal a few points from Cole. We don't want any shenanigans out there. We don't need you to take him out or anything like that. It's just a simple case of going out there, riding like he knows how to, and try to get some points.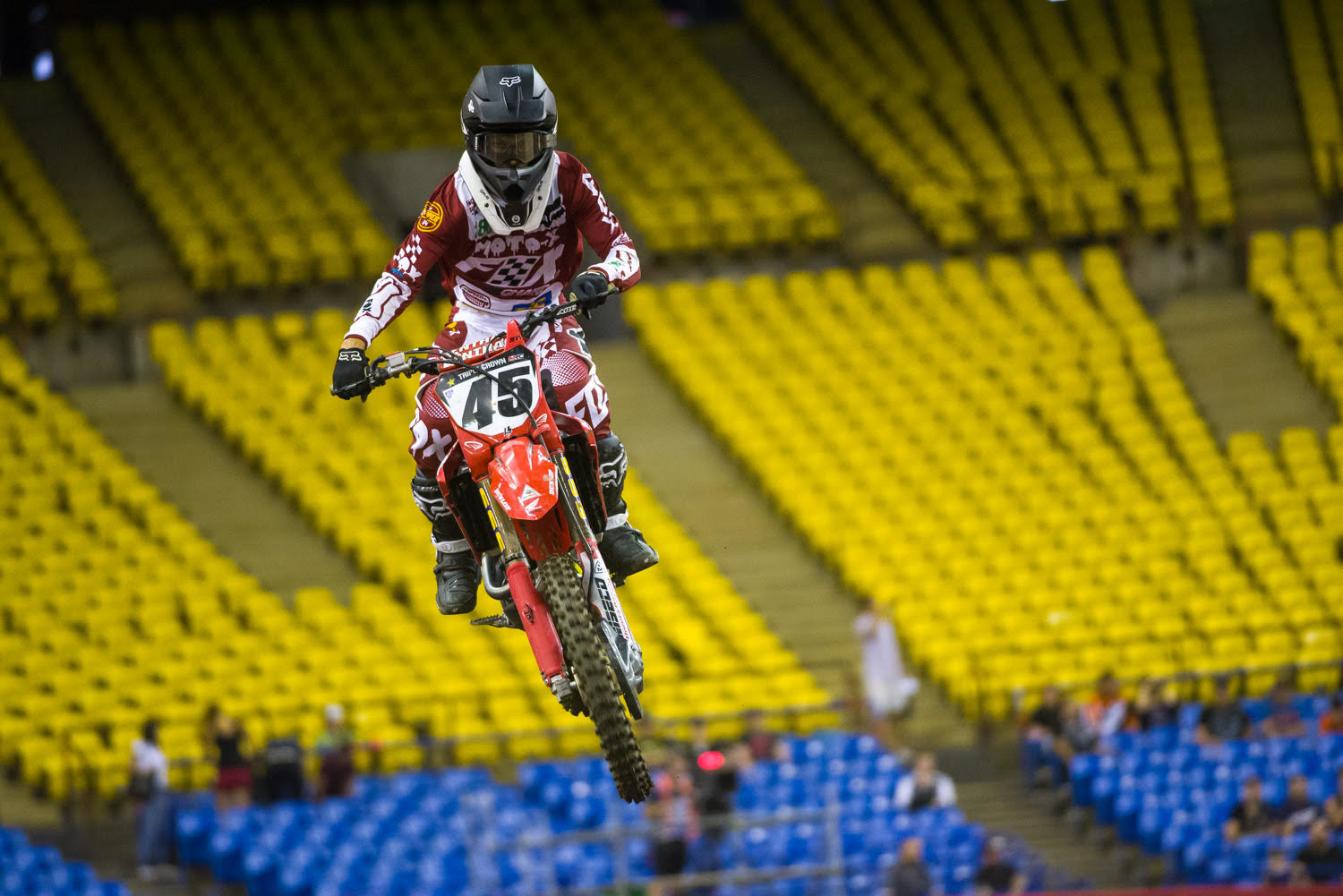 Did you have a sense of things going sideways when, in the riders' meeting, the fines were increased for team tactics by Jetwerx [the promoters and also relatives to Cole Thompson]. Obviously they felt like Dylan was there to take him out so they increased the fines if something were to happen. So that should have been your first clue that it's going to be a different.
Yeah. It definitely caught me off guard because we didn't hear any of this prior to the event. It was just kind of thrown at us at riders' meeting. I felt like we were kind of singled out for doing that, which I feel like from my past experiences and how I ride and all that kind of stuff, I didn't think any of this would even come to be a problem. To raise the fines that much was pretty drastic, I think. I don't know their side of the story on things, too.
So then Kevin Thompson, the father of Cole, who is wearing Jetwerx clothing and helps the family with running the series, he confronts you at some point? Before riders' meeting or after? When does that happen?
After the riders' meeting, there was a lot of talk going around. The tension seemed to be pretty high. I'm friends with all the Thompsons. I've had family dinners with them, all that kind of stuff. I saw Kev walking around and I went over to go talk to him. I just wanted to tell him straight up that we're not here to do anything dirty. We're not here to take out Cole. We want clean racing. Dylan's just out there to try to fill a points gap [try to finish in front of Cole] so I can possibly have a chance at winning this. I'm sure any other team would have done the exact same thing. Anyway, from there, it just seemed to blow up. He got really angry with me and told me if we were to touch Cole that we would be getting a fine and all that kind of stuff. That if we even touch Cole, either me or Dylan, the he would hire somebody to come put me up in the stands in Hamilton.
I don't know if you've ever taken anybody out in your life. You're not that type of rider.
Yeah. The only thing that really stands out in my mind was the first lap of 2016 or '17. It was Matt Goerke up five points in the championship and we both went for it to go to the inside of the corner. He cut across me and we ended up both going down. We were going pretty slow speed. It wasn't a big deal.
You've known Kevin Thompson for a long time. Did his behavior surprise you?
To some extent after went on with the riders' meeting, I didn't think something like that would happen, obviously. What doesn't surprise me somewhat is he took me out two times prior to last weekend and they were both similar results—coming out of a corner. We both went down in Prince George. Then in Barre, I was coming around a corner, lining up for a jump and he cut over on me again and put me into the hay bales. Luckily it wasn't right on the jump like it was last weekend, but in my mind it's fairly similar.
So your team owner benches Dylan [doesn't allow him to race] which I cannot believe he did. That's ridiculous that he did that. Let's get to the actual race with you and Cole. We all saw the video. Cole comes around and squares up the corner and meets you at the exit and you go flying off the track. Obviously he's a racing rival, but you said at some point he's also a bit of a friend of yours. You had to have been very angry once you realized what had hit you?
Yeah, definitely. I did make a small bobble through the whoops, which forced me to the outside. At that time I thought in my head, I made a mistake. If he's going to pass me in this corner, so what? It might be a little bit of contact, whatever. It's in a corner. It's not a big deal. So at the midpoint of the corner I was like, okay, he's not there. I got this. I'm good. I'm going to rail this outside, jump the finish line, all is good.
As I got three-quarters of the way through the corner, more so on the exit, I saw him cutting across where I had no point to even shut off or do anything at that point. I was already committed to the jump. I think he could have kept on the inside and still maybe got the win. I just think it was unnecessary for him. I think he realized that I still had the win and he just tried to cut across to take the win. He wanted that win that bad.
[If I had won] The lead would have been eight. He would have had a nice lead going in [to the final race]. After all the talk of the dad and the race fines from the Jetwerx crew and then everything else, I up getting taken out rather dirty. The irony is thick with that one. You're the victim here.
Looking back at it now, I think it may or may not have stemmed from Montreal. I know his dad brought that up when he was yelling at me. Basically what happened in Montreal is we had a bunch of riders come up that were all paid to come up by [Montreal Supercross promoter] Eric Peronnard….
But it's not GDR Honda that brings up the riders, it's Eric Peronnard who brings up Malcolm [Stewart] and [Josh] Hansen and RJ Hampshire.
Yeah, which they really shouldn't have been part of the series anyway, I thought.
They were coming up before it was even decided that race would be part of the series.
Exactly. So, they were not helping me out at all. If anything, they helped Cole out because a couple of them got in-between me and Cole. But I feel like from what he said, that they were mad at that. I don't know.
[Ed Note: Jetwerx released this statement after the race.]
It's really ironic that you're the one that gets punted. As of this interview, we haven't heard the decision if Cole is going to be fined or docked points or whatever. Maybe we'll know by the time the interview comes out. Have you heard anything?
I actually just wanted to go back on one thing. A lot of people are saying that I should have got the win on the finish line or whatever because of the transponder line. I actually got a call last week from one of the guys that put in the transponder line. He actually told me that the line wasn't installed at the proper location. It was a few feet before the face of the jump. He told the referees, all that kind of stuff. We weren't notified even on where the transponder line is. We're told that it's at the bottom of the jump, that's it. That's all we're told. So that's just one more thing. Maybe if I knew it was closer up, maybe I would have done something different. I don't know.
[Ed note: A panel decided there would be no penalty for Thompson, you can read about that here.]
I'm not saying you deserve what happened to you but you do deserve some of the blame for that last turn.
Yeah, exactly. Like I said, if it was going to be in the corner, I would have been totally fine with that. But when it's on a jump face, it's always pretty scary.
Safe to say you've seen the letter that Jetwerx put out? Their response to the controversy, to the fines, to Kevin Thompson yelling at you and things like that? What'd you think of that letter? Are you satisfied with that or not?
To some extent. I'm somewhat happy with that. As far as the whole situation goes, I'm actually more upset with how I was treated by the dad and stuff rather than the crash.
Based on increasing the fines and the dad yelling at you and all of that, it seems like they automatically assumed that you and Dylan planned on taking Cole out.
Yeah. I did everything that I could to try to diffuse the situation. Maybe I shouldn't have went over there. I don't know. I felt like with my past relationship with him that I would have no problem sorting the situation out and going from there. If the roles were reversed and my dad threatened Cole, I think it would be a completely different story. I was there all night walking past Kev 20 times just having my blood boil every time I walked by him. I don't think it was fair that he was even allowed to stay at the race that night.
This is the first year of Jetwerx running a series up there after years of CMRC. There have been some rough patches. I don't know Justin and Kyle Thompson like you do but I believe they are good dudes. They're trying hard. But it's been a rough year for them, hasn't it?
Yeah. I think it's definitely a learning curve when you're starting a new business and taking over a business and all that kind of stuff. I think for the most part they've done a great job. Their promoting of it and all that kind of stuff, that side of things of the way they present the tracks, all that seems to be really good. Other than some of these issues, there's definitely some changes that need to be made. As a whole, I think it can grow and it's got a lot of good things. But also I think at the same time with them having it being their first year, they're kind of under the microscope too.
I really think the problem with Canada, due to our climate and all that kind of stuff, we can really only race in the summer. That's when all the guys are training. We have a lot of intermediate riders that fill the gates and stuff like that. Why do we need these indoor races? Maybe I just had a bad experience and stuff like that, but if you look at the amount of guys that are doing it, it just seems like we need to go back to an outdoor series and maybe a couple indoors at the end or wherever it may be, but that actually people can get ready for. That's kind of my thoughts on that part.
With the brother and son going for the top spot, I think the Jetwerx guys have to go above and beyond to show that there is no favoritism towards Cole. You know everyone in the pits is looking for something, anything to show that Cole gets favored treatment so in my opinion, you need to really make sure it's above board.
Yeah, which is I think what definitely needs to happen. I really don't know what to say on that. Just the whole situation has been pretty stressful this last week. It's just kind of draining on me and the team and everything. I just want this series to be done with. Honestly, I don't even care about the $100,000. I just want to get it over and done with and then move on from there.
You're now hurt, and your team's not going to the last round, right? Is that still official? Dylan's not going to go?
I'm not too sure. I can't comment on that. As for me, as of right now with how I feel, it's most likely that I'm not going to be racing. If something drastic happens and I feel better and I want to go race, then it might be a race day decision.
Like you said, this is a family that you were tight with. Do you feel like this whole thing, this whole year, this whole episode with the father and everything else has cost you a relationship?
Right now, it's pretty early. My feelings are still pretty ripe, I guess you could call them. I feel like with what was said, it's definitely going to be hard to fix that. Where do you go from there after somebody says that to you? I'm not going to hold it against them. I might not be friends with them, but I'm sure I'll be able to get along with them and all that kind of stuff. They do run the series and they're trying to do a lot of great things. So from that standpoint I'm not going to hold a grudge, but friendship maybe not.
Let me ask you about des Nations. A great ride by you in the one moto at the Motocross des Nations. If Tyler's [Medaglia] bike hadn't blown up, there could have been a potential for some really great rides by all of you on Team Canada. What'd you think of your day at RedBud and how'd you think the team did?
I think it's comparable to the previous one that I did in the U.S., Budds Creek. Results-wise, I think it's pretty comparable. Fan-wise at RedBud was just insane. It was awesome to see the whole country behind us there. I didn't really expect to have that many people show up. All the guys that were dressed in RCMP outfits and the hockey player guys. It was gnarly. It was cool to be able to be at an event where your country is behind you. It was kind of like a surreal feeling. I know in the past I've had some good rides and stuff and I've been up front, but this time I could hear the Canadian fans out there the whole track.
You rode great in that first moto. You were fourth for a bit there.
Yeah. I kind of rode a little bit tight and got passed by a few guys. I was kind of riding a little bit not how I normally ride, I would say. But once those guys got by me, I felt pretty good and kind of stuck with them. So I was super happy with my ride there.
---
Main image: Honda Canada GDR / James Lissimore