Paul Currie was a fast kid from Florida who grew up racing on the same local tracks as Ricky Carmichael, James Stewart, and Timmy Ferry. He won a title at Loretta Lynn's in 1995 and earned his pro license. Over his nine-year professional career, Currie scored more than 70 top 20 finishes in both supercross and motocross and rode for several top teams, including Star Racing, Moto XXX, and Plano Honda. More importantly, he was able to earn a living racing dirt bikes as a professional.
Currie walked away from racing in 2003, returned to Florida and made a clean break from the sport. We caught with him recently to find out what was going on in his life.
Racer X: Paul Currie, what do you have going on?
Paul Currie: Thanks for reaching out! I have my own business now, and I'm married and raising two little girls. So I've got my hands full most of the time. We are living in Sarasota, Florida. Basically when I got done racing I never had a job or anything, so I went to work for my parents who had a security system business—kind of like an ADT type thing. I didn't like living where their business was, so I moved back to Florida's west coast and started one of my own businesses. That's what we do. My business does residential and commercial alarms. We do all kinds of stuff, including home automation, cameras, security systems, and audio/video. We have six or seven employees, so between the business and my girls, it keeps me busy.
Sounds like you had a pretty easy adjustment after your racing days were over. I talk to some guys who really have a hard time taking that next step once they stop racing. How was the adjustment for you?
I quit in 2003. But actually I was going to quit after '02 because I was just burnt out on it. I wasn't making any money and I just was kind of getting over it. Then it was maybe the second or third year I think when Star Racing started out. They wanted me to ride for them the next year and I was like, "I'll give it one more shot." I went to the first few races and I was just not even getting top ten. I went to Daytona, and I always did good there because I was way better at outdoors. I think I pulled a holeshot and stalled it. It was the first year I rode a four-stroke and I couldn't get the damn thing started. I got like 17th [Ed note: Paul finished 21st]. I just rode back to the truck and I took everything out of my little locker thing and put it in my bag. I drove home and never answered my phone again. I think I might have grabbed a six-pack on the way home as well.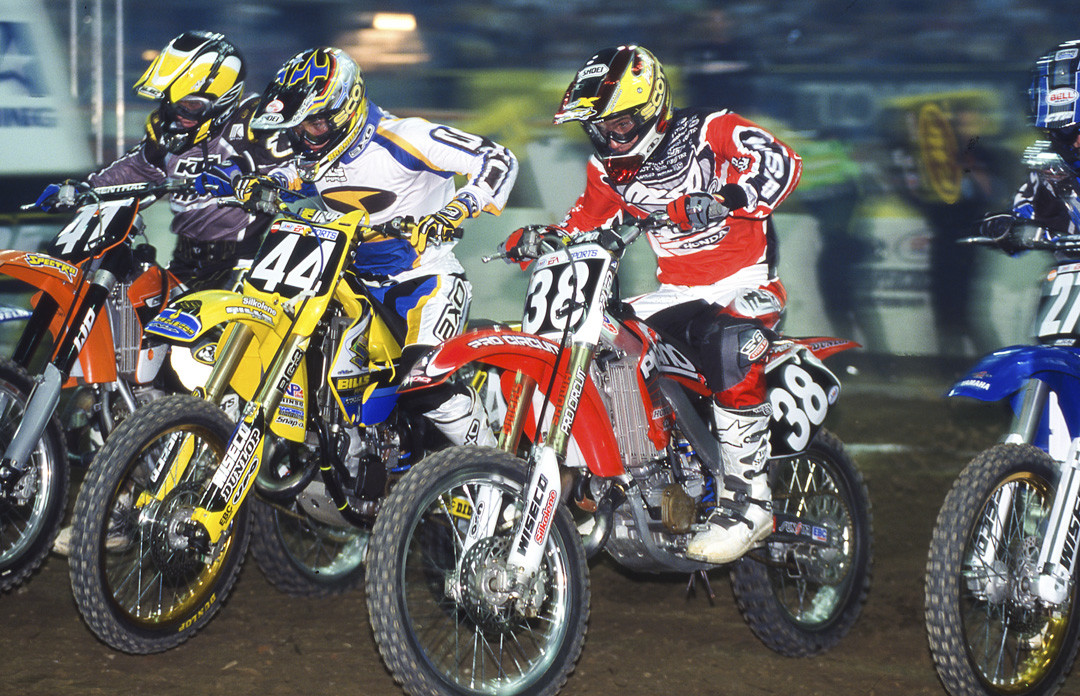 Really? That's sort of amazing. Did the team try to call you?
They might have, but I didn't answer. Yeah. They were calling. I was like, "I'm just so over it." Guys were starting to get really hurt. The bikes got so much faster. The amount of money I'm going to make over the course of the year, it's not worth it to me. I wasn't into it anymore. I think I kind of wanted a normal life. You always want what you don't have, but I wanted to be home on the weekends with my friends. I thought it would be cool to have a regular job. But umm, well, now I'm like, "What the hell was I thinking?"
Well, you know what they say: the grass is always greener on the other side.
That's for sure!
What were some of your career highlights? You raced as a professional from 1995 up until that day at Daytona.
Well, growing up, my dad didn't ride or anything. I was big into skateboarding and I used to do little contests and things like that. I was just huge into skateboarding. My dad got my brother and I dirt bikes for Christmas when I was 12. I just would ride around. I remember I was at the grocery store with my mom and I picked up a Dirt Rider or something and I was like, "Damn, they race these things?" I was like, "I've got to do this." So, I talked my parents into letting me do it. We went to some small, local Florida races for a while. When we got the bike it was like '89. I always tell people we knew so little about it. I was riding at Dade City here in Florida. They had a Saturday night race thing, I was riding 80 beginner. I got second or third or whatever it was to get a trophy. So after the first moto we loaded up all our shit. I went there to get my trophy, and the lady was like, "You've got to ride the second moto." We were like, "What?" We didn't even know there was two races.
A lot of fast kids came out of Dade City. Stewart, Carmichael both kind of originated there, and I know Tim Ferry as well as Ronnie Renner all sort of called that place home.
Yeah, it wasn't totally my local track, but close enough. We actually lived in Naples, which was way south of there. We didn't have really anything local to me. But my parents bought some land and we built a little track. We had to travel to go to anything. That's just kind of how it started. I was obsessed with it. I would ride every day. A few years later I think I won a Schoolboy class at Ponca City. Then a couple years after that I won Loretta's, like the 125 A mod. I think I was riding some outdoors that year too, because I got the pro Rookie of the Year that same year I rode the 125 A mod and 250 A mod at Loretta's. I rode maybe five or six outdoor races, so that was really cool.
So you did some pro stuff and Loretta's in 1995?
Yeah, that would have been '95. Then from there I had a torn ACL—the whole time, completely torn. I think '96 I went to a couple supercrosses. I think maybe the first one I really twisted it good again. I had to get it fixed, so in '96 I didn't really race. Then '97 I think I did okay. Then '98 Moto XXX was kind of helping me out. Results didn't really matter with those guys, they just wanted to have a good time. Then I think '99 I did it on my own, maybe FMF or Suzuki gave me bikes I think. Then actually I was doing really good. I dislocated my wrist and had really bad surgery on it. I came back for outdoors and I was doing pretty good that year towards the end. Then I rode for Plano Honda I think 2000.
I lived with Timmy Ferry when I first moved up to Tampa. It always seemed like I would practice really good. I always was really good until I got to the race, then I would like crumble. I was maybe too amped up or something. I was great at practice though! I could beat anyone. But my nerves always seemed to get the best of me as soon as I got to the races.
Why do you think that is?
I don't know. Everybody's different. I kind of wish I had gone to a sports psychologist or something to learn how to kind of control… I would never ride my best at a race. When I did, things went really good, but it was pretty rare that I rode as good as I could in practice.
When you look back on all your years racing, what's the fondest memories that stick out?
I would probably say the outdoors the first year I rode for Plano in 2000. I was running sixth at Budds Creek, fifth at RedBud. I ran second at Unadilla for like 25 minutes and got fourth the first moto. Second moto, I tore something off of my thumb and that was kind of the end of that season. That was the only time I ever raced that I felt like I wasn't really trying as much, but I was doing better than I normally did. It almost felt like I wasn't going fast. I'm sure that's how a lot of the top guys feel when everything's clicking. Obviously amateurs when I was winning Loretta's and stuff was fun. Other than that, there was a lot of good times. I got to do a lot of cool stuff. There were a lot of funny people and characters that we were around back then.
Florida was sort of a melting pot back then, especially in the wintertime when a lot of guys would come down there and train.
Oh yeah, those Winter Am races used to be a mini outdoor national back then.
Tell me a little bit about your wife and family?
Well, my wife Lindsay, I met her up when I was living in Tampa. She's from Sarasota, so we live in her hometown. We reconnected after a few years and started dating again. I moved down here and we got married. She has a business as well right near our house. Our daughters Ava and Ella are four and five years old. One's in kindergarten, one's pre-school—but they are already smarter than me.
Do you still stay in touch with a lot of the moto people? What's your connection now to the sport?
I watch it on television sometimes, but I'm not that close to it anymore. I still have some friends in the sport—guys like Tim Ferry, we're still pretty close, and also Dan Truman, he is in the industry. But really not too much. Kenny Watson and a few of the guys who spun wrenches for me I am still friendly with. In the sport, you tend to know a lot of people, but you only become friends with a few of them. I got a bike last year, but I haven't ridden in about six to eight months. It's still got dirt on it from last time I rode it. I don't know, when I was over it, I was just pretty much totally over it.
You rode mostly two strokes, what do you think about the four-strokes and the way the sport is today?
Everything's so fast now. The bikes are so fast. It's almost like it's maybe too fast. I don't know. I always liked the two-strokes, obviously. That's all I ever raced, really. I guess it's just like people are doing bigger and faster things. Usually from what I've seen by the fourth or fifth race quite a few of the top guys are already hurt and all beat up and it carries through the year like that.
Well, thanks for chatting and good luck with the business and family.
Thanks, and thanks for reaching out to me. It was a fun ride while it lasted, and those days were some great times.