Pomona, CA
Red Bull Straight Rhythm
Red Bull Straight Rhythm
In a race that featured four-time AMA Monster Energy Supercross Champions Ryan Dungey and Ryan Villopoto, Troy Lee Designs/Red Bull KTM's Shane McElrath wasn't the biggest name in the Red Bull Straight Rhythm field on Saturday. The event, which was two-stroke only for the first time this year, seems to fit McElrath, though, and he beat Dungey in the final to take a third straight title at the event. Steve Matthes caught up with him after the race.
Racer X: I think this is the third time you've won this thing?
Shane McElrath: Yup, in a row.
You're a Straight Rhythm specialist, bro.
I'm learning. I got to watch Marv [Marvin Musquin] last year, the last two years, actually. I kind of surprised myself just adapting to the 250 [two-stroke] and learning really how the power reacted in pockets and just over some of the rhythms. I kept going way too long on a lot of the jumps because one, there's no engine braking, and two, there's a lot of power. I would try and get on it a little bit and it's like there's nothing, and then there's everything. So I had a lot of boner airs this week and today, but I felt really good at the end of the night.
Starts were good for you. You were really good off the grate in that first little bit, I thought.
Yeah. I felt like I was good off the grate, but then we would hit the dragon's back section and I think my setup was just a little soft to really skim that. I didn't want to change it there because it's really nothing in that part. I just really tried to ride it out as quick and as consistent as I could up until halfway and then really just hit my marks. I knew that was when I was better at the end. That was really big for me.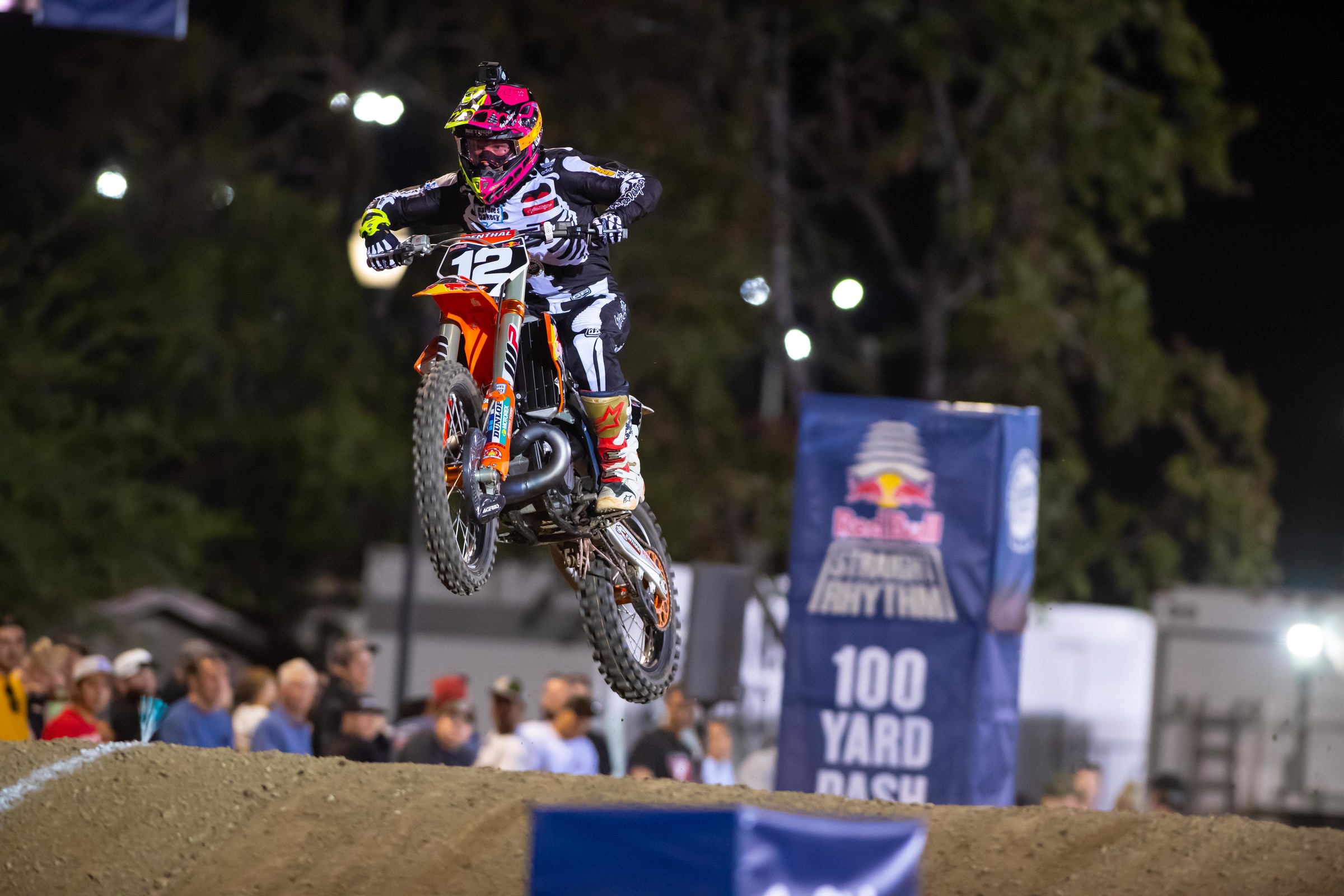 Good ride, good final with Dunge, lining up next to him?
Dude, it was crazy. I didn't really expect to win the first one, but I was in the good lane, what I thought.
What did you think was the good lane?
I thought the right side was. I don't really know. I think just the way that I… I don't really scrub very well, but I like going to the right over the walls and stuff. I think they favored me on that side. Really that's kind of it. I had a few mistakes in a few of the rhythms on the left side. But I don't really know that that was just because it was the left side. So for me, I think I'm not much of a scrubber, but I could scrub a little better kicking it out to the right.
A lot of big names here. I don't know how many would have picked Shane McElrath to win again, so nice work. That's cool.
Like you said, coming into the race it's like, I want to go in to win, but at the same time look who is on the roster. I'm like, okay, well, one, I feel horrible on the bike coming in. That's the first issue. Number two is all these guys are four-time champs in supercross, some of them back-to-back. They may be retired, but they don't just fall off. Then we're on two-strokes, which evened everybody out but at the same time it's like, okay, well, I've never ridden a 250 two-stroke, and now I've got to ride it on supercross. So it was pretty crazy. I was really nervous, but there was never really a point where I didn't think I couldn't do it. I know with Ryan, he's been the best. It's like, okay, I've got to be a little bit better if I want to beat him. I feel like there was some things that I did a lot better than he did, but then I feel like there was a lot of areas where I wasn't as good. That's kind of how Dungey is. He's solid everywhere. I just kind of had to pick my points. Like I said, the first half there were times where I just needed to ride it out and just be as consistent as possible because I knew I could hang it out a little on the second half and get away with some things because I like the technical part of it.
Number 12. New number for you. Going to take some time for me to get used to, but it looks good on you.
It's really different now seeing the 28 at the same time [teammate Jordon Smith is now running number 28].
I'm not going to lie, when I saw 28 at MEC out in the first practice I was like, oh, McElrath's here.
Yeah. I even think about, "There's my bike. No, that's not my bike." I really like number 12. It's really growing on me. I'm excited.
Vuillemin, Weimer… Some good guys.
Yeah. That's some good guys. I didn't really expect to get 12. I was kind of set on 24 because I didn't know 12 was open, but then somebody told me. I was like, I'm taking that one.
Did you call Weimer or text him or anything?
No, but we bought some products from him, 12 and Fay. I'm running some 12 apparel. They hooked us up a little bit. It's pretty cool. They've got some cool stuff.
Nice work. This Straight Rhythm thing is really for you. You're a specialist now.
It's really getting competitive, year after year. Red Bull really does a good job at putting on a show, but then it's like for us, I wasn't too keen on the two-stroke part at first because it's like, well, this isn't something that we work at. That goes back to nobody's going to go out there and not try. But it makes you wonder where this is going to go and what it's going to turn into. Year after year, everybody gets a little more serious.
I agree. It was the most serious one I've been to, for sure.
Which is good, but at the same time it's also a fun race. It's supposed to be fun, but us riders don't really see it like that!
Endurocross at one time started out really fun, really neat. Random kind of ew-moto guys were doing it, Ryno was coming out, Dowdy, and then they got really serious. Same thing I think, a little bit.
Then it's like Cody Webb or Colton Haaker, they're kind of taller guys, and they can almost do whatever they want. It's like [Kyle] Partridge out there in the whoops or something. Not everybody can afford that.