Las Vegas, NV
Monster Energy Cup
Monster Energy Cup
Marvin Musquin spent the weekend watching Team France get an unexpected victory at the Monster Energy Motocross of Nations. He didn't know exactly how he should feel about that.
"I could have been part of the team, I'm not gonna lie," he explained, citing the call from the French Federation when Romain Febvre went down with an injury. "I couldn't change my plans and get ready in time, unfortunately, and I'm definitely bummed about the whole thing. I watched the race and the conditions were so tough. I couldn't believe watching the Americans suffer like that, in those conditions, and Kenny [Roczen] too, but I want to be honest and say what I think. People will tell me, "Hey this track is going to be sandy or muddy, but hey you're from France and the GPs, you're used to it." I'm like "Yeah, but yes and no. I've been living in the U.S. now for eight years." Here we practice supercross most of the year. It's dry, it's sunny, it's hot, we only have a couple days in Florida where it rains, and we only practice outdoors for three months. And you have to start on a metal grid, the American riders never do that outdoors. There's so many things. It might sound like excuses, but I just want to say what I see. Those guys had just raced a GP the weekend before, so they were on it. It was great to watch [Glenn] Coldenhoff and [Jeffrey] Herlings and [Antonio] Cairoli just having fun in those conditions. The others were not feeling as comfortable in those deep and soft conditions."
Does Marvin think he, too, might have struggled?
"I think so, probably, yeah yeah," he said. "We race when it's hot and sunny. Those seemed like some crazy conditions.
"To be honest I was amazed by Team France winning," he continued. "But this is Motocross of Nations, it shows you how crazy this race is, you don't need to win motos, because Team France hasn't won motos in four years, I guess. Yeah you just need to be consistent, this year Team Holland was amazing, but yeah all three riders weren't present."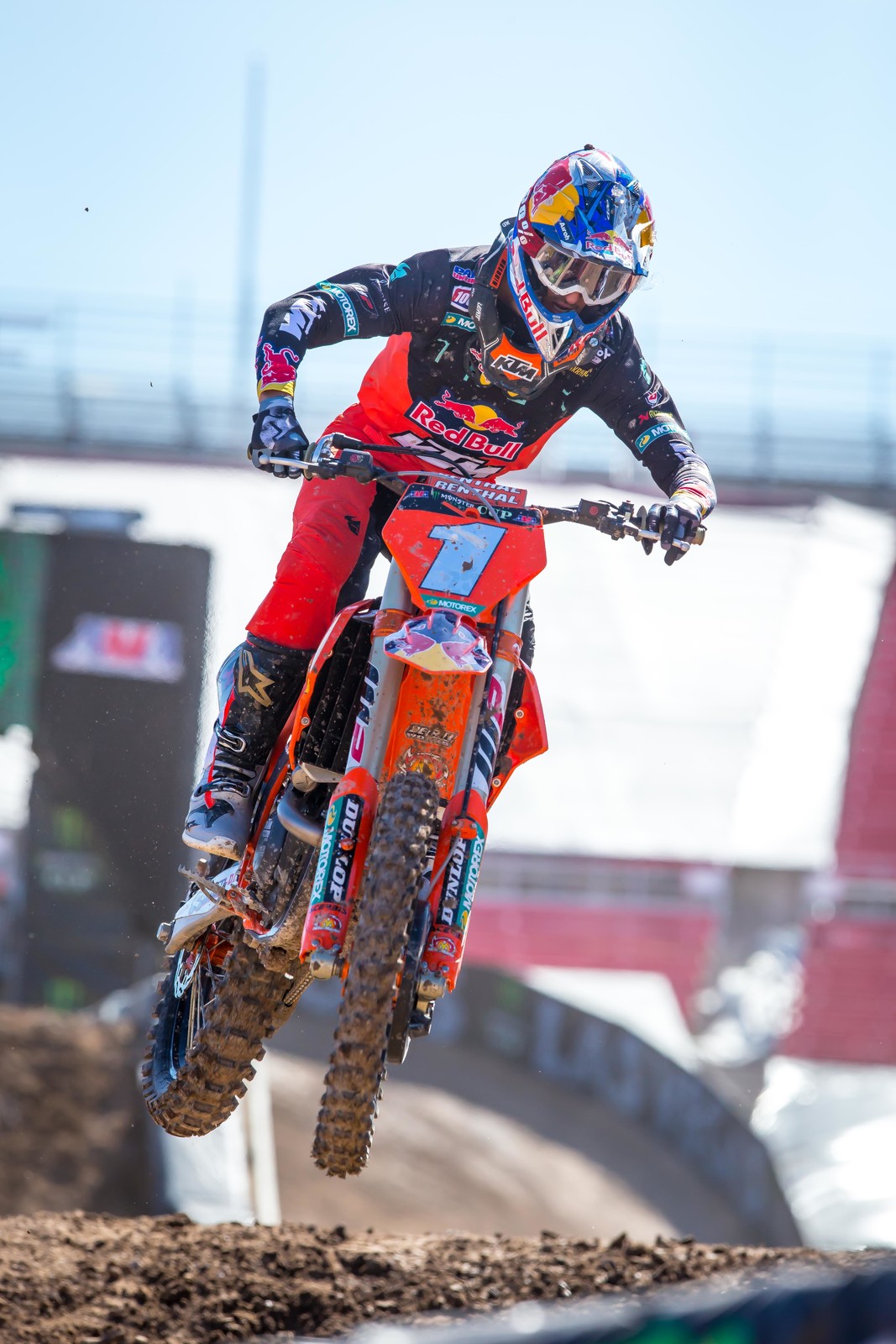 Not racing 'Nations might have given Marvin a head start on supercross prep, but he instead took the time to rest. He didn't ride at all in September, the longest non-injury layoff of his career. He's been back riding for two weeks now.
"I'm Monster Cup ready, not Anaheim ready," he says. That might be enough, as he didn't ride much before last year's event, either, and he dominated en route to the Monster Million payday. "Last year we went to Hawaii two weeks before, and we were supposed to stay there for a week and I was like, 'No we can't stay there so long, I have to at least ride a little bit!'"
Musquin has a new teammate this weekend with Cooper Webb, who makes his debut with Red Bull KTM. Webb didn't have to race this event, but he felt good enough, quickly enough, on his new machine to give it a try.
"Yeah very new to all this, not much time at all, just getting ready, but we decided to come race and see how it would be," said Webb. "I'm excited and I felt right at home on this thing right away so that's a big reason why I decided to race.
"I knew where I wanted to be, and yeah I went all in," he continued. "I sold my place in North Carolina, my tracks and everything, I moved to Florida, working with Aldon Baker, new team new sponsors everything."
Webb won titles and races as a 250 rider with Yamaha, under the guidance of trainer Gareth Swanepoel. It's a big leap to leave all of that behind.
"I've been with Yamaha since I turned pro and I've been with Gareth Swanepoel since 2014, so it was a big decision," he says. "I feel like I haven't been able to achieve in the last two years what I wanted to achieve. I feel like I maybe filled a lot of the puzzle pieces I've been missing. Not that it's guaranteed success or anything, but I feel like I can get back to winning races. I understand loyalty and all that, but I think sometimes, I hate to say it but you have to be stubborn and sometimes you have to do what's best for you."
Webb and Musquin, by the way, have a checkered past of some on-track battles. Webb's ready to move forward from those days.
"I'm used to riding with Aaron [Plessinger], [Dylan] Ferrandis, Colt Nichols, all those guys," he says. "I know how it works. You take your egos out of it and use it as training tools. I think I can learn a lot from Marvin and he's obviously a championship-caliber rider. I think on the track I'm very aggressive and I've been known for being more vocal and stuff. But this year I'm hoping to learn about everything. Still have that aggression but be able to channel it."
On the other end of the pits sits the Monster Energy Kawasaki rig, which also sports a new 450 rider in Joey Savatgy. After coming oh-so-close to 250 championship success in 2016 and 2017, the 2018 season didn't go to plan for Joey. So much so, that he's just pretending it never happened.
"2018? Never heard of her," jokes his mechanic Justin Shantie, who moved up from the Monster Energy/Pro Circuit Kawasaki team along with Joey.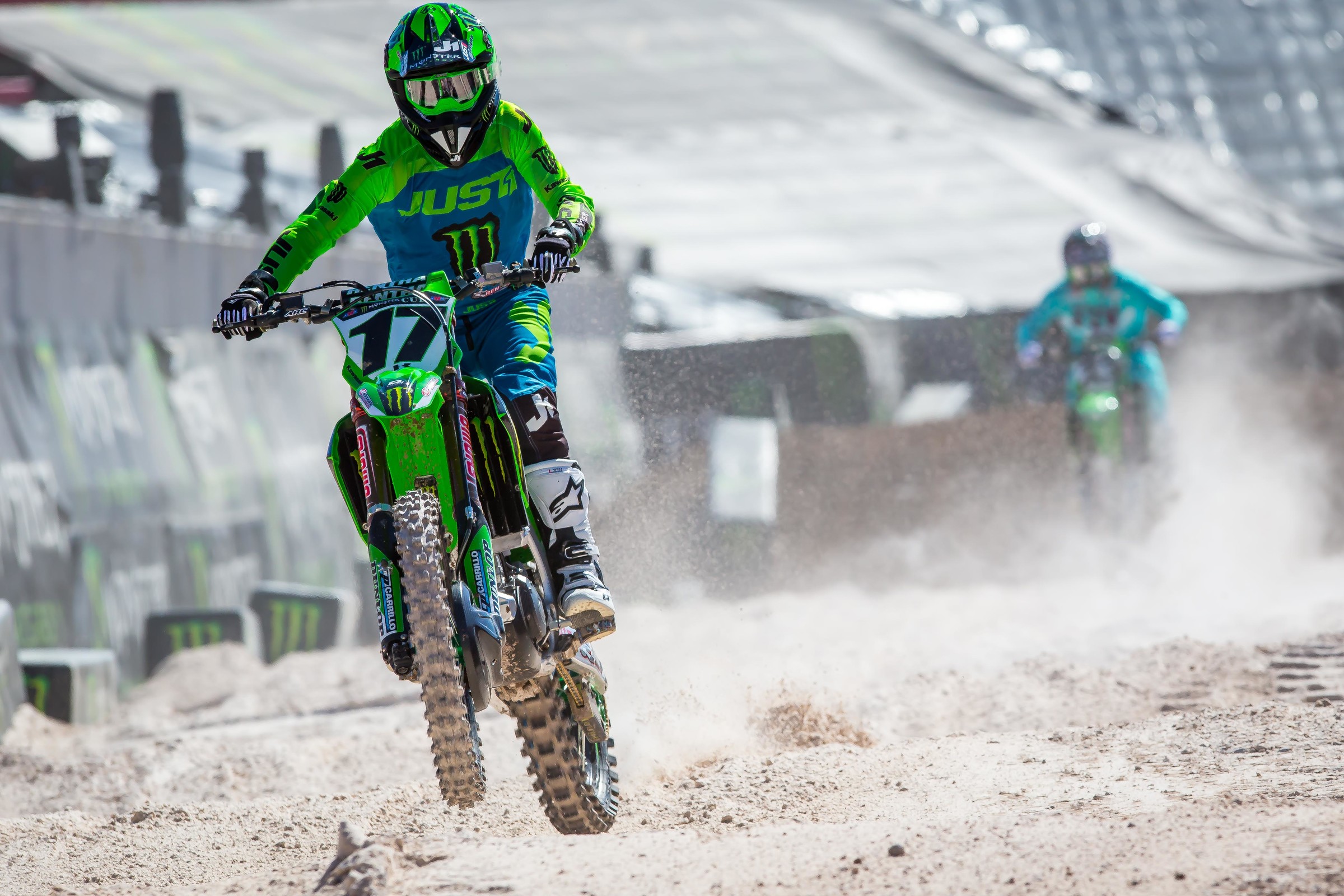 "I don't know what year you're even talking about," says Joey. "This race is the first page in the new book we're trying to write.
"I think I did more last year and felt more prepared than ever. I did more laps, more cardio, more everything. I couldn't tell you what happened. Bottom line, it's in the past."
Savatgy has an advantage over someone like Webb in that he stayed with the same brand, so he was able to jump on the Monster Energy Kawasaki KX450 immediately after the motocross season ended and begin testing.
"It's been a big transition, but honestly you always have that perfect scenario in your head about how the switch will go," says Savatgy. "And honestly it's gone pretty close to that. Everything so far with the bike and the team has gone really well. I've gotten in a lot of laps and I feel really comfortable. I'm enjoying it again. It's a fresh start and a clean slate."