Sam Boyd Stadium
Las Vegas

,

NV
Monster Energy Cup
Monster Energy Cup
It's Monster Energy Cup here at Sam Boyd Stadium, the annual off-season reunion for riders, teams and fans. This is half serious supercross, half simply a good time. You never know how well prepared the riders are, and with the track and format being just different enough from a standard round of Monster Energy Supercross, it makes it hard to predict what will happen. Who is ready? Who is willing to hang it out? Who is here for fun and about to board the struggle bus at the races? We'll find out soon enough.
Some news and notes from the day. The biggest story is Ryan Villopoto choosing to race the event—you read that right—on his Pro Circuit built Yamaha YZ450F (but with some good factory suspension bolted on). Last year's overall (and Monster Million) winner Marvin Musquin is here, the 2018 Monster Energy Supercross Champion Jason Anderson is here, Eli Tomac, Justin Barcia, Chad Reed and Blake Baggett are here, and then you have some riders running team changes like Joey Savatgy, new to the 450 class with Monster Energy Kawasaki, and Cooper Webb, debuting with Red Bull KTM. Malcolm Stewart is in his second race with Smart Top/Bullfrog Spas Honda (he won the Montreal Supercross).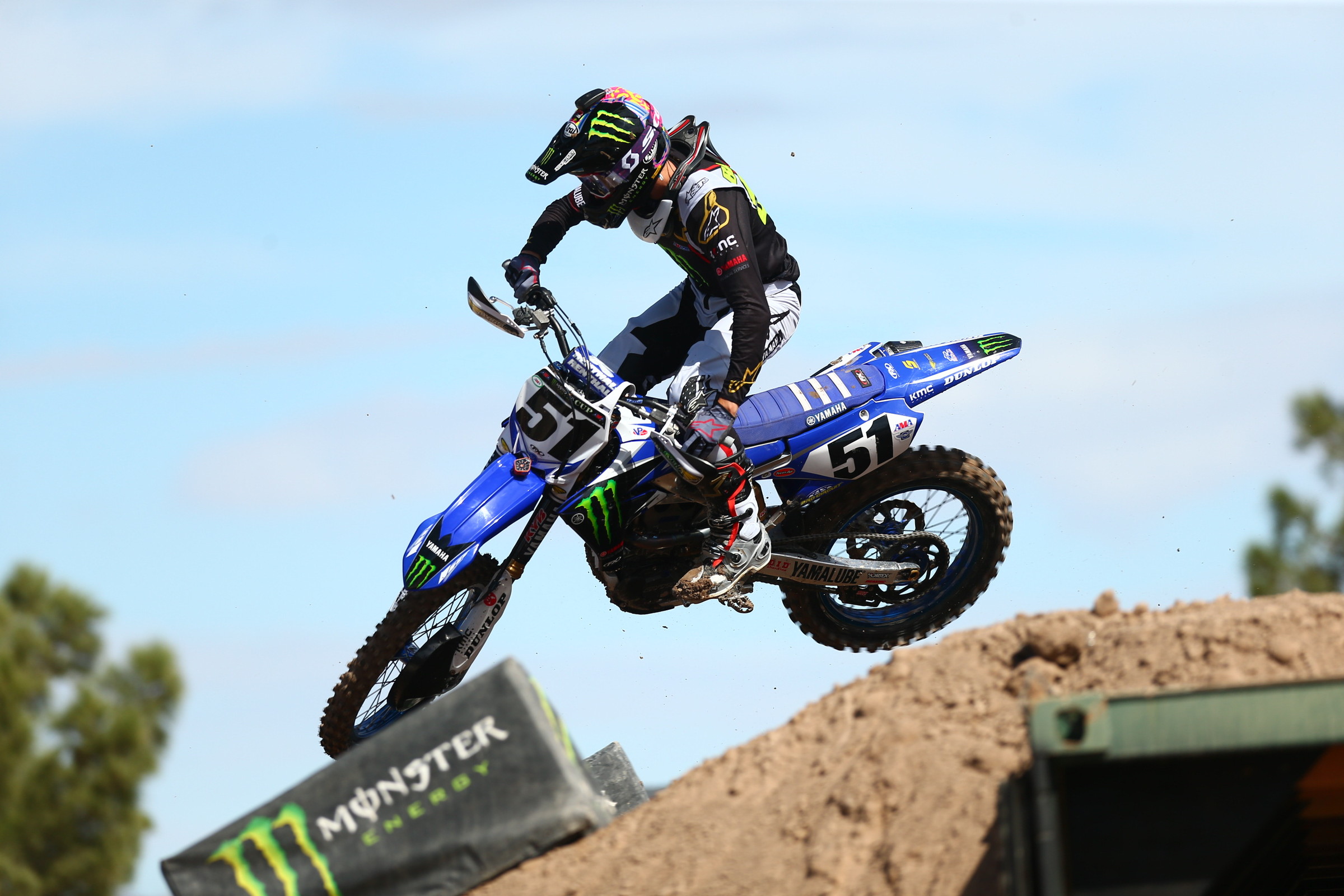 As always, the Monster Energy Cup runs a three-race ten-lap format. Sweep all three races and you win the Monster Million. Merely get the overall win and you net $100,000. The track is different than the regular Monster Energy Supercross here in May, it's faster with a more extensive section outside the stadium, there are no whoops, and this year the track turns up into the stands twice. The Joker Lane is back, and returns to its old formula of being a longer section of track (last year it was faster).
The Monster Energy Cup also features the Supermini and Amateur All-Star classes, which will run two motos.
Let's go racing!
First Practices
Early in the day, such as in the first untimed practice session, riders were sorting things out. Malcolm Stewart looked super fast but also smooth and in control, and Ryan Villopoto looked nothing like a retired rider. He was right in the mix.
As that session rolled on, though, the usual suspects jumped to the front, as Musquin, Tomac, Anderson and Barcia grabbed the four fastest times. Yes, these times don't count for qualifying but it shows you where the group stands.
In the first timed practice, a bunch of new names jumped to the top of the board early, including Joey Savatgy and Jordon Smith. By the end of the session, though, the usual suspects were back again, with Tomac and Musquin at the top.
Want an early underdog pick? Go with Joe-Dog. Joey Savatgy looks quick and aggressive, he was fifth quickest in the free practice and then third in this first timed practice. Let's see if he can keep the good vibes going.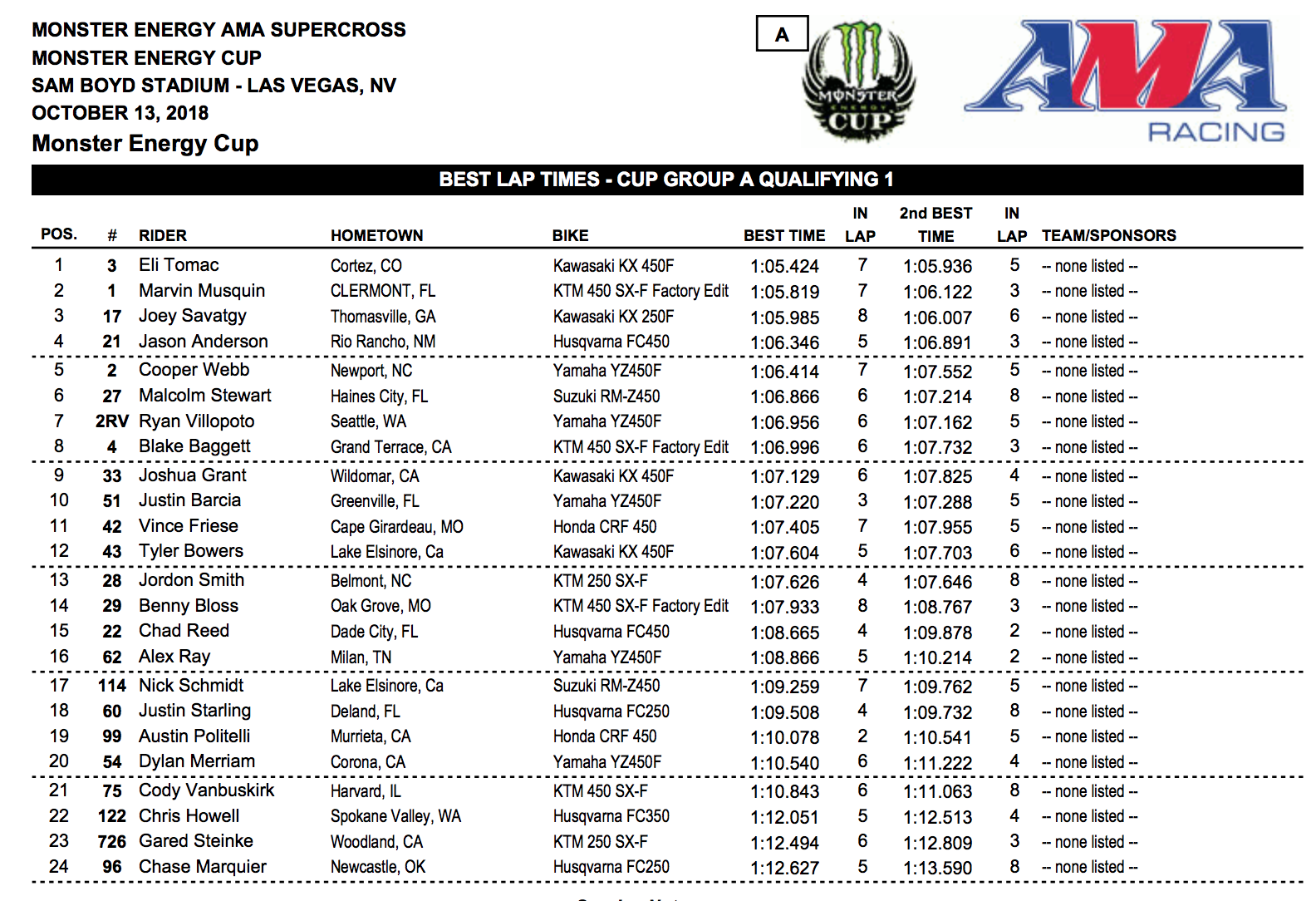 In Supermini, Max Vohland looked most comfortable and aggressive early, but then he missed a whoop on the dragon's back and crashed super hard. Luckily, he seemed to get up okay. His time from earlier in the session held up for top of the board, though, ahead of Josh Varize.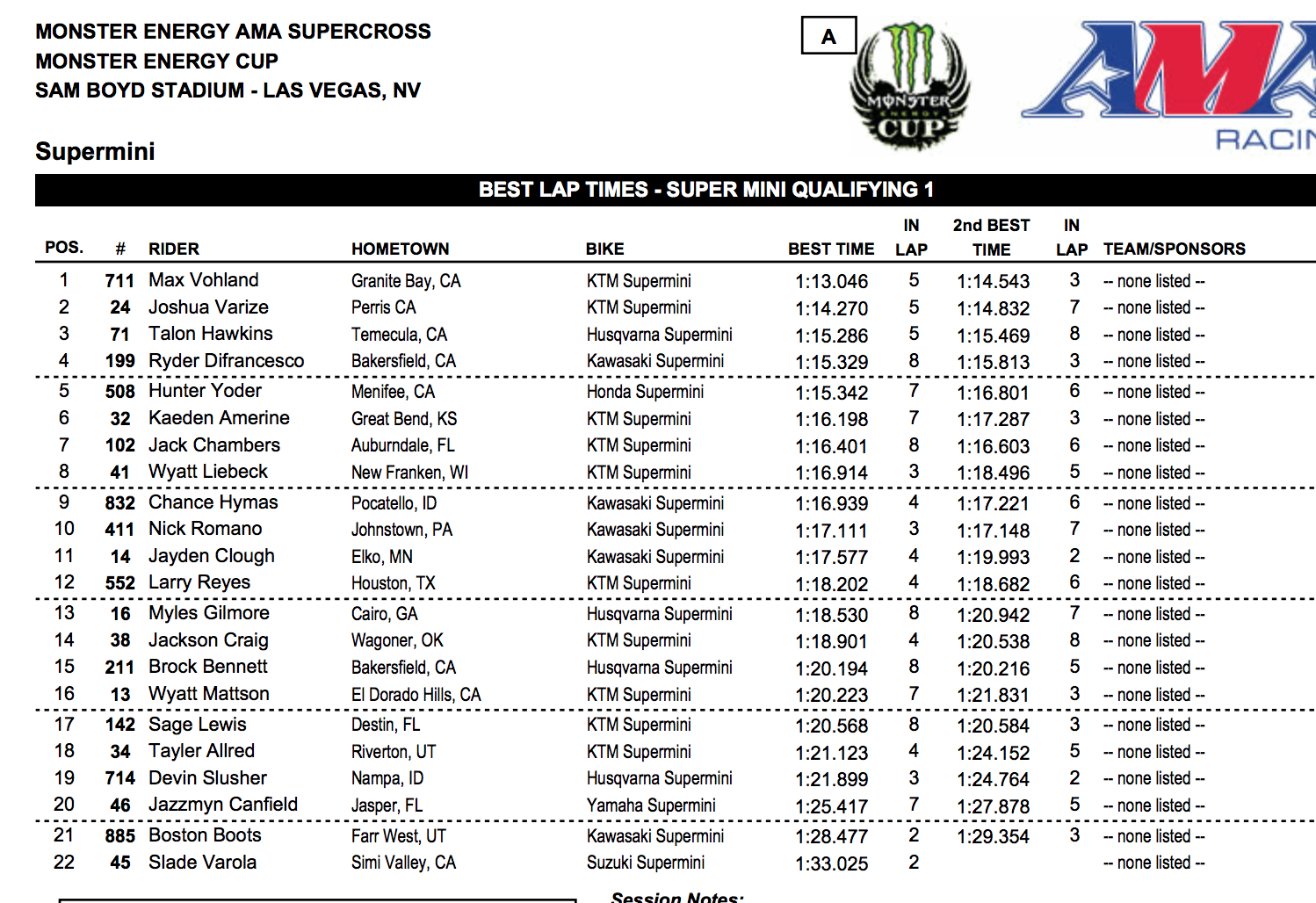 Seth Hammaker is last year's Amateur All-Star winner and he looked very at home on this supercross-like track. He held top time for awhile until Frenchman Brian Moreau jumped to the top.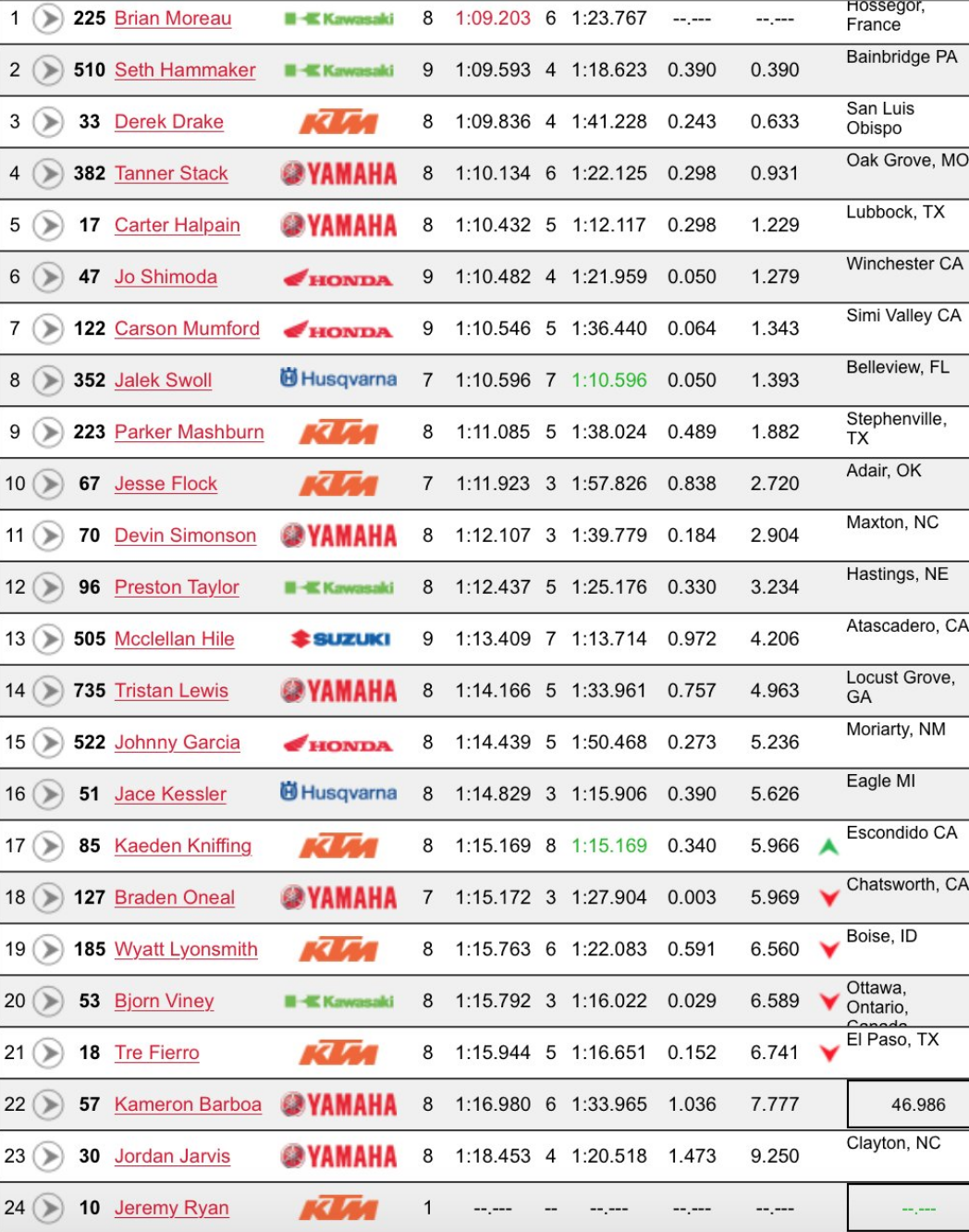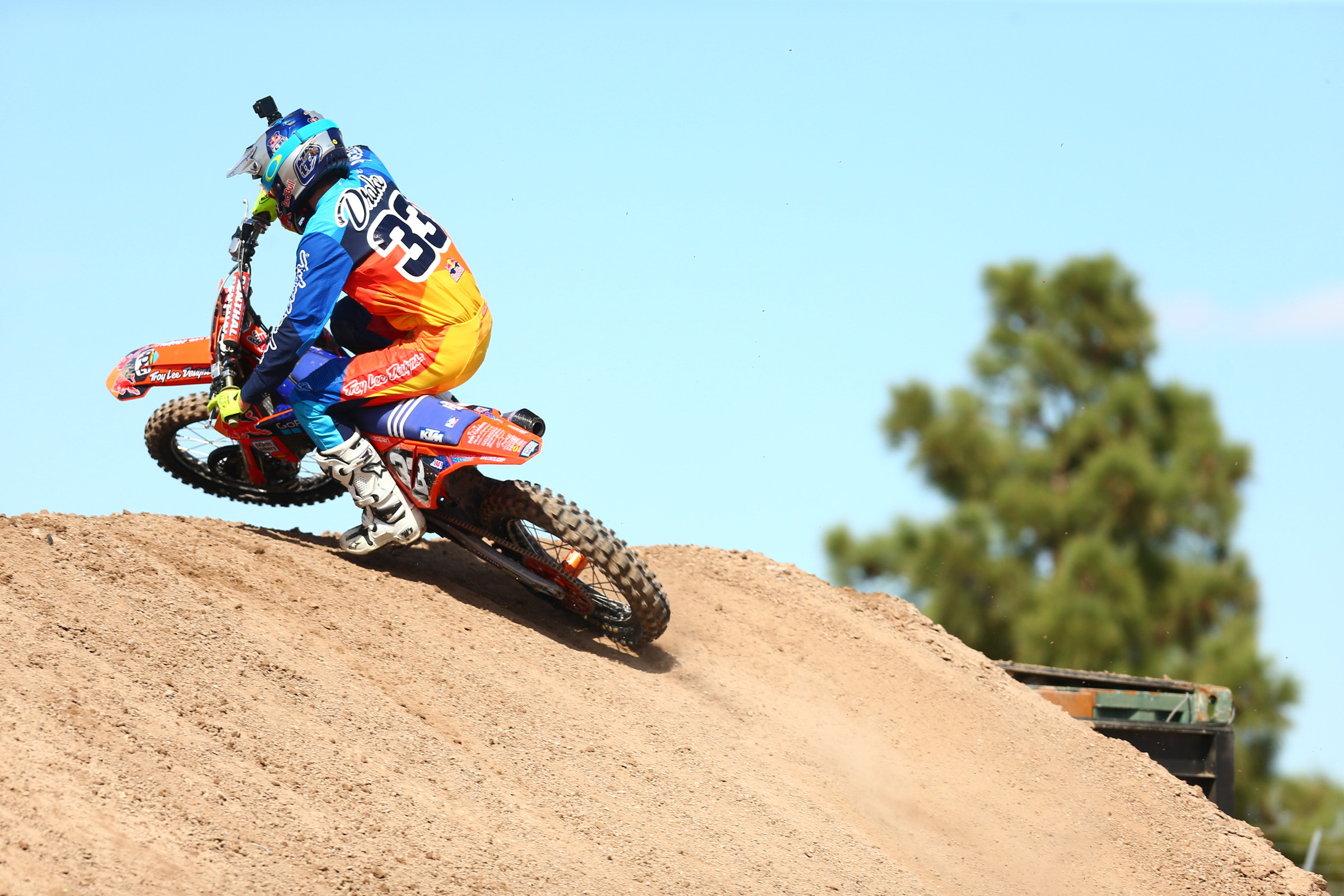 Final Practices
The usual suspects again--Marvin edges Tomac to top the final session and clinch fastest qualifier for the day. Anderson was third and Savatgy again locked right in with the top runners with fourth. Malcolm Stewart was fifth place. Villopoto cooled off a bit in this session, he was eighth, which of course is still impressive for someone who is actually retired, but there were times during press day and today where he looked as fast as anyone else.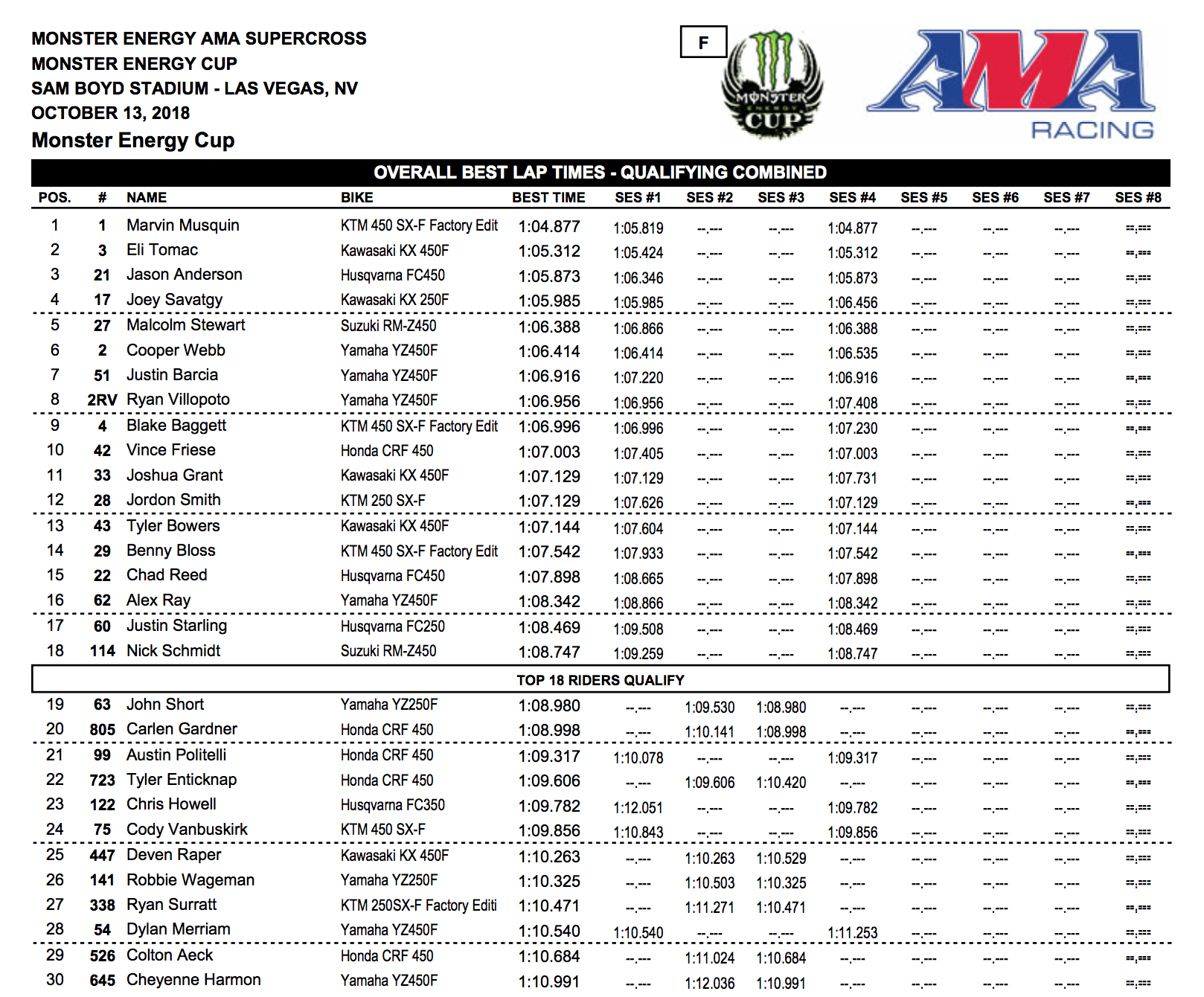 It's a little crazy when the Amateur All-Stars and Superminis get out there, as the riders are not nearly as experienced with supercross tracks, and the bikes aren't always as supercross ready. When a Supermini rider overjumps the tunnel before the finish, the suspension bottoms hard.
In Amateur All-Stars, one rider who has looked very comfortable, if not always the fastest, is Amsoil (GEICO) Honda's Jo Shimoda. In the final session he then proved fast, also, jumping to the top of the board.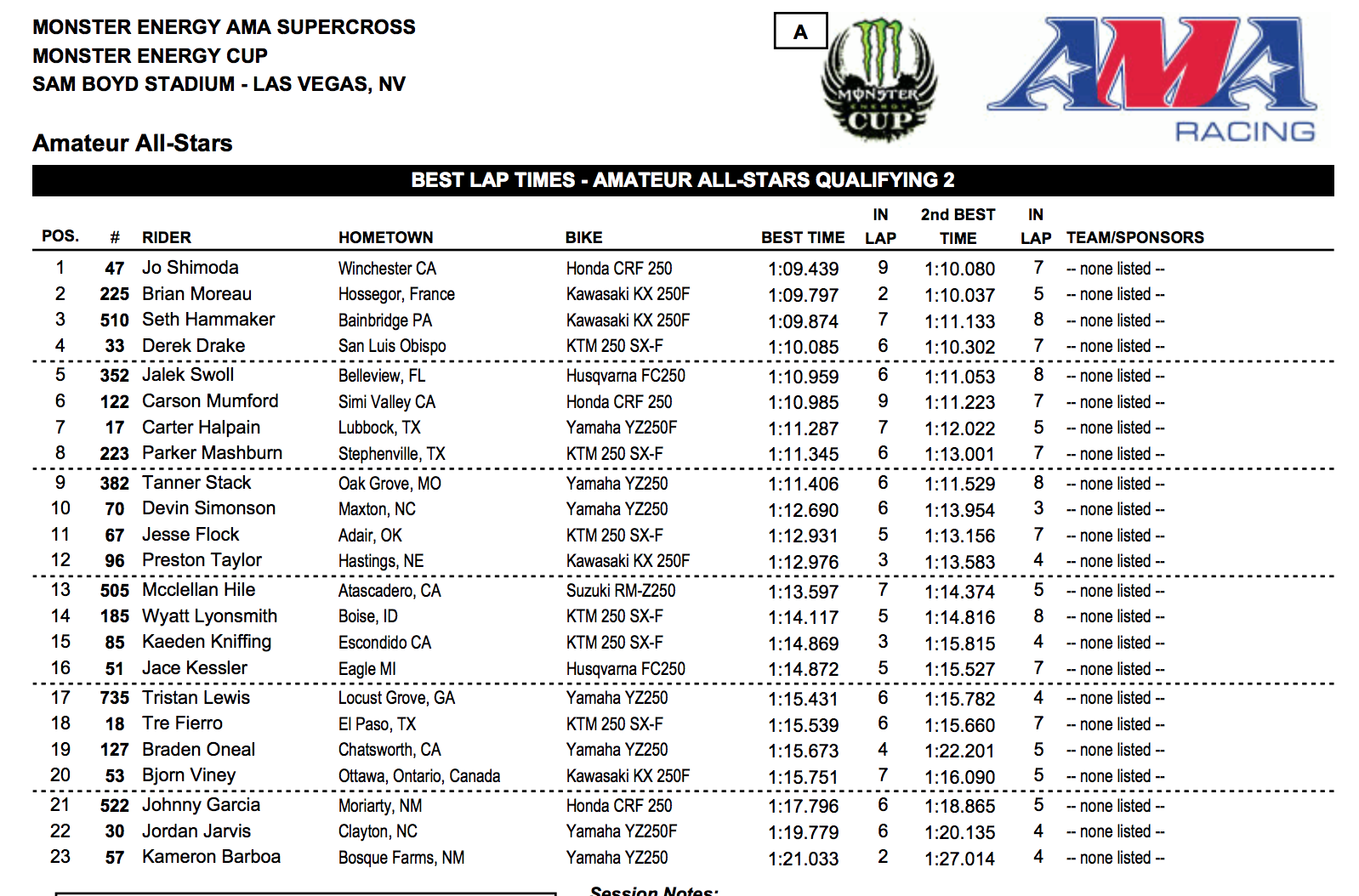 In overall All-Star times, though, Frenchman Brian Moreau's time from the first session held on for the top overall.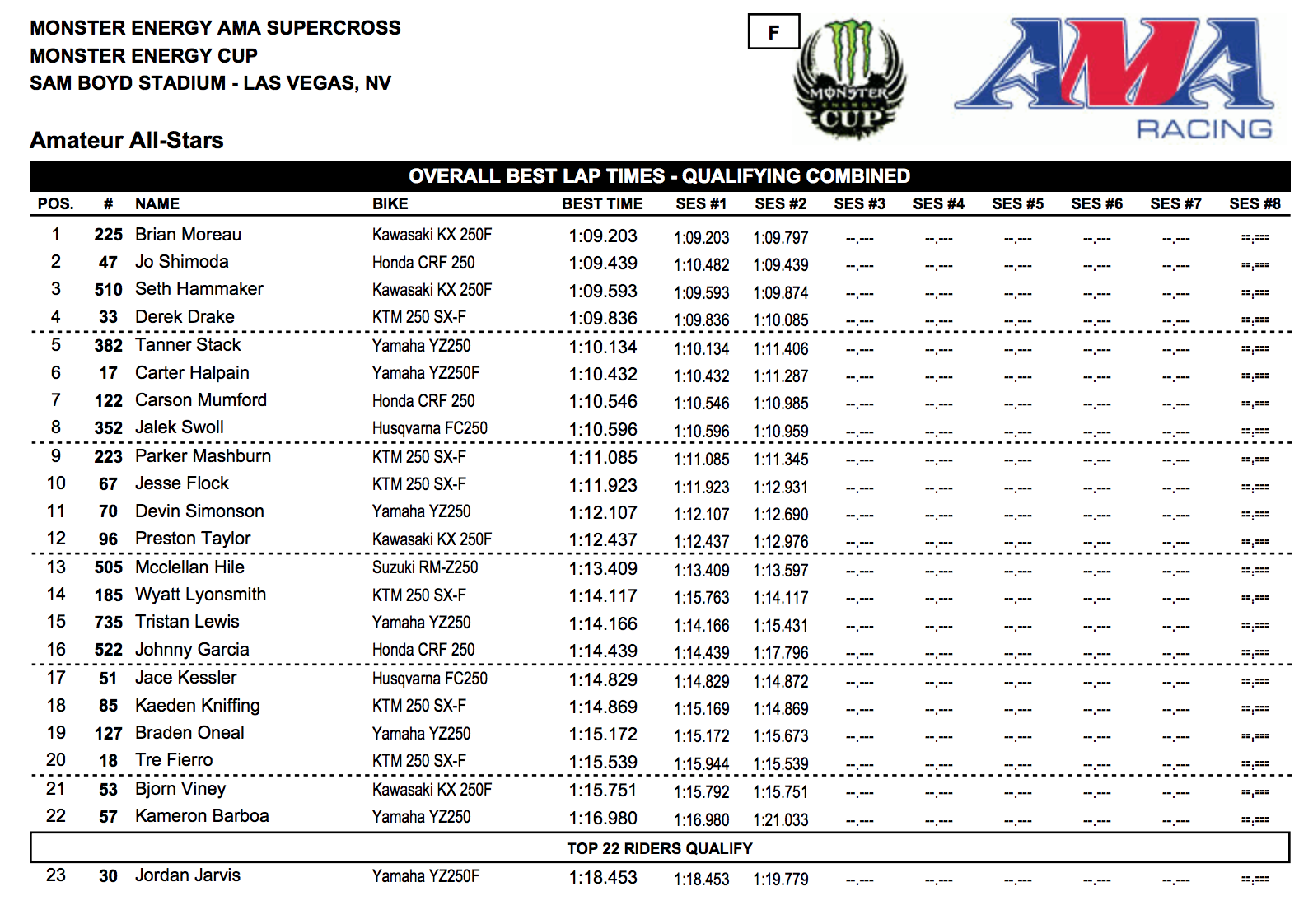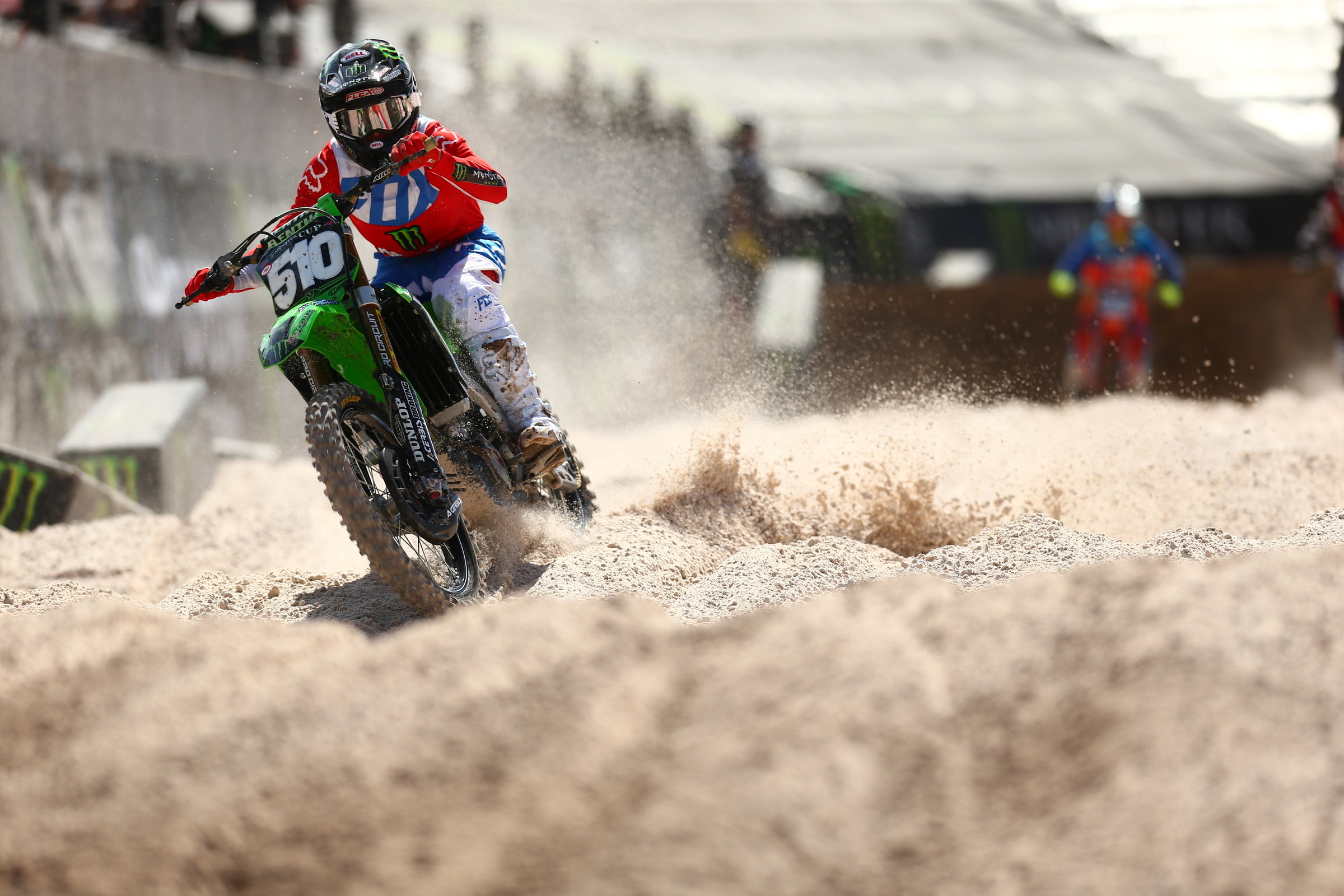 In Supermini, Max Vohland bounced back from his hard bounce off the dragon's back to top the final session.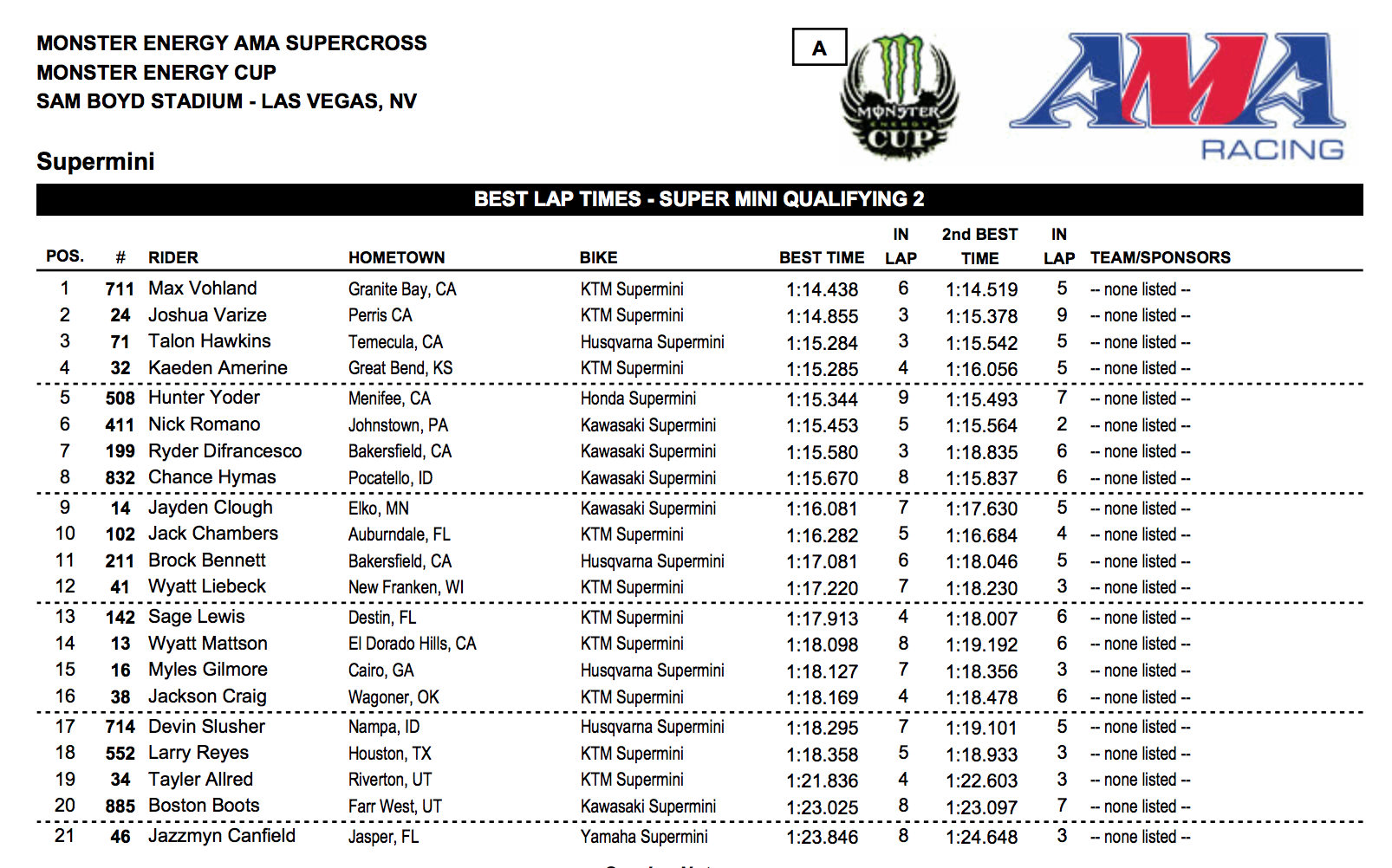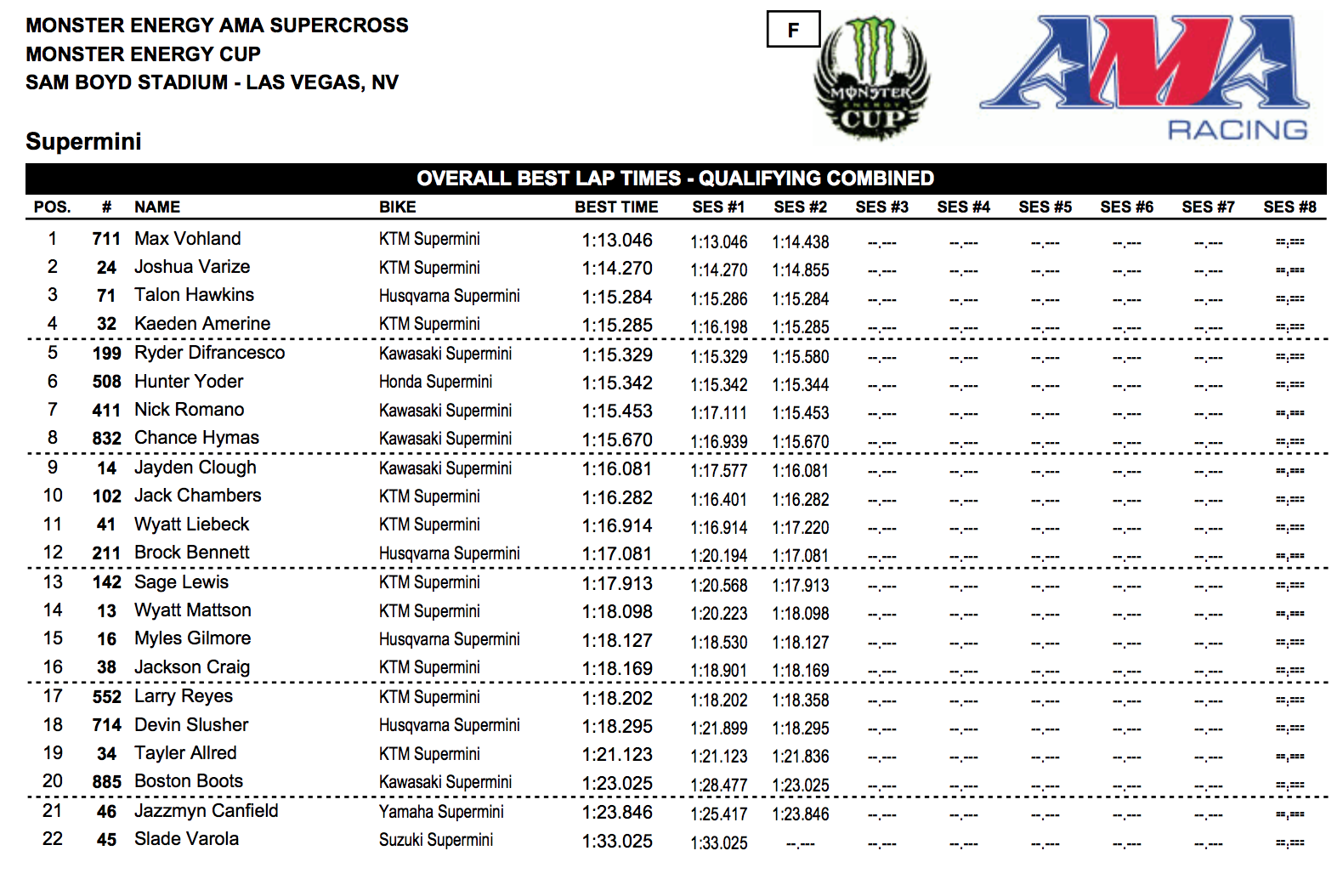 LCQ
Dylan Merriam snuck inside to steal the holeshot in the LCQ. Colton Aeck was second, then Merriam crashed in a bowl turn and lost the lead. This put Cheyanne Harmon into the lead, while Merriam tried to cling to the fourth-place spot. Chris Howell was putting heat on with a lap to go. Howell tried but couldn't get him, and Merriam held on for the final qualifying spot. Because LCQs always have to have some craziness, Merriam rolled the finish and nearly got landed on by Howell, who crashed on the finish line jump, adding injury to insult. Well, he got up, but not in the main event.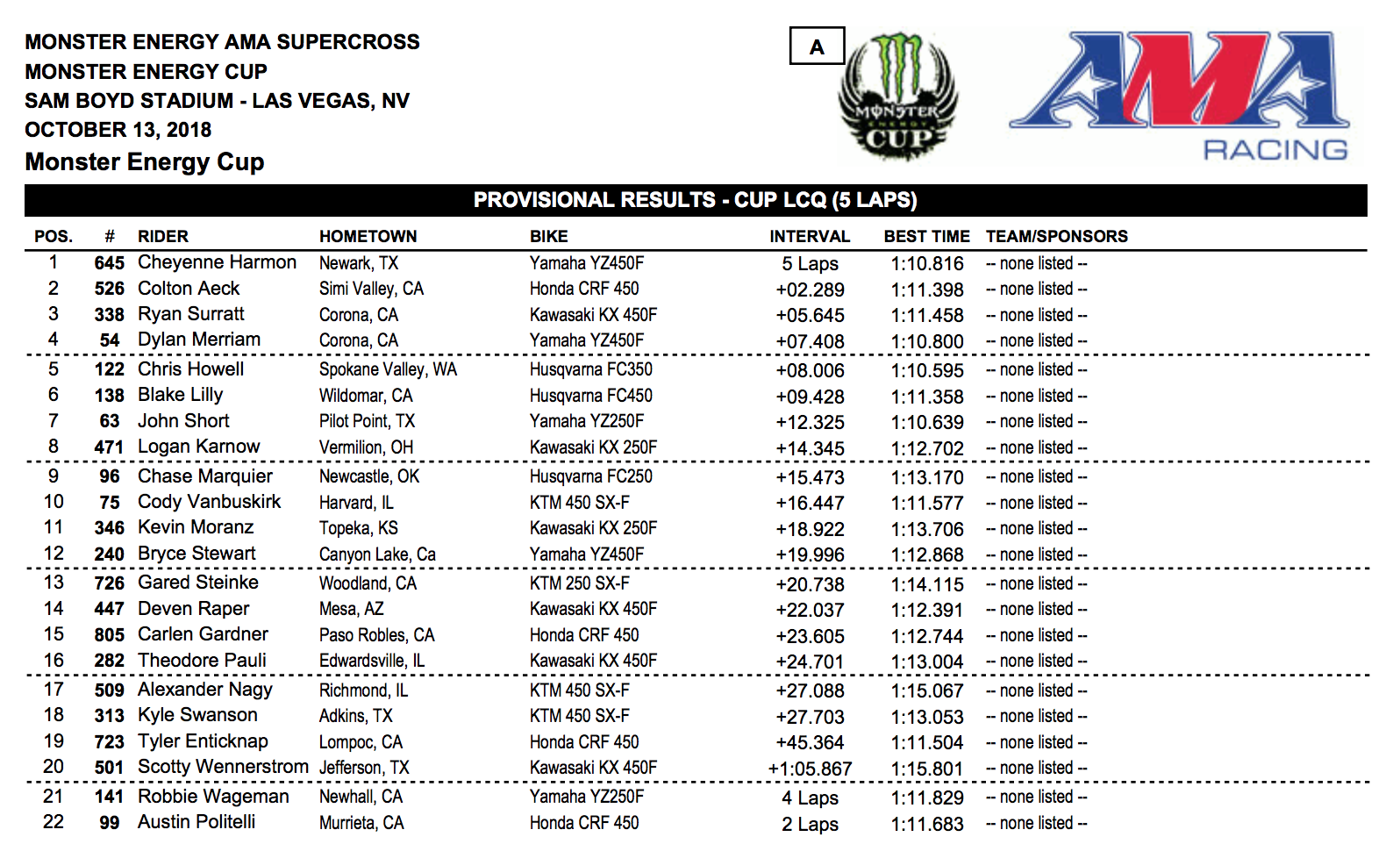 Cup Class Race 1
Joey Savatgy scored the holeshot over Tomac then Reed, but Reed was quickly under fire from Anderson and Musquin, Anderson got by Reed on lap one. On lap two Tomac scrubbed past Savatgy to take the lead over the single re entering the stadium. The next lap, Musquin pulled the same move to get past Anderson for third.
Now it was up to Musquin to try to clear Savatgy before Tomac jetted away, but Savatgy held his ground. Musquin took a few swings at it before squaring underneath the new Monster Energy Kawasaki 450 rider under the bridge. Anderson was pushing hard, too, picking up his pace. Justin Barcia was behind this battle, he jumped into the Joker Lane early, and then Anderson went through next. This meant that they lost touch with Tomac and Musquin up ahead, but the move paid off when Savatgy had to take the Joker Lane late, and both Anderson and Barcia found themselves in front of him.
Both Tomac and Musquin took the Joker Lane on the last lap. Tomac actually bobbled as he entered the section, but only lost a slight bit of ground. When he and Musquin hooked back to the regular track, they were just ahead of Anderson and Barcia. It was close, but Tomac held on to take the win. Musquin was second with Anderson and Barcia right behind him. Savatgy was relegated to fifth. Cooper Webb got a bad start but took sixth, ahead of Malcolm Stewart, Josh Grant, Chad Reed and Vince Friese. Blake Baggett and Ryan Villopoto rounded out the top 12.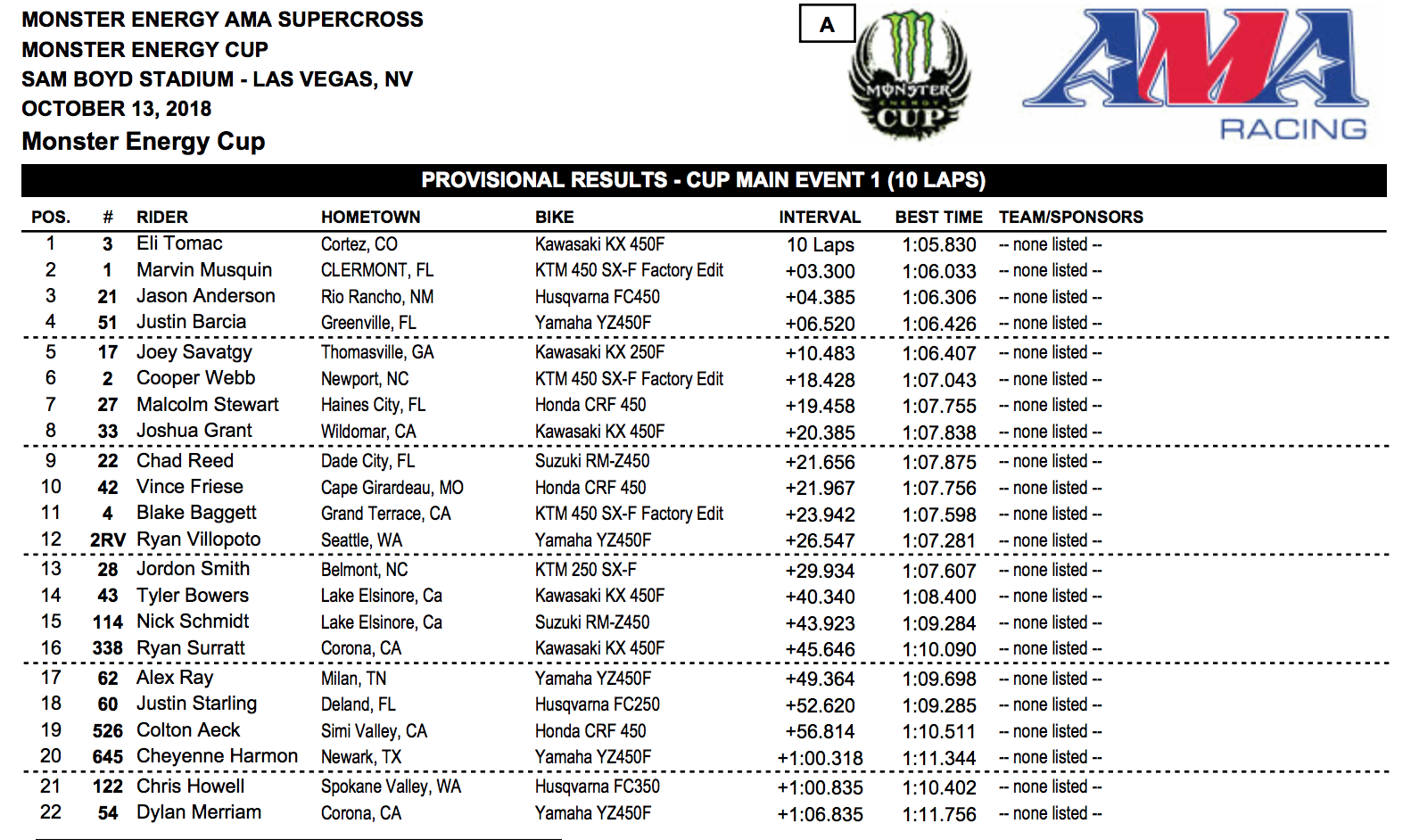 Supermini Race 1
Ryder Difrancesco grabbed the holeshot but went off the track in th back section, Josh Varize took over the lead ahead of Max Vohland. On the second lap, through the sand, Vohland went approximately 100 MPH faster in the first sand section to take the lead. Varize didn't give up, though, as he battled back in the outside section of the track, and they went side-by-side for nearly half a lap. Great racing! They also nearly took each other out in the second sand section as they battled back and forth. Finally Vohland locked the spot down and began to pull away. Kaeden Amerine rolled up to third, and the battle for fourth came down to two Kawasaki riders going side-by-side through the finishline, with Nick Romano just edging Chance Hymas.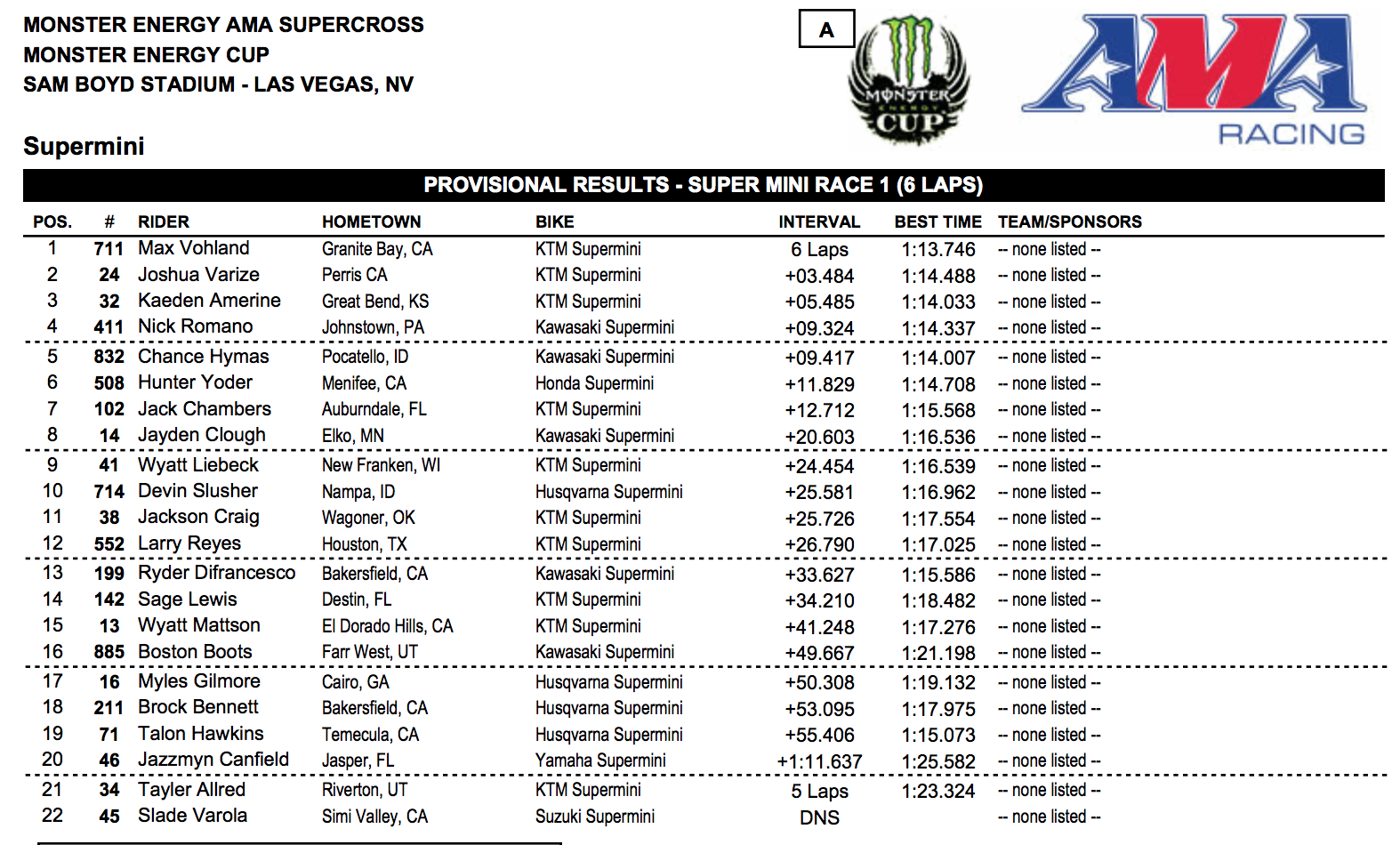 Amateur All-Star Race 1
Jalek Swoll was quick down the start stretch but Jo Shimoda maneuvered into the lead, with Swoll second and Carson Mumford third. Seth Hammaker, last year's winner, made a huge charge and jetted into past Swoll, and Mumford went down. Hammaker got to Shimoda but Shimoda was stingy with the spot and never bobbled under pressure. Finally on the last lap Hammaker got next to him in the sand, but Shimoda held on for a close victory.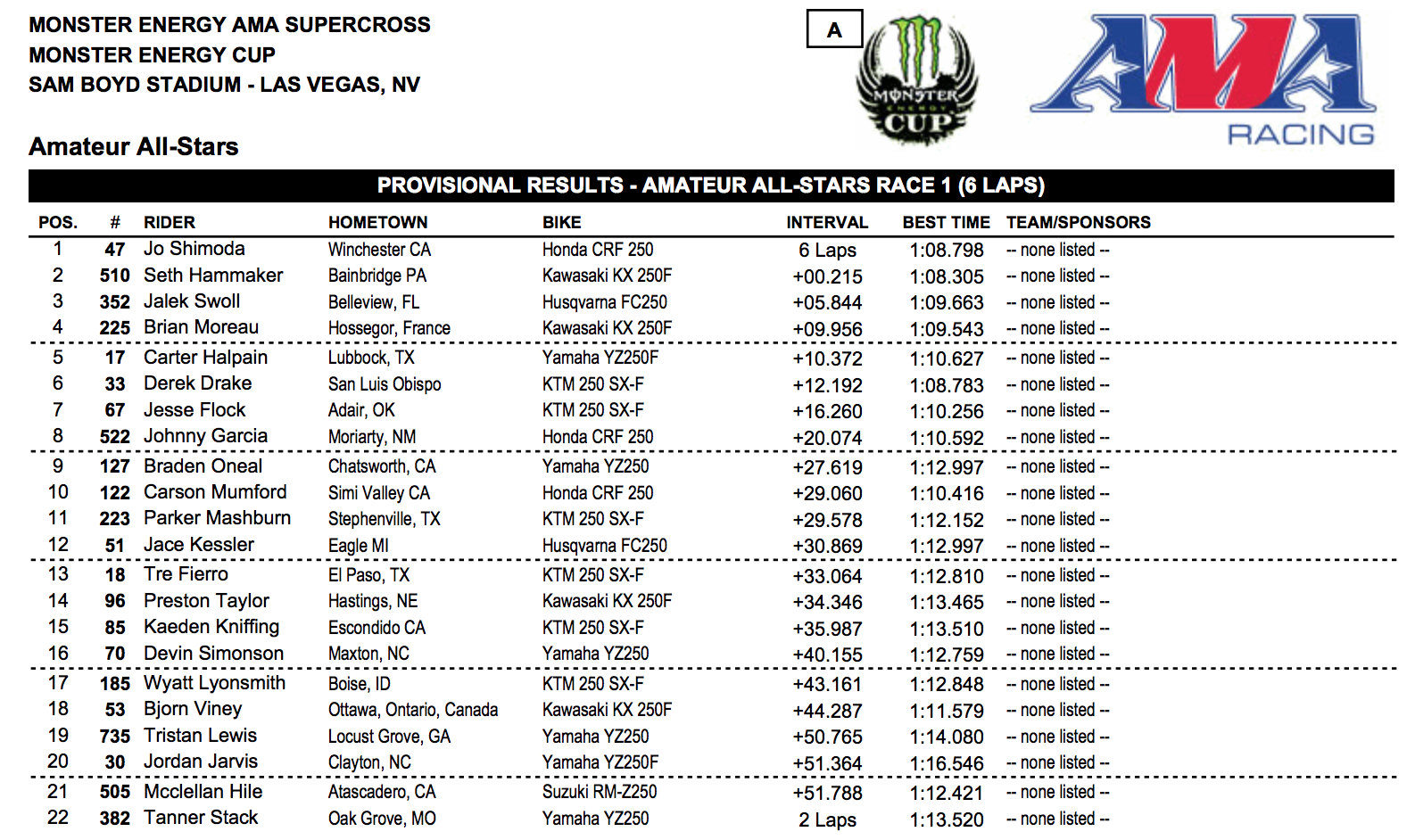 Cup Class Race 2
Tomac and Reed battled off the start, Tomac secured the lead, with Josh Grant in third. Musquin quickly pulled in behind Grant and started pressing him to get third. They both closed on Reed, and then Reed stalled as they went under the tunnel. Musquin had nowhere to go and got into the back of him, and they got locked together. Nearly the full field shot past, leaving Grant to battle Barcia for second. Barcia finally got through, and then Grant was in a battle for third with Malcolm Stewart and Savatgy.
While Tomac checked out, that battle raged. Barcia eventually looked in second, with Grant next, while Savatgy tried everything to get around Stewart. Savatgy jumped into the Joker Lane early, but Stewart was able to distance himself far enough that when he ducked into it on the last lap, Savatgy couldn't get him. Then Anderson, who had a bad start, got to Savatgy on the last lap and executed a quick block pass to steal fifth.
Tomac is now in position to win the Monster Million with his back-to-back main event wins.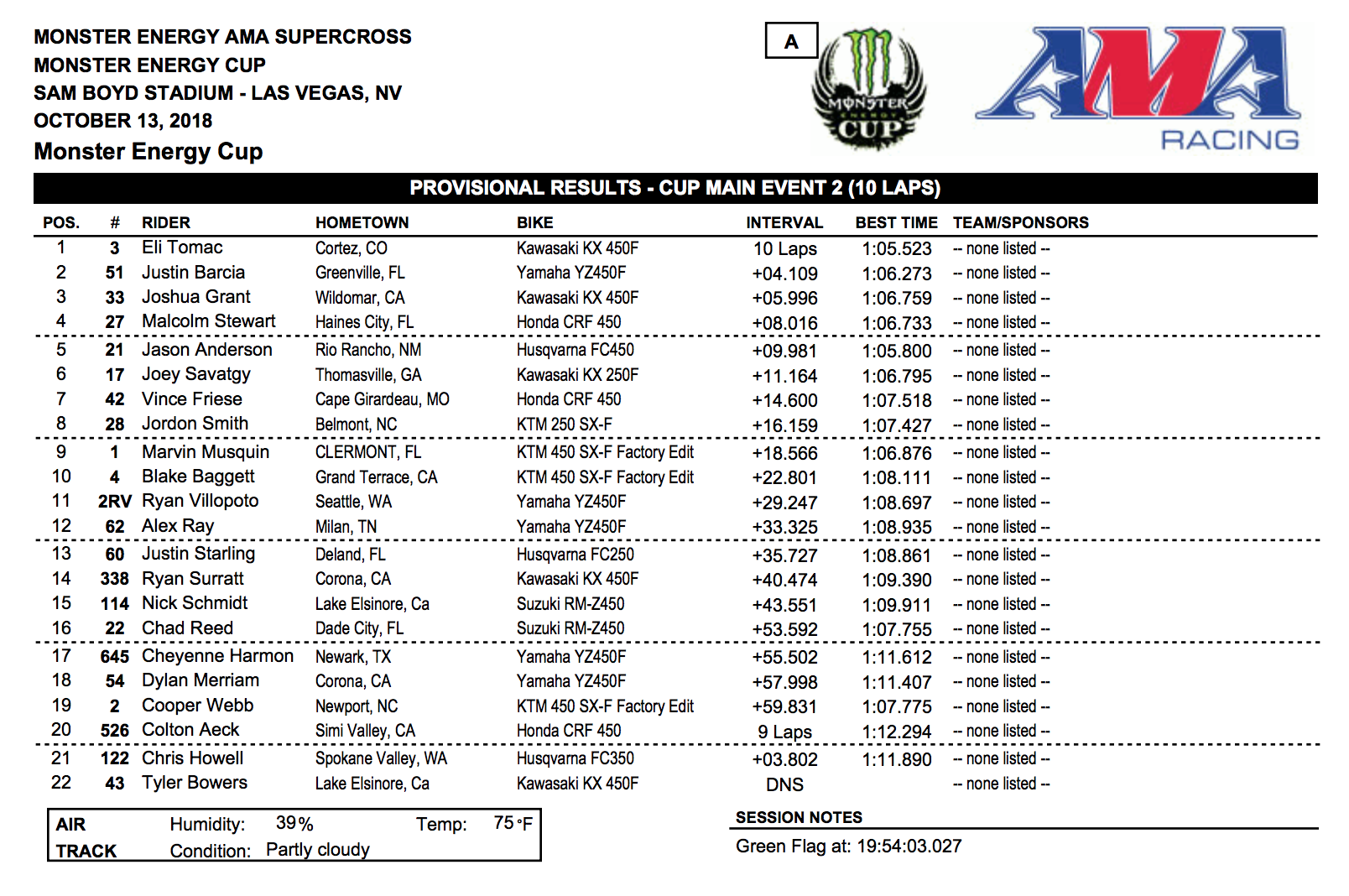 Supermini Race 2
Ryder Difrancesco with another holeshot, and Jack Chambers was in the mix with him. Then Chambers briefly took the lead, until Max Vohland pulled a sick line over the dragon's back to storm into the number-one spot. Moments later, Difrancesco ate it over the finish line jump, knocking him from the race. Vohland started to pull away, but Kaeden Amerine put in a late charge to close the gap. Behind them, Joshua Varize tried to pull an inside pass on Jack Chambers for third, but he tagged Chamber's rear tire and went down.
Vohland held on to win, his 1-1 scores giving him the easy overall in the Supermini Class.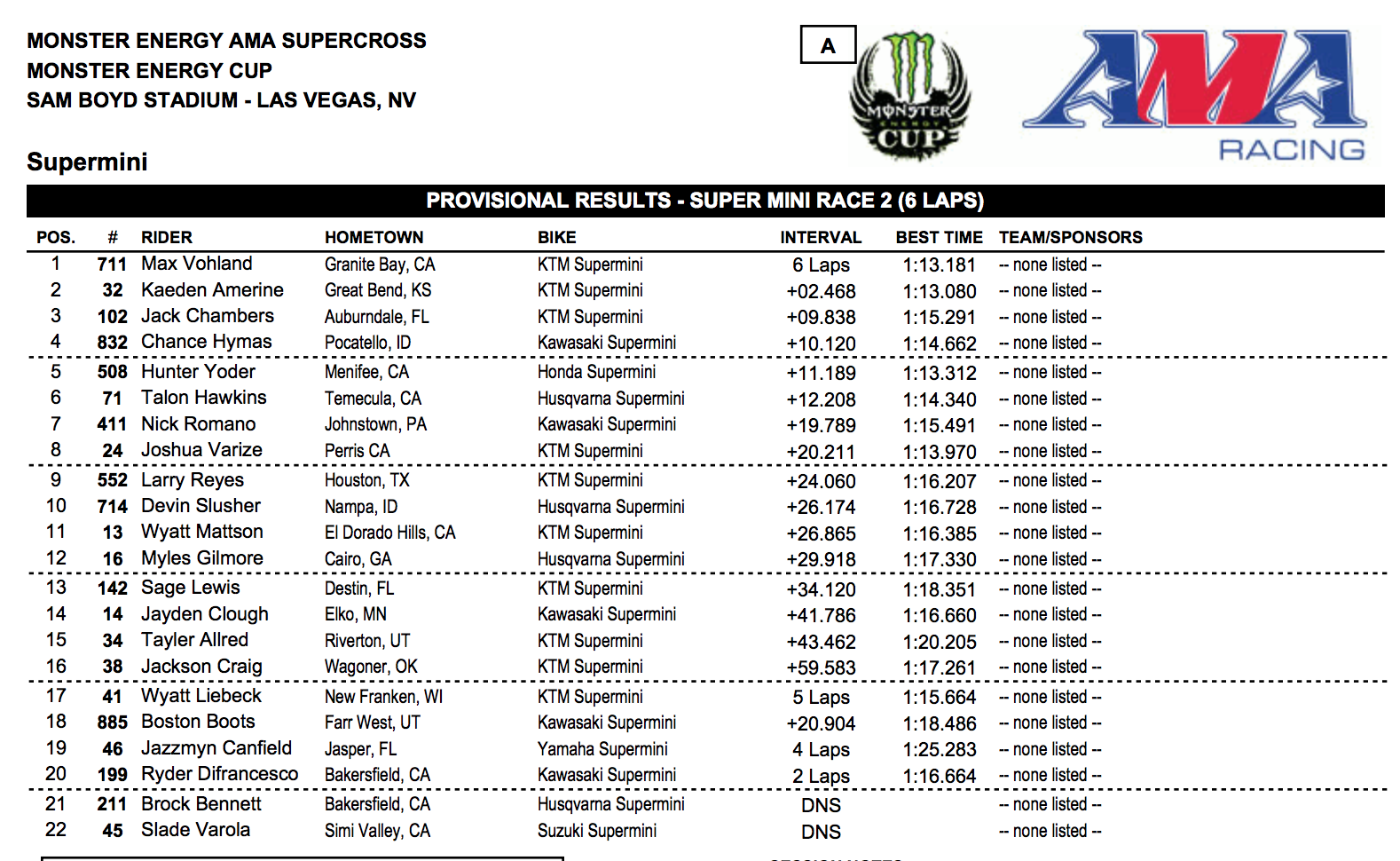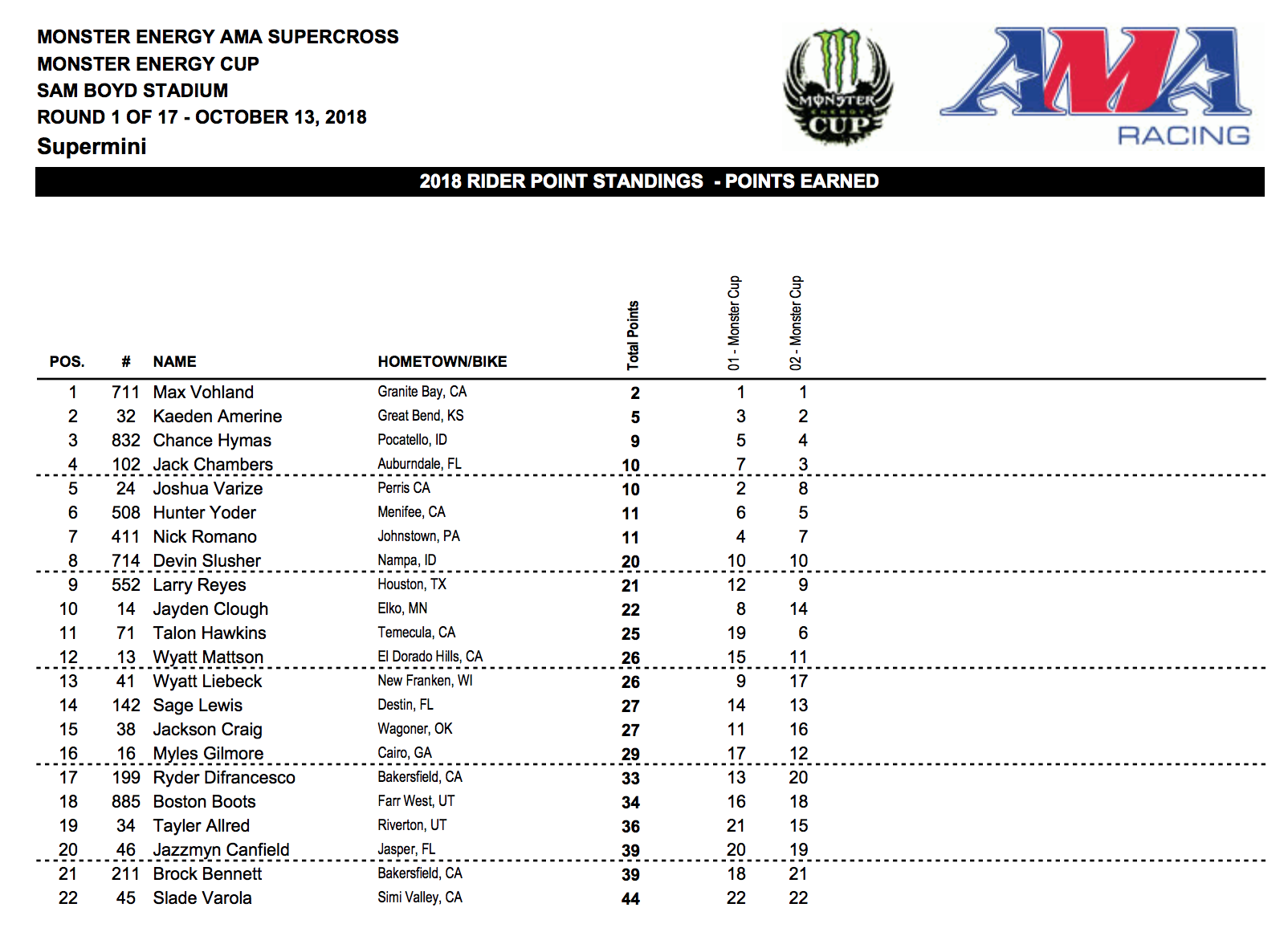 Amateur All-Star Race 2
Derek Drake, who had a terrible start in the first race, grabbed the holeshot in this one. He had Jalek Swoll behind him, then Brian Moreau, Jo Shimoda and Seth Hammaker. This led to a crazy mix-up in the overall. Shimoda made the pass on Moreau for third. Hammaker followed him through, and now the battle for third between Hammaker and Shimoda was also the battle for the overall. On the last lap Shimoda caught Swoll with Hammaker right behind him. All three riders battled nearly side-by-side through the sand and the final corner, and Hammaker sent it to try a last-ditch pass. He slid out and went down. Shimoda's third, and 1-3 scores, were enough for the overall, just edging Swoll's 3-2 and Drake's 6-1.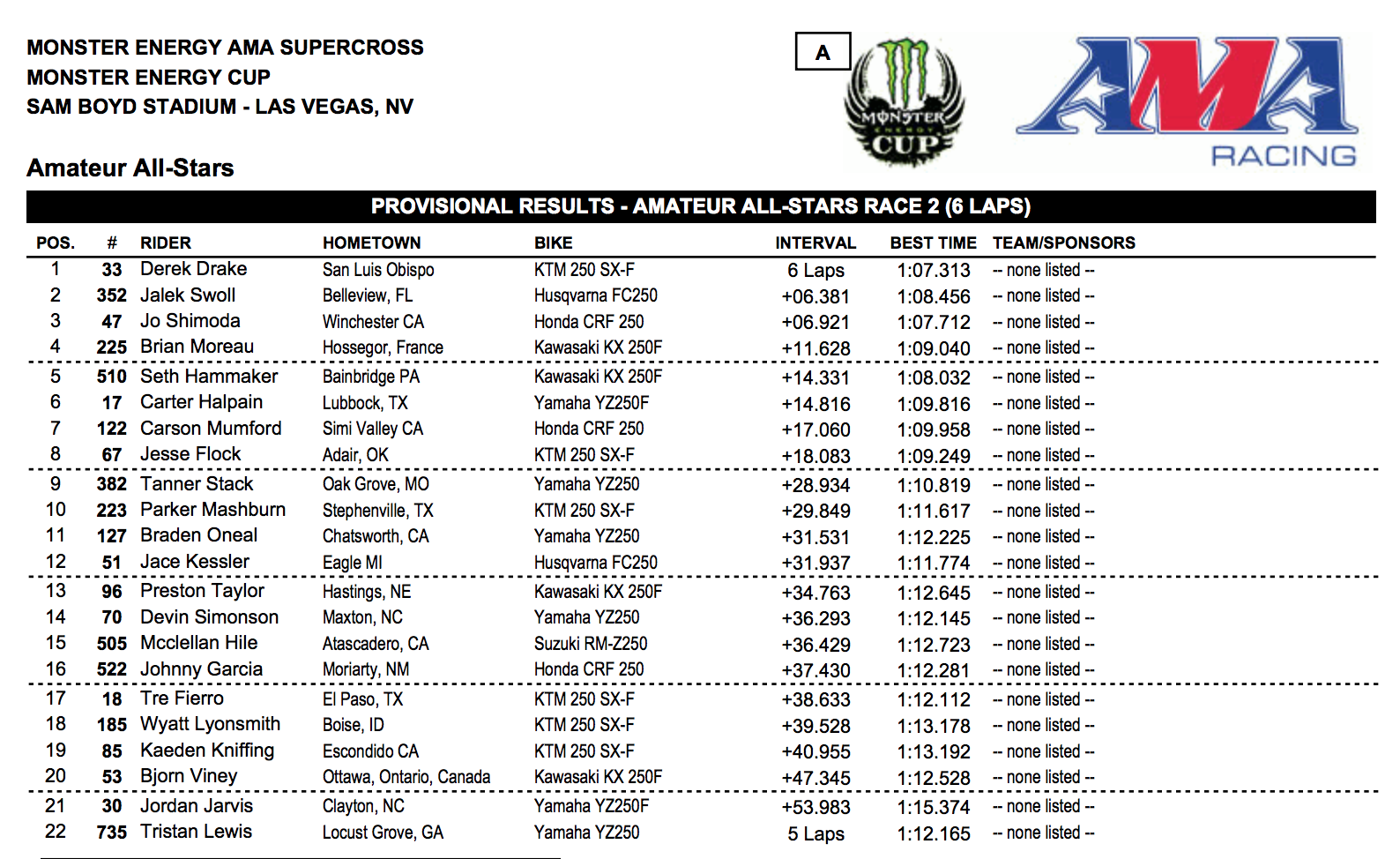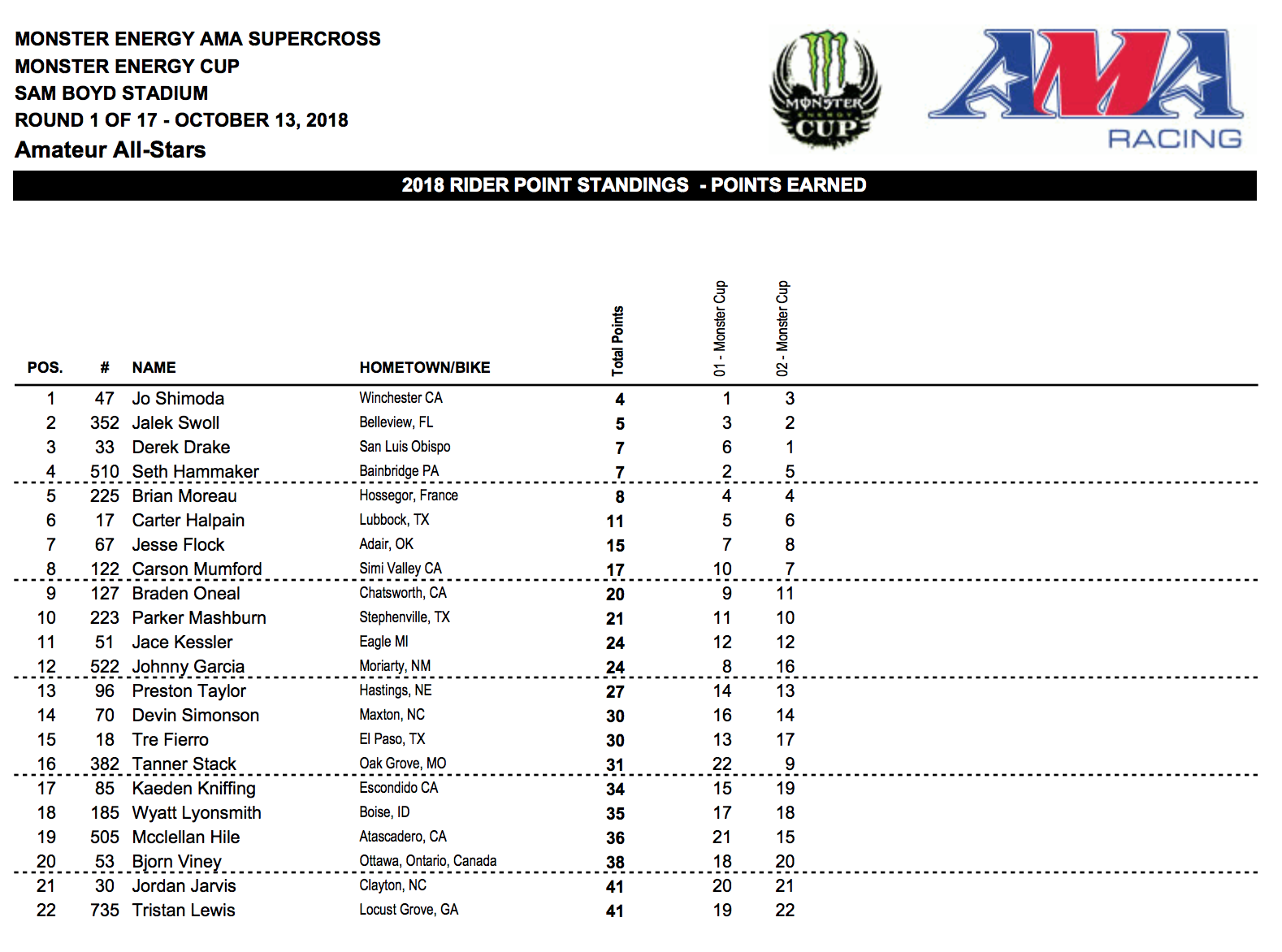 Cup Race 3
It looked like Tomac had a good jump, but he was just behind Musquin heading into the first turn, and then several riders bumped. Malcolm Stewart sliced inside in turn one and got into Musquin, which slowed them both up, and Tomac also had to check up to avoid them.
This put Joey Savatgy into the lead ahead of Chad Reed, Vince Friese, and Stewart. The contact was enough to knock Tomac back to seventh and Musquin headed to the mechanic's area. Tomac started a charge, though, making a key pass on Jason Anderson in the sand. Then he block passed Jordon Smith after the dragon's back, and then started attacking Stewart. Tomac launched HUGE into the sand and then sent it big through the back section to pass Stewart for fourth. A lap later he launched into the sand again to get Friese, up to third. The next sand section, around Chad Reed for second. Now the million dollars was back in play, with Tomac only having to get his teammate Savatgy for the big money. It was close, as Savatgy began the last lap with a small lead, and Tomac was pushing hard to catch him. In the back, Savatgy made it easy on his teammate, and Tomac had the lead and with it the Monster Million payday.