Things are changing in a hurry for Tennessee's Nate Thrasher. He took his star turn this summer, dominating the Supermini classes at the Rocky Mountain/ATV MC Amateur National at Loretta Lynn's Ranch and earning AMA Motocross Youth Rider of the Year honors. He was pretty big on his Orange Brigade KTM supermini, though, so now he's moved up to a KTM 125SX to begin his big-bike career.
His first run? At the Racer X Maine Event, presented by Uni Filter, over the weekend, where he ended up battling New England fast guy Justin Cokinos. As one of our designated All-Star for this event, Thrasher ran a bib that marked him as the man to beat, and riders like Cokinos readily accepted the challenge and put in some great racing, moto after moto.
Thrasher ended up winning all four motos in the 125 Two-Stroke class for the overall win there. Cokinos came out on top in the Schoolboy (12-17) B/C division. With the New England locals getting a chance to measure themselves against an AMA National Champion like Thrasher, and Thrasher in the thick of some serious battles in his first-ever 125 race, the Racer X Maine Event delivered exactly what it's designed to do.
Here's Thrasher on his weekend in Maine.
Racer X: New bike for you. You're on the 125 now. As far as my knowledge, this is your first race on the 125. How's it been?
Nate Thrasher: Yeah, it's been great. All week, a little bit rusty. I haven't rode in about four to five weeks, but no excuses. We just wanted to come up here and get a good race on the 125, come up here and test with Factory Connection. Came out to the Maine Event. It was an awesome weekend. Got a couple good motos and a couple bad, so we'll take what we can get and we'll move forward from here.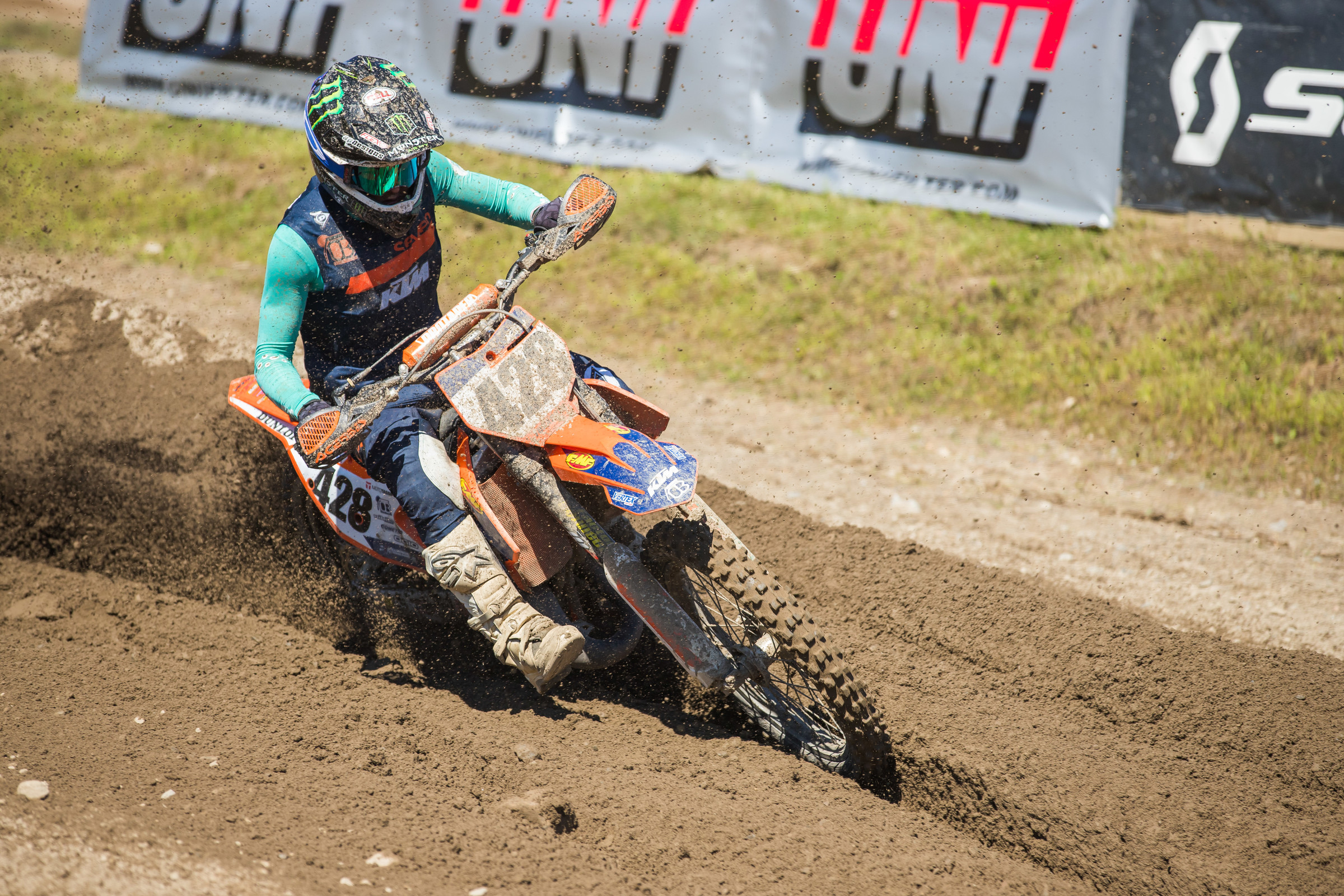 You came up from Tennessee, right? That's a pretty decent drive. What made you decide to come all the way up?
Well, we were originally going to come up and test with everybody over at Factory Connection, and then Racer X reached out to us and said that they would like me to be an All-Star in the schoolboy class, so we just decided to stay for the race.
I noticed that you're under Factory Connection's tent, kind of hanging out with them. Is that because basically coming up here to test and getting suspension done while you're here?
Yes, sir.
You had pretty good lap times. You were running like 2:03 and [Chris] Canning was doing 2:02 in the 250 A class. You've got to be pretty happy with that.
Yeah, I'm pumped. I feel like I can put a little more in once we get back to training at MTF [Millsaps Training Facility]. Work a lot harder and hopefully get to Ponca and Mini O's and get some wins there.
You had some good battles today. Had some good battles yesterday. You had some run-ins. How'd everything go?
It was great. Today, got a little taken out there, but it's racing. It was a little dirty, but they can say what everybody's going to say, [everyone is going to say] different things. So I got up and my bike stopped running and his didn't. It was two laps to go at that point, so I just tried to put my head down and ended up getting the pass and getting the win.