Three years ago, although already winning Amsoil Grand National Cross Country races and titles at a record clip, Kailub Russell decided to up his speed and fitness game by checking into the Baker's Factory, ran by Aldon Baker, for some summer work. And it was work. Back then, Kailub told us that he would routinely throw up while pounding out intense motocross motos in the Florida summer heat. More recently, Baker told us it was hard for Kailub to even finish a 30-minute moto without getting lapped by the likes of Ryan Dungey and Marvin Musquin. But Kailub stuck with the program, going back last summer and again this year. His motocross speed and fitness keep improving, and the Red Bull KTM motocross squad just happens to have extra room under the tent, since Musquin is the only man racing for the team at the moment.
Kailub wanted to try some Lucas Oil Pro Motocross, but it was ultimately up to Baker to decide if he had what it takes. Aldon gave him the green light last week, so now Russell will line up for the final three races of the season before resuming GNCC duties in New York on September 16.
"As a multi-time off-road champion, I have a lot of respect for Kailub and his racing accomplishments," Red Bull KTM team manager Roger Decoster said in a team press release last week. "It's been his dream to race a professional motocross event and it just so happens that we have an extra race bike prepared, so it makes sense to take advantage of his open schedule and see what he can do at the last three rounds."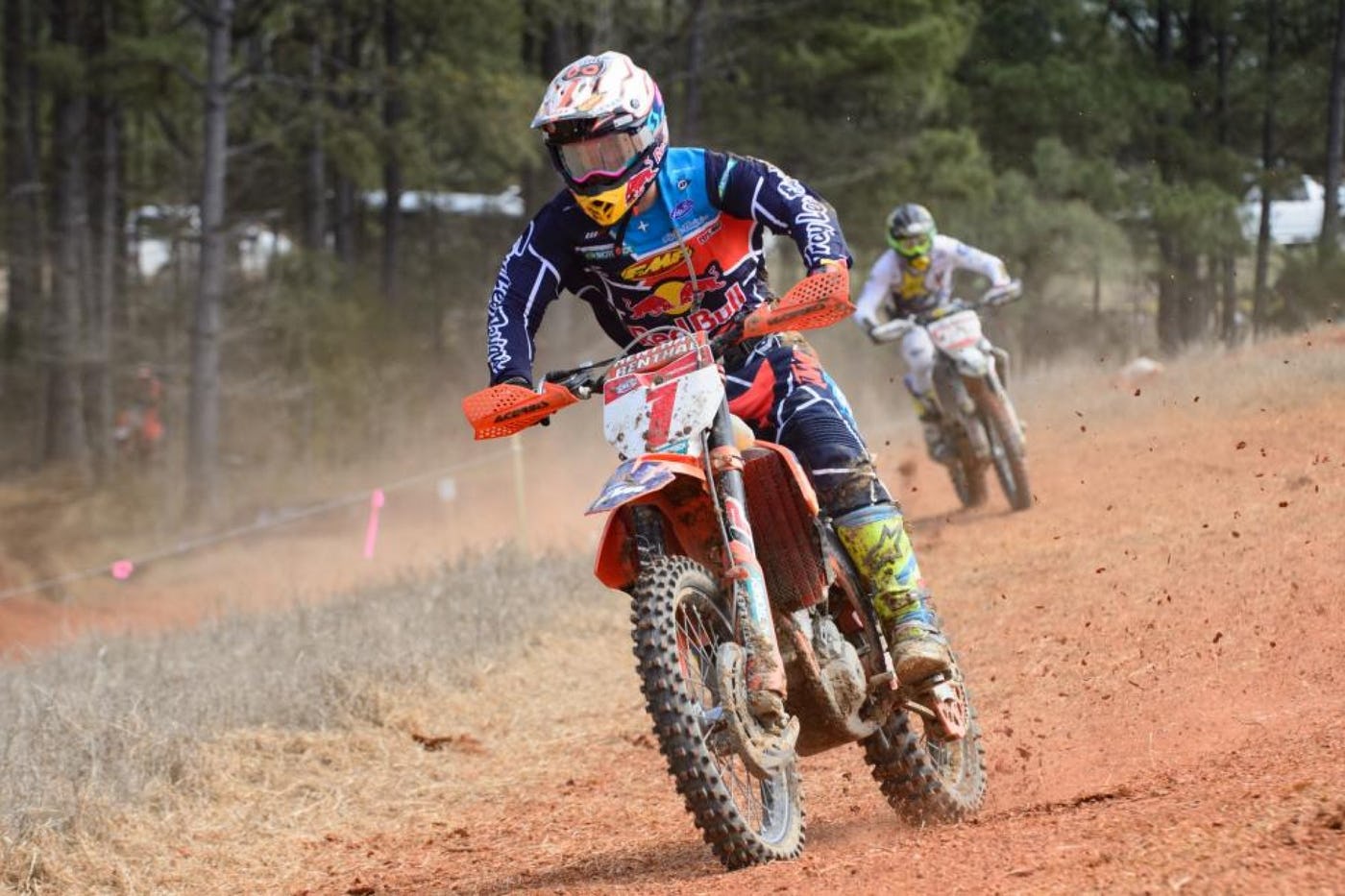 "Kailub is a very talented athlete, and his skills on the motorcycle are very diverse," Baker said. "He's been putting in a lot of work with the guys at here at the Baker's Factory and obviously showing great speed and fitness, so we're looking forward to seeing him out there for the last three rounds."
What kind of company is he in? We dug up some archives of past off-roaders giving the nationals a try. This is not a comprehensive list; with some riders the lines are blurred, as they'll start with moto and switch to off-road and back, or vice versa. As an example, Mike Kiedrowski is one of the greatest American motocrossers ever, but became a full-time off-road racer when his moto days were done. That doesn't count here! The riders listed below were definitely hardcore off-road racers, first and foremost, who gave motocross a run for fun.
Here's The List.
Shane Watts
The gold standard in showing up anywhere, anytime, anyplace on any kind of bike, Wattsy could raise a ruckus wherever he went. He'd often sneak in AMA Pro Motocross Nationals during off-weekends of the Grand National Cross Country Series (he won the GNCC Championship in 2000). One time at the Glen Helen National, he did a massive burnout on the concrete starting pad just before the gate dropped. Our man Pingree was lined up next to him—that must have been distracting!
A few weeks later, at a muddy High Point National, Wattsy put his mud-riding experience to work and scored 15th in the first 125 National moto. With that, he earned a national number for 2002. Unfortunately, he was hurt most of that season and never got to race with the two-digit number he earned.
Barry Hawk
You want versatility? Hawk won seven-straight Grand National Cross Country Championships in the ATV division… while also working on his two-wheeled game, first as a training tool and eventually as a way to keep winning races. He switched to bikes full-time and kept on winning, capturing the 2003 GNCC title. Hawk also showed up for his hometown High Point National twice and just missed scoring points. In 2000, he went 21-21 in the 250 Class.
Colton Haaker
You want even more versatility? Haaker started as a trials rider, but found a home in the EnduroCross Championship. However, he can also bust out backflips and has serious moto speed. He went 27-30 for 34th overall at in the 250 Class at Hangtown in 2010 and 24-30 for 29th overall on a 450 at Washougal later in the year.
He managed to wedge just about all of his skills into this video:
Josh Strang
Strang, of Australia, won the 2010 GNCC Championship for Team FMF Suzuki and is still a force in the series today, riding for Rockstar Energy Husqvarna. While battling for GNCC titles, he gave two Lucas Oil Pro Motocross Nationals a shot and qualified for both, scoring a point in the 450 Class each time. Strang went 20-28 for 23rd overall at RedBud in 2010 and 22-20 for 24th overall at Unadilla in 2011.
Ricky Dietrich
Dietrich was so good, he practically switched from off-road to moto at one point. He dabbled in some moto races while pursuing the WORCS and EnduroCross championships, and he was so good that Monster Energy Kawasaki grabbed him for a replacement ride when Ryan Villopoto went down with a torn ACL in 2009. Dietrich delivered eye-opening results, highlighted by a run of 5-6-7-6 overall finishes in the 450 Class. Despite not even picking up the ride until round three at Hangtown, he was ninth in points after RedBud. Them some injuries kicked in and Dietrich's career went sideways for a bit. He was crazy fast when he was on his game, though, regardless of whether he was in the desert or the trees or on the motocross track. Heck, he even made the Seattle Supercross in 2006 and finished 17th in the Lites main!
Kurt Caselli
The late, great off-roader could haul through the American or Mexican desert, and he also almost singlehandedly jolted the American ISDE effort to where it is today—genuine contenders for the win. Kurt showed up at the Southwick National in 2012 and qualified in the 450 Class, taking 28th overall with 25-24 moto scores.
Caselli tragically lost his life at the Baja 1000 in 2013. His legacy lives on through the Kurt Caselli foundation.
Taylor Robert
Hat tip our marketing man Justin Hale, who went to college in Arizona and became buddies with off-road ace Taylor Robert. Hale just reminded us of Robert's one appearance in Lucas Oil Pro Motocross, which took place at Southwick. Robert, who is the second American to ever win the ISDE overall (he did it the year after Ryan Sipes breakthrough) lined up for the 'Wick in 2010 and logged impressive 20-15 scores for 23rd overall in the 450 class. Yup, a 20-15 only netted 23rd. Poor Taylor ended up on the wrong side of the math on that one--but the moto scores were strong.
Bonus: MX to Off-Road
Let's mention the 1970 de facto AMA 500cc Champion Dick Burleson, soon to be known as "King" Richard Burleson, the eight-time AMA National Enduro Champion. He was the top American in the 1970 Trans-AMA Motocross Series while also a college student, and was thus considered national champion since there was no "AMA Pro Motocross" series at the time. He soon decided to focus on the woods and began his streak of eight straight AMA National Enduro titles in 1974.
Rodney Smith and Ty Davis had great motocross careers, with Smith finishing third in the 250 Grand Prix Series in 1988 and Davis winning the 1990 125 West Region Supercross Championship. Both went on to log fantastic off-road careers and are now members of the AMA Hall of Fame based on their accomplishments after their days on the motocross track.
Also, Christophe Charlier went from being a top French GP racer to winning the ISDE in 2017, then went back to riding MX for the MXoN and Team France and won that, too! Further, Aaron Plessinger's dad, Scott, is a multi-time GNCC Champion, and Aaron himself raced both on the motocross track and the woods growing up (Scott Plessinger and his old rival Scott Summers were quick on a motocross track, too, and both have qualified for Loretta Lynn's). Aaron thought becoming a professional GNCC racer was his more likely path, but it turns out that motocross and supercross became his true calling. Might we see Aaron get in the woods again? We've heard he's trying to arrange a shot at the Ironman GNCC later this year. We'll see!