Loket, Czechia
MXGP of Czech Republic
FIM Motocross World Championship
Seven rounds to go in MXGP 2018, and the first appointment from trips to the Czech Republic, Belgium, Switzerland, Turkey, Bulgaria, Holland, and Italy fell to the Loket circuit for the 14th date from 20 and the first chase back on European soil after the recent Indonesian double. Here are some of the talking points, as Red Bull KTM once again proved to be unshakeable.
1. The omen? Herlings undeniable
The hilly, narrow, slippery, and stony hard pack of Loket was the site where Jeffrey Herlings celebrated the second of his three MX2 world championships in 2013. It is also the place where he prematurely ended seasons in 2010 and 2015 with shoulder and hip injuries. Very much a sweet-and-sour circuit for the Dutchman, where he hadn't tasted podium success since that '13 triumph.
The fact that Herlings overcame a weakened Tony Cairoli in both motos and extended his numbers to 11 from 14 (including eight 1-1 sweeps) and a 30-point window in the MXGP championship is therefore telling for the rest of the contest, along withany slither of hope the opposition had that #84 is not fully riding a train of fate in 2018. Three of the remaining six rounds are likely to take place in sandy terrain (Herlings could ride those one-handed), and his full bounty at Loket (where riders such as Clement Desalle, Jeremy Van Horebeek and Tim Gajser had previously proved to be so strong) is telling.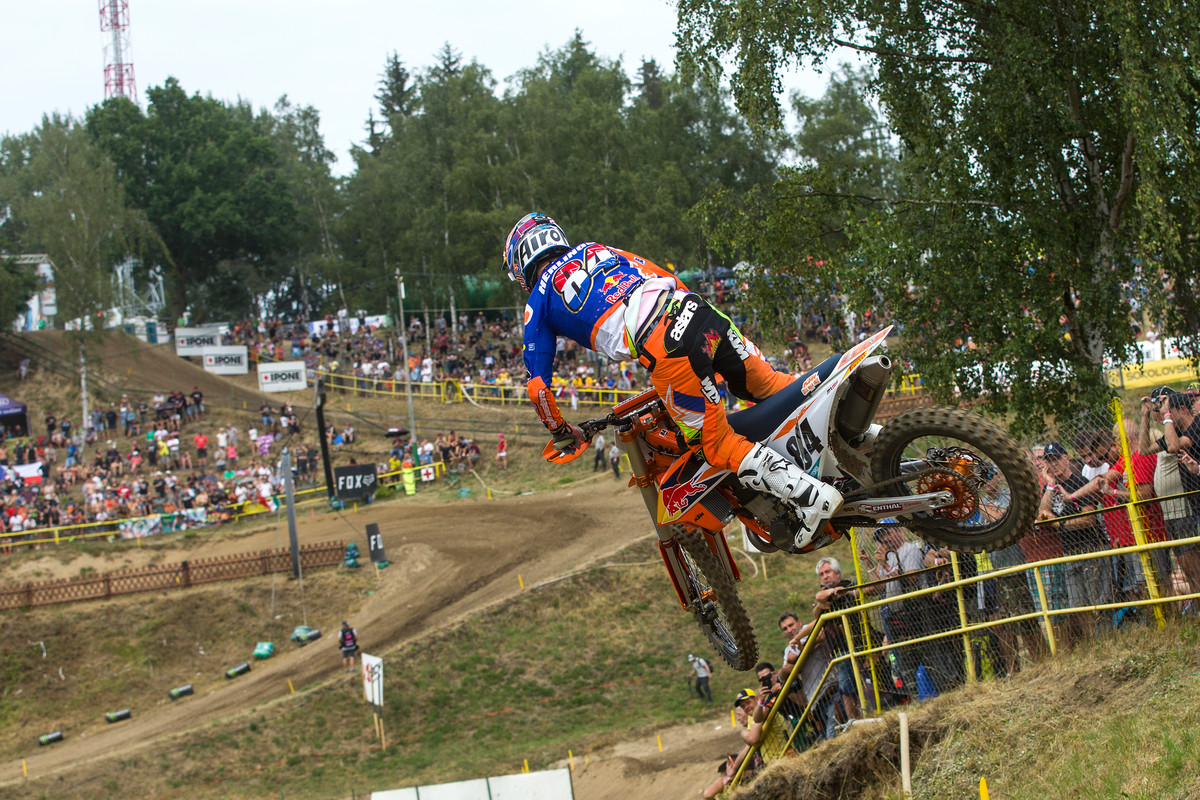 "To come away from this track with 50 points is amazing, and now I'm really looking forward to Lommel, which is one of my favorite tracks," Herlings affirmed. "I'm actually more motivated."
While 30 points equates to slightly more than a moto and there are still 12 left to dispute, this victory was particularly weighty for the Red Bull KTM man, who is still trying to reach the same pitch of invincibility before his collarbone break that caused him to miss round 11 in Italy. "I don't think I am as comfortable on the bike as I was, but now we have another two weeks and I feel I am close," he evaluated. "There are just two more months this season, and I am super motivated."
2. Keeping the thumbs up
Full respect to the world champion. Tony Cairoli might look back on round 12 at Pangkal Pinang and wince at both the lost opportunity as much as the pain of his yanked left thumb, but what was initially suspected as a ligament problem was, in fact, diagnosed as two small fractures. "The thumb is not 100 percent, but for sure, the pain is less than Semarang [round 13] where it was almost impossible to ride."
Cairoli, already disrupted in terms of his training and preparation, opted against any painkillers at Loket ("I didn't want to make it worse than it is") in exchange for better feeling for the pain and comfort threshold of the injury. He knew that golden starts were essential around a track that was bumpy and slippery due to alterations carried out to increase the technicality of the terrain, as well as heavy rain on Saturday evening.
He duly opened both motos out front, but didn't have the power to resist Herlings. "We couldn't really do much and the track had some strange bumps…and I needed to be careful with the bumps…."
Cairoli is the only rider able to apply degrees of pressure on Herlings and was partially hobbled at Loket. Cairoli's tactic of bagging the maximum amount of points each weekend could still bear championship fruit, considering Herlings' practice prang last month, but arguably the Grand Prix of Belgium at Lommel in two weeks could be a last chance to throw a gauntlet in his teammate's face. The deep sand means considerable uphill odds for the Sicilian, but #222 is no backmarker at all in the soft stuff. Last summer, Herlings ruled in a skirmish that virtually previewed this 2018 campaign, but #84 was in a hot streak in the second half of the season while Cairoli was in championship conservation mode. The roles are slightly reversed this time, but Herlings is 99 percent unlikely to back off.
"I'm looking forward to more rest," commented Cairoli, teeing-up the countdown to Lommel. "My physical condition is good and I can push a lot on the bike. Hopefully if my thumb is good, we can make a full battle."
3. MX2: Almost letting somebody else play
MXGP teased and briefly delivered, but MX2 provided full whack for the entry ticket. Red Bull KTM's Jorge Prado may have prevailed for the seventh time in 2018 (a cool 50 percent win ratio), but all three spaces on the podium were split by one point as the Spaniard went 3-1, HRC's Calvin Vlaanderen 1-3 and Rockstar Energy Husqvarna's Thomas Covington (more on him below) 2-2. The action was fierce as Loket grouped lap times and fully tested adhesion; the first-moto tussle for second was especially gripping (for fans), and Prado and Covington's dice for the second moto win—and thus the overall—went right down to the final corners.
Riders like Ben Watson, Jago Geerts, and Henry Jacobi may well have "emerged" in 2018 (while some other names like Thomas Kjer Olsen and Hunter Lawrence have been treading water for respective reasons), but Vlaanderen has really hit a peak in recent weeks, especially since becoming the first South African GP winner in ten years in Indonesia. Again, the tall Honda man was setting a rasping pace at Loket, and while he is quite far from the finished article, it was encouraging to see another name and brand getting among the Austrian-made machinery. "I went into the day feeling really good," the #10 said. "I didn't want the podium, I wanted to win. In the first moto, I could do whatever I wanted on the bike. More time at the front gives more confidence, and I'm really motivated to train hard. The feeling with the team is also really good."
Vlaanderen, fifth in the championship and closing fast on Watson (who suffered his first DNF this season after a fall led to a damaged Kemea Yamaha), is also an accomplished sand rider, so he should be able to maintain his run at Loket and further muddle the KTM face-off for the title.
As a side note, 65 and 85cc European Championship competition put aside the sadness of the 2017 edition of this race to run on a modified course to see another South African, Cameron Mc Lellan, and Italian Brando Rispoli take honors with Stefan Everts' son, Liam, also finishing on the 85 podium in third place.
4. Jorge Prado on the path to destiny
The Latvian and defending champion Pauls Jonass came to the Czech Republic in the remarkable position of being tied on points after 26 motos. Jorge Prado, just seventeen and in his second MX2 year, has already broken records. He scored a podium finish in his very first Grand Prix at Assen in 2016 and his tally of nine Grands Prix wins means he is easily his country's best world championship rider. He added the distinction of becoming the first red plate holder after his win permitted the new status. He now has an 11-point window over Jonass, who missed the podium for the third time in the last six rounds, claiming to have lost his rhythm.
"Already yesterday [Saturday], everybody was really fast; it was hard and we battled until the end," the youngster smiled before being asked about his new number plate background colour. "I will try to stay calm. It's really cool, but I will try to come to the races as I have been."
Prado crashed heavily on the waves in Argentina for the first Grand Prix after a troublesome off-season where he broke his right elbow; at the same time, Jonass was untouchable in the first three races of the year. The MX2 championship looked a foregone. Since that moment, Prado has been chipping away at Jonass' might and, amazingly, has only missed one podium ceremony since. If there is such a thing as sporting momentum, then Prado is on top of the wave. Marshaled by Claudio de Carli and his crew within Red Bull KTM and inspired by training partner and mentor Tony Cairoli, Prado is in a position of strength.
Jonass, meanwhile, is floundering slightly. Whether it is the distraction of an MXGP saddle in 2019 or another reason, the strong Latvian needs to regroup rapidly. He had the pep talks and savvy of Marc de Reuver in his corner for some sticky moments in his 2017 championship campaign and could use a similar spike of inspiration. The #1 is nothing if not resolute, and although his mentality means he is a comfortable leader of the standings, he might actually be more productive and effective as the carrot-chaser rather than carrot-holder. Lommel will be a fascinating contest in MX2. Both KTM riders are first class in the terrain (Prado won last year, Jonass rallied back from last to fifth after a first-corner crash) and riders like Vlaanderen, Watson, Geerts, and Covington will also complicate matters.
5. Cov-eting that win
Somehow, Thomas Covington did not seize his first win of the season in the Czech Republic. The American's throttle control and much-improved starts meant he would be in the running for a trophy at Loket, and he had a good recent spell (his eventual third position overall was a fourth podium from the last five rounds—almost championship form results with three of those appearances as runner-up).
The outgoing Husqvarna man was inhibited in his chase, however. "I'd been really sick all week and didn't get on the bike at all," he explained afterwards. "I'm happy to be on the podium…but when the win is that close, it's a little bit upsetting."
Covington is finally firing and inching closer to the desired level of consistency—the type of which would have ensured his competitiveness as a title contender for a final crack at the MX2 title in 2019 until a trip home via a rider in the U.S. called. Regardless of the future, Covington is making his presence felt here and now and credited the FC 250 for the spate of points and prizes. "With how slippery and sketchy the track was, I was impressed with how well the bike was working," he said. "I feel we have a good setting. I'm looking forward to Lommel because I have ridden so much in the sand now."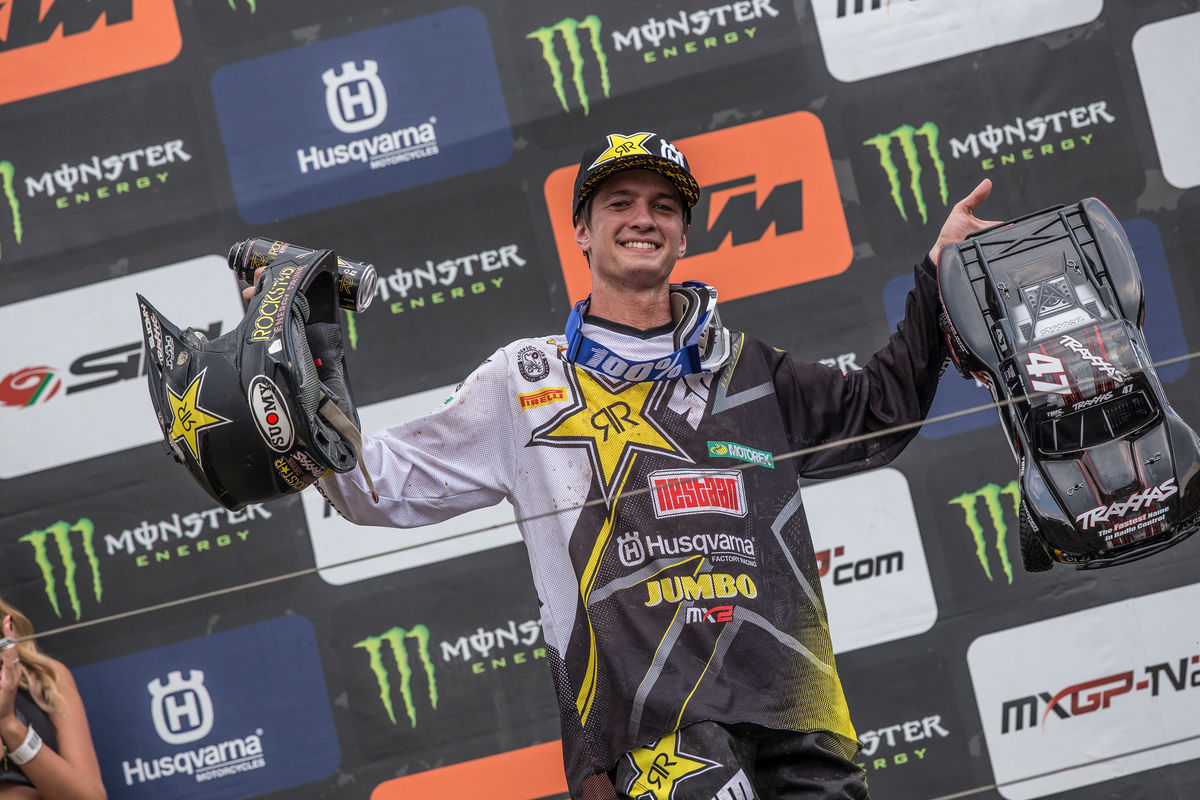 In Loket, his second moto chase of Prado was enjoyable fare. "I was riding well in the beginning, then there was one guy stuck in the way that screwed me up and allowed Jorge to get away, which I was pretty mad about," he said. "There were a few moments looking back where I thought ,'Argh, maybe I should have sent it up the inside there…' but I probably would have taken both of us down."
Covington is almost 40 points behind Vlaanderen in a very achievable top-five championship finish after a knee injury interrupted the initial phases of 2018. With this type of speed and potential and with his knowledge of the Grand Prix field, he would be another worthy Team USA pick for MX2 for RedBud.