Look, Kyle Cunningham is going to race. Some years he's on a factory team with great support and bikes, some years he's a complete privateer, but he never makes excuses. In 2018, he raced Monster Energy Supercross with the new H.E.P. Suzuki team, but that team did not plan to do the full Lucas Oil Pro Motocross schedule. No matter, Cunningham was going to race the nationals anyway, because that's what he does. He races.
Kyle got his trusty wrench—his dad—back into service. The Autotrader.com/Yoshimura Suzuki (JGR) team offered to haul his bike to the races, and H.E.P. and Suzuki pitched in with bikes and parts. He's not quite a factory guy (no works parts, no salary), not totally a privateer, but regardless, Kyle Cunningham goes races and puts everything he has into the weekend. He's a true grinder.
Here's an update.
Racer X: Pretty good season so far. With a few exceptions, like getting hurt at Glen Helen, things seem like they're going pretty well for you this summer.
Kyle Cunningham: Yeah, it's been pretty good. Not bad. I learned a lot in supercross. It was definitely a learning curve on the 450, going 17 rounds and trying to stay healthy. The outdoors have been pretty good, too, besides that crash at Glen Helen. It's kind of a bummer, though; we're tenth in points right now and I've had five motos where I haven't scored any points. Had a first-moto crash at Hangtown, which—I was fine, but the bike was too mangled to finish, and in the second moto at Glen Helen, after a solid first moto, I went down and that set me back. The speed was good there; I was eighth the first moto. We missed Colorado, but we came back to High Point and Muddy Creek with two top-tens overall. But Southwick, man, the sand was tough on the bike. Lost a motor the first moto and made a mistake in the second, lost about 20 seconds. But came back at RedBud with an 11-8 for eighth overall. Felt good! The first moto wasn't bad, just had a terrible start. In the second moto, I finally got a start and was able to ride up there with those guys, which is a little different than what I'm used to.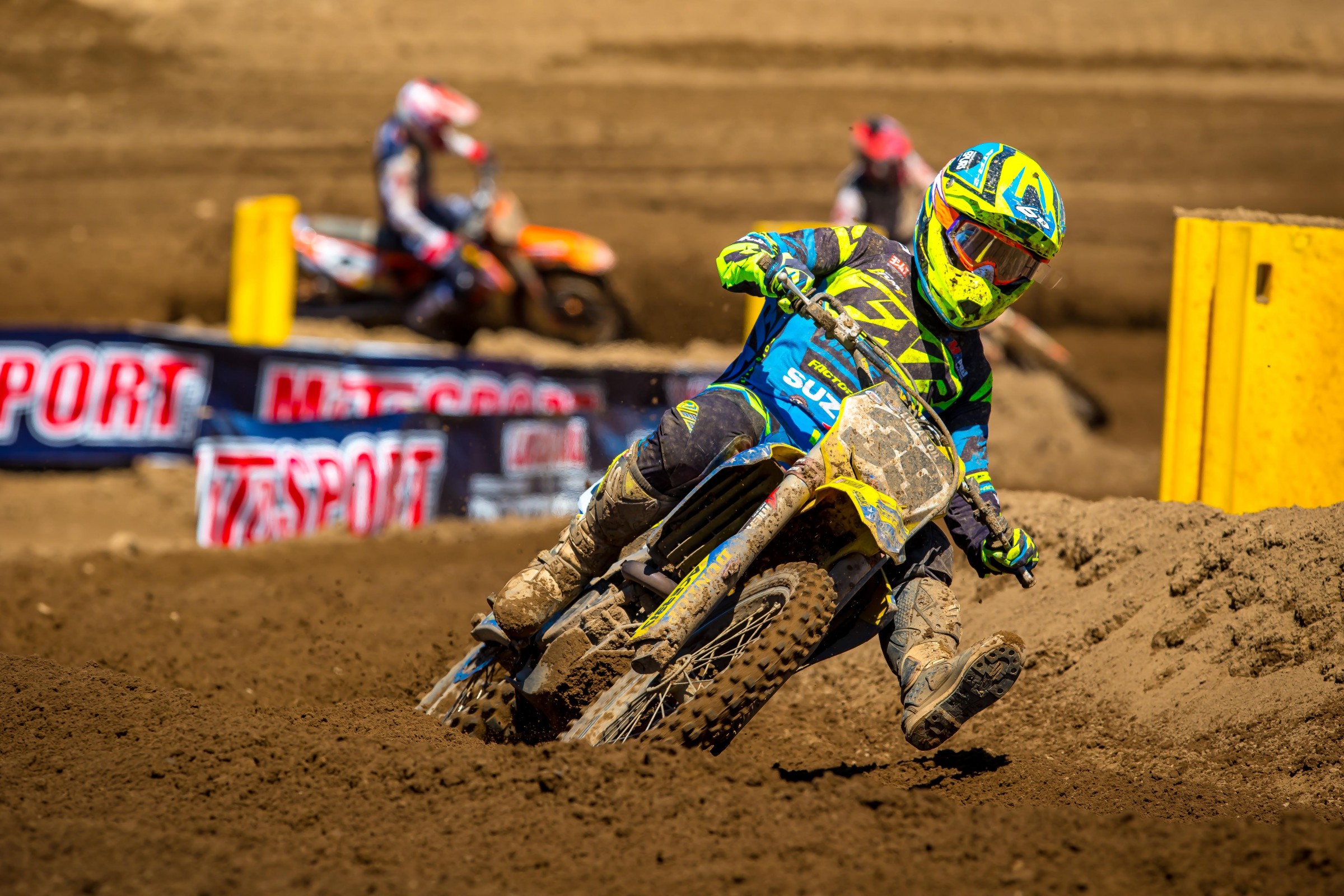 Let's talk about those starts for a minute. You're always coming through the pack; we have to do something about this.
Yeah, I mean, it's kinda been how it is, which is the complete opposite of the amateur days when I used to holeshot everything. But that was off pavement [starts], so maybe if they could put some pavement down at the nationals, I'd be pretty good!
Sounds like you used up your supply of holeshots as an amateur.
I hope not! The bikes are good, and some of those guys are really good starters. I just have to figure it out. There's some inconsistency. Last weekend it was different, and I ran the pace to finish where I did and had a couple battles with some good dudes. It was a lot nicer to get out of the gate in ninth and finish eighth than start 35th and finish 11th. I think I figured something out at RedBud that seemed to work, so we'll stick with that program and try to keep coming out of the gate solidly in the top ten. It's not like I'm expecting a holeshot, but man, it's a world of difference to start eighth or ninth instead of 29th or 30th.
I have a theory about your starts. Your dad is your mechanic and I think he's just worried about you, so he's doing something to the bike to make it slower, he's sabotaging you, for the first ten seconds after the gate drop. It's his way of keeping you out of a first-turn pileup!
[Laughs] He'd probably be running down the starting line to pick me up! I don't know if it's that, or how much leg he puts into packing my gate. If you've seen the size of his calves, they've got so much packing power, maybe he's packing it too good and I'm getting too much traction!
Could be, could be.
But seriously, we're working on it and I know that's an area I need to be more consistent in. It's not like I never get good starts; there's just no consistency, and I probably have more bad starts than good. We need to change it to 70- to 80-percent good.
Talk about your situation in the paddock. You're pitting with JGR, but you're not on that team. How'd that whole situation work out?
They're hauling the stuff for me, which is great. At the beginning of the season, I didn't even know if I was going to get to pit under the rig, off the back, or what. But I didn't really care; I was just pumped those guys, J-Bone [Jeremy Albrecht], Coy Gibbs, all those guys over there were willing to take my stuff to the races for me. I'm sure a lot of people from the outside looking in think I have a ton of support and factory parts, but that's not the case. There's definitely help there, like if we need a production part or something like that, those guys jump in and help. At Southwick, we were struggling to get the motor in before the second moto and Glen [Hobson] over there, who works on the Lites [250] program, dropped everything he was doing once he was done with Jimmy's [Decotis] stuff and helped us out.
It's been nice. They're hauling my stuff, there's Big John and Rabbit [team semi drivers] making lunch, there's a lot of stuff that makes things a lot easier. Even just being a part of hanging out over there. And, of course, there's the H.E.P. Suzuki guys and Suzuki, they gave me a couple bikes and parts to help out, and Jim Lewis from Merge Racing has been huge with helping out with suspension and bike setup. I've pretty much narrowed it down to hotels, flights, and mechanic costs, which is my dad [laughs]. It still isn't cheap, but I'm a racer and I want to be at the races. I feel like I'm doing well and can continue to do so. As far as fitness-wise, with Swannie [Gareth Swanepoel] and Seth [Rarick], I feel really good. The crash at Glen Helen set us back—it's amazing what just two weeks off the bike will do—but we have a good thing going. JGR, my dad, Merge Racing, H.E.P., Suzuki, FXR, Sidi, X-Brand, 6D, I just can't thank everyone enough. We have enough help to where we can still go racing and have fun doing it, and put up results and be competitive.
You've got to be the only guy in the paddock pulling in top-tens who has his dad wrenching for him.
There are some other guys. I think at one point, [Broc] Tickle's dad was helping out. I know what my dad's capable of when working on a motorcycle and I'm totally comfortable. I'd say from all the years of racing, as an amateur, he was building my motors with Ed Torrance and working on all my stuff. He's a great wrench who's been around a long time. When we're on the line, it's nice having him there. As long as I give it 150 percent and don't leave anything out on the track, he's happy no matter where we finish. It's cool getting to share top-tens with him. My best results of the season so far, 11-8 for eighth, he was the one spinning the wrenches. He loves seeing me do well and he's an awesome wrench. We're having fun and that's all that matters.
So what's the plan for this weekend? You're going to holeshot, right?
Yeah, of course. The last place I pulled a holeshot at a national was Millville. I actually pulled both of them, I think it was in 2011.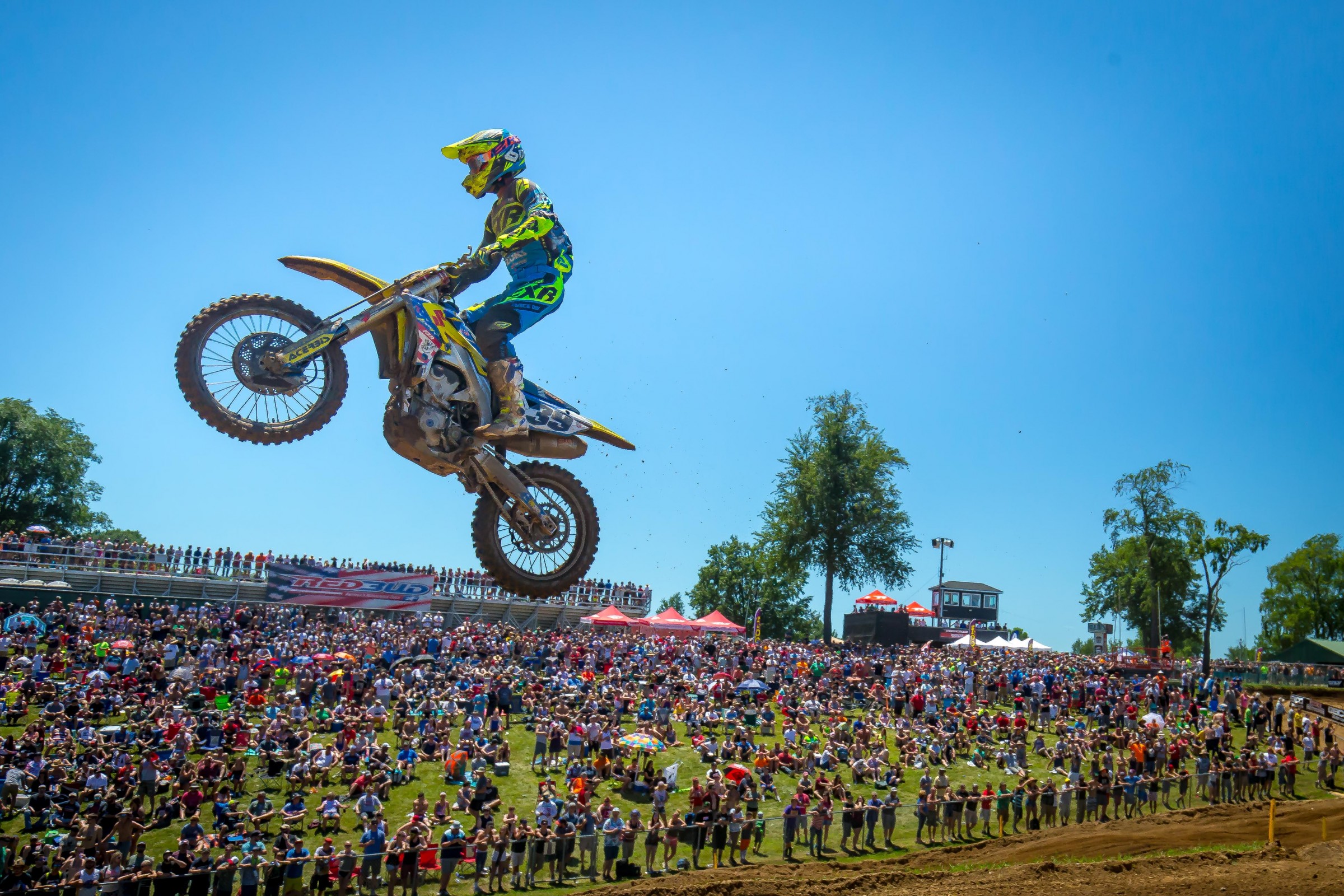 Must have been the right-handed first turn.
Yeah, maybe [laughs]. Normally I don't like those. We just have to get out of the gate as good as we can. I have two great dudes helping me with my training and I feel really good for 30 plus two. Just have to get up there with those guys and learn that speed. I think at most races, the speed has been there; it just doesn't really show when you're coming from 39th, 40th, 35th, and finishing tenth or 11th. The top 20 guys are really moving, and everybody seems like they've stepped it up and are riding a lot better. That makes it tougher when you don't get out of the gate very well.
We've seen a lot of injuries this season. Do you think guys have upped their game in an attempt to step up and fill that void?
I wouldn't say it's completely that. I don't know exactly how many factory guys are out right now, and there are a handful of guys who ride supercross only, but yeah, maybe with the injuries, some guys have realized they can put it up near that top ten. I think the equipment and bikes are just so good, too. From a training standpoint, there are a ton of guys who are training a lot and trying to work harder. I think just the way the sport is evolving, a lot more guys are training more and doing the right things. Everybody is stepping up their level, but those guys at the front of the pack, up there in the top three, are riding on a completely different level as well. It takes hard work and continuing to put yourself up there to learn that speed every weekend.