It's hard to believe that, nearly two years into his full-time 450 career, Monster Energy Yamaha's Cooper Webb hasn't won a race and is just trying to get back to the podium. After a stellar 250 career that included three titles and several solid guest rides on 450s at Motocross of Nations and the USGP at Glen Helen, there was no reason to think Cooper wasn't headed toward instant success on the big bikes.
It's been a process. Webb has been snake-bitten by injuries—normally not massive ones, but small breaks in his program that have stunted his growth in the class. Each time he shows signs of the old Cooper, another break knocks him down.
His most recent injury turned out to be the worst yet, as a lower leg break required multiple surgeries and plenty of time off the bike. Cooper isn't one to ride the couch, though, so he rushed to get back and used Southwick and RedBud to race his way back into shape.
Webb's two-year Yamaha contract is up at the end of this season, so there's a lot of conjecture over where he could go and what the rest of the free-agent landscape would look like. He's not rushing back to the track to get a contact, though, assuring us he has interest from Yamaha and is focused solely on rebuilding his fitness and confidence. By the end of Lucas Oil Pro Motocross, he could be back to where he was supposed to be all along.
We stopped by Cooper's personal practice track in North Carolina last week to get an update.
Racer X: I'm finally seeing your track for the first time. Is this what you dream of? To own your own track? What is it like right now? Is this the greatest thing ever, or is it a long, difficult process to learn?
Cooper Webb: You're always learning, that's for sure. This year I got it a lot more dialed in. Last year I started from scratch and didn't really know the area. Kind of never been here or anything like that.
You grew up in North Carolina, but how far away?
Where I lived, this was five hours away. So I didn't really know the area or anything like that. Last year went good, but this year we got the shop dialed in exactly how we needed. We got the tracks more dialed in. We understand how the weather works. So it's always a process, but I think this year being year two, it's night-and-day better. It's running a lot smoother. I have a practice mechanic and a guy that does the tracks. This year's going really well so far. Unfortunately, I've been hurt so I haven't been here as much as I'd like, but it still works out just as good.
You were in California a lot up until this week. Why did you decide to stay in California for as long as you did?
Basically I went there for therapy and the recovery process. When I was there, I worked with Dr. G and Swanny [Gareth Swanepoel, trainer], so we were really working on the rehabilitation stage. Then when it was time to ride, I was planning on coming here for a few weeks and then going to California to test. Swanny and I just kind of sat down and the team and just kind of said, we're going to have a lot of testing, and it would be good to ride with the Star [Monster Energy/Yamalube/Star Racing Yamaha] guys because they're riding really fast and it will help you get up to speed really quick. As much as I wanted to be at my own place, I kind of sacrificed and stayed out there.
It worked out well. We were able to get a lot of testing done, but at the same time I was getting back from injury, so it took a while to get to speed and to get comfort. Really, mainly I was there because of the things I could do when I was done riding. I could go to the doctor or whatever I needed to do to get worked out for the next day. I actually stayed a lot longer than I was planning on and stayed through RedBud, and I'm back here now.
How bad was the injury?
At first, it didn't seem that bad.
Right, and then it seemed like it just kept going and going.
At first after Minneapolis on Monday, I went to the doctor. They said, "You have one fracture in your tibia." So not a big deal. They recommended surgery, but I was still on the fence about it. Then I had talked to Dr. G and Swanny and we found a really good leg guy in California. I got an X-ray and they found an additional break. So now I have a tib and fib and I had to get surgery. Then during surgery, they found two more breaks. So I had four total breaks. They were planning on putting in five or six screws, which that turned into two plates and twelve screws.
Did they just do that as they had your leg open?
Yes, as they had it open.
So you didn't even know this was going on?
[Laughs] No! So, it changed everything. It went from a six- to eight-week healing procedure to, "Oh crap, you have two more breaks and a lot more pins." Then I had to get a second surgery to get some of the pins removed. So it was a process. Like I said, at the time at Minneapolis that next Monday, I didn't think it was that big a deal. It turned into a big deal. I didn't walk for a while, and I had to learn how to walk again. I got on the bike pretty soon. I think I got on the bike six-and-a-half weeks after surgery. The first few weeks, to be honest, I shouldn't have even been riding, but I was. The doctor was pushing me, and so was Swanny. We knew it was holding up and everything was fine.
Did it just straight-up hurt?
Yeah. It still bothers me. That's what the doctor said. He's like, it's going to hold up, but it's going to hurt. Now it's been, I think, 11 weeks. I'm just finally getting to where I'm not walking with a limp and I'm able to ride without it hurting. So it was tough, but I just wanted to be out there and riding, so I'm happy with it. That was the thing. I realize I should have maybe started riding only two weeks ago and maybe shouldn't have even raced until the last three rounds. We definitely rushed it. There's going to be no long-term effects, so it was kind of like, why not?
I know you wanted to have a good season. You almost were showing signs at supercross. Is that kind of why you rushed to get back, to get a few more shots to get some results this year?
Yes and no. At the time, yes, because I had some good results in supercross, but same thing, I had an injury in the off-season. Came in not prepared, so I didn't have the greatest supercross season at first. I got to the point where I was on the podium at Atlanta, on the podium at Daytona, and then I actually popped my shoulder out the Tuesday before St. Louis. We kind of kept that hush-hush. Tried to race St. Louis, couldn't. I actually broke a chain, so that was another thing. So by Minneapolis, I was still kind of nursing that shoulder, then I had this leg injury. So it was kind of a bad ordeal with the timing of everything. So my theory was, "You know what? I want to get out there and show that I can have some good results." I was thinking that if I go and have some good results the last five races, then maybe that can help my value. Maybe that will let people know I'm still competitive and stuff. That's what I was thinking, but then interest was there from Yamaha and stuff [for next year], so I realized there's no point to prove. So for me, I need to just go race. I need to go get motos in. If I can race six outdoors opposed to four or five, then let's do it.
So this is to get your name back out there and [contract] value, or just strictly as a training, riding?
Just strictly, I think, confidence, training, testing, riding. There's some guys that believe practicing is what makes you better, and it does, but for me, I learn more racing. I didn't want to say in California and ride the same tracks for four more weeks before I went racing. I felt like if I go to Southwick and struggle, then it's no big deal because nobody is expecting me to do well. I've only been riding for three weeks. So let's go out there and learn the bike, learn the pace. I think we still did it the right way. The way we did it, I think these two rounds now I know bike setup, I know the pace, and now I have two weeks to get even better. So I think it all worked out.
With the amount of time you have left and how quickly you're progressing, can you get back to 100 percent by the end of the season?
Yeah. I think the last three I'll be up there. I think I can surprise myself before then, but I think these next two, I'll be knocking at top five. I think by the last three, I'm hoping to be back on the podium.
You must be bummed because we heard so much about the new 2018 Yamaha and you talked about being in much better shape this year, being more committed than ever. I'm sure you expected the season to go awesome, so you have to have been bummed at times.
Yeah, for sure. Obviously, that's racing. A lot of people don't see it, but it all started at the GP [USGP in Florida last year]. New bike, I was pumped. Everything was great. I crashed in the first free practice and tore my thumb up. Then I had to get surgery on it. So I actually didn't start riding until November 10. It was my birthday. I rode outdoors for two weeks in November because I'm on a brand-new bike and I hadn't ridden in two months, three months. So then I hop on supercross. It was Thanksgiving, right around there. I hop on supercross. I go riding, getting better, everything is going good. Well, mid-December I actually sprained my ankle. Fell over in a corner and just sprained my ankle. So I ended up taking two and a half weeks off riding. So going into A1, I had maybe four max weeks of riding. All our people didn't say that and I say that it happened; I wanted to keep it hush-hush. When the results weren't what everybody expected and what I expected, we knew why. I think that's why around round five, that's when I kind of found my groove. By the East Coast rounds, I was right up there.
So mentally you weren't stressing?
That's what I expected. I had told myself by round six, I'll be 100 percent. It basically happened that way.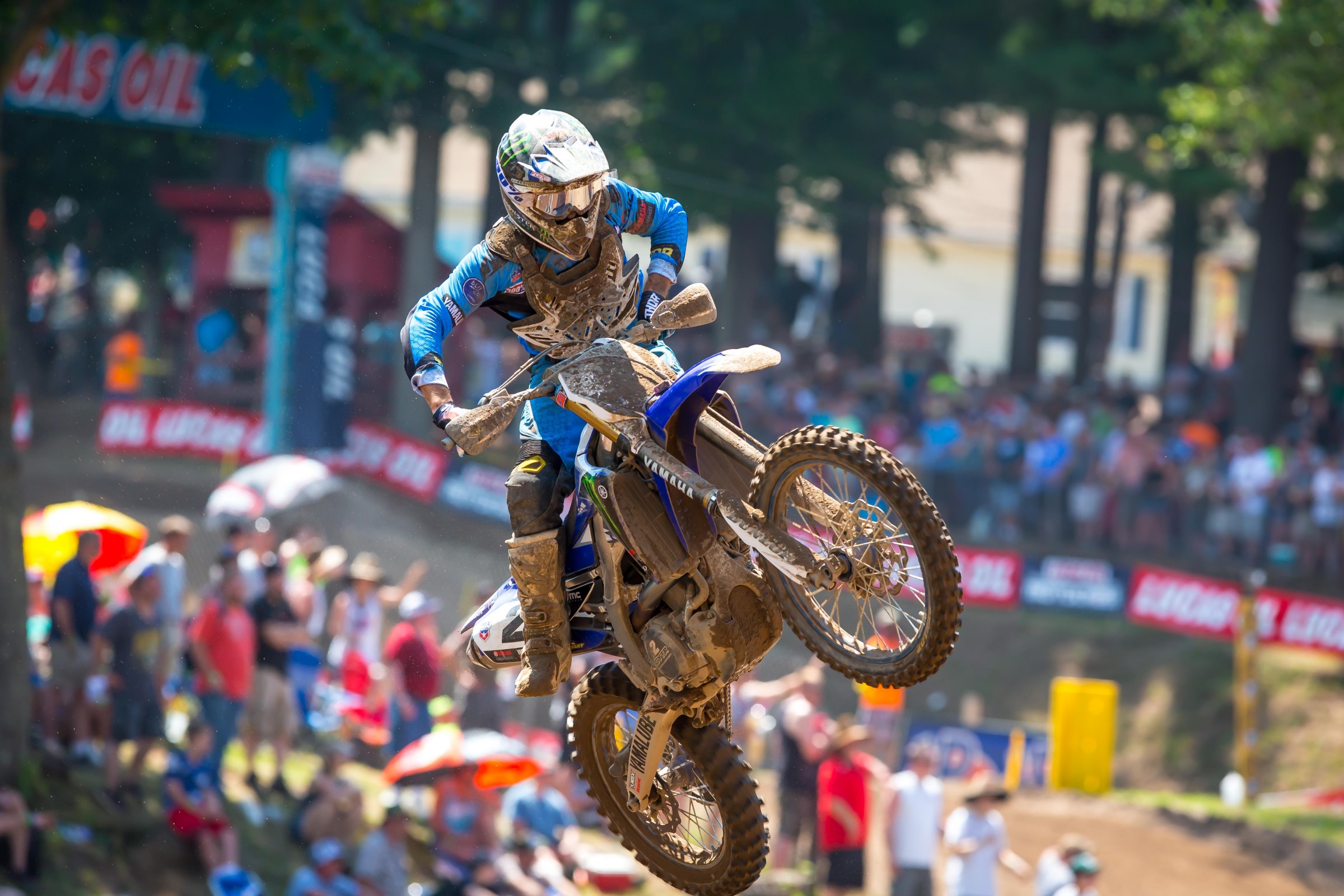 You won that heat race in San Diego.
That was round five, and then at Dallas I think I qualified second, got fifth in the main. Tampa got fourth in the main. Atlanta had a crash, but I got second in one of the mains, almost won. Then third in the last main. Then Daytona, I had a great run. So then it was like the ball was rolling, and then I popped my shoulder out. Realistically, once again I should have probably taken four to six weeks off to let it heal, and I didn't. So then I'm trying to race a couple weeks after with a not good shoulder and I'm not able to push. But I just wanted to be out there so badly because I had just been injured. I ended up being a little ignorant, but it is what it is. I still had some decent results. I think I got a fifth at Seattle and a sixth at Indy. Then Minneapolis came and I crashed.
That was just an early-in-the-race, first-turn thing?
No, I just had a bad start. It was a rhythm section right out of the corner and I hit midair. When I came down, I got landed on my leg.
The feelings that you did have about this new bike, are they still there even though you haven't been able to ride at 100 percent much?
Yeah, for sure. I think it showed. That's been the biggest thing, is just getting back healthy. Every time you crash or every time you have an injury, it knocks your confidence just that little bit. So I think that was the biggest thing. And it's a brand-new bike, so we're learning each week, too. So the results I had, I started feeling really comfortable. I still am happy with everything. I'm just getting my confidence back slowly each time I'm out there. Like I said, I think this last injury was a pretty big injury in comparison. For me to have to have two surgeries and sit on the couch for about four weeks, it makes you kind of think about things. So by the time I'm back riding and it's still hurting every day, in your head you're like, "I don't want to go and push if this thing's hurting. If I were to crash, this thing is going to get hurt again." I think I'm finally to a point where I can go ride and not be think about it.
When you came up to the 450s after such great 250 success, there's no way that you would have thought you wouldn't have a 450 race win by middle of 2018. You and everyone around you, how do you adjust and keep you heads up?
The first year was really hard on us, for sure, especially coming off the 250 and all that. This year, like I said, with the circumstances we've had, I sleep fine at night.
Were the people around you freaking out?
No, I don't think so. I think the good thing for me and moving forward is, everybody knows what I have. I feel like if I'm healthy and comfortable, I have no doubts that I can be the same guy I was in the 250 class. I think the people in the industry know that. Maybe not the fans or the other riders or whatever, but I think me with a great off-season, comfortable on the bike, confident again, then you'll see the same guy. Nothing's changed. But I think the way it happened, honestly, it was good for me. It sounds crazy, but it kicked me back down to earth and made me appreciate things a lot, made me work even harder. I think had I have had some success, I might not be as driven as I am now.
Plus the 250s, I'm sure you thought you were working hard, but everyone who moves up to the 450s says they have to realize how much harder this is.
No, exactly. Just the learning curve is crazy and the speed and the bikes. There's so many changes. The longer season. There's so much that goes into it. I think having two rough years has taught me way more than it would have had if I had two mediocre or good years.
That's been your trademark. You've always had confidence in yourself. The mental game wasn't a struggle for you, but at this level is seems like even a guy like you can get knocked down a little bit.
I think the biggest thing for me was just those injuries that I had. Even for '17, I had a shoulder injury and had a knee injury in outdoors. Just these little injuries that on a 250 you can kind of get away with to where on a 450, you can't as much. With not only the competition, but the weight of the bikes and everything like that. Right now, if you're riding at 60-70 percent you're getting smoked, to where maybe you can get away with a 60-70 percent in the 250 class with a fifth or something like that. Everybody's gnarly in the 450 class.
But there are guys you've raced against. We're seeing the success Marvin [Musquin] had, and you and Marvin went head to head just a couple years ago.
That's actually how I look at it. I look at it exactly like that. I raced Jeffrey Herlings at Charlotte and I ended up beating him overall, but you can arguably say we were neck in neck. You see how great he is right now. Me and Marvin have had plenty of battles in the 250s. I know he's taken a big step, but I would beat Jason [Anderson] a lot of the times in the 250. So like I said, for me, it's a no-brainer. I know it's in there; it's just finding that comfort, finding the speed, and staying healthy. I still feel like I have the same mentality, the same talents, the same riding technique. It's just finding that confidence, the comfort, and, like I said, I think just a healthy off-season is a big thing.
So we haven't seen it all yet.
No. That's what keeps me going. I know I can get there. It'll be all good.