Red Bull KTM's Ryan Dungey doesn't like to use the word retired, because even though he's no longer racing for a living, he's still just 28 years old and has a lot left to give. He's spent his first year away from the starting gate trying to square up the next phase of his life. We checked in with Ryan for a podcast about his career, and the lessons he learned, earlier this year.
More recently, our Kyle Scott caught up to Ryan at a charity event with Wings for Life last week. Check it out.
Racer X: We're here at Fox today doing an event with Wings for Life. Can you tell me a little bit about the organization?
Ryan Dungey: Through racing and obviously being a Red Bull athlete, of course I've seen the work they've done and working with Red Bull and knowing Heinz Kinigadner and his son Hannes and how they started everything. Now, obviously, with the spinal research that's being done and all the money being raised, 100 percent of it goes [to spinal cord research]. So I'm learning as I go. Definitely being here and meeting the quadriplegic and paraplegic people and the inspiration from just talking to them and how they are talking, what an opportunity it is. It's encouraging. When you think life's bad, it's really not—how we can learn something from them and make the most of our life. So it's encouraging to be here to support a good cause to do some work in the future so one day spinal research can be cured and these guys can get a second chance. But that "never give up" attitude is unbelievable.
It's pretty amazing how positive all these guys are that are in terrible situations. You obviously had a scary crash in your last outdoor season where you fractured your neck. That was probably a scary moment for you.
Yeah, it was. Of course, breaking my neck and the severity of it, but also I remember me and my wife were sitting in the doctor's room and they were like, if it would have went a little bit more, you would have been paralyzed. You always think, "It can't happen to me, it can't happen to me." You've got to be positive and not live in fear and choose faith, but for sure those words stuck with me, especially going into 2017. That was a battle within myself that I faced. Like Aaron Baker [Wings for Life spokesperson] was saying, you've got to live life to the fullest and you can't be afraid of stuff like that. It's life. We can't be scared of life, either, and not go after our dreams and goals. But for sure, it's something you never want to happen.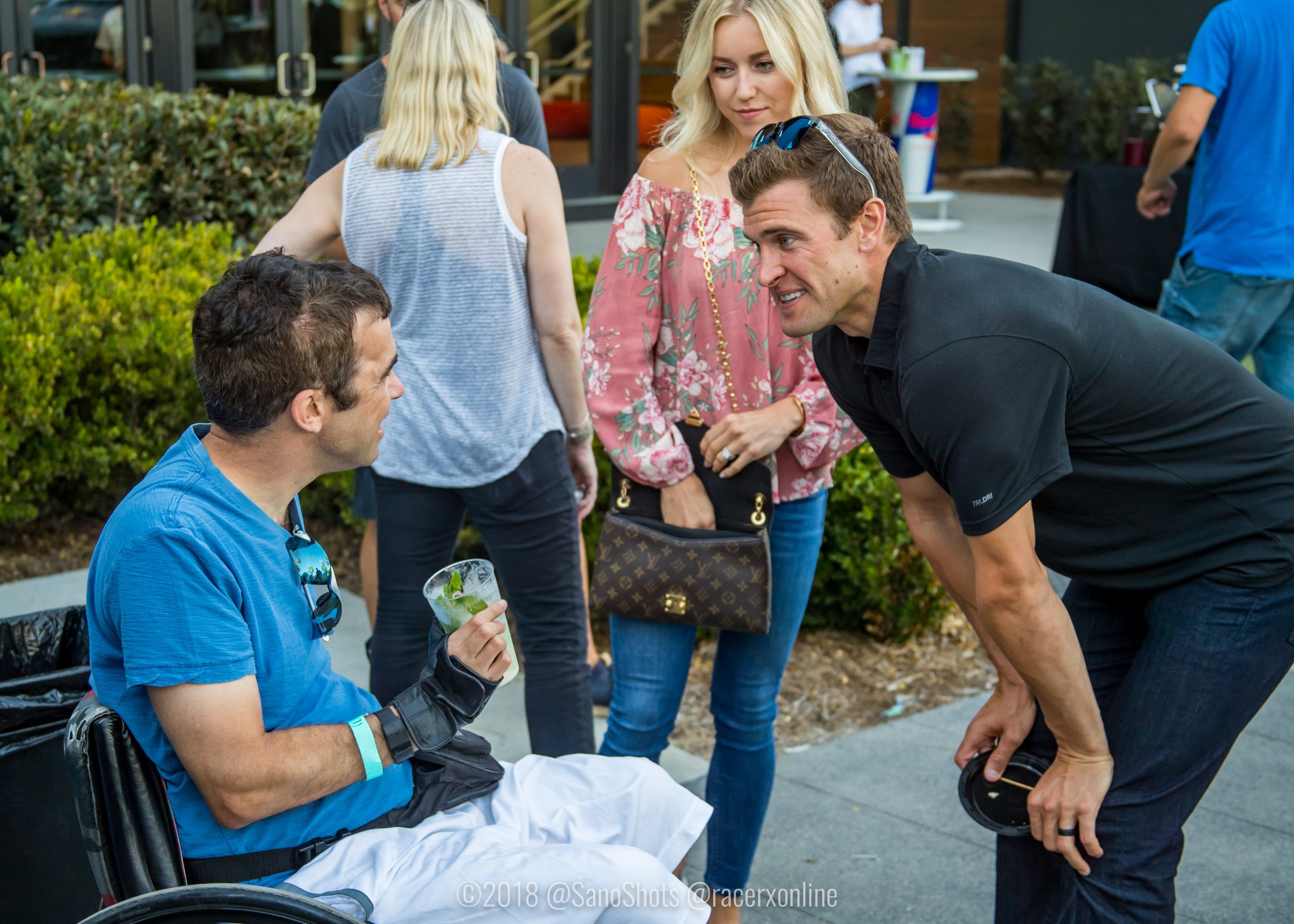 Speaking of life, what's your life like these days?
It's good. It's been really good. Obviously, this year has been a lot of trial stuff. Doing a bunch of different things between KTM and with Fox, Red Bull, and Oakley. Working on a new project that I'm really excited about that will be coming out later this year called the Mind Champion, so that anticipation is coming up. We've been in studio kind of filming. Roger DeCoster has also been a part of that, but also moving into next year, we're getting things dialed in with my partners and having more of a key role. Being a good brand ambassador on all levels, and ultimately doing meaningful work. I want to help give back and be able to, whether it's using my experience to help other kids, other people, if it's the knowledge I can carry that can help the team or whomever. I want to be able to share that and pass that on.
Is that a bigger role with KTM?
I guess a bigger role with everybody. As a racer, it's just racing. Your focus is racing, through all your partners. Now it's like with Fox getting involved with the gear, the design, how it's made, testing it. Or with KTM and being able to, whether it's testing the bike. Being able to do other things other than just race a dirt bike. I'm not winning races [myself], so helping them win races, however I can do that. There's multiple ways.
So have you been doing some testing on the bike? Or just more public relations-type things?
I've done a little bit of that—promotion stuff, marketing stuff. Obviously selling dirt bikes is big these days, that's ultimately, at the end of the day, that's what allows us to go racing and have our job. So however we can build the best bikes and help those bikes win and ultimately satisfy the customers, too.
So your old teammate Marvin [Musquin] has the red plate now after last week. What do you think about the racing this summer so far?
Actually, I was really proud of Marvin. Of course, Eli [Tomac] came out strong. Last weekend, you never wish that upon anybody. It was a 35-point swing at Red Bud. When has that happened? Kind of crazy. Even in the 250s. It's just been crazy ups and downs. All year, seems like it's been like that. A little bit of inconsistency. But of course with Eli going strong, it's forced Marvin to have to be there every single weekend and keep that pressure on, which he's doing a really good job. Then Ken [Roczen], it was really cool to see Ken get a moto win last weekend, especially all that he's been through. So all the guys, it's good times in our sport. Obviously the 450s is thin. A lot of guys are missing, which is unfortunate, but you can't take anything away from those guys that are riding really good in the 450 class. I've kind of been a fan.
Have you been working on anything else behind the scenes outside of moto? What's kind of going on with you right now?
There is a lot of downtime. More so than obviously racing, so that's been an adjustment. When we get the opportunity to be at home and go on the lake and have fun and spend time with Lindsay and family and that kind of stuff, we take advantage of it. Outside of that, keeping pretty productive with what I was listing. The Mind Champion is something we're really working hard on, the partners I'm with as well. Developing that relationship and then moving into what we're going to do next year and going from there.
When we can expect to see this Mind Champion piece?
I think around the Motocross of Nations. There's a launch process. How they're going to launch it out there into videos and ultimately get to the point where people can buy it online with 100-percent refundable money back if you're not satisfied. Personally, I just feel like I've learned so much and it'd be a shame if I couldn't pass that on. Especially with Roger being involved in it, too. What he's taught me and how I can share that, I wish I had somebody in my position now when I was younger telling me that. "What's it take? What are the disciplines? What do you do for nutrition? What do you eat? What didn't work?" There's just all these things and life lessons I've learned along the way. I think there's things that seem so simple to me and us racers and Roger, it's like, you don't know that? But the fact is, they don't know that. When I was growing up, it was like, man, what does Lance Armstrong eat for breakfast? How many hours a day does he train? You want to know those things. So if we can help them, save them from mistakes and potentially making wrong decisions, and if they can learn from it, great. If they don't learn anything from it, then leave it. But it's there.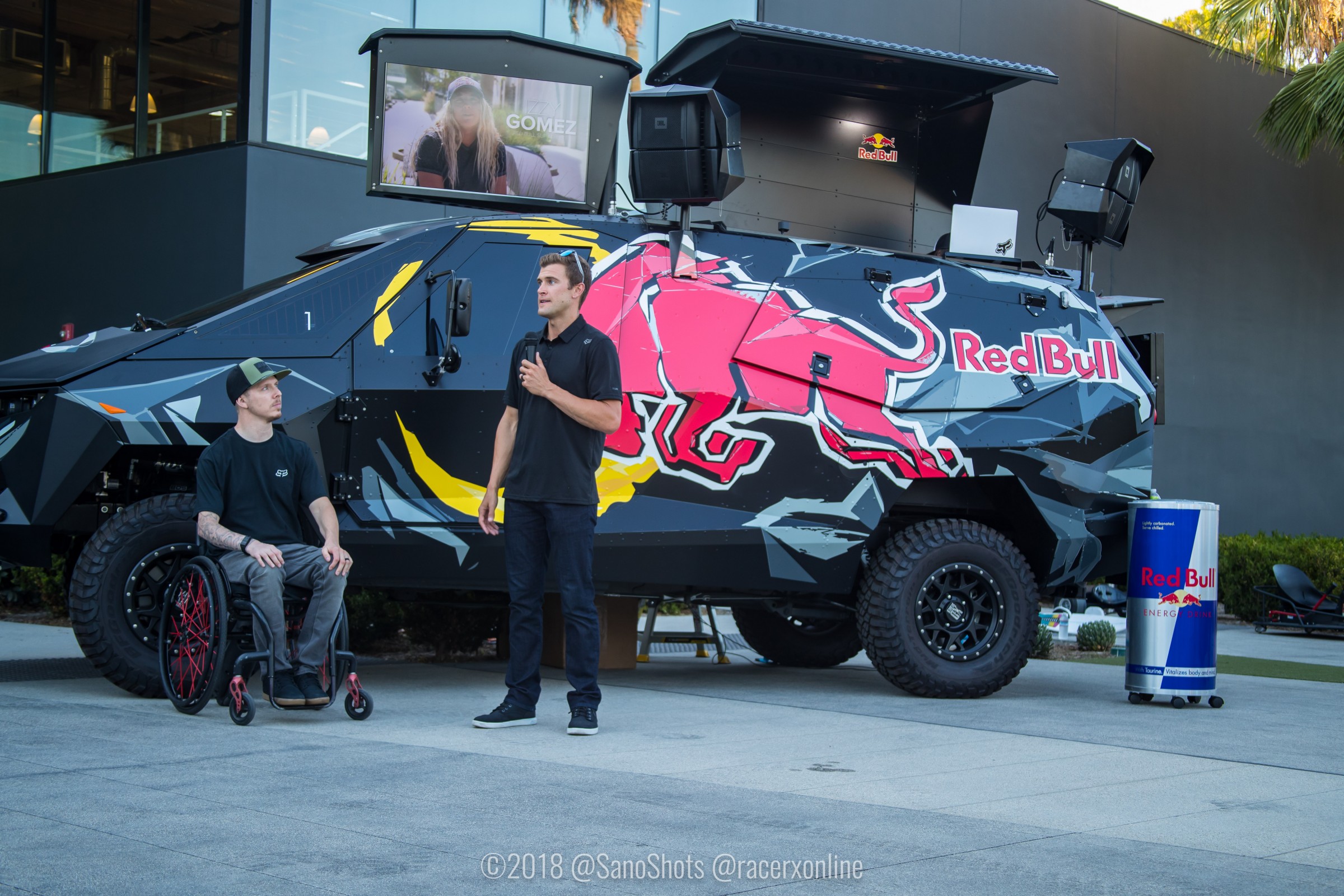 Sounds like it's been a lot of work.
Yeah, it has. It actually has been a lot of filming in the studio. It's a little bit new to me, so it's uncomfortable at times because it is so new and it's different. But I'm getting out of my comfort zone and I like that, too.
I got an email today saying you're going to be the grand marshal at your home race at Millville coming up. Will it be good to be back at the races?
Yeah, it's going to be the first outdoor I've been to all year. The beginning of the outdoor season, we were in Italy doing some two-stroke stuff.
What was that all about?
It was just the launch of the '19 bikes with KTM, so that was fun. Then we actually extended our trip, so that was like two weeks. But anyway, this will be the first race. Being the grand marshal will be fun. I think it's something new and exciting. St. Jude is going to be there as well. They're going to be there on site funding at St. Jude, and then we have a meet-and-greet through St. Jude for all the fundraisers who have raised $250 or more. We're going to be promoting the St. Jude Ride, which is the following week on Saturday.
The St. Jude run and fundraiser used to be on Sunday after Millville. This year it's going to be the Saturday after Millville, right?
It is. We changed that just to try to get more an attendance because Sunday, everybody wants to chill. So we're trying to not push away the motocross community, but keep them and keep their support, but also gain more of a broader audience through the cyclists, the runners, people who are just weekend warriors and like to work out and like to support a cause like St. Jude. So we'll be doing that. Then I'll be in the booth with Weege [Jason Weigandt] and [Grant] Langston for the 450s [television show]. So that'll be 70 minutes of fun. Grant's sister Whitney is married to my brother. So we became family. Really looking forward to this weekend at Millville.