Henry Miller put up 10-19 moto scores this past weekend for 13th overall in the 450 Class, and while most privateer riders would be pretty pumped with logging a top-15 overall day in Lucas Oil Pro Motocross, Miller feels the top ten is where he belongs. In actuality, he isn't far off with feeling that way, as he put himself in tenth in moto one this past Saturday.
You may also remember the massive "holeshot to no-shot" scenario from Spring Creek last season when he nailed the start, then weeded himself exiting turn one—don't worry, we talk about that below. While the rider out of Minnesota left the Tennessee National with "solid" results, the weekend didn't necessarily begin on such a positive note. We caught up with Miller this week to chat about his press day issues, racing, and more.
(Note: This interview was conducted via iMessage and has been lightly edited for clarity.)
Racer X: Henry, what are you up to? Riding? Gym? What did you do today?
Henry Miller: Just making dinner right at the moment. Today was an off-day today, so just some stretching for myself. Also hit up the chiropractor and got my bike work all done and ready for tomorrow
Anything good for dinner?
Just whipping up some spaghetti squash.
Speaking of bike work, I guess that's where we should begin discussing the weekend. Press day was a little eventful—what was the deal there?
Yeah, I was supposed to do press on Friday, but as you saw, I was having some bike issues. We put a GYTR head, cams, piston in the bike and my mechanic [Chas Kadlec] was literally putting my bike back together ten minutes before it was time to go. Yamaha doesn't tell you that you need to buy a 2017 spark plug that's shorter, so my piston hit my spark plug and bent it, which caused it not to run. Finally, after hours of checking things, we were finally out of ideas and asked Alex Ray's mechanic, and that was first thing he told us to try and it worked out.
Oh man, you were riding and it just shut off on you? That's never a fun feeling.
It never just shut off on me, thankfully, but it was just bogging and backfiring extremely bad and I didn't want to ride it at all.
Fast forward to Saturday. Moto one, you finished tenth—how'd that feel?
It felt really good because I know that's where I belong and that's where I finished my year off last year.
You even had that gnarly holeshot at Millville last year. Looking for more of those—maybe without the yard sale portion, though?
Yeah, definitely [laughs]. Been working on my starts a lot lately and hope to start showing everyone the progress we have made.
I only mention that because you're not really a stranger to the top ten, so what does that do for your confidence when you're in that position? Is it less stressful than, say, if you're 18th?
Yeah, I got my first top ten last year at Southwick, actually, and I've dabbled in and out, but honestly, the more pressure you apply to yourself, the harder it is to find yourself running in the top ten.
With Southwick coming up, you feeling pretty good heading into this weekend?
We're feeling pretty good going into Southwick. I've always liked the sand and I love how it gets so rough, and the humidity there is great [laughs], so I think it will be a good weekend.
Jumping back to Muddy Creek. Nineteenth in moto two for 13th overall. Happy with that result? Or what do you plan on changing going forward?
Not so happy with the 19th in moto two, but when you're laying on the ground in the first turn, it makes it a little difficult to get the results you want. Definitely going to make some changes so we don't run into that problem anymore.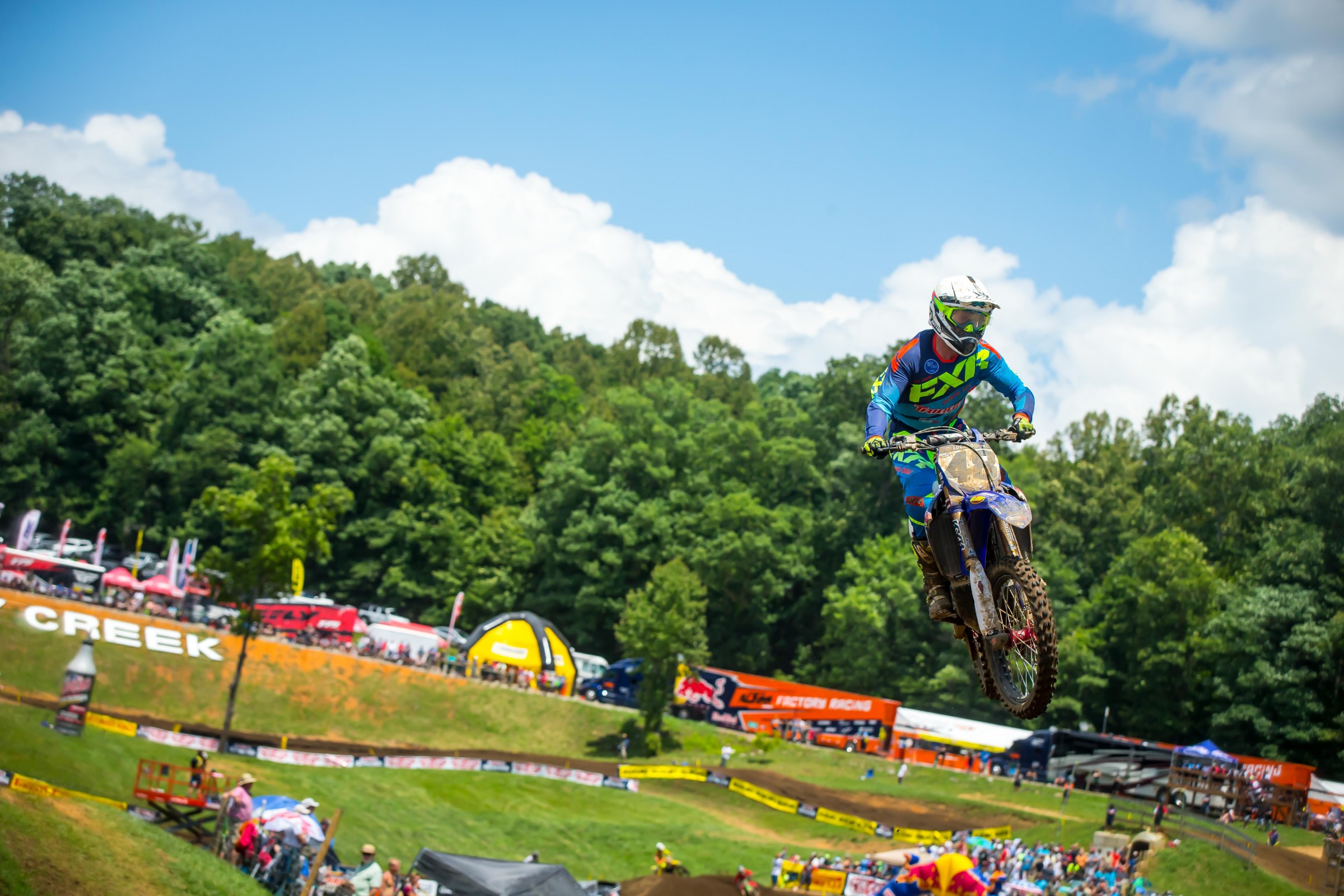 What are some of your goals for the rest of the season, and how do you plan to get them done?
Just looking to get back to the top ten and run with those guys, honestly. Just going to have to do the work on and off the bike during the week and get my body to 100 percent and stay there.
Who's helping you out with training and that sort of thing?
I live at ClubMX, so I have Brandon Haas, Mike Evenson, and Tyler Mckay helping me on and off the bike.
Awesome. Thanks for taking the time to chat. Your squash spaghetti is probably getting cold. Anyone you'd like to thank before we let you go?
Not a problem, thanks for your time! Definitely have to thank Triggr Racing [mechanic Chas Kadlec], wouldn't be racing without him or Meadow Valley MX, FXR, Enzo, Blud Lubricants, EKS Goggles, 6D, EVS, Sidi, Rutted Racing, Tag Metals, FMF, Hinson, ARC, Seat Concepts, Twin Air, Motostuff, and 139 Designs.