Blountville, TN
Tennessee (Muddy Creek)
Lucas Oil AMA Pro Motocross Championship
By The Numbers
19
Laps led by Troy Lee Designs/Red Bull KTM's Alex Martin in the two 250 motos Saturday. Crashes in both motos led to 12-3 moto finishes and fourth overall.
Zero
Laps led by 250 overall winner Shane McElrath on Saturday. McElrath went 3-2 to claim his first career overall win in Lucas Oil Pro Motocross.
4
Different riders who led laps in the 450 Class at Muddy Creek. Marvin Musquin led 15, followed by Eli Tomac (13), Ken Roczen (5), and Justin Barcia (3).
3
Different Monster Energy/Yamalube/Star Racing Yamaha riders who have moto wins in the 250 Class this year. Aaron Plessinger has four moto wins, while Justin Cooper and Dylan Ferrandis have one each.
191
Points Eli Tomac had after five rounds in 2017. He was second in points, four behind Blake Baggett.
242
Points Eli Tomac has after five rounds in 2018. He has a 32-point lead over Marvin Musquin in the championship standings.
8th
Place moto finish for GEICO Honda's Cameron McAdoo in the second 250 moto. It was the first career top-ten moto finish for the Iowa native.
8
Different 250 riders who have scored a moto podium through ten motos in the 250 Class.
6
Different 450 riders who have scored a moto podium through ten motos in the 250 Class.
25-21
Moto scores for Racer X contributor Ryan Sipes in the 250 Class on Saturday. Sipes nearly scored points riding a 125!
Strange Numbers
3-2
Moto scores by Shane McElrath, the overall 250 winner at Muddy Creek.
11-1
Moto scores by Dylan Ferrandis, who finished second in the 250 Class at Muddy Creek.
8-4
Moto scores by Chase Sexton, who finished third in the 250 Class at Muddy Creek.
Quotes From Around the Paddock
Ken Roczen | 3-4 for fourth overall in 450 Class
"I'm happy with how today went. I got fourth, but I feel a lot better and am more satisfied with it this weekend than last because I think we made some good steps forward. I'm a lot happier with my second moto. We definitely made some great improvements on the bike between races. I was kind of fighting it a little in the first moto, but the changes we made were a lot better. I was having fun and not feeling beat up. I ripped two holeshots, which is great. I was up there in the first moto, finishing third, but I just wasn't jelling. I don't think the results show how happy I was with the second moto—not on the podium, but all in all, I'm satisfied and we can just keep working forward from here on out."
Weston Peick | 6-6 for sixth overall in 450 Class
"I had two good starts and was running at the front in both motos. Overall, I rode well. My hand is still a problem, though. I have about 15 minutes in me before I lose the feeling in it. When that happens, I get whiskey throttle and my hand blows off the handlebars. Other than that, the series has been going well. I have good speed. My plan is to grind it out every weekend and put in solid finishes. People expect me to finish motos, and that's what I have been doing. Sixth overall isn't where I want to finish, but I'm collecting points.
"This week the team will head to a few sand tracks near JGRMX and get a feel for the sand. Southwick will probably be one of the most difficult tracks for my hand, so I'll develop a game plan and prepare as much as I can this week."
Phil Nicoletti | 7-9 for eighth overall in 450 Class
"My second race was a lot better than my first. I had a lot of tip-overs. I was trying to push it and lost my cool in the second moto. It's okay. I'm going in the right direction and I'm looking forward to getting in the sand next weekend."
Austin Forkner | 5-9 for eighth overall in 250 Class
"I'm bummed that I couldn't get the starts that would have put me in contention at the front. I seemed to ride a little bit better in the second moto even after going down. It's a learning week. We know we have the speed, so we'll see if we can put it together next weekend."
Justin Cooper | 2-28 for tenth overall in 250 Class
"Muddy Creek is over and done with. Started the day out really great being fastest in both qualifying sessions. First moto P-2 and second moto had a freak racing accident on the first lap, really such a bummer for the both of us, and it isn't an easy pill to swallow hearing the news of @jeremymartin6. Wish him a speedy recovery and somehow everyone was able to avoid me, which I'm extremely thankful for. Man, I'm extremely sore today, but I'm also nothing but thankful for my support crew. Some things you just can't prevent when there are so many riders in such a tight space, there is another angle of the crash if you swipe right. Again, freak accident out of both of our control while once in the air, gotta keep moving forward."
RJ Hampshire | 4-19 for 12th overall in 250 Class
"Practice didn't go so well, but I got a good start in that first moto and found the pace early. Felt strong all moto and had good speed. Second moto had a decent start, but when Jeremy and Cooper went down, I hit someone and went way off the track. Was able to come through the pack pretty well and had a good battle going with Jordon Smith for about the last six or seven laps. Had a pass on him on the last lap and he jumped across the track where he hadn't gone the entire race and we hit in the air. I hit the ground hard and I'm pretty beat up! Even if I hadn't passed him, I would have had an overall podium spot, so the crash situation really bummed me out. We will do all we can this week to be on the gate next weekend."
Alex Martin on his brother's injury
Hill Staying Put
Autotrader/Yoshimura Suzuki announced today that Justin Hill will contest the remaining rounds of Lucas Oil Pro Motocross in the 450 Class. Hill, who will move to 450 Class full-time in 2019, was originally announced to race "select rounds" after Phil Nicoletti signed with Rockstar Energy Husqvarna.
"I am excited that I get to race the Suzuki RM-Z450 for the rest of the national series! I have seven more races to be a podium guy and show people that I can be successful outdoors," he said in a statement. "I'm looking forward to it."
In two rounds in the class, Hill has scored four top-ten finishes, including a fourth-place finish in moto one at High Point. In six motos in the 250 Class, Hill had zero top ten finishes. At Muddy Creek on Saturday, Hill went 8-7 for seventh overall.
"My day wasn't terrible, but it could have been better," he said. "I had a practice crash that took the wind out of my sails for the motos. I'm bummed, because I was hoping to make a big improvement from High Point last weekend. I felt better at Muddy Creek and a lot closer to the front guys in practice. Seventh place isn't the worst finish in the world, though. I'm building, and we made a couple of good changes to the RM-Z450 with the chassis. I'm just a bit upset about the racing, because I wanted to make a jump in my progress."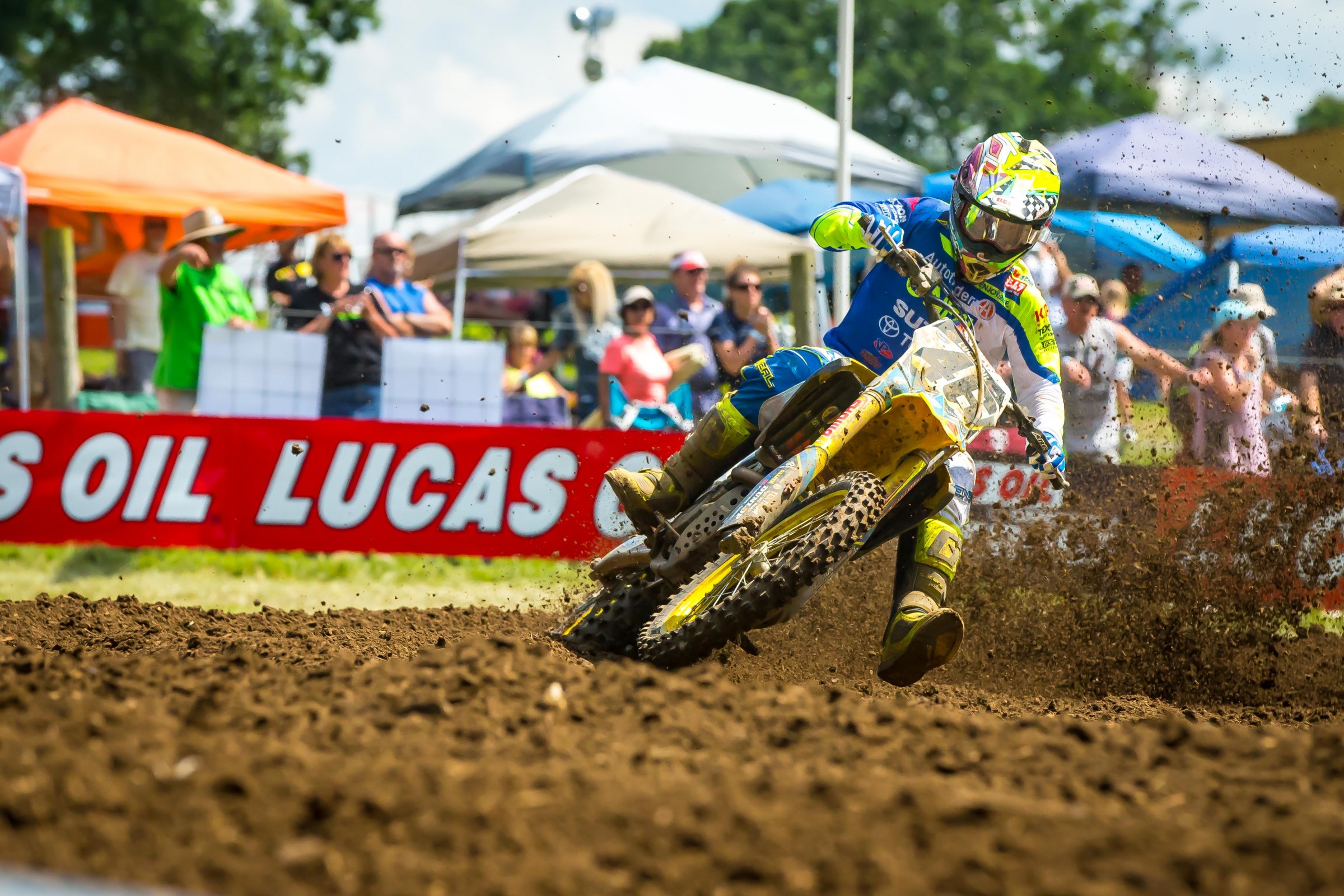 Welcome Back
Jimmy Decotis
Autotrader/Yoshimura Suzuki got Jimmy Decotis back for the first time since he broke his back at Daytona Supercross. Decotis raced just two rounds of Pro Motocross last year, as he was suffering from Lyme disease. Decotis scored points in both motos, going 17-12 for 15th overall. His 15th place overall finish is a career-high. Next week, The Rippa returns home to Southwick.
"It was great to be at the races. I'm thankful that I was able to return at Muddy Creek. Honestly, after breaking my back, I wasn't sure whether I'd even be able to race this summer. It was a long road to get here. I'm so thankful to be with the Autotrader/Yoshimura Suzuki Factory program and have access to the therapy at JGRMX. To come away with points in both motos is a good start, but the finishes aren't where I want to be. Taking the positives away, I was really fit and strong in both motos. Now I just need to get the speed. I figured that would happen because I was off the bike for three-and-a-half months, and I was in a lot of pain during those first few weeks on the bike. Only lately have I started to get that aggression back. It will take time, but Southwick should boost my confidence. The goal is to put on a show for my New England fans. I'm blessed that Suzuki has given me the opportunity to race the nationals, and that they understand that it's going to take some time to get where I need to be."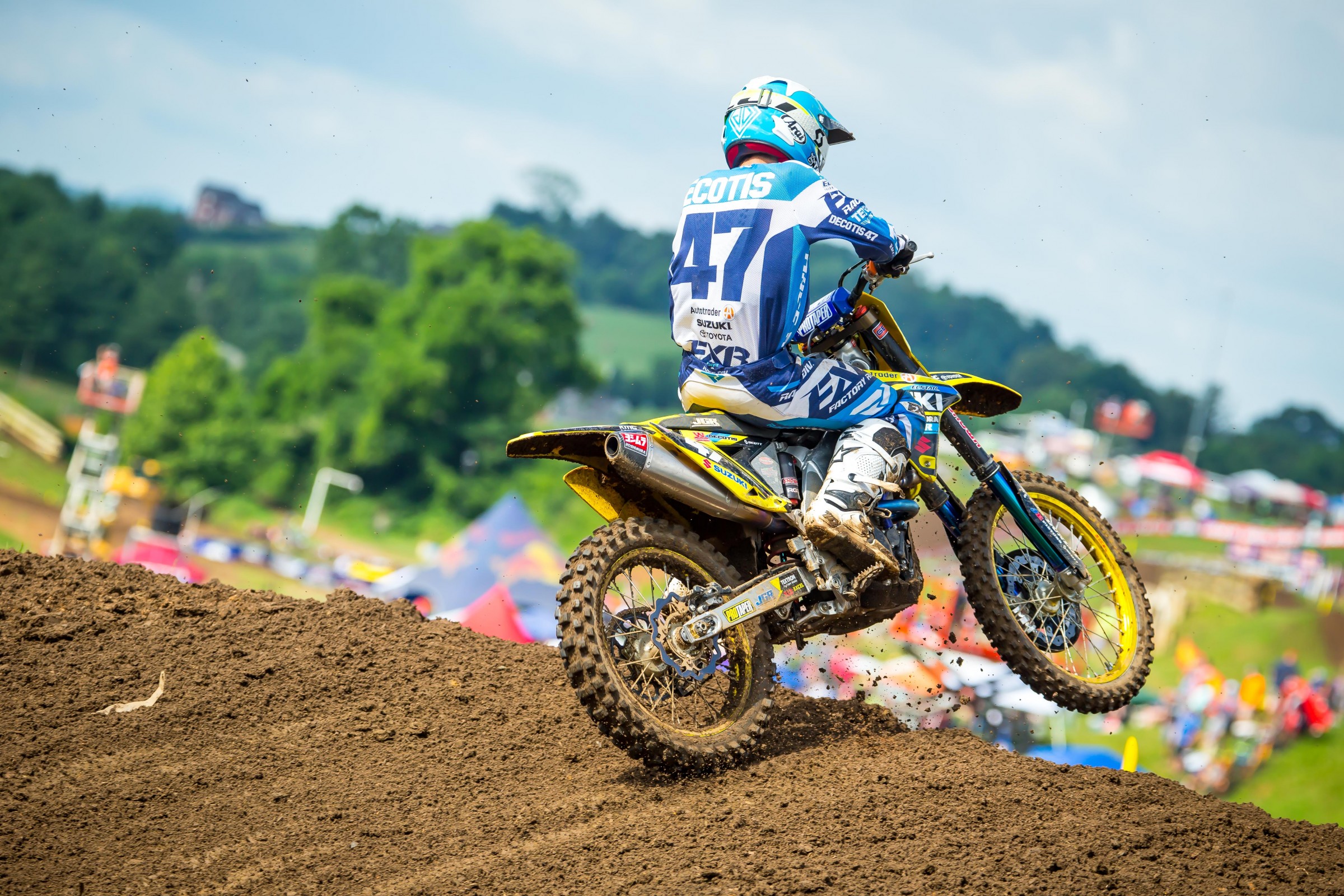 Colt Nichols
The lead up for Colt Nichols' return from a second broken upper arm in less than a year was rather quiet. Nichols had been back on the bike for a bit, but a return date was never set in stone. A few days prior to Muddy Creek, he posted on Instagram that he was returning.
This is what we wrote, in part, about his return in 10 Things to Watch prior to the race:
Nichols has a propensity to come back from injury and return to form quickly. When he broke his upper arm the first time in December, he finished on the podium two months later at the 250SX East Region opener. No, we're not saying he'll podium this weekend, but don't be shocked to see Nichols put in a top-ten performance.
Nichols was solid in his return. He finished tenth in the first moto, but a crash in the second moto relegated him to 20th. Still, a positive day for the Monster Energy/Yamalube/Star Racing Yamaha rider.
"First outdoor of the season," he wrote on Instagram. "Definitely not the results I'm reaching for, but live to fight another day. First moto was a solid finish, then a crash in the second moto took it out of me. I had a blast just being back at the races and getting into the groove of things. Can't wait for next weekend."
Jacob Hayes
Hayes' last race in Lucas Oil Pro Motocross prior to Muddy Creek was June 22, 2013. If you're counting at home, that's 1,827 days (or five years, one day). In that time, Hayes, the 2018 Amsoil Arenacross Champion, competed in Canada—and did pretty well. With arenacross closing, Hayes is searching for a ride for 2019, and he put together an effort on his own to race Muddy Creek in the 450 Class.
"I'm the kind of person that expects a lot of myself and is very confident in what I can do. I won't be happy if I'm outside the top ten," he told us prior to Muddy Creek.
Hayes just missed out on his goal, finishing 11th overall via 16-12 moto scores. In eight previous races in Pro Motocross, Hayes' best finish was a 16th in the 250 Class at Southwick in 2012.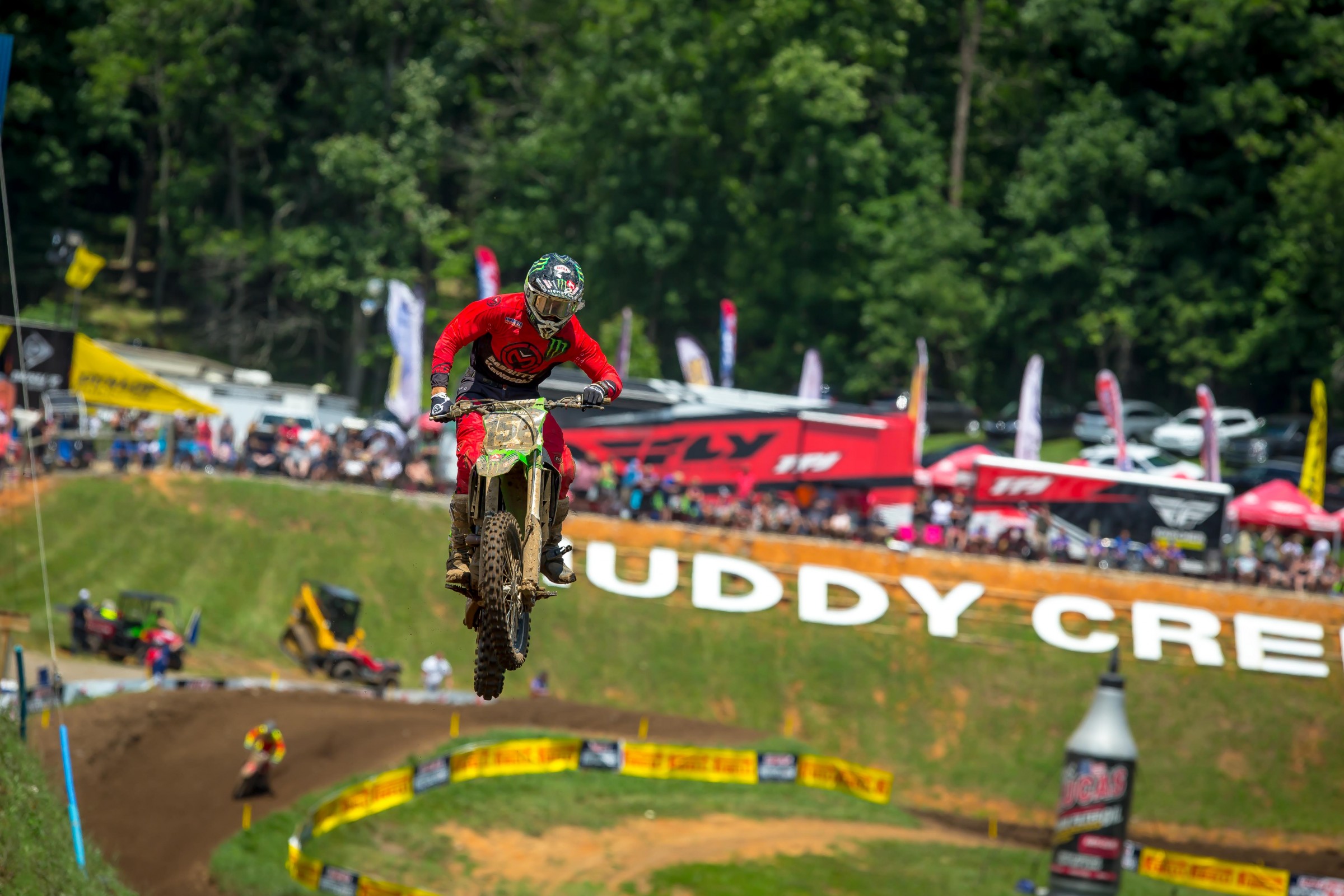 "Pretty stoked after a five-year break from racing the great outdoors," he wrote on Instagram. "Not sure what's next, but I'll keep grinding."
When we asked him about his plans for the summer last week, Hayes said he didn't put in all this work for just one race.
"Not sure yet," he said. "We'll see how this weekend goes, then decide. I'll keep my options open. But hopefully I'll be able to do a few more rounds. I didn't pound all these motos to just do one race, ya know?"
Injury News
Jeremy Martin
As we reported over the weekend, Martin sustained a burst L1 vertebrae in his second moto crash at Muddy Creek. Racer X has been told that Martin met with a neurosurgeon on Sunday and that he will undergo surgery today (Monday) to stabilize. Recovery time is expected to be around two months. He can walk and begin therapy almost immediately after surgery. Surgery is expected to be around three hours, we're told.
Gif of the Week
Perfect ten on the landing!