Blountville, TN
Tennessee (Muddy Creek)
AMA Pro Motocross Championship
A year ago, it had gotten to the point where Justin Barcia would have done anything just to score one podium, under any conditions, anywhere. Now, trips to the box are back to being routine, with his 2-2 at Muddy Creek on Saturday marking his third podium in five rounds of Lucas Oil Pro Motocross. That matches up well with his strong start to Monster Energy Supercross, where he scored three podiums in six races before a hand injury put a temporary end to his run. Muddy Creek's 2-2 was also his best motocross finish this year. Before the race, Barcia told me a moto win is his next goal, but he wasn't at all disappointed to merely come close again.
"For sure. I'm really happy," he said. "It was a good day. Just getting more comfortable with the bike each weekend. We're really close, but we're just taking steps to get more comfortable. Also, my riding as well is getting better. Just trying to put everything together. Today was definitely another step in the right direction. I had a lot of fun. That second moto was tough. That track was difficult, really difficult."
Barcia and the Monster Energy Yamaha team have jelled, and even that supercross hand injury couldn't derail them much. He and the team are being patient together, both to improve the new-for-2018 YZ450F and for Barcia to rebuild his career. On Friday's press day, Yamaha team manager Jim Perry talked about the process of Barcia going from zero—as in not even having a ride and not even being sure what his plans were for racing, and the resultant confidence issues that come with that—to where he is now. This season has represented a big step, and the team can only expect so much improvement so quickly. In fact, while Barcia hasn't yet re-signed with Yamaha officially for 2019, both he and Perry indicated they'd very much like to keep this relationship going, with expectations for even better results next year.
Barcia has explained to me that he's actually training less this year and focusing more on recovery. Years ago, he hooked up with Jonny O'Mara for training, and the O'Show's rigorous bicycling program definitely got Barcia in shape. The two eventually split ways, but Barcia had been bitten by the cycling bug. He continued pushing on pavement, enjoying the feeling of being so strong off the bike. Barcia has now realized he had fallen so far in love with his road bikes that he was probably overdoing it, thinking that more fitness had to be the recipe to get him out of his slump. Today, he does less, and fully admits his road bike fitness is not where it was a year ago. But he's better on the motocross and supercross track, and that's what matters.
"Me and my old mechanic Ben, we would like train all crazy, and it was so much fun," he says. "Now I don't get to do as much bicycle stuff as much. I still ride my bicycle, but I'm way less of a pro cyclist now. I ride bikes at home now. I'm still good on a bicycle, but I'm not a sicko like I once was. But I've said, hey, paycheck is on the weekends, not for what I do during the week."
Recovery for Barcia isn't just physical. "Recovery, mentally, for someone who has ADD [attention deficit disorder] like me is very tough," he says. "To just go sit in the pool, or sit on the couch, it's very challenging. I was always like, 'Go, go, go.' I can't be like that anymore."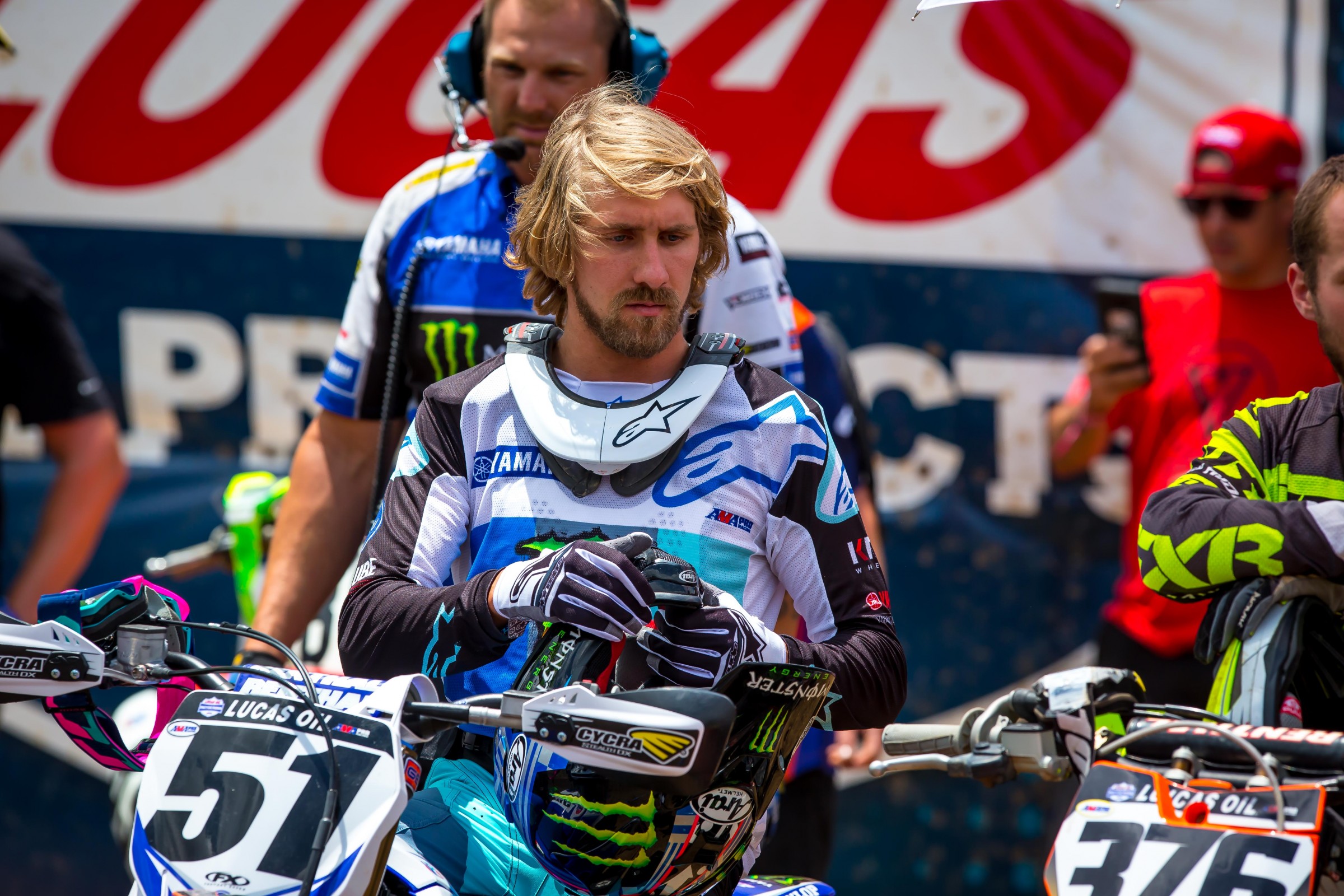 Besides being a cycling "sicko," Barcia had worked hard to become a pilot. This year, he told himself to quit flying planes and cut back on the cycling, so he could give himself a real break mentally after his riding is finished. It hasn't been easy for him to simply sit on the couch and not go tinker in a garage or hangar. But he has the rest of his life, post-racing, to do that.
"I'd be in my garage and I'd be doing something, and then I'd just switch to something else," he says. "I cut out flying in my life because I could focus on my racing more. Mentally, for me, as a younger kid I couldn't accept that. Now I'm able to do that—growing up and learning now."
For now, Barcia is doing more with less and feeling happy at the races. He and his team are happy with each other, and while the run of podiums could lead to frustration that a win hasn't come, he's trying his best not to think that way. In fact, when he was in position for the overall at Muddy Creek while Eli Tomac was still coming from the back of the pack, Barcia wasn't even thinking about the overall points.
"I had no idea when I came off whatever happened," he said of the overall. "I just was racing my own race and trying to do the best I could do with where I was at and how fast I could ride."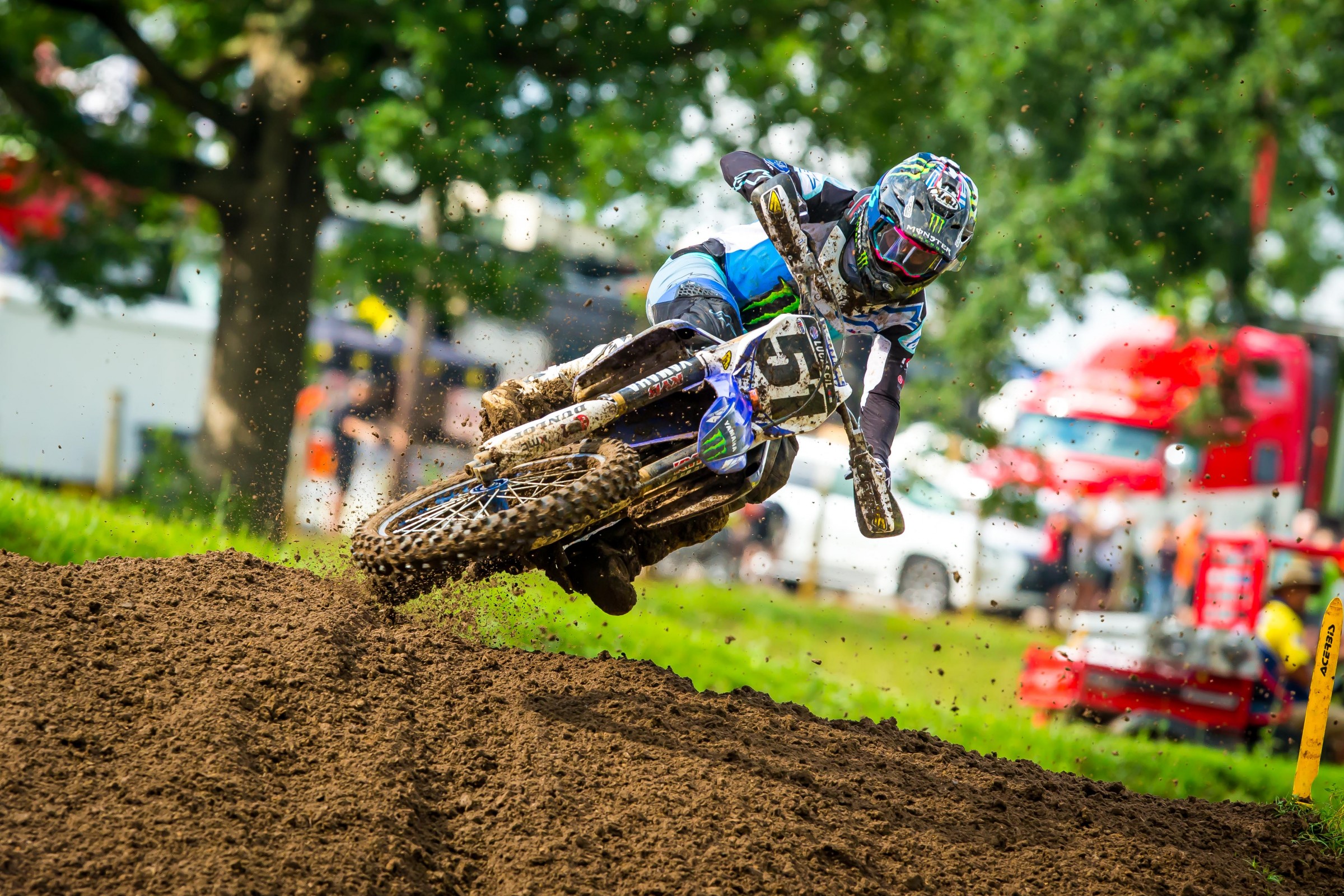 On the track, Barcia has always been known as a revver—someone who tries too hard at times and can override the bike to his own detriment. Muddy Creek posed a challenge for him, but he held his composure.
"It's easy to over-ride a track like this, especially with my riding style," he said. "But that's something I've been working on a lot, trying to be smoother. The Yamaha has plenty of power. When you over-ride it, it makes the chassis tighter kind of and stuff. So that second moto, I knew Eli was coming at the end and I really needed to throw down some good laps and push it to that limit, but still not over-ride it. It was hard. It takes a good rider to sort this track out. Like Marvin second moto was just on rails and nailed his marks and stuff. That's what you got to do on a track like this."
The win isn't there yet, but this is still a long way from where Barcia was last year. He will keep himself happy with that—even without flying or cycling to make him happy in other ways.