Blountville, TN
Tennessee (Muddy Creek)
Lucas Oil AMA Pro Motocross Championship
Five rounds, five overall wins for Monster Energy Kawasaki's Eli Tomac. It wasn't an easy walk in the park today at round five of Lucas Oil Pro Motocross at Muddy Creek Raceway in Blountville, Tennessee. The talk early in the week was the weather, as thunderstorms were expected throughout Friday and today. Beside a few rain showers early in the morning, it was an otherwise beautiful today.
And what a strange day all around. We saw a first-time winner in the 250 Class, despite the fact that he didn't win a moto. We saw Jeremy Martin recover from a heartbreaking mechanical at High Point to win the first moto, only to suffer a crash early in moto two that knocked him out for the rest of the day. (More on Martin later.) We saw Alex Martin cough up the lead in both 250 motos. And we saw a 250 podium that had the following scores: 3-2; 11-1; 8-4.
First, Tomac. After cruising to an eighth win in nine motos in the first 450 moto of the day, he found trouble early in moto two. Tomac was buried of the start in the second moto. He rounded the first lap 19th (!) and it appeared his overall win streak would end at four as Justin Barica, who finished second in moto one, was leading early. Tomac made an incrediable charge to the front, though. By the second lap he was already approaching the top ten. He dipped into the 1:50s twice in the moto, the only rider to do so, and worked all the way up to third, and put in a late run at Barcia, who had dropped back to second at that point. Barcia responded though, and once Tomac felt he couldn't reach second, his lap times drop to 1:55, 1:56, and 1:59 to end the race.
"Was just playing catch up, that's all I could do," said Tomac. "Just buried off the start there, that's the way it was, just too far back to get in touch with the two guys up front. Just eating a lot of roost and trying to get to third. I saw Marvin and Justin and I knew which way the points were going to fall. Plus it was too late, anyway, plus Justin was going really fast. So I just settled."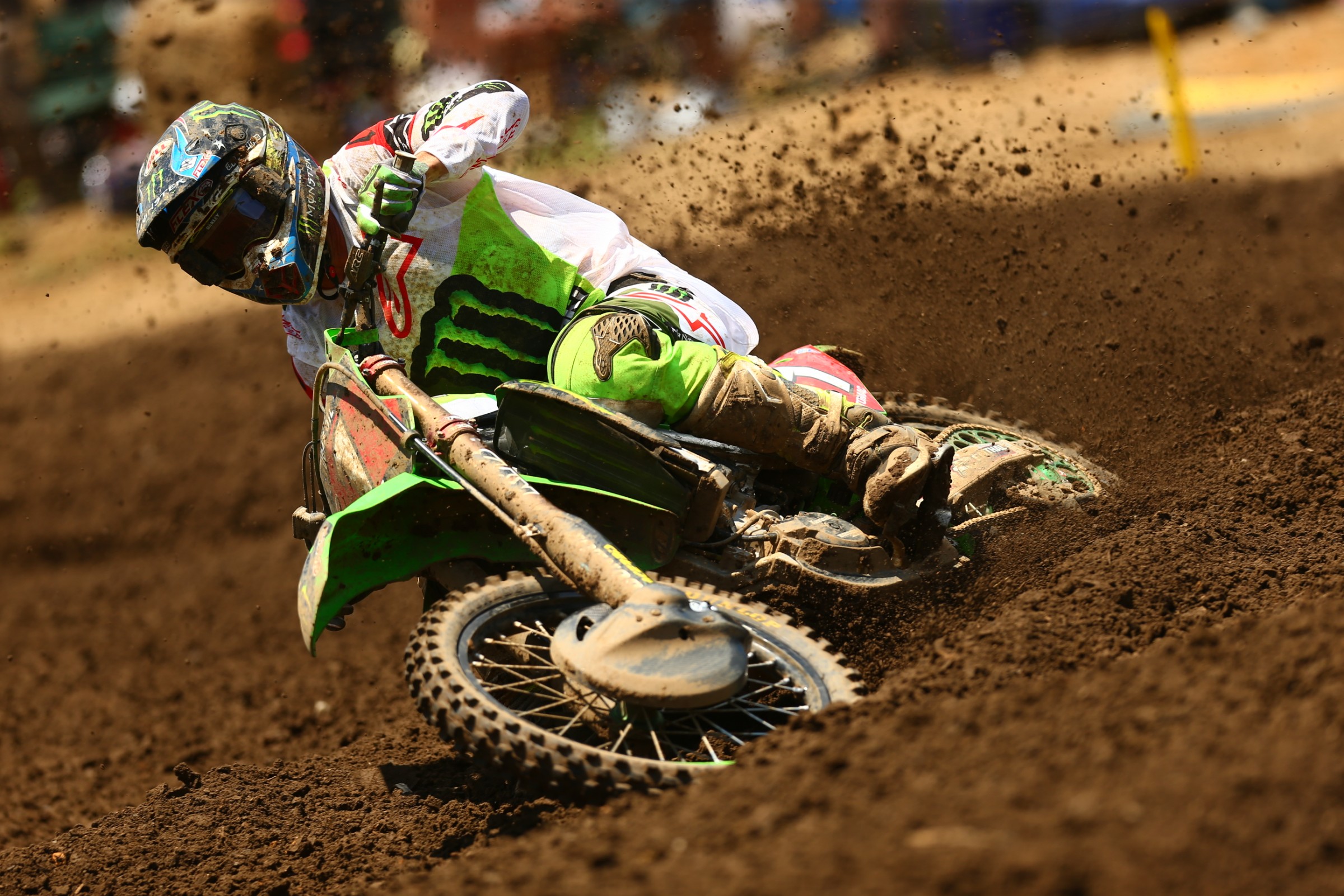 Still, a successful day for Tomac, who now holds a commanding 32-point lead in the championship over Marvin Musquin.
Marvin Musquin knows how Tomac feels. In the first moto, Musquin clipped the rear wheel of Barcia and went down in the first turn. He rounded the first lap in 20th. Like Tomac, Musquin was able to work his way back to the front, but could only manage a fifth. The second moto the roles were reversed. Musquin started third, but quickly moved around Ken Roczen and went after Barcia. Early in the race Musquin was stringing together laps in the 1:53s and 1:54s, and by lap four had moved into the lead. He slowly stretched it out to five seconds, and ended the moto with a three second lead. It was the second moto win of the season.
"Well when you crash on the first lap it doesn't help," said Musquin. "Made it really difficult on me. Clipped someone's back wheel on the first lap. From that I just tried my best to come back, and you know when you have the top four or five guys up front, it's hard to get better than a fifth. I caught Blake Baggett on the final lap but it was not enough. So it was very frustrating to be in this position, but hey that's racing and I gave my best. All I could do in the second moto was get a better start and stay on two wheels. Be patient. I got around Roczen and got around Justin, and yeah I was able to control the race towards the end. Podium was all I could do today."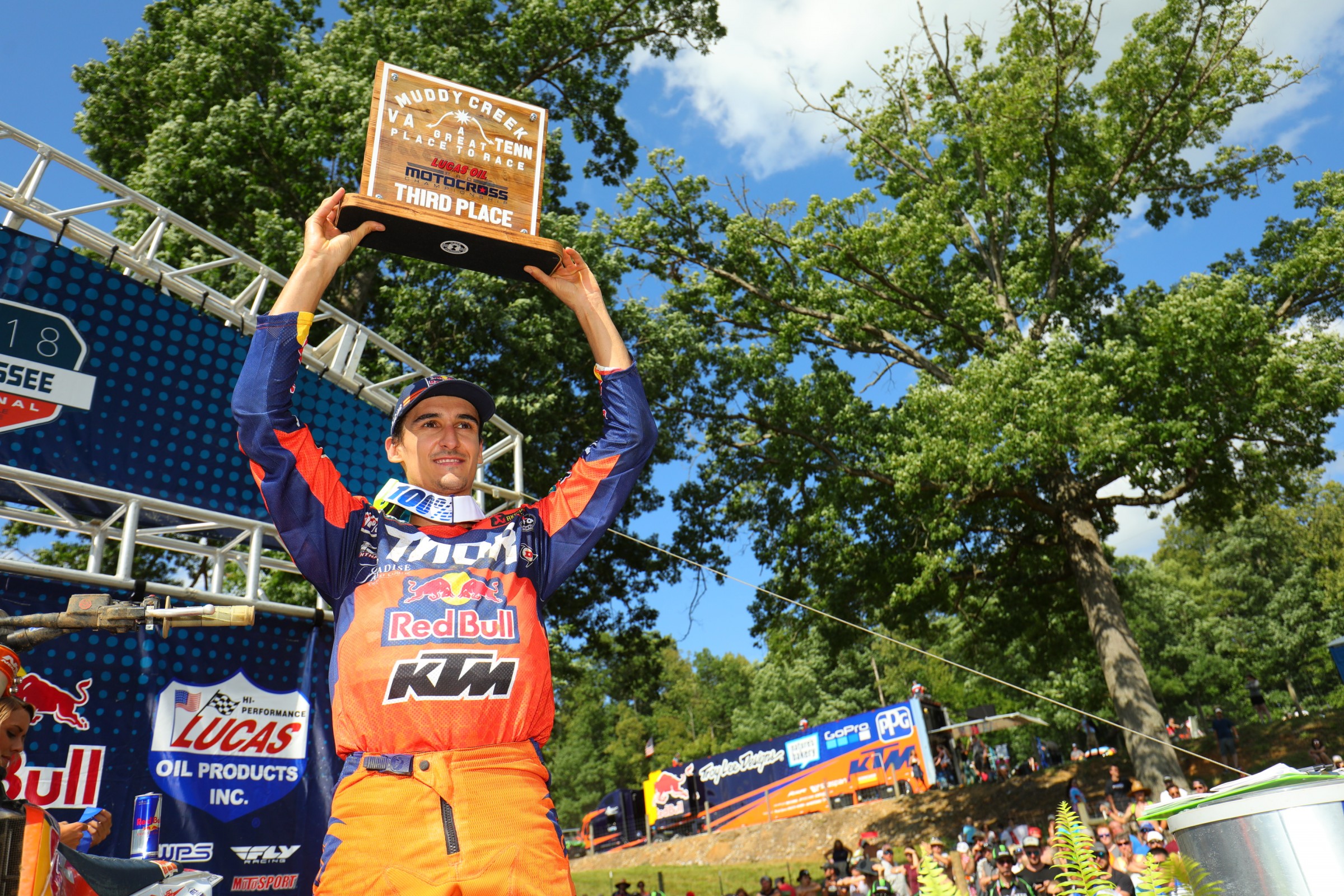 If you're Justin Barcia, you have to feel better about this weekend despite finishing second. He finished third in the first moto at High Point, but was 41-seconds back of Musquin. In the first moto today, he took second and was just 7.9 seconds back of Tomac. He finished second in moto two and was 3.5 seconds back of Musquin. For the first half of the second moto, Barcia was actually holding the overall lead for the day, looking at 2-2 scores while Tomac was way back. He eventually was bumped to second overall as Tomac moved forward, but he was able to pick up the pace and prevent Tomac from closing in on him in the moto.
"I'm really happy, it was a good day," said Barcia. "Just getting more comfortable with the bike every weekend. We're getting really close, today was definitely another step in the right direction. We're just taking steps to get more comfortable with the bike, and also with my riding. Today was a fun day, second moto that track was difficult, very difficult."
Fourth was Ken Roczen, good again but also again a hair off of the leader's pace in each race. Ken got to lead some laps early in moto one, before Tomac and Barcia were able to get him Ken continues to be happy with podiums in his comeback from injury.
Before we talk about Shane McElrath's incredible overall win, here is what we know so far about Jeremy Martin. Early in the second 250 moto, Martin went down and was shown on the broadcast holding his back. Thankfully, Martin was fully responsive after the crash and has full movement. A post on social media from his team explained the following:
Today did not go as planned for @jeremymartin6 at Muddy Creek. After the start of the second moto, Jeremy had a bad crash that would result in a burst fracture of his L1 vertebrae. He has full mobility and is fully conscious. He will be meeting with a neurosurgeon specialist tomorrow morning to further review his condition. Thank you to the Alpinestars Medical Crew and the staff at Bristol hospital for all their help. We will keep you all updated on his injury.
Like many riders from the Southeast, Shane McElrath called Muddy Creek home during his amateur career. And, like most of those who grew up racing here, Shane has excelled at the venue. Today was no different.
McElrath entered round five with a best moto finish of sixth this season, but he's hung around the back end of the top ten—evident by his four ninth place moto finishes this year. McElrath usually starts slow and then turns it around at Muddy Creek. He explained that he had been chasing his bike setup early in the season, but felt like he had made good progress heading into the weekend. Clearly, he did, because while several contenders crashed around him, McElrath was much quicker this weekend than the previous four rounds.
McElrath took a third in the first moto, and with Jeremy Martin's crash in the second moto, found himself in an unlikely position to win the overall—despite not winning a moto. Although he had the overall in hand, McElrath passed his teammate Alex Martin late to grab second. His 3-2 scores were more than good enough to capture his first career overall win.
"It feels a little better than my first podium here, a couple of years ago!" said McElrath. "We're making progress and that's what I'm most happy about. It's crazy for everything to come together for the first time this season here in front of everybody. Still kind of speechless."
"I didn't have a very good start, I spun and got pinched off the gate," explained McElrath of the second moto. "I was probably about tenth, and I fell on the third lap. I wanted to make quick passes and not settle in. My mechanic said to just keep going. I got behind Chase [Sexton] and my mechanic said I needed to get number 40 for the overall. Then I got Alex [Martin] on the last lap. Everything just came my way."
Poor, Alex Martin. Alex lead the first moto over his brother Jeremy before a mistake up the uphill triple allowed Jeremy to close in. Although Jeremy took over the lead shortly after, Martin was riding well in second. Then, disaster struck. He crashed in the back section and finished the moto 12th.
Martin again lead in the second moto. This time, for 16 laps. After fending off a furious charge from Dylan Ferrandis, Martin had the moto win on lock with two laps to go until disaster struck. He swapped entering the corner after the finish line and coughed up the lead. Then he lost second late in the race to teammate Shane McElrath, which cost him a spot on the overall podium.
With A-Mart's crash, Dylan Ferrandis snagged the lead--the Frenchman had been applying relentless pressure to Martin and finally got the mistake he needed. He went on for the victory in just his fourth moto since returning to racing last weekend. It's also Ferrandis' third career moto win in the U.S. He ended up on the overall podium despite 11th in moto one. Oh by the way, he made a late pass on Alex Martin in that race, too.
Third went to Chase Sexton, a rare sighting of good luck for the GEICO Honda team that lost Jeremy Martin to the big crash to start the moto, and also saw RJ Hampshire go down in a similar scenario (landing a jump) and crash out of moto two.
It's been an absolutely crazy season in the 250s, and that's reflected in the points. Aaron Plessinger continued his string of one good race followed by one so-so one, going 9-5 for seventh overall, his season worst, after going 1-1 last weekend at High Point. Thanks to Jeremy Martin's crash, though, Plessinger was able to stretch his points lead by three compared to when he entered the day. His lead is now 23 points. Plessinger holeshot the first moto but washed the front end and crashed three turns in. His comeback charge stalled in ninth, and then he couldn't break the Alex Martin/Ferrandis/Jordon Smith battle in front of him early in moto two, and then he crashed while running fourth. Not the best day for Aaron, but with both Martins having problems, his lead remains safe.
Plessinger's Monster Energy/Star Yamaha teammate Justin Cooper had another solid day going, taking the fastest qualifier spot for the day and then finishing second in the first moto. Cooped and Jeremy Martin collided on a landing of a jump on the first lap of moto two, which is what led to J-Mart's massive crash. Cooper, too, went down hard and was unable to finish the moto. According to Star Racing Assistant Team Manager Wil Hahn, Cooper is sore but did not suffer any major injuries.