Blountville, TN
Tennessee (Muddy Creek)
Lucas Oil AMA Pro Motocross Championship
It's very unusual to have a race five races in and have such a topsy-turvy day. Shane, you picked up your very first overall outdoor national win. I know on the podium you were feeling good, but can you share with us now that it's sunk in a little bit what it's like to pick up that first outdoor win?
Shane McElrath: It feels a little better than my first podium here a couple years ago. The day was really good. We've finally got my bike dialed in after the first couple rounds. It was pretty rough, but we're making progress each week. That's what we're happy about. We've just kept working and kept pushing. It's crazy for everything to come together for the first time this season here in front of everybody. I feel really good. I felt good today on the track. Just need a little better starts. Still kind of speechless.
Chase, after the race, did you know that you had finished third overall?
Chase Sexton: No, I didn't. I actually had really bad starts today. I started outside the top ten both motos, so I was pretty bummed on that. But I was excited with my first lap. I made a lot of passes. I think I was in third for most of the moto. I actually saw Dylan and Alex [Martin] in front of me. I started catching them a little bit. I had no idea Shane was behind me. He came out of nowhere and blew by me, and then from there on, it was pretty much it. These guys rode good. The track was pretty good. It was a little tough to pass, but it was fun. I'm happy to get my first podium. It wasn't the moto scores that I like to have, but third is third. So, it's been good.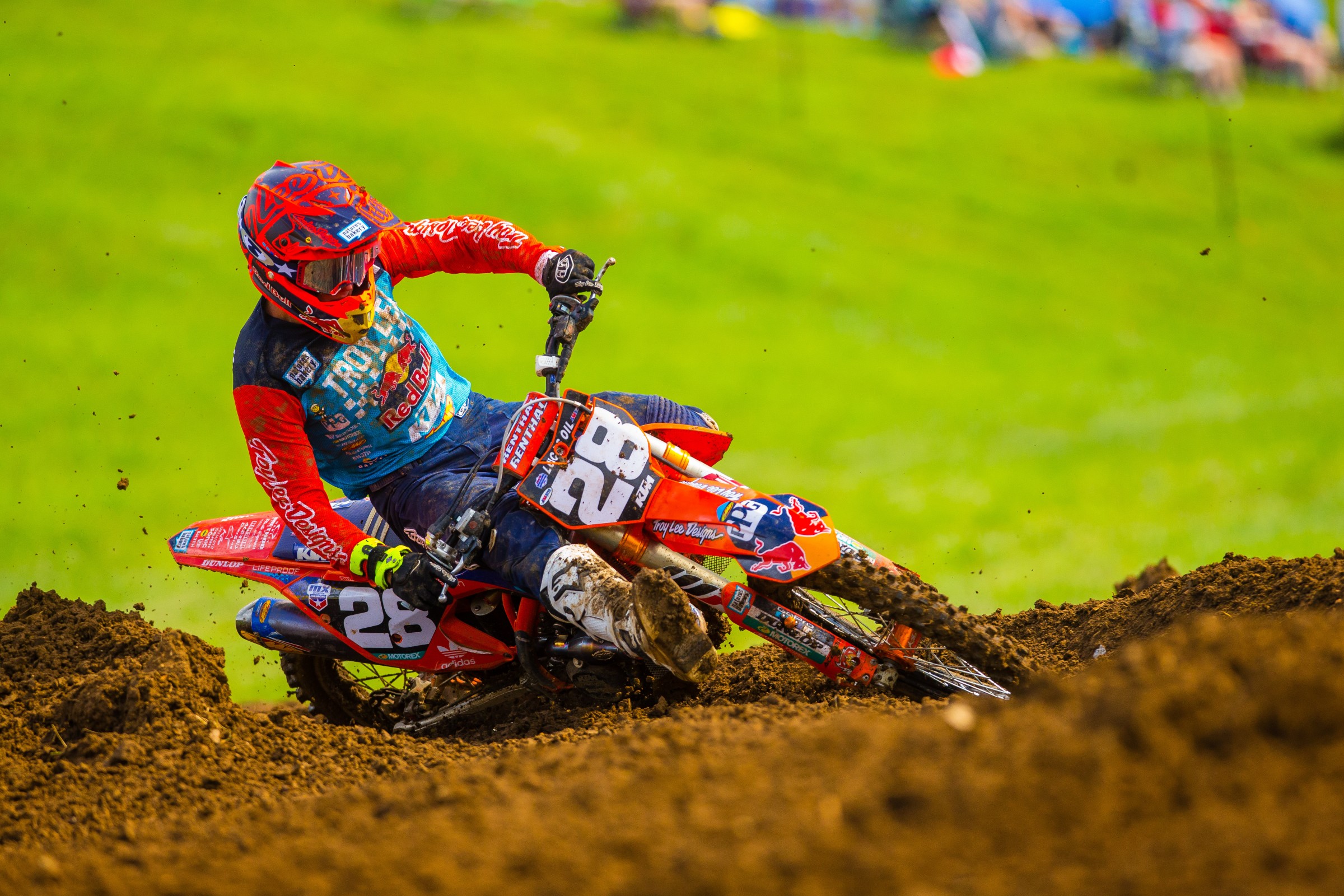 Dylan, last week you came back to outdoor motocross. You got a third in the second moto. Did you think that a win was going to come this soon in your return to outdoors?
Dylan Ferrandis: Yeah, definitely. I ride to win, so that's what I was looking for. Last year, my comeback for sure was a little bit shy. Easy to ride with the guys that made already three or four races. They are more in. I didn't make start for four months. I was just a little bit shy. That's why my first moto was really bad last weekend. Second moto definitely was a good one. This weekend I expect a lot. I was looking forward to fight for the podium all day. The first moto was terrible. I had a bad start and I crashed second lap. So I was way back and I had to push really hard to come back in front. I never think about doing a podium today with 11th in first moto, but second moto I got a good start. It's what I was looking for for a while this season. Also, in supercross, I didn't take a good start every race I did. So it took a good start and a big fight with Alex Martin all moto. I put a lot of pressure on him, so he don't give up, and me too. But he made a small mistake so it allowed me to win the moto. Very happy.
Dylan, talk about when you were chasing Alex there and what happened in front of you.
Ferrandis: I already chase him in first moto. We did a lot of laps together first moto and I passed him maybe at the last lap. Second moto same, one and two. I think I was a little bit faster, but I never found a way to pass him. I tried many places. Sometimes we were really close, but just after the finish line, this part is so weird. When you brake when the bike is half of compression and you really feel the bump, and I think that's what happened to him. Maybe small mistake, and the bike sideways and he crashed. The corner before, I almost crashed, too, so the track was really rough today. Small mistake that's happen. That's happened to me in first moto.
Shane, it's been quite a turnaround in the last couple weeks in the style of tracks from what we saw early in the season. Can you talk about that a little bit?
McElrath: Yeah, I think it's big for me just being on the East Coast. I really struggled with bike setup the first couple rounds. It was kind of a bummer because where I was finishing, it's hard to accept those finishes. To go back and work during the week, we just kept pushing. It's kind of embarrassing, but we've been learning a lot the last few weeks. I think this week was probably my best week of training just because we're dialing the bike in more and more. Now we're getting to the East Coast where it's a lot more hot and humid. I feel really good. I felt good today. Last weekend at High Point I felt good, just making progress with the bike. I'm ready to race the sand next weekend and then RedBud. I'm just happy with the direction everything's going.
Chase, that was quite a turnaround from last week.
Sexton: Yeah, last week was a little bit of a bummer. First moto was pretty bad, but second moto I got a great start last week. It was a bummer to have my bike break, but stuff like that happens. Turned it around this weekend. Bad starts again, but I made it work this weekend. It was good to run up front and get a podium.
Chase, this is your first full season outdoors. You've been improving steadily every week. Last week was obviously not as great. What are you learning each week and taking into next week just to keep getting better and better?
Sexton: For sure. My starts were improving, but this weekend obviously wasn't very good. Just the first couple laps, these guys are really fast. In the amateurs, you could always start in the back and kind of come through, but every week, and especially out here today, it was pretty close in times. Just learning speed early and just fixing my first couple laps has been my problem so far.
Shane, congratulations on picking up your first win, what we like to call your home track. You broke the "Yamaha have won four races in a row" here. You also gave KTM their first win since 2015, when Marvin Musquin did it. How does it feel to set some records and break some records all at your home track?
McElrath: It's pretty crazy. People all day today, "Does it feel like you've got a home track advantage?" It does, but at the same time, we've been making a lot of progress with the bike. To come here and to do this here, it's what I want every weekend, but this weekend was just surreal. Having all my family here, this is probably the only one a lot of them get to come to. To have everybody here and to be at home, it's just really nice. It's relaxing mentally. It was just a great day. Just like two years ago when I got my first podium, it was kind of like my breakthrough outdoor ride. I've had some good times here and there, but we've just lacked in consistency. We're really getting the bike dialed in and getting my confidence back again. I'm ready for next weekend.
Shane, if I heard right on the podium, you said that you didn't realize you were even in contention for the overall. You maybe saw it on your pit board or something along those lines. Is that correct?
McElrath: Yeah. I didn't have a very good—I spun on the backside of the gate and got pinched off halfway up the straightaway. I was probably in about tenth, I'd say, the first couple laps, and then I fell on the third lap and got passed by a couple people. At that point after I fell, I really didn't know where I was. Just tried to keep pushing and to make quick passes. I didn't really want to settle in. I felt good all day. My mechanic just kept putting "keep going, times are good, and keep pushing." I think I got up behind Chase and AP [Aaron Plessinger] and Matt [mechanic] said that I needed to get #40 for the overall, but I couldn't really see him at that point. So I just kept pushing, kept pushing. Finally it kind of started coming to me. I just tried to keep pushing. Then I got Alex on the last lap. Everything felt like it just went my way.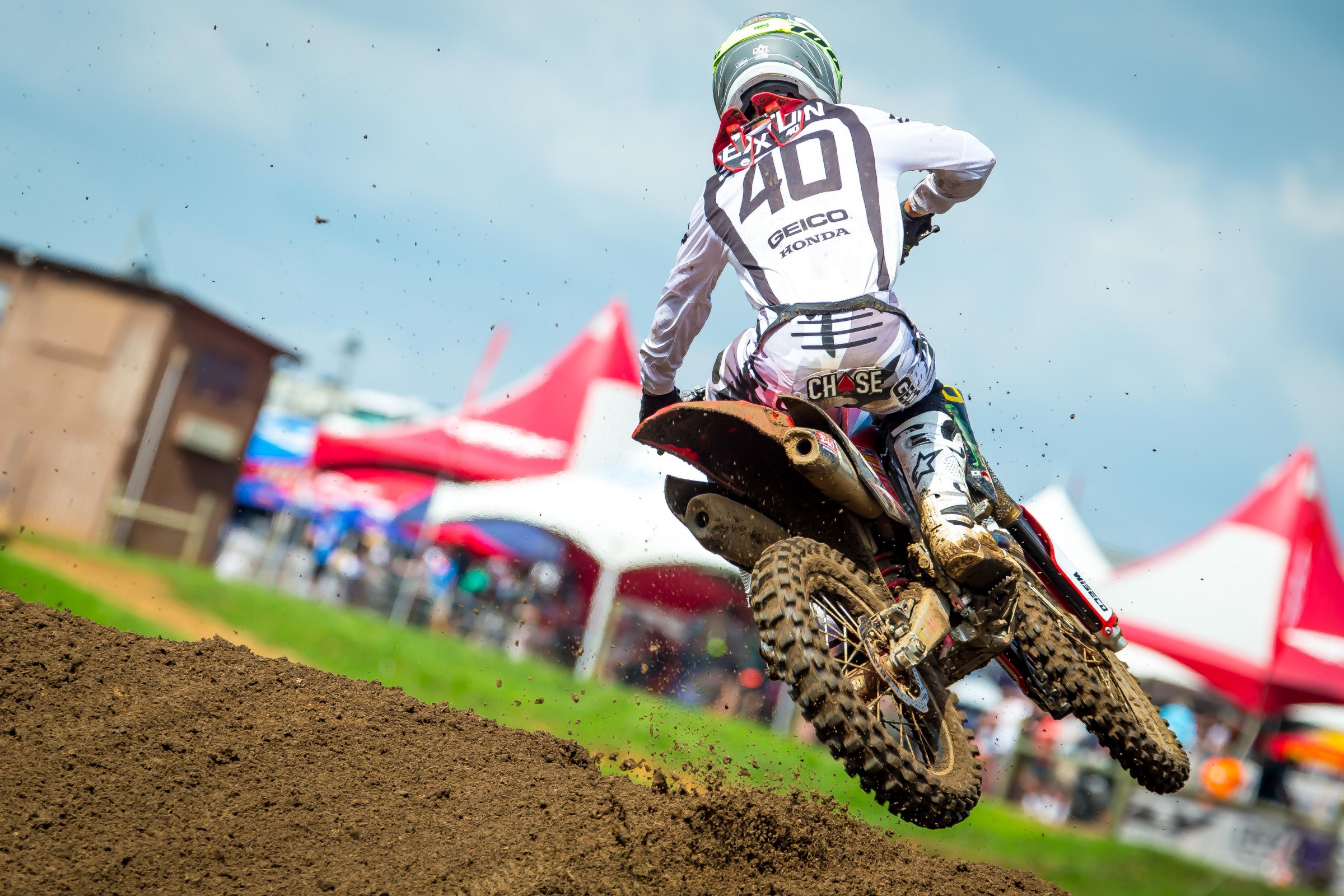 Dylan, you had a pretty nasty crash coming out of supercross. How do you stay confident? To be hurt that bad is scary. How do you come back, and where do you find your confidence just to go back out and forget about that?
Ferrandis: Definitely scary. That's why I said last weekend when I came back was a little bit struggling for me. I get scared a little bit, but I move forward. We all know supercross is dangerous, so I can't stay focused on that. Now it's passed. My arm is 100 percent recovered, my jaw too. It's okay. I can do what I want and ride and train and be better day after day. That's the most important. I try to not look back at this nasty crash and don't think about it.
Shane, you talked a little bit about this being your home track and having that knowledge of your track. Did that help you when you were needing to make all those quick passes in sequence?
McElrath: Yeah. Really it started yesterday and carried over into today. I do have a lot of laps on this track, and when the track gets rough, I know other lines. Sometimes they're not as fast, but you can just keep the intensity up and be smooth. I felt like I did that really well today. First moto, I rushed some things quite a bit. I felt like that's where I really got stuck behind Justin Cooper. Second moto, I really just opened the track up a little more and worked on my roll speed. I think that really helped out with being able to push at the end.
We're heading up to Southwick next week. How do you feel you're going to do in the sand?
Sexton: I'm pretty excited. Last year, that was one of my best races early on. I'm excited to go back there. I train in Florida now with Ken [Roczen] and it feels good. We have a sand track ready to go. Going to put some work in this week and get ready for Southwick.
McElrath: I'm excited. The last couple years it hasn't really been that hot there, but the track definitely gets rough. I think it should be good. Like Chase said, there's quite a few of us that ride in Florida and ride on a lot of sand, so I think it should fit a lot of us just fine.
Ferrandis: Last year for me at Southwick was one of my best races with the one and two. I'm really looking forward to this race. I hope to grab my first 1-1 overall next weekend. That's the goal.