Mt. Morris, PA
High Point
Lucas Oil AMA Pro Motocross Championship
By The Numbers
47
Riders passed by Rocky Mountain ATV//MC-KTM-WPS's Blake Baggett in the two 450 motos combined at High Point. Baggett rounded the first lap in moto one 33rd (first-turn crash) and finished fifth; he was 26th after lap one in moto two (crash in second turn) and finished seventh. Baggett was the fastest qualifier in the 450 Class at High Point.
2
Top-ten moto finishes by Justin Hill in his 450 debut with Autotrader/Yoshimura Suzuki at High Point. In six 250 motos prior to High Point, Hill had zero top-ten moto finishes.
66
Laps led by Monster Energy Kawasaki's Eli Tomac through four rounds. Marvin Musquin is second with 21 laps led.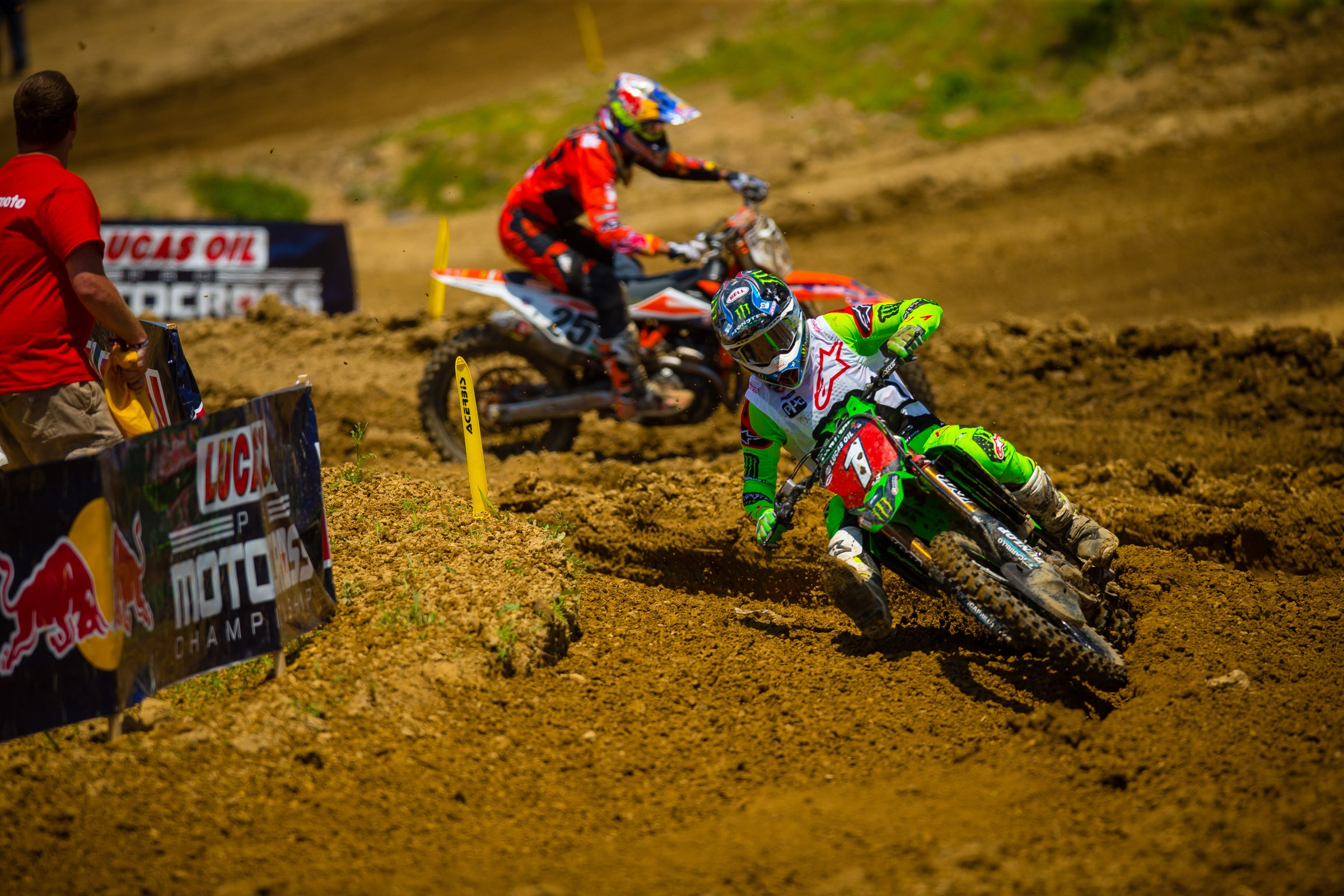 51
Laps led by Monster Energy/Yamalube/Star Racing Yamaha's Aaron Plessinger through four rounds. Zach Osborne is second with 23 laps led.
2
1-1 finishes for Aaron Plessinger through four rounds. He was perfect at both Glen Helen and High Point.
28
Points gained by Plessinger on Jeremy Martin at High Point after Martin DNF'd the second moto due to a mechanical issue. Plessinger entered High Point eight points behind; he left with a 20-point lead.
3
Moto podiums by Justin Barcia through eight motos. Barcia had zero moto podiums in 2017.
.522
Margin of victory in seconds for Darryn Durham over Wil Hahn in the 125 All Star race on Saturday.
Quotes From Around the Paddock
Jeremy Martin | 2-33 for tenth overall in 250 Class
"I felt good and I got a good gap, and honestly I was just putting it into cruise control," Martin said in a team statement. "Unfortunately, I don't know what happened—it just died. Didn't feel any symptoms developing or anything like that. It's a bummer, but there's a lot of racing left in the series. I'm just going to have to come back and dominate the rest of the rounds."
Chase Sexton | 10-38 for 16th overall in 250 Class
"High Point wasn't the best for me," Sexton said in a team statement. "Never felt quite comfortable all day and wasn't riding like myself. Moto one, got an awful start and made my way through the pack to tenth, which isn't great at all. Moto two, I told myself I was going to do everything in my power to get the holeshot, and I think I came around fourth or fifth. Much better, and for the first time the whole day I actually felt good on the bike and was in a decent flow, but about five laps in I had a bike malfunction and it ended my moto early. Nothing against the team there at all; they do everything in their power to make things right, but sometimes things just happen in racing. Hasn't been the start to the season I've been looking for, but it's time to turn it around next weekend and start pulling holeshots. It was a good feeling to be up front going into the first turn this time."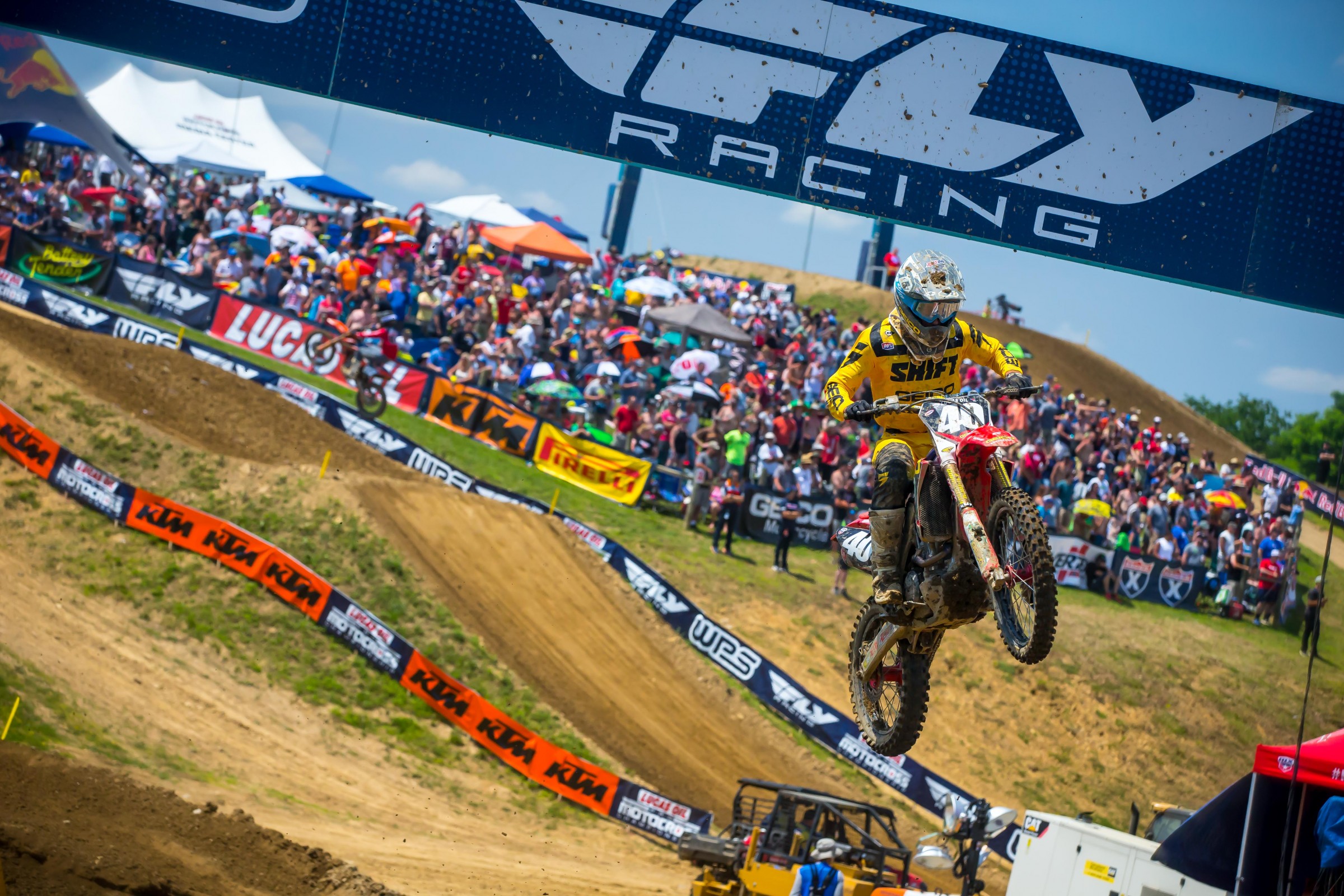 Joey Savatgy | 6-34 for 13th overall in 250 Class
"The track was really gnarly and everyone was going fast, so it was hard to make up a lot of ground when I didn't get good starts," Savatgy said in a statement. "In the second moto I was in a groove and was passing a lot of guys, but made a mistake that ended up costing me a finish. We're going to regroup this week and be back for Tennessee."
Weston Peick | 9-4 for sixth overall in 450 Class
"High Point was up and down. Practice was pretty technical and the track was muddy," Peick said in a statement. "We went into the first moto with a couple of changes to the bike, and then I was involved in a first-turn pileup. I had to come from about last to ninth place. For moto two, we made a few more adjustments and that made a big difference. I also got off to a better start and was able to work from up front. I'm looking forward to next weekend."
Cool little story on Ken Roczen's mechanic Oscar Wirdeman from the Honda HR press release following High Point:
"It was a long race day for Roczen's mechanic, Oscar Wirdeman, as he traveled from California to Pennsylvania on a Friday-night flight, arriving at the High Point track minutes before the day's first qualifying practice. 'We sacrifice a lot for this job in terms of missing out on some things with our families, but it was important to me that I got to spend time with my daughter at her kindergarten graduation and dance recital,' Wirdeman explained. 'Luckily, I found a red-eye flight that would get me to the race in time, and Rich [Simmons] was open to coming in early and filling in for me on Friday. Now that the day's over, I could really use some sleep!'"
Injury Report
Garrett Marchbanks
The rookie visited doctors yesterday to have his knee evaluated after a crash in the first 250 moto on Saturday, according to the Monster Energy/Pro Circuit Kawasaki team. Marchbanks was running inside the top ten with two laps to go when said he got cross-rutted in the rollers and went down hard. He moved to the side of the track and was holding his left knee. He did not race the second moto.
"I'm hopeful that it's not as bad as it first felt, but we'll have to wait and see what the doctors say this week," Marchbanks said in a team statement.
We'll provide an update on his status when more information is known.
Enzo Lopes
The Autotrader/Yoshimura Suzuki rookie sustained a broken collarbone in a crash in the second 250 moto. "It was the craziest track I've ever ridden in my entire life," Lopes said in a team statement. "The ruts were deep and didn't seem to end. I had a good start and was running third, but I got tight and went back to 11th. I had a crash, and then I crashed again and got my leg stuck under my bike. I had a decent start in the second moto, but I fell while going down one of the hills and had to stop. It turns out that I broke my collarbone, which is a heartbreak." There is currently no timetable on a return.
Kyle Chisholm
Chisholm wrote on Twitter that he had a "small crash and my leg got stuck in a rut, and I fell and tweaked my knee" in qualifying. He said the doctors at the track said it felt okay to them, but that he'd visit doctors on Monday. He was walking around on crutches during the day. We'll provide more information once it's known.
Welcome Back
High Point saw a number or riders return from injury, and the 2018 Lucas Oil Pro Motocross debuts of Luke Renzland and Nick Gaines of the Traders Racing Yamaha team and Heath Harrison with Phoenix Racing.
Dylan Ferrandis
In his first race since Atlanta Supercross, Ferrandis was excellent in his return. He pushed Austin Forkner all the way to the checkers in the second moto in a battle for second and finished fourth overall on the day. "I thought fourth overall was a good finish for his first MX race of the season. He hasn't raced MX since Budds Creek last season, where he broke his navicular. He also hasn't raced since the third East Coast SX race in Atlanta, where he broke his arm, jaw, and teeth. It goes without saying that he's lacking in the racing department. That's something difficult to work on during the week," his coach David Vuillemin wrote for PulpMX.com.
Mitchell Harrison
Harrison made his return after missing the first three rounds due to a shoulder injury. The Rockstar Energy Husqvarna rider went 14-14 for 15th overall. "It was an interesting day for me," Harrison said in a team statement. "I felt off-pace. I got a good start in the first moto but faded, then didn't get the best start in the second moto but rode strong. I have some work to do, and this was a rough track to come back to. I'm going to keep working and will step it up."
Luke Renzland
The Traders Racing Yamaha team isn't doing the entire Lucas Oil Pro Motocross Championship, so this was Renzland's first race of the year. He was solid and finished just outside the top ten with an 11th in moto two. Combined with a 17th in moto one, he finished 14th overall in the 250 class.
Cameron McAdoo
GEICO Honda got Cameron McAdoo back after he missed the first three races with a shoulder injury. In the first moto, something happened with his front wheel, which caused a DNF. He bounced back to take 13th in moto two and finished 17th overall. "It was good to finally be back at the races!" said McAdoo. "Moto one, we had some unfortunate issues and weren't able to finish the moto, and I ended up 13th moto two. I'm glad to get that first one out of the way so now we know what to work on, and can start building back to where I know I belong."
Nick Gaines
Gaines was also back with Traders Racing Yamaha and made his 450 debut. He went 12-19 for 13th overall.
Heath Harrison
Harrison made his 2018 debut with a new team based out of Charlotte, North Carolina, called Phoenix Racing. Harrison didn't have a great day, though, going 39-22 for 31st overall. Probably a few fantasy owners not happy right about now.
Rookie Debuts
Brock Papi
Papi, a native of Pennsylvania, made his pro debut in the 450 Class at his hometown race. He went 35-23 for 29th overall.
Carson Brown
Washington native Carson Brown is also a member of the Phoenix Racing team and made his Pro Motocross debut at High Point in the 250 Class. He finished 19th in the second moto to secure his first career points. He finished 23rd overall.
Video of the Week
This is how you celebrate a 125 win!