Lakewood, CO
Thunder Valley
Lucas Oil AMA Pro Motocross Championship
Over the course of a long race day in Lucas Oil Pro Motocross, some stories get washed away. While Jeremy Martin and Eli Tomac were loading the big trophies—and red plates—for the short plane ride back to Cortez, Colorado, other riders were lamenting over what could have been.
Justin Barcia saw a first-moto lead evaporate with a red flag and restart, then crashed the lead away in the second moto. He finished sixth overall. But no one was madder leaving Colorado than Joey Savatgy. This race was exactly what he and his Monster Energy/Pro Circuit Kawasaki team needed—until it wasn't.
Know this: Savatgy is lightning-quick at Thunder Valley. He won the race in 2016 and 2017, and he told me on press day that that's no coincidence. Savatgy feels the track plays into two of his strengths. First, he's a momentum rider, trying to flow through turns instead of going start/start and point-and-shoot through the corners. With Thunder Valley's altitude sapping power, momentum is critical. Second, Joey works tirelessly on riding precise, and Thunder Valley is usually mega-rutted. This requires perfect wheel placement on every corner and every straight. Precision and momentum. Joey explained this to me numerous times over the course of the weekend.
This year's track wasn't ripped as deep as 2017, and Joey told us after the first practice that he was worried the track wouldn't rut up as much and he would lose some of his advantage. It formed up well enough for the second practice, though, because he logged the fastest overall qualifying time.
With the first gate pick, Joey and mechanic Justin Shantie chose the extreme inside gate for moto one. He didn't get the best jump, but slick moves in the first few corners put him into second place. He stalked race leader Justin Cooper, waited for the right moment, and made the pass. With two laps to go, Savatgy's first moto victory of the season was on lock. He and Cooper had a gigantic lead on everyone else, too. Savatgy was clearly the man to beat again Thunder Valley.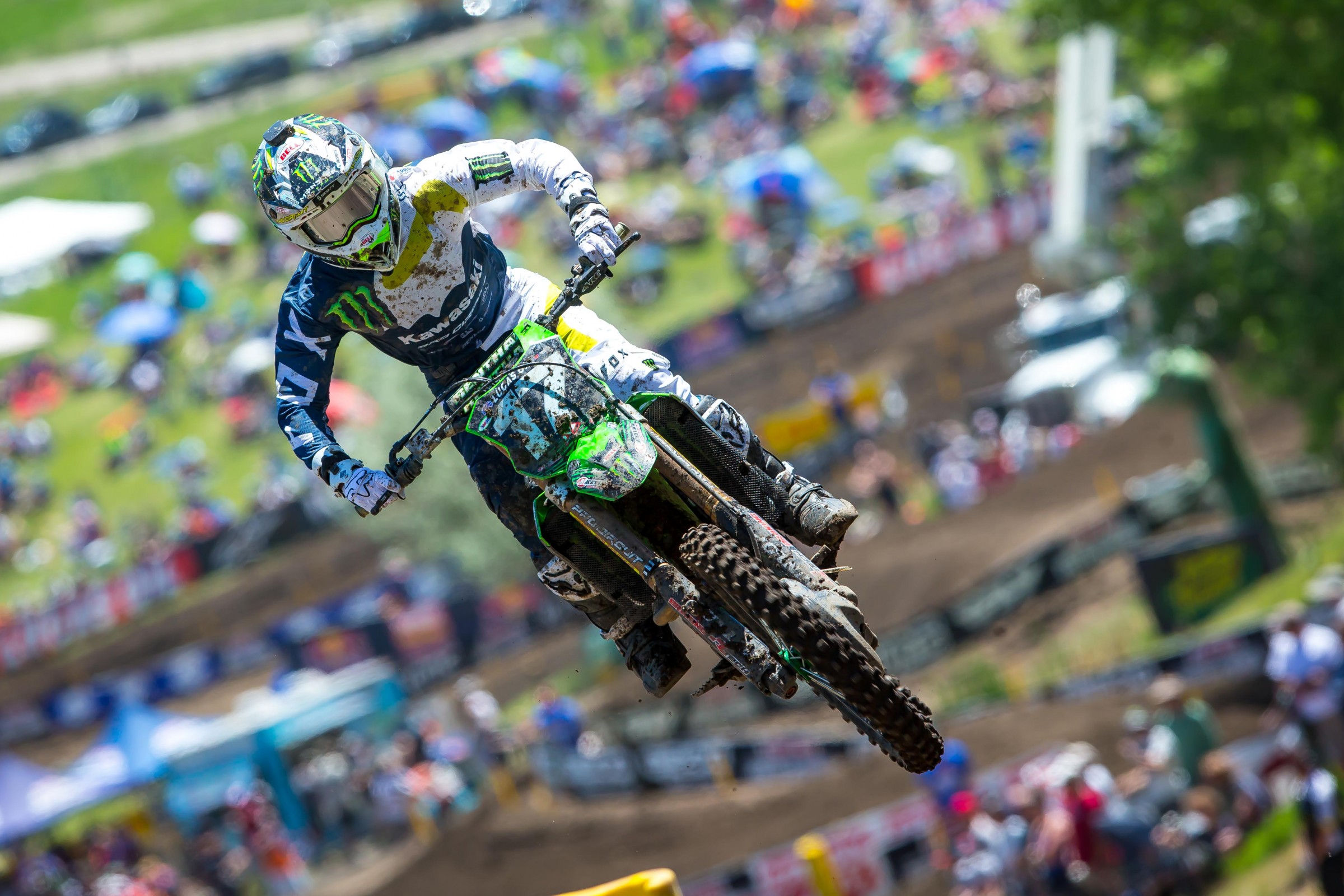 Then his bike broke.
Joey pulled off beside the track, beside himself with emotions. His golden opportunity to reestablish himself as a frontrunner was gone.
It hasn't been quite the usual season from Savatgy. He won just one supercross race and fell out of title contention down the stretch. Outdoors, he started the year with 6-10-6-4 moto scores. Not bad, but not up to his and his team's usual standards. In fact, even last year, when he entered the nationals suffering PTSD after the crazy Zach Osborne/Las Vegas Supercross clash-and-crash, he went 7-7-2 in the first three motos of the year (and was headed to another seventh in the fourth moto of 2017 until he suffered a mechanical problem). Joey told me on Saturday that the team made bike changes before Glen Helen. To improve for Colorado, it was on him.
He was about to do it until his bike broke. This left him with a terrible gate pick for moto two. Thunder Valley's 180-degree right doesn't jive with outside gates at all—note that when Savatgy had the first pick in moto one, he picked the very inside gate. Now he was way wide, but he got an incredible drive up the hill and went for the big sweep around the outside. It almost worked, but Zach Osborne, Gage Scherer, and others got tagged and stood up from the inside. They careened into Joey, who was going Mach 5 on the outside, and all of them went flying in a huge crash.
Joey picked himself up and finished the moto in 12th. DNF-12 scores on a day where he was fast enough to go 1-1. Let's further twist the knife here and imagine the impact this could have on the standings. He's now a whopping 61 points away from points leader Jeremy Martin. Give him a 1-1 at Colorado and he's down 14 (add up Joey's lost points and subtract those that Martin gained by rolling past his broken bike in moto one).
Whatever. You can play what-if games on numbers forever. The real damage is not in the standings, but in Joey's psyche.
"It was an up-and-down day, to say the least," Savatgy said in a Kawasaki post-race PR. "We had a lot of good speed, which is encouraging when you look to the rounds ahead, but we really should have at least been on the overall podium today. It's racing and everyone has their bad luck at some point. Mine came today. I'm just hoping we can put this in the past and start putting the team on top of the box."
Hoping he can put it in the past. Exactly. He was ready to leave the track with the feeling that he was back on top. Instead, he had to leave feeling more down than before.