San Bernardino, CA
Glen Helen
Lucas Oil AMA Pro Motocross Championship
As an amateur, a rider's dream usually falls somewhere along the lines of putting in solid results and earning a factory-level ride in the pro ranks. That dream can be short-lived, though. Fail to perform once you've landed that factory ride and you're a brand-new resident of Privateer Island. Case in point: Chris Alldredge.
Alldredge's stint with Mitch Payton's Pro Circuit 250 team didn't exactly go according to anyone's plans, he struggled a bit after that, and eventually he was left without a ride. What does a rider do when things go sideways? In this case, you get a real job, buy a 250 two-stroke, go racing, and enjoy a newfound love for the fun that racing a dirt bike can bring. He's also going very fast! Alldredge spent much of Glen Helen's second moto inside the top ten until a flat tire ruined his result. That's amazing when pitted up against 450 four-strokes.
We decided to catch up with the former factory rider to see what life is like for him on the other side of the fence.
(Note: This interview was conducted via iMessage and has been lightly edited for clarity.)
Racer X: Hey, Chris. How's your day been?
Chris Alldredge: My day is good. Just finished up a 12-hour workday.
That sounds strenuous. What do you do for work?
I'm mostly a painter, but my job consists of a lot of things. I'm basically an all-around-the-shop guy. For the time being, though, I am a painter.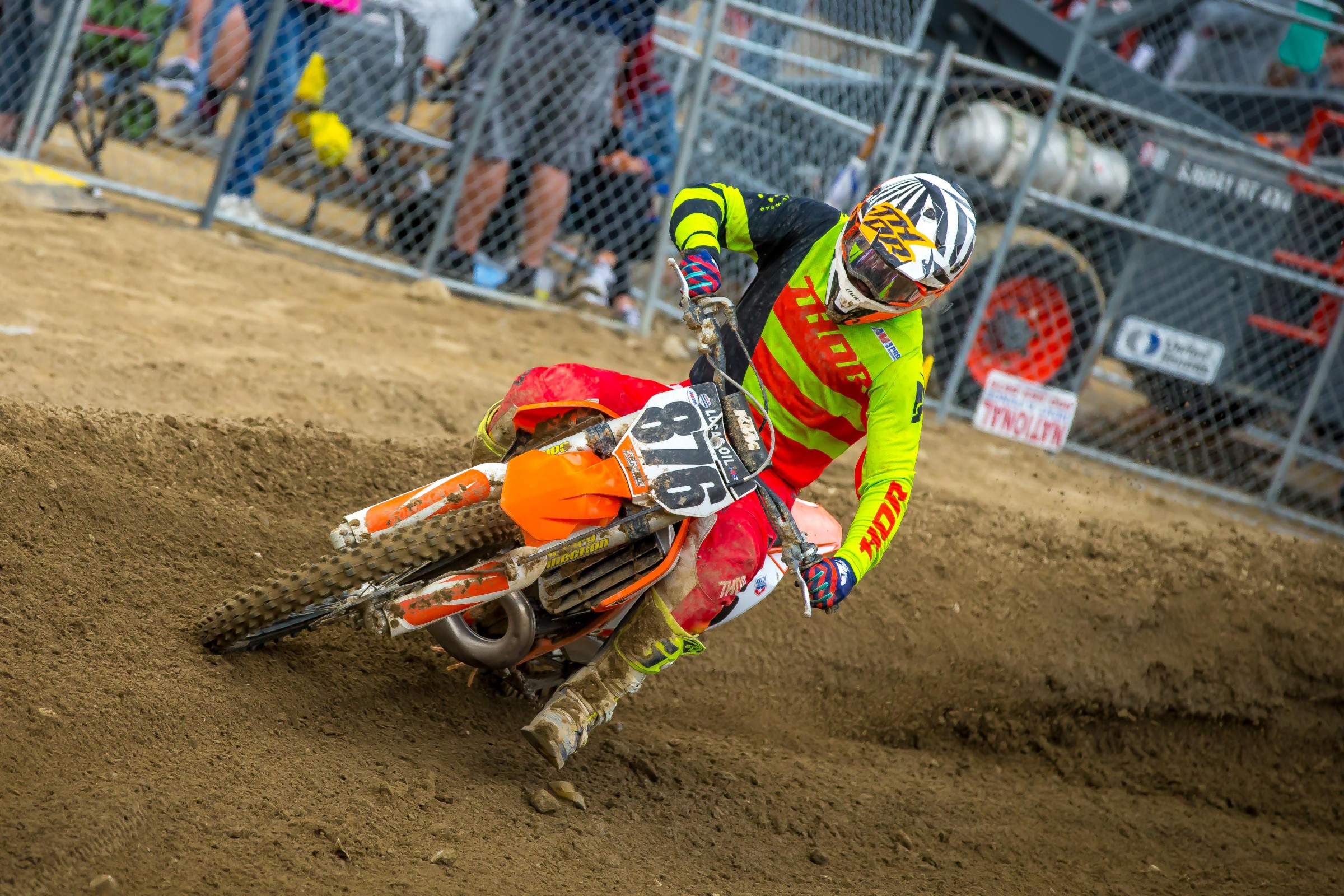 Twelve hours a day? When do you find time to ride during the week?
I don't ride during the week [laughs]. I work from 6 a.m.-6 p.m., then try to work on my bike or do the necessary things. Or I try to find more work for more money.
Speaking of dirt bikes, let's talk about Glen Helen—not a bad day, huh? Walk me through it a little bit.
Not a bad day at all. Well, I was excited when I showed up and it was raining. I knew the track was going to be awesome! I struggled the first practice (31st), but that was mostly because the hills were muddy. Once it dried out, I felt really good. Qualified 21st, so not too bad for a deep loamy track. I finally have the bike figured out a bit more (second day on the suspension), so I was more comfortable. I started out both motos with a last-place start, but made quick passes early and tried to get in the hunt. Ran 15th-16th for most of the first race before I tipped over and ended up 18th. I was super excited to get some points! Then the second moto, I think I got a little lucky on the first lap and found myself up there. I actually didn't know what place I was in until after the race. I don't have a mechanic, so [no] pit board. Unfortunately, I got a flat tire and that put me out. But I'm happy and I had a ton of fun, so no complaints here.
What made you choose the 250 two-stroke for this year? Maintenance and that sort of thing, or just because they're really fun to ride?
Both. I can actually afford to race one [laughs]. And because they're fun. Plus, I like the challenge. It's much harder out there being underpowered, but that's what makes it fun.
Quite the difference from when you rode a Pro Circuit bike. How's that transition been—from a factory guy to now doing it on your own?
At first, it sucked knowing that I failed to do anything with my career. But I went out, got a job, started enjoying life in other ways, and then realized how much I took for granted. So I bought a bike, raced it once, and remembered how much love I have for this sport—how much I love racing, the battle, the heat, the adrenaline, the butterflies, just all of it. So now I have a much better outlook on racing. It was a learning curve, but you learn more from failing than you do from succeeding.
With a different outlook, does racing feel more fun and less like a job than before, when it was your job? There's no pressure to perform, right?
Absolutely. No pressure, just riding my dirt bike and loving the time with the fans and my friends. Couldn't ask for anything more!
Aside from racing and working, what's your life like as a working man?
Pretty straightforward, man. Go to work, then do the adult things and try to find time to tinker on my toys. I got snowmobiling during the winter, and snowboarding. Then during the summer, I ride stand up jet skis and wake surf. Always active doing something.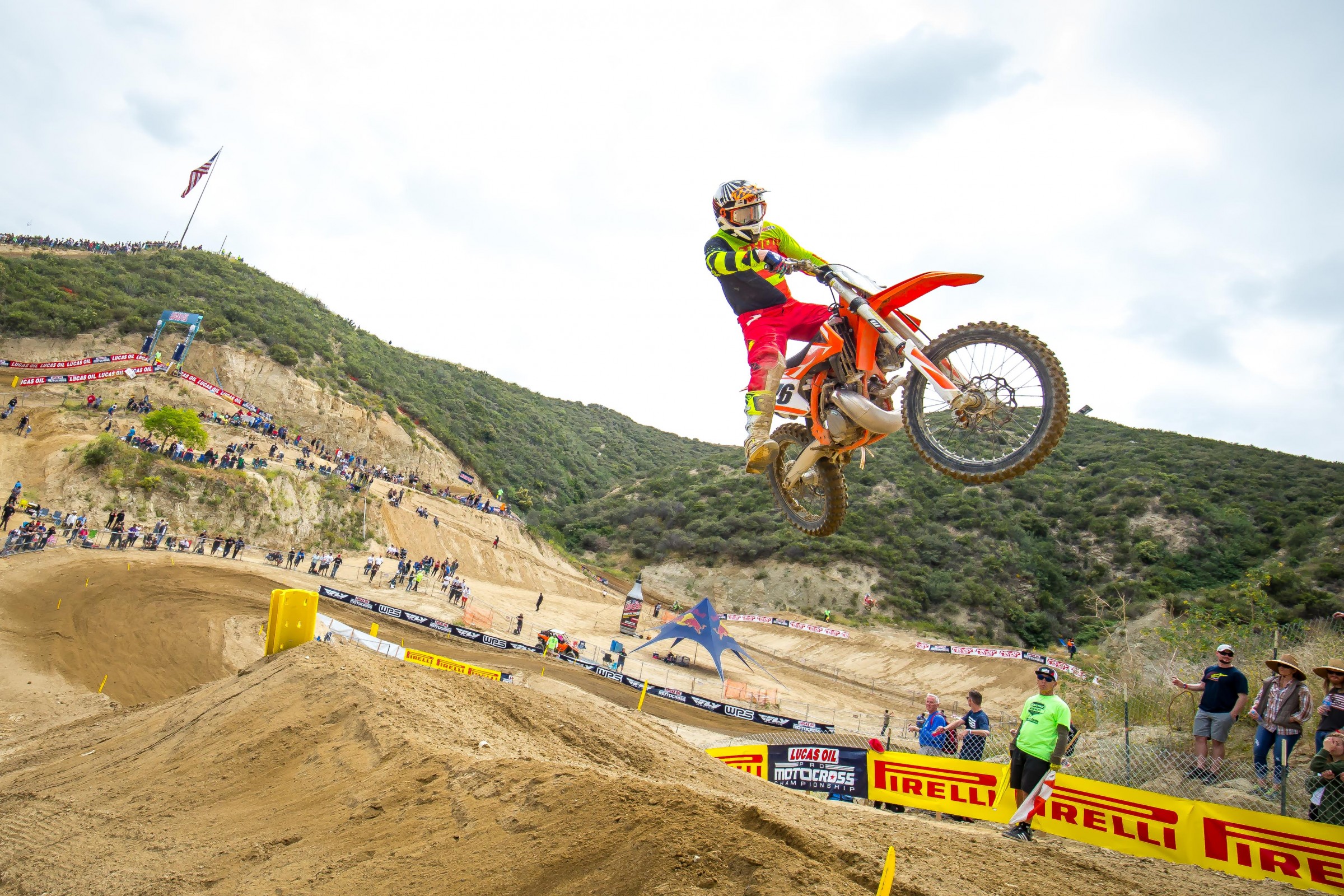 Sounds like you've adapted well to "normal" life. Will we see you at more Nationals this summer?
Yes sir. I have Colorado, Southwick, Redbud, Washougal, and Unadilla penciled in!
Have to make those two-stroke fans happy!
I'm trying to make them happy [laughs].
There are a lot of rookies coming up right now. What advice would you give to the young guys?
Work as hard as you can for as long as you can. Enjoy every part of the process. And never give up. You never know when it could all be gone.
Any supporters you'd like to thank before we let you go?
Andy at Thor and Dax at Goldentyre. Both of them have helped me have a good setup at the races. Thank you!