Rancho Cordova, CA
Hangtown
Lucas Oil AMA Pro Motocross Championship
When a rider finds himself without a ride, he is faced with two options: 1.) stay home, sulk, and wonder why there's not a spot for him under a team's awning, or 2.) put something together and go racing. Bradley Taft decided to choose option number two.
The former CycleTrader.com/Rock River Yamaha rider made the decision just a few days before the 2018 Lucas Oil Pro Motocross Championship season opener at Hangtown to purchase a bike and make the best of it. Preparation and having a plan is generally a key factor to success in this sport, but sometimes shooting from the hip can pay off—this is one of those times.
When it was all said and done, Taft would go 11-10 for tenth overall in the 450 Class. Intrigued to learn more about his privateer effort, we decided to chat with Bradley about his day.
(Note: This interview was conducted via iMessage and has been lightly edited for clarity.)
Racer X: Hey, Bradley. First of all, congrats on the top ten at Hangtown. It was a pretty good day, huh?
Bradley Taft: Yeah, it was awesome. Due to the circumstances and how last-minute it was, I was very happy with how the day went.
Can you tell me a little bit about that last-minute process? It had to be stressful.
Oh, it was very stressful [laughs]. But yeah, I talked with my trainer Gareth Swanepoel Tuesday morning and we both decided I needed to get out there and race. So that day I went and bought a bike and rode it Wednesday and Thursday completely stock. Nothing was done. Stock bars, grips, etc. Then headed up to Hangtown and put some bars, graphics, pipe, and an ECU and called it good.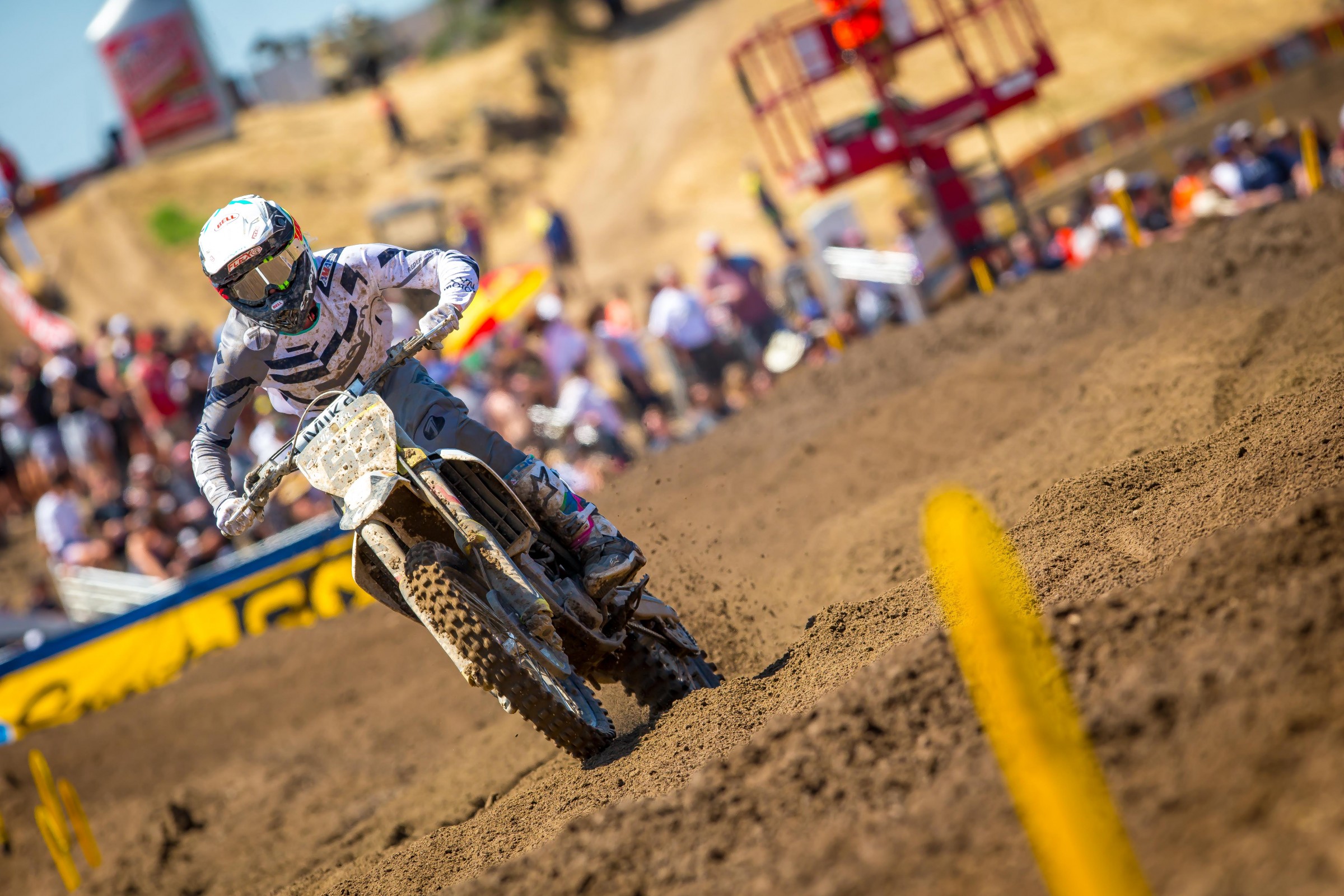 Bare-bones, but going for it anyway. It seems to have worked out pretty well, though.
Yeah, it definitely worked out. The Husqvarna is really good straight off the showroom floor, so that helped.
What was the deciding factor to get a bike and go race? You could have easily stayed home and chilled all summer.
Figured there's some open spots at teams, so I needed to get out there and show them what I can do and hopefully land a fill-in somewhere
Any interest yet from anyone? Or let's back it up at Glen Helen and then see what happens?
I haven't gotten any calls or heard anything yet. So yeah, the goal is to just go do better this weekend than I did last and give them a reason to give me a shot on their team.
Is there more self-induced pressure this week now that you did so well at Hangtown? Instead of "stock bike, minimal help, let's see how this goes," is the mindset now sort of "I'm a top-ten guy, time to perform?"
I mean, there's always self-induced pressure for me. I know my abilities on a bike. I know where I should and shouldn't be, so it's not much different this weekend. Just go out and execute better than I did last weekend. I'm obviously happy with how last weekend went, but I still know I had more.
Can we talk a little about your old team? You guys parted ways; just not a good fit?
Yeah, I had a supercross-only deal with the option to do outdoors. I just wanted a change. Try something new. I have nothing bad to say about them, though. They were awesome. Everyone over there was great and helped out so much, and I'm really thankful for the opportunity they gave me. I wouldn't be where I am today without them. I just didn't know if it was the right place for me.
Was there anything particular that made you go with the Husqvarna?
No, not really. I've been riding Yamahas for the last four years, so just felt like I needed a change. A fresh start, I guess you could say. I heard a lot of good things about the Husqvarnas, so that's what I went with.
You rode a Husqvarna (two-stroke) briefly as an amateur though, right? I feel like I remember seeing you at a local race on one once.
Yes! I rode a Husqvarna 125 in 2012, I think. The local shop I rode for at the time [Donnells Motorcyles] gave me one to ride and I tried to make Loretta's on it that year, but came up just short.
Getting back to Hangtown, the day went well, but what would you improve on? Anything you wish you would have done differently during the motos?
Yeah, I wish I would have just charged a little more at the beginning of the motos. I let those front guys get way too far away at the beginning of the races. And, of course, the second moto start. It was horrible.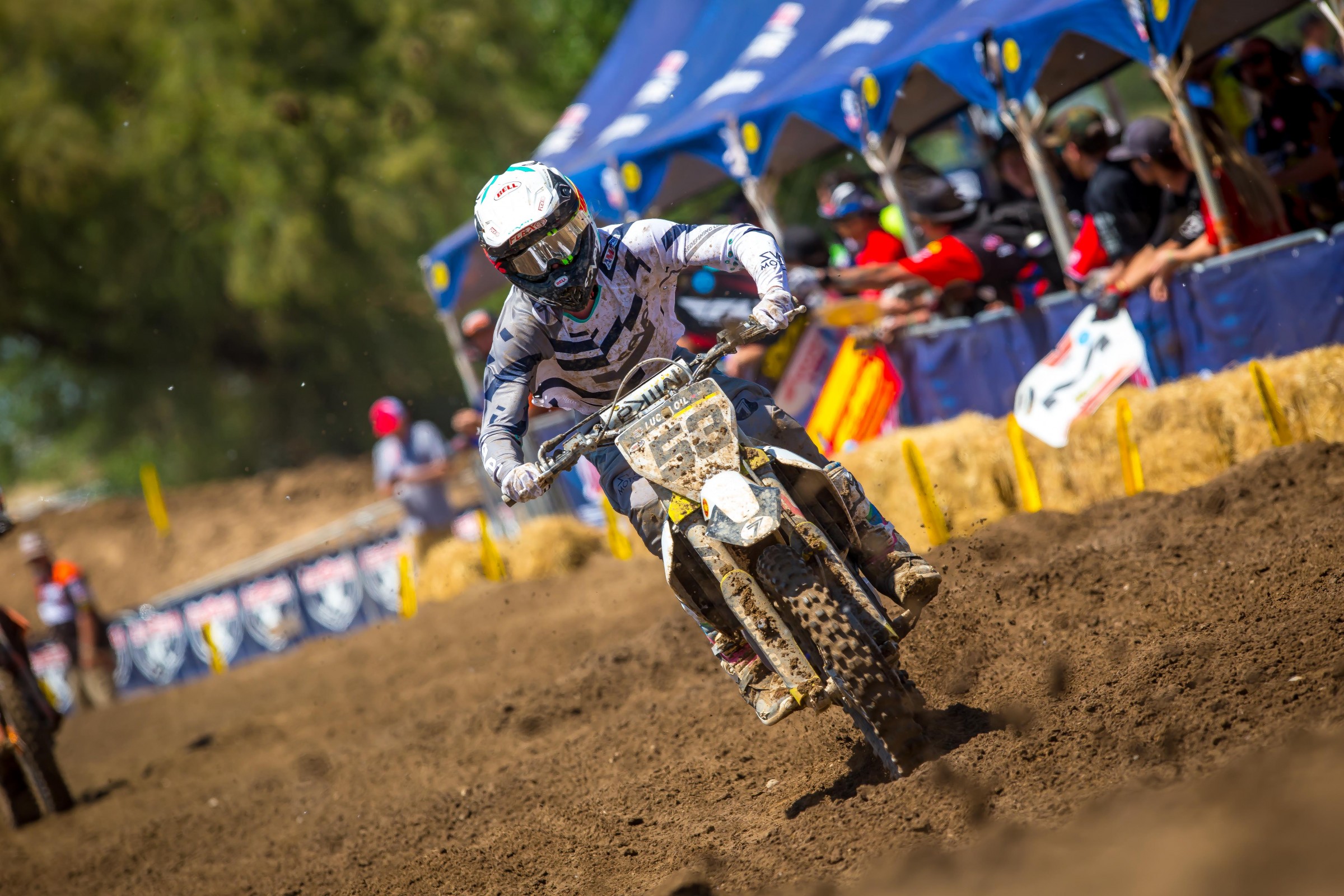 Maybe a few extra practice starts this week?
[Laughs] Yeah, definitely. I did some today and they were much better.
Be careful though, bro—you don't have an extra bike. Save the clutch!
Yeah, this is true [laughs].
So the plan for Glen Helen is, better starts and charge more, right? Anything else?
Yes, better starts and just try and run up front with those guys.
Awesome. Okay, man. Anyone you want to say thanks to before we wrap this up?
Yes. I'd like to thank Seven MX, Bell, 100%, Ethika, Alpinestars, Mika Metals, DT1 Filters, Twisted Development, FMF, Dunlop, Damon Conkright, my whole family, Motocutz MX, CTi, Andy Jefferson, and my trainers Gareth Swanepoel and Seth Rarrick. Also, everyone I forgot, thank you. Couldn't do it without you guys!