Rancho Cordova, CA
Hangtown
AMA Pro Motocross Championship
THE GREAT OUTDOORS ARE HERE! Round one of the Lucas Oil Pro Motocross Championship took place this past weekend at Hangtown, which was celebrating its 50th years having a race. The opening rounds of the Nationals are always a shock to the system after 17 rounds of Monster Energy Supercross. The bikes are wide-open, the dirt is flying, and motocross is a man's sport—no doubt about that.
Let's start with the track. It wasn't disked as deep as usual and therefore got a bit harder than what the racers were used to seeing. One change that was made, apparently at the team managers' request, was that the huge Fly 150 tabletop thing was taken out. And that's a good thing, in my opinion. Barely anyone jumped it last year, and it's outdoor motocross—no one needs to have these huge jumps that the tracks seem to be installing each year. Someone could get really hurt at the end of a 30-minute moto with the sun going down, braking bumps coming up, bikes being pushed to the limit, etc. Instead of a huge jump, the crew put in a section of uphill whoops, and it was a sweet section to watch. And I even heard, although I didn't see them, that there were wash bays for the riders somewhere in the pits. I was trying to go see them when I stepped in a massive puddle by a factory team, so that distracted me. Not everything can be so awesome in one day, right?
There weren't a lot of surprises at Hangtown. We figured Zach Osborne and Jeremy Martin as the favorites for the 250 title, and they went 1-2. Eli Tomac and Marvin Musquin were the favorites for the 450 crown, and they went 1-2. Jason Anderson was a bit of a smaller title pick, and he finished fourth overall. We all figured Ken Roczen would struggle a bit in his first race back, and he did.
In our preseason pod, I predicted that one of the Osborne, J-Mart, Plessinger, Savatgy, Forkner, or A-Mart crew could win this 250 title, and I still think that. No one changed my mind at all. Savatgy and Forkner had poor races, but they're past winners and it's always dangerous to make judgements after round one. I mean, Ryan Dungey struggled at this race once and later won the title; Savatgy looked unbeatable at Hangtown one year and lost the title; Eli Tomac won his first pro race and then struggled the following week, and so on. Things start to normalize at Thunder Valley (Glen Helen is too much of a locals-only deal), so we'll start to see some trends by then.
Let's take a look at the results, shall we?
250 Class Results
1st | Zach Osborne | Abingdon, VA | 1–1
Just like last year, Wacko started off with a 1-1 on the season. He looked every bit as good as last year in ripping to the front from around fifth. Actually, if you're his competition, it was scary the way he did it. No balls-out, out-of-control riding over here, just precise aggressiveness from a rider in ultra-great shape. His ability to pivot and set his front wheel where he needs it go (i.e., over a braking bump) at a high rate of speed is amazing. Until proven otherwise, the 2018 250 title goes through Osborne.
2nd | Jeremy Martin | Millville, MN | 2–2
J-Mart's off to a good start, although if you're him, I'm sure you're not stoked on your main title rival passing you and beating you both motos. But he kept Osborne close in the second moto and certainly looked more than ready to get another championship. Martin credits the new bike a lot when you talk to him about his recent SX success.
3rd | Aaron Plessinger | Hamilton, OH | 3–4
Plessinger's not a West Coast guy, so getting through the first couple of rounds is going to be key. Then if we have a mudder, forget about it. His first moto was very good in coming up from the back. The second moto, he was actually leading before dropping back, then late in the moto, he was hauling ass again. I think Plessinger has an outside shot at this title. Watch out if he can figure out the moto-to-moto consistency.
4th | Alex Martin | Millville, MN | 7–3
All aboard the Troll Train! Alex made his return to racing a good one with a fourth overall and a podium in moto two, where his brother wasn't very far in front of him. Martin's a tad underrated as a rider in my opinion, and he'll show it this summer. He was second in the points last year late before he got hurt. The one thing with Alex is he's start-dependent; he doesn't have the speed of, say, Plessinger to rip through the pack. Luckily, he's good at starts.
5th | Justin Cooper | Cold Spring Harbor, NY | 5–9
Well, look at this! Years from now, a 5-9 isn't anything to freak out about, but Cooper led four laps in the first moto and looked good doing it. Remember, this is only his fourth National. According to Seth Rarick, who knows him well, Cooper's going to win some motos this year. And hey, why not? Hangtown was good.
6th | Chase Sexton | La Moille, IL | 11–5
Wasn't sure what happened to Sexton in the first moto; he just kind of stayed where he was early on. There was no moving up, which is surprising because everyone talks about how he's in amazing shape. Second moto was good, though, and more in line with what I think "we" all think he can do.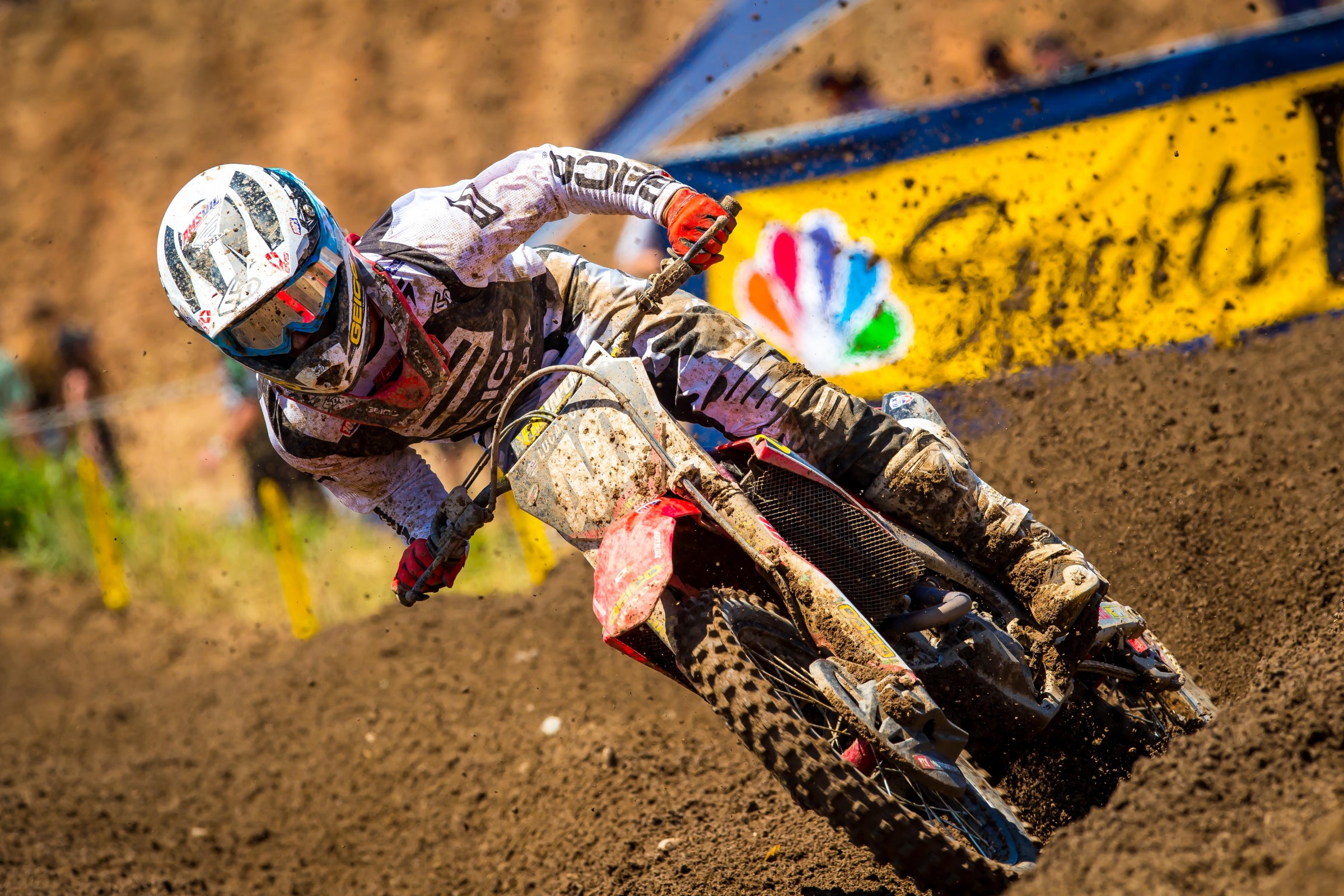 7th | Jordon Smith | Belmont, NC | 8–8
Good start to the season for Smith, who seemed to be in battles with his teammates all day long.
8th | Joey Savatgy | Thomasville, GA | 6–10
A puzzling day for Joey Savatgy on a track that he's ridden well at before continues a puzzling season for Joey Savatgy.
9th | RJ Hampshire | Hudson, FL | 10–7
This was Hampshire's first motocross race since he won the MX2 Class in Florida with a couple of great motos. He rode well at Hangtown, but he didn't really move up much after his starts. I'd love to see Hampshire stay away from injuries and just be able to build some momentum.
10th | Garrett Marchbanks | Coalville, UT | 12–6
The rookie was good! As always, we see the kids making their debuts at Hangtown finishing well. Garrett was inside the top ten in the first moto before falling. Without that, he could've been even better. The people I speak to about Marchbanks all say he's not a great starter, but he's in shape and never gives up.
11th | Shane McElrath | Canton, NC | 9-14
Shane went down in the first turn of moto two and was dead, dead, dead last. So, to me, a 14th was pretty good, right? I mean, that's a lot of work, right? I mean, it wasn't easy to pass on a track that had lines that were probably unusable at that point, right?
12th | Austin Forkner | Richards, MO | 4–39
Forkner had a very good first moto, but second moto, said his holeshot device popped up right out of the gate and put some ribs out of place. Huh? I've never heard of that one before, but that sucks, bro.
13th | Michael Mosiman | Sebastopol, CA | 15–11
Michael went 15-18 last year at Hangtown in his first career National, so this was an improvement. I'm still waiting for Mosiman to have that break-out ride like we saw from Justin Cooper this weekend. Something to show us some raw speed.
14th | Brandon Hartranft | Brick, NJ | 14–12
Good job for Hartranft, who has some factory-level support teams sniffing around for him next year. And he deserves it.
15th | Enzo Lopes | Brazil | 13–15
The rookie kid did pretty well in his first National, right? He's the fill-in for Jimmy Decotis at JGR, and it sounds like Jimmy D wants to be back by Southwick, so the question is, if Lopes keeps this up, does JGR put three bikes on the track when Decotis comes back? I bet they do. His endurance seemed pretty good, also.
16th | Justin Hill | Yoncalla, OR | 16–13
Hill rode well in the second moto to hunt down his rookie teammate Lopes late. We've seen Hill put in some great rides outdoors; I just think he's got to be committed to do it. He's too talented to get 16th each week. It'll be interesting to see if he can get up there close to the top five.
17th | Sean Cantrell | Murrieta, CA | 17–16
Gotta be a bit disappointing for Sean to get these finishes. Not sure what happened, but he's better than this.
18th | Dakota Alix | Jay, VT | 18–17
I never really noticed Dakota much out there, which is odd. He's usually a great starter, but didn't get them at Hangtown. Last year Alix was very solid on the 450, but now he's in the deep end of competitiveness in the 250s.
19th | Jordan Bailey | Orlando, FL | 19–19
Didn't have the flash of a Marchbanks, but according to some people I talked to, he didn't have the same expectations as Garrett, either. So to start and get two motos in the top 20 is not too bad.
20th | Gustavo De Souza | Brazil | 22–18
I don't get it. We have Jean Carlos Ramos from Brazil racing over here and now De Souza, who's scoring points. Yet when I look at Team Brazil at the Motocross of Nations, neither guy is on the team! Who's picking the riders, Mr. Magoo? MAKE BRAZIL GREAT AGAIN!
450 Class Results
1st | Eli Tomac | Cortez, CO | 1–1
Another Hangtown win for Tomac, who must love Sacramento. He's won there four times in total, and three out of the last four. After he fell in the second moto, he turned into the Incredible Hulk on his green machine, and his competition wasn't going to like him when he's angry. Man, was he good! Aggressive in the turns, he just grabs handfuls of throttle everywhere and hangs on. The only negative for his day was his starts, and remember, he's not on grates anymore (which improved his starts in SX). I'm guessing on the grate, he can just pin it and get traction while outdoors, he probably ends up digging a trench for a split second. Yeah, he's the favorite for this title, just like he's been the favorite in every title chase since the beginning of last year.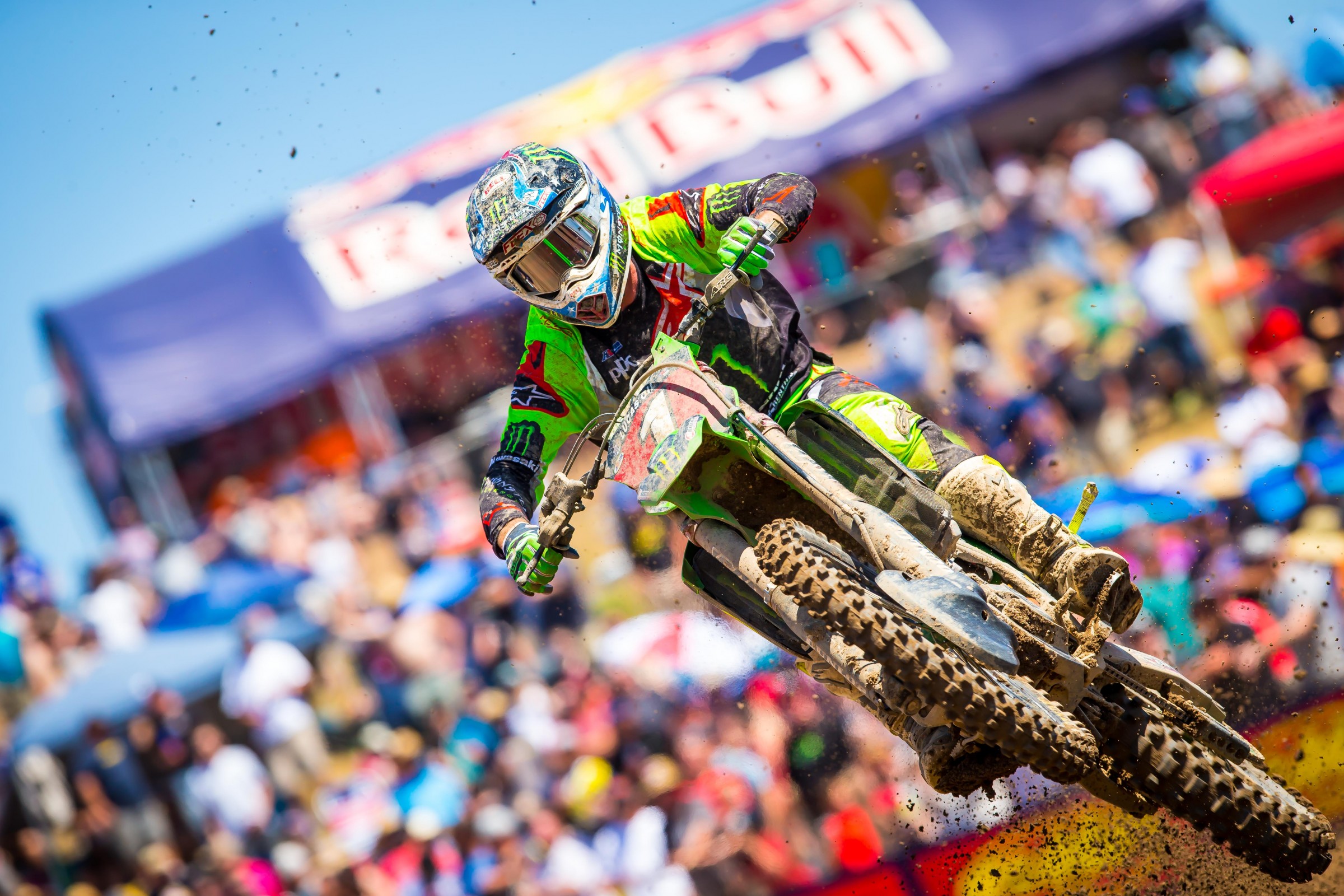 2nd | Marvin Musquin | La Reole, France | 2–2
Marv was really good, and I thought that he was going to go 2-1 for the overall, as he was very aggressive early in the second moto and actually pulled away from Tomac as they were coming through the pack. But then Tomac decided to turn into Jesus on a Kawasaki and rip off some low lap times. Musquin was powerless to stop this and took the 2-2. I know last year Marv hurt his knee and had a bike problem, but that's so rare for him. Can't you just see him being top three in, like, every moto?
3rd | Justin Barcia | Monroe, NY | 3–3
Good start to the series for Barcia, as he was clearly the third-best guy at Hangtown. I always thought Barcia was a better outdoor guy than indoor guy, although his win record would suggest not. Maybe it's his style? Anyway, he is in the same boat as a lot of guys in that his contract is up at the end of the year, and I'm sure he wants to get back to being paid well like he was before. I asked Barcia after the race if his third made him happy or he was a bit bummed to be beaten by 30 seconds, and he said, "For sure, that's not cool. I definitely want to be up there."
4th | Jason Anderson | Edgewood, NM | 4–6
Anderson's day wasn't ideal, but it's dangerous to put a ton of stock in the first round of outdoors. He came off his first 450SX title and I'm sure wasn't 100 percent focused on the Nationals. To me, Anderson's got a decision to make here: Does he want to be one of the all-time greats like Ryan Dungey and Ryan Villopoto and win races indoors AND out, or does he want to just be a SX guy? My inclination was he'd rather sit on a SX title and sleepwalk through the Nationals, but then he said he'd love to be on the MXoN team this year, that made me think he'd be all-in for the Nationals. To go from the lead with about 13 minutes left to a sixth isn't ideal, but as I said, it's just one round. I'm fascinated to see what direction the #21 goes from here.
5th | Blake Baggett | Grand Terrace, CA | 7–4
Baggett wasn't what "we" thought he would be. He indicated after the race that he wasn't happy with his bike setup—it is a new bike, after all. We heard this last year, also, but then Baggett got his bike dialed in and won races, so maybe we'll see the same thing happen again. I wonder why a guy like Musquin can seemingly not have bike setup issues (on the same bike) and Blake does. Like, you'd think everyone would share notes, right? Or maybe Blake just isn't as good as Musquin in testing? I don't know for sure, but I do know Baggett will be better.
6th | Weston Peick | Wildomar, CA | 5–7
Couple of good motos for Peick, who told us on social media that he's dealing with a hand injury, which isn't good for motocross. He's also as grouchy as ever, by the way, if you're by the JGR semi. Or maybe that's just with me?
7th | Benny Bloss | Oak Grove, MO | 10–5
Bloss was VERY good. Like, REALLY good. He came from pretty much last in moto one and then followed his teammate Baggett up from just outside the top ten to that fifth in moto two. I'm excited to see if this is the standard we're going to see from Benji this year, and with the class not being as, ahem, deep, Bloss could be the guy this summer who makes a huge name for himself. You don't get lucky and do what he did in two motos at Hangtown.
8th | Christian Craig | Hemet, CA | 8–8
Craig holeshot the first moto of the year and led a lap before falling. Moto two, he didn't get anywhere near that kind of start and still finished in the same spot. So that's the good news. I'd look for Christian to be between fifth and tenth, with a few moments of brilliance where he places higher.
9th | Phil Nicoletti | Cochecton, NY | 9–9
Filthy Phil is back on a 450, and that's where he belongs. He even holeshot the second moto! After that, he wasn't happy with Bloss' pass on him as Benji landed on his arm, but other than that, it was a standard Phil day.
10th | Bradley Taft | Nixa, MO | 11–10
The surprise of the day was Taft, who parted ways with the CycleTrader.com/Rock River Yamaha team after SX, coming out on a privateer Husky and finishing tenth overall. People I know say Taft was ready to quit the sport altogether and, a week before Hangtown, wasn't going to race it. He went to a dealer on Tuesday, bought the bike, got an exhaust, bars, ignition and broke the top ten in the 450 Class. Wow! Nice work for Taft, who admitted on the PulpMX Show that he's eyeing (the injured) Dean Wilson's spot on Rockstar Energy and wondering if he could fill in. Cool story for sure.
11th | Ken Roczen | Mattstedt, Germany | 6–16
It was good to see Kenny back on the track. He was very tempered in his pre-race outlook because of a lack of seat time after injury, but he came out, and, I thought in the first moto, looked pretty good. He was even going for the lead. Then reality set in and he probably realized that A.) his arm hurt, and B.) his fitness isn't where it needs to be. Also hasn't tested much due to the limited bike time. With elite guys like Roczen, we don't see them flounder for long before they're right back close to where they need to be. But I can see this "thing" for Roczen lasting a bit longer than a few races. He needs to just be patient, trust the process, and hopefully "it" gets back sooner than later. It must frustrate the hell of Kenny, one of the most competitive, prideful guys out there, to be powerless to stop some of these guys from passing him.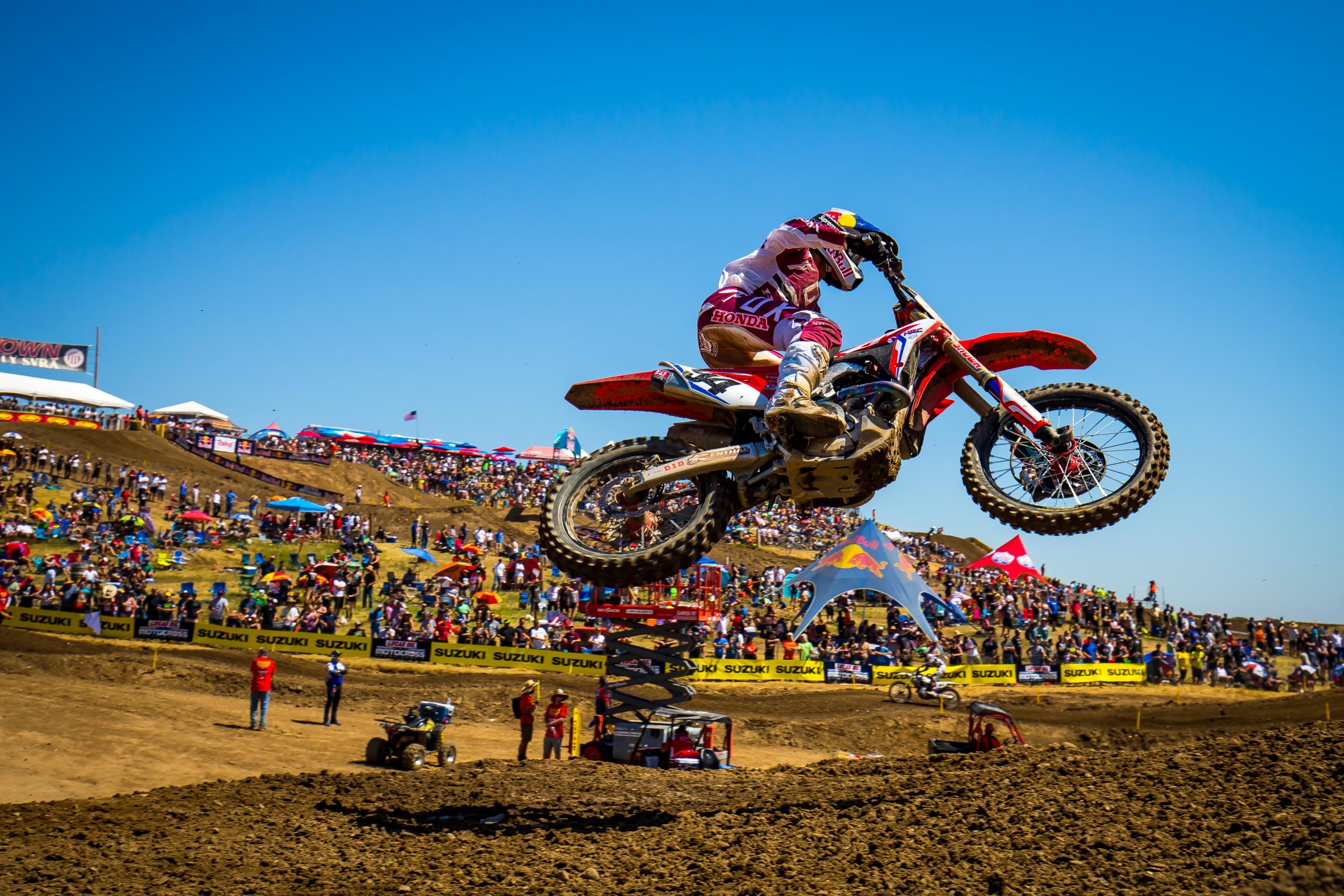 12th | Kyle Chisholm | Clearwater, FL | 12–11
Chiz is just gonna Chiz, you know? I was talking to a factory rider this past weekend about privateers and he was telling me that a lot of the guys he knows don't know what hard work is, they rest too easy on just making main events in SX, they won't go race unless they have a full ride, and that some fans' love for these guys is a little much, which I agree with somewhat. Anyway, the conversation shifted to Chiz and this rider said that Kyle, although his window for a big-time factory ride is probably closed, is old-school in that he will race anything, anywhere, no matter what, and do well. I agree with that.
13th | Cody Cooper | New Zealand | 15–12
The Cody came back! Each year, Cooper shows up to ride the first couple of Nationals, but most people still don't remember who it is. Well, it's Cody Cooper, dammit, and he's still fast! Last year's Hangtown didn't go so well for Cody, but this year was much better.
14 | Jake Masterpool | Paradise, TX | 14–14
I've been hearing about Jake turning pro for a while and it seems like 2018 was the year. I spoke with Jake after the race and he indicated he's doesn't have any real plans to do the entire series; he just wanted to get his feet wet. Well, I'd say after Taft, Masterpool was the surprise of the day at the opener.
15th | Dylan Merriam | Corona, CA | 13–15
Or maybe it was this guy? I don't know. Between Taft, Masterpool, and Merriam, we had three guys get results that were pretty impressive. I remember Merriam doing well at Washougal a couple of years ago, but to me, he's more of a SX/AX guy, right? Nice work by him out there.
16th | Kyle Cunningham | Aledo, TX | 39–13
Not sure what happened to Cunningham the first moto, but he came out swinging in the second for a good finish. His team H.E.P. Motorsports Suzuki isn't doing the whole series, but after this weekend, they'll continue to support Kyle (JGR will, also) throughout the summer. Some of the same things said about Chisholm apply to Cunningham—no matter the circumstances he's going to show up, race, and do well.
17th | Ben LaMay | Anchorage, AK | 16–18
LaMay's back from a serious concussion suffered in Foxborough and told me he probably could've raced Vegas, but decided to focus on MX. He came from outside the top 20 in both motos to get these scores. Look for LaMay to perform even better this summer.
18th | Brandan Leith | Eagle Mountain, UT | 17–20
I had Leith on my PulpMX Fantasy team, so I paid special attention to him all day. I was going to pick Austin Kouba, but then Austin told me to forget about him and go with Leith. It was great advice!
19th | Toshiki Tomita | Kanazawa, Japan | 21–17
Tomita is going to do all the Nationals this year under the Honda HRC tent, and it was explained to me that he's supposed to be Akira Narita's replacement in Japan as the factory Honda rider, but Narita won't retire (cause he keeps winning)! So Tomita will continue to hone his craft here on a production-ish CRF450R.
20th | Dare DeMartile | Lincoln, CA | 20–19
I got nothing. Sorry. I do wish my first name was "Dare," though, because that's awesome.
Thanks for reading OBS. Seriously, thank you. I appreciate it. Email me at matthes@racerxonline.com if you want to chat about the opener or anything else.