Rancho Cordova, CA
Hangtown
Lucas Oil AMA Pro Motocross Championship
Have you hit the reset button? That was the big question during the season-opening press conference at Hangtown, site of the first round of Lucas Oil Pro Motocross. Monster Energy Supercross finished less than two weeks ago, leaving little time for the riders to prepare. For some of the contenders, there are few fears. Defending champion Eli Tomac? Should be ready. Marvin Musquin and Blake Baggett, who finished second and third last year? No major problems. But even coming in healthy doesn't guarantee success, especially at the opener, which is often filled with strange and surprising results.
"It's tough to say off the bat," said Tomac of how it will go. "We have had more time, and we hope [we're even faster than last year]. I've had more time just to ride motocross this season. But you never know until Saturday.
Musquin is now looking at back-to-back 450 championships in which he finished second—first to Tomac last year outdoors, then to Jason Anderson in supercross. Can he get over the hump this time?
"Being injury-free would help," he said. "Last year outdoors I damaged my knee, but I was able to come back and have some good races and win some overalls. It was a great season for me, but not enough for the championship. I was definitely happy with the end of the season. There's going to be a lot of good guys out there, it's going to be really exciting for the fans, and there should be some good battles out there."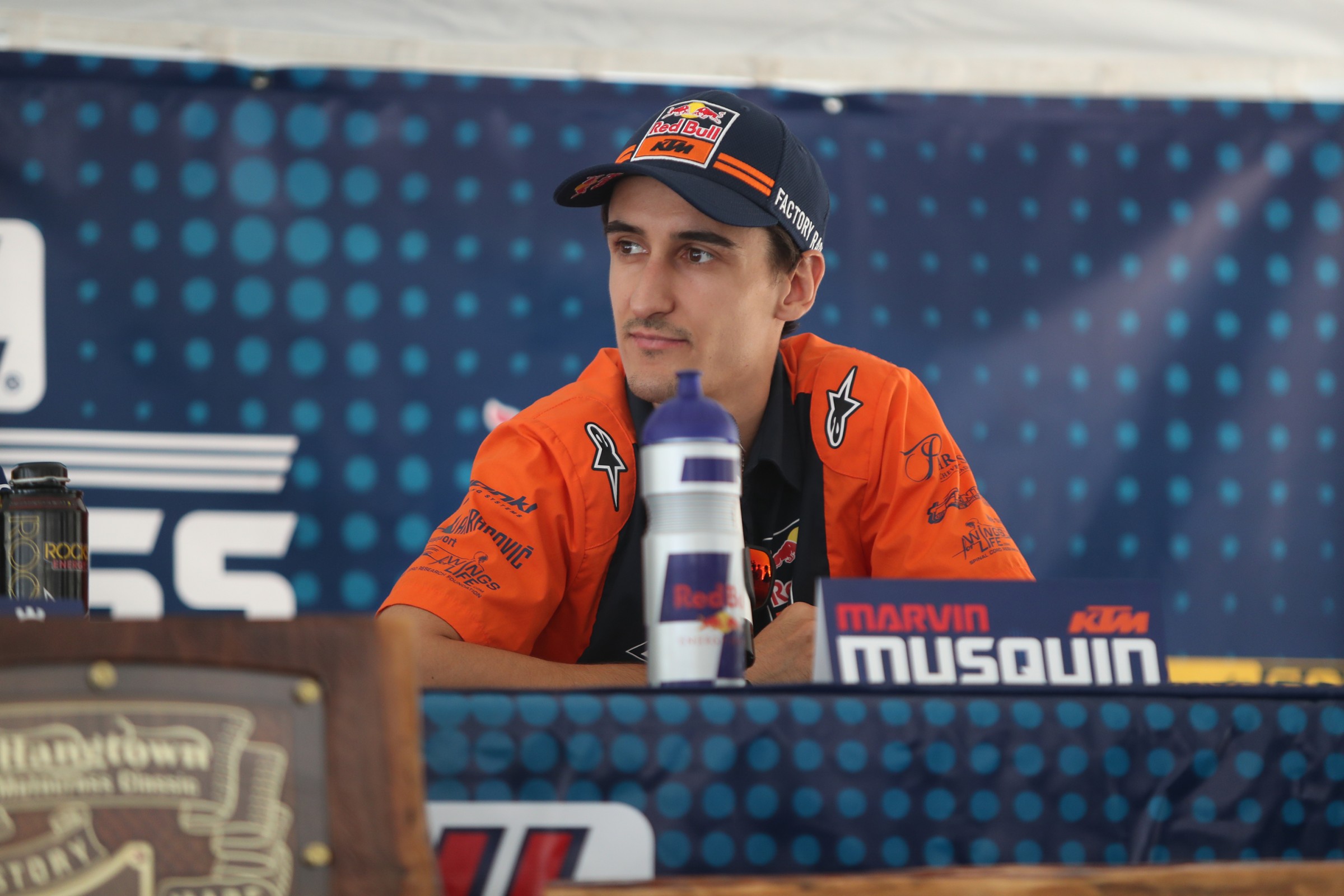 As for Baggett, he's back in his customary position—under the radar. He was at press day to ride, but wasn't part of the assembled group of riders on the press conference stage. Usually, the pressers feature one rider from each manufacturer, and Musquin, who edged Baggett by just two points last season, was in the KTM slot. You know how riders are. They can take any perceived slight as motivation, and Baggett has had great success at Hangtown before. Do not be surprised if he uses Saturday's race to make a big statement instead of Thursday's presser.
Things could be more complicated for others. Jason Anderson recently completed the emotionally draining task of winning his first 450 AMA Supercross Championship, and Ken Roczen will use Hangtown as his return from an arm injury. Many have wondered if Anderson would still have the fire needed to win this championship after checking off such a major box in the career accomplishment category. He admitted the first week after supercross was actually pretty tough, but he was back to saying all the right things at Hangtown.
"The week after the race in Vegas, you know, it was kind of hard to get in the groove," he said. "You don't get too much time to celebrate. But I'm ready to go. I didn't get too much time going into outdoors, but I feel like it's enough for me to run with the frontrunners. First off, for me, I haven't even won an outdoor [overall] yet, so I feel like that's the first step for me. I want to win one and go from there. I feel like I'm ready to battle all summer and my head's in it."
No championship hangover?
"It lasted a few days, but we're good now," he said with a laugh.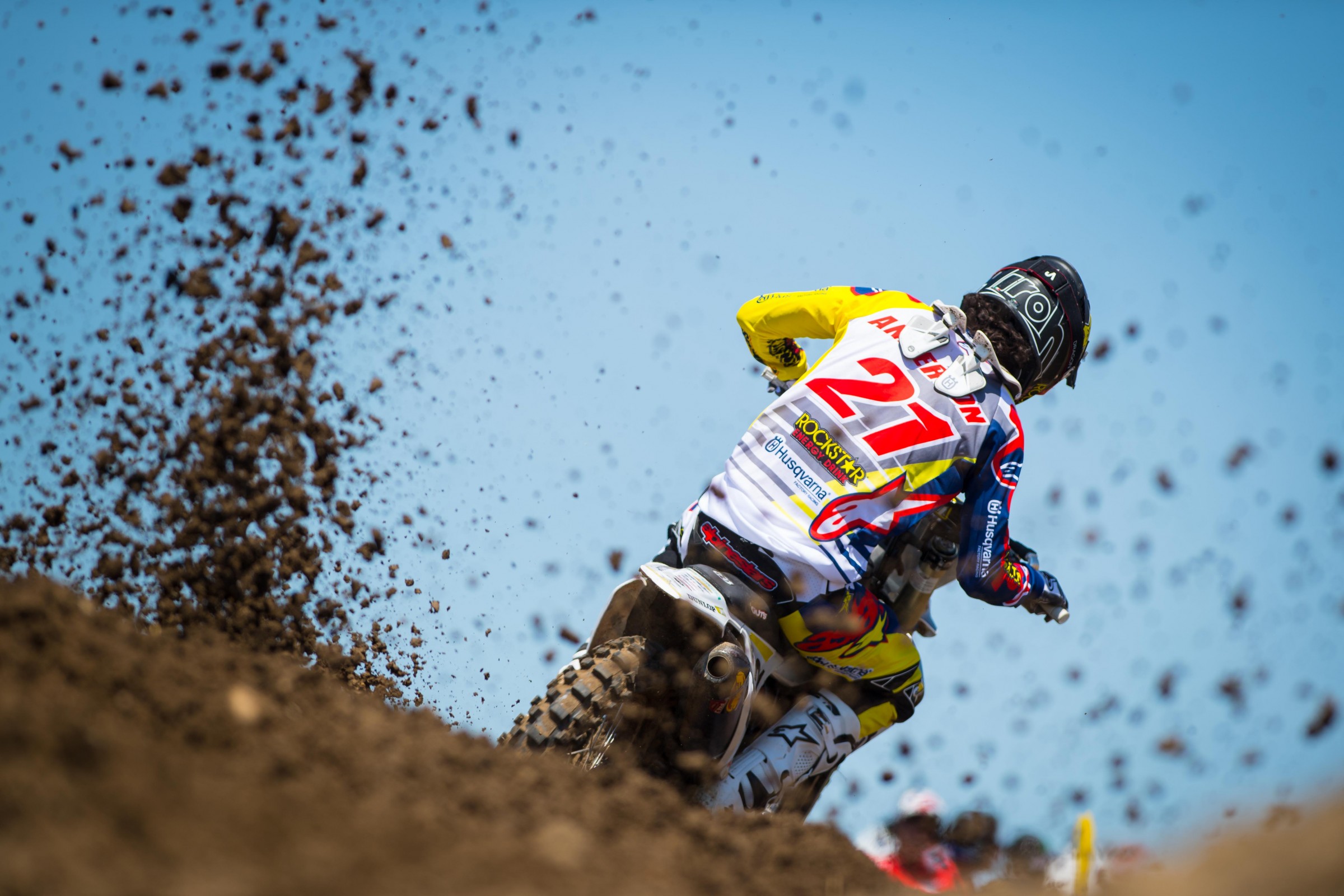 "Last year was kind of frustrating because I think I had like five seconds in a row," said Anderson. "Couple of 1-2s, I won some motos, I was right there just outside of that overall position. I think this year, I have the potential to win races and be up there battling. It's been eight years racing outdoors, and that's the one thing I haven't been able to get. I'd say I'm really hungry, it's another goal for my career—win outdoor races and maybe a title."
For Roczen, the story is different. While the German is usually never short on confidence, he openly admitted he's not fully ready yet, and is approaching these races more as a way to rebuild himself from scratch as opposed to battling for the championship he won in 2014 and 2016. Just two weeks ago, he wasn't even capable of logging 30-minute motos and was considering not racing. He had a bit of a breakthrough this week, though, and will give it a go.
"I've been on the bike maybe five, five-and-a-half weeks, but honestly, the first four weeks you could have gone faster than me riding with only one hand on the handlebar!" he said. "I was just kind of riding around just to be on the bike. I've been having a tendinitis-type thing with my thumb and I could barely grip the throttle. I was really just riding to be on the bike. That's where I lack the most—I've been doing all my stuff, as much as I can do, but there's only so much you can, it ultimately comes down to riding time. Yeah, just within the last few days I did a handful of motos. I'm just here to race, be with the team and sit on the bike. I think, most importantly, just enjoy. I think my season might really start after Colorado; we'll have a week off. But for now, I just need some riding time and some racing time.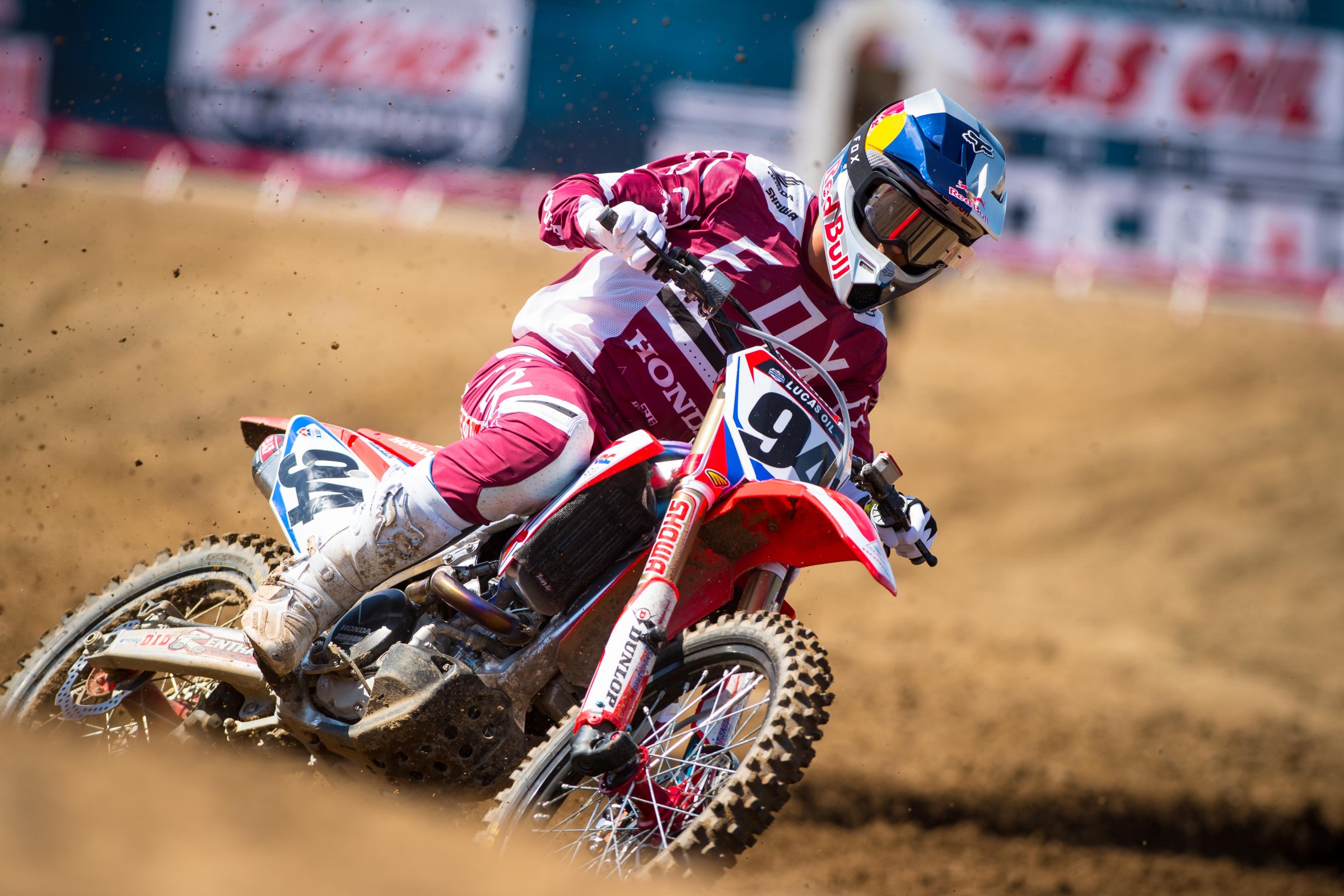 "Two weeks ago, it was almost unrealistic to say 'Let's go race.' I was in no position to do so. But I'm up for the challenge. I think it's decent enough to where I can make it through the races at a decent pace. If you look at the big picture, the last year and a half, I've [only] ridden like five supercross races. So it's been a while. I almost want to just start from scratch. I've done well outdoors, won a couple of titles, but I'm going to leave that out. I just want to start from scratch. Just take the experience I have from outdoors, stay out of trouble, and have fun."
Roczen's situation will be unique. Most superstar riders of his caliber don't come back to the races until they feel they're ready to win again. Cruising around in the top ten, for example, is a confidence-killer for a rider capable of winning, and it also reduces the intimidation factor toward his main competition. Notably, Roczen didn't look on the pace during Thursday's riding session, cruising more than he was charging. However, Roczen clearly realizes that's he's already missed far too many races over the last two seasons and just needs to get back on the racetrack regardless of results. It will be interesting to see how he progresses throughout the summer.
Two other riders were featured in the press conference: Justin Barcia (Monster Energy Yamaha) and Weston Peick (Autotrader/Yoshimura Suzuki). Peick admitted he's been riding with torn ligaments in his hand for a while now, and it's severely hurting his grip strength late in practice motos. Surgery is the only cure, but he'll solider his way through the 12-round championship before getting it fixed for the good of his team. His hope is to run strong early in the motos and build up enough of a gap to hold on for solid finishes at the end of the races.
Barcia's rejuvenation supercross season ended abruptly with a hand injury, but he feels that might give him a head start in motocross. He's confident in his outdoor prep, his bike, and his team, and feels he can start the outdoor campaign the same way he did supercross—with a flurry of podiums.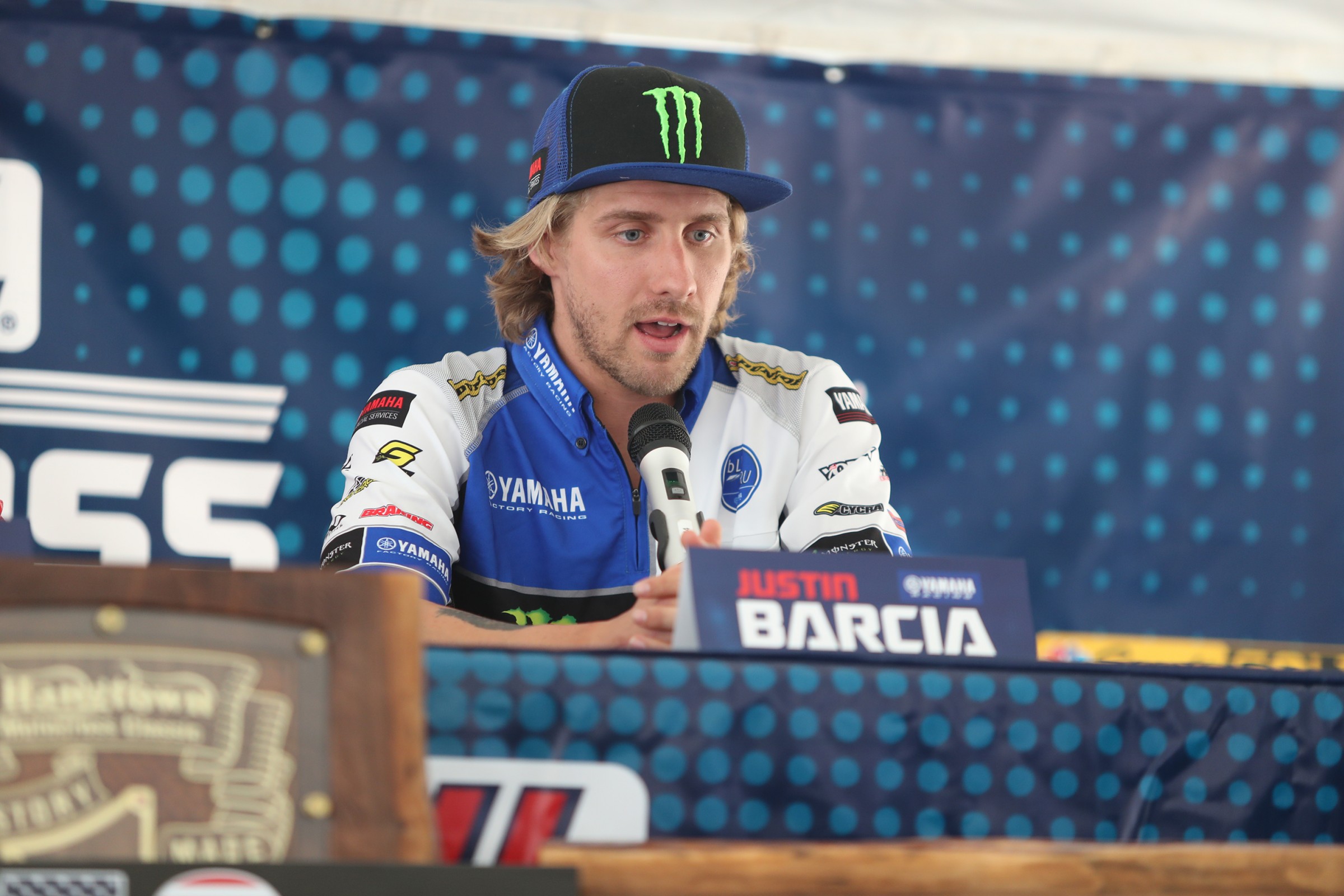 "I'm super confident," said Barcia. "I've had a lot of time outdoors now. I feel comfortable on the bike, fitness is great, and I'm good at outdoors, and I'm healthy, which is awesome. I feel like I was in a lot better place than I was last year coming back from injury. Supercross, coming back, was okay. I wasn't exactly where I wanted to be coming back, but I was definitely focused on outdoors. This year is the most outdoor riding I've ever done before a season. The injury was not cool, but it kind of set me up right for outdoors, which is a good thing."
Different levels of preparation and expectations from all of the contenders. That sets up what should be an unpredictable day at Hangtown on Saturday.