Rancho Cordova, CA
Hangtown
AMA Pro Motocross Championship
Whoever said change is good probably wasn't a defending champion, and they certainly weren't named Zach Osborne or Eli Tomac. At least not coming into this weekend, anyway. Both riders were perfect at last year's opener, and both were hoping to turn their past opening-round success into winning streaks. But did they? And what about all the other question marks surrounding the other stars of the sport? Were any of them answered? Let's dive right into Saturday Night Live to find out.
In the 250 Class, the short answer is no, nothing changed. Kind of. Last year Osborne, Alex Martin, and Aaron Plessinger made up the podium. This year, Osborne, Martin, and Plessinger were back up there again, only this time it was Jeremy Martin, not Alex. A mechanical problem in the first moto last year got between J-Mart and a podium, but not this year, as the GEICO Honda rider, despite a little bobble in the first moto, rode to a pair of strong second-place finishes for second overall. He had a nice battle with Osborne too.
"It was solid. I had a good practice time, but I had my [fast] time taken away, I guess I jumped on a medic [flag]. Just like [supercross]. But it was good, got a good start in my first moto and Zach got around me. I ripped a good start in the second moto too, and AP [Plessinger] and I were battling. It got a little dirty [laughs], we bumped in the halfpipe, and Zacho, I heard him coming. That Husky sounds like one of a kind. We battled but he got away just enough."
In the past we've seen newly crowned supercross champions struggle at the first round of motocross on account of not having the luxury of doing as much motocross preparation, among other things, but 250SX East Region Champ, Osborne, obviously did just fine, and so did 250SX West Region Champ Plessinger. Although, Plessinger did say afterward he didn't feel great in the second moto.
"I didn't feel too comfortable in the second moto," Plessinger admitted. "These guys [Martin and Osborne] were on another level, and if I'd tried to keep up with them in the second [moto] I would have gone down pretty hard. I rode solid, I'm happy with my performance, and I ended up with a podium at round one."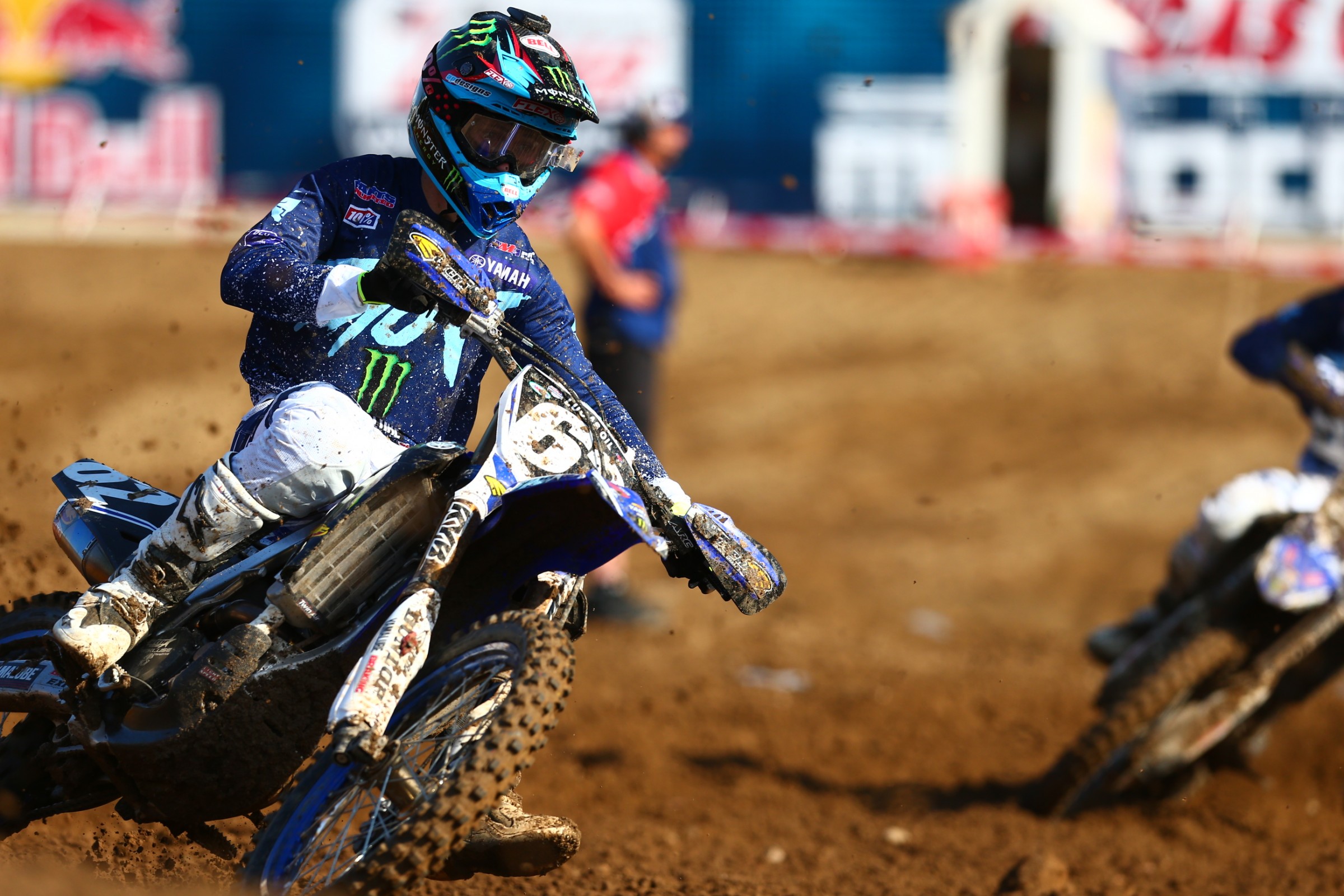 "It's nice to take maximum points today and get things started on the right foot," Osborne said in the post-race press conference. "You come here and you think you know what you have, that your package is good, but to come solidify it and have some momentum is nice. I was super nervous this morning, I was kind of putting too much pressure and expectations on myself. But I was able to go out in practice and find my legs a little bit. I made some good passes in the first moto, and had two relatively good starts today, so I'm happy with that. I'm happy to be back on the dirt starts, it took me a while to get used to the grate [in supercross]."
Not a great day for Monster Energy/Pro Circuit/Kawasaki. The first moto wasn't disastrous, Austin Forkner was fourth, Joey Savatgy was sixth, and rookie Garrett Marchbanks was twelfth, but the second moto was much worse. Savatgy was tenth, and Forkner exited early after hitting his chest. When we checked in with Mitch Payton he said Forkner had possibly popped a rib out of place. The moto did hava a silver lining, however—Marchbanks was sixth in what was just his second moto as a pro. That's pretty good!
They didn't rip the track as deep usually this year, but that doesn't mean it wasn't as treacherous. Riders described it as fast, choppy, drier, and not quite as rutty. Zach Osborne said it was the kind of track that required constant attention. "It's always one of the gnarlier ones because you're not quite in full swing yet. The second moto, it was sneaky rough. You'd be cruising along and you'd hit a square edge and you're sideways in no time. It was one of those tracks where you had to be attentive to every little thing at all times, and that kind of wears on you a little bit. But it was a good track today."
Motocross
| Position | Rider | Hometown | Points |
| --- | --- | --- | --- |
| 1 | Aaron Plessinger | Hamilton, OH | 500 |
| 2 | Alex Martin | Millville, MN | 391 |
| 3 | Justin Cooper | Cold Spring Harbor, NY | 353 |
| 4 | R.J. Hampshire | Hudson, FL | 338 |
| 5 | Shane McElrath | Canton, NC | 332 |
Full Standings
As similar as some of the 250 action was to last year, the 450 races resembled 2017 even more at times. Eli Tomac again was dominant in both motos, and he battled hard with Marvin Musquin, just like last year. In the post-race press conference Musquin even talked about the similarities.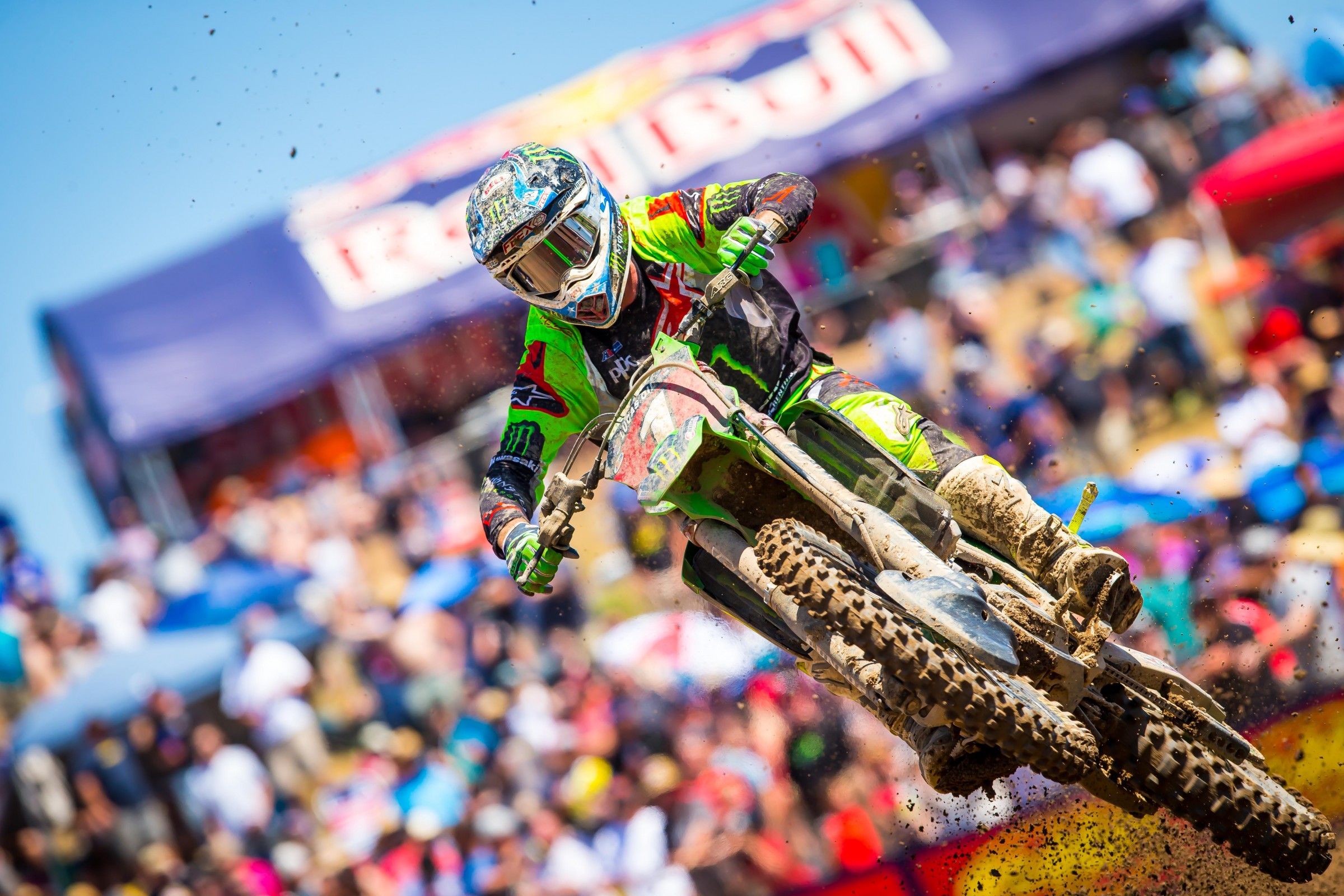 "I think it was the first moto, we went up the halfpipe exactly how we did last year," Musquin said. "I thought I was going to do the same move as last year but it didn't work out like that. Eli went a little higher than what I expected and I couldn't make it happen. But I think it was fun to watch, and at least there was a battle up front."
One thing that was definitely different from last year was Justin Barcia's third-place overall (he was ninth last year).
"It was a good day," Barcia said in the post-race press conference. "I had a lot of fun, the track was super rough, and it was a little different than usual. It was a little more hardpacked and square-edged. It's usually tilled a little bit deeper. But it was good, everyone had to ride it. There were some new sections, the whoops and the off-camber, which was cool, and I had a good day with my bike. I made a few little changes here and there, but was super comfortable for the most part. The only issue was me, I was a little tight. I'm happy with how the day went, a third on the podium is great, and I have a lot to build on."
As good as Musquin and Barcia were, there was simply no stopping Tomac. He came from behind in both motos and, despite a small tip-over in the second moto, still won both motos by very comfortable margins; 13.703 seconds in the first and 6.323 seconds in the second, to be exact. Even though his margin of victory was smaller in moto two, Tomac was arguably more impressive in the second moto. After his small crash, he was visibly faster, taking huge chunks out of the gap between himself and Jason Anderson, then later, Musquin. The lap charts reflected a few laps that were several seconds faster than the first half. Afterward Tomac didn't have an explanation, simply saying he felt comfortable and loose, and was able to "ride good in the last fifteen minutes." He was also sure to point out that things didn't exactly come easy, either.
"It's awesome. It wasn't an easy day at all though," Tomac explained. "Second start was not good at all. I had a huge moment over the tabletop and went flying off the track a little bit. Was able to get to the front pretty quick there, and had a little tip-over. Overall I felt really good on my motorcycle."
We've already pointed out that the two 250SX champs didn't seem to suffer from any sort of "championship hangover," and in the 450 ranks it seemed like the same situation with Jason Anderson. Sure, he may have faded back a bit in both motos, but he was still really good. He spent time up front in both motos, and led a total of seven laps; two in the first and five in the second. He ended up going 4-6 for fourth overall. He's certainly capable of doing better, especially considering he led laps, but his performance today was a lot better than we've seen from plenty of other riders coming off supercross championships in the past.
Ken Roczen wasn't too shabby today either, going 6-16 for eleventh overall. Yes, that's very un-Roczen like, but he was mixing it up near the front in both motos early on, and don't forget, he's coming off a pretty bad injury and hasn't raced motocross since winning the championship in 2016. He also missed most of the 2017 and 2018 supercross seasons, and had only done four or five full, thirty-minute motos before lining up for Hangtown. Afterward he told us pain and fatigue played a substantial roll in both motos.
"I can only ride for so long before it starts hurting me pretty bad," Roczen said. "Then you have to back it off. These guys have been racing the last year-and-a-half, and their bodies are there and they're used to the intensity. It's not an excuse, just something I have to deal with for right now."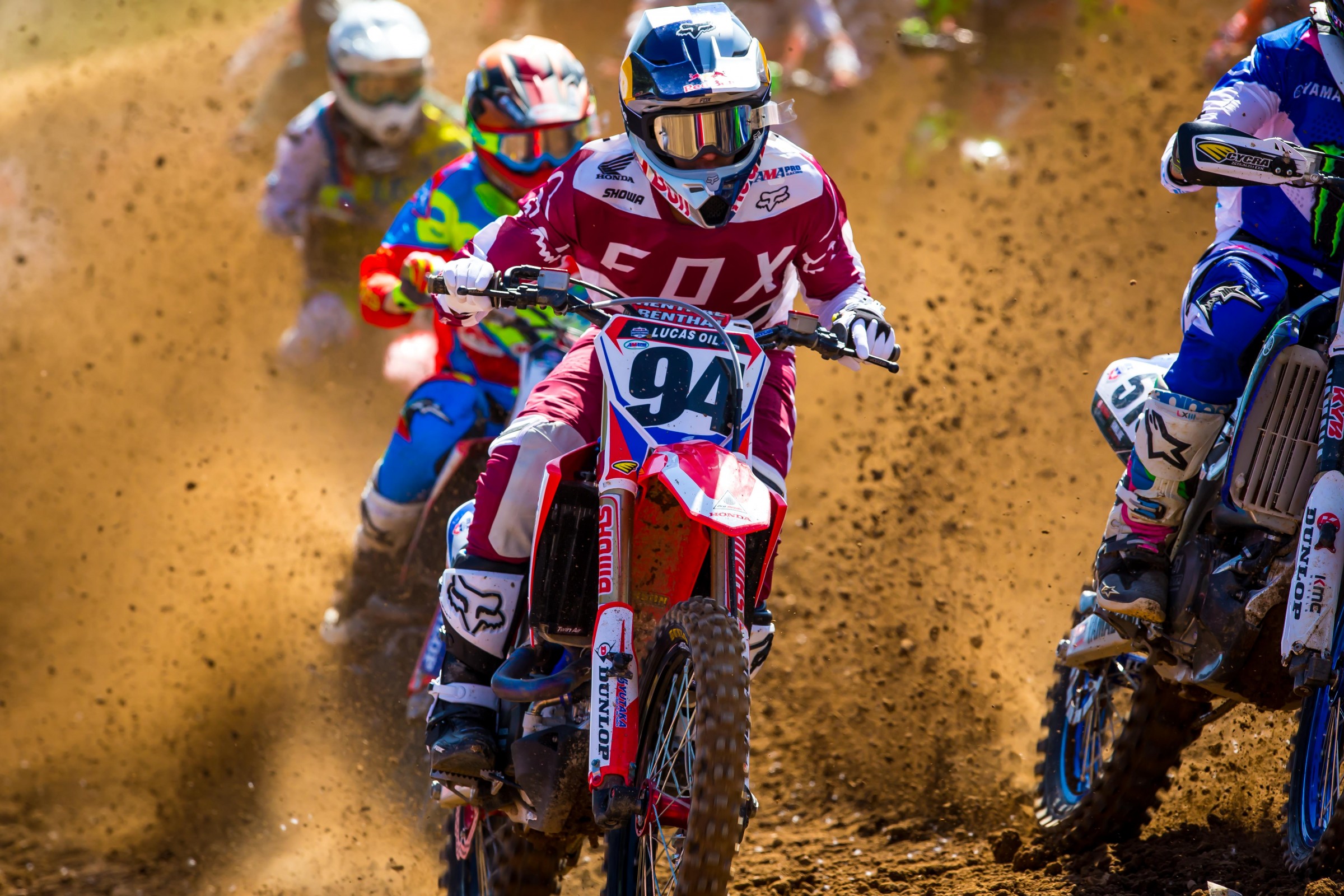 When asked if he was happy with his results, his reaction was mixed.
"I think I have to be happy, but I'm so competitive it's tough to leave saying this was awesome. I could have done better. But it's been so long since I've raced, five races in the last two years, and it's just not enough. The hard part is, I was used to winning before and I still want to win. I'm far away from it right now."
As far as injuries go, the day wasn't plagued with them, but it wasn't casualty-free, either. We already mentioned Forkner's rib, and Hayden Mellross, who was making his debut ride with Cycle Trader/Rock River Yamaha, got out of shape in some whoops and ended up with an injury to his right shoulder area. As of now the team isn't sure how serious it is. Kyle Cunningham also endo'd over a drop off and got banged up pretty good, but is anticipating being able to race next week at Glen Helen.