Rancho Cordova, CA
Hangtown
Lucas Oil AMA Pro Motocross Championship
Racer X: Aaron, you stacked the supercross title, a proposal, and just about everything into about 13 days ago. Take us through from then until now.
Aaron Plessinger: Yeah, it was pretty crazy. I kind of had the proposal in plan, but if I didn't win the championship, it wasn't going to happen. So, it was a lot to take in in one night. I'm kind of still starstruck about it. I'm happy with the way I rode today and ready to get to Glen Helen.
I know one of the Achilles' heels so far sometimes is the starts, and today was another one of those days where you had to keep coming up through. What do you think it is, exactly, about the starts that sometimes doesn't quite work out for you?
Plessinger: The first moto, I'm not sure. I think I made a mistake on my part, but I got a good jump in the second one. I just didn't really feel too comfortable in the second moto. These guys were on another level. I feel like if I would have tried to keep up with them in the second one, I would have went down pretty hard. I rode solid and happy with my performance. Finish it up with a podium on round one is always the goal and sets the mood for the year.
Jeremy, two-time champion, and then you start off today. Again, you had some good starts. Take us through your afternoon.
Jeremy Martin: It was solid. Good practice time. I got my time taken away. I guess I jumped on a medic. But it was good. I got a good start in the first moto and then Zach got around me. Ripped a good start in moto two. AP and I were battling. We bumped a little bit in the half pipe. Then Zacho, I heard him coming. That Husky sounds like one-of-a-kind. We kind of yo-yo'd for the rest of the race, and he got away just enough and put it on cruise control.
Zach, you started off the day exactly the way a guy with the number one plate on the bike should. A 50-point day. That's got to be a pretty good feeling.
Zach Osborne: For sure. It's nice to take maximum points today and just get things started on the right foot. You come here and you think you know what you have and that your package is good and everything, but to come and solidify it and have some momentum is nice. I was super nervous this morning. Just kind of putting too much pressure on myself and expectation. I was able to go out in the second practice and kind of find my legs a little bit. In the first moto, I made some good passes. Actually, two relatively good starts for my standard today, so I'm happy with that. Happy to be back on the dirt start. It took me a while to really gel with the grate, and I'm happy to kind of be back with something I'm familiar with and kind of feel a little more confident about…something in the half pipe, I would think that would be a pretty tough place to try and make a pass there.
Martin: AP didn't get quite as good of a drive as I did out of the turn when dropping in. I came in and he could see me right there. We touched elbows a little bit, but it wasn't like a massive slam or anything. It was as clean as you can get for bumping.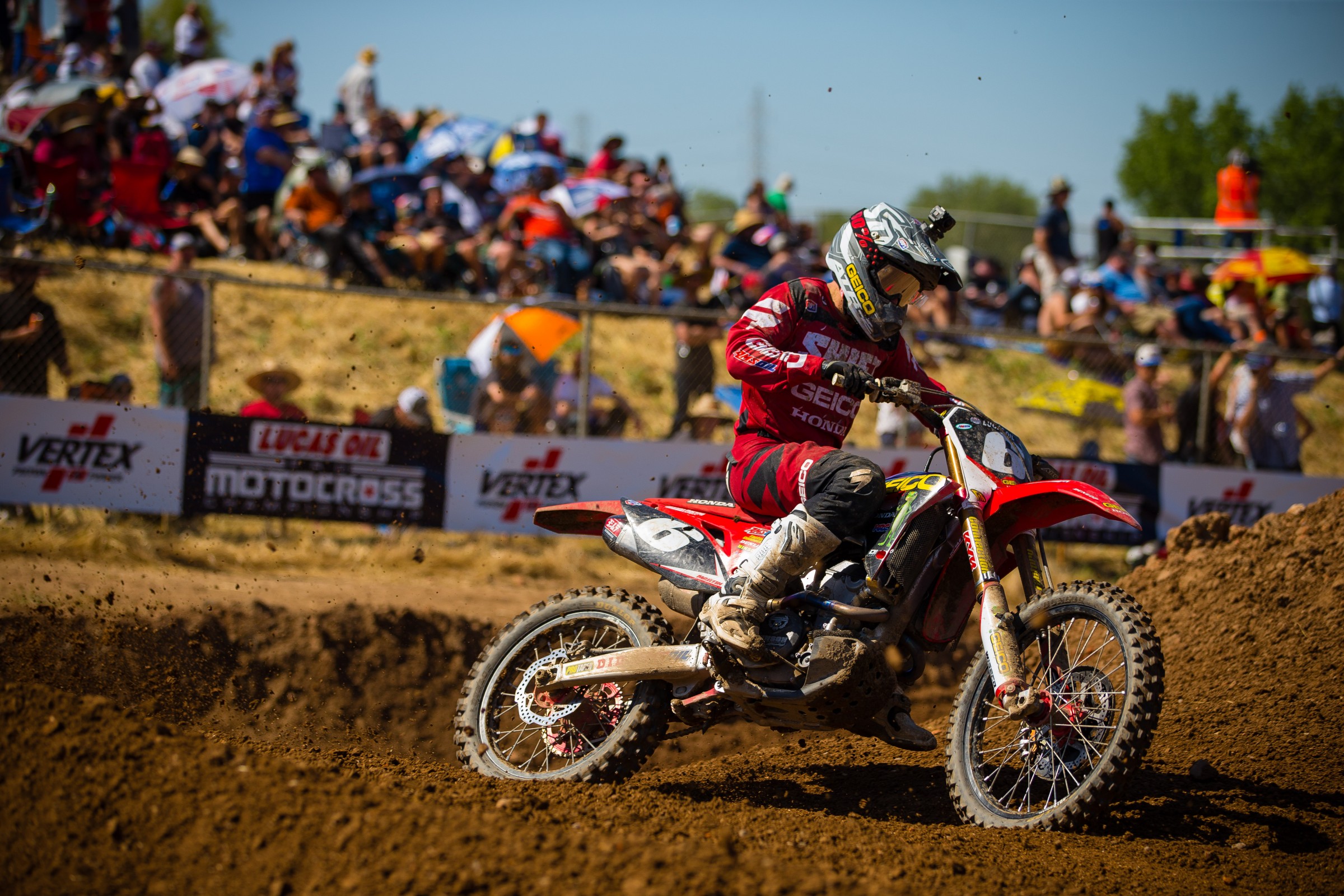 For all three of you—kind of compare this year's track to last year's.
Osborne: Definitely a little drier and flatter this year. Not quite as rutty. Still, for the first race of the season, it's gnarly. It's always one of the gnarlier ones just because you're not quite in full swing yet. It gets real sneaky rough. You'd be just cruising along and then you hit a square edge and you're sideways in no time. It kind of wears on you a bit. Obviously, I prefer it to be as rutty and kind of sloppy as possible. It was a good track today. It was okay.
Plessinger: We started off practice and it wasn't as muddy as it was last year and wasn't as deep. It kind of got choppy instead of real gnarly, like huge, huge bumps. It was still a good racetrack. I think Zach covered all the basics.
Martin: I was a little bummed that they didn't rip it. We went out there for practice and I was like, oof. It was just really wet. I could tell they just watered it. It had some really soft sections, and then some other spots were pretty hard and choppy. It was pretty fast. Like Zach said, you'd get a good drive through a couple laps and all of a sudden something would happen and you'd be like, whoa, what was that? But standard West Coast conditions.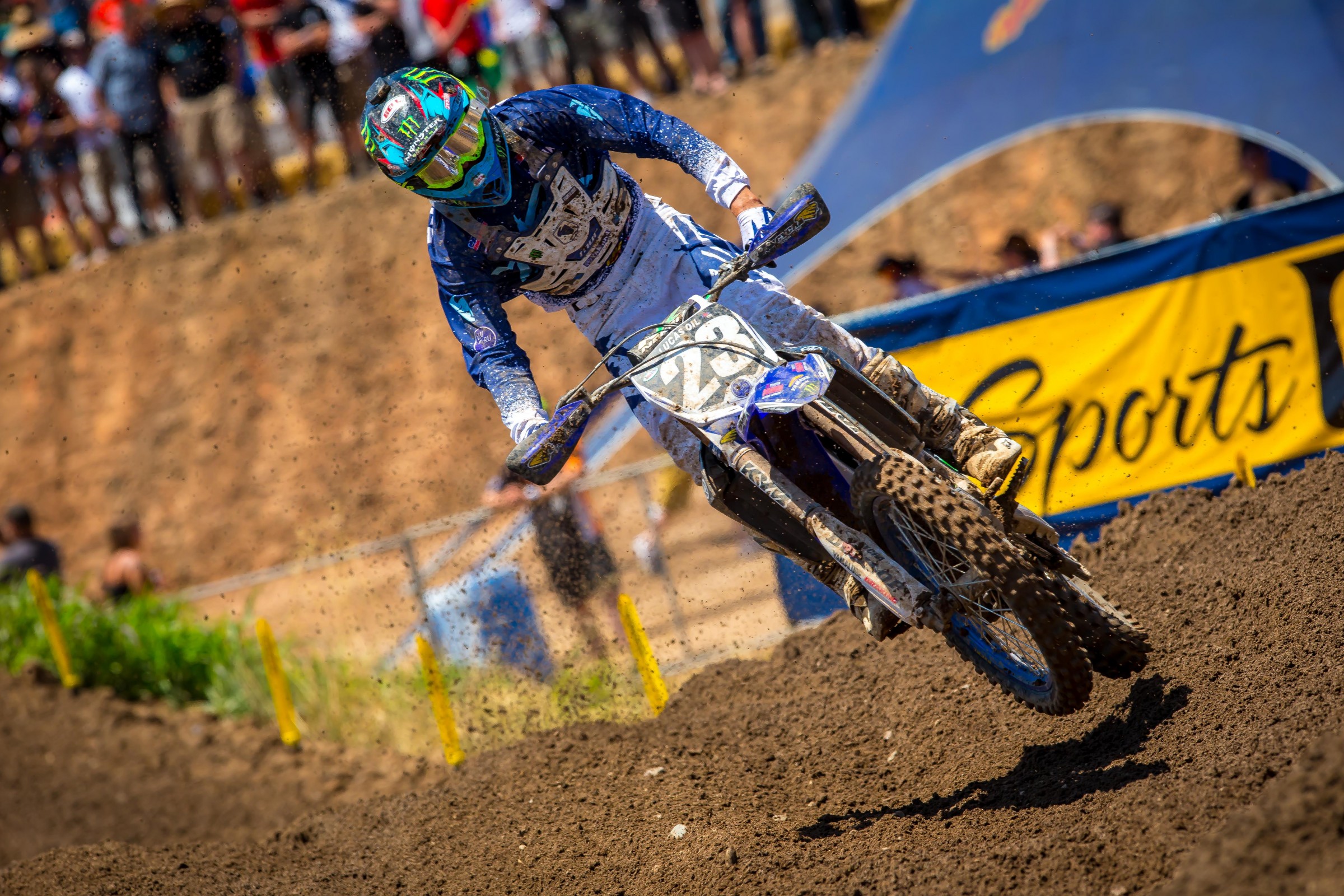 This week, we head down about seven or eight hours south of here. What's your thoughts heading into Glen Helen? What's that track hold for you?
Osborne: Glen Helen for me, I just hope we don't show up there and there's a bunch of jumps that send you to the moon for no apparent reason. That's one of the gnarliest tracks on earth with no jumps, so if they go out there and build silly jumps, it's just uncalled for, in my opinion. For me, to go there and keep the ball rolling and come away safe.
Martin: I'd say the same thing. Glen Helen is already gnarly in itself. It's kind of got a high speed like no other track. Then I saw some stuff on social media, like some massive booters. I'm like, dear God. Hopefully MX Sports says something. It's cool to hit something like that, but in a race scenario when we got 42 guys and then you got your LCQs and stuff like that and you get potholes and the track gets rough, it's like, I don't want to hit a 100-foot triple next to some guy.
Plessinger: For sure. Glen Helen is, if not the gnarliest, one of the gnarliest tracks out there. When they do add those jumps and you're coming around at 34 minutes and you're kind of tired and then you hit a pothole, you're more than likely to go down. What Zach said. Do my work and come out safe.
Coming up on October 6 and 7, the Motocross of Nations returns to the United States soil for only the fourth time in 72 years. If you were selected for the team, would you go?
Plessinger: Yeah. I think I would dye my hair red, white, and blue, and then probably do a mohawk or something like that. I think that would be sweet.
Osborne: Yes, sir.
Martin: Yeah, I'd like to go. That'd be pretty neat. I think Lot B is pretty rowdy anyway, but I think it might get shut down.