Hangtown Motocross Classic
Rancho Cordova

,

CA
Hangtown
Lucas Oil AMA Pro Motocross Championship
Welcome to the Racer X Race Day Feed, coming to you from just outside of Folsom in Northern California. Today marks a championship at dawn, as the first gate of the 2018 Lucas Oil Pro Motocross Championship will drop when the Red Bull Hangtown Motocross Classic gets underway this afternoon. Right here is where you can follow all the action. Practice reports, moto summaries, results, and more, you'll find it all right here. Check back frequently for the latest information, and since updates are in chronological order, be sure to scroll down to the bottom for the most recent info.
Morning Report
Let's kick off the first Race Day Feed of the season with a rundown of the track. For the most part the layout looks about the same as in past years. The track still winds up and down Hangtown's broad hills, and you can still see almost all of the action no matter where you are. The big Fly 160 Triple Jump is gone, but don't worry, it hasn't been replaced by anything boring. In its place is an uphill whoop section which could get nasty as the motos play out. And speaking of nastiness, this track is sure to deliver it in spades, as it's widely regarded as one of the gnarliest tracks of the circuit. The bumps will get huge and plenty of riders will struggle. If Lucas Oil Pro Motocross was a hot-pepper eating contest, starting the series with Hangtown would be like going straight to the ghost pepper. There is no easing into the Nationals when you start with a track like this!
In other news Ken Roczen is making his long-awaited return to the Nationals today after missing all of the 2017 motocross season, and most of the 2018 season of Monster Energy Supercross. He hasn't had much time on the bike, and only recently started riding full, thirty-minute motos, so don't expect him to come out of the gate swinging like he did when he crushed the competition in 2016. Even so, it'll be nice to see the two-time champ back in action. Several other riders, including Justin Cooper, Alex Martin, Ben LaMay, Austin Forkner, and RJ Hampshire are also getting back behind the gate today. For a complete look at who's in and who's out for Hangtown, go here.
The first round of practices are set to begin shortly, so check back soon for a report on who's fast in the first practice session of the season.
Practice - Session One
The first round of practice is in the books here at Hangtown, and so far there haven't been any major surprises. Topping the charts in the 250 Class was Joey Savatgy, who logged a fast lap (2:18.049) late in the session to unseat Justin Cooper by nearly a second. RJ Hampshire was third fastest, with Aaron Plessinger about a tenth slower in fourth. Shane McElrath rounded out the top five with a 2:19.953. It was a little surprising to see Zach Osborne nearly three seconds off Savatgy's pace in ninth, but then again, it's the very first practice of the season. We'll see if the defending champ makes any adjustments for the next session. If you're following the debut of Monster Energy/Pro Circuit/Kawasaki rookie Garrett Marchbanks, he was twelfth fastest with a 2:21.328.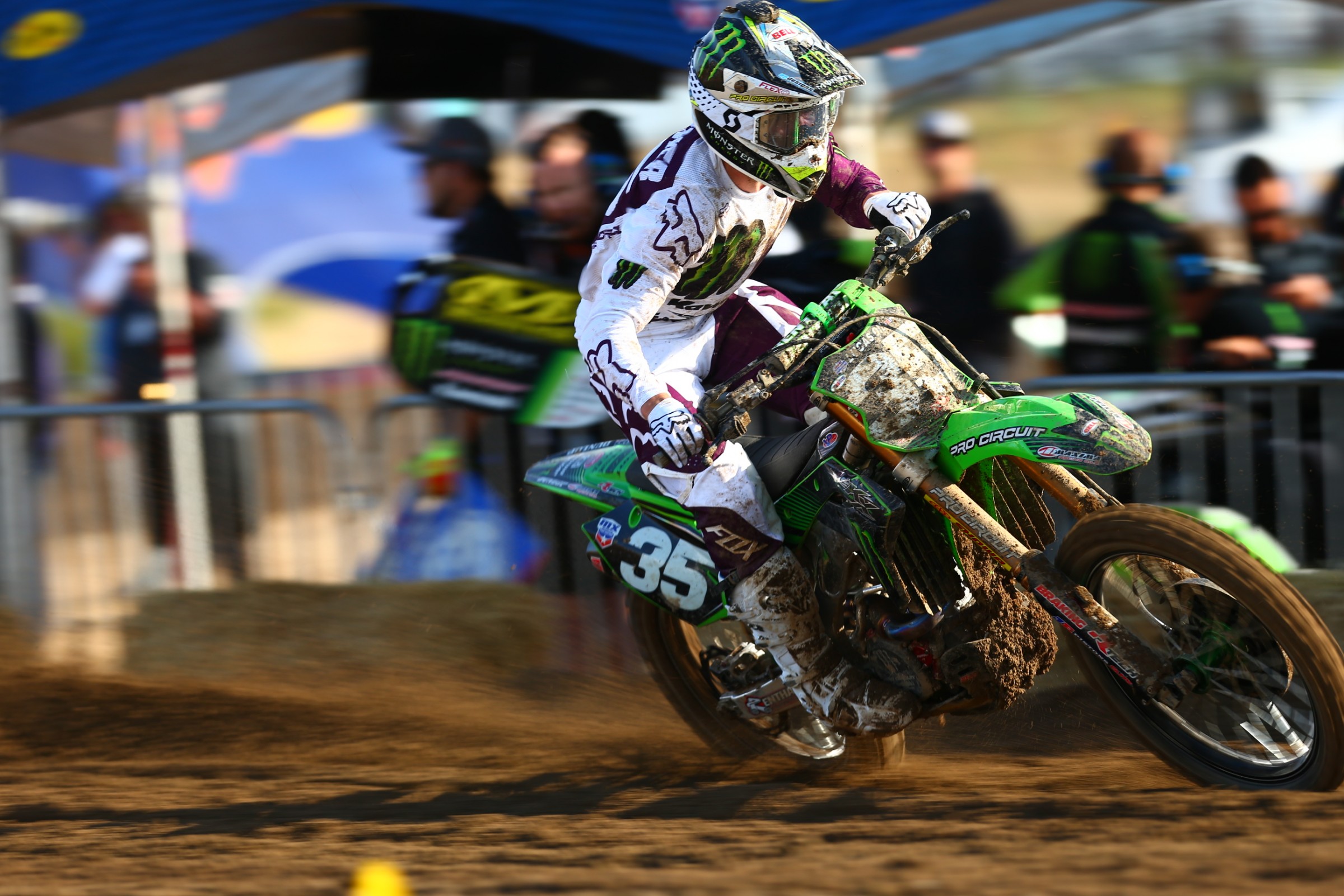 Hangtown - 250 Group A Qualifying 1
Full Results
Hangtown - 250 Group B Qualifying 1
Full Results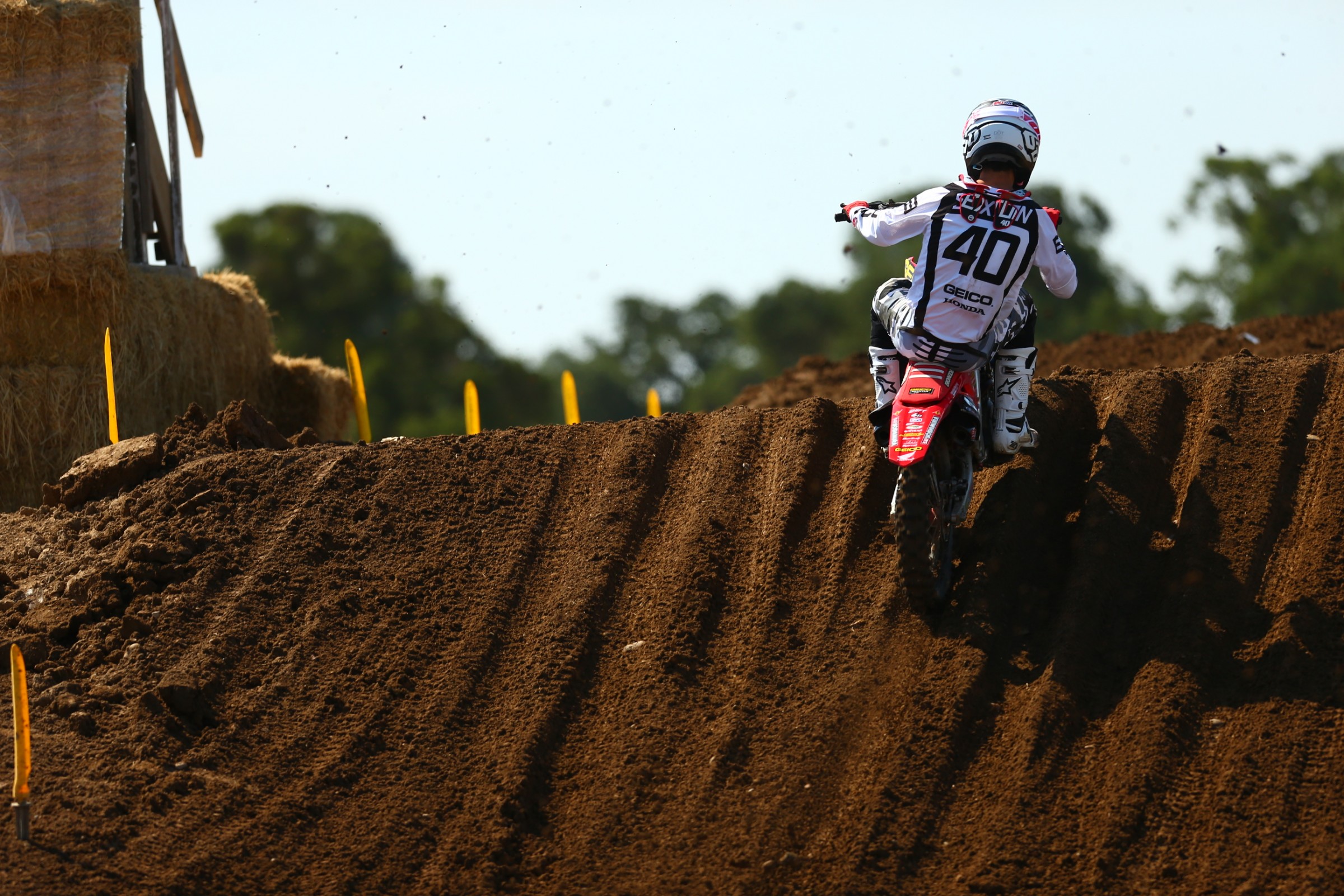 In 450 action it was all Eli Tomac. He looked extremely fast out there and the stopwatch backed it up. He set a fast time early on, a 2:17.158, which held up until Tomac decided to break his own time by throwing down a scorching 2:15.521. Tomac has done pretty well at Hangtown in the past (he even won the very first National he ever entered here in 2010), and if he keeps his speedy trend going, things could get ugly for the competition later today. Marvin Musquin was second fastest with a 2:17.243. Justin Barcia had a nice outing, logging a 2:17.986 for third fastest, with Christian Craig and Blake Baggett rounding out the top five. Ken Roczen was ninth fastest with a 2:19.701, but it didn't look like he was pushing himself too hard either. Gared Steinke was in this one too, and even though he was last in the session with a 2:30.734, he still got plenty of love on account of the 250 two-stroke he was piloting.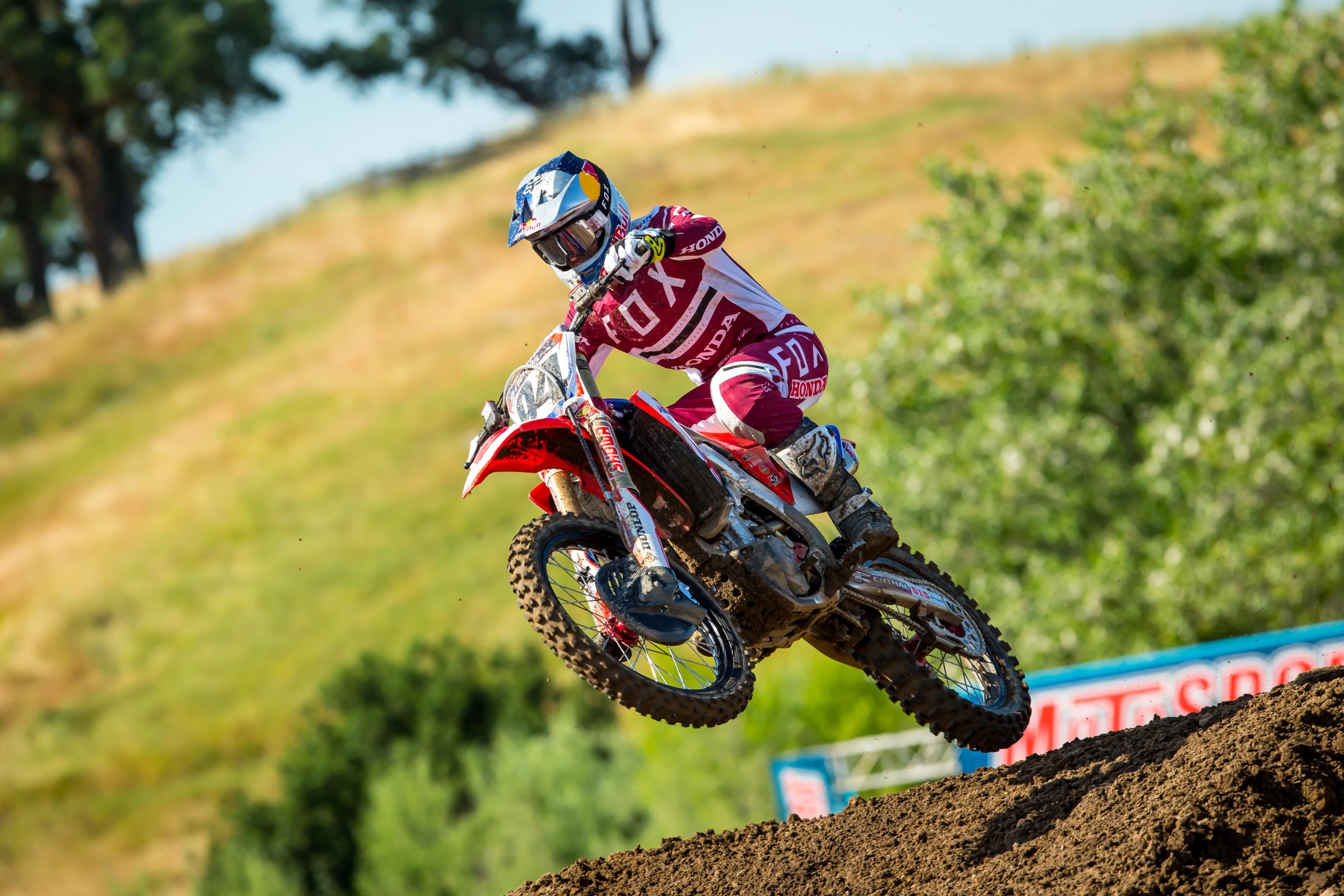 Hangtown - 450 Group A Qualifying 1
Full Results
Hangtown - 450 Group B Qualifying 1
Full Results
Practice - Session Two
There was a bit more action at the close of the second 250 qualifying session than the first. Joey Savatgy set the fastest time early, and as thing started winding down, it looked like he'd hold on to be the fastest qualifier. But then Zach Osborne bested him by a little over a tenth on the last lap. It didn't seem like anyone was going to beat Osborne, and he was directed to the podium to be interviewed as the fastest 250 qualifier. But then Jeremy Martin, at the very end, came across the line with a 2:16.930. Afterward he said it didn't seem like the track had been ripped as deep as in years past, and that he was expecting a fast, choppy racing surface in today's motos.
Hangtown - 250 Combined Qualifying
Full Results
When the 450s rolled out it was more of the same. Eli Tomac set a fast lap early and was simply untouchable. In fact, even his second-fastest lap was quicker than everyone else. Marvin Musquin threw down a heater late to get within a second of Tomac, but it wasn't enough to take the top spot. Ken Roczen was ninth fastest again, this time with a 2:21.168, and just like the in the first qualifier, he didn't seem like he was pushing it too hard out there.
Hangtown - 450 Combined Qualifying
Full Results
Hangtown - 250 Consolation Race
Full Results
250 Moto One
Austin Forkner kicked off the 2018 season of Lucas Oil Pro Motocross with a holeshot, but Justin Cooper was quick to knife past and into the lead. Jeremy Martin was third, but went to work closing on Forkner, eventually taking the spot. Zach Osborne, who'd started around fourth, was coming fast though, and it wasn't long before he'd gone past everyone and slowly checked out for the win. Martin, meanwhile, bobbled and lost a few seconds, which dropped him to fourth. He regrouped and found himself sandwiched between Forkner and Joey Savatgy. He stayed there for a while, then with about five minutes left he got by Forkner, dropped him, and rode to a lonely second. Cooper, after leading early, looked like he lost just a little bit of steam late in the race and slid back to fifth. Aaron Plessinger put in a charge in the last five minutes or so and came from sixth to third to secure the final podium position in the moto. He had quite a battle for third with Forkner for multiple laps, finally taking over on the final lap.
Hangtown - 250 Moto 1
Full Results
450 Moto One
Christian Craig got the jump in this one and got out to the early lead. Behind him things were crazy early as a huge battle for second erupted, with a train of guys like Jason Anderson, Ken Roczen, Marvin Musquin, and Justin Barcia all battling in close quarters. Eli Tomac, who'd started around tenth, would join the fray after a few laps too. Anderson took over the lead from Craig, who ended up sliding back to eighth by the end of the moto. Anderson was able to hold the lead for about ten minutes into the moto, but Musquin was just too strong and took over the spot. Anderson gave up second to Tomac shortly after, and later, gave up third to Barcia. At one point Roczen was catching him for fourth, but it looked like Roczen tired slightly in the later stages of the moto, slowed a bit, and handed fifth over to Weston Peick. He nearly lost another spot to Blake Baggett at the very end, but was able to hold him off.
Up front Tomac was chasing down Musquin, but Musquin made it easy on him when he made a mistake, went off the track, and lost a ton of time. From that point it was all Tomac, as the Monster Energy Kawasaki rider put his head down and checked out, beating Musquin by over thirteen seconds.
Hangtown - 450 Moto 1
Full Results
250 Moto Two
Jeremy Martin took the holeshot by a nose over Aaron Plessinger, but Plessinger started making moves right away and took over the lead just a few turns in. Then, a few turns before the conclusion of the first lap, Martin muscled his way back past. But, just like in the first moto, Zach Osborne was coming fast and hard, and before anyone knew what was happening, he was all over Martin for the lead. The two were side-by-side in sections, even trading the lead a couple times, but Osborne eventually took control, gapped Martin, and rode off with the victory, beating Martin by about four-and-a-half seconds. Behind Martin was his brother, Alex Martin, who'd settled into third early and rode there by himself for most of the moto. Plessinger, who dropped back to fifth at one point, kept steady pressure on Chase Sexton almost the entire race and passed him late in the moto for fourth.
Not a great race for the Monster Energy/Pro Circuit/Kawasaki crew. Austin Forkner had some kind of issue, exited the track, and motored back to the pits with his mechanic on the back. Joey Savatgy didn't have a good moto either, taking tenth, with rookie Garrett Marchbanks logging the best finish of the moto, a sixth, for the team. Troy Lee Designs Red Bull KTM rider Shane McElrath didn't fair well either, finishing fourteenth after getting caught in a first-turn pileup.
Hangtown - 250 Moto 2
Full Results
Motocross 250 Standings - 2018
Full Standings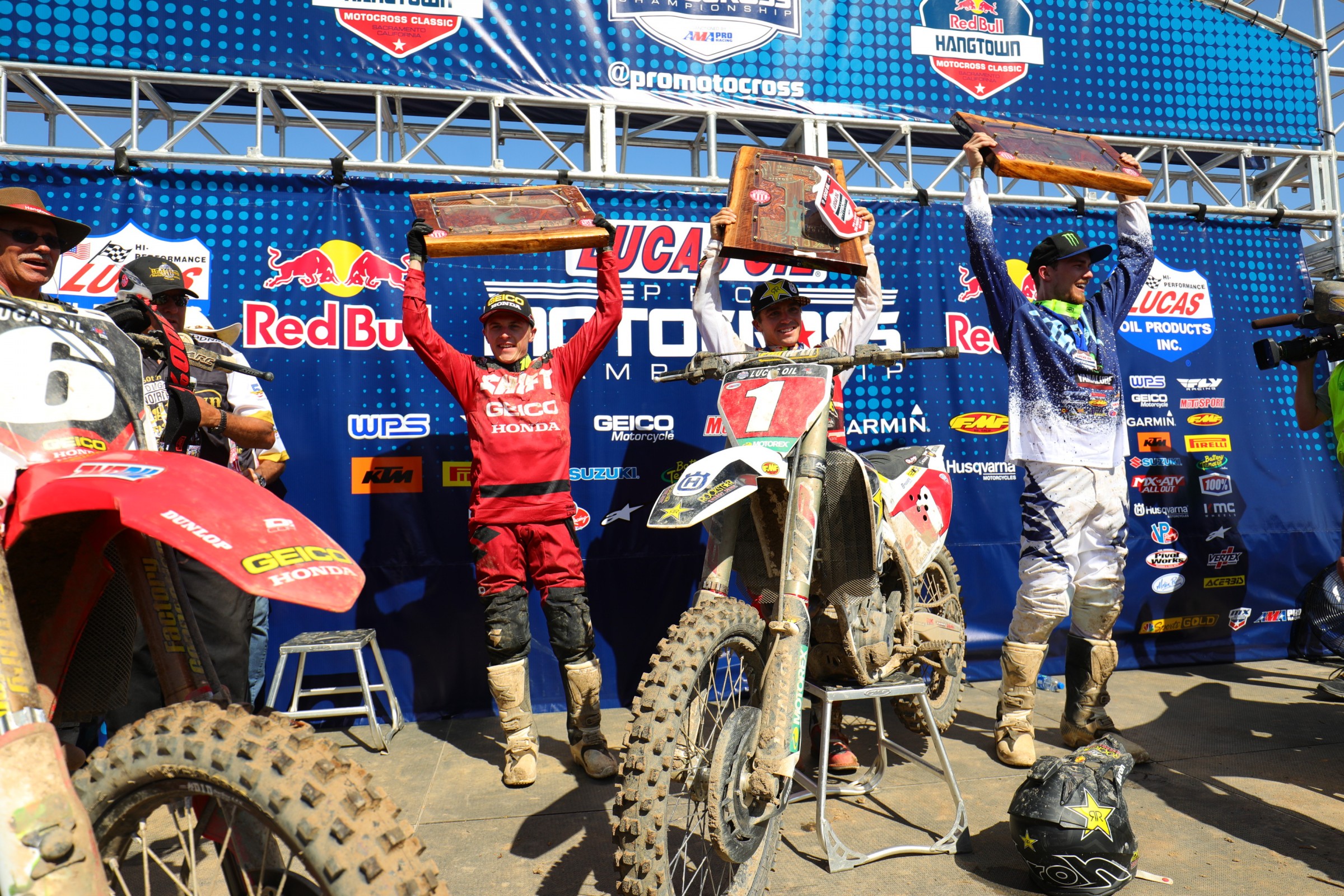 450 Moto Two
When the final gate of the day dropped it was Phil Nicoletti streaking out to the immediate lead, only to see Barcia quickly get by. Jason Anderson and Ken Roczen quickly followed suit. Eli Tomac, the winner of moto one, was back in roughly twelfth after a poor start. He was making moves, but he wasn't exactly slicing through the pack early on. That'd change after the halfway point. But before that, it was Anderson who was throwing it down. He'd gotten around Barcia and had built himself a nice gap up front, but it ended up not being big enough, as Musquin put on a burst of speed to get Barcia, then Anderson. Tomac tried to follow suit, but he ended up having a little crash and going back to fourth behind Barcia. Roczen, who'd already slowed a bit, dropped additional spots when he made a mistake and went off the track briefly. Tomac, meanwhile, all of a sudden looked like he'd found a nitro button on his bike he didn't know about before. In the blink of an eye he was by Anderson and all over Musquin, who didn't last long under the onslaught. Tomac got by, checked out, and took his second moto win of the day to log a perfect performance at the season opener. Barcia picked up an additional spot late when Anderson seemed to fall off the pace slightly.
Hangtown - 450 Moto 2
Full Results
Motocross 450 Standings - 2018
Full Standings