Welcome to Racerhead, coming to you from the media tent at the 50th Annual Hangtown Motocross Classic, the kickoff for the 2018 Lucas Oil Pro Motocross Championship.
We would lead off Racerhead with all of the happenings going on right now, but like last week, something unexpected happened. Three things, actually, and it's sadder news again.
We had all known that Tony Miller was going to pass. The highly respected promoter of Freestone Raceway in Wortham, Texas, had ALS, often known as Lou Gehrig's disease—a cruel, progressive, and ultimately fatal situation. Tony and his family made the most of the time he had after the diagnosis, and through the help of social media, he was able to stay in touch with moto friends for much longer than he might have, had this happened ten years ago. But it still was very devastating to hear that Tony Miller, a patriarch of Texas motocross, passed away. He was a true gentleman, a great family man, a tireless worker, and touched a lot of people's lives with his work and generosity. A memorial service will be held on Sunday in Texas. Our thoughts and prayers are with his son Clayton (who was going to do the 125 All Star race here at Hangtown tomorrow), his daughter Stephanie, and, of course, his wife Karen.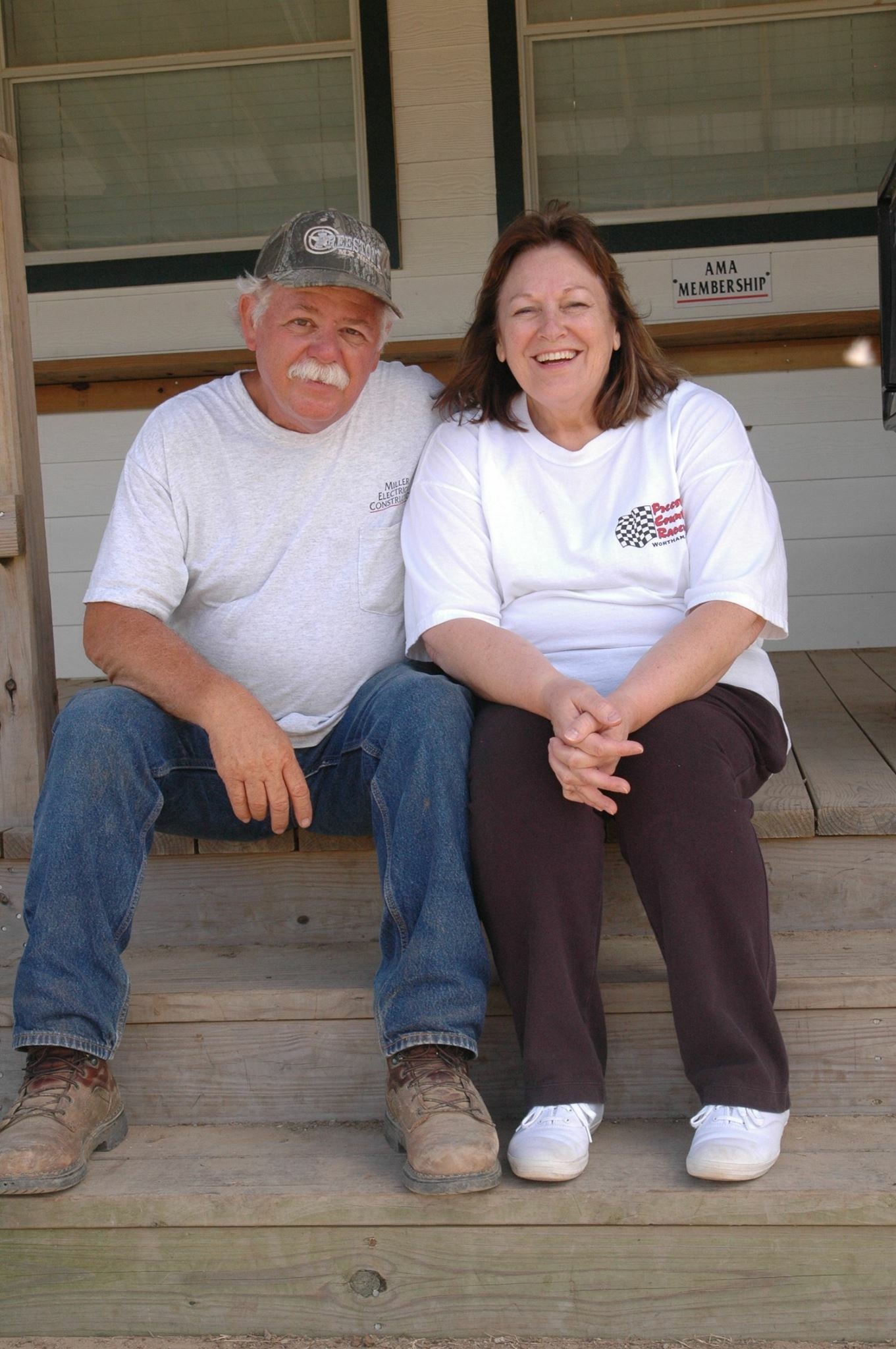 Later that same day, I got a call from our publisher Scott Wallenberg, who was nearly beside himself. He told me that Jim Hale, his longtime friend and fellow racer, had unexpectedly passed away after a minor back surgery in California. Hale, who lived in Las Vegas, flew home but then became unresponsive. He was rushed to another hospital, but doctors could not revive him. He was 64 years old.
Jim Hale was an American motorcycle industry icon. His story was the ultimate rags-to-riches tale—not as a racer, but what he did after his racing days were over. Hale was an entrepreneur, and he seemed to have the golden touch. When he became the AXO distributor in the U.S., he turned the unknown Italian gear company into a market leader, sponsoring superstars like Jeff Stanton, Damon Bradshaw, Jeremy McGrath, the entire PEAK/Pro Circuit Honda team, and many, many more. He also became the U.S. distributor for the British hardware company Renthal and turned that brand into a market leader as well. Then he came up with Mechanix Wear, a company devoted to making work-related apparel that has become one of the most recognized brands in the world.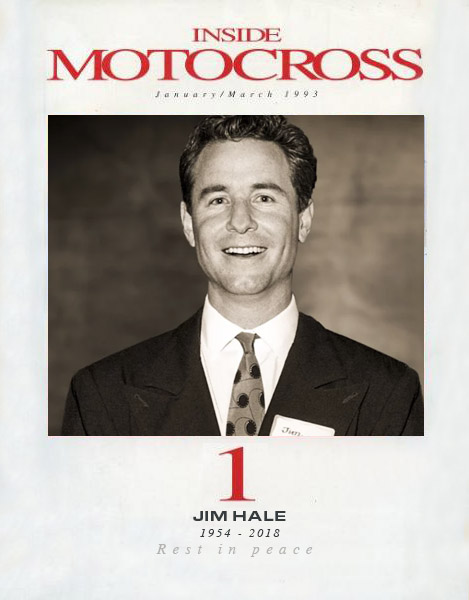 Along the way, he took a little detour to try his hand at the magazine business. He wanted to make moto magazines pick up their game by making his own, better moto magazine. He pulled together an all-star staff to make Inside Motocross the best motocross magazine ever: Fran Kuhn, Dean Jocic, Kenny Safford, and more. The publication was truly a work of art, more of a coffee table book than a magazine, with beautiful design and photography, in-depth personality features, and was just extremely well-done. Unfortunately, Inside Motocross only lasted one year, as Hale found out that some of the existing publications were treating his products and riders differently, and that was an unforeseen threat to his real business. The four issues are true collector's items—if you can find them, buy them—and in the end, I believe Jim and Fran and crew achieved their goal, as every magazine was soon making improvements in how they covered the sport and the athletes. (I was lucky enough to be a regular contributor as editor-at-large of Inside Motocross, and the experience was a great influence on me and what became Racer X Illustrated. In fact, that's why we always run a tribute to it called Inside Motocross #5 in the back of the magazine. I can assure you the next one will be a tribute to Jim Hale.)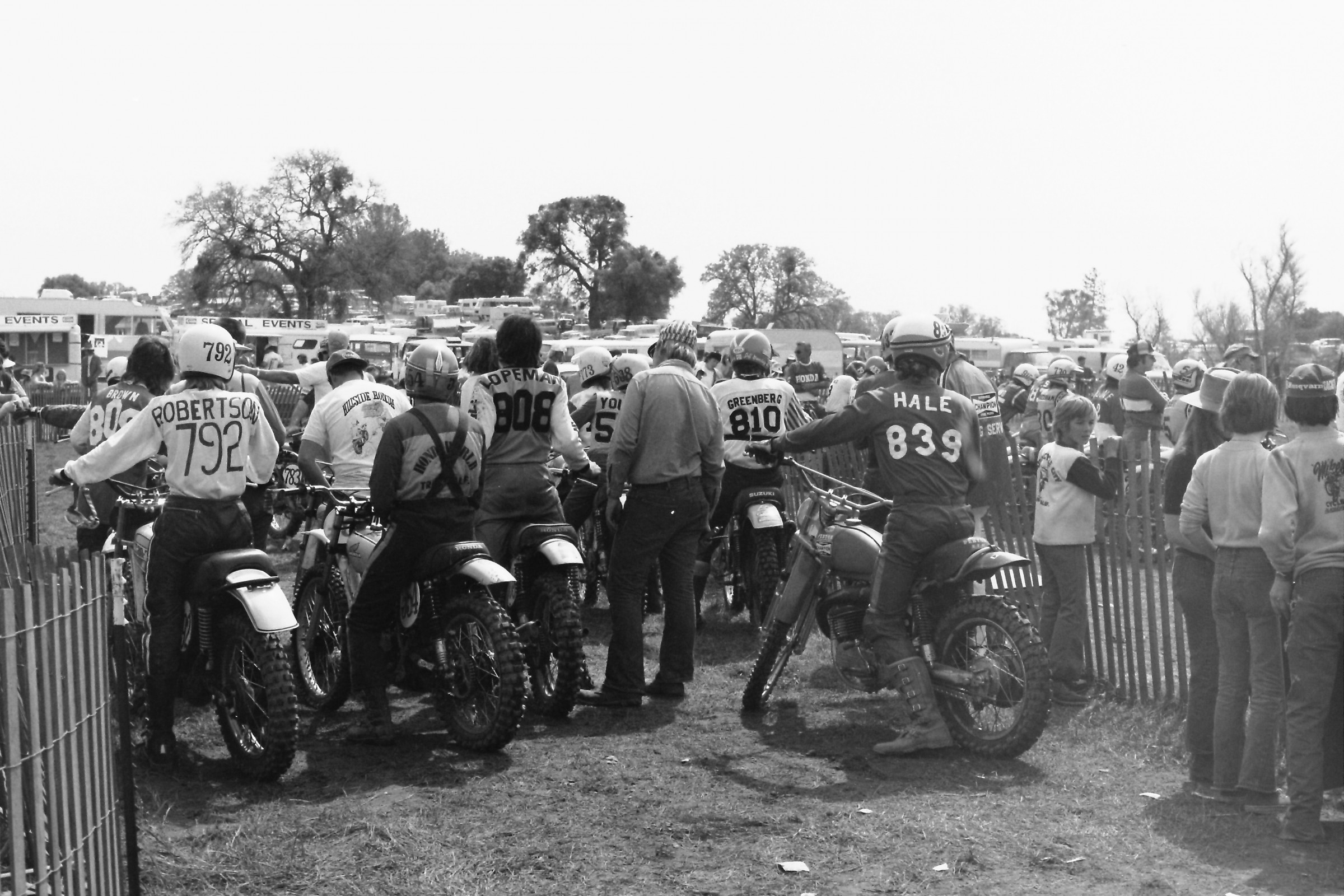 Finally, tragically, Brian Swink. One of the fastest minicycle riders of all time, as well as one of the fastest 125cc riders ever—but only for a little while. Swink was all but anointed the next Jeff Stanton, the next Damon Bradshaw, when he was growing up in Michigan. He was signed to Mitch Payton's game-changing PEAK/Pro Circuit Honda team in 1991 alongside Jeremy McGrath, Steve Lamson, and Jeromy Buehl. He won the first 125 AMA Supercross he ever entered (Orlando '91) and gave Payton and the team its first success. He went on to win the 125 East Region Championship, meaning that first #1 plate on Mitch's door, which of course now has dozens of titles as the Monster Energy/Pro Circuit Kawasaki team.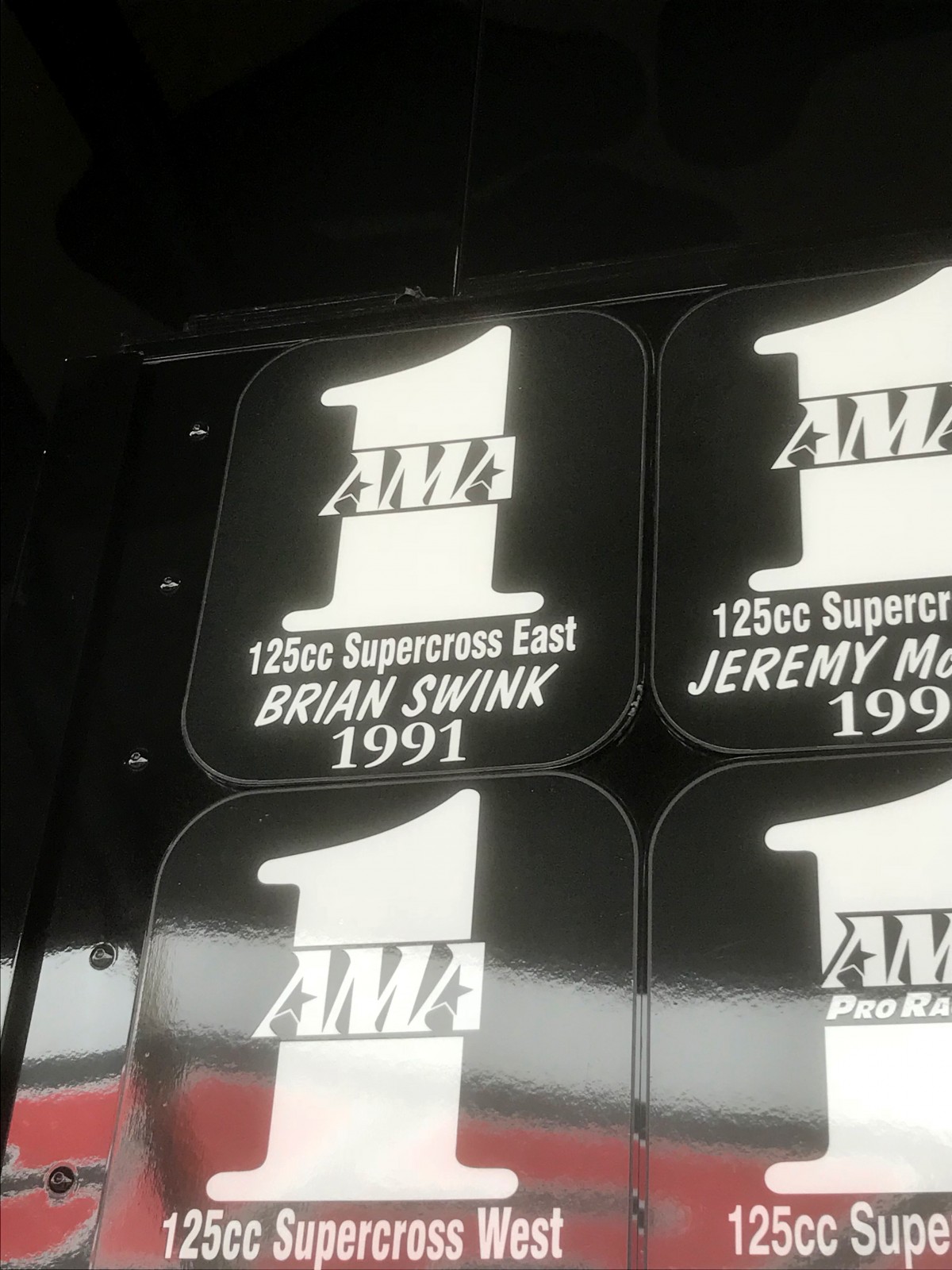 But then Swink parted ways with them and signed with Suzuki for 1992. He was dominant in the 125 East Region again, but that was it. His progress just seemed to stop right there. It simply did not transfer to the 250 class like it did for his old teammate-turned-nemesis McGrath. Swink soon slipped down to the Honda of Troy team, then Moto-XXX, and then full-on privateer. He was done as a pro by 1997.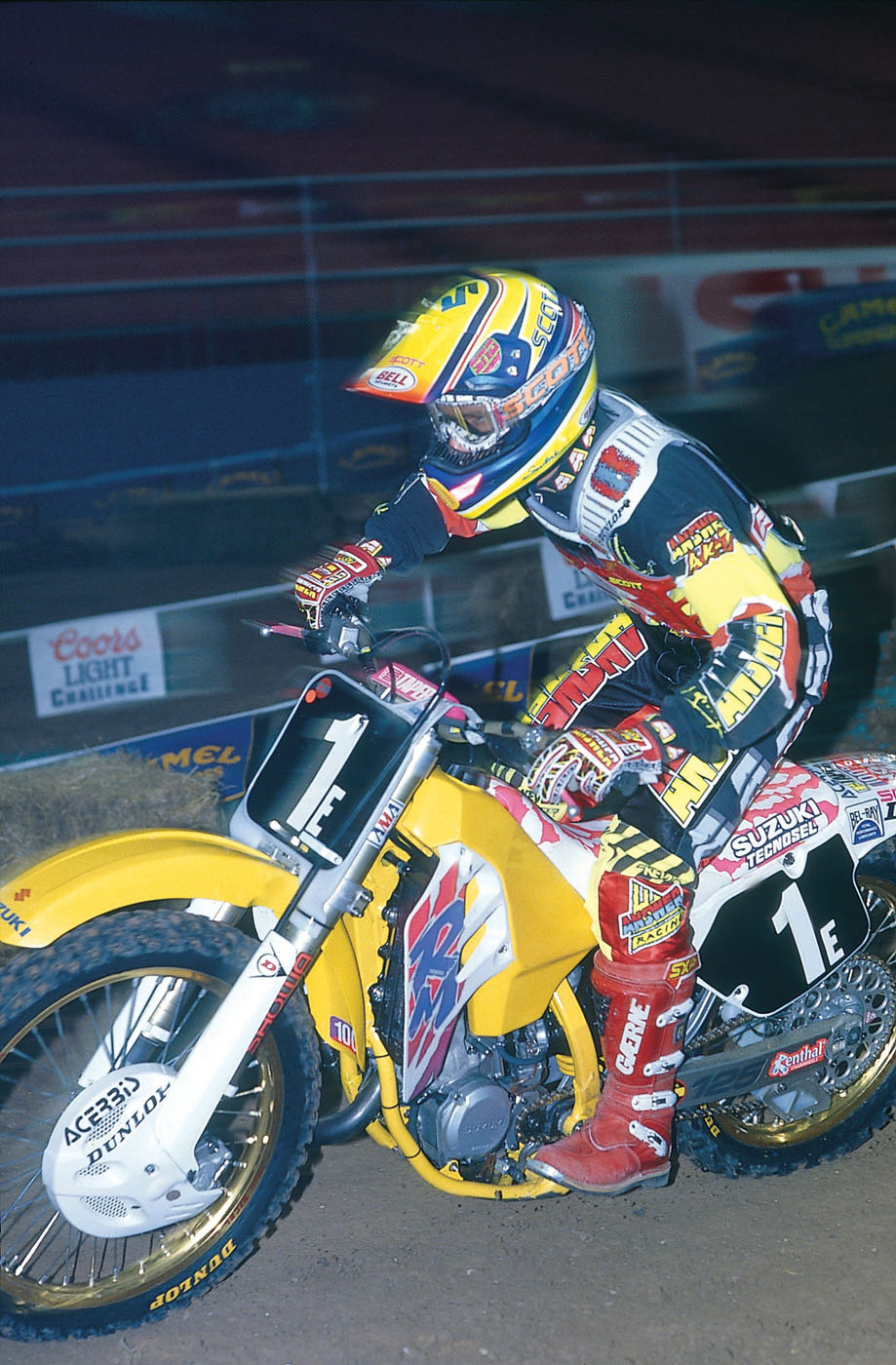 I'm not really sure what happened from there to Brian Swink. He lost touch with most in the sport, though he would do the occasional interview or podcast just to talk a little bit about the good old days (and some of the bad ones, too). Brian ended up dying in his sleep, on the day that Tony Miller and Jim Hale also passed away. He was 45 years old.
Tomorrow we will start the 50th Annual Hangtown Motocross Classic with a moment of silence for three motocross friends lost too soon. Godspeed to Tony, to Jim, and to Brian. Rest in peace, men.
Preparations (Jason Weigandt)
Anyone with a December birthday always gets screwed on the presents front, as it's better to have two parties spread throughout the year than one giant party at one time. Anaheim 1 and Hangtown represent having Christmas and your birthday at different times of the year. You get fun new toys and parties in January, and then we get to do it again five months later. This is nearly perfect!
Of course, it's tougher on the riders and teams, who have to quickly reset after Monster Energy Supercross to get ready for Hangtown. For fans, though, this is great because varying levels of prep means unpredictable results. We've seen crazy results when Hangtown serves as the opener, and one that always sticks out in my mind is the 2010 event. Chad Reed and Mike Alessi split the 450 motos. We thought that was an indicator of great seasons for Reed on a factory Kawasaki and Alessi on a KTM 350. Instead, the rest of their seasons pretty much sucked!
Meanwhile, Ryan Dungey struggled to eighth overall, but went on to win the title. In the 250s that day, Eli Tomac won the race in his pro debut. The next weekend, the heat got to him at Freestone and his results tailed off. The opener can be an indicator of what's to come—but it also might not mean much at all. Remember this race two years ago, when Joey Savatgy dominated the 250 motos and left with a giant 250 points lead, only to struggle the next weekend at Glen Helen and give all those points back? Yup, sometimes it goes like that.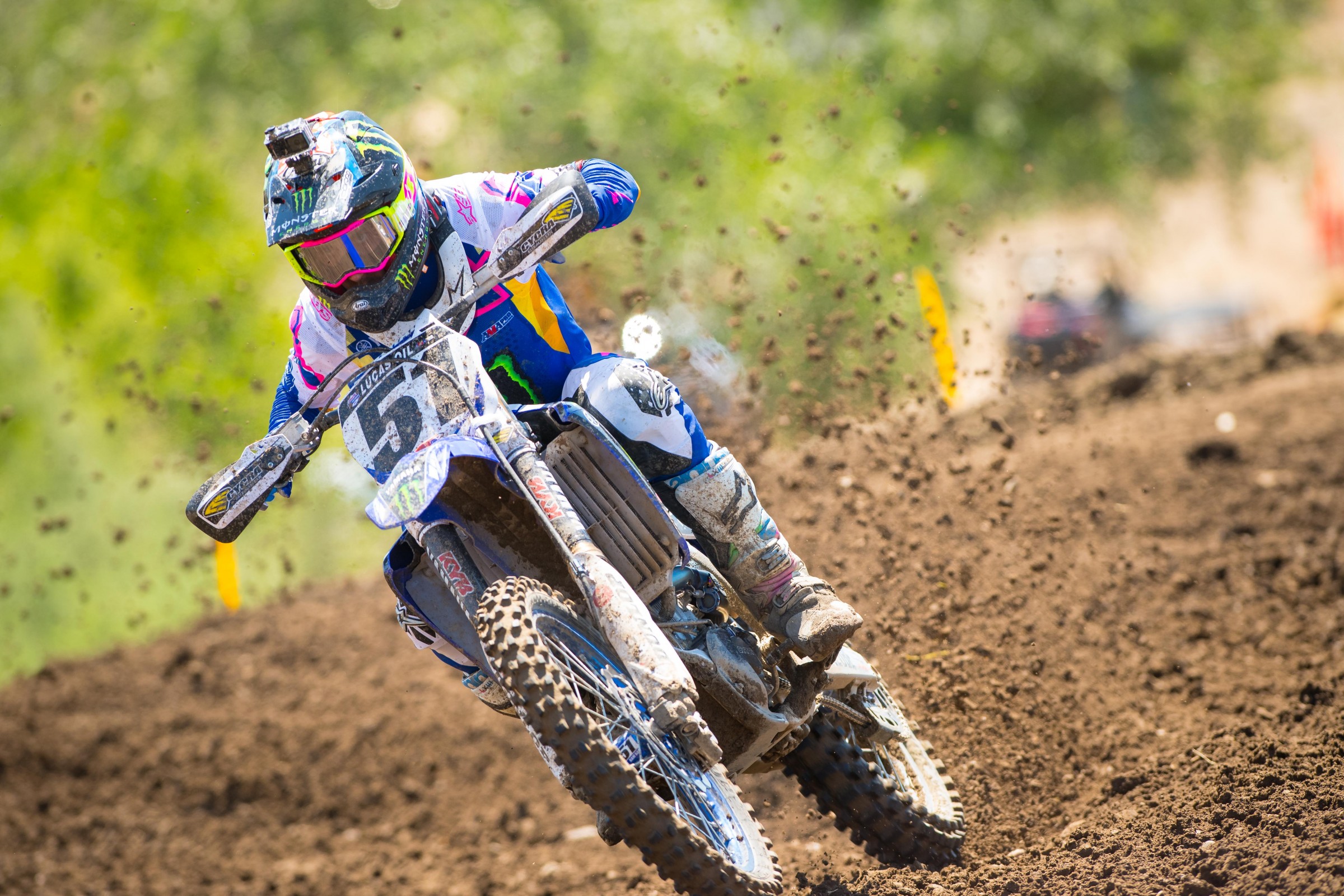 There are two Yamaha riders who might come out swinging at Hangtown. Justin Barcia said that his mid-season supercross injury actually allowed him to get a head start on outdoor focus and prep, and he sounded very confident in yesterday's press conference. He also looked plenty fast once the riders got on the track. Aaron Plessinger said he's put in a ton of prep for the Nationals, starting his outdoor work in February and not backing off since. He really wants this outdoor title. To me, Plessinger and Barcia looked the most aggressive during yesterday's riding sessions. Both were running high in the RPMs (typical Barcia style) and charging hard, not wasting anytime feeling things out or getting warmed up. You could literally hear the difference when Plessinger was coming around versus the other riders; he had his Monster Energy/Star Racing Yamaha revved to the moon. AP means business this summer.
I also thought the Rocky Mountain ATV/MC-WPS-KTM teammates of Blake Baggett and Benny Bloss both looked good out there. Hangtown replaced the Fly 150 triple jump with a set of uphill whoops, and Big Benny used his long legs to completely crush that section. Baggett looked very comfortable, and he's killed it at Hangtown several times.
On the other hand, not too many fast laps from Ken Roczen, who admits he's coming back early from this injury just so he can get back to the races and have fun. He's not even talking championship or race wins at this stage of his comeback. Ken even joked that people are calling him T-Rex because of his two jacked-up arms! I covered yesterday's 450 press conference here, so check that out to see rest of the news on the 450s.
As for the 250s, Plessinger will be ready, but so will tons of others. Zach Osborne was once scheduled to race a 450 this summer, but Rockstar Energy Husqvarna moved him back to a 250 again. Zach now has the chance to run for some history by becoming the only rider to ever win four 250 titles in two years (two in 250SX, two in 250MX). He relishes this challenge and prefers that to racing the 450, where he would have reduced pressure in what would instead be considered a learning year. So Zach is fired up for this title defense.
I can't wait for Saturday's race. I'll be back in the TV booth with Grant Langston alongside me, and we'll welcome new pit reporter Will Cristien, whom you might recognize as one of the reporters from Red Bull Straight Rhythm the last few years. We'll certainly miss our old pal Georgia Linsday, who has moved back home to England, but luckily Will is also a Brit, so we've still got the accents on lock. I'll be holding down the standard American dialect as best as I can for you folks. See you tomorrow!
543.12 Is The Magic Number (Chase Stallo)
Before the 2018 Lucas Oil Pro Motocross season kicks off tomorrow and while every rider is still technically tied in championship points, let's examine what exactly it will take to win a 450 Class title this year. Since 2010, the average number of points scored by the champion is 543.12. Ryan Dungey's 580 points racked up in 2012 are the most during that time span, while Eli Tomac's 470 points scored last year are the least. In fact, Tomac's 470 points scored are the least by a 450 champion since Grant Langston scored 439 points in 2008.
Not surprising, the 250 Class has been a little more uneven, with 508.75-point average for the champions since 2010. Eli Tomac's incredible 552-point championship campaign in 2013 is the most during that period, while Trey Canard's 474 points scored in 2010 are the least.
The more you know.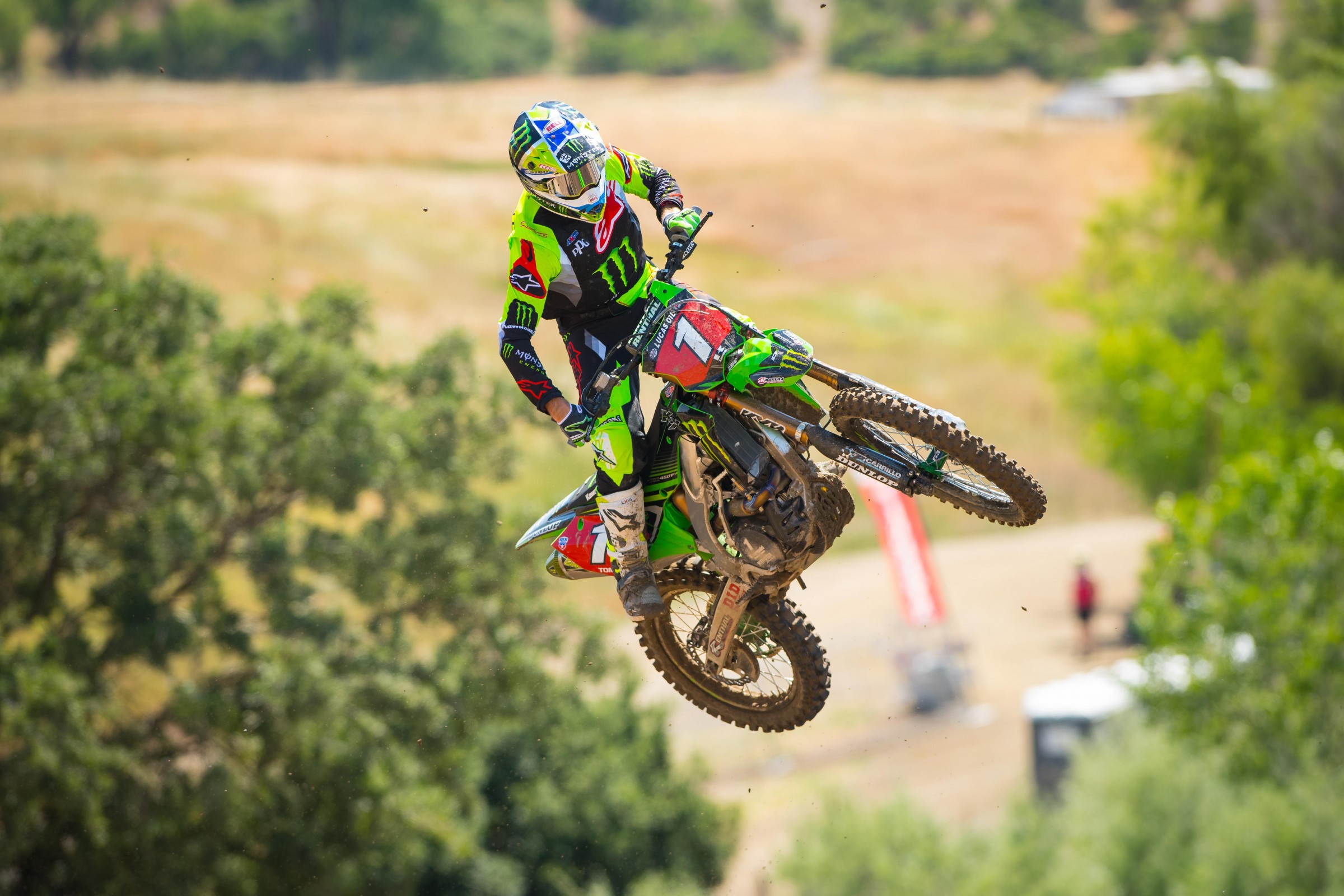 WHY AXO? (Steve Matthes)
DC knew Jim Hale much, much better than I did, but I spoke to him a few times here and there and last week, I re-released the podcast we did a while ago with him talking about his climb to the top in our industry as part of my Creators series. It was such a good talk, and I wanted others to hear it either again—or for the first time.
Jim was as friendly as could be, and we had planned on doing a Racer X feature on him and his legacy in the sport. Our timing wasn't working out, but Jim was always very gracious with his time for me. Living in Las Vegas, we had talked about getting together for a coffee, but unfortunately for me, it never happened.
In this pod we talk about bringing AXO to America, the invention of Mechanix Wear, his involvement with Damon Bradshaw, Jeff Stanton, Damon Huffman, the PEAK/Pro Circuit team, and much more. Guys like Jim Hale just don't come around that often, and he'll be missed by many in the pits.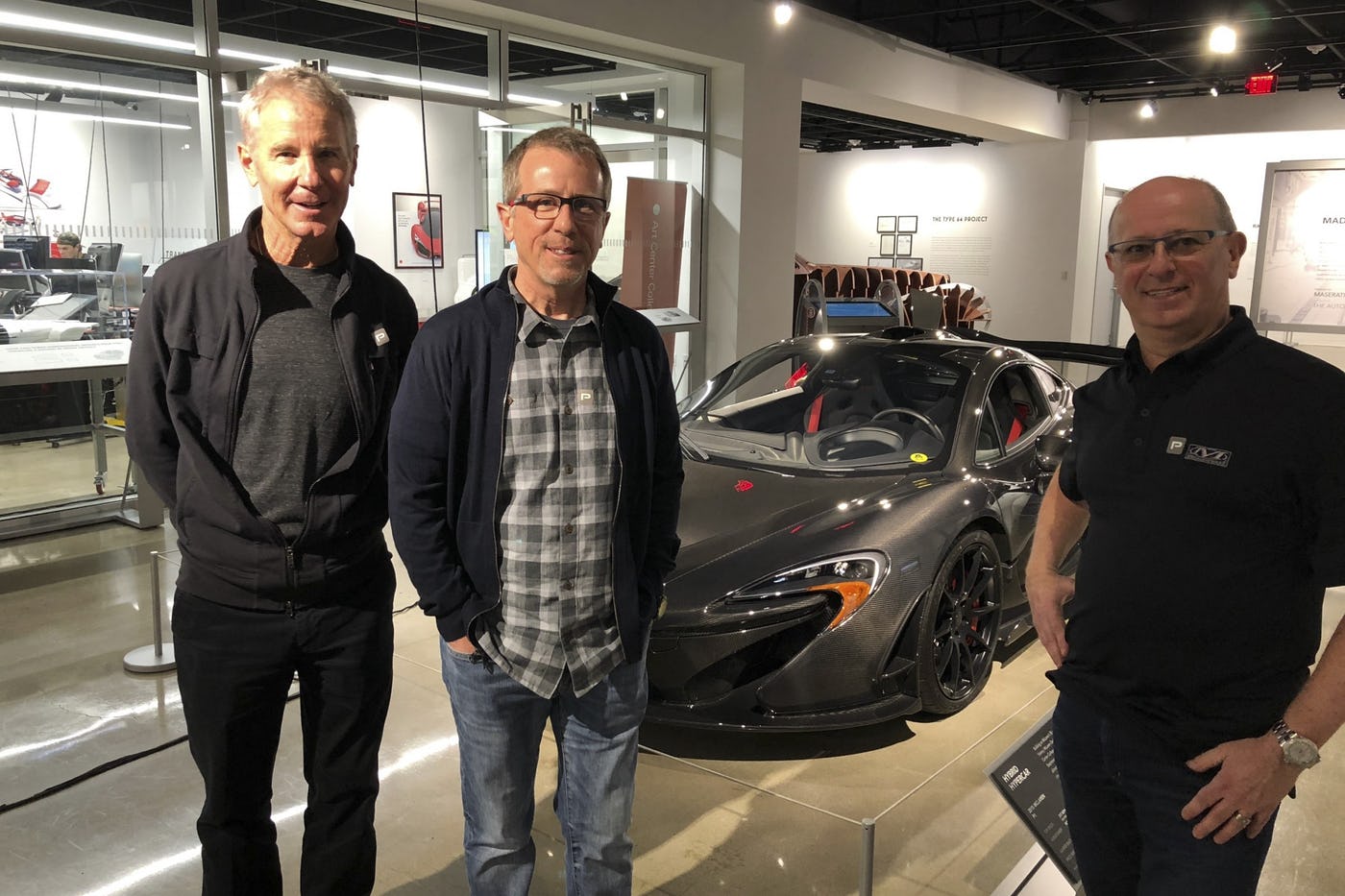 Pro Perspective (Jason Thomas)
Outdoor motocross just feels right, doesn't it? The brutal tracks, hot weather, and physically demanding 35-minute motos are simply a different animal. For most reading this, outdoor motocross is what you identify with. It's what we all grew up racing as kids. For me personally, I love the challenge that this series presents. There is simply no way to fake it in this series. If you don't do the work, summer Saturdays will punch you right in the face—and worse, publicly out you.
Outdoor motocross rewards hard work, plain and simple. I had such a love/hate relationship with the hottest and roughest of days. My screaming muscles and dehydration made Sundays and Mondays painful. But when the halfway flag came out in the second moto and I was suffering, I knew that everyone around me was suffering more. The Florida heat and humidity, coupled with the torture that Ferry, Reed, Byrne, and company had put me through every week assured me that I was more prepared than those around me. That hard work we had put in prepared me physically to suffer and keep going. More importantly, it prepared me mentally to push through the pain.
That mental aspect is happening all over the track in these second motos. Watch closely and you'll see who is predator and who is prey. The strongest survive when summer arrives. That might just be my favorite aspect of Lucas Oil Pro Motocross. It's a man's game. Cut corners or try to finesse your way around it, and this series will laugh in your face. The first test is tomorrow. Who's ready?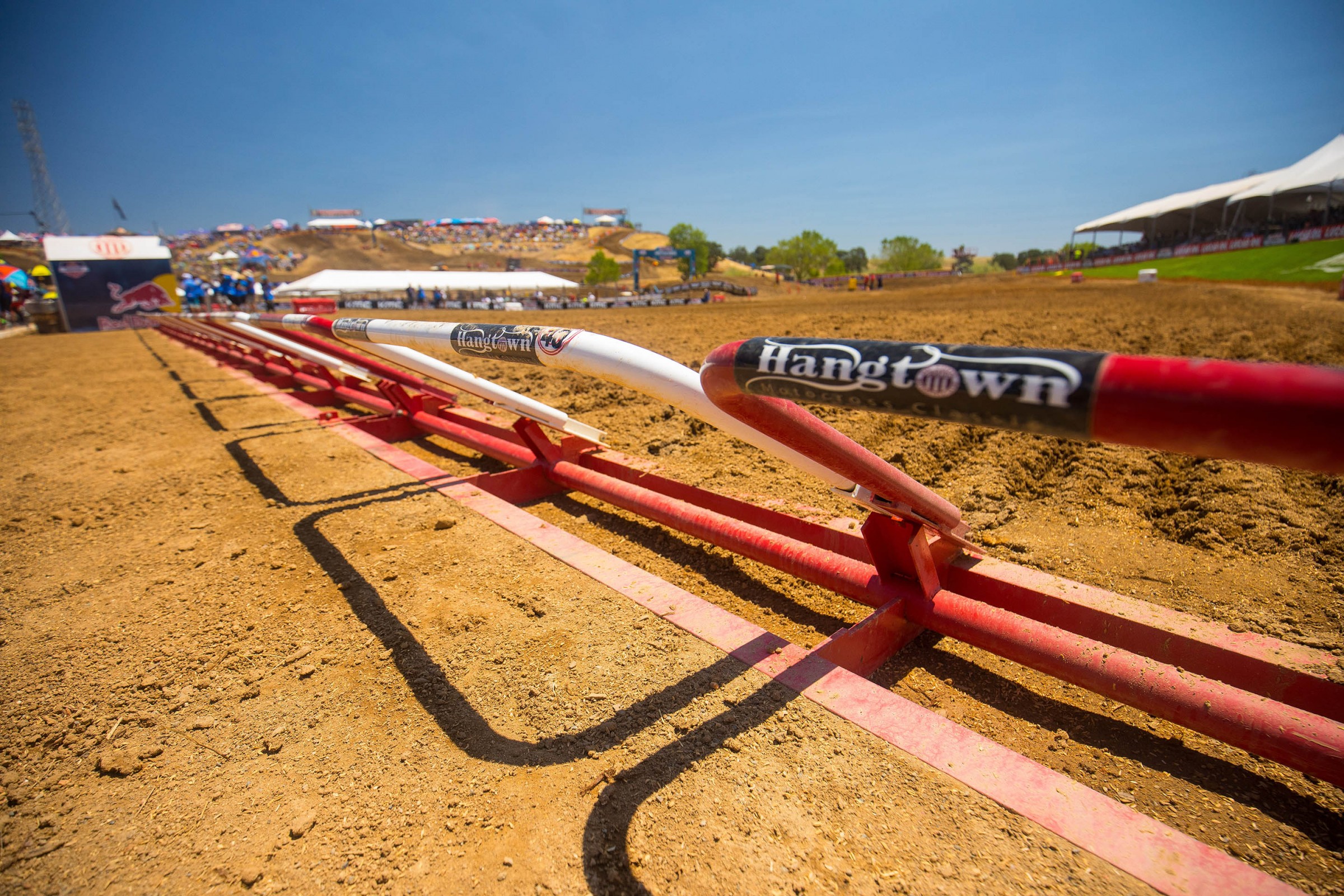 MXGP of Germany (Adam Wheeler)
MXGP isn't even at the halfway stage as the gate wobbles on the 2018 Lucas Oil Pro Motocross Championship and already Red Bull KTM's rivals are starting to feel the full lock of a stranglehold. Jeffrey Herlings may have owned five of the seven rounds contested so far, but the manner of his superiority and dominance last weekend at the Grand Prix of Latvia led many to question how the Dutchman can be stopped. Once more, world champion Tony Cairoli found a normally unassailable lead whittled to nothing by his teammate.
The more optimistic in the MXGP waiting zone will console themselves through the sandy nature of the Kegums circuit and the fact that Herlings is virtually without peer in such terrain. It's inconceivable that #84 will be so imperious throughout the rest of the calendar; the MXGP tracks and conditions are just too wildly diverse to permit it. Perhaps one of his tougher challenges will come this weekend through the rutty and unforgiving hard pack of Talkessel, Teutschenthal. The traditional home of the German Grand Prix is a venue with over four decades of history and fulfils the criteria of "old school," thanks to the cambered banked turns, one-liney nature, very narrow layout, and incessant undulations. A poor start at Talkessel means a difficult, almost impossible trawl back to the front.
Herlings doesn't have the best record here. He didn't record a podium in his first three MX2 appearances—never mind a victory—and although he went on to win twice, he also nose-dived over the steep ascent after the first corner (a prime scrubbing spot) and snapped a collarbone in practice during a troublesome 2015 campaign.
He won in 2016, but emotionally pointed the finger at Dylan Ferrandis' roughshod tactics of swerving into his path out of the start gate and also balked at what he perceived as Jeremy Seewer's attempts at foul play (the Swiss was somewhat shocked and bemused at the accusation). His first go with the 450 SX-F yielded a second position 12 months ago. Cairoli, who was so dominant at the 2013 MXoN at the site, will be hoping for an injection of previous glories and times when the Sicilian showed that a comeback and some shrewd line interpretation is actually possible.
The MSC Teutschenthal club were delicately warned that their level of course preparation had to improve almost three years ago, and greater control by Youthstream's crew has meant that Talkessel is no longer the ball-shrinking combination of unforgivable ruts and outright speed that use to mark the visit to the circuit as one of the more perilous of the season. Local interest will hone on Max Nagl's efforts with the factory TM 450 and the blooming profile of Henry Jacobi in MX2, arguably Germany's next best hope at Grand Prix success.
Monster Energy Yamaha's Romain Febvre is a doubt after a right wrist injury in the second moto in Latvia that left his lower arm a similar shade to his YZ450FM. HRC are still only represented by Tim Gajser, as Todd Waters had collarbone surgery immediately after his prang on Saturday in Kegums and needed eight screws inserted as part of the procedure.
Teutschenthal is the first of a "hard-pack triple." If the British climate behaves, then Matterley Basin in two weeks and the hilly confines of St Jean D'Angely in France will also be dry, quick, and potentially interesting for the results sheets.
Hey, Watch It!
Racer X Films: 2018 Hangtown Press Day
Racer X Films: Pro Motocross Prep at Pala
Racer X Films: Jake Masterpool Helmet Cam at Hangtown Press Day
A Motoworld segment on the debut and dominance of the 1991 PEAK/Pro Circuit 125ccc East Region Supercross team, featuring Jeromy Buehl from Ohio and Michigan's Brian Swink:
And check out this Rockstar Energy Husqvarna Factory Racing supercross recap:
Head-scratching Headlines of the Week
"Pirates' Jameson Taillon Open to Having Hand Urinated on If It Heals Cut Finger" —Bleacher Report
"Ukraine's dolphin army in 'hunger strike' after Russian capture" —TheWeek.co.uk
Mike Koger spotted this:
"Meek Mill, 31, was initially sentenced to two to four years in prison for violating his probation, which stemmed from drug and gun charges from a 2008 arrest. He was twice arrested in 2017 while on probation — once for being involved in a fight at a St. Louis airport, and once for popping a wheelie on a dirt bike. Both charges were ultimately dropped."
And read this week's Headline of the Week on Exhaust to find out about a botched tattoo, a name change, and an English physicist.
Random Notes
We're Hiring
Racer X is looking for a sales and production manager to join our team. The sales and production manager's primary roles include advising sales staff, ad coordination, scheming and tracking, as well as creating sales collateral and contributing on new revenue ideas and pricing. The position is available immediately. To learn more, go here.
Subscribe at Hangtown and Receive All 12 Official 2018 Racer X Event Stickers
Are you headed to the Hangtown Motocross Classic this weekend? Make sure you stop by the Racer X booth, located in Sponsor Village, and subscribe for as low as $10 and receive ALL TWELVE Official 2018 Lucas Oil Pro Motocross Racer X event stickers. You will also receive a complimentary magazine and free Racer X stickers. Be sure to check out our Racer X Brand items on display and grab some gear. See you at the races!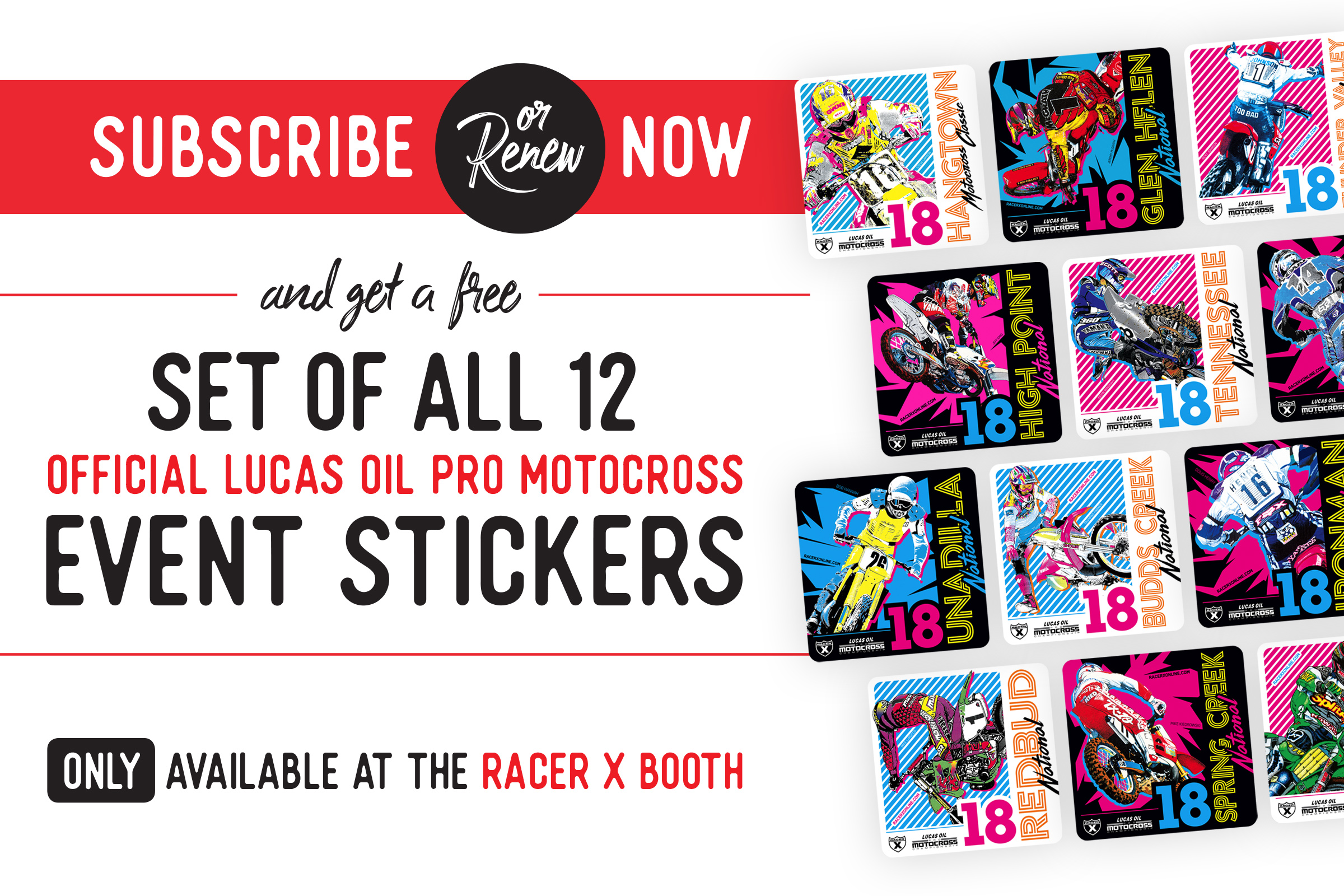 Subscribe or Renew Now and Get a Free Retro Racer X Tee
Subscribe now for as low as $9.98 and receive a free Retro Racer X t-shirt, plus access to our digital edition.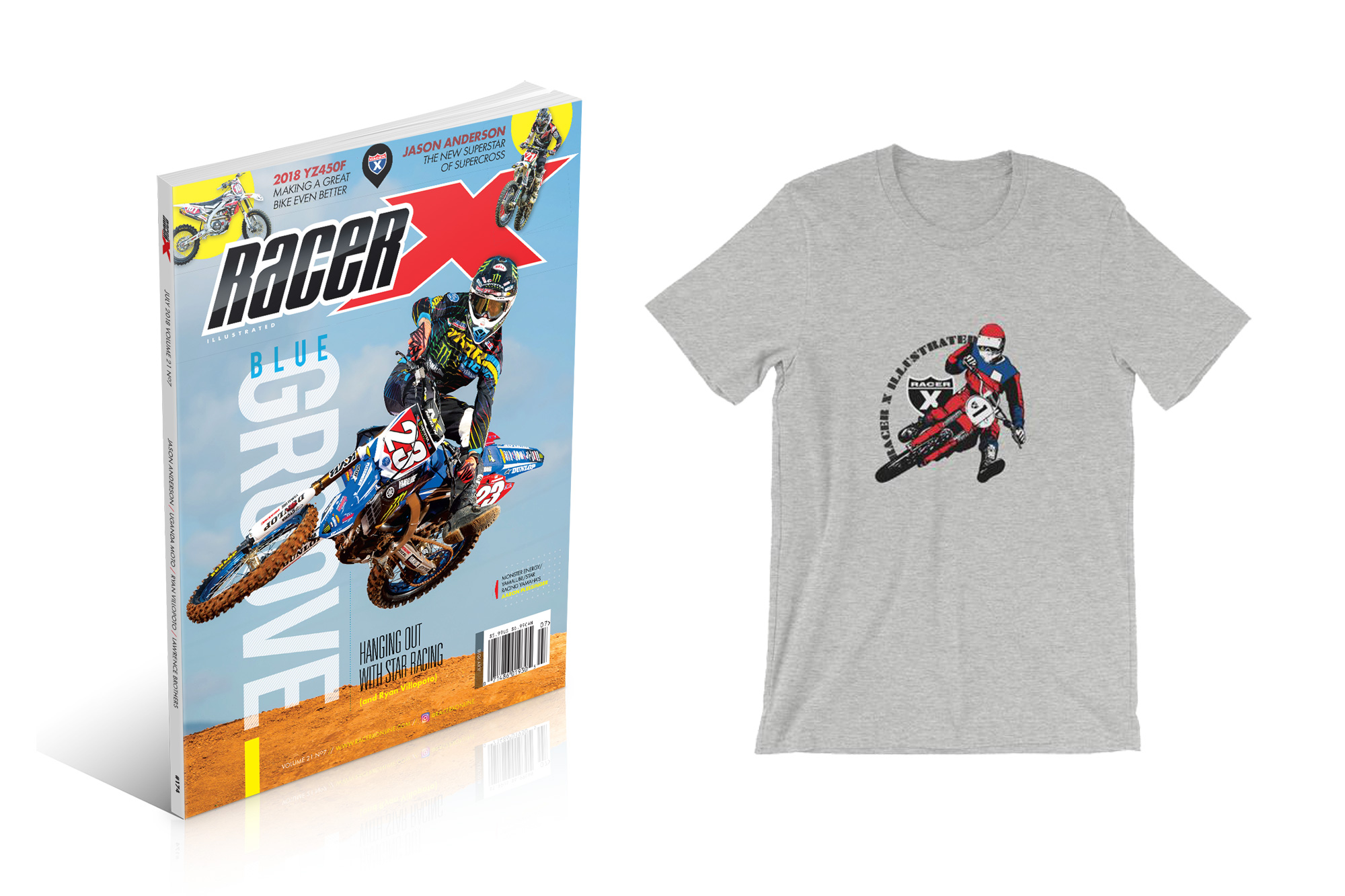 Racer X All-Day Pit Passes — Limited Quantities!
With the races right around the corner, that's all we can think about, and if your plans are the same as ours, we'll be seeing you at the Lucas Oil Pro Motocross Nationals. Aside from the media tent, you can get the same access as our journalists that travel the series with the Racer X All-Day Pit Pass. Quantities are limited, so get yours before others start getting that summer itch, too.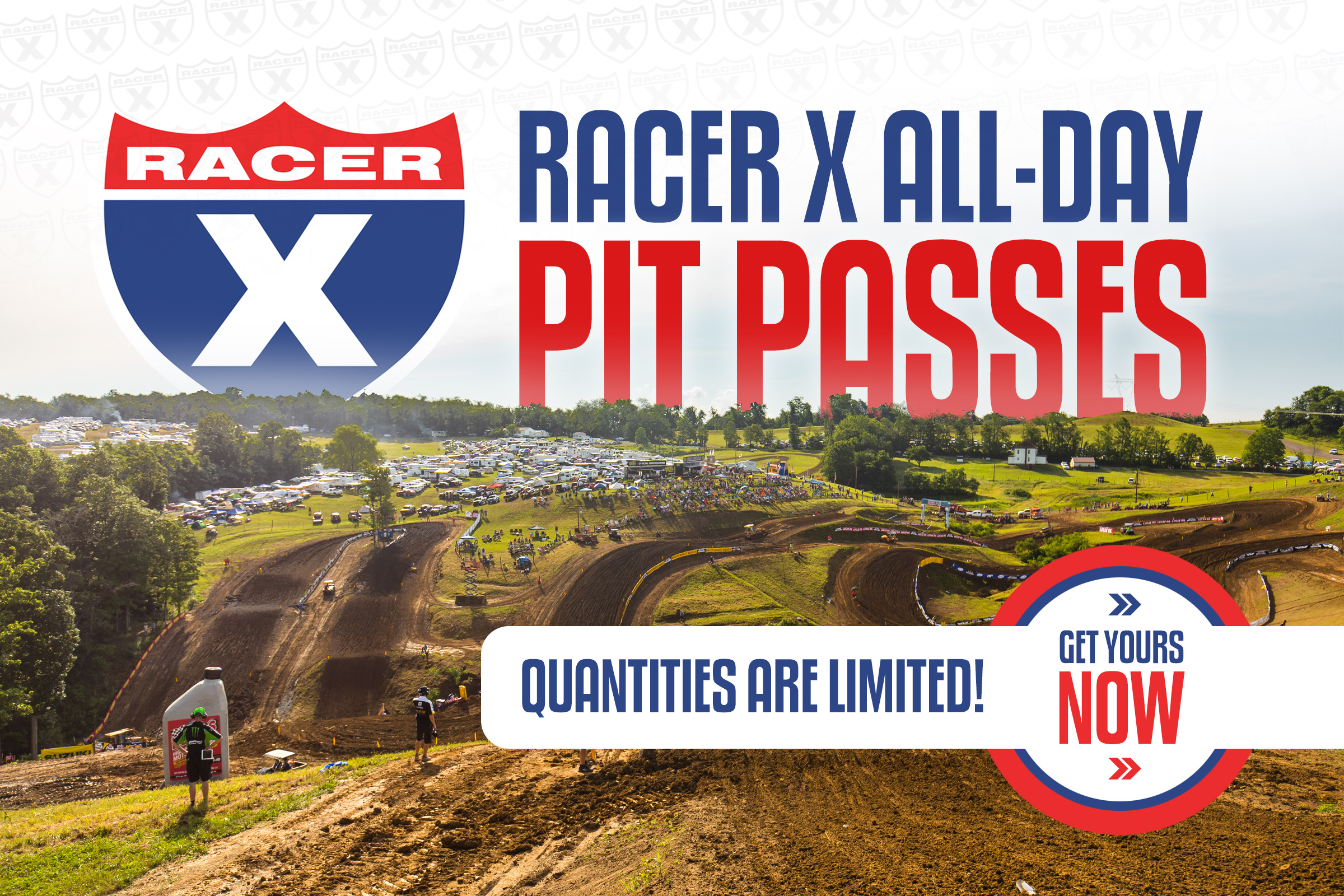 That's all for this week. Thanks for reading Racerhead—see you at the races.