What an up-and-down week…. Supercross has a new champion, but he was too sick to stick around and celebrate—at least for a bit. Arenacross has a new champion, too, but he's apparently the last one in the series' 33-year run, which is now over. American Motocross gets ready to start next at its traditional launching point, the 50th Annual Hangtown Classic. And global motocross lost one of the true gods of this sport when Eric Geboers drown in a boating mishap on a lake in Belgium. He was 55 years old.
Let's start right there. I first met Geboers at the 1990 Glen Helen 500cc U.S. Grand Prix of Motocross. I was at the front gate with Jeff Cernic. We had produced the event program and literally drove them from West Virginia to Southern California and sold them to fans as they bought their tickets. Cernic was yelling, "Get your program! Find out what number David Thorpe is! Find out what number Eric Geboers is!" Well, Eric just happened to be walking through the gate with his gear bag and heard Jeff yell that. He stopped and shouted, "I am #3." To which Cernic, who had never met Eric before, replied, "But you're #1 in my heart!" Eric cracked up. Then he went out to win the overall Grand Prix, his 1-2 tally topping Rick Johnson's 3-1. Then Geboers retired on top like the king he was.
The 1990 500cc title was Geboers' fifth FIM World Championship. All told, he won 39 Grand Prix races: 18 in the 125cc Class (while riding for Suzuki), five in the 250cc Class (Honda), 16 in the 500cc division (also Honda). He must be considered one of the most versatile Grand Prix racers of all time, and he was the first to win titles in all three classes. After racing, he became a promoter and team owner, and through those businesses, he actually stayed in touch with Jeff from Cernic's Racing.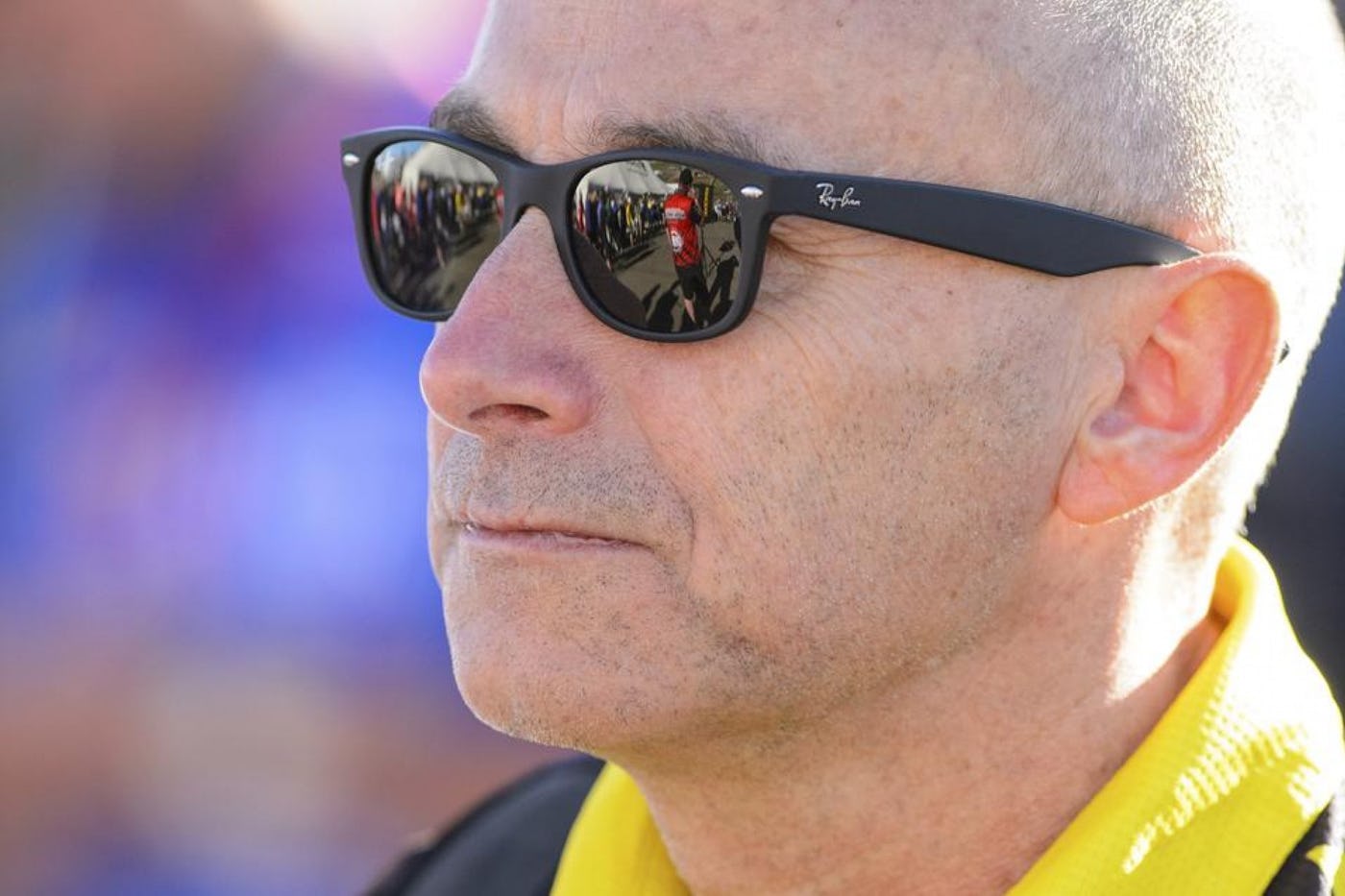 I also stayed in touch with Eric, and whenever we'd run into each other at the races, he was always smiling, his grin slightly mischievous—just as you would expect from someone nicknamed "The Kid"—and he always had ideas on motocross. The last conversation we had, two years ago, he said that it was his dream to have a race at the Citadel in Namur, Belgium (main image; photo by Roddy McLeod), arguably the most famous track in the history of the sport. The race would be a combined MXGP and Pro Motocross National, with half the track bannered with MXGP sponsors, the other half with Lucas Oil Pro Motocross. The starting gate would include the best 20 MXGP riders and the best 20 AMA riders. The next year, we would race again, only at Unadilla or somewhere in the U.S. It would be as big as a race as the Motocross of Nations!
When I heard that Eric was missing on Monday after jumping from a boat into a cold lake to save his dog that had gone overboard, I was stunned. Like everyone I was hoping he would be found alive, but he wasn't. The tragedy made national news in Belgium , and it certainly rocked our little motocross industry. Geboers was of among the very best in that long line of motocross kings who hailed from Belgium: Joel Robert, Roger DeCoster, Gaston Rahier, Harry Everts, Andre Malherbe, Georges Jobe, Joel Smets, Stefan Everts…. To lose him in a boating accident is hard to comprehend.
Our friend MX Geoff in Europe spoke to Dave Thorpe, the teammate and friendly rival of Geboers in the 1980s when Honda ruled the FIM 500cc Grand Prix world. You can read that interview here .
MX Geoff also spoke to Stefan Everts about what it was like growing up in Belgium with Eric Geboers, as one of the biggest sporting stars of all. It's a really good read and insight into how important Geboers was to European motocross. Read it here .
Want to see one of the defining moments of Eric Geboers' career? Watch this video of the 1987 Dutch FIM 250cc Grand Prix, and watch #20 Geboers at the 3:30 mark as he's closing in on Pekka Vehkonnen and what happens....
That effort salvaged second place for Geboers after a 45-minute moto. He went out and absolutely dominated the second moto.
And nothing quite sums up Eric Geboers' extraordinary career and playful character than this video of the moment after he clinches the 1983 FIM 125cc World Championship. Please watch:
Back to that last idea that Eric had for the combined MXGP/National. Things are going much better between the FIM and AMA, as well as between Youthstream and MX Sports. David Luongo and I both talked about the idea at the U.S. MXGP in Jacksonville, and we will no doubt talk again about it at the 2018 Motocross of Nations at RedBud in October. He's as big a fan as I am, and he immediately smiled at Geboers' idea and admitted that he had long had that dream too, just like a lot of race enthusiasts around the world. If we could somehow pull it off someday, it only seems fitting that the winners would take home the Eric Geboers Trophy.
Godspeed, Eric Geboers.
ANDERSON'S UGH… (Wheels)
By now you've probably heard that the 2018 Monster Energy Supercross 450SX Champion Jason Anderson was feeling ill in Las Vegas and rushed out of the post-race press conference early due to his illness. After Anderson's early exit, most people assumed that there would be no celebrating for the newly crowned champ.
Well, if you thought this, you would be wrong. El Hombre left Sam Boyd Stadium Saturday night and had to go to the hospital, where he was treated with a few IVs after what we can assume was a significant amount of vomiting—if you've ever had food poisoning, you know what we're talking about. While Anderson was being treated at the hospital, the celebrations began as industry people congregated at the Hard Rock Hotel and Casino to hang out after a long season of supercross.
Upon rolling through the party—hours after the pots-race press conference had concluded—I bumped into Jason and instantly responded with, "Woah, you're here?" We exchanged laughs and he told me about going to the hospital. Our paths crossed a few more times that night, and I remember thinking, "Dang, a lot of people have to get IVs after partying in Vegas, but he just got his before." In hindsight, he was probably more hydrated and in better shape than a lot of his peers that night!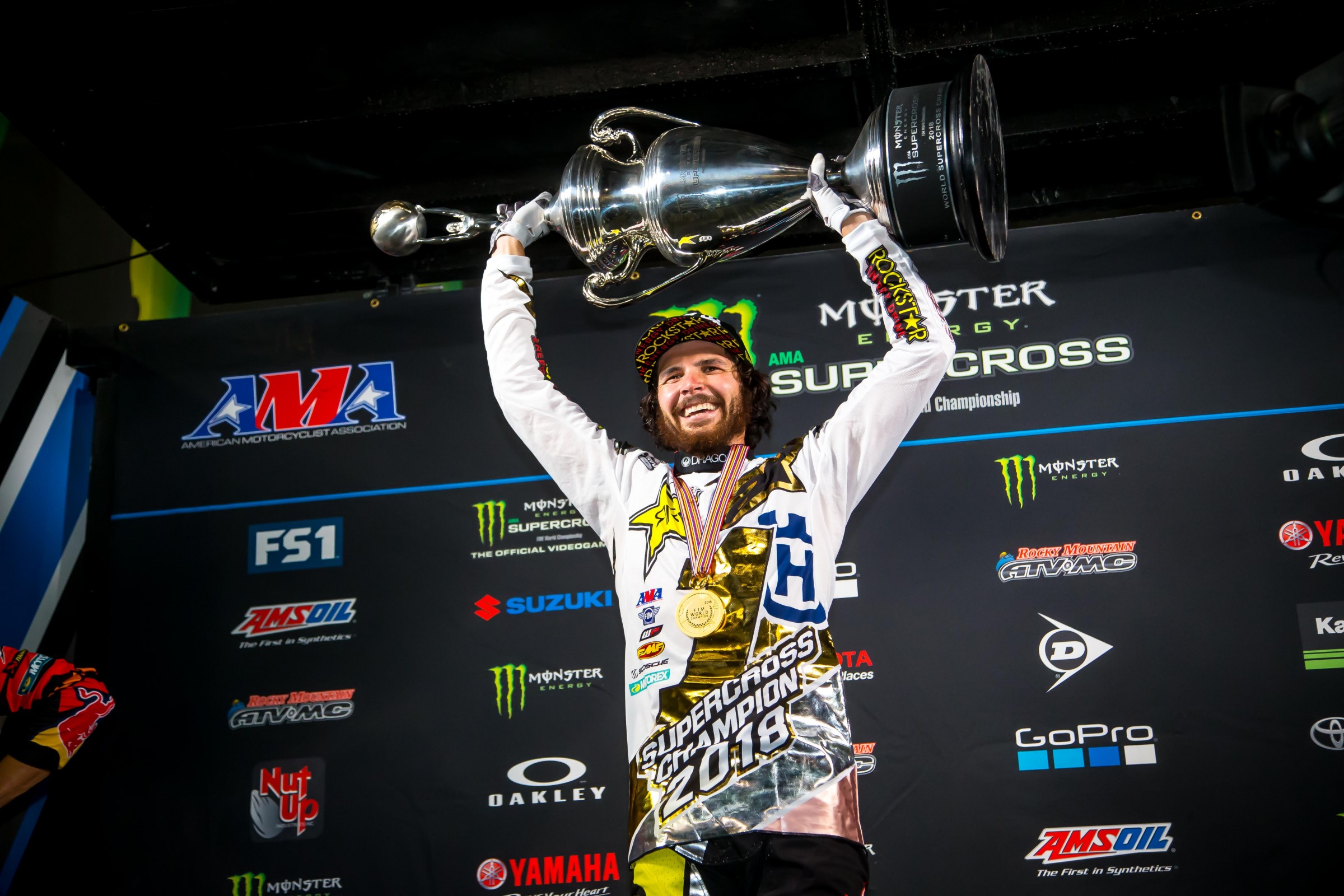 THE CHAMPIONS (DC)
So the 2018 Monster Energy AMA Supercross Championship is over and we have two new champions and one successful defender. As Wheels explained above, Rockstar Husqvarna's Jason Anderson was much sicker than anyone knew, and had he not been able to tough it out, we might well be talking about Red Bull KTM's Marvin Musquin as the new 450SX champion. But Anderson did make it to the finish, and for the first time since 1975, a white bike won the premier class title (last time, that white bike was a Can-Am beneath Jimmy Ellis). Anderson rode a smart and solid series, minimizing his few bad races and taking victories when the opportunities were there. He does things his own way, and it's working for him and the whole Rockstar Husqvarna team. I have no doubt that he will put up a solid title defense in 2019.
Aaron Plessinger won his first title as a professional, and he also seemed to be doing it his own way as well. Aaron is a funny, talented rascal of a rider—I've known him since I was covering GNCC races for Cycle News , and his dad Scott was the champion a couple of times. He works hard, rides well, and has a very bright future.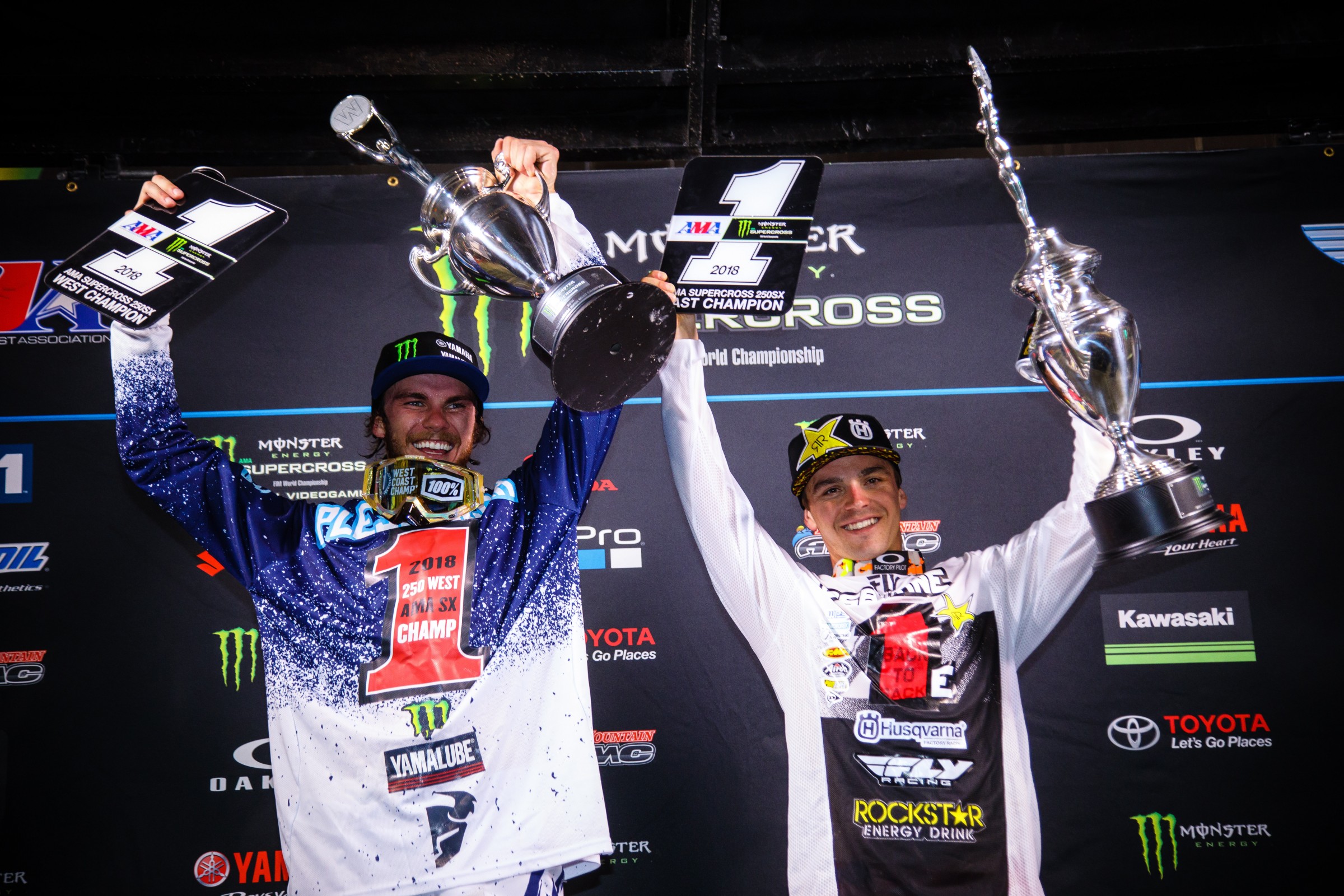 And then there's Zach Osborne, the oldest 250SX Champion and the oldest repeat 250SX Champion of all time. Zacho has had a strange odyssey to the top of this sport, going from a seeming flameout his first time up through the ranks to Europe and back for another run. It finally started coming together for him a couple of years ago, when he hooked up with Bobby Hewitt's Rockstar Husqvarna program, and now he's delivering wins and titles. No rider has ever repeated as both 250SX and 250 MX Champion, so Osborne has a lot on the line this summer in Lucas Oil Pro Motocross!
Congratulations to Jason, Aaron, and Zach on a fine season of supercross. Now let's take it outside!
THOSE STICKERS (DC)
Ever since we started sharing sneak peaks of this year's free Racer X National stickers, which were riffs on nineties' T-shirts and starring some of our favorite riders of that dayglo era, we've been getting requests on how people can get a full set of the decals. We hand individual stickers out at the Racer X booth, as well as at tech inspection to all of the pro riders and mechanics. We've been doing a specific sticker for years, usually based on some kind of travel motif, but these "retro rider" stickers have really caught people's eyes. It was never our intention to sell stickers or complete sets, but since the demand seems to be there….
If you would like a full set of the 12 Racer X Pro Motocross stickers, printed by Graphics Lab/Throttle Jockey in Indiana, all you have to do is go to the Racer X booth and sign up for a one-year subscription for either the printed ($19.98) or digital ($9.98) magazine, and we will give you a full set the 2018 stickers. And if you can't make it to the races, we will be setting up an online order form to subscribe or renew and we will send a full set to your door, as long as you live in the U.S. (international subscribers will have to pay a little more to cover postage).
Oh, and those of you who have asked why there is no Jeff Stanton or Damon Bradshaw stickers, don't forget that there are a couple of more races coming up this season that will also have special Racer X decals, one in Tennessee and the other in Michigan. Stay tuned!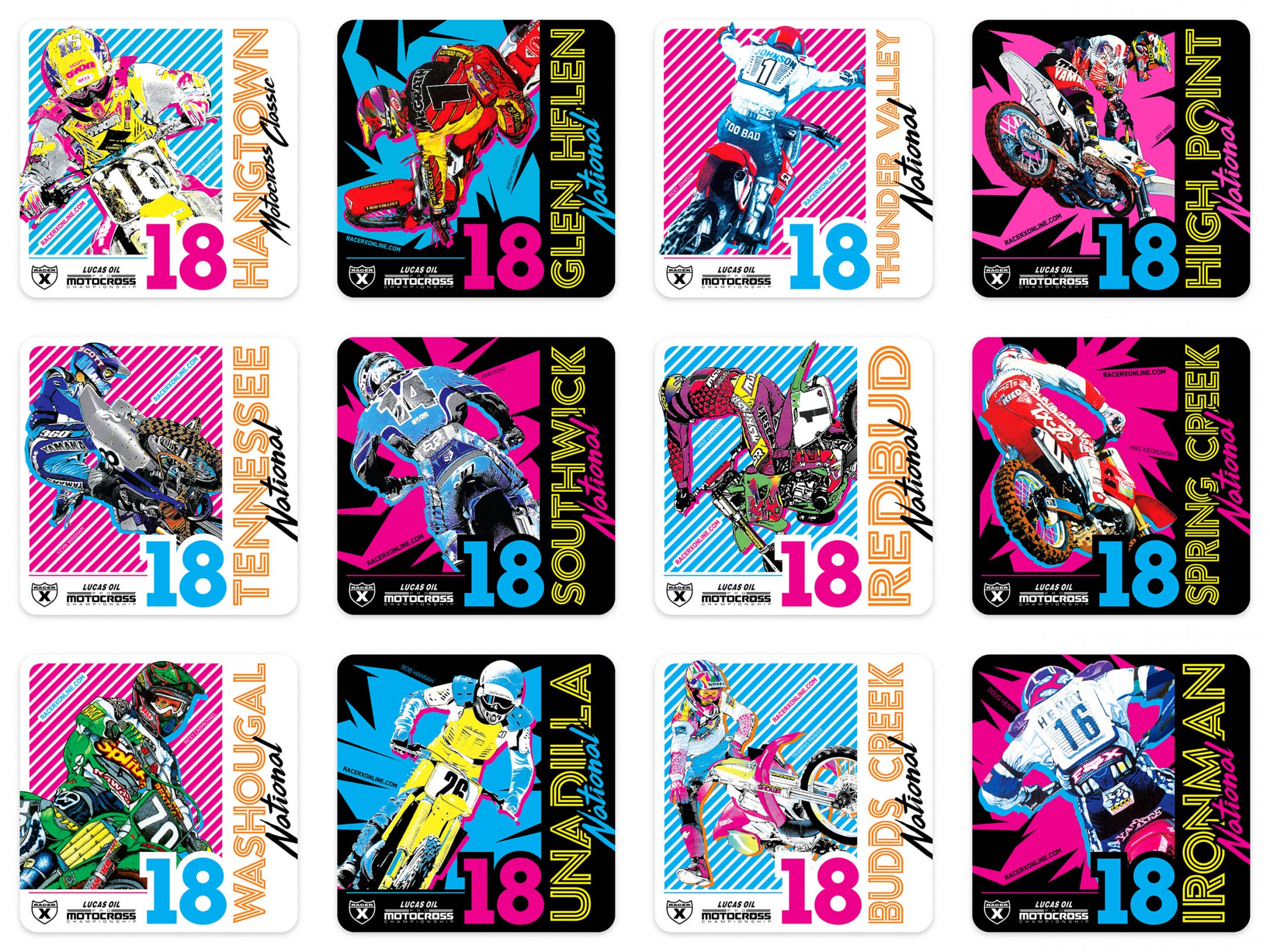 125 ALL-STARS (DC)
Over the course of maybe 20 minutes today, I talked to four guys who are headed to Hangtown for the 125 All Star race. Ryan Villopoto was scrambling to get a new AMA card. David Pingree was trying to figure out why the link didn't work, and then he was going to pick up another 125 for Jimmy Albertson. Shaun Palmer wanted to make sure he got to be #555, and Russ Wagemen wanted to make sure his son Robbie—last year's 125 Dream Race winner at Hangtown—would be back on the gate for the 125 All Star race. Now I see why Joey Lancaster of the OG 125 Dream Race at Washougal always looked so busy!
For a four- or five-lap exhibition race next Saturday at Hangtown, these guys are definitely excited, and so are the Dirt Diggers at Hangtown. Among the entered are all of the guys above, plus a few other names you might recognize: Preston Mull, Dylan Schmoke, Craig Mason, and more.
The most frequently asked question I am getting now is whether or not it will be on the NBC Sports Gold streaming service. We are trying to figure out how to get it on live (especially with the lineup we have), but NBC hasn't committed yet. We will definitely keep working on them!
The Number: 4 (Andras Hegyi)
Rockstar Husqvarna's Jason Anderson became the fourth rider to win an AMA Supercross Champion while getting four wins throughout the series. Monster Energy Kawasaki's Eli Tomac had more wins and podiums than Anderson, while Red Bull KTM's Marvin Musquin had more podiums. But Anderson was simply more consistent than both Tomac and Musquin. Contrasted with both Tomac and Musquin, Anderson did not get injured, nor did he miss any rounds. And he had only one bad round—Salt Lake City—while Musquin had two tough ones and Tomac had five.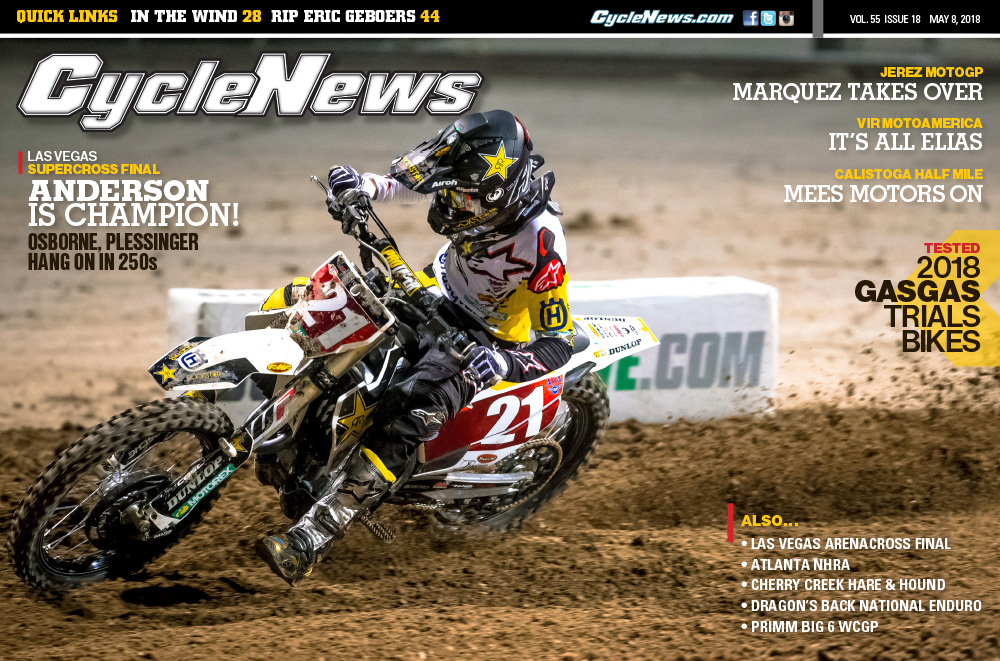 The 1982 season was a duel between Donnie "Holeshot" Hansen and Mark "Bomber" Barnett. They were battling all year long in a season which consisted of 12 rounds. Both Hansen and Barnett got four wins each, but Honda's Hansen was more consistent than the '81 AMA Supercross Champion Barnett, who rode for Suzuki. Hansen collected seven podiums, while Barnett took only five. Hansen's worst results were a pair of sixth-places, while Barnett had five races where he finished outside sixth place. Coincidentally, the series overlapped with the AMA Motocross Championship, where Hansen was riding the 250 Class while Barnett was in the 125 Class. Both would win their divisions—Hansen for the first time, Barnett for a third time.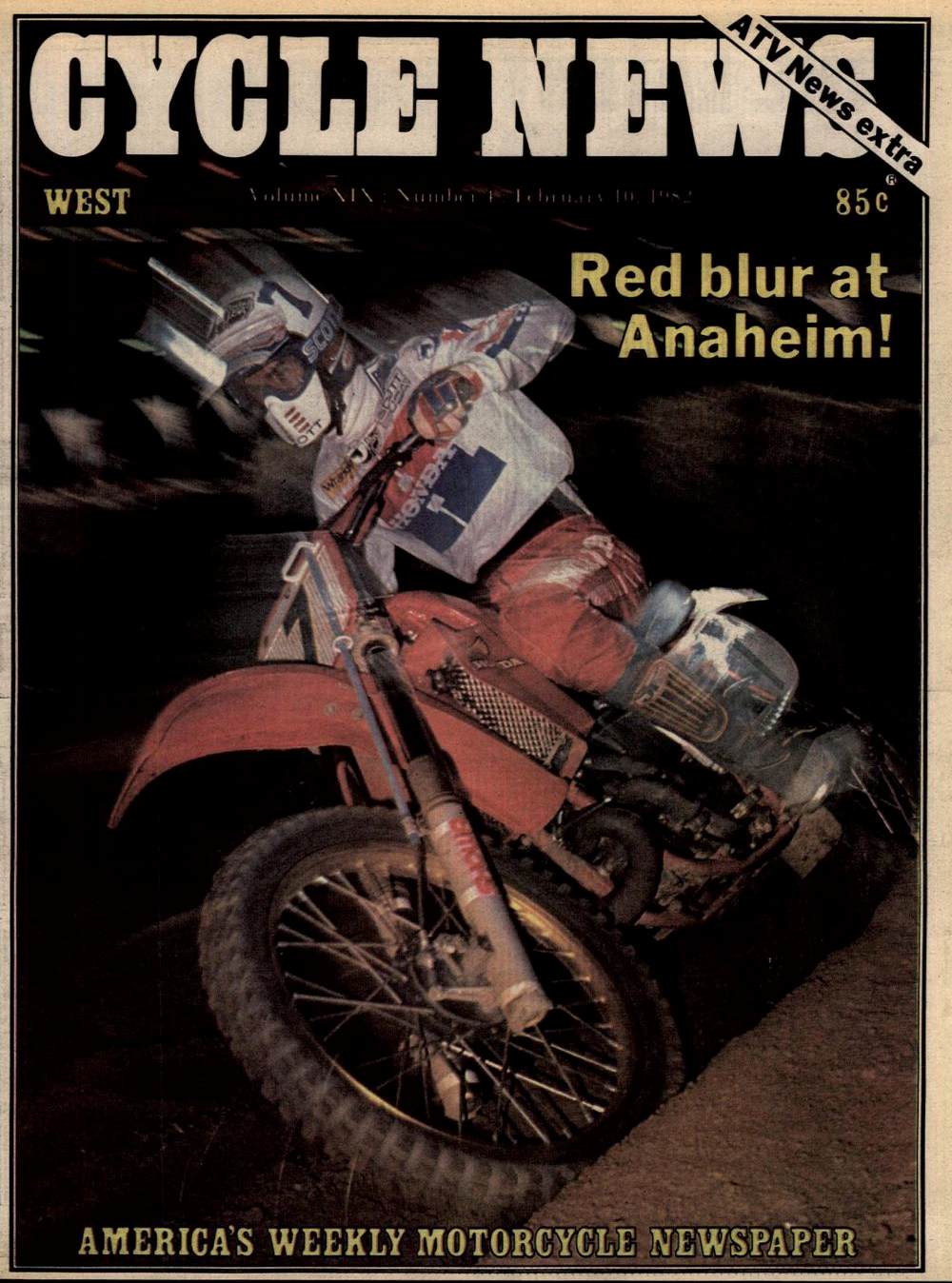 The 1990 AMA Supercross season had three very fast riders: 250 class rookie sensation Damon Bradshaw, two-time FIM Motocross World Champion Jean-Michel Bayle from France, and 1989 titleholder Jeff Stanton. Honda's Bayle got five wins and 12 podiums, and Yamaha's Bradshaw got five wins and seven podiums. But the champion was Honda's Stanton, who got four wins and eight podiums. Stanton was more consistent than Bayle and Bradshaw and was not injured at any point, in contrast to both Bayle and Bradshaw. Stanton was able to get points at every one of the 18 rounds during the season, and he was in the top seven in 17 rounds. Neither Bayle nor Bradshaw were nearly as consistent. Due to an elbow injury, Bayle had to miss two rounds, and there was a round where he finished 20th after a mechanical problem. Bradshaw also had to miss two rounds because of a broken foot, while there were four other rounds where he finished outside the top ten.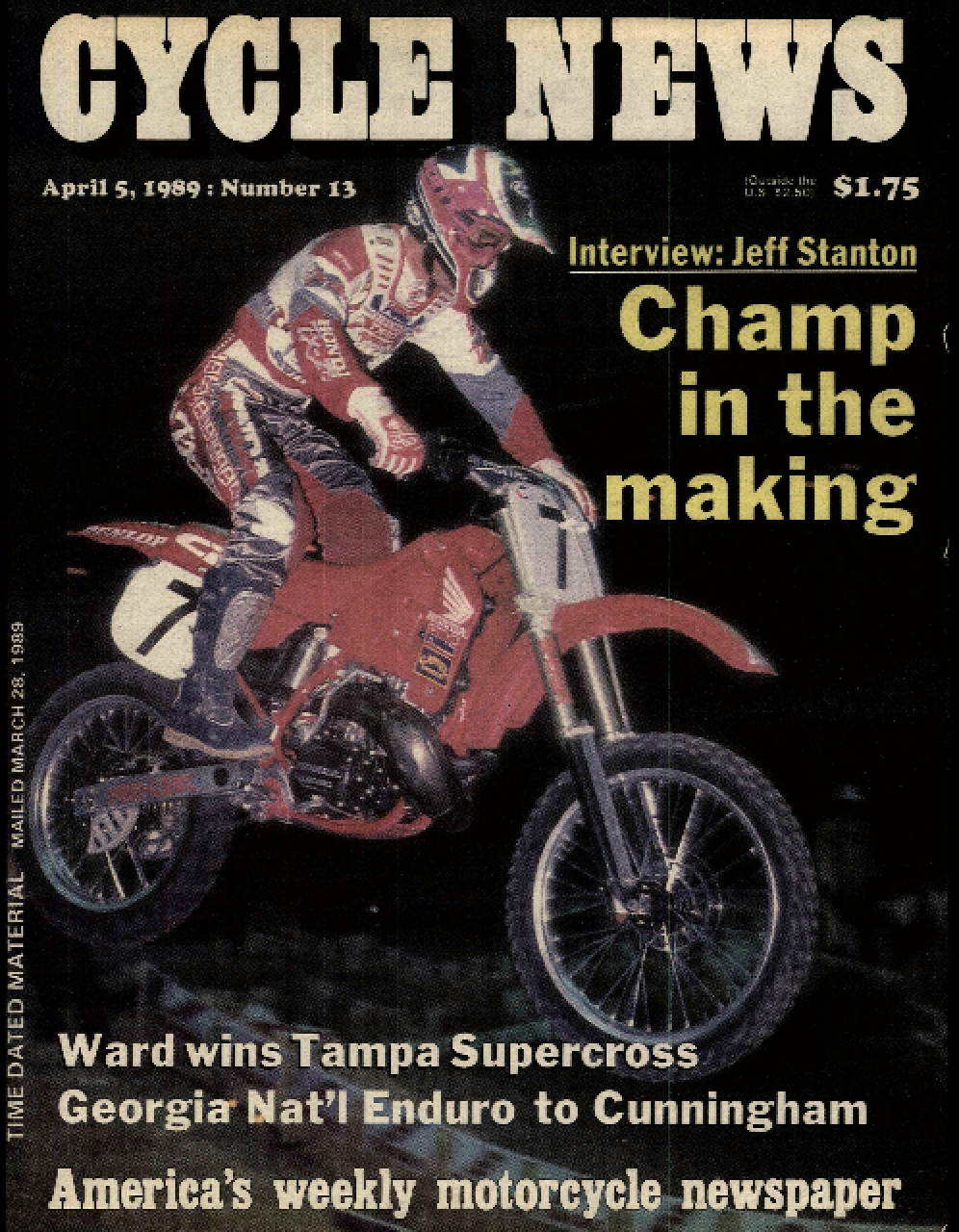 Finally, there is 1975, the year that Jimmy Ellis did something remarkable. The AMA Supercross Championship only had four rounds! All four rounds were won by "Captain Cobalt" from Connecticut, in the saddle of the Canadian Can-Am. 1975 is the only season in the history of the SX premier class in which a rider was able to be perfect (and, coincidentally, he was on a white bike, just like Anderson). The only perfect season in the 125/250 class belongs to Ricky Carmichael, who won all eight 125 East Region rounds and then added the East-West Shootout in Las Vegas aboard his Splitfire/Pro Circuit Kawasaki KX125.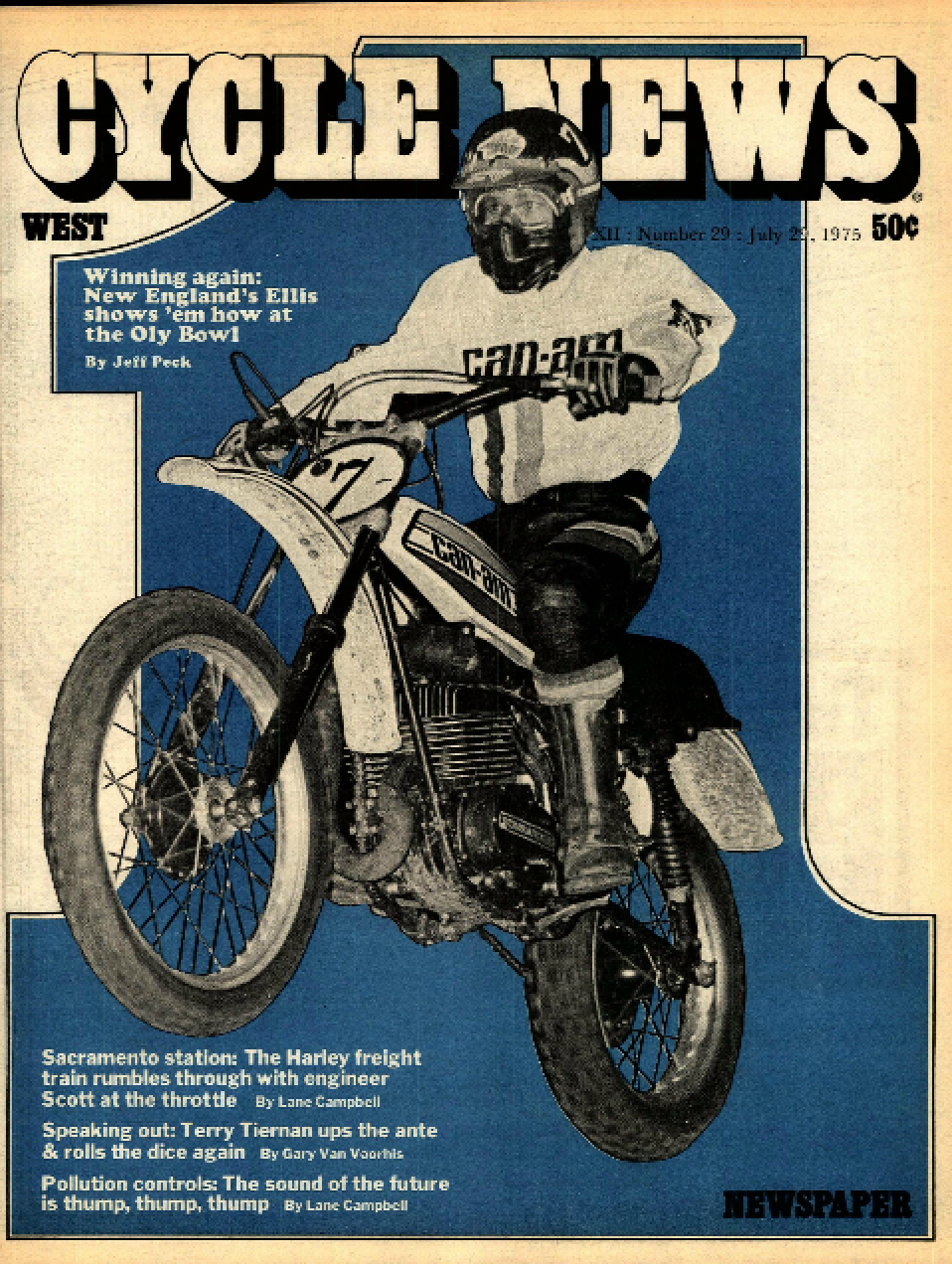 MXGP of Latvia (Adam Wheeler)
The ninth Grand Prix of Latvia will be a slightly special one this weekend for two reasons. Firstly, the MX2 championship leader and holder of the #1 plate, Red Bull KTM's Pauls Jonass, will be the first world champion from his country to turn out in front of his home fans, so an increased attendance at the flat, fast, and rough Kegums circuit should be on the cards. The weather forecast is also looking balmy. The second factor will be Kegums itself, and the decision to "reverse" the track layout will provide a brand-new interpretation—a literal twist—on a venue that will entertain its ninth Grand Prix since 2009 and with a Motocross of Nations also on the résumé.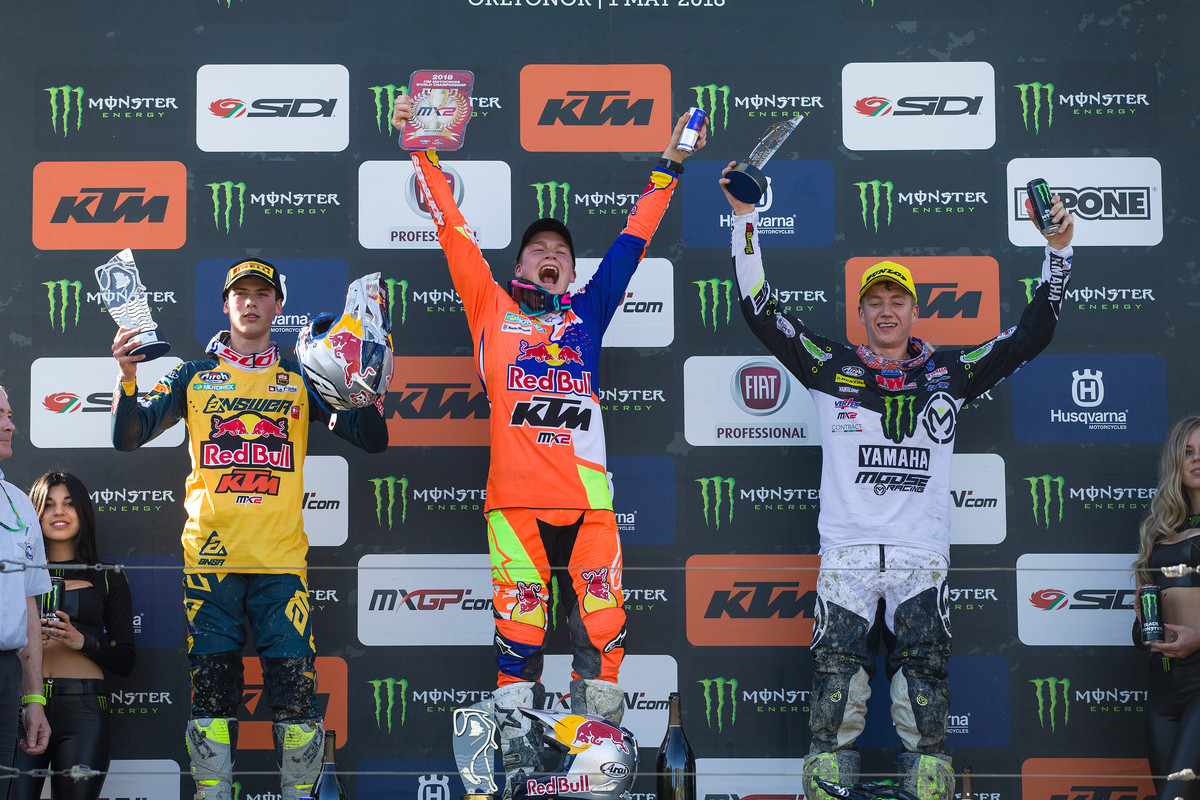 It will undoubtedly be Jonass' weekend, even if his closest threat for a first home win lies in the same awning and with Jorge Prado, the only other rider to have claimed GP spoils this year. The FIM MX2 Motocross World Champion has utterly dominated four of the six rounds held so far and looked decidedly average in the other two fixtures in Italy and Portugal, so it will be curious to see which Pauls shows up to cope with the spotlight at its harshest. If we witness the Jonass from Russia almost two weeks ago, then it could be another runaway. Potential homecoming spoilers include the blooming Ben Watson with Kemea Yamaha, Rockstar Energy Husqvarna's Thomas Kjer Olsen (who seized his first GP win as an MX2 rookie here last summer), as well as the returning 114 Motorsports Honda's Hunter Lawrence. The Australian is back in the frame after recovering from a broken hand.
Red Bull KTM will again be under the microscope for their efforts in the MXGP class for the next installment in the Herlings-Cairoli dice (tune in next week as well, folks, for the latest episode in Germany!). A variable this weekend could be third team member, Glenn Coldenhoff, who shocked the establishment with his first (and, to date, sole) MXGP success at Kegums in 2015. The Dutchman rode a Suzuki that day and stuck two fingers up to the factory team, who let #259 know his services were no longer required on the works yellow bikes in the best possible manner.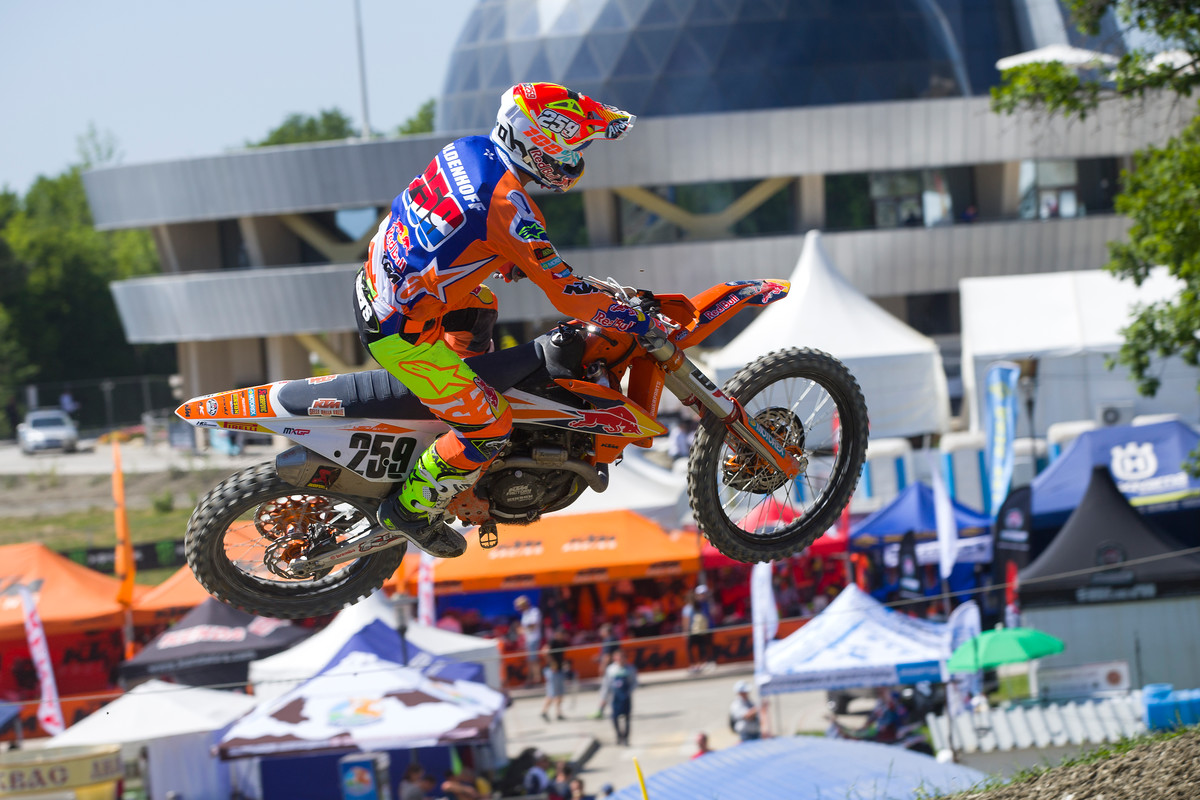 Suzuki, of course, are absent in the paddock, although whispers of a return in 2019 keep growing. It will be impossible to ignore the presence of the brand this weekend, however, with many people's thoughts of Eric Geboers and the tragic news of his demise still so fresh. Mr. 875 (500 + 250 + 125) had a pivotal role in the development of Suzuki's progression and growth toward the end of the last decade and into the 2010s with brother Sylvain. In his post-racing career, Eric was just as well known for his promotional capabilities, and it is entirely apt that the track and event he helped to establish and prosper—the Grand Prix of Belgium at Lommel—will be the site of a "Last Respects" ceremony on Tuesday, May 15, before a private funeral service for family and friends.
Dedicated fans of Grand Prix expect the management of Youthstream to be preparing a suitable memorial or gesture for "The Kid" and in recognition as one of the finest motocrossers to have threaded through any rut.
Who could triumph in Latvia? Despite Monster Energy Kawasaki's Clement Desalle's resurgence to excel in Russia, there are ominous signs pointing toward Jeffrey Herlings. The Dutchman won on his first visit to Kegums in 2010 and owned both motos last year, which was the first of his six wins in a rookie MXGP term. Herlings also tasted success here in 2013 and 2016. Tony Cairoli, meanwhile, might be able to seize on the nostalgia factor of reaching his 222nd Grand Prix appearance.
AC OUT (DC)
It was a good night/bad day for Monster Energy/Pro Circuit Kawasaki's Adam Cianciarulo in Las Vegas. For the second year in a row he won the East-West Shootout in Las Vegas, but then he also had to announce that he was going to have to forego racing this summer in Lucas OilPro Motocross in order to undergo knee surgery and fix a long overdue ACL tear. He posted his regrets to his fans on Instagram:
Speaking on behalf of MX Sports Pro Racing, we will certainly miss AC92 out there this summer, especially with the momentum he had not only from supercross, but from also getting his first AMA Pro Motocross win last August at Budds Creek. We also invited Adam to come visit us at the races and maybe even jump in the booth for some help on the TV broadcasts and NBC Sports Gold, because not only is he a world-class racer, he's a world-class bench racer too! Get well soon, Adam (and Tom Brady says "hey").
Malcolm Too (DC)
We spotted this on Malcolm Stewart's IG:
RIP Arenacross (DC)
If you were at last Friday night's final round of Amsoil Arenacross in Las Vegas, make sure you keep your ticket stub or credential, because there is no next year for the series. After 33 years and having gone through great years and not-so-great years, Feld Motor Sports has decided to shut the series down and move their resources over to doing more amateur supercross—specifically Supercross Futures, an AMA Amateur National Championship. They have been adding more and more amateur events to Monster Energy Supercross, and next year, half the races will have amateur days.
Still, it's sad to know that the little series that started with Mike Kidd in Texas and had a fantastic run of fast guys and great racing—Dennis Hawthorne, Jimmy Gaddis, Buddy Antunez, Darcy Lange, Josh Demuth, Tyler Bowers, Gavin Faith, Jacob Hayes, and many, many more—is not coming back in 2019. At the end of last weekend's broadcast, longtime announcer Robbie Floyd and his partner Daniel Blair signed off with their own personal recollections of a series I remember being dubbed "Supercross in a Bottle!"
Answer Racing Grass Roots Tour (Kyle Scott)
Yesterday, Answer Racing held a ride day at Pala Raceway for their "Grass Roots Tour." The tour includes several stops throughout the country this year, where Answer Racing will be on site at tracks to connect with fans and riders. It's an opportunity for everyone to get a firsthand look at their products, as well as get into the track for free. That's right—they're covering entry fees on the ride days and are available to answer any questions you have about Answer Racing.
Ryan Villopoto and Nick Wey were on hand yesterday hanging out and spinning laps. Wey's son Vincent, who won the KTM Junior SX challenge last weekend in Las Vegas, was also there, and unfortunately took a digger and went to the hospital to get his wrist checked out—hope all is well, Vincent!
Villopoto will be racing in the 125 All Star race at Hangtown next week and was berm-blasting and revving his YZ125 to the moon getting ready for the season opener. You may notice the helmet Villopoto is wearing in the photos above is not a Bell, which he has been wearing for a long time. He was actually testing out several different brands of lids yesterday. Since recently working with agent Lucas Mirtl, Villopoto has had quick a few changes in his sponsors—changes that include the switch from Kawasaki to Yamaha, from Thor to Answer Racing, and maybe from Bell Helmets to someone else. We'll have to wait until Hangtown to see which helmet he's going to go with. Ping, Shaun Palmer and Mike Sleeter were also out there getting read for the All Star race next weekend. As DC said above, it should be a killer battle!
Check out the list below to see if Answer is coming to a track near you:
| | |
| --- | --- |
| Event | Dates |
| Mammoth MX | June 15-24 |
| Aztalan Ride Day | July 15 |
| Loretta Lynn's | July 30-August 4 |
| Baja Brawl | August 31-September 3 |
| Crow Hill J-Day | Sep 23 |
| Motocross of Nations | October 6-7 |
| Ironman GNCC | October 27-28 |
| Off-Road Ride Weekend — Ocotillo | November 10-11 |
| RV Cup | December 28-January 1 |
Dunlop MX33 Tire Intro (Kyle Scott)
On Tuesday, Dunlop Tires invited the media up to Buellton, California, for a presentation on their new MX33 tires. The following day, they took us down the road to the legendary Zaca Station to try them for ourselves. The MX33 has been in development for the past year, tested with over 30 factory teams, and will be replacing the MX3S. One the key focuses of the tire is enhanced durability—the race teams have not had to replace as many fronts, thanks to the all-new compound and how well it holds up. They've tested over a thousand prototypes and have a new knob design that helps prevent tires from folding when entering corners. The interior blocks also have a new diamond shape with higher surface area and improved angles for better grip while digging into the dirt.
The number of blocks in the center has increased from 30 on the MX3S to 33 on the MX33, as well as from 36 in the middle shoulder to 39. Not only did the number of knobs increase, but so did the height of the knobs; they're now even taller than before. Most factory riders run a tire pressure between 13-14 PSI in the front and 12 in the rear, and Dunlop recommends starting with those numbers and tweaking from there depending on your preference or usage.
The MX33 is designed for softer terrain. If you're looking for something for sand or mud, check out the MX11 or MX12. For intermediate to hard pack, check out the MX52.
The MX33 will be hitting dealers Monday. See the available sizes below and read the full press release here .
Front
| | |
| --- | --- |
| SIZE | LOAD SPEED |
| 60/100-10 | 33J |
| 60/100-12 | 36J |
| 60/100-14 | 29M |
| 70/100-17 | 40M |
| 70/100-19 | 42M |
| 80/100-21 | 51M |
Rear
| | |
| --- | --- |
| SIZE | LOAD SPEED |
| 70/100-10 | 41J |
| 80/100-12 | 41M |
| 90/100-14 | 49M |
| 90/100-16 | 51M |
| 100/100-18 | 59M |
| 110/100-18 | 64M |
| 120/90-18 | 65M |
| 100/90-19 | 57M |
| 110/90-19 | 62M |
| 120/80-19 | 63M |
| *120/90-19 | 66M |
*New size
Hey, Watch It!
Got yourself some teenage kids (or a preteen, in my case) who love Brat TV's DIRT motocross series? It's not for everyone, but according to my 10-year-old Sloane, it's awesome .
The first Mile of the 2018 American Flat Track season is here, folks, and if you can't catch the Law Tigers Arizona Mile, presented by Buddy Stubbs Harley-Davidson, in person at the luxurious Turf Paradise venue, you can watch all the action live and as it happens on FansChoice.tv , beginning at 5:00 pm EDT. Mile racing is always fast and always unpredictable, so don't miss it!
Racer X Films: Jimmy Albertson Helmet Cam at Cahuilla Creek
Racer X Films: Shadowing Doc G and Aaron Plessinger at the Races
Racer X Films: Garage Build 2018 YZ450F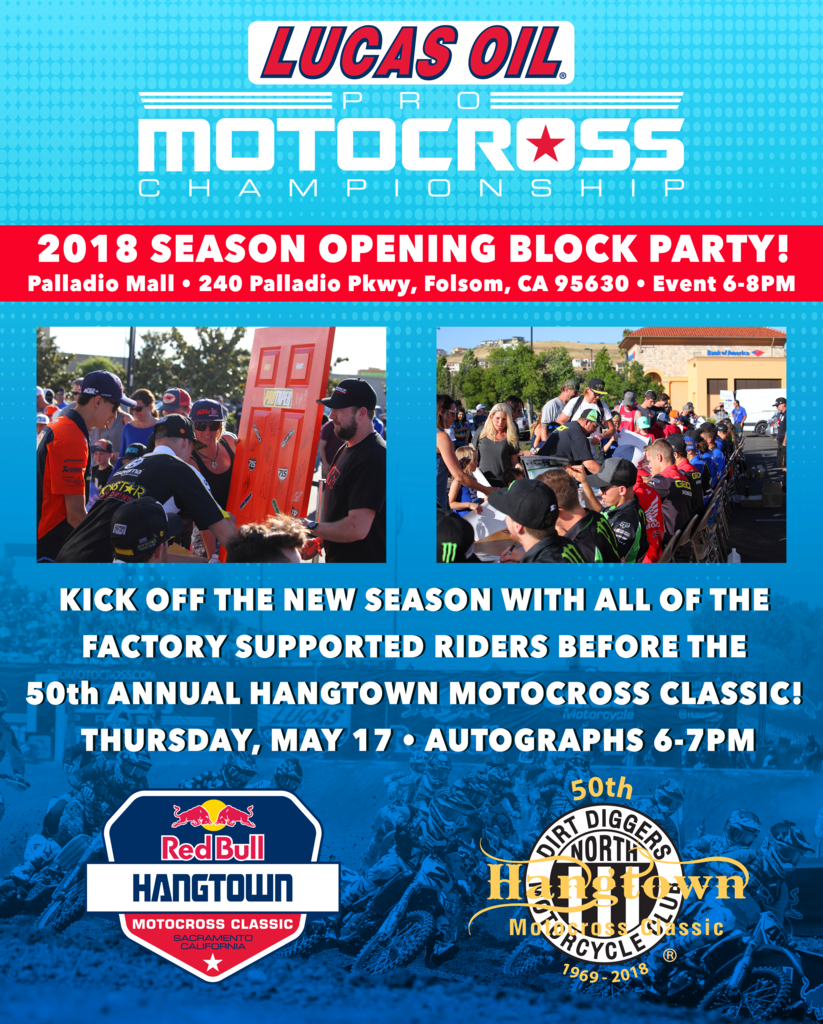 All of the teams and riders will be signing autographs from 6-7 p.m. local time, along with dozens of series sponsors and event partners participating with displays and giveaways. The 2018 Hangtown Grand Marshall, Brad Lackey, will be on hand signing autographs as the milestone of 50 years at Hangtown is celebrated. Come out and join the Dirt Diggers!
Subscribe Now And Get A Free Retro Racer X T-Shirt
Subscribe now for as low as $9.98 and receive a free Retro Racer X t-shirt, plus access to our digital edition.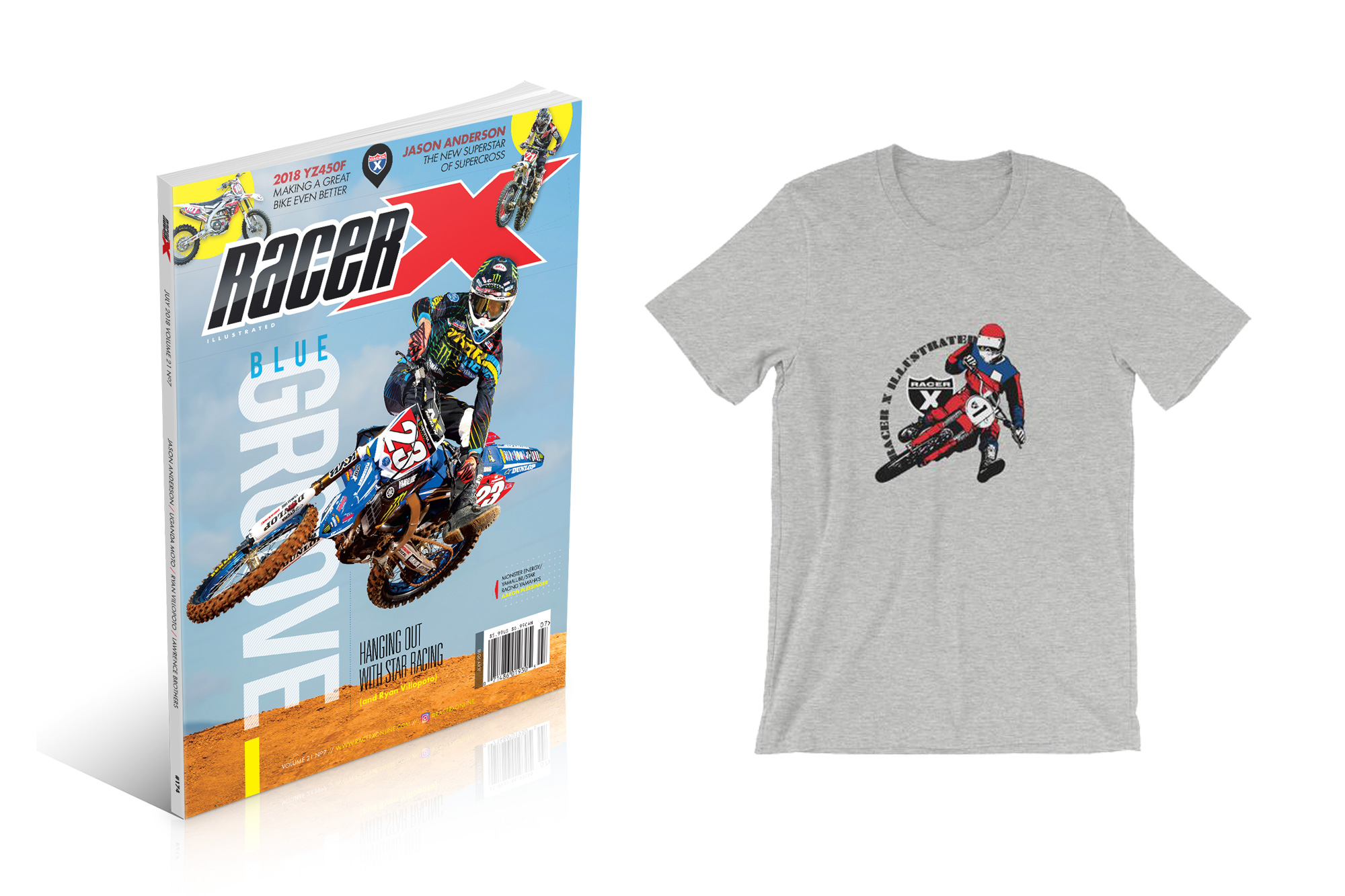 Get your OUTSTANDABLE tee now at www.racerxbrand.com . Don't worry, Aaron is totally cool with this. We asked him prior to releasing the shirt.
That's it for this week. Thanks for reading Racerhead—see you at the races.