Las Vegas, NV
Las Vegas
Monster Energy AMA Supercross Championship
Racer X: Just take us through the race. The track was obviously challenging. It was dry. Options in the whoops. You guys put on a pretty great battle tonight. Just take us through it start to finish.
Shane McElrath: Tonight was one of those races where it was a little tougher to start in the front. I didn't know where they were catching me, but I knew that they were catching me in some areas. It's tough to control the race when you're doing that. It was nice to be out front. I felt good out front. I pulled a holeshot. I haven't had one of those in a while. We had a lot of positives from today and really made progress all day. That was what I was most excited about. Going into the main, I was the best I felt all day. I knew that I could make it happen. Adam's two-for-two on the last two Vegas rounds—it was hard to see him pulling away a little bit, but we ended on a good note on the podium and we're ready for outdoors.
Jordon Smith: It was kind of typical Vegas out there. It was rough during the day and it was better for the night show, I thought. I was kind of happy that we started jumping the whoops. That was a lot better line for me. Like Shane said, we worked good as a team today and made a lot of progress. I felt really good in the main event. Adam was on rails out there. He came past me on maybe the third or fourth lap or something. He was riding really good. I just put my head down and tried to make the same passes he did and caught up to second.
Adam Cianciarulo: It was a difficult race for me. I don't know what it was on the starts today, but for some reason, I just feel like I wasn't getting the same bite like right off the gate. I wasn't getting a lot of bottom end for whatever reason. Maybe it was just me on the clutch or not enough revs or whatever. I think the only difference between this race and other ones in the past—obviously I'm comfortable on this track, but the whole time I felt like mentally, I was trying to get to the front. I wasn't trying to settle or be consistent or be smart. I was just kind of focused on the front and felt good on the track all day. The heat race there was a couple things that we kind of pinpointed that I needed to do. It was like two or three things. Just kept it pretty simple and just tried to execute those. But like Shane said, it almost was nice for me to be in the back and kind of sit back and see where I was maybe a little bit better than some of these guys. I was happy I was able to execute. I had to pass, obviously, some world-class talent, so it was one of my better wins of my career, for sure.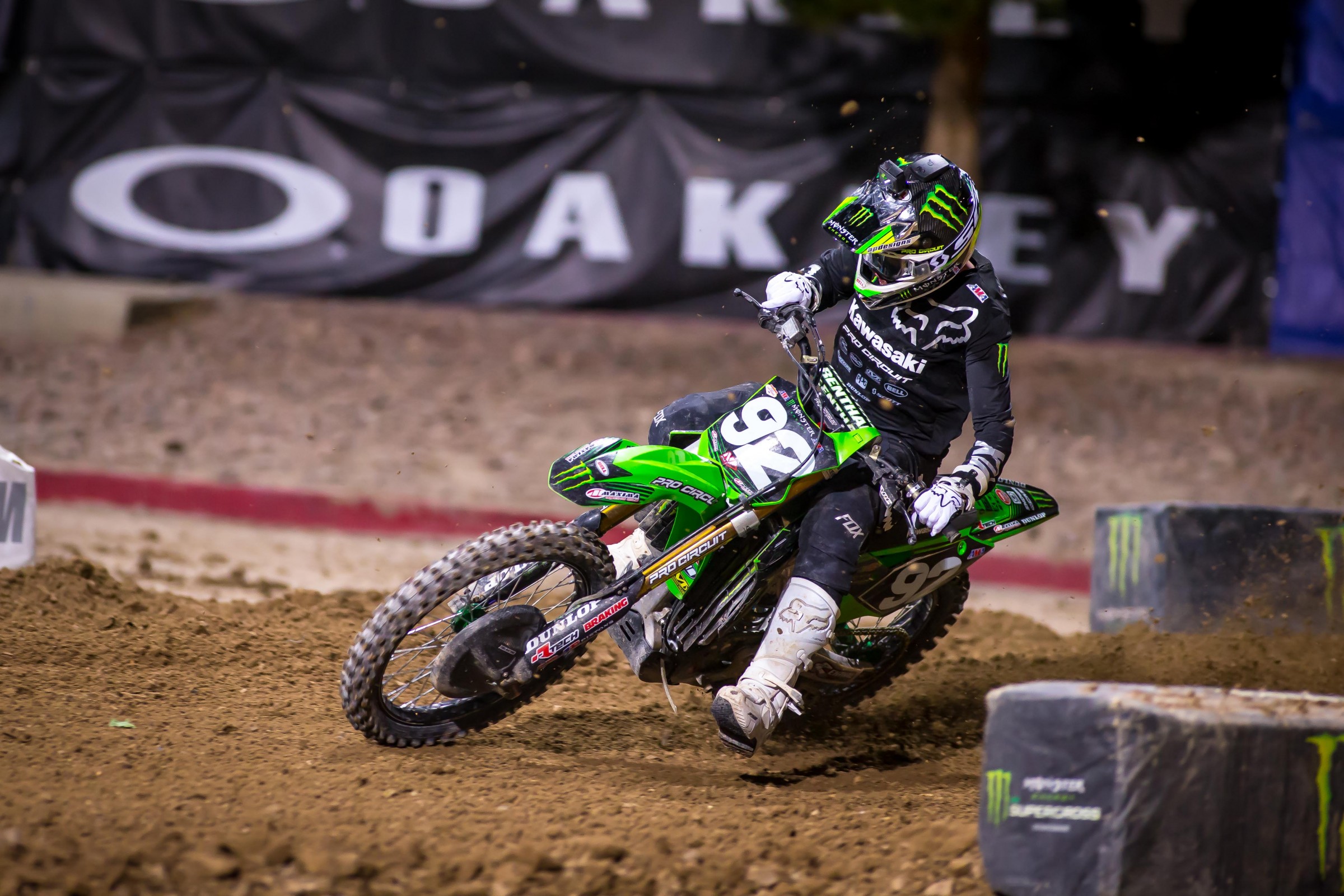 Adam, congratulations on missing the dreaded plaque zone.
Cianciarulo: Feels good.
Up on the podium, it looked like it really kind of hit you that, "Hey, I got another win here." What did it mean to you to get this one?
Cianciarulo: It meant a lot. It's been a struggle all year. I've been consistent, and that's been a big focus for me. Obviously, I don't want to be in the hospital. I want to be out here racing. To kind of dial it back, it's easy coming from the outside looking in to say you just need to tone it back just a little bit, just tone it back and you'll be fine, you'll be consistent. But to kind of take it from that really good, raw speed to being consistent is tough. It's almost like I went backwards in the sense of explosiveness. I wanted to settle too much this year. Tonight, I rode with nothing to lose. I said on the podium—which I'm going to get yelled at for because I guess I wasn't supposed to say anything until Monday—but I've had a torn ACL for a year and I just rode, like, my 15 laps for four months. That's what I told you before the race. So I just went out there and rode it like it was my last 15 laps until September.
Adam, what's next for you, besides fixing your ACL? Are you signed with Mitch [Payton, team manager] for next year?
Cianciarulo: Yeah, still signed with 250s for Mitch. I'll be back for supercross in 2019 with Mitch.
Adam, why now all of a sudden to get the knee fixed? This has been over a year. What makes you want to do it now?
Cianciarulo: It's just wearing my meniscus away. The way I was explained—my doctor is actually here somewhere. Not in this room, but he could explain it better. I'll probably hack this up. Basically, the ACL, I completely tore it at Indianapolis when [Zach] Osborne and I got into it. I'll send you a bill for surgery. So, we got into it and that happened. Actually, it was fine all last summer. It was kind of okay. Then I messed it up again. I hyper-extended it at the USGP, and that kind of put a damper on things. Ever since then, it's been filling up with fluid pretty much every time I ride. Everyday life, it's fine. I don't really notice it too much, but when it comes to training and riding and stuff like that, it was coming to the point to where I don't even think I would make it through outdoors. You're just liable to dab it, and every time I dab, it it's pretty terrible pain. I can't really ride for a few days. So, it's just time.
It's the same situation for everybody when you're racing East and West. Shane and Jordon, what was it like to be in the truck together, working together, looking at film together? Normally you're not racing together.
Smith: It was pretty cool. We're two North Carolina boys. We grew up racing with each other and going to the same tracks all the time. TK [Tyler Keefe, team manager] always tells us to represent for North Carolina. We tried to do our best today. I like going to races with Shane. I haven't done that very much. We've raced opposite coasts, and I missed all of outdoors last year. Shane brings a good vibe to the truck, and I enjoy it.
McElrath: We're just, like Jordon said, a couple of North Carolina kids that came from the backwoods, pretty much. We grew up racing at Top Gun and battling each other. It's just cool to be here. We've been on the same team for going on two years now, but it's like we haven't really been together. It's weird when we come together for a race like this because it's almost like we're not together in a sense, but it's just cool to be with the team and everybody's helping out each other. To go out there and race him, then we're fighting for North Carolina. I hate that he beats me, but if North Carolina is getting credit, then I'm happy.
Smith: Just so you guys know, Top Gun is probably harder than this Vegas.
Jordon, last year after you joined the team you're on, you did so incredible in supercross and you were in contention for the championship for a while. This year, I know you were injured prior to the season, and you still did very good. Do you kind of feel like things are going your way and next year could be a championship year?
Smith: Yeah, at this point there's nothing that I really want more than winning the championship. Last year I came in with the points lead, and this year I felt more solid than I did last year. Zach was just better, and he did really good all year and no big mistakes. I think that next year with the team and the third year, I think we shouldn't accept anything less than leaving this place a year from now with the number one plate.
Jordon and Shane, is there anything you can pinpoint that you wish you had done differently or had gone your way to get the few more points you would have needed? You were both pretty close.
McElrath: I wish I wouldn't have rode like a girl sometimes. For us, it's nine rounds. This year I had two bad races. At that point, you just can almost forget about the championship. Last year I had one bad round and then Vegas, but it's really tough to be in the mix every weekend. Like Adam said, it's hard to be consistent and fast. I wanted to be really consistent this year, and I've done that at times, but then it's like, okay, how do you push the limits a little bit and still be consistent? So it's really tough with just—I guess we had ten rounds, the West Coast did this year. It's just little things that add up big in such a short series.
Smith: I felt I started the season with two sixth-places and Zach won the first round and I think got second at the second round. That put me at a pretty big deficit to start with, with a guy as good as Zach. He's not going to make many mistakes. He's really fast. Like Shane and Adam both said, it's really hard to find the fine line between having that raw speed and being consistent. Zach just seems like he had that this year and last year both and it was tough to compete. The two sixth places were really the two big races that I kind of lost points at. Other than that, we were pretty close. We'll try again next year.
Adam, last week you were really bummed. You kind of didn't go to school on the whoops. You were mad you didn't move over. Today, you kind of had the line through the whoops—that three-three-four. How important was that tonight, to have that line? They kind of went to school behind you, too.
Cianciarulo: I was scared to jump the whoops after coming back to the truck last weekend and having that go down. I was even talking to Joey before the heat race. We went one-two in the heat race. He kind of at least initiated his pass on me going to the inside and jumping the whoops. I was like, man, I don't think I can go back and see Mitch and go jump through the whoops. If it was slower, I'm like, I'd just go outside. I was lucky the main line was jumping through them. Last week was a struggle, but we won't talk about that.