Las Vegas, NV
Las Vegas
Monster Energy AMA Supercross Championship
Going into Salt Lake City, I felt we would have at least one title taken off the board. Jason Anderson had a great opportunity to clinch his first AMA 450SX Monster Energy Supercross Championship, only needing a fourth-place finish or better to make Las Vegas irrelevant. In the 250 class, Aaron Plessinger held a 17-point advantage over Adam Cianciarulo. Plessinger would need help, no doubt, but we know that anything can happen in the 250 class and usually does. Both riders certainly knew it was possible to clinch in Utah, but this is why we actually hold the races.
For both, Utah wasn't ideal. They lost some of the leverage they held and sit in a remarkably similar situation to 250 East Region points leader Zach Osborne. All three riders head into the finale with the upper hand, but also face the drama that Las Vegas loves to deliver. As close as the points seem on paper (Anderson 14, Plessinger 13, Osborne 15), all three situations are very different.
For Anderson, this should have been a done deal. With all the injuries, suspensions, etc., the 450 field is depleted. Watching Foxborough's main event, I figured Anderson would have zero trouble putting in a top-four finish the following weekend. He is simply that good in comparison to the remaining field. He would need some sort of disaster to keep him from the points he needed. Voila! Disaster struck. The first-turn layout in Salt Lake is always one that I dread. The short start with a 90-degree flat turn is a recipe for collision. The riders don't have the distance needed to separate, so as they enter the turn, they are still alongside each other. That lack of separation creates contact and typically a pileup.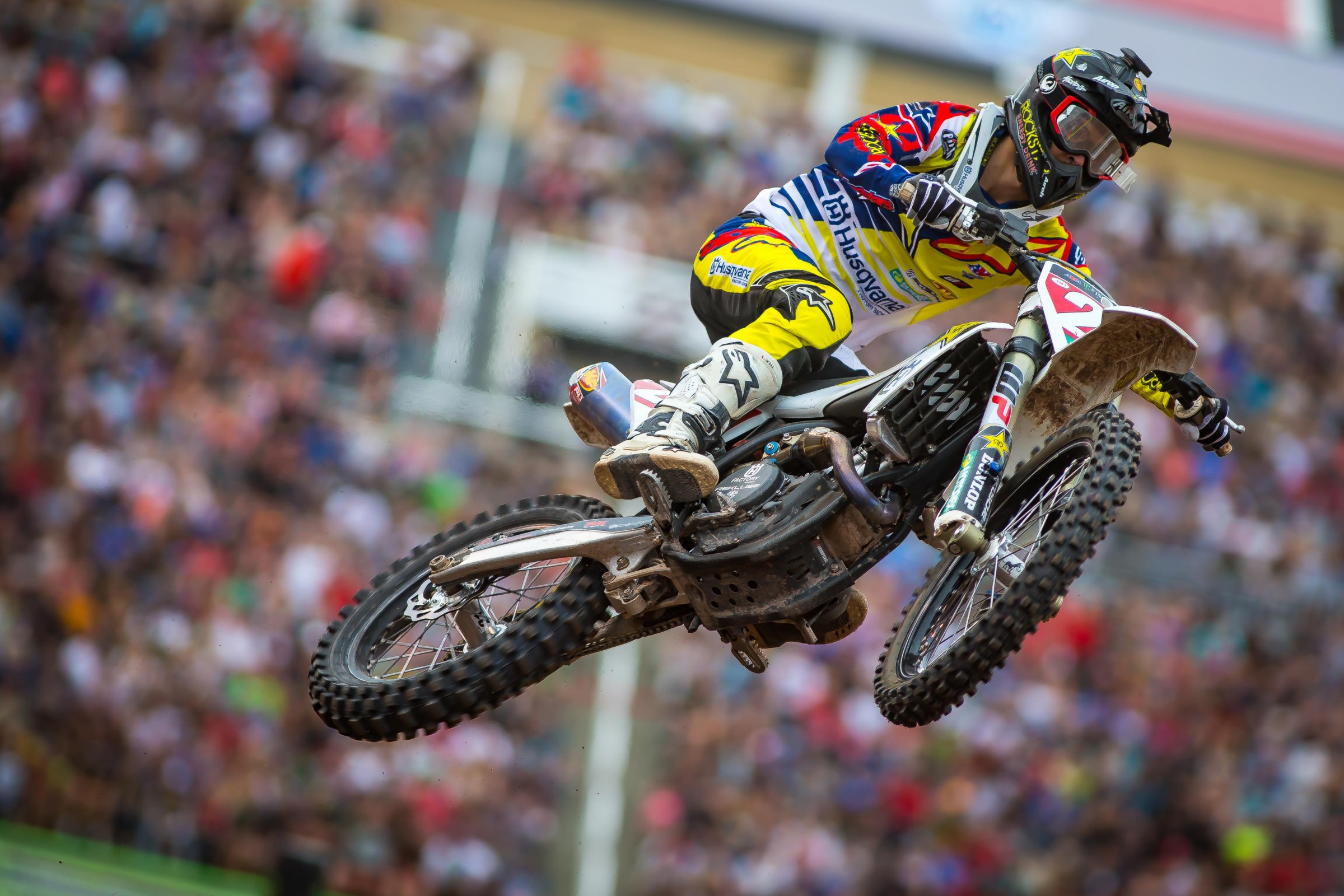 For Anderson, this is exactly what bit him. He was a wheel behind both Eli Tomac and Christian Craig as they set up for the left-hander. As Tomac and Craig merged, that closed out Anderson, leaving him with nowhere to go. Worse, as he tried to finally make his pivot after having to give room to Tomac and Craig, Justin Barcia was also jockeying for a few inches of track. Anderson was a pinball, bouncing from rider to rider. In a longer start, Anderson would have been a bit further back in this moment and could have possibly avoided the hard contact. That would depend on how hard he forced the issue, but in a short start, contact is almost a certainty because the gaps haven't formed yet.
All of that chaos left Anderson with several broken spokes. He got up thinking he had over 20 minutes to catch up, but he soon realized he would need to go to the mechanics' area for bike work. That bike work took nearly two minutes and put him multiple laps down. He would charge hard, though, knowing every point could count in Nevada. He made it back to 17th place, which looks terrible on paper, but was a great save in reality. With Alex Ray exiting the race early, Anderson was guaranteed at least 21st by getting back on the track. The extra effort to get 17th probably gained him an extra four points over what could have been.
Anderson sits 14 points up on Marvin Musquin with one round left. That is nowhere near as comfortable as his situation once was, but still, this should be a no-brainer. The field is a pale comparison to what we saw a few months ago. Anderson only needs tenth place or better to win this championship. His worst finish of the season before SLC was seventh place, and that was after multiple crashes. This should be easy. What happens when the gate drops in a few days is anyone's guess, but I love Anderson's chances. The suspense pushes on as we head to the desert, but I expect an easy, calculated ride for Anderson.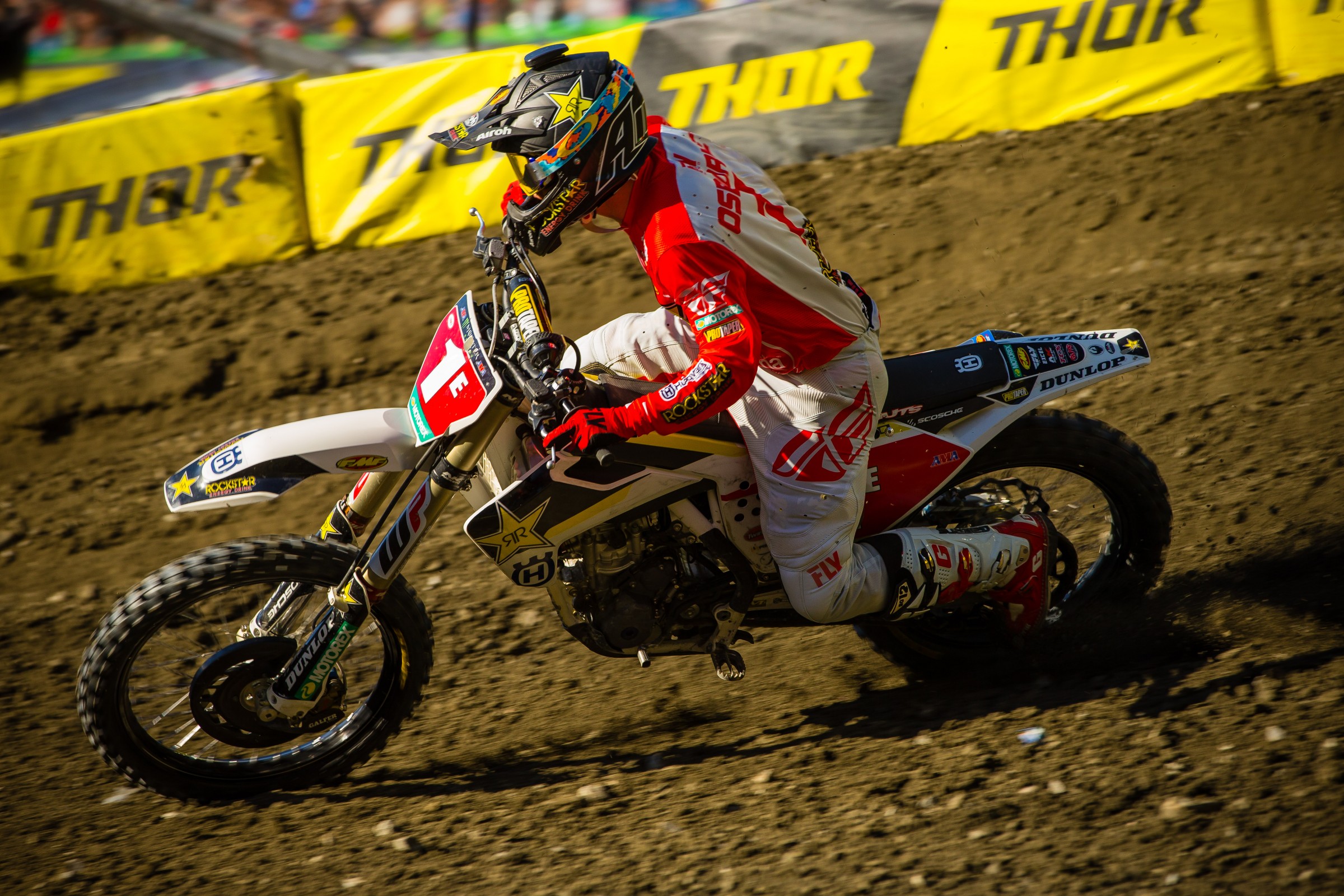 Zach Osborne holds a 15-point advantage as we head to Vegas. I love Zach's chances to repeat as 250 East Champ for a few reasons. First, his biggest rival, Austin Forkner, suffered an injury at Minneapolis and took himself out of the title chase. That gave Zach a bit of breathing room and also removed a bitter rivalry from the fray. With Jordon Smith and Jeremy Martin as the two remaining riders with a chance to upset the apple cart, Zach has to know he can be somewhat conservative and allow the race to come to him.
The obvious variable here is the mix of East and West riders and how that will unfold. Zach will have to contend with Joey Savatgy and Adam Cianciarulo, and both have their reasons to pick a fight. Last year's craziness left Savatgy on the ground and Zach holding the #1 plate. That will surely be running through Joey's mind if he catches a glimpse of Zach's red plate during the main event. Zach just needs to avoid altercation with anyone looking for trouble. If he can stay on his bike in the first turn (he crashed there in 2017), he should have hope for an uneventful 15-plus-1.
Aaron Plessinger sits in the most precarious spot of the three points leaders. Not so much because his lead is the smallest (13 points), but more because of the depth of his region. With Joey Savatgy, Adam Cianciarulo, Shane McElrath, and Chase Sexton all capable of putting themselves in front of Plessinger, plus the East Coast contingent, things could get very dicey very quickly. He surely has to like his chances, but there are simply more elite level racers to contend with in the west. Plessinger is still in the driver's seat, of course, but Vegas has proven to have a mind of its own.
With the East/West events, bad starts are much more troublesome. Doubling the field strength means it takes much longer to move through traffic. For instance, Jeremy Martin's come-from-behind ride at Foxborough, where he came from nearly half a lap behind the field on lap one to garner fourth, will be impossible against the full East/West field. Instead of passing rookies like Brandon Hartranft and Josh Osby when nearing the top five positions, he would be running into someone like Osborne or Cianciarulo. It's just a completely different task. That is where the main difference could come into play. The penalty for a mistake is that much higher.
All three of the point leaders are in great position. That's not hard to discern. Even with double-digit leads, they still all have plenty of reason for concern, though. The nervousness they will feel on Saturday is not something I have the vocabulary to define. I don't think any of these three riders will win their individual race. Those with nothing to lose usually win Vegas. Tomac in the 450 class, Cianciarulo in the West, Martin in the East…those are the ones who will be at the top of my watch list. The title contenders will be calculating every move and constantly assessing risk. If they get it right, though, they will leave with the ultimate trophy. Swallowing their pride with a safe ride may not be the most fun approach, but it is what I think we will see from these three. They can have all the fun they want after the race.