Foxborough, MA
Foxborough
Monster Energy AMA Supercross Championship
We've covered the Eli Tomac/Marvin Musquin pass throughout the site, so let's look beyond that to see what else went down at round 15 on Saturday.
Rockstar Energy Husqvarna's Jason Anderson has the most podiums in 450SX this year, with 11 after 15 rounds. Currently 34 points ahead of Musquin, he can clinch his first 450 title this weekend in Salt Lake City. Don't expect Anderson to get away from his normal routine during the week, though. "I'm definitely going to do the normal routine," he said in the press conference. "I'm going back to California. It'll be cool. It's the same goal all the time, and I keep saying that, but tonight, honestly, it did. At some point I just kind of was like, I went double-single off the triple the last three laps because I was kind of scared of it. Next weekend, hopefully, I can have a good result again and be on the podium. It would be really cool."
Fourth in Foxborough was Blake Baggett's best finish since his podium in Arlington all the way back at round seven. "I felt good out there today," the Rocky Mountain ATV/MC-WPS-KTM rider said in a team press release. "My starts again were there, and I rode aggressive while being smart. The track was brutal today, so it was important to hit my marks every lap and stay consistent. I'm looking forward to the last two rounds and finishing off the season strong."
Dean Wilson bounced back from a couple disappointing finishes that followed his podium in Indianapolis. His fifth-place finish on Saturday was just his second top-five of the year. "This was a step in the right direction," the Rockstar Energy Husqvarna rider said in a team statement. "The day went well. I qualified fifth. I was hit during the start of my heat race, so that set me back and frustrated me. I managed to get seventh. I knew I had to get a start in the main. I started ninth, then came through the pack up to fifth. I would have been happy with a fourth, but fifth is still good. The sun was so bad and the track was super rutty, but I made it through. I'm really happy with my riding, and I've got good speed. Today was good and I hope to carry it on to the next weekend." Wilson now sits in eighth place—one point behind Broc Tickle, who is still provisionally suspended.
Autotrader/Yoshimura Suzuki's Weston Peick caught his teammate Malcolm Stewart late in the race to secure his second consecutive sixth-place finish. Peick now has ten top-ten finishes through 15 rounds. "It was an early day in Foxborough, with a lot different feel in showing up for track walk at 6:30 am," he stated in a team press release. "The whole experience was interesting because it was an open stadium and the sun was in my eyes quite a bit. That made it challenging to hit some of the obstacles on the track. I qualified very well in comparison to how I normally do, and that set the mood for the main event. I got caught up in traffic in the heat race and finished fourth. For some reason, I was super delayed coming off the line when the gate dropped for the main event, so I was basically playing catch-up. The track was very soft in spots with pebble rocks everywhere. I made my way up to sixth place, which was good considering where I was after the first lap."
Here is what Malcolm had to say following his seventh: "The day went well. It was the first day race I had this season, which was different. The weather wasn't too bad because I've been staying in North Carolina and getting used to the cold temperatures. I'll admit that I was yawning in the first practice while hitting the rhythms because I was tired from waking up so early. My heat race went off around the same time as the normal afternoon supercross qualifier would go off, so that was strange. Still, racing during the day was cool, aside from the sun being in my eyes when I was jumping the triples. I was happy to finish seventh. The goal is to only get better from here."
Monster Energy Factory Yamaha's Justin Barcia admitted he was pretty sore all week after his first race back. This week after finishing ninth, he said in a team press release, "Ninth place is disappointing to me. I feel like I should have been way more up front and I felt like I could have been on the podium tonight, which is where I want to be and where I belong. Going into Salt Lake City, I'm feeling positive. I've been making steps since I've come back from my injury with fifth overall last week and winning a heat race this weekend, so I feel like I'm heading in the right direction. The team and I are going to go work on a few things this week, do a little outdoor testing as well, and be ready to be on the podium again in Salt Lake City."
In recent weeks, Christian Craig's usually strong starts have disappeared. The good news is he got them back on Saturday, grabbing the holeshot in the main event. The bad news: He got cross-rutted over the jump before the whoops and went down. He climbed back to 11th. "The day started off pretty good," he said in a Honda HRC team statement. "I qualified first in the free practice, and while that obviously doesn't matter, it just shows that I was comfortable right away. I went into the rest of the day happy with my bike. I didn't have that good of a gate pick going into the main, so I ended up picking the first gate on the inside, but was confident in it because the rut was prime. I got the holeshot, which I haven't done in a while, so that felt good. I led for about half a lap before making a dumb mistake on my part—I cross-rutted off a double and landed on some Tuff Blox. Once I got going I was in dead-last, so I just put my head down, focused, and tried to push forward the best I could all the way to the end. I probably could've ridden better toward the end and made up a few more positions, but it could've been worse. I'm happy with my start and am going to take what I learned into these last two races."
Honda HRC's team manager Erik Kehoe added, "Christian got an awesome start and rode strong for the first half of the main event. He made some good passes and worked his way up to 13th by the halfway point. Unfortunately, when he got behind Chad Reed, it seemed like his momentum stopped. He really should have gotten around him, but he began making a lot of mistakes. Overall though, 11th is good and Christian is doing a great job for us. We're looking to finish the last two supercross races this season strong."
Tyler Bowers qualified well in fourth, but had an early dustup with Alex Ray in the main event and finished 13th. "It was another great day," he said in a Monster Energy Kawasaki team press release. "I felt awesome on my KX450F and qualified fourth, which felt great. I got a great start in the heat, finished fifth, and I really felt confident going into the main. Unfortunately, accidents happen and that's racing, so I can't be upset. We just need to keep our heads up and finish the season strong."
An early crash set Benny Bloss back in the 450SX main event. He managed to work back to 14th. In a Rocky Mountain ATV/MC-KTM-WPS team statement, he said: "It was a frustrating weekend. I felt good out there and felt that this was my type of track. It was unfortunate that I had an issue on the first lap, as we could have had a top-ten ride today. I'm ready for the last two rounds to put it into the top ten and finish the season on a positive."
Privateer Brandon Scharer made just his second main event of the season on Saturday and wrote on Instagram about the experience.
CycleTrader.com/Rock River Yamaha's Alex Ray missed his heat race on Saturday due to a mechanical problem, but rebounded to make his first main event since Oakland by finishing second in the LCQ. He finished 18th on the night.
Kelly's Kawasaki's Deven Raper was stoked to make his second main event this year. He wrote on his Instagram, "Highlights from the Wknd in Foxborough, MA. It was cool to get so much time on FOX Network/Live TV getting my sponsors mentioned and making it entertaining in that last corner to transfer into the Main Event again, this time and for the first time ever through the Heat! Was running as high as 15th in the Main before I dumped it in a corner and got stuck under the bike, ended up finishing 19th. Track was gnarly!"
Rockstar Energy Husqvarna Factory Racing's Zach Osborne made the main event easy on himself by getting a good start and leading the main from start to finish. "What a great day in Foxborough," Osborne said in a team statement. "I was able to win both my heat and the main event. I figured something out with my starts, and I pulled two holeshots. It was just a really good night. I'm happy, and I'll take a 15-point lead into the finals."
Troy Lee Designs/Red Bull KTM's Jordon Smith's second-place finish gave him back-to-back podiums, but he now sits 15 points behind Osborne in the championship. It's not looking good for Smith in the championship, but with the final round in Las Vegas being a combined East and West points-paying round, you never know what could happen—just ask Osborne from last year. In the post-race press conference, Smith commented on the track by saying, "The track was just absolutely brutal. Every time I tried to push hard, it might work for a lap or two or half a lap and then I would make a big mistake. I could see that Zach made a few mistakes. I was just trying to keep the pressure on him and charge as hard as I could. The track was just like I said, brutal. I was just happy to make it through the main. I made a good charge at the end. I looked at the lap times, and with two laps to go was my fastest lap time. So I was just trying as hard as I could, and to just try and at least push Zach into a mistake."
Autotrader/Yoshimura Suzuki's Kyle Peters, who injured his ACL and MCL last week in the frozen parking lot in Minneapolis, toughed it out and lined up in Foxborough. Having to go through the LCQ didn't make it any easier, though. In a team statement, he said, "I'm speechless! I can't believe how the day ended, considering how much pain I was in on Saturday morning. During track walk, I knew there were some rhythm sections that I wouldn't be able to do because my left knee obviously isn't strong. I struggled in practice and qualifying. After the final session, we put more tape on my knee in order to stabilize it. I was very tentative in the heat race, as I was worried about my knee. The goal was to put as little time on the bike as possible, but I didn't qualify through the heat race. I won the LCQ, which loosened me up and provided the confidence I needed.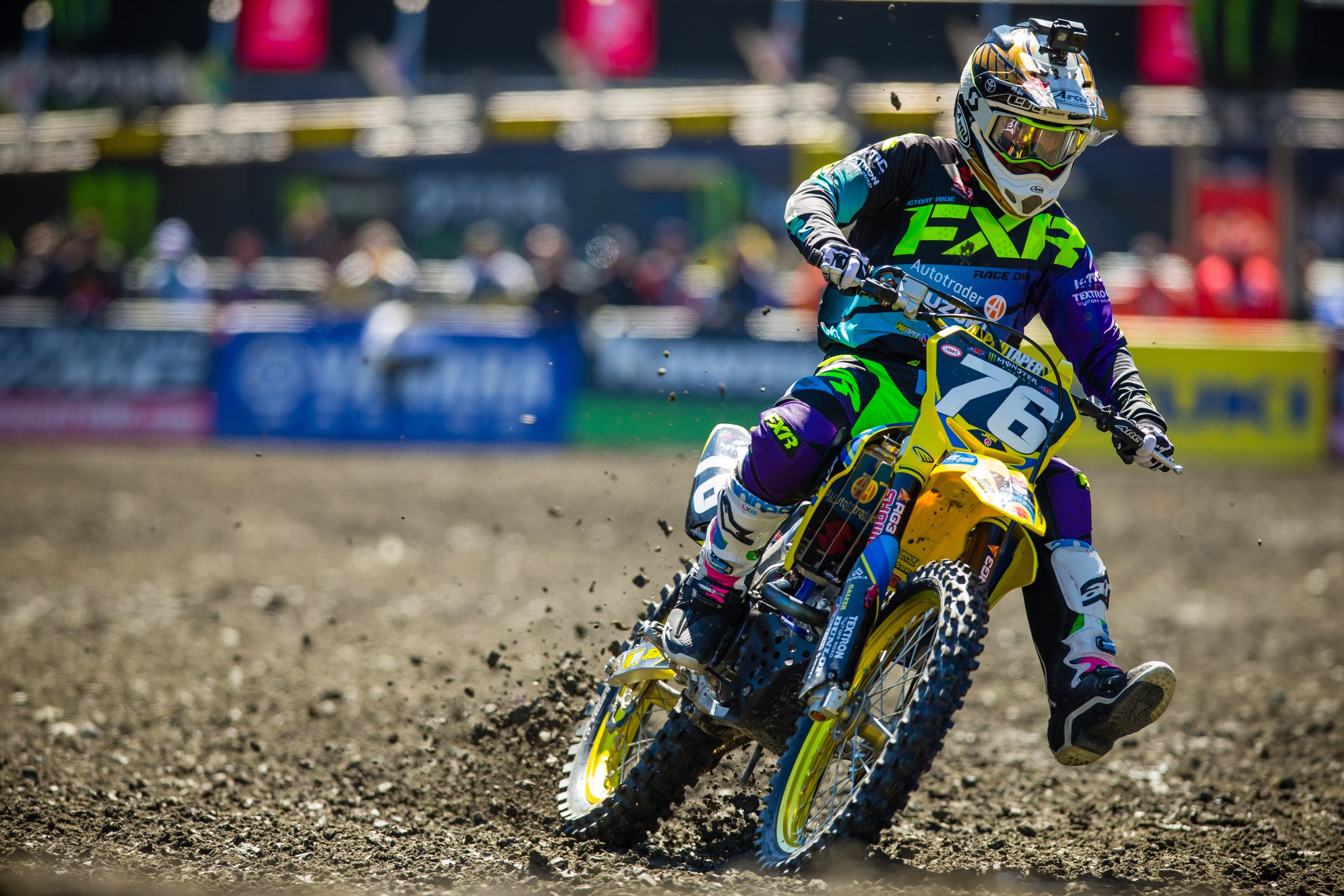 "I got a really good start on my Suzuki RM-Z250 from the outside and was sitting in fourth for a while. I told myself that I was going to crash out before I would settle for fourth place, because I had nothing to lose. I made it happen. I cannot thank the Autotrader/Yoshimura Suzuki Factory Racing Team enough for their support and hard work. They gave me the best opportunities to run up front and reach my potential. It has been a long five years since I last visited the podium, so I'm glad to finish third this weekend."
GEICO Honda's Jeremy Martin was looking to have a successful day until a run-in with Peters on the first lap in the main left him off the track. He was down for a while trying to get his bike upright, which was in a strange position—upside down and between two rhythm lanes. In a team statement, Martin commented, "Had an unreal day going for myself and the Factory Connection GEICO Honda crew at Gillette Stadium. Was really feeling the flow with being the fastest guy in practice and winning a heat race! So it was bummer to clip with Kyle Peters in the beginning of the main event and jump off the track. I should have backed down, but I was committed to jumping the triple. Really proud of how I rode after going down."
Troy Lee Designs/Red Bull KTM's Sean Cantrell was in the running for his first career podium. He ran third for much of the race, but was passed late by Peters and Martin. He wrote on Instagram, "Almost had it…let 3rd place slip away due to a minor tip over but oh well. Dusting myself off, we got more racing this year."
Josh Osby has put in back-to-back sixth-place finishes. He wrote on Instagram, "Another 6th tonight! Such a fun day hanging out with this guy! It's not often you find a guy of his level that is so down to earth. Thank you to @nink50 and all my other amazing sponsors for the support! Onto Vegas!"
CycleTrader.com/Rock River Yamaha Brandon Hartranft chased Osby throughout the main, but couldn't make a pass. He finished seventh for a second consecutive week. "Foxborough wasn't the best," he said about his weekend on Instagram. "I felt like I had a lot more than what I showed. Just gonna take the positives out this weekend and keep moving forward."
Rockstar Energy Husqvarna's Michael Mosiman went down twice in the main. The first was on lap three and he went back to 17th, but he made his way back to 13th quickly. He then crashed hard in the whoops and did not continue. In a team press release, he said, "This was a motivating day for me. The track was so tough. I had a good jump in the heat race, but drifted wide because the corner was slip. I was tenth, then caught up to fourth. I had a better start in the main, then made a mistake in the rhythm section. The ruts were tricky and it put me way back. I was catching up, but then I made another mistake and got off-balance in the rut. That was the end of my night. It's disappointing, but like I said, it's motivating. Crashing is always frustrating, but I'll overcome everything."