Kyle Peters Will Attempt to Race Despite Torn ACL and MCL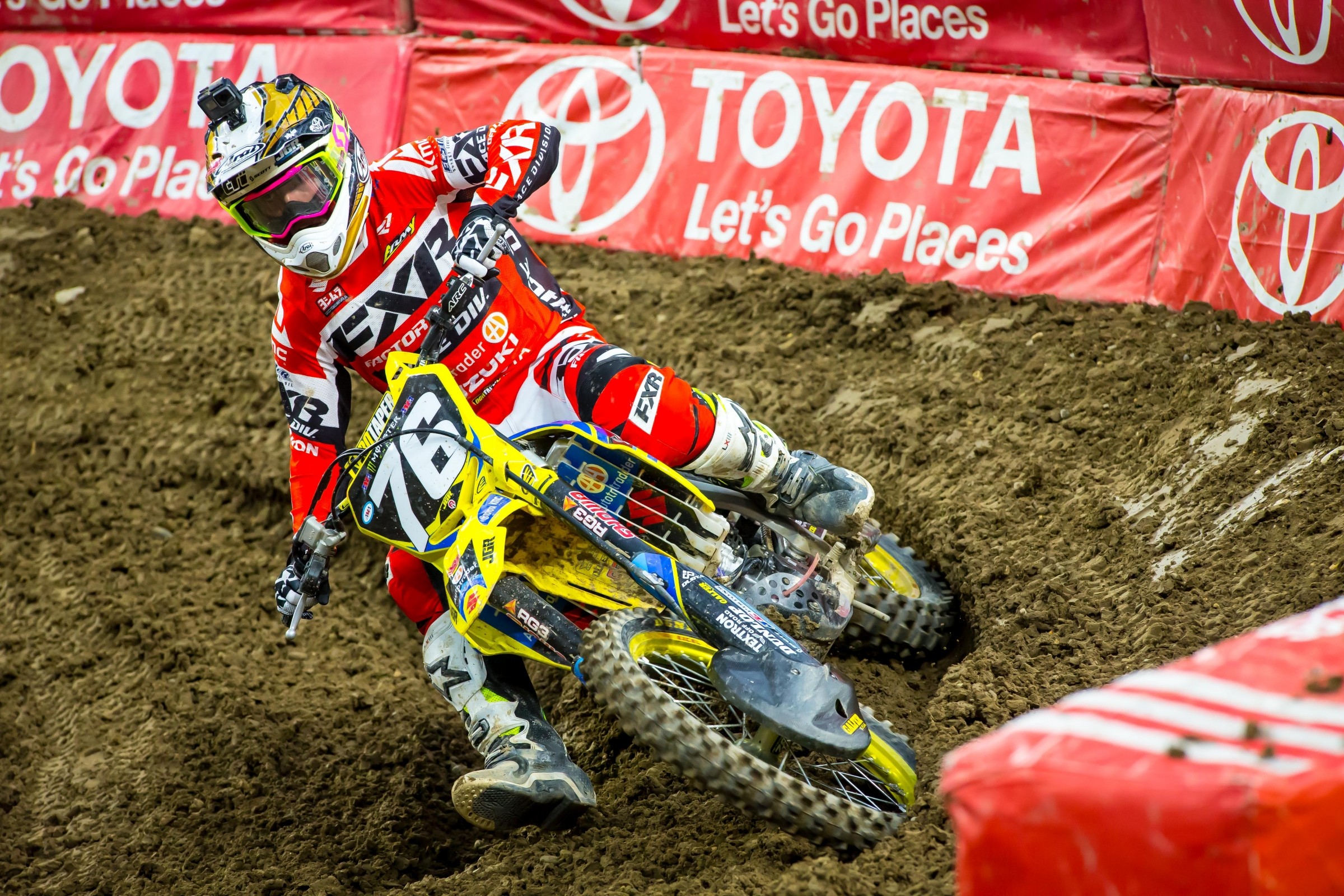 Foxborough, MA
Foxborough
Monster Energy AMA Supercross Championship
One of the stranger injuries in the history of supercross occurred in Minneapolis over the weekend. As we're sure you know by now, the weather was crazy thanks to Winter Storm Xanto. In total, the storm dumped 15.8" of snow on Minneapolis, the 12th most on record, with an average temperature of 26 degrees Fahrenheit and winds up to 44 miles per hour.
Autotrader/Yoshimura Suzuki's Kyle Peters was on his way out for the final practice session of the day on Saturday and crashed on a patch of ice—the same patch his teammate Weston Peick crashed on (Peick was uninjured). Peters wasn't as lucky and injured his knee. The first report from the track was that he had torn his ACL, which is a cruel blow, but JGR had Peick's trainer "Pat Attack" check out the knee and he thought the ACL might be okay. Pat worked over Peters leg, and Kyle rolled out for the first 250SX main hoping he could race. He rolled around for a lap and realized the knee wouldn't hold up.
Peters went back to North Carolina for further evaluation this weekend and it was determined that he had torn his ACL and MCL in his left knee. Despite the injury, Peters, currently sixth in 250SX East Region points, is going to try and race this weekend. Depending on how he feels, he will also race the final round in Las Vegas, after which he'll undergo surgery to repair the ligament.
"I'm extremely disappointed about the unfortunate accident that happened in Minneapolis. It was a freak deal," he said in a team statement. "I'm not going to let this stop me from giving my all. Riding for the Autotrader/Yoshimura Suzuki Factory Racing Team has been a privilege, and am so thankful for all of their help and support. I want to continue taking advantage of the opportunity. I might be hampered by an injured knee, but I'm a determined individual."