Minneapolis, MN
Minneapolis
Monster Energy AMA Supercross Championship
We had snow in Indianapolis, rain in Seattle, and this weekend in Minneapolis, round 14 of Monster Energy Supercross, it was snowmageddon, a.k.a. winter storm Xanto. It was bizarre to see so much snow outside in April, even in Minnesota, which led to bizarre feelings on everything all day long. Weird weather outside and, also, weird things happening around this race, such as:
Justin Barcia's mechanic Shawn Bell was hit by a stadium cart and couldn't work that night with a knee injury.
Kyle Peters of the AutoTrader.com/Yoshimura Suzuki team crashed on his bike outside the stadium on the ice, suffered a knee injury, and couldn't race.
There was a Triple Crown Championship trophy awarded, something no one seemed to know was up for grabs.
And finally, Broc Tickle was provisionally suspended by the FIM for having a banned substance in his system. From what we've seen with other riders, it's going to be a long time until we see #20 on the track again.
Weird day! But props to the people of Minnesota; they still showed up in pretty good numbers despite some highways being closed and Xanto raining down snow on us. Xanto can't slow down Minnesotans!
First the Tickle thing. Whether it's here or here, I've made my feelings clear. We need drug testing in the sport, but we're forced for many reasons to use the FIM's choice for testing, the World Anti-Doping Agency. Want to try dealing with the FIM on this? Well, in talking to Aldon Baker, Tickle's trainer, it seems to be very frustrating. (Read all about what Cade Clason had to go through to still get zero answers on his deal.) I mean, I get it—the athletes are responsible for what goes into their bodies, but could they get some help with this process? It's amazing to me that the FIM continues to seemingly be as unhelpful as one could possibly be in giving answers to people like Baker and Clason.
I've said for years that we don't need the FIM in AMA Supercross. Let me run a little refresher for you people on WHY we have the FIM (and therefore WADA) in the sport.
In the early 2000s, the AMA awarded the job as supercross promoter to a new company (Jam Sports), so the folks at Clear Channel, the current promoters at that time, signed the FIM as a sanctioning body. It was a brilliant bit of chess, and it worked because the AMA came back to Clear Channel after they got the FIM (although Clear Channel lost a huge lawsuit to Jam Sports after the AMA backed out, but that's another story. The Jam Sports guys were unavailable for comment because they are probably on their private island somewhere). The AMA, FIM, and Clear Channel then all worked together, and series lived happily ever after. We had a few weird spots to make this work, like some World Supercross rounds in Europe, then had two champions for a few years (AMA Supercross Champion and FIM World Supercross Champion). The Europe rounds and Canadian rounds didn't count for the AMA Championship, but Daytona didn't count for the world title and things like that.
Clear Channel eventually became a company called Live Nation, then Feld purchased the motorsports portion of the company. All along, everyone kept renewing the deal with the FIM, and probably for a lot of money at that. Part of using the FIM means that you get drug testing (again, that we need) done by WADA. WADA is used in higher-profile sports like the Olympics or cycling.
Once again, we need drug testing, but WADA's penalties do not fit our sport whatsoever, and they've proven hard to deal with for the athletes. I don't mean hard to deal with because they run drug tests—we need that. I mean that when a rider is caught, they provide very little information on what comes next. Clason is still waiting to find out how long his suspension will last. Broc's responsible for what goes into his body and he should pay a price, but we're at almost a year for Clason with no end in sight (and his crime was not having a TUE approved; he thought it was). I just ask over and over, "Why do we need this?"
The Lucas Oil Pro Motocross Championship isn't sanctioned by the FIM, so that series uses U.S. Anti-Doping Agency, and from what I've heard, they're much more helpful. If riders have questions, USADA provides answers. WADA penalties are respected by USADA (so you won't see #20 in MX). I don't know, man, something needs to change, in my opinion.
Moving on….
This was the third round of the Triple Crown, and once again, we saw some real variety of race winners and exciting moments in Minny. We had five winners in six races at Anaheim 2, six winners in Atlanta, and this weekend, six more. What's stopping one or two riders from gathering more wins? Well, with riders I talk to, they say it's the randomness of trying to get three starts. With the first "crown" being so short, even the second "crown" (I'm just going with it, okay?) being shorter than usual, riders say the start is extra important, and it's tough to nail three great starts in one night. Six winners in six races is the proof.
I asked Eli Tomac, who's, uh, pretty fit, about the endurance side of things with the Triple Crown and he said, "For me, it's actually not that bad to get through them. If anything, the first one is the hardest for me because they're so intense and they matter so much. It's like you're giving it all and it's easy to actually be tight in the first one. I get better in two and three, normally, the way my body feels, even though the results weren't that."
So we've gotten through the first year with a major change in supercross since 1985 (the one-and-done two 12-lap mains scored like motocross). I'm a fan. Props to Feld Motor Sports for making this happen and pushing it through, because you KNOW they dealt with pushback from riders and teams that didn't want to change anything.
Feld has tightened up the live program since Anaheim 2 and I didn't feel like it dragged like the first one did. Then again, I'm sure if I were to ask the mechanics and teams about it, they would say it did anything but drag. For them, it's a rush to be ready for each race. I know safety is key here for the promoters, racers, and teams, but we're in the entertainment business and Triple Crowns equal thrills!
Let's take a look at the results, shall we?
250SX Results
1st | #6, Jeremy Martin | Millville, MN | Honda CRF250 | 3-3-1
Yeah, J-Mart! Martin has been on a roll lately, and I spoke with him on Friday when we were on the same flight to the race. He told me that he really likes his bike and it's a lot better than last year's. I told him yeah, yeah, I hear that shit all the time, but he insisted it was true and told me a couple of things he enjoys about the new chassis. Anyway, J-Mart's supercross skills are back! Give him back those seven points for the red cross flag penalty in Indianapolis and he's just nine back of Osborne with two races to go. Who'd have thunk that?
2nd | #1, Zach Osborne | Abingdon, VA | Husqvarna FC 250 | 4-1-2
Osborne was the victim of Forkner starting next to him and cutting over in two of the crown events (amazing that he still won one). His charge in the last crown race was pretty impressive; he's fast, he's in shape, and he seemingly can take any line he wants to on the track. One thing I notice with him is that he'll brake later going into a turn than a ton of other guys. He really charges in.
3rd | #45, Jordon Smith | Belmont, NC | KTM 250 SX-F | 2-2-3
Jordon was in position to win the overall in the third crown when he made some mistakes. J-Mart got into him, and then he was swallowed up in the Zach Osborne whirlwind. They collided and Jordon went down, which put him back into this position. He was very good in Minneapolis, but like a lot of races this year, Zach Osborne was just a teeny tiny bit better.
4th | #43, Sean Cantrell | Murrieta, CA | KTM 250 SX-F | 5-4-5
Cantrell basically rode by himself all three crowns, as he was far better than the dudes behind him and couldn't match the pace of top three. He took what he could get for a career-best supercross finish. And the day didn't start off that well for him, as he had two crashes in the very first practice of the day.
5th | #56, Anthony Rodriguez | Cairo, GA | KTM 250 SX-F | 6-11-6
I don't know how a 6-11-6 gets you fifth overall, but hey, A-Rod will take it!
6th | #174, Joshua Osby | Valparaiso, IN | KTM 250 SX-F | 9-6-9
Great race for Osby and his Club MX team! Man, he's a good starter and he showed that out there in Minny. He's also a good jumper, and I had to ask him about the quad in St. Louis a few weeks back this week when I got a chance to talk to him.
7th | #114, Brandon Hartranft | Brick, NJ | Yamaha YZ250F | 16-5-4
Brandon crashed way back in the first crown, but after that, he was way legit. He's got good skills and appears to be in shape. The future is bright for him, no doubt about it. He told me after the race that he wants to be top rookie and is marking where Cantrell is out there.
8th | #57, John Short | Pilot Point, TX | Yamaha YZ250F | 11-8-8
Good job for Short. John's more of an outdoor guy than supercross guy, but he got good starts and ran the pace. There's a bit of a lack of depth in the 250SX East Region, but hey, for guys like Short and Osby, it's not their fault. They're just there to take advantage of it.
9th | #206, Thomas Ramette | Guilherand, France | Yamaha YZ250F | 8-15-7
Nice job for Ramette, as he got good starts and ran up front before settling back. Monster Energy/Yamalube/Star Racing Yamaha team manager Wil Hahn wasn't there to see any of this, as he decided to put his own racing ahead of his riders.
10th | #35, Austin Forkner | Richards, MO | Kawasaki KX 250F | 1-10-19
Forkner won the first crown and then imploded in the other two with crashes, crashes, and more crashes. Eventually his collarbone said "no mas" and he'll be out for a while. Forkner's going to win a poop-ton of races in his career, but he's got to chill down a bit out there. It is possible for aggressiveness to bite you back.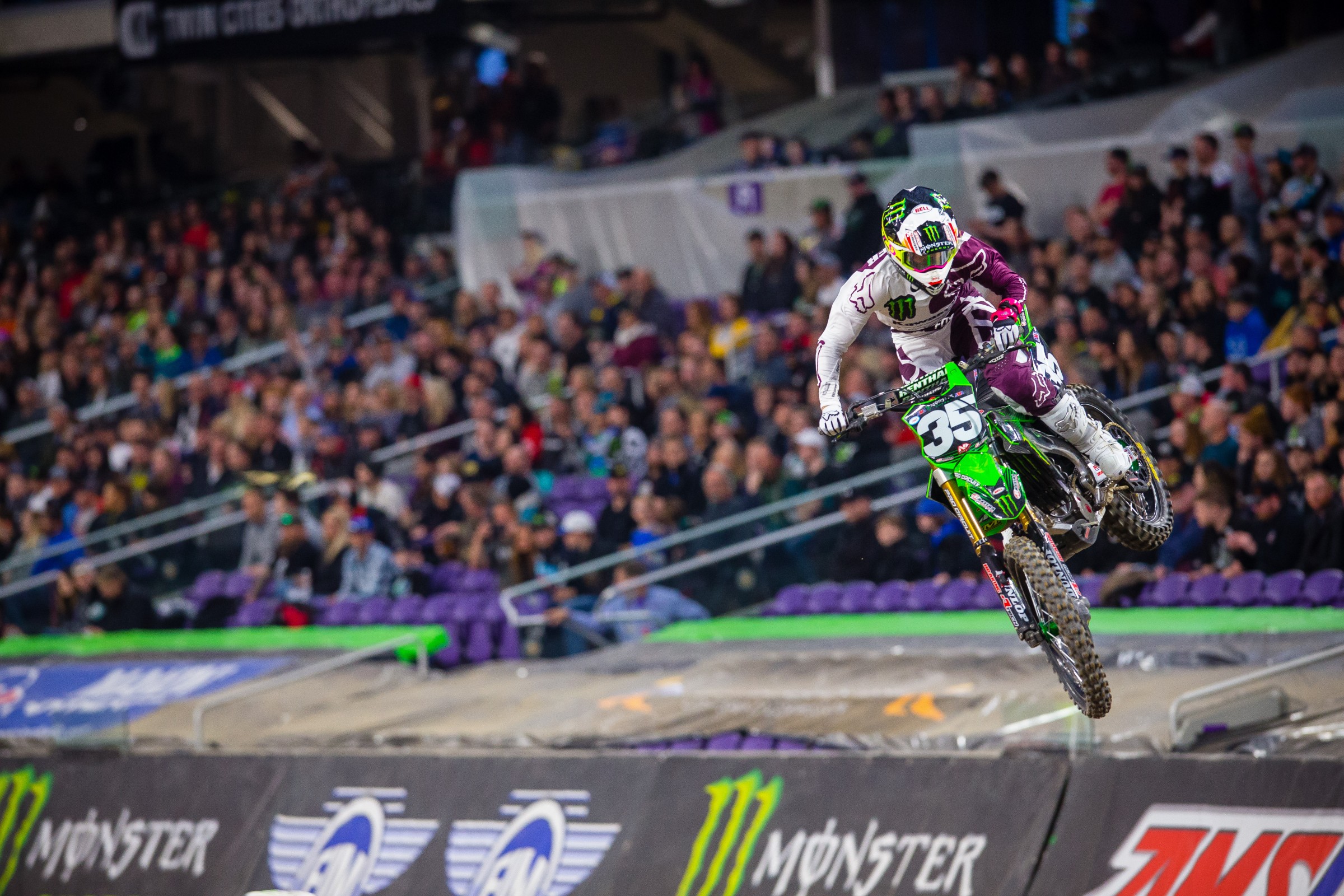 11th | #64, Michael Mosiman | Sebastopol, CA | Husqvarna FC 250 | 7-19-10
Mosiman went down hard in the second crown and I thought he'd be out for the night, as he looked like he got the wind knocked out of him. If only there had been a sweet net there to save him like in Indy! Anyway, he rebounded and came back for the last crown. Nice work.
12th | #373, Jacob Williamson | Swartz Creek, MI | Honda CRF250 | 17-7-12
Random scores for Williamson, with that second crown standing out nicely.
13th | #570, Cody Vanbuskirk | Harvard, IL | KTM 250 SX-F | 13-12-14
Cody can look forward to lowering that national #570 by quite a bit in 2019.
14th | #222, Ramyller Alves | Coconut Creek, FL | Yamaha YZ250F | 21-9-11
I don't know much about Alves other than I always think of Cairoli out there, but I'll tell you what, he's got good supercross skills, man. You can see when he's around a group of guys that on jumping ability; he's got a lot of dudes covered.
15th | #641, Keith Tucker | Fuquay Varina, NC | Yamaha YZ250F | 12-18-16
I don't know anything about Keith Tucker, but man, he qualified well, then put it into the top 15 ahead of some name dudes. That's, like, pretty cool.
16th | #96, Zack Williams | Elko, MN | KTM 250 SX-F | 20-14-13
Hometown race for Williams, who's always one of those guys who lurks around with the factory dudes.
17th | #44, Lorenzo Locurcio | Clermont, FL | Honda CRF250 | 19-13-15
Lorenzo won the LCQ to get into the main events, and any kind of event is always better with someone named "Lorenzo" in it.
18th | #85, Joshua Cartwright | Tallahassee, FL | Yamaha YZ250F | 14-17-17
Cartwright's probably the only guy in the main events smart enough to do all the math needed to know where he's going to finish overall in the Triple Crown standings.
19th | #214, Vann Martin | Cypress, TX | Honda CRF250 | 15-16-18
The Vann man is a cool dude. He's always trying hard and busting his ass out there. He's also not made too many main events, so to do it at a Triple Crown is a cool deal for him. Nice work!
20th | #38, Luke Renzland | Hewitt, NJ | Yamaha YZ250F | 10-20-20
Luke woke up Saturday with either the stomach flu or food poisoning or something else and wasn't doing very well. He got dizzy during and after the first crown and called it a night. Bummer for him. Remember the last time we saw him, he got his first career podium.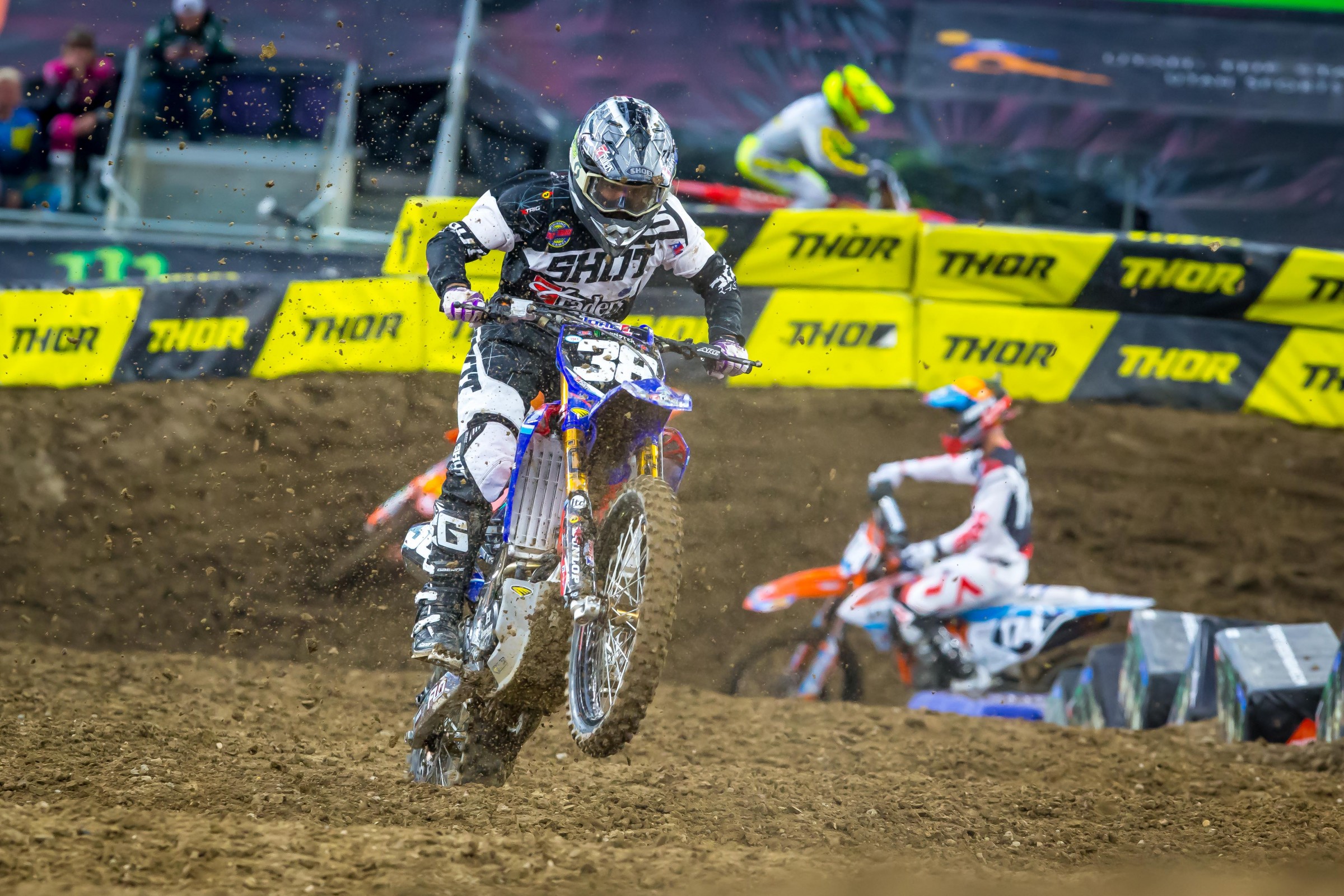 21st | #261, Wilson Fleming | Cairo, GA | Yamaha YZ250F | 18-21-21
Man, that Cairo, Georgia, place sure spits out a lot of great racers. It's the new El Cajon Zone!
22nd | #76, Kyle Peters | Greensboro, NC | Suzuki RM-Z250 | 22-22-22
As I wrote above, Peters wiped out and it sounds like he seriously hurt his knee. He took off for crown number one, but made it around the first turn before calling it a night. Maybe he did that just to get his purse money, but it didn't look like he had any intention of racing.
450SX Results
1st | #3, Eli Tomac | Cortez, CO | Kawasaki KX450F | 1-4-3
Eli's starts have been a mixed bag over the years (he maintained that his starts were good, but he wasn't good in the first few sections of the race) but this year, with the addition of a starting grate behind the gate, he's been money. I asked him about that after the press conference. "Nothing's changed. Apparently I'm a better starter when there's good traction. I feel like maybe mentally I'm a little more just settled down. Now I've been there so many times being up front that it just comes easier."
He's been on fire the last couple of weeks, and I bet he sweeps the last three races of the year. I was in the Kawasaki truck and the guys there, like all the teams, asked me who I thought would win. I launched into how it's going to be Tomac, it should always be Tomac, and he's the fastest rider in the class. Then I might have gotten carried away and said I don't know why he's not going to win this title. Afterward it was a little quiet in there.
2nd | #21, Jason Anderson | Rio Rancho, NM | Husqvarna FC 450 | 2-6-1
Anderson rode very well in pulling away and winning crown number three. Nice work by him, and without a penalty for going too fast alongside the track (which he didn't agree with), he'd have won the overall. Well, maybe because Tomac knew he didn't need to pass Marv in crown number three for the overall, so who's to say for sure? I'm sure it's burning Anderson up that he's not able to beat Tomac straight-up lately, but who cares? He'll have the title, the chicks, the cash soon enough, and that's pretty much all that matters.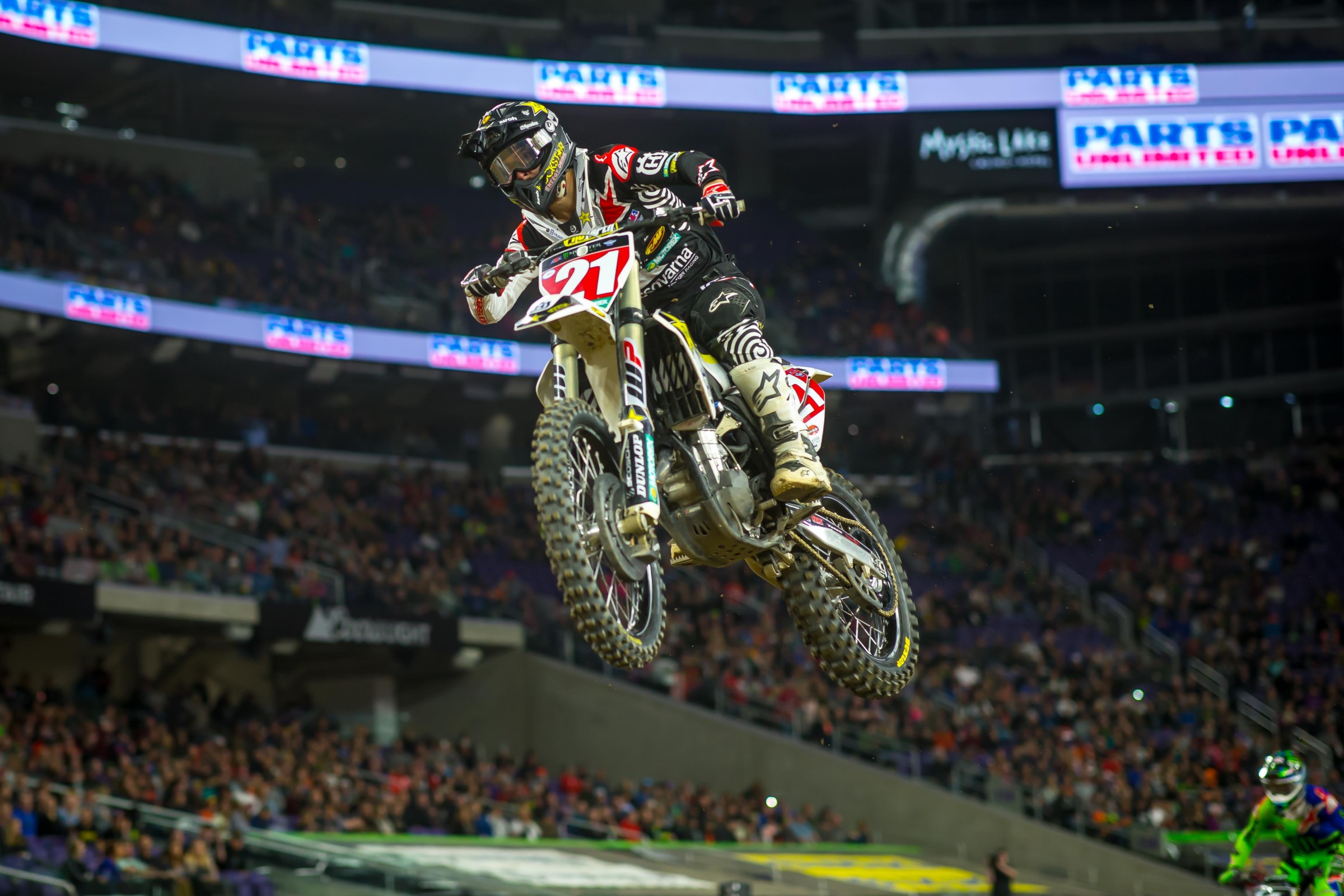 3rd | #25, Marvin Musquin | Clermont, FL | KTM 450 SX-F | 7-1-2
I don't know what KTM changed with Marv's bike after crown number one (he wouldn't really say in the press conference), but yeah, more of that. Moving Marv was a different guy after that and looked a lot better (especially in the whoops)—including passing Tomac in the third crown. That doesn't happen too much.
4th | #10, Justin Brayton | Mint Hill, NC | Honda CRF450 | 4-2-5
Early on in the third crown, Brayton was leading the overall. It was going to be another amazing night for Brayton and Weege. But then JB10 started going backward and he finished fourth overall. He somehow finished fourth in all three Triple Crown races this year. Afterward I asked him about dropping back and, typical Justin, he owned it. "Those three were going just straight-up faster than me that last one. I just hit a wall. I just wasn't as good as them. Just bottom line."
5th | #51, Justin Barcia | Greenville, FL | Yamaha YZ450F | 3-7-4
Bam Bam came back, and as I was saying on my Thursday afternoon show that when the "old" Justin Barcia came back from injury at JGR, things didn't go well. So I was looking forward to seeing if he would get back to his 2018 early season form, and yeah, he kind of did. Very good return for the #51, and he can build on this, no doubt about it.
6th | #34, Weston Peick | Menifee, CA | Suzuki RM-Z450 | 5-3-11
Peick had a very good Minneapolis and was third in the last crown before he crashed and had to fight back from that. What could've been for him. I did see on Instagram that he and his mechanic ate poop outside in the show while riding to the stadium.
7th | #69, Tyler Bowers | Lake Elsinore, CA | Kawasaki KX450F | 8-8-6
JT may disagree, but I think Bowers is back to his pre-Oakland form. Remember, he was privateer Bear then and crashed on the last lap and hurt his chest, back, and everything else. He literally jumped a triple without his bike! It's affected his breathing late in the race for a while, but Seattle was good, this was very good, and perhaps we'll see a better Bear from here on out. #IBelieveinTheBear
8th | #4, Blake Baggett | Grand Terrace, CA | KTM 450 SX-F | 6-5-12
We sat with Tom Baggett up in the press box for the crowns and he told us about how he saved a lady's life who was stuck in the snow and couldn't get up. It's the type of thing that would only happen to Tom Baggett. Anyway, Blake told us he wasn't feeling well all day, and I'm sure that fall in crown number three didn't help.
9th | #32, Christian Craig | Orange, CA | Honda CRF450 | 14-10-7
Craig fell first crown and was way dead last. Third crown he rode pretty good, but as he was telling us on the PulpMX Show, his starts have gone away lately and he's not quite sure what's happened.
10th | #15, Dean Wilson | Clermont, FL | Husqvarna FC 450 | 9-9-13
Ah man, Dean's got to be pissed off leaving Minnesota. He qualified first in the first untimed practice…yes, FIRST. When it actually counted, he was still fifth overall. Yet he didn't do much in Minny and you didn't really notice him all that much. With Anderson locked and loaded and Osborne guaranteed a 450 ride in 2019, might Wilson be on the move for next year? I hope not.
11th | #60, Benny Bloss | Oak Grove, MO | KTM 450 SX-F | 10-14-8
Bloss came from the back in crown number three in a good ride, and yes, he raced with Chad Reed again. It's simply amazing how these two seem to have magnets and find each other each race.
12th | #55, Vince Friese | Cape Girardeau, MO | Honda CRF450 | 11-11-10
As the season wears on, there are fewer and fewer Vince Friese great starts happening. Not sure why, but he's been in a bit of slump when it comes to those. Still, consistent good rides in Minny, and I know the odds are against him getting it, but he's four points out of tenth place in the standings. How about that?
13th | #22, Chad Reed | Dade City, FL | Husqvarna FC 450 | 12-13-9
Chad was rather quiet all night long in Minneapolis. He never got a start in any of three crowns; he actually did in the other Triple Crown events. In the good news department, he did get to battle with Benny Bloss again. I have to thank Chad, also, because when I got to the stadium, I was headed the wrong way in the snowstorm before he pointed me the right way. Whew, I could've ended up like Jack at the end of The Shining.
14th | #27, Malcolm Stewart | Haines City, FL | Suzuki RM-Z450 | 15-12-15
I feel like Mookie's whole night could've been better if he hadn't crashed while running eighth in crown number one and in the mix. From then on, we saw no more flashes of brilliance from the Mookster.
15th | #39, Kyle Cunningham | Willow Park, TX | Suzuki RM-Z450 | 13-15-16
Cunningham had to go to the LCQ, which, if he hadn't made it, would've been heartbreaking. He was .011 seconds from being in the top 18 in qualifying. You know all the millions of things he could've done differently to make up that small amount of time? The mind reels from that. Anyway, he made it and got 15th.
16th | #201, Cedric Soubeyras | Venasque, France | Suzuki RM-Z450 | 16-16-14
Soubs is now on the H.E.P. Motorsports Suzuki team and scored his usual good finish. He told us last week on the PulpMX Show that he'd like to remain with a team in the USA for next year and, who knows, if this thing works out, maybe H.E.P. brings him back.
17th | #907, Ben LaMay | Wasilla, AK | Honda CRF450 | 18-17-17
LaMay must've felt right at home with all the snow. Because he's from, you know, Alaska and not Arkansas.
18th | #48, Henry Miller | Rochester, MN | Suzuki RM-Z450 | 17-18-18
Henry won the LCQ in front of his home fans to get into the main events, and that's awesome for him and his team. H.E.P. Suzuki is not going outdoors, but as I understand it, Miller's going to get some support from H.E.P. and do it on his own.
19th | #90, Dakota Tedder | Surfside, CA | KTM 450 SX-F Factory Edit | 19-19-20
Teds came back this week after missing a few races with a cut in his ankle that got infected. Sounded scary. Update on his team wrap: Still all Kawasaki.
20th | #282, Theodore Pauli | Edwardsville, IL | Kawasaki KX450F | 21-20-19
Oh man, Pauli had Alex Ray all over him in the LCQ and I'm not exactly sure what he did, but he got some serious whiskey throttle right before the finish and shot from one side of the track to the other. He about died, but in true privateer hero fashion, he rode it out and took the checkers.
21st | #447, Deven Raper | Mesa, AZ | Kawasaki KX450F | 20-21-21
Just one week after getting $3K from PulpMX for winning the Privateer Quadruple Challenge, which meant he was the highest rider in the selected four races to not make the main, Raper goes ahead and makes the main events in Minneapolis. Perhaps he was sandbagging to get the cash?
22nd | #2, Cooper Webb | Newport, NC | Yamaha YZ450F | 22-22-22
Ah man, Webb fractured his tibia right out of the first turn in the first crown. Can you believe the luck this kid has had? He just can't get any momentum going, and he's got to be so frustrated.
Thanks for reading this week's Observations column. It's been fun, right? We're all in this together, people. Remember that. Email me at matthes@racerxonline.com if you want to chat about this or anything, really.