Minneapolis, MN
Minneapolis
Monster Energy AMA Supercross Championship
Monster Energy Kawasaki's Eli Tomac picked up his seventh win of 2018 in Minneapolis. After leading all 14 laps of the first main to take the win, Tomac finished fourth in the second, and third in the final main to beat out Jason Anderson by one point for the overall—which, coincidently, is the amount of points Anderson was docked in the second main event for going off the track. More on that below.
Despite winning the race and the Triple Crown Championship, Tomac is still not a fan of the format. "Having three starts with all the guys, yeah, it's good for everyone, but definitely I wouldn't vote to add any more races or anything of that for next year," he said in the post-race press conference. "So, it's just like, if the people like it, we can do those three, but definitely no more."
Rockstar Energy Husqvarna Factory Racing's Jason Anderson was docked a position in the second main event. Anderson tried to take the lead from Justin Brayton using an inside line. He couldn't quite make the pass, though, bounced off of Brayton and ending up going off the track. Anderson rode down the side of a rhythm lane and re-entered the track at the end of the section. He lost several positions while going off the track—going from second to sixth. He would quickly re-pass Blake Baggett to finish fifth, but was penalized one position in the final results, pushing him to sixth.
Had he not been docked, Anderson would have won the overall, breaking a tie with Tomac with his win in the third race. When asked about the penalty in the press conference, Anderson said, "In the rulebook it says you're not allowed to gain positions and you've got to enter the track at the safest spot. So, I didn't gain any positions. I lost five, and I entered at the safest spot. So, the rulebook gets personal preference for those guys, I guess."
With second overall in the books, Anderson extended his points lead by two over Marvin Musquin. He now holds a 39-point gap over Musquin with just three races to go.
It was a strange night for Musquin, who struggled in the first main, dropping back to seventh. After making some bike changes, Musquin won the second race and took second in the final race. Following his podium finish, Musquin addressed the situation in the press conference.
"I mentioned it on the podium after the second main when I won. It was definitely not acceptable, but I know what it is. We tried a couple things on the bike. That was not the right way. So we got better definitely for the second and the third main, and I proved it. It's a difficult situation. We always try to get better with the bike, and that was not good.
"Like I said, it proved that when I got the right balance of the bike, I can do pretty good and I can charge," he added. "That's definitely what I was not able to do in the first main. I don't like excuses, but it definitely didn't make me comfortable with the bike. I know I should have maybe made it work, but I didn't."
Smartop/Bullfrog Spas/MotoConcepts Honda's Justin Brayton bounced back from a disastrous weekend in Seattle to take fourth overall. He nearly had a win in the second main, leading 13 of the 16 laps. By holeshotting the third race, he actually held the overall points lead for a brief time, but Anderson, Musquin and Tomac overwhelmed him. "Much better than Seattle," Brayton told us post-race. "Overall a really good night, happy with it. I actually had a really tough week, had a big crash on Tuesday and was actually kind of questionable, to be honest. Tonight two holeshots, led a lot of laps. I didn't have anything for those three guys in the final race, they were on another level than me in that one. I just rode it in for fourth overall." Brayton led 14 of the 50 total laps in the three mains combined.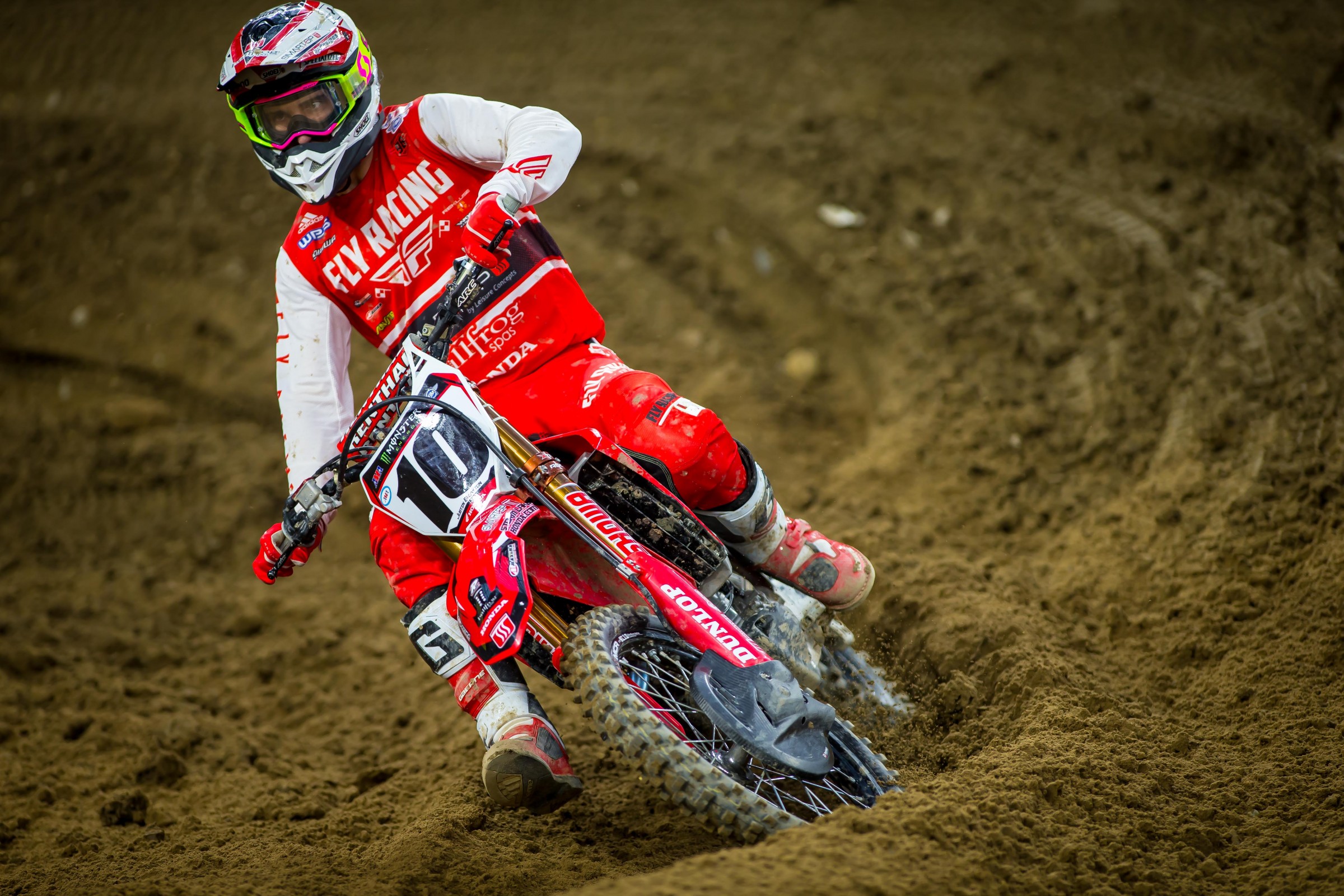 Monster Energy Factory Yamaha's Justin Barcia made his return to racing after breaking his hand at round seven in Arlington. Barcia rode well in his return, going 3-7-4 for fifth overall. "It was my first race back from my injury and I feel like I made good progress all day," he said in a team press release. "I was a little stiff in the morning, the intensity was pretty high off the bat like it always is, but that's why I felt like I needed to come back because it's hard to get that type of intensity at home. The track changed a lot during practice and I struggled a little, but I kept my head screwed on straight and we made a few changes to the bike, but it was awesome all day. The second main was the toughest for me. I got pretty tight from using the muscles that I haven't used in a while, so I ended up getting a little arm pump, but we were able to come back in the last main and finish strong with fourth. It was a mentally tough day—it was super challenging and my body was tired for sure, but we ended up finishing out on a positive note. I think it was great that I came back at this race in Minneapolis, and I really look forward to next weekend in Foxborough."
Weston Peick was in the running for a podium in the third race, but went down twice and took 11th. Still, it was a good night for Peick, as he went 5-3 in the first two races and finished sixth overall. "I had an awesome night going in Minneapolis for the final Triple Crown round of the series. I went 5-3-11 for sixth overall," he said in a team statement. "I was running third in the final main, but had an unfortunate crash that put me back. I'm looking forward to some more fun battles next weekend in Foxborough. Special thanks to my team. I want to finish off the series strong."
Back-to-back solid finishes for Monster Energy Kawasaki's Tyler Bowers. Following a sixth in the slop in Seattle, Bowers finished seventh overall in Minneapolis. "These Triple Crown events are fun and intense at the same time," he said in a team press release. "I'm proud of our progress and consistency. Having the support of this team has made such a difference and I'm so grateful for them, especially on long, hard days like these."
"I am happy with how I rode tonight," Rocky Mountain ATV/MC-KTM-WPS's Blake Baggett said following an eighth-place finish. We heard at the track that Baggett was feeling a little under the weather and not quite up to 100 percent. "My starts were there all night, and I had the track dialed. It was unfortunate I had an issue in the last race, as we were in contention for a top-five tonight. I'm looking forward to bouncing back next weekend in Foxboro."
Honda HRC's Christian Craig couldn't find the same magic he had at the last Triple Crown in Atlanta, finishing ninth overall. He said he had trouble with this breathing in Minneapolis. "Tonight was tough, honestly. All day I struggled with my breathing, and I'm not sure why because this hasn't happened to me before. I was able to put a fast time down for practice, qualifying fourth. In the main events, I struggled and kept having to remind myself to breathe, which was spiking my heart rate. I almost felt like my body was shutting down. The first race was the worst after my crash. I got better with it through the night, luckily, but still nowhere near happy. I was able to push through my own battles and finish ninth overall. It's been a hard couple weekends, but I'll get through it. I'm going to focus on a lot of things this week and come back fresh next weekend in Foxborough."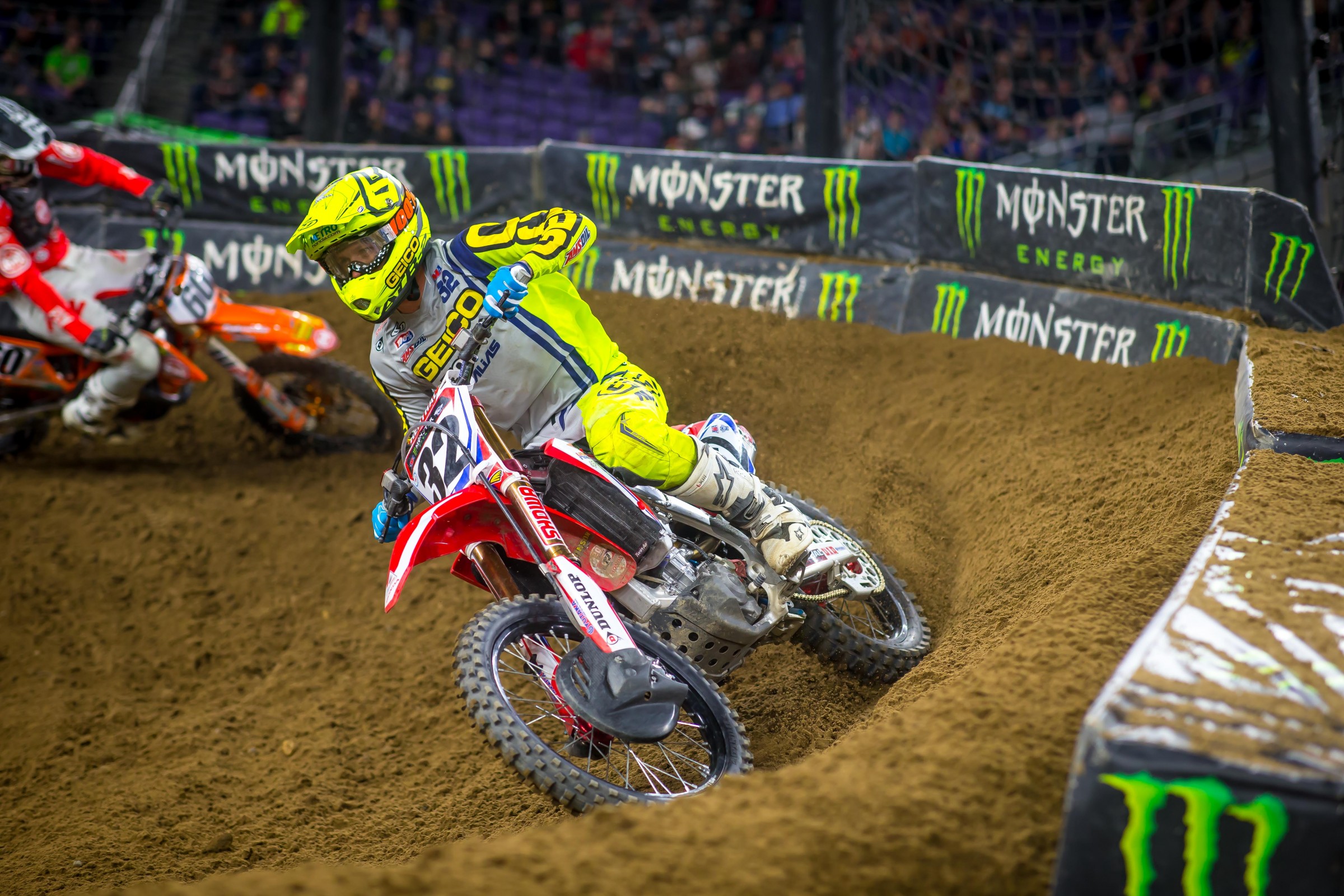 In a Rockstar Energy Husqvarna Factory Racing team press release, Dean Wilson said, "The Triple Crown is tricky. I had a decent start in the third moto and was riding sixth, but got connected with another rider and went down. I worked my way back up and ended up tenth overall on the night. I'm going to keep charging."
Autotrader/Yoshimura Suzuki's Malcolm Stewart qualified second-fastest, but wasn't able to bring the same intensity to the night show. We hear that Malcolm was also feeling sick and a little low on energy throughout the day. He put on a charge in the first race and nearly caught Musquin, but after he washed out, he was quiet for the rest of the night. He commented in a team statement, saying, "The bright spot was qualifying second-fastest. Unfortunately, things went downhill from there. I felt flat when the night show came around. I had several crashes and didn't help myself any. There are three rounds to go, and I'm excited to move forward and make a big impact in this series."
Monster Energy Factory Yamaha's Cooper Webb sustained a fractured tibia after being landed on in a rhythm section in the first main event. "I'm extremely bummed about the outcome in Minneapolis, especially after the momentum we had coming into the weekend. Right off the start of the first main event, I was involved with some carnage in the rhythm section and I ended up getting landed on. As of right now, it looks like a fractured tibia, but I have an appointment with an orthopedic specialist on Monday to see the final word. Thank you to my sponsors and everyone in my corner—I'll be back soon."
GEICO Honda's Jeremy Martin silenced his critics with a second straight win, this time at his hometown race. The two-time 250 Lucas Oil Pro Motocross champion has often been criticized for being an "outdoor guy." His 3-3-1 main event scores gave Martin the win and moved him into third in points. He has been training with Eli Tomac in Colorado, and in a team statement he said, "I just kept grinding and kept working. We got the bike a lot better. We're figuring some stuff out and it's really showing here. It gets a little frustrating when people say I can't rider supercross. A lot of people say I can't ride supercross, but all I got to say is, you can put that in your pipe and smoke it!"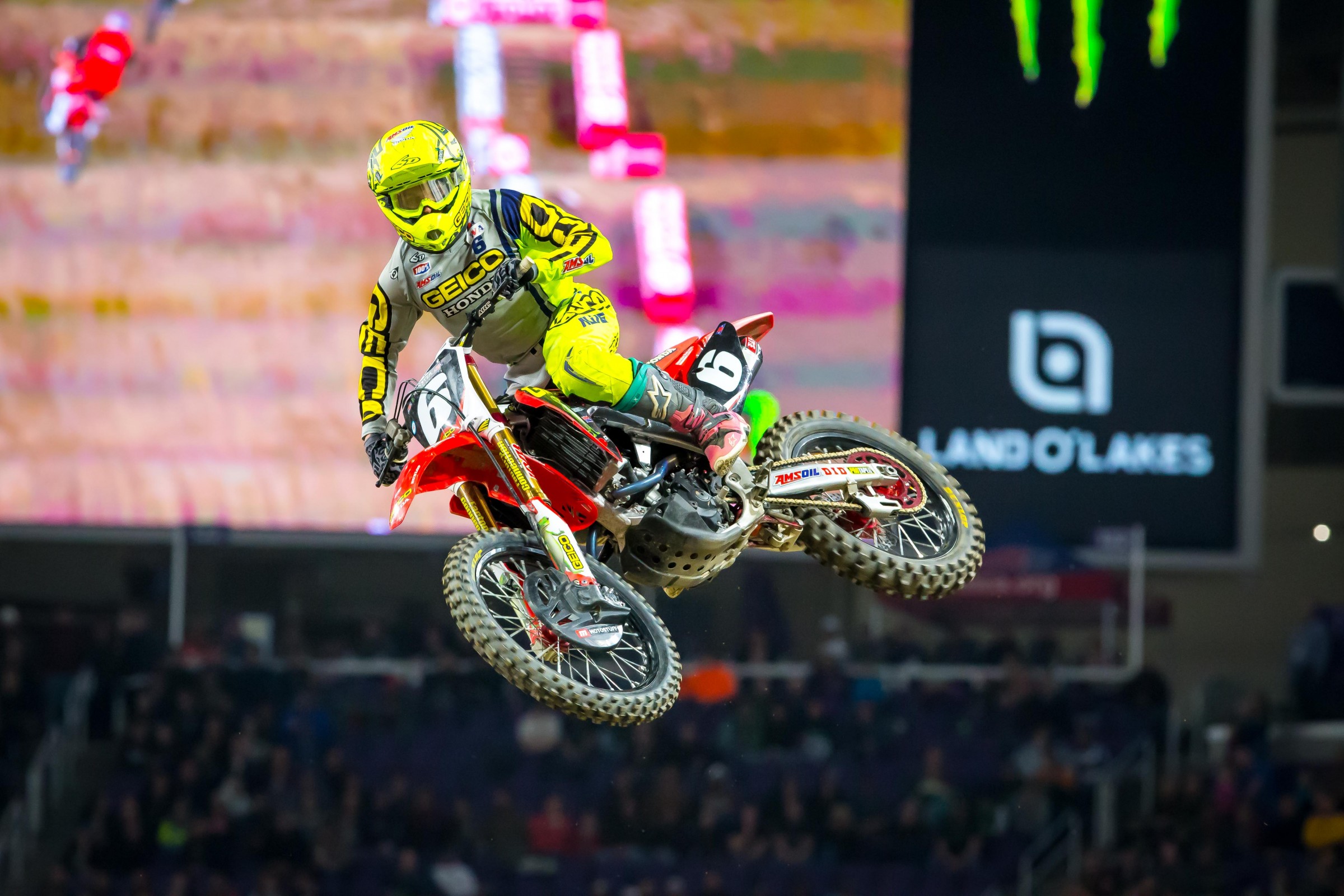 He continued, "I was pretty excited, obviously, that I won the home race. To win in front of the hometown crowd, I was kind of going a little nuts after the race. It's an opportunity of a lifetime to be able to race here, and to get the win was unreal. I wear earplugs when I moto, so I could hear them [the crowd] through the earplugs and over my dirt bike, so I was like, my God, it was loud."
The GEICO Honda team also added that Cameron McAdoo recently injured his scapula in a practice crash while trying to return from a broken hand. McAdoo is expected to miss the opening rounds of the Lucas Oil Pro Motocross Championship as a result of his new injury. RJ Hampshire, who suffered back and lung injuries at the Daytona Supercross, is back on the bike and will be at Hangtown for the opening round.
"All in all, it was a pretty good night," Rockstar Energy Husqvarna Factory Racing's Zach Osborne said. "I was fastest in all three sessions and came into the night show feeling really good. I got a bad start in the first main event, but turned it around in the second main event with a win. I got off to a good start in the last main event, went back to fourth, then had to work my way up. I gained some points, and I'm really happy with the way I'm riding." Coming into the weekend, Osborne's closest championship rival was Austin Forkner, but Forkner crashed out of the third main. This allowed Osborne to stretch out his points lead to 12 over Jordon Smith, who now sits in second with two rounds remaining in the East Region.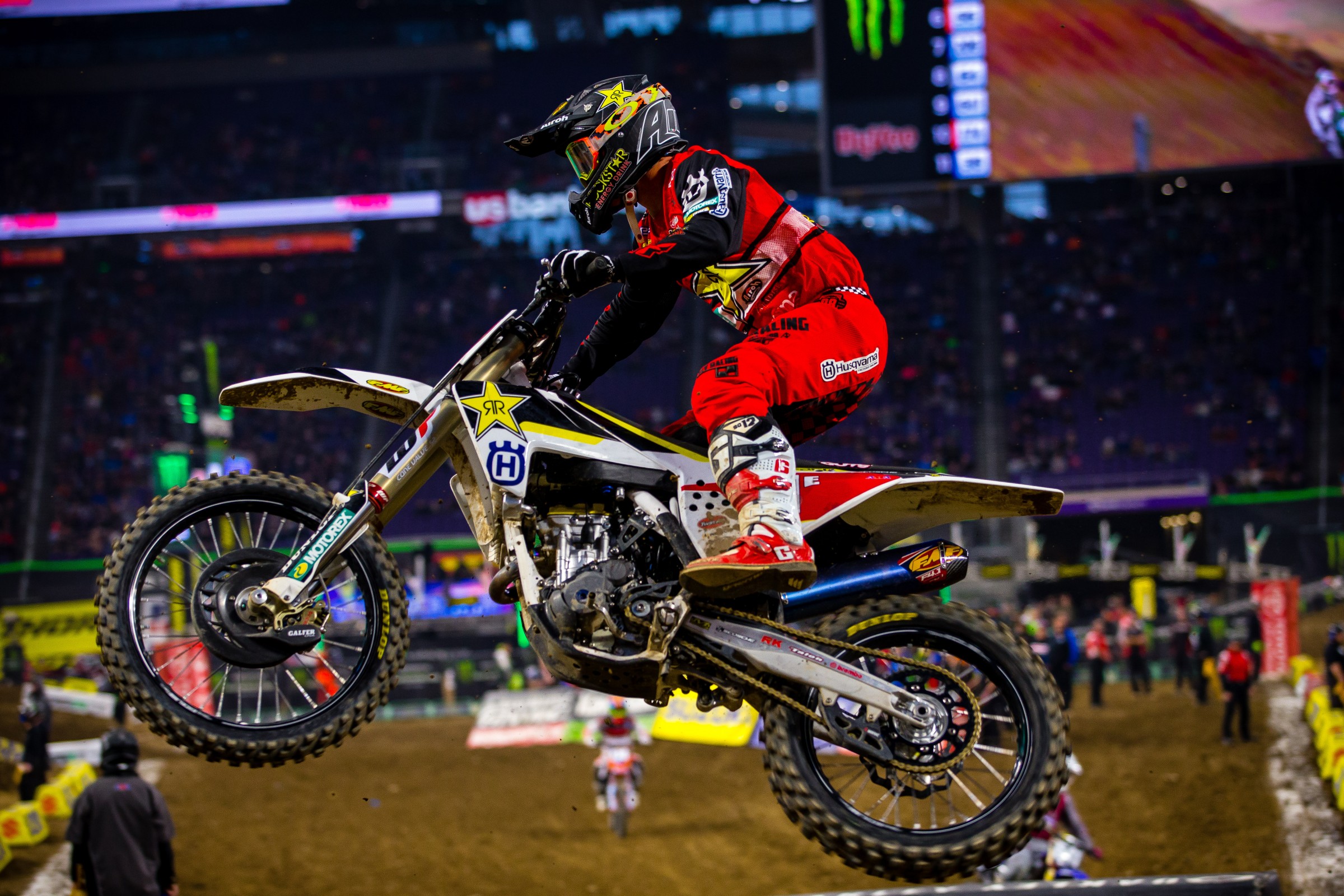 Troy Lee Designs/Red Bull KTM's Jordon Smith picked up his fourth podium of the year this weekend, and as mentioned above, now sits second in points. When asked about the Triple Crown format in the post-race press conference, Smith commented, "It's a tough night for sure, especially with both of the Triple Crowns being at tracks that deteriorate a bit more. So, a lot of laps. It's tough getting re-energized in-between the motos. Especially tonight, we were just kind of pitting down here in the tunnel with all the snow outside. It's interesting and it takes a lot of physical fitness and mental toughness to get through the day, but I like it."
Smith's teammate Sean Cantrell had a career night in Minneapolis, finishing fourth overall. He texted us the following earlier this week. "Minneapolis was good to me! With that style of racing there is constant carnage going on, so it's [tough] to stay consistent all three main events. I managed to pull off my career-best finish with a fourth overall, but we still have plenty of work to do and have to keep grinding."
Rocky Mountain ATV/MC-KTM-WPS's Anthony Rodriguez got his best finish of the year in fifth, despite battling strep throat. He wrote on Instagram, "Came out with a 5th overall at the triple crown this weekend despite having Strep throat for the last two weeks. I battled it out an even puked between races but it was all worth it. Thanks to the whole @teamrmatvmc for the encouraging words and support."
Austin Forkner's night started well with a win in the first main, but he crashed four times in the second main and finished tenth. He also crashed out of the third main with a collarbone injury. In a team statement, Forkner added, "I wish things went differently, but injuries have been brutal this season. I've gone through them before and know I can come back strong on the other side of this. These Triple Crown races are really intense. I felt good all day and [was] happy to get the win in the first race, but I think I was being impatient and just couldn't catch a break for the rest of the night. I've got a great team behind me, so we will have some examinations done and then decide what is best for me and the team."
"The practices went well and I felt good on the bike. I got off to a good start in the first main event and made it up to seventh," Rockstar Energy Husqvarna Factory Racing's Michael Mosiman said in a team statement after an 11th-place finish. "I got an even better start in the second main event and was running fifth. I had a big crash and ended up spraining my foot. I raced the third main event but rode a little tentative. It's a lot better to leave here racing all three motos. Overall, I built some confidence and I'm looking forward to the next round."
Traders Racing/Tic Tabs/Ohlins/ATV's & More/Shot's Luke Renzland was on the podium at the last East Region round, so many wondered if he could duplicate that here. Unfortunately, he was sick this weekend and wrote on Instagram, "Bummer night in Minnesota. Woke up in the morning feeling terrible, possibly some kind of food poisoning or something along those lines. Wasn't able to eat or drink really all day. Salvaged a tenth in the first main, but came off the track completely depleted and lightheaded. When I went back out for the next main, I ended up feeling dizzy once the adrenaline got pumping and just decided to pull off before I put myself or someone else in a bad situation. Never been a quitter, but when I felt like I wasn't safe, that's when I decided to call it. Two more races to get back out there and put in some solid results. Doing my best to get healthy for the great Northeast next weekend! See you there."
Although the race was inside in Minneapolis, the blizzard was a big problem for everyone. This was especially true for Autotrader/Yoshimura Suzuki's Kyle Peters, who crashed on ice while riding outside the stadium. He sustained a knee injury in the crash and retired before completing a lap in the first main. He did not return. In a team statement, he said, "I'm extremely bummed about Minneapolis. I was riding well in the opening qualifying session and establishing a good flow on the track. Then, without warning, I crashed in the ice and snow on the way to the final qualifying session and injured my knee. I tried to suit up and race, but the pain was too much. Hopefully I receive good news about my condition and can line up for Foxborough this weekend."
Team manager Jeremy Albrecht added, "Peters crashed on the way to the stadium for the final qualifying session. He hit a patch of ice and went down. He got tangled up in the bike and suffered a knee injury. Peters will visit the doctor early this week, get an MRI, and see what's going on. He was in too much pain to race the night program."