Minneapolis, MN
Minneapolis
Monster Energy AMA Supercross Championship
We know injuries are a part of the game in supercross, but some of them occurred in strange ways in Minnesota. Yes, the on-track news was not good for Cooper Webb, who injured his lower leg in a crash that occurred just a few seconds into the first 450SX race. Later, Austin Forkner went down hard in the whoops and suffered a broken collarbone.
Unfortunate, but not atypical. Things got crazy for two others, though. For Autotrader/Yoshimura Suzuki, the snow and ice outside the building tried to claim most of the team. Weston Peick and his mechanic, Travis Soules, went down riding over the ice en route to practice. Luckily, Weston was okay—partly because it's nearly impossible for Weston to get hurt.
The ice patch, though, was not happy about this transgression. Not soon after, it came searching for Peick's teammate Kyle Peters. Peters, on his way out for the final practice, crashed in the same spot, but wasn't as lucky and jacked up his knee. The first report from the track was that he had torn his ACL, which is a cruel blow, but JGR had Peick's trainer "Pat Attack" check out the knee and he thought the ACL might be okay. Pat worked over Peters leg, and Kyle rolled out for the first 250SX main hoping he could race. He rolled around for a lap and realized the knee wouldn't hold up.
We're waiting for final word on Peters' condition for this weekend in Foxborough and beyond.
It gets weirder. After Justin Barcia rode out for opening ceremonies on his Monster Energy Yamaha, he passed his bike off to mechanic Shawn Bell while they waited for the first 450SX race. Bell was sitting on the bike when a stadium cart misjudged a turn and smashed into him, knocking him down. (The rumor at the track was that Bell was hit by the Alpinestars Medic Mule, but that was incorrect. Bell was parked right in front of the Alpinestars Medical Unit when he was hit and was attended to by the medics, so some bystanders must have been confused. The cart that hit him was a cart used by U.S. Bank Stadium. The medics are innocent!)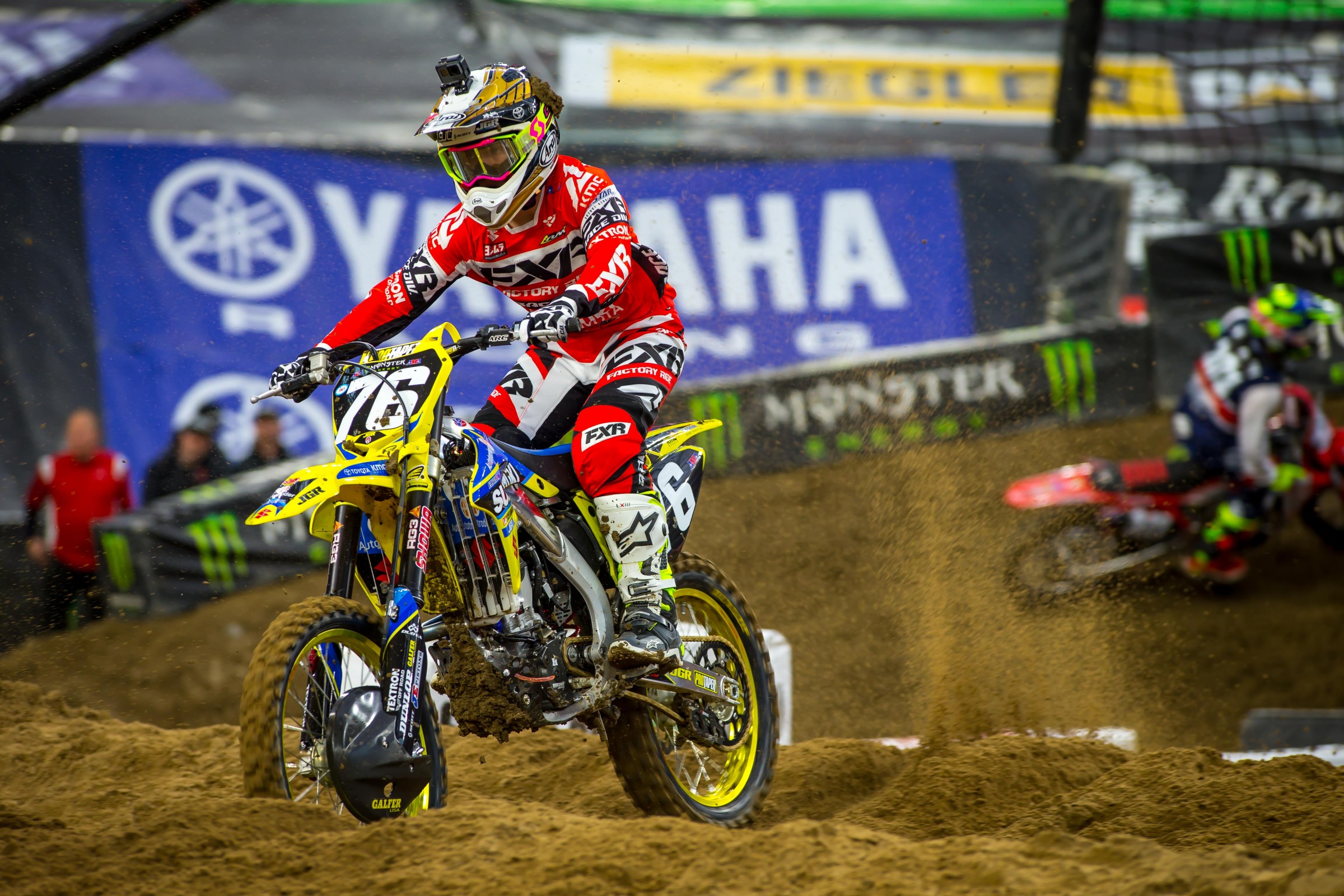 Both Bell and the bike got banged up. Irwin ended up going to the hospital with rumors of a knee injury. Today, Yamaha told us they're still awaiting some tests. Meanwhile, the rest of the team had to scramble to fix Barcia's bike while the first 250SX race was going on, and Shane Drew stepped in to work as Barcia's mechanic for the rest of the night.
By the way, there's a chance Webb's mechanic, Grant Hutcheson, could sub in for Barcia this weekend, since both Webb and Bell are banged up. Yeah, crazy weekend for a few teams in Minneapolis. Winter Storm Xanto showed no mercy in Minneapolis!