Welcome to cold and snowy Minneapolis—and thank Heaven for the roof over U.S. Bank Stadium. We thought Indianapolis was bad outside, but this is crazy. The wind is making the snow come down sideways, and it's literally hard to see as you walk around the pits. Everyone is huddled deep inside their race haulers, but the snowy ride from the pits to the track is treacherous. Weston Peick crashed on his bike in the snow, and then a second Autotrader.com/Yoshimura Suzuki rider, Kyle Peters, crashed on the ice and even missed a practice.
It's all good inside, though, with a pretty cool track. The two whoop sections could get tough—the second one gets challenging by the end—and the dirt looks good. The track also features a split inside/outside section, but as usual, it's favoring one side. The inside will probably be the preferred line unless something drastic changes.
This is the final of three Triple Crown races for the year. Three races in each class, all totaled up to take an overall. This will be a 250SX East race, just like the previous Triple Crown in Atlanta. Austin Forkner (250SX) and Jason Anderson (450SX) took the wins in that one. The 250SX East division last raced in Indianapolis two weeks ago, and Jeremy Martin took the win. Zach Osborne leads the standings in that class by seven over Forkner, and ten over Jordon Smith. Anderson is sitting on a 37-point lead over Marvin Musquin in 450SX.
One other thing to remember about the Triple Crown is that 18 riders make the main events through qualifying times, then LCQs are run in the daytime to seed the final four spots on the gate.
First Practices
Austin Forkner could really use a win tonight to close back up on Zach Osborne in points, and his motivation showed early in this session. He was fast and aggressive right out of the box and held top time for a bit. Then came the usual mad scramble for lap times at the end of the first timed 250 session, with a bunch of good laps coming in a flurry. Osborne snuck to the top of the board ahead of Jeremy Martin. Osborne and Martin were trading fast laps throughout this one, could be a good showdown between them tonight.
Minneapolis - 250SX East Group A Qualifying 1
Full Results
Minneapolis - 250SX East Group B Qualifying 1
Full Results
You can write off last week's mudder for Justin Brayton, who is not comfortable in those conditions. Back here in a dome, the Bullfrog Spas/Smart Top Motoconcepts Honda rider logged the fastest time in 450SX. He just edged ahead of Eli Tomac's hot time. Late in the session Weston Peick and Jason Anderson jumped up to second and third. Also looking good was Malcolm Stewart, who is showing more speed as of late. Malcolm has been spending more time testing in North Carolina with the JGR crew and it's starting to show, as earlier in the season he was on a week-to-week basis as a replacement with the team, and wasn't getting in any testing. Late in the season, Mookie is finding his form.
Justin Barcia looked decent in his return to racing and was seventh-quickest.
Minneapolis - 450SX Group A Qualifying 1
Full Results
Minneapolis - 450SX Group B Qualifying 1
Full Results
Final Practices
Austin Forkner jumped out on the track first in this one, then Zach Osborne logged the best time. Late in the session Jeremy Martin took the top spot away pushing Osborne to second and Forkner to third—remember this is Martin's home race, and he also won the race the last time the East riders lined up in Indy. Martin and Osborne looked to be matching each other for lap times in both timed sessions today.
Minneapolis - 250SX East Group A Qualifying 2
Full Results
Minneapolis - 250SX East Group B Qualifying 2
Full Results
Minneapolis - 250SX East Combined Qualifying
Full Results
Christian Craig got the best jump when this practice started (they actually use a full gate drop start in the final practices) and led the field around early. Marvin Musquin briefly took the top spot, but then Eli Tomac grabbed the top time a lap later. Impressive again was Malcolm Stewart, who jumped up to the second-best time on lap eight.
Minneapolis - 450SX Group A Qualifying 2
Full Results
Minneapolis - 450SX Group B Qualifying 2
Full Results
Minneapolis - 450SX Combined Qualifying
Full Results
The top 18 in each class, again, are seeded direct to the races with the Triple Crown format. Ben Lamay grabbed the last 450 spot by by .011 over Kyle Cunningham, who was 19th. So Cunningham is LCQ bound.
In the 250s, Zack Williams got the final spot over Ramyller Alves, who will go to the LCQ.
Jerry's gonna Jerry. Minnesota's own Jerry Robin holeshot this one and led for a bit, then he started making mistakes in the whoops and gave up the lead to Lorenzo Locurcio. Then Jerry...pulled off the track and rode beside the whoops while running second. Just rode right around them! He regrouped and tried to charge forward, but ended up fifth.
250 LCQ
Jerry's gonna Jerry. Minnesota's own Jerry Robin holeshot this one and led for a bit, then he started making mistakes in the whoops and gave up the lead to Lorenzo Locurcio. Then Jerry...pulled off the track and rode beside the whoops while running second. Just rode right around them! He regrouped and tried to charge forward, but ended up fifth.
Minneapolis - 250SX East LCQ
Full Results
450 LCQ
Henry Miller, another Minnesota native, got the holeshot and took off in this one. But we got the typical bonkers crazy 450 LCQ last lap. Alex Ray crashed but tried to work his way back into the top four. He got around AJ Cantanzaro, then caught up with the Devin Raper/Bubba Pauli battle in third and fourth. Ray caught up to Pauli on the last lap. Then Pauli pulled off an Excitebike/Mad Skill/JS7 rhythm that made no sense but it somehow worked. He got fourth with Ray just short of the main.
Minneapolis - 450SX LCQ
Full Results
250 Race 1
Jeremy Martin led into turn one but Austin Forkner sliced inside to take the lead—Martin said someone ran into his swingarm and pushed him wide. With Forkner in the lead, Thomas Rammette was second but Jordon Smith went balls-out fast through the whoops to get him on lap two. Smith set sail after Forkner and they pushed hard through the first few laps, Smith closing up ever so slightly. Martin climbed to third, and Zach Osborne then busted his way through traffic to get to fourth.
In the second half of the race, Smith started making a few mistakes and Forkner was able to open a comfortable lead. Martin was pushing hard and caught Smith for second, but ran out of time. He got to Smith's rear wheel on the last lap, but settled for third.
"We were just battling out there," said Martin.
"It's a lot different in this main event than what we saw in practice, and I expect the track to break down a lot more," said Smith, who finished second.
"I didn't get the greatest jump, but I ran it in deep and got the holeshot," said Forkner, the winner. "You could really push hard the first couple of laps, that's what I tried to do, then just kinda' backed it down to save something for the next one."
Surprisingly, Osborne lost touch with the lead trio and finished aways back in fourth.
Minneapolis - 250SX East Main Event 1
Full Results
450 Race 1
Eli Tomac got a great jump off the line to lead into turn one, while Marvin Musquin pushed wide and tried to steal the lead around the outside. Tomac emerged with the lead and Jason Anderson followed him through to take second, with Justin Barcia, in his return to racing, in third, and Musquin shuffled back to fourth. Good for Yamaha to see Barcia start well, but meanwhile his teammate Cooper Webb got tangled up in the first rhythm section and went down. He got up but had to limp off the track, and did not rejoin the race.
Musquin uncharacteristically started losing spots, getting passed by Justin Brayton and Weston Peick, while up front Tomac maintained a gap on Anderson. A few laps later, Blake Baggett made the move on Musquin, too, and then Malcolm Stewart started to close until he fell.
Musquin started getting his rhythm back and closed back in on Baggett, but then he washed out in a corner and went down. He got up without losing any spots.
Up ahead, no changes at the front, Tomac, Anderson and Barcia followed each other home.
"The track's super tough for my first race back," said Barcia. "This is a challenge, these guys are going fast and it's my first race back. After practice I just told myself have some fun and it is what it is."
"We just need to get two starts like that again," said Tomac. "Tough track tonight, it's technical but everyone has to deal with the same thing."
Minneapolis - 450SX Main Event 1
Full Results
250SX Race 2
Jordon Smith grabbed the holeshot while Forkner and Osborne tangled right out of the gate. Osborne headed down the start straight at the back of the pack, but made a few slick moves in the first turn—and also took advantage of riders getting tangled on the tough blocks on the inside. This allowed him to make a bunch of passes, and then he and Forkner got close leaving turn two. Forkner tried to triple out of the corner, but landed on the tough blocks and went down. Forkner got up in last, then crashed again a lap later.
Osborne started stalking Smith for the lead. When Osborne got to Smith, Smith put up a fight, and the battled inside and outside of each other in three corners and through the whoops, until Osborne finally got underneath and made the pass stick before the start straight. From there, he took off—whatever didn't work out for Osborne in race one, he fixed it in race two.
With about four laps to go, Martin caught Smith for second, but Smith fought him off. Martin went back on the attack to try to get Smith again. Martin tried a gutsy inside line on the takeoff on the triple, but Smith kept the gas on around the outside and tripled over his head. Martin caught back up, but just like in race one couldn't find a place to make the pass on Smith.
"Got to try to stay consistent but I can't let Zach run away with it like that," said Smith.
"I was catching these guys, then I would make a mistake and they would pull back away," said Martin. "Looking forward to this last race, it's longer and it's time to suffer."
Smith holds the overall lead right now with a 2-2. Osborne has a 4-1 and Martin a 3-3.
Minneapolis - 250SX East Main Event 2
Full Results
450 Race 2
This time the Triple Crown delivered—this was a good one.
Blake Baggett and Justin Brayton battled for the holeshot, and Brayton edged ahead. Then it was Musquin and Tomac, then Anderson. Tomac then made a mistake and dropped a few spots.
Brayton maintained an early gap on Baggett. Musquin bobbled in the sand and ran into a tough block, allowing Anderson to pass him for third. Five minutes in, Anderson caught Baggett and dove inside in some ruts as the track hooked onto the start straight. Anderson made the move and took over second. Behind them, Peick and Musquin were having a killer battle for fourth, with Tomac trying to catch them in fifth. Musquin tried passing Peick, Peick passed him back, then Peick passed Baggett for third!
At the same time, Anderson caught Brayton and cut inside, but Brayton got on the brakes, waited, and came back underneath to get the lead back. Two turns later, Anderson tried getting inside of Brayton, but Brayton didn't budge and Anderson high-sided and bounced off the track.
This was heating up! Now it was Brayton leading Peick, but Musquin snuck inside of Peick before the triple to take second. He then closed on Brayton for the lead. For the second time in the race, Musquin bobbled in the sand and went off the track. Peick nearly passed him back for second. A lap later and Musquin caught back up to Brayton and they went at it, but Musquin finally made it happen by staying lower on the triple and using that extra speed to stay close to Brayton in the whoops. He was on the inside for the next corner and used that to seal the deal on the pass for the lead. Marvin had smashed into a tough block and later went off the track—and still ended up winning the race!
Brayton just managed to hold off Peick, with Tomac and Anderson right behind.
"I feel like I should be up there like that every week," said Peick. ,
"A little bummed I let that win slide away, but we've got another one," said Brayton. "As a fan of this sport, I love these triple crowns. It was intense."
"I had to get really aggressive," said Musquin. "On that track you can't get away with being too nice. I found a nice little rhythm in the whoops. Happy to get a win in this moto, the first one was tough on me."
Minneapolis - 450SX Main Event 2
Full Results
Tomac holds a 4-1, Brayton a 4-2, Marvin a 7-1, Peick a 5-3, Anderson a 2-7.
250 Race 3
Intense first lap! Josh Osby got the holeshot while Osborne, Smith and Martin pushed and shoved on each other in the first few turns. Osborne pulled off some slick moves again to get into second, but then Osby bobbled in the whoops, and it slowed up Osborne enough for Smith to get next to him. Smith saw the opening and took advantage, bumping Osborne and slowing him enough for Martin to slide past, also. Osby started making mistakes and the Smith/Martin/Osborne/Forkner group went around him. Martin then got a line on Smith inside in the whoops and finally made the pass on him—after stalking him throughout the first two mains. Martin put a little extra mustard on the pass, slowing Smith, and that allowed Osborne to jump inside of him. Smith held the inside in the next turn and tried to get Osborne back. Osborne wouldn't budge and Smith crashed over the high side. Also, Forkner went down hard in the whoops.
This set up Martin in the lead with Osborne chasing—the battle for the race win would also decide the overall (Martin looking at 3-3-1 scores to edge Osborne's 4-1-2 and Smith's 2-2-3). Osborne got close a few times, but on the final four laps Martin put his head down and rode flawlessly to pull away. The points would show a three-way tie for the overall, but Martin's third-race win would break the tie to win. The fans in Minnesota, his home state, went nuts!
"Everyone's family here in Minnesota," said Martin. "I'm truly blessed, and this is the most fun I've ever had in supercross. Thanks to all the fans who support my parents local track, you guys were here in a blizzard, I can't say enough."
"I feel like I'm starting to get it—for those people that say I can't ride supercross, you can put that in your pipe and smoke it," added Martin with a laugh.
"I caught some lappers with four laps to go and that kind of ruined it, but I don't want to take anything away from Jeremy he rode great," said Osborne.
Minneapolis - 250SX East Main Event 3
Full Results
Minneapolis - 250SX East
Full Results
Supercross 250SX East Standings - 2018
Full Standings
450 Race 3
Tomac and Brayton battled for the lead early but Brayton secured it, then Anderson snuck past Tomac. Anderson wasted no time getting next to Brayton to try to make a pass, but Brayton held him off. A lap later, Anderson found a better timing through a rhythm lane and took the lead from Brayton. Peick then tipped over from third and held up Tomac, Barcia got in front of him, but Tomac immediately got him back to retake third.
The battle for the overall, early, was between Brayton and Tomac, with Brayton needing to hold Tomac off for second to win it. Tomac quickly closed the gap on Brayton but could not get around, and this held Tomac up enough for Musquin to catch him. Musquin then made the pass on Tomac! Now it was Musquin's turn to stalk Brayton, and the dam finally burst when Brayton went wide in a split lane, and both Musquin and Tomac were able to pass him for second and third. This moved Tomac back into the overall lead with 1-4-3 scores, one point ahead of Anderson, two points ahead of Musquin. From there the race spread out, Anderson cruising to the race win over Musquin, with Tomac's third being enough to win the overall by a point. Tomac also wins the season Triple Crown Championship by winning two of the three Triple Crown events.
Minneapolis - 250SX East Main Event 3
Full Results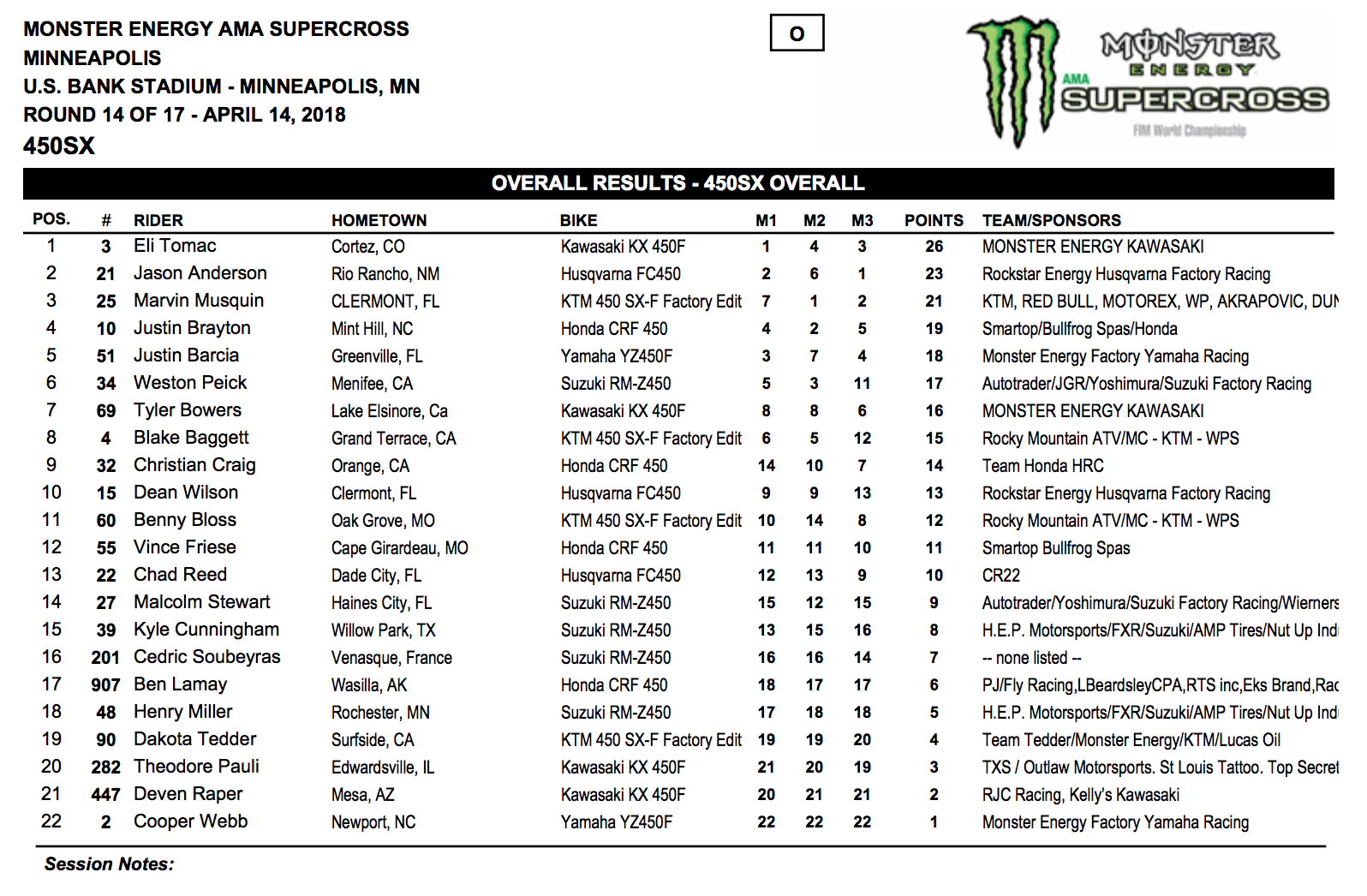 Supercross 450SX Standings - 2018
Full Standings