Minneapolis, MN
Minneapolis
Monster Energy AMA Supercross Championship
So many changes throughout the night during a Monster Energy Supercross Triple Crown event, but in the end the results don't look much different at all. Despite six different winners in six races tonight in Minneapolis, matching the six-of-six score from the previous Triple Crown event back in Atlanta, the cream rose to the top and the overall winners were not unexpected. Eli Tomac nabbed the closely-contested 450 win over Jason Anderson and Marvin Musquin, while Jeremy Martin just edged Zach Osborne and Jordon Smith to win in the 250s. There was a three-way tie on points between those riders! This night started out fairly tame, but the action picked up in the second and third main events of each class. In fact, things got so crazy that few fans will remember every single pass and crash throughout the night. Just know that the racing was good an unpredictable, even if the final results tally looks familiar.
Martin's win is his second-straight, backing his East/West Showdown win in Indy. Tomac's win is his season-leading seventh of the year, and also makes him the first-ever Triple Crown Champion based on results in all three events held this season.
It was not easy for Tomac, though. He started well in all the races, his Monster Energy Kawasaki pulling hard out of the gate each time. But the opening laps featured a lot of aggression and a lot of shuffling. In some races Tomac got up front and checked out (Race 1) but in others he got caught in the battle and had to play the consistency card. He and Justin Brayton were actually up for the overall win by Race 3, and Tomac made a move on Brayton but couldn't make it stick. This allowed Musquin to slice inside, and then Tomac followed Musquin through to get Brayton. From there, Tomac was in position to win the overall. It wasn't a dominant performance, but one good enough to take the win.
"I knew, when Brayton was in front of me, that obviously wasn't a position I want to be in," said Tomac. "Once I got into third I was like, yeah, it's good enough, but not until the last two laps did I go into full conservation mode. I think we were behind Brayton in that option lane, and that's where Marvin got by me. We ended up losing Jason and that was that."
Anderson rode well but took a few risks—again, unexpected since he's carrying the points lead—and ultimately that cost him. He tried to get Brayton in Race 2 and didn't have room, he almost crashed, went off the track, lost positions, and then was later docked some spots for accelerating too quickly while off the track. Anderson went for it last week in Seattle and again here, and that's by design.
"I think the points deal for me, the hardest part us during the week," says Anderson. "During the week you're thinking about it a lot, but once the race day comes, I don't think about it too much because I go into race mode. [Team Manager] Bobby [Hewitt] always tell me to act like the hunter not the hunted. That's what I try to do and I try to make good decisions, but sometimes that's hard to do. Like in the second race tonight I felt like I was going way too crazy trying to pass Brayton. Yeah I don't know about points management, this and that, I'm just trying to race. During the week it's stressful. But during the race day you're just thinking about one thing, and that's getting a good start and battling with these guys."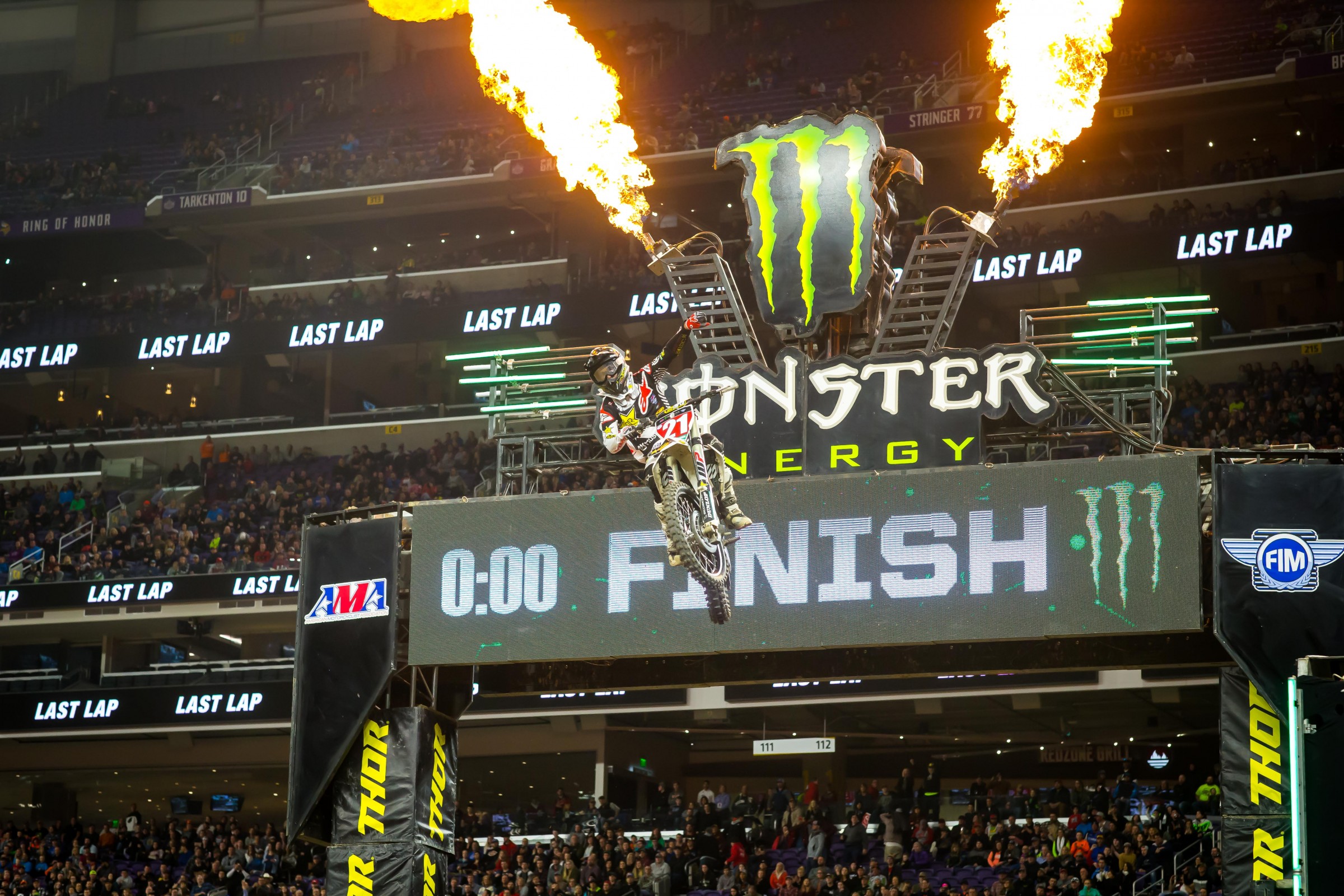 Musquin's chance for the overall was ruined by a rough Race 1, where he actually went backwards, then later fell. He finished seventh. He came roaring back like a totally new rider in Race 2, overcoming two huge mistakes in the sand section to win the race anyway.
"It was definitely unacceptable (the first race), but I know what it is," said Musquin. "We changed a couple of things on the bike, and it was not the right way. We definitely got better in the second and third main event and I proved it. We always try to get better with the bike, and that was no good."
Brayton led most of the second race but Musquin got him late. He was still in position for the overall early in race three while he tried to fend off Tomac. Ultimately, Musquin and Tomac got him, and Brayton ended up fourth overall—he finished fourth in all three Triple Crown races this year.
"Overall a really good night, happy with it. I actually had a really tough week, had a big crash on Tuesday and was actually kind of questionable, to be honest. Tonight two holeshots, led a lot of laps. I didn't have anything for those three guys in the final race, there were on another level than me in that one. I just rode it in for fourth overall."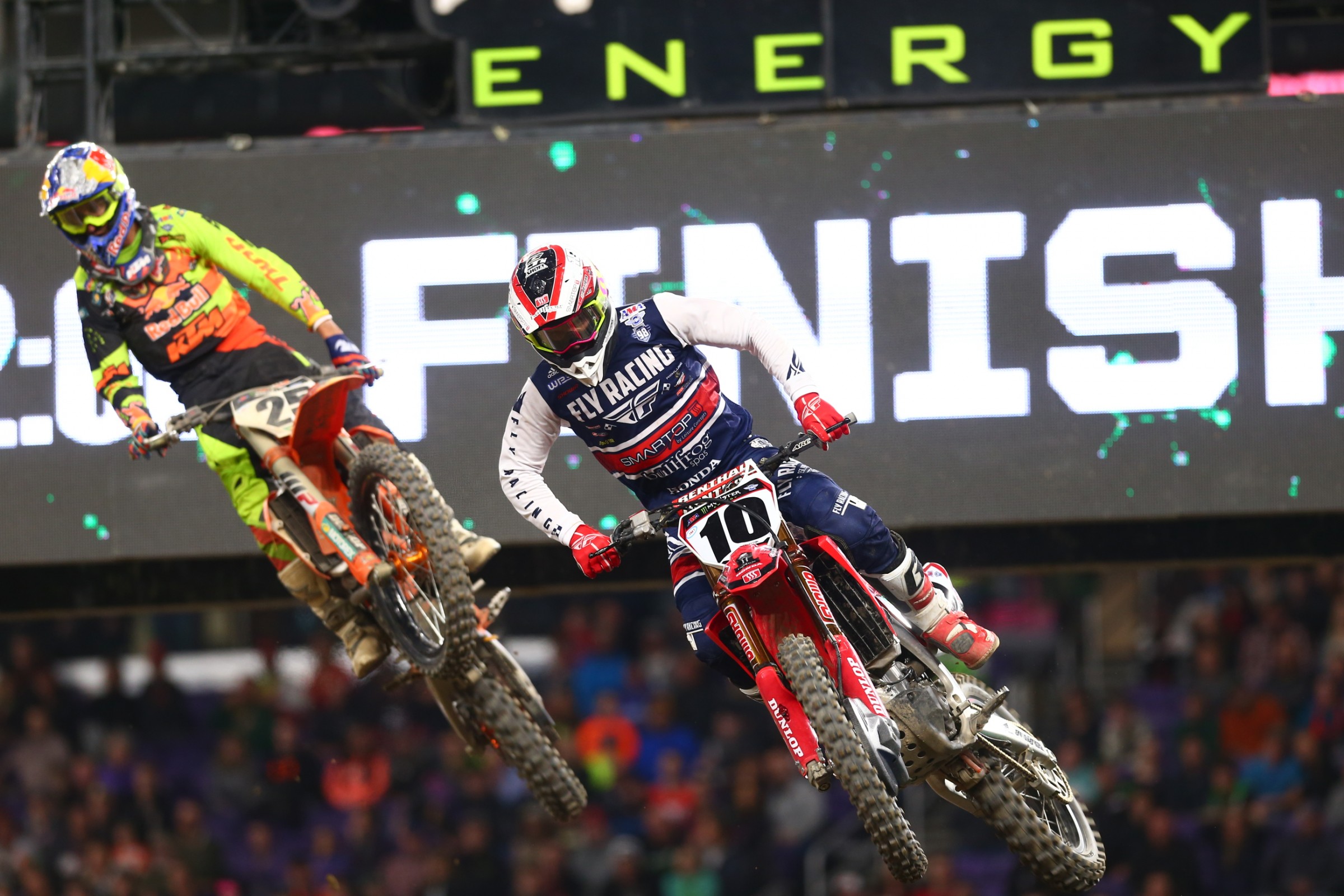 Good race for Justin Barcia in his return to racing, netting third in the first race and fifth in the final. With 3-7-5 scores he was fifth overall. Barcia said he feels much better than he did when he returned to racing after injuries the last few years. He was a little lacking in race intensity, but physically he was happy with his fitness.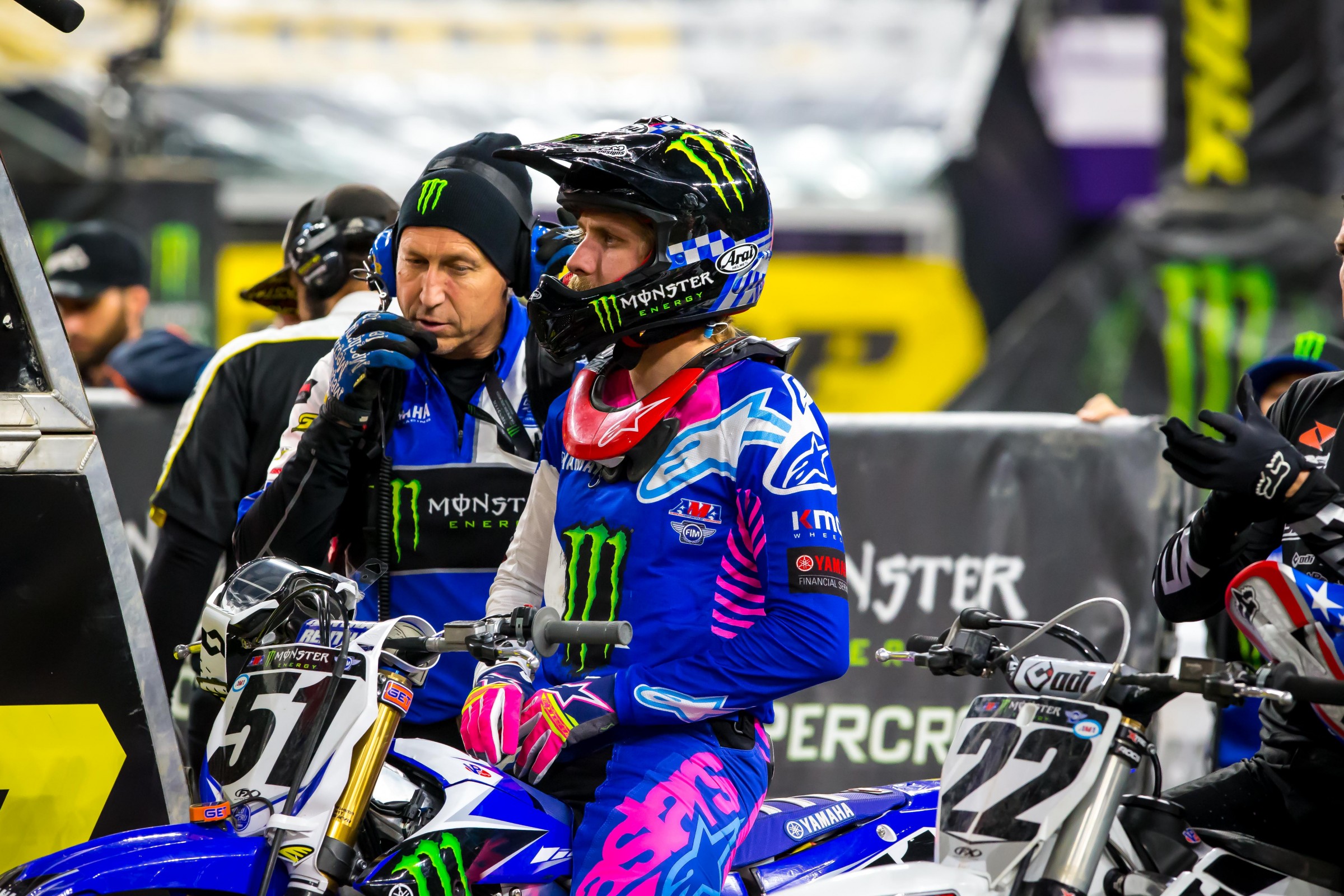 Jeremy Martin is back up front in supercross. Seems like a distant memory now, but JMart was a genuine title threat in 250SX East back in 2015 and 2015, but last year was a complete disaster, and the early rounds this year were tough. Now Martin has back-to-back wins, and he earned this one by pulling away from Zach Osborne's attack late in the third main. That's not easy to do!
"I just kept grinding and kept working," said Martin of his supercross struggles. "Now it's working. It gets a little frustrating when people say I can't ride supercross. I want to say something but I'm gonna say it anway. People say I can't ride supercross but for them I just want to say, put that in your pipe and smoke it."
Martin's breakthrough in the third race was key, because he spent the first two races trying to find a way around Jordon Smith, and couldn't do it. He finally found the opening in race three and put an aggressive pass on Smith, this allowed Osborne to get next to Smith as well. Smith leaned in on him and ended up crashing. Somehow Smith's bike tore a hole in Osborne's pants! This left Osborne, who had struggled off the start in all three races, to try to catch Martin for the win.
"Three or four minutes to go I was feeling pretty good about my position and then I looked up and there were three lappers between us," said Osborne. "It was over at that point. I don't know if he got to them on the start straight or in the whoops but that was pretty much it."
Supercross
Rider
Hometown
Pos

ition

Bike
1
Jeremy Martin
Millville, MN

United States

3 - 3 - 1
Honda CRF250R
2
Zach Osborne
Abingdon, VA

United States

4 - 1 - 2
Husqvarna FC 250
3
Jordon Smith
Belmont, NC

United States

2 - 2 - 3
KTM 250 SX-F
4
Sean Cantrell
Murrieta, CA

United States

5 - 4 - 5
KTM 250 SX-F
5
Anthony Rodriguez
Caracacus

Venezuela

6 - 11 - 6
KTM 250 SX-F
Full Results
Supercross
| Position | Rider | Hometown | Points |
| --- | --- | --- | --- |
| 1 | Zach Osborne | Abingdon, VA | 196 |
| 2 | Jordon Smith | Belmont, NC | 188 |
| 3 | Jeremy Martin | Millville, MN | 175 |
| 4 | Austin Forkner | Richards, MO | 137 |
| 5 | Luke Renzland | Hewitt, NJ | 118 |
Full Standings
Osborne continues to add ground in the series' standings as Austin Forkner's night turned miserable. Forkner actually won the first main, but crashed over and over in the next two races, his 1-10-19 scores left him 10th overall. There's always a little Forkner/Osborne drama, though, as Forkner was the one who crossed over on Osborne out of the gate in race two, leading Osborne to come in hot in turn two to try to get him back. Forkner crashed right after that.
"I worked so hard on my starts in recent weeks, and I was pretty demoralized (with a bad start in the first race)," said Osborne. "Second one, I got crossed out of the gate by someone pretty badly, and I was ticked off. I came into the second turn hot and came out pretty good. I wish just one time I could just get off to a holeshot and make tracks."
Smith was so close to the overall in Atlanta's Triple Crown, and very close again here, tying for the overall but finishing third. "I kind of made a mistake coming out of the whoops, Jeremy got around me, pushed me pretty wide, that allowed Zach to come up the inside. I came in pretty hot, and we got locked together there. I went over the high side."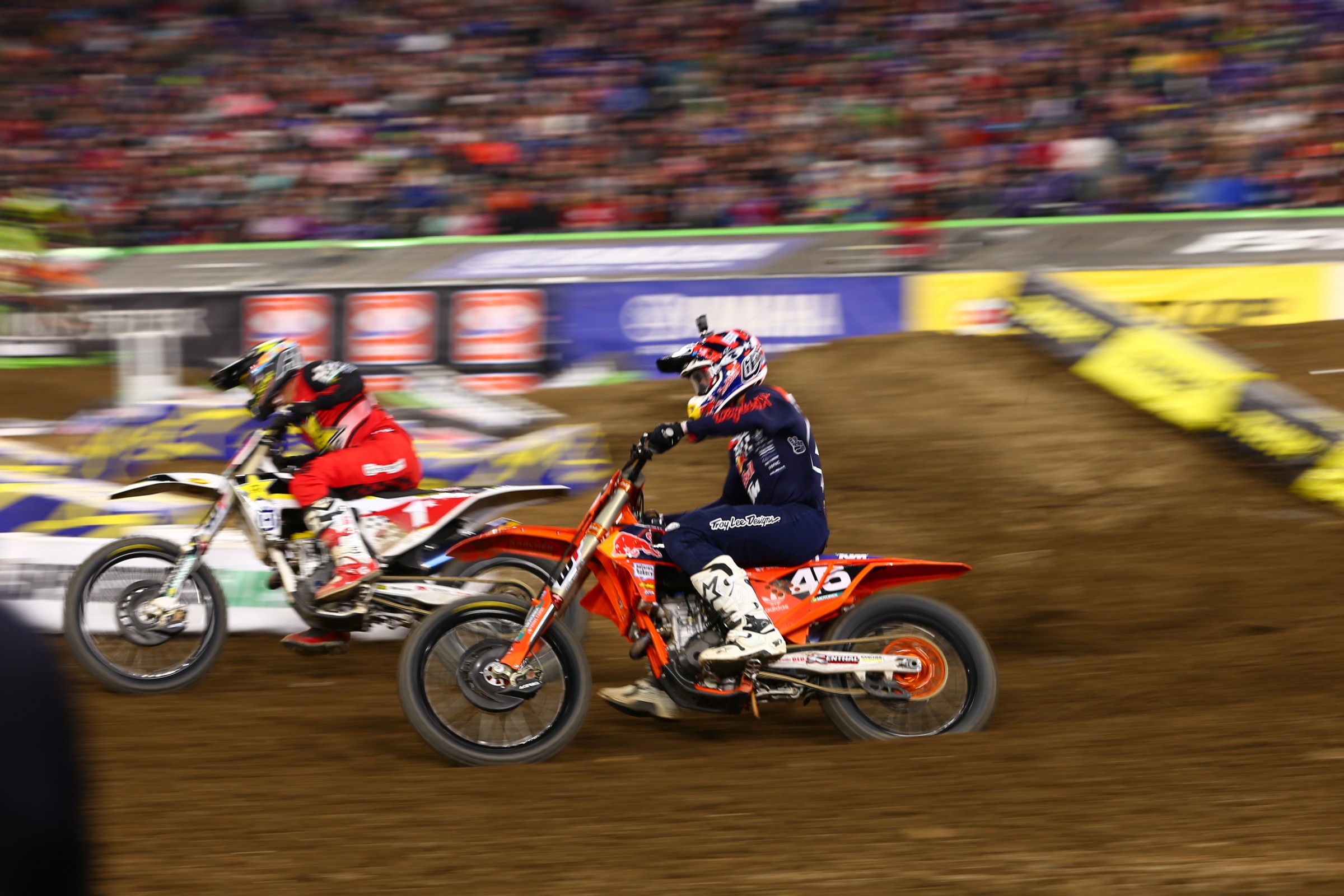 A few other notes:
Weston Peick was in the mix through most of the mains, his best overall riding since his hot start to the season, when he logged 5-5-5 finishes to start the year. He ended up sixth overall. A crash in one of the races held back his overall. Tyler Bower's followed up his career best result in a muddy race last weekend with more solid riding here, going 8-8-6 for seventh overall.
There was a full-on blizzard going on outside the stadium, but a decent crowd showed up anyway. Martin says he wears ear plugs when he races, but he could still hear the crowd over his bike and through the ear plugs, and those cheers helped. Minnesota native Ryan Dungey also got mega cheers while receiving his 2017 Monster Energy Supercross Championship ring. Feld Motorsports waited until Dungey's home race to present him with it.
One rider who didn't like the snow outside with Kyle Peters, who crashed riding on ice and hurt his knee. Reports are that he might have suffered a torn ACL. Peters tried to line up for the first race but couldn't make more than one lap. His teammate Peick actually crashed in the same spot of the pits earlier during the day.
Martin's GEICO Honda squad rewarded the team with a beautiful new $2000 coffee maker to celebrate the East/West win at Indy. They promised a new smoker if Martin won again in Minneapolis, and Martin made it happen! Going to be some good eats and drinks around that rig for the foreseeable future.
Broc Tickle's recent provisional suspension from the FIM (due to failing a WADA anti-doping test at the San Diego Supercross) was a hot topic all day. We spoke with Broc's trainer Aldon Baker, and Baker says Tickle assured him he did not eat or drink anything outside of the norm the weekend of the San Diego race (supposedly, the substance Tickle was detected to have in his system passes through the body quickly, meaning he would have had to have ingested it during the race weekend to have it detected on a doping test). Tickle flew to the race on Thursday when he was hit with the shocking news, via an email, that he was suspended. He quickly flew to California to meet with KTM lawyers to try to put together an appeal. Baker says so far he's been able to get very little information as to how this process will work.
Cooper Webb crashed just out of the first turn in the first race of the night, and had to limp off the track with what looked like an ankle or foot injury. He did not compete in the second or third races.