Centurylink Field
Seattle

,

WA
Seattle
Monster Energy AMA Supercross Championship
Monster Energy/Pro Circuit Kawasaki's Eli Tomac picked up his sixth win of the season and 19th 450SX win of his career, tying him with Damon Bradshaw on the all-time list. "Today couldn't have gone any better for us," Tomac said in a team press release. "This is motorcycle racing, and we have to deal with the cards we're given. Tonight were some of the craziest conditions I've had to race in, but I had a blast. I am pumped to get another win and now sit third in the points. I am looking forward to keeping the ball rolling into Minneapolis."
Points leader Jason Anderson was in first for most of the race and was doubling in spots where most were rolling jumps until it cost him. He had a close save on the face of a jump that left him in an awkward position in the slippery muck that allowed Tomac to get by while he spent time remounting his FC 450. Anderson admitted after the race that he may have pushed a little too much in the main, which cost him the win. "The whole day was a little weird due to the delayed program," the Rockstar Energy Husqvarna rider said in a team statement, "but practice went as well as it could have in the mud—I qualified first. I was up front in the heat race but was pushing too hard, so I pulled back. I ended up coming back to second. I was out front and riding awesome in the main, but had a bit of a hiccup. All in all, I did what I needed to do tonight, so it was good." Even with his second place finish Anderson picked up points in the championship and leads Marvin Musquin by 37 with just four rounds left.
On the other hand, Red Bull KTM's Musquin who finished third, was upset with himself for being too cautious. In a team statement, he said, "It's not often that we have a muddy race like that in supercross, but we have no choice, we have to go out and give our best. The conditions were pretty tough; the mud was pretty sticky for the main event. Honestly, I'm a little disappointed. I got a great start, but the speed wasn't there. My intensity—I was too timid and too cautious. I should have taken more risks, but I was just trying to be consistent and stay on two wheels and the other guys were just faster."
Many have been wondering if Broc Tickle's switch to the Red Bull KTM team and training at the Baker's Factory in the off-season would result in an uptick in race results this year. So far that hasn't been the case, but Tickle did get his best finish of the year with his fourth-place finish in Seattle. In a team press release, Tickle commented, "It's always exciting to come to Seattle. I got my first win here in 2010 and I've always enjoyed the tough conditions here. Tonight was pretty good for me; I was excited to see the rain, but it ended up being really tough to ride in. I know I'm really good in those conditions just by being patient, taking my time, and not getting too far ahead of myself, and I felt like I did so tonight and I was consistent. It was a tough track tonight, but I'm in a good position to keep building momentum and end out the series strong."
Monster Energy Factory Yamaha's Cooper Webb picked up his third top-five finish of the season with a fifth place. "Seattle was a wet one, and it was very gnarly. After a weekend off, it was nice to get back racing. We had rain all week and all day so I knew it was going to be a mudder, but I didn't think it was going to be this bad," he said in a team statement. "It ended up being a lot worse than we thought. We only had one practice and I struggled quite a bit. In the main event, I got a pretty good start—I came out third or fourth, but I ended up making a big mistake in the rhythm and went back. I never felt great in the main, but I felt steady. I had pressure the whole race, but I kept pushing and ended up getting Chad Reed for fifth on the last lap in one of the last corners. It was a good regroup from crashing all day. A top-five is solid."
Tyler Bowers, filling in for Josh Grant at Monster Energy Kawasaki, saw the best finish of his 450 career in Seattle with a sixth place. He wrote on Instagram after the race about the struggles of getting through the mud:
Team CR22's Chad Reed put in a determined ride, running fifth for most of the main before his clutch started giving out on the last lap. Reed was passed by Webb and later Bowers in the last turn as he was forced to push his bike through the mud to get past the timing and scoring transponder line after his bike expired just short of the checkered flag. It was good enough to be officially scored for seventh.
In a Racer X interview after the race, Reed commented, "I was cautious and I was aware of the bike kind of already feeling hot. So, then I started to try to ride it in a way that I wasn't so hard on it. But, obviously, I could feel it getting warm. I could smell it and all those things. So, then I'm like, I was in a pretty comfortable, pretty easy fifth. Whenever I kind of got a bit of a rhythm going, I felt like I could catch [Broc] Tickle a little bit. But I kind of had to let go of that just because every time I pushed a little bit, the bike just felt like it was getting worse. So then three laps to go, I'm like, it's going to be close. Then on the last lap there I was wide open and it was going nowhere. Then the thing was, I was trying to limp it home and the last lap, like I said, I was wide open and it was just kind of slipping. Then I heard the crowd go off and the flame, so I knew Eli [Tomac] was kind of right there. So, I'm like, there can't be too many people behind me. So, I'm like, f*&k it. I'm going to pin it. It doesn't matter at that point. No one can beat me other than the two guys that I was battling with anyway. So, I just went for it and she didn't quite make it. We almost got there. But, anyway, it was still my best race of the year. It was a lot of fun."
"It was tough out there tonight," Rocky Mountain ATV/MC-KTM-WPS's Blake Baggett, who finished eighth, said in a team statement. "I had good starts all night. I just rode smart in the mud and kept it on two wheels. The main thing is we are leaving here healthy and looking forward to next week at Minneapolis."
Coming off his first career podium prior to the break, Rockstar Energy Husqvarna's Dean Wilson had a disappointing finish in Seattle, with a ninth. "Today was filled with tricky conditions," he said in a team statement. "My qualifying was good, and I ended up qualifying third. I was trying to make the pass for third in the last corner in the heat race, but I got roosted and couldn't see, then fell. I ended up seventh in the heat. I thought I had a good start in the main, but I ended up sinking in the mud, then got in a pileup in the rhythm section. I was in survival mode out there. Ninth is okay, and I'm looking forward to a dry race next weekend."
"It was a rainy day schedule, which is always difficult," Autotrader/Yoshimura Suzuki's Weston Peick said in a team press release. "I went into the heat race with ten minutes of practice. It wasn't enough track time, but given the situation, I didn't need a whole lot of time in the mud. I felt off in the heat race and did the best that I could. The track was a complete mess by the time the main event came around. It was one big rut. I made sure I didn't crash and get hurt, with the goal of moving on to the next weekend. Being from California, I don't have a whole lot of experience in the mud, so getting a top-ten was fair, given the situation."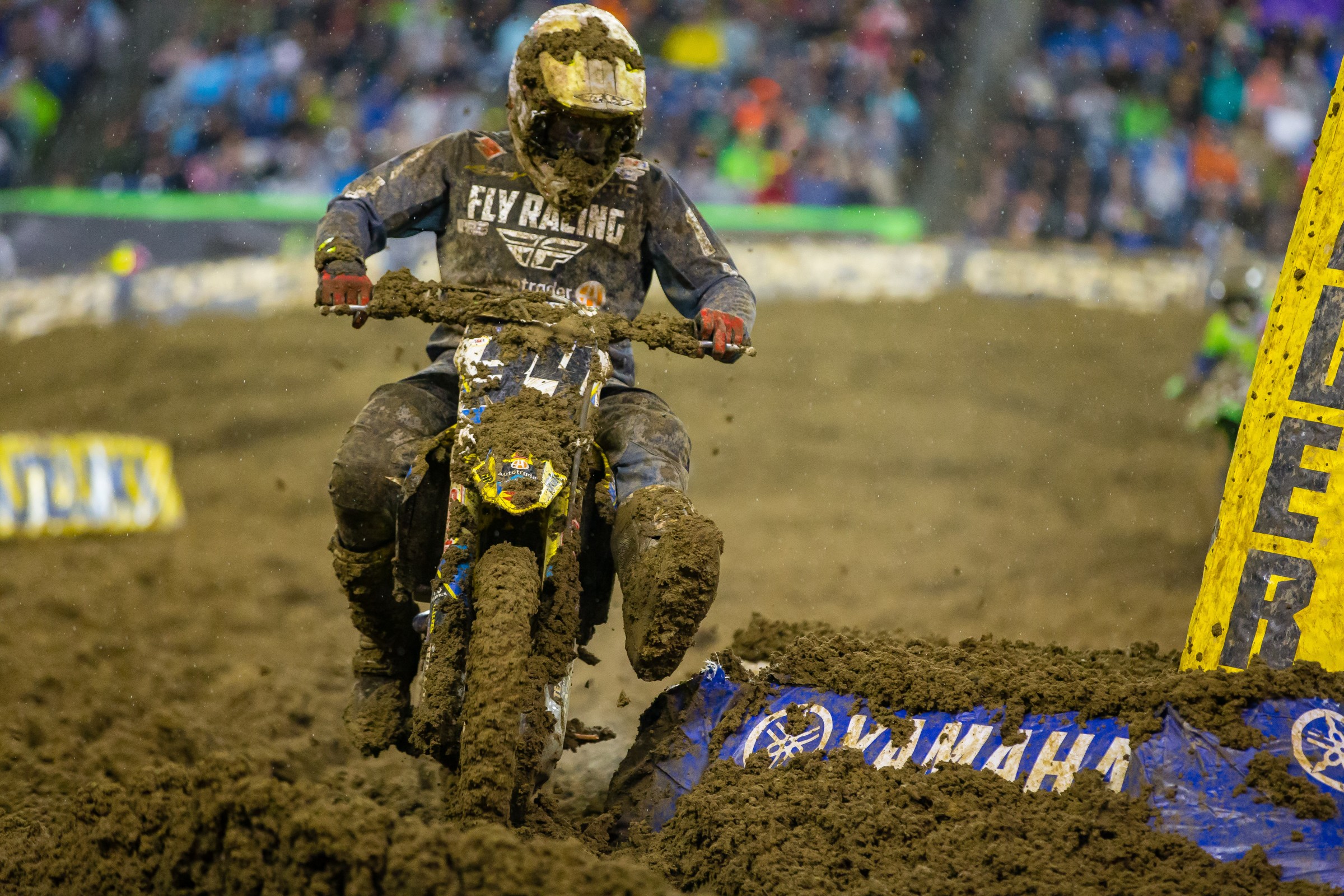 With so much mud on the track, smoked clutches were the theme of the night in Seattle. Honda HRC's Christian Craig suffered a worn clutch in the heat that forced him to go to the LCQ. With so much mud on the track, mechanics took extra measures to protect the bikes, such as installing mesh radiator covers, a skid plate, a sleeve on the rear shock, and "ski covers" on the bottoms of the forks, as well as putting foam on the rear brake pedal and under the fenders. In a team statement, Craig's mechanic Rich Simmons commented, "The ultimate goal is to try and keep as little mud as possible from packing onto the bike."
Craig also commented after the race in a team statement, saying, "It was a pretty crazy night. Coming into this weekend, everyone knew it was going to be muddy based on the forecast all week. Knowing that, I tried to be open-minded, but man, it was a tough day. Qualifying went well with the one practice we had. I got seventh and was actually having some fun out there. In the heat race, I didn't get a great start and then just wore the clutch out too much and came to a stop, so I wasn't able to finish the race. I was really frustrated after that. I went into the LCQ, which was pretty nerve-racking because you put so much pressure on yourself to make sure you transfer. Nobody wants to be in an LCQ, but then you add mud, making it more challenging, and anything can happen. I had a terrible gate pick in the main, but got a relatively decent start. I made some mistakes early on and slipped back, then had to pull my goggles off a little over halfway through the race. Towards the end, I started clicking off some good laps and was able to make last-minute passes, putting me in 11th. It's still way off from where I want to be, but I'll take it and am happy to get out of here with a decent result, considering the conditions."
H.E.P. Motorsports' Cedric Soubeyras was left without a bike when the Nut Up/LVN 100 team turned around after the truck was stopped from entering the pits. H.E.P. Motorsports and Autotrader/Yoshimura Suzuki's stepped up to get him on the track, where he finished 13th. In a team press release, Soubeyras said, "I can't thank the guys at H.E.P enough. They came a long way to make it happen for me. It's like a dream came true. I still can't believe it. It makes me realize that anything good can happen from any unfortunate situation. Giving up is never an option. I will do my best to make the H.E.P team proud. That's the least I can do." After the weekend, the H.E.P. Motorsports team announced that they will be adding Soubeyras to the team for the remainder of the 2018 supercross season.
Rocky Mountain ATV/MC-KTM-WPS's Benny Bloss had to go to the LCQ in Seattle, where he picked up the win and a transfer to the main. In the main, he tangled with another rider at the start of the race and came back to finish 14th. In a team statement, Bloss said, "My night was okay. It felt good to get that LCQ win, but my main event didn't go so well. I am looking forward to these last four races and finishing the season off strong."
"It was good to be the second-fastest qualifier in the practice session. I struggled in my heat race a bit because I haven't used goggle roll-offs since 2012. Still, I rode well and knew what I was capable of," Autotrader/Yoshimura Suzuki's Malcolm Stewart said in a team statement. "Then in the main event, I went down in the second corner. I pretty much came from last place to eighth, made a mistake, and remained inside the top ten until the last lap. I lost my clutch due to the difficult conditions, but that was the case for most riders. We'll move on to Minneapolis and the final Triple Crown event of the series. Overall, I had fun at Seattle. I sure am sore from racing in the mud! I used every single muscle in my body. Even though the race was shortened up, it felt like I was out there forever."
Monster Energy/Factory Yamaha's Josh Hill filled in for the injured Justin Barcia last weekend. It was Hill's first race since 2015. He ran fourth early in the main event but crashed and finished 21st. "The result on the whole wasn't great, but the day on the whole was awesome," he said in a statement. "It was so good to be back on the gate racing with the world's best. I got off to two really good starts on my YZ450F, and it felt so good to be mixing it up with the top guys again. I had a small tip-over when I was running fourth in the main, but all in all, I'm just happy to be back and happy to be under the Monster Energy Yamaha Factory Racing tent." Barcia will make his return to racing this weekend in Minneapolis.
Monster Energy/Yamalube/Star Racing Yamaha's Aaron Plessinger extended his 250SX points lead to 17 points with his fourth win of the season. During the post-race press conference, he commented, "It's awesome to see everybody here in the rain sticking it out. It tells me that they're real fans and they want to see their guys race. It's pretty awesome just to see them out here and sticking it out for us…. You could tell even by watching the TV—when anybody sat down, their bike would just go all over the place. My dad always yelled at me when I took my feet off the pegs, so I try not to do that anymore."
GEICO Honda's Chase Sexton picked up his third podium of the year and his best supercross finish to date with a second-place finish. In a team press release, he said, "Yeah, the track was pretty gnarly. I was expecting a little gnarlier in the main. I actually thought the main was better than the heat race. First time riding a supercross track in the mud was definitely new to me. I was looking forward to it in practice and then went out there and qualified like 16th, so I was a little bummed. The heat race was good. I threw it away in the last lap and the main event obviously was good. I got a good start and just pretty much tried not to fall."
"I really want to get my first win of the season, but in a night like tonight I'll take a podium," Monster Energy/Pro Circuit Kawasaki's Adam Cianciarulo said in a team press release. "We get another couple weeks off, and my goal is to finish strong. We're 17 points back, and we'll do everything we can to be in contention at the end." Cianciarulo moved his way into second place in overall standings after his teammate Joey Savatgy had a bad finish in Seattle.
"It was a solid race," Rockstar Energy Husqvarna's Mitchell Harrison said following a seventh place finish. "I got a good start and rode really well. I just messed up a little at the end of the race. Overall, I feel more confident. I know it's a mud race and anything can happen, but I feel like my mentality is a lot stronger. I had two good starts, and I'm going to move on to Salt Lake.
"What a crazy night of racing," 51Fifty Energy Drink Yamaha's Kyle Chisholm said after the race in a team press release. He finished eighth. "It was pretty stressful only getting to see the track one time before the night show, but we had to make it happen from the get-go. I was moving up in the heat but had a small mechanical [problem], which the team was able to fix in time. We qualified, and once again I felt like I was moving forward, but the main was cut short. I felt like I had another position or two in me, but in conditions like this, I'm happy to come out in one piece." Chisholm was another rider who suffered a burnt clutch in the heat while running fourth, forcing the mechanics to replace it in a short turnaround before the LCQ. Chisholm qualified to the main in third and finished the night in eighth.
Autotrader/Yoshimura Suzuki's Justin Hill finished ninth on the night. In a team statement talking about the weekend, he said, "I had press day on Thursday, which was a lot of fun. I did everything from live television to radio, Skype and every interview in between. I even had the chance to catch a fish at the world-famous Pike Market. I also played an open mic night, which was a cool experience. As for the race, it was a complete mess. I haven't ridden anything that difficult in years. In hindsight, I should have flown home to Oregon before the race and ridden in the mud to brush up on my mud skills. I'll do that next year if they're predicting rain in Seattle. The hardest part of the track was the whoops, but then they cut them down. The switchback section before the finish line was gnarly. Everyone had to race the track, but I'm rusty in the mud."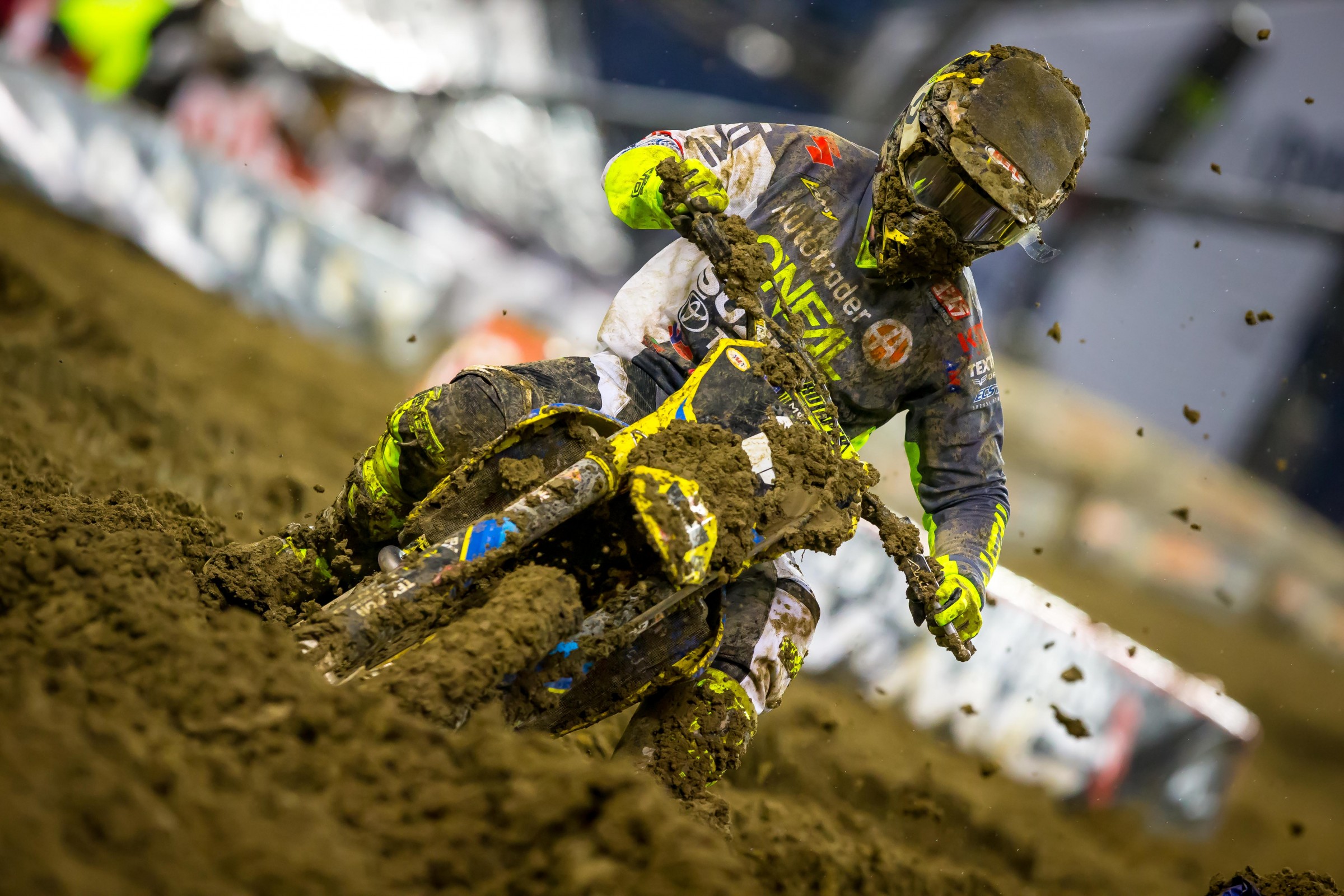 "After everything that happened today, I'm glad to come out with a top ten," 51Fifty Energy Drink Yamaha's Hayden Mellross said in a team statement. "I dislocated my shoulder a week ago and have been working really hard to get the mobility back in it. Tonight was a good test on it, as these conditions really work your physical and mental fitness. The bikes held up well all night, and despite the muddy track, we were able to hang with some of the factory guys. I'm ready for another week of training and hopefully better conditions at the next one." Mellross finished tenth on the night.
Autotrader/Yoshimura Suzuki's "Filthy" Phillip Nicoletti picked up his first heat race win ever in the mud. He was running fourth in the main before briefly getting stuck in the mud and losing a bunch of positions. "Practice went okay for me. The unseeded 250 session was faster because the track hadn't broken down by that point. I had a decent start in my heat race but crashed in the first turn. Then I tipped over again, but told myself to ride normally and not rush anything. I picked off a bunch of guys and won my first 250SX heat race, which was cool. I had the second gate pick for the main event and the same mentality that I did in my heat race. I had a good start and put myself in position for the best result of my 2018 season. While pressuring for fourth place I pushed too hard, went off the track, and ended up getting stuck in the mud off the side of the track. I used a lot of energy. It was like I was bench-pressing 550 pounds of weight and doing it 50 times. I was spent. It wasn't what I wanted to happen, considering I knew what I was capable in those difficult conditions."
Monster Energy/Pro Circuit Kawasaki's Joey Savatgy came into the weekend nine points behind Plessinger in points standings in second place, but after finishing 12th in Seattle, he fell back to third and 24 points back. In a team press release, he said, "I put myself in good position on the start, but a little mistake turned into a big one with those track conditions. I didn't want to give up and tried to make up as many positions as possible in the shortened race. Anything can happen, so we won't give up until the checkered flag in Vegas."