Seattle, WA
Seattle
Monster Energy AMA Supercross Championship
While qualifying for every 250SX West Region main event—and one 450SX main event on his practice 250—thus far in 2018, AJE Motorsports' Justin Starling had yet to crack the top ten. With his season-best finish being two 13th-place finishes in Glendale and Oakland, Starling came into round 13 of Monster Energy AMA Supercross (the eighth round of the West Region) eager to race in the mud. When the checkered flag waved during the 250SX main event, Starling would cross the line in fifth place—a career best and his first career top-five.
Still "stoked" from his night in the Pacific Northwest, we decided to catch up with the rider out of Florida to talk about his career-best finish, racing in the mud, and how he hopes the rest of 2018 to go.
(Note: This interview was conducted via iMessage and has been lightly edited for clarity.)
Racer X: Justin, congrats on the top-five finish in Seattle. You have some time to chat about it?
Justin Starling: Wheels! Yeah, thank you! I'm still pretty stoked on it. And of course, always down to talk about a great finish! Haha.
That was one helluva day from the beginning. Did the conditions bum you out, or were you stoked on it?
No doubt, when I found out it was going to be a mud race, I was stoked. I love the mud, and especially on a supercross track. It was a great day from practice all the way through the night.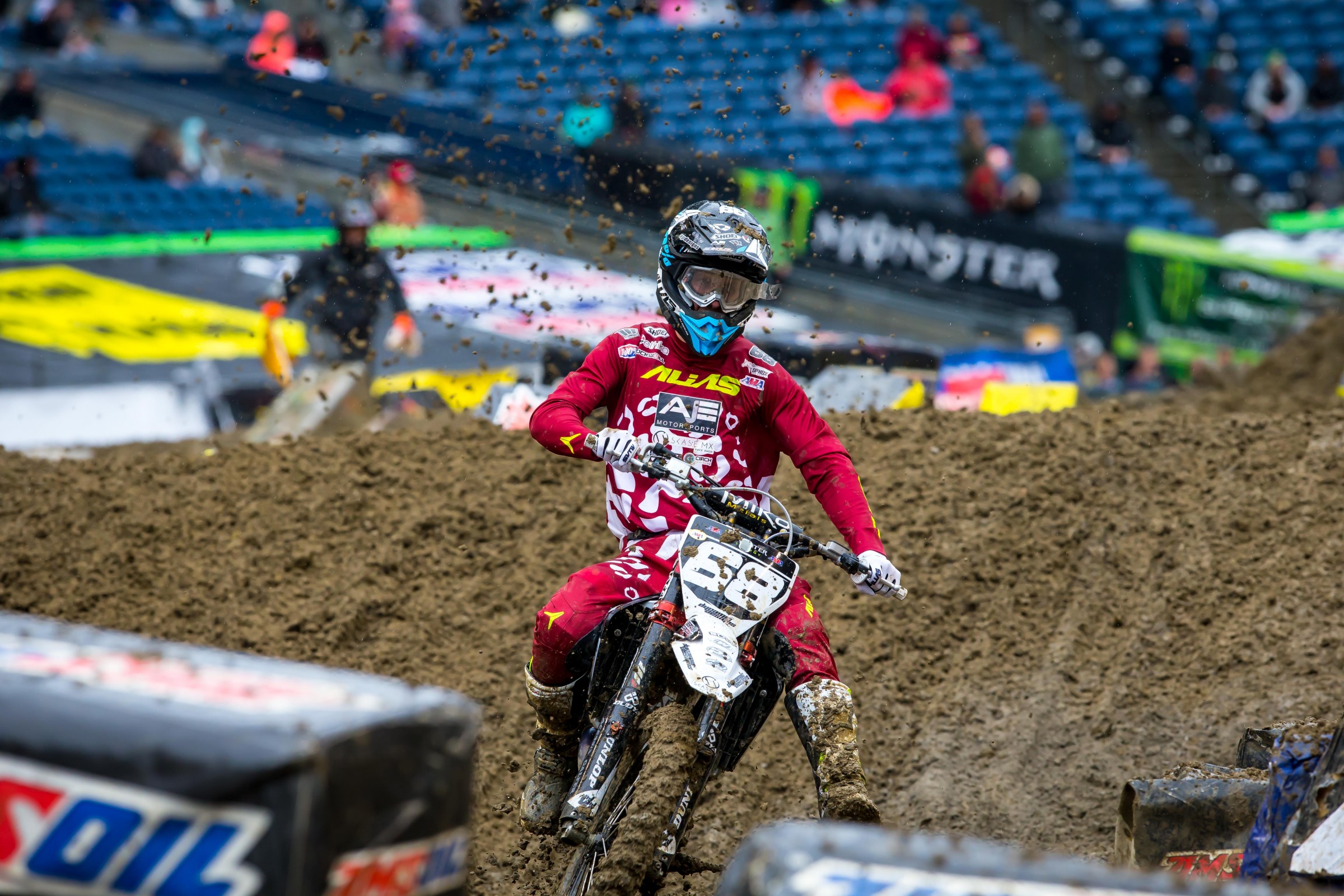 Being from Florida and growing up racing pretty much all of the amateur Nationals, you've had a lot of experience in muddy races, right?
Yeah, definitely. I've grown up riding mud and a lot of amateur races were muddy, so it's just natural to me. The summer in Florida, it rains nearly every day, but we still ride regardless.
Due to the conditions, there was only one practice/qualifying session. How nerve-racking is that?
Well, Seattle last year was nearly the exact same schedule. Only one practice time. But with it being muddy, I was excited about it—just full send first lap.
Was that the mentality anytime you were on the track? Send it and see how it goes?
[Laughs] Kind of. When I was sitting on the gate for the heat race, my mood was just laughing and watching the disaster in heat one. I knew I couldn't exactly just send it because I would crash, so I just tried to relax, stay off the clutch and be smooth. I don't think I was ever full-throttle besides on the start.
From a spectator standpoint, I know how the track developed from qualifying to racing, but talk about it from your perspective—before we even get to the main.
The track changed dramatically from each practice session. I mean, I was P6 in 250 Group A and I was still 11th overall after Group B and still one full second faster than [Jason] Anderson, who was first in 450 Group A. So, the track was just getting worse and worse by the second. I don't think they even hardly touched the track from practice to the heat races, to be honest. It looked hammered before heat one even went out.
Let's talk about that main event. Describe those eight minutes plus one lap as best as you can.
Well, I didn't even know they shortened the race, to be honest, but I had a decent start. I think I was 11th and I worked my way up to seventh on lap one and I tried to make a pass on AC [Adam Cianciarulo], but he just completely leveled me going up the finish line face. My bike was like upside down on the Tuff Blox. I wasted no time getting up, but I tried to be calm when picking my bike up so I didn't make it worse or get stuck. But I was able to get going around 13th place and I just started working my way forward. I had no idea what place I was in, but I knew I was doing okay because I was right behind [Mitchell] Oldenburg and AC and [Kyle] Chisholm. I made my way past Chisholm and Oldenburg fairly quick and just tried to follow AC, but he took off pretty quick. I went across the mechanics' area on the last lap and saw I was sixth and I was stoked, then I passed [Mitchell] Harrison on the final straight and went over the finish and saw myself on the board in fifth and just lost it. I was stoked!
How stoked? One to ten, go!
Easily 11—that stoked! I was a little bummed in a way because I definitely feel I could have been on the box, had I not crashed, but it what it is. I'll still take my fifth!
Prior to Seattle, your best finish was a 13th. Was a top-five finish even a goal for this year? Kind of talk a little bit about how the year has gone—eight 250 mains and one 450 main on a 250. It's been solid so far, huh?
The first six rounds, we struggled really bad with certain items on the bike. I was struggling so bad with it that my results were horrible and I was surprised I was even making mains. We finally said we were done with them, switched to what we knew worked, and it showed by making a 450 main out of the heat race on a practice 250. So, I knew going into the last four rounds I would be much, much better, and I just wanted to be top ten. Indy, I kind of write off because I just rode horrible. But I knew with the mud and being back on my race bike that I could be up front, and I honestly said I could podium. So to get fifth, I wasn't surprised—more just like "finally." It's been a good year, but I want more. I wish the series was longer because I just now feel like I am getting stronger and better.
It goes without saying, then, that this top-five motivates you for the same result—if not better—in dry conditions?
I want to be on the box. I have the fitness and speed and bike for it. I know I am a top-ten guy, I just need to do it more than twice. I have the confidence and everything it takes. I'm going to practice a lot of starts before SLC to make sure I start up front and put my AJE Motorsports 250 back in that top five, regardless of track conditions.
Looking forward to seeing it. On that note, who would you like to thank before we wrap this up?
Thanks, me too! I would like to thank my whole team, AJE Motorsports: Tony, Nate, Duke, Matt, Keith. They have all been so amazing this year and I am so thankful for everything they do for me every single day. Hannah Hodges, Jake Taylor, The MotoShopLLC, Alpinestars, Shoei, 100% Goggles, ALIAS MX, Ethika, EVS, Soul Beach Cruisers Skasè MX, Husqvarna, ENZO, Dunlop, Premium Motors, Pro Circuit, X Trig, Mika Metals, Rekluse, DT1, Renegade, Dubya, Galfer, Acerbis, P3 Carbon, Maxima, CWI, Dynamic Designs, Web Cam, Nihilo, Raw Auto World, Cometic Gasket, Wossner, Screwie Lewis's, Muc Off, Engine Ice, and anyone else and everyone else involved with the AJE Motorsports team and myself. Ready to finish off the SX season strong!