Seattle, WA
Seattle
Monster Energy AMA Supercross Championship
Last weekend's mud-fest in Seattle could have been a golden opportunity for Marvin Musquin to gain big points on championship leader Jason Anderson. With a 35-point deficit entering the weekend, Marvin's only chance was to win races and hope for Anderson to either crash or have some sort of mechanical problem. Mud creates a good chance for that kind of chaos to occur. After Marvin's heat race win and knowing the task at hand, I fully expected Marvin to make the most of the main event. He didn't have much to lose at this point and entered the main event with a 36-point gap to Eli Tomac behind him.
For Jason Anderson, he was in the exact opposite position as Marvin Musquin. He entered the main event with a 35-point lead and only five rounds to go. He doesn't need to win races, even though I am sure he would love to. He just needs to avoid catastrophe, keep a keen eye on Marvin's progress, and sail this ship into Las Vegas ideally with a 27-point lead. In that situation, most riders would subconsciously ride conservatively. It's just human nature to reduce the chance of a crash or big problem. That's what was so weird about Seattle's main event. With Marvin's need to win and gain every single available point and Jason's need to keep stability and the status quo, most would predict an all-out effort from Marvin and a safe, take-no-chances ride from Jason. We got exactly the opposite.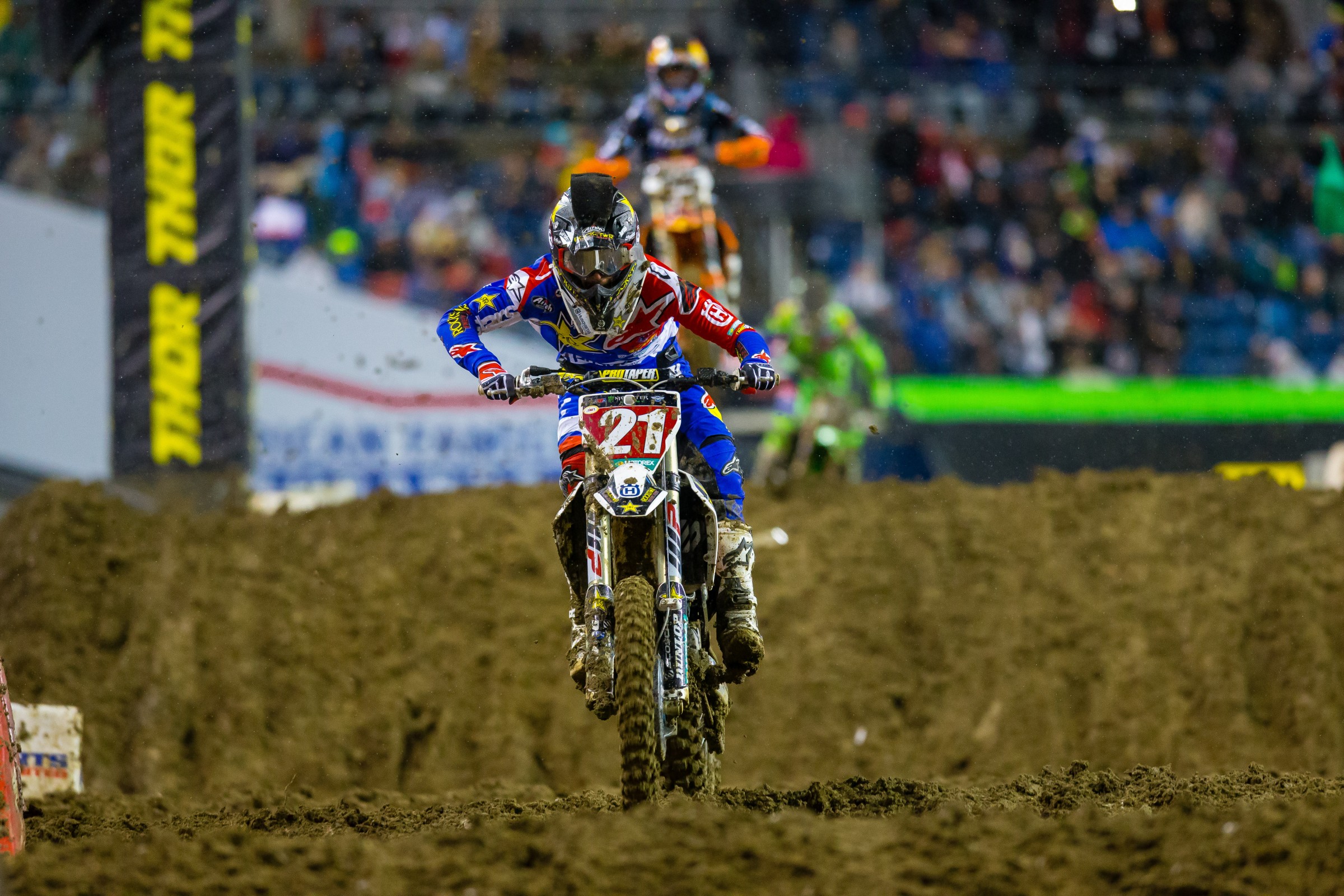 With Jason and Marvin first and second on the first lap, I looked for Marvin to go for the win and make a big push early. Inversely, I expected Jason to take advantage of his lead and put in a safe podium ride. As we now know, they didn't have the same plan. Jason had everything to lose by taking big chances. He was aggressive and pushing the edge, though, and also pushing himself to a big lead in the process. He had dropped the field, and by the time Tomac got into second place, the gap was already ten seconds. The points leader, with all of the pressure and logical reasons to take it easy, set the fastest lap of the race and looked to be riding carefree. That loose riding caught him on lap six, though. He cross-rutted in a rhythm section and went down, handing the lead to Eli Tomac. Jason got up and charged hard, closing the gap down to Eli on the next lap, but a few mistakes would separate the two. It was a strong ride for the #21, and although he didn't win, he increased his points lead and left no doubt that he was still willing to be aggressive.
For Marvin, it was, well…strange. He rode well, so don't confuse my intention here, but it wasn't an effort indicative of the urgency he faces. I am not sure if he was hoping Anderson would throw it away with the torrid pace or if he just didn't have the pace himself. I just didn't see the aggression and necessary intensity that I expected to. He started right behind Jason in second place, presenting a great opportunity to go to the front early. Jason sprinted early with a 1:14 on lap one and the best lap of anyone with a 1:13 on lap two. Marvin simply wasn't able to answer that, turning in a 1:18 and 1:19, respectively. Looking up on lap three, he was already over ten seconds behind the leader, whom he desperately needed to beat. It wasn't a bad ride—it just wasn't what he needed. Logic would have Marvin putting in the heroic 1:13 and Jason playing it safe with the 1:19. Strange stuff. It wasn't until lap four that Marvin put in his best lap of the race with a 1:17.928, and even that was slower than Jason's 1:17.796.
Now, some will say that Anderson was pushing way too hard and a crash was inevitable. That crash could have cost him the race and huge points, yada yada. I think that's a fair theory, and I think Marvin might have had this in the back of his mind as he watched Jason sprint off into the rainy mess ahead of them. The problem was this: Even when Jason had his crash and at his worst of the race on lap six, he was still able to manage a 1:28 lap time. That was really Marvin's only chance at redemption. Instead of a flier lap that could bring him back into the fray, he was only able to log a 1:25 on lap six. Even after the crash, Jason put in two consecutive quicker laps that stretched the gap another seven seconds between the two. Marvin rode safely to a podium, and a podium is always nice, but his pace was nowhere near that of Eli or Jason. His best lap was over four seconds slower than the top two, and while it was indeed the third-best lap of the field, he needed more if he wanted to threaten for a win.
This all may sound like I am down on Marvin and his ride. That's not true at all; in fact, I am trying to look for ways to him to climb back into this title fight. I really thought the mud would give him a big chance to take a serious swing at the points. In 2006, a muddy Seattle created chaos for Ricky Carmichael, and while he salvaged a third place, it nearly cost him the title. James Stewart and Chad Reed capitalized on Ricky's struggles, and I thought maybe Marvin could repeat that dynamic. Week after week, Marvin's time is running out. Jason should be credited for staying on the offensive, too. While Marvin is clamoring for any sign of championship life, Jason is slamming the door shut. Sometime in the next couple of weeks, Marvin will either need to crowbar that door open, or Vegas will be a very relaxed weekend for the Rockstar Energy Husqvarna team.