Seattle, WA
Seattle
Monster Energy AMA Supercross Championship
Some interesting stories from the Seattle mud—and even the pits. These interviews will give you an idea. First, Phil Nicoletti finally had some good luck for once, as he somehow came from a first-turn crash and a huge deficit to win his heat race, the first such win in his career. Of course, the black cloud returned in the main when he got stuck in the mud and had to push his bike out.
Frenchman Cedric Soubeyras was supposed to ride for the Nut Up/LVN 100 Suzuki team, but we heard the team had an issue with parking in the pits and decided to turn around and leave the event. That left him without a bike—even without gear—until two other Suzuki teams pitched in to build him a bike and get him out there. He rewarded them by making the main and finishing 13th in 450SX.
51Fifty Energy Drink Yamaha's Hayden Mellross raced through a dislocated shoulder to grab tenth in the 250SX main event.
Finally, Chad Reed gave the crowd something to cheer for as he tried to nurse his smoking, clutch-fried Husqvarna to the finish. The bike finally let go in a cloud of smoke, but Reed pushed it to the base of the finish line to record a seventh place, his best result of the year.
Chad Reed | Boost Mobile CR22 Husqvarna | Seventh in 450SX
Racer X: You had a fifth place, looking good. In the end your clutch gave out, but you got seventh. Smoke show at the end. What are you going to do, right?
Chad Reed: Smoke and mirrors! I felt good all day, to be honest. It was challenging and felt like I could ride it somewhat decent. We obviously got a little bit warm [the bike] there in the heat race. I really don't know [why]. We put a clutch in it for the main event. Right away, the first lap, the thing started detonating a little bit.
You were smoking before almost anybody.
Yeah. The thing that kind of bums me out a little bit, I guess, is I was cautious and I was aware of the bike kind of already feeling hot. So, then I started to try to ride it in a way that I wasn't so hard on it. But, obviously, I could feel it getting warm. I could smell it and all those things. So, then I'm like, I was in a pretty comfortable, pretty easy fifth. Whenever I kind of got a bit of a rhythm going, I felt like I could catch [Broc] Tickle a little bit. But I kind of had to let go of that just because every time I pushed a little bit, the bike just felt like it was getting worse. So then three laps to go, I'm like, it's going to be close. Then on the last lap there I was wide open and it was going nowhere. Then the thing was, I was trying to limp it home and the last lap, like I said, I was wide open and it was just kind of slipping. Then I heard the crowd go off and the flame, so I knew Eli [Tomac] was kind of right there. So, I'm like, there can't be too many people behind me. So, I'm like, f*&k it. I'm going to pin it. It doesn't matter at that point. No one can beat me other than the two guys that I was battling with anyway. So, I just went for it and she didn't quite make it. We almost got there. But, anyway, it was still my best race of the year. It was a lot of fun.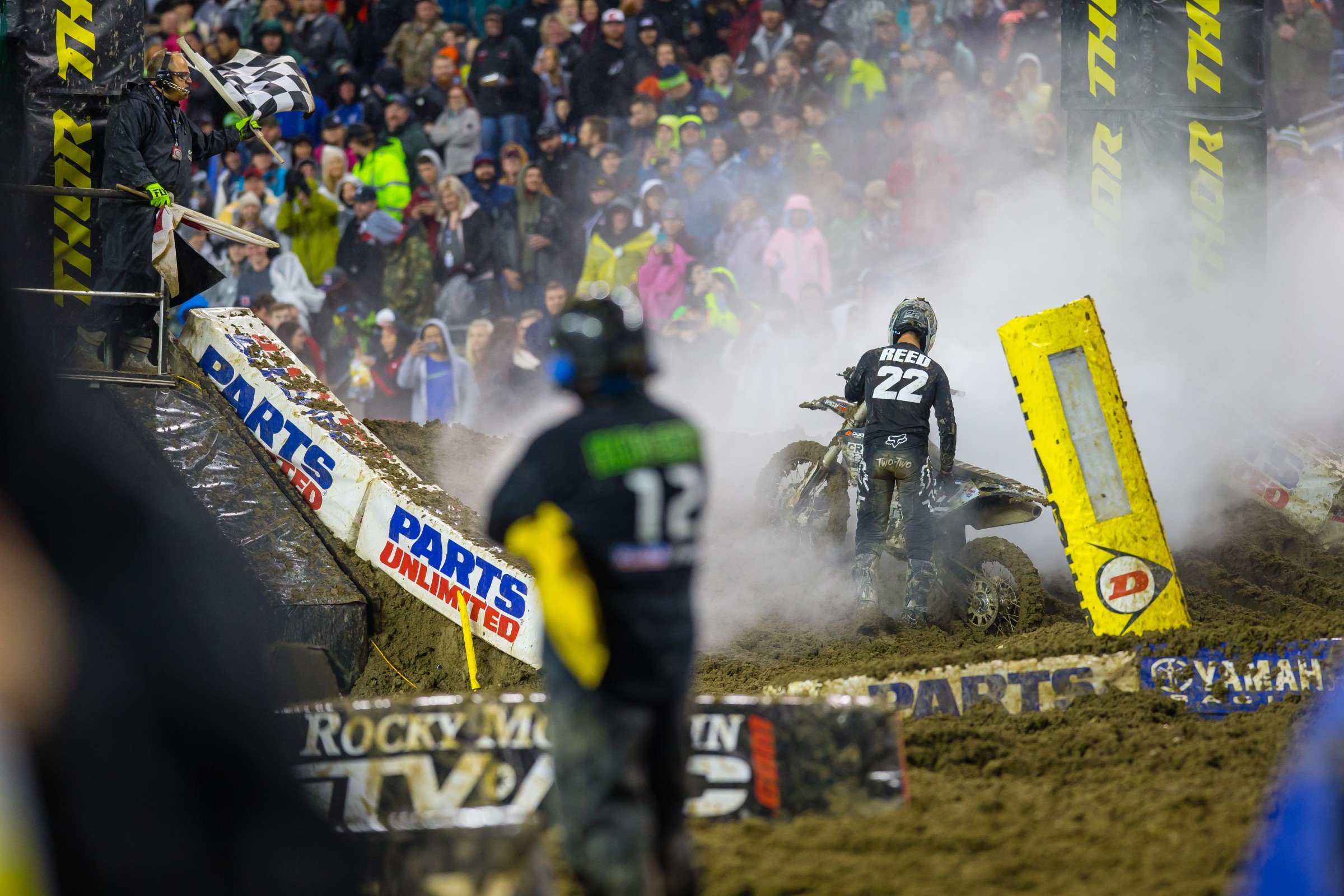 A lot of smoke. The bike locked up? You blew it up?
I don't know that it locked up.
Clutch stopped?
It didn't lock up. I'm guessing that the ring is not so much there anymore, or something happened to the piston. It didn't lock up. It just lost compression. It basically did what my engine did at Daytona that year [2008].
I was going to go back to that. What was the worst race? That Daytona or tonight? More standing water in Daytona, but you were jumping things a little bit in Daytona.
It's Daytona, right, so you're outdoors anyway. They had new dirt [here]. I would say that they had new dirt this weekend that was basically clay. So, it made it really, really challenging. It was rutty, but it had a hard base. Almost felt like Vegas a couple years ago. I would say that tonight had its challenges. Daytona is Daytona. I just think that that was so gnarly and brutal in the fact that there was just water everywhere. But the track tonight was really challenging. Right as you kind of felt like, I've got a bit of a rhythm going, you would either exit left or right. You kind of didn't really know why it happened. It was a tough race.
You made it exciting at the end. The crowd really loved it. I thought you had to get over the finish to be officially counted. Turns out you've just got to trip the transponder. So, you were good.
Obviously, I wouldn't have tried pushing it up the thing if I didn't think that…. I also had that understanding that I had to get to the top. I really couldn't see a whole lot because there was so much smoke. But when the smoke cleared, I could see the AMA guy kind of giving me a thumbs-up, so I was like, I'm guessing that I'm good. Obviously, I would have liked to have finished fifth, but we'll take a seventh and try to be better next weekend in Minneapolis. - Steve Matthes
Cedric Soubeyras | 13th in 450SX
Racer X: You were kind of the talk of the weekend with your team. You're riding for Nut Up/LVN 100 team with Josh Hansen. They decided to turn around and not come here, and then a super cool thing happened where HEP Motosports Suzuki and Autotrader/Yoshimura Suzuki got together to get you a bike. And then you make the main tonight and you do really well. You've got to be pretty happy.
Cedric Soubeyras: Yeah, I'm for sure pretty happy because how the weekend started. I was maybe expecting to watch the final in the crowd. It was unbelievable how everybody tried to help me, from all the brands and they were all behind me trying to help me because they understood the situation. When you get a guy coming from France and you have nothing here, they all helped me a lot. I can't thank them enough, especially the HEP team and also JGR [Autotrader/Yoshimura Suzuki] for all the help I got the weekend. I'm really happy because I got 13th, and this is my best result so far. I got a full standard bike, just a set of suspension, but it was a great night.
You also had to get boots, I guess, because your boots were in the truck and everything?
Yeah. I had some boots and kit and helmet in the rig, and when they turned [around], I didn't really know if I could ride or not. When I arrived there, I had one pants, two jerseys from Fox, and that's it. I rode with boots for a bigger size than what I have, actually. I was feeling really loose in it. I was tightening, tightening. There's no excuses. I was so happy to be here on the track, on their bike, especially Suzuki, and not in the crowd. It was a great feeling for me to be riding.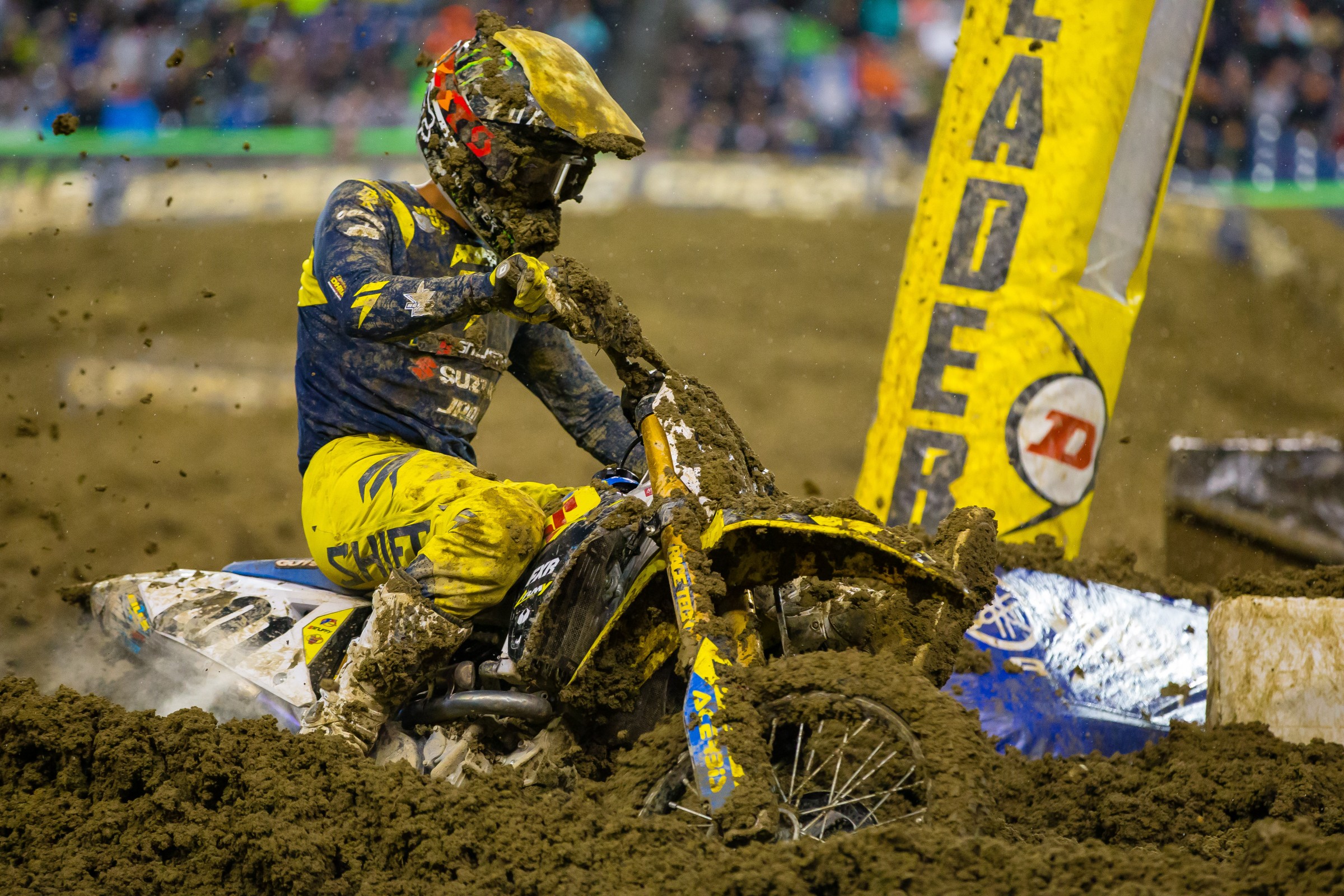 Everybody really came together. That's really cool. What did the Nut Up guys tell you about why they left? What'd they tell you to do? Did they say sorry or anything?
I don't really know what happened behind. I don't know all their finances and stuff, if they could, if they couldn't. The fact is that I was not on the entry list. For me, I was supposed to ride. They told me that they couldn't put the rig in [the pits], and they turned [around] and that's it. I didn't receive any text or call from any guys from the team. I just asked Robbie, my mechanic, if it was a joke. He said, "No, it's not. I'm sorry." I was really upset because I was feeling so great and this team, the three last week, I worked so hard. It will work in the future, I'm sure. I was really upset when I landed in Seattle.
Are you going to keep going with these guys? They had the bike built. Autotrader/Yoshimura Suzuki probably doesn't care about the parts. Have they told you after tonight anything?
At the moment, I don't know anything. Step by step.
But you have tickets for the next two races, right?
Yeah. For sure if I can ride the next week, I will be all in for this with this team. They are all behind me now. I just keep working, and it will work out for sure.
It's a really cool story. Thanks to the HEP guys and Autotrader/Yoshimura Suzuki. You rode really well tonight. It's a cool deal.
Yeah, it's a cool deal for sure. I really hope that I can finish the season to say thank you my way with the best I can. I will ride my best to show them that I deserve what they do and that they did the right decision with that. But already I thank them a lot because without them, I would be just clean tonight, maybe. But I will watch the race.
Have you ever ridden in a supercross like this muddy before?
Yeah, I was in Vegas two years ago. I qualified for the Shootout. I know these conditions. We have supercross in France from June to August. Sometimes it's raining even in the summer, so we know these conditions. I kind of like it. - Steve Matthes
Hayden Mellross | 51Fifty Energy Drink Yamaha | Tenth in 250SX
It was interesting, to say the least. Sitting on the start line, they told us they cut it to eight minutes. I was kind of hoping to have a longer one. I'm a bit of a heavier guy, so getting off the line is not my forte. I got a good jump, but as soon as I hit the soft stuff, I clicked up fast, but I got passed going down the straight. I pulled two tear-offs by the second corner! It was just hard everywhere. You aren't really choosing where you want to go; you're just going where the bike wants to send you. We stayed up, kept it on two wheels, which was good, but I think in the end I played it a little too safe. I was battling with Justin [Hill] for pretty much most of the main. I think my fastest lap was on the last lap. Too little, too late. I started finding my groove, but I think I played it too safe. If I could do it again, I'd probably send it a few seconds a lap quicker, and if I had a crash, I'd have a crash.
You're coming off that shoulder dislocation. I was surprised to hear you were even racing this weekend. Was the shoulder a hindrance?
To be honest, no. This track and these conditions actually helped. They canceled practice and one qualifying session and all I had to do was four or five laps. They also cut the main event down. If anything, everything that happened tonight benefited my shoulder. I've never dislocated my shoulder before in my life. I was racing today against my doctor's wishes. He wanted me to do therapy and take it easy.
On a track like this, where it's so slow, does missing out on practice laps even matter?
We all had a choice to do a sight lap, and none of us did. It doesn't matter, it's not like we're out there jumping triples or the first jump. We didn't have to find lines through the whoops or anything. Every line was deep, every line was wet; you just had to be smooth and that was it. It definitely was a challenging track, but having limited time I don't think mattered. —Aaron Hansel
Phil Nicoletti | Autotrader/Yoshimura Suzuki | 11th in 250SX
Racer X: I offered you a PulpMX helmet sticker deal. I offered you a bonus program, and you didn't take it. You didn't do it. Tonight you won the heat and you're really regretting it, I bet.
Phil Nicoletti: Yeah, I am. If I would have mentioned it on TV, I would have made more money than [what] my actual Pulp deal was. That's kind of a bummer. They rushed me. I only had like maybe 8.8 seconds to rattle off some bullshit. But it was good. I was bummed about the main. Obviously, I let that one go.
You got stuck. You were in fourth or fifth and you got stuck. Alex Nagy got stuck in that same spot. It took him like two laps to get out.
I pushed like a mother to get that sucker out of there. I was not going down like that. I pushed and I pushed, and I got it out. By the time I got it out, I was pretty far back. I worked my way back up to 11th and I was blown out and tired. Kind of pissed that it was eight plus one. That's kind of bogus, especially since they took the whoops out. Straightaway, straightaway, straightaway. But it is what it is. I got my first heat race win. It's cool. Kind of redeemed myself in the mud. It is what it is. The main killed me.
Mellross said he came around in the first lap and no one told him the whoops were gone and he was just like, oh! And then a guy went blowing by him.
That's a bummer. It shouldn't be like that. He probably should have known that, because the LCQ, they took them out for it.
Did you fall in the heat and still win it?
I fell twice in the heat. I went down in the first corner trying to pull a tear-off. Novice move. Went down that whole rhythm and the last jump, tipped over again. I'm like, I've got to pull my head in. Then I rode normal after that. So, it was good. AP [Aaron Plessinger] is really good in the mud, but I feel like I could still do okay. Just tonight, it was a bummer deal. I got to look at the positive about it. At least I get across the checkered in first in something. First time ever.
Did you know you who were getting third, second, first?
Yeah. After I came by, Lee [McCollum, mechanic] gave me fifth. Then, obviously, I knew I got [Dakota] Alix. Then passed AC [Adam Cianciarulo] because his bike broke. Then I knew it was [Chase] Sexton. I was like, maybe I can get him. Where he went down, he got squirrelly there three laps in a row prior to that. I'm like, maybe this would be the time, and sure enough, he tipped over just long enough for me to squeak by him. Track was gnarly. Maybe they'll try and figure out a little thing with the mains and stuff. If it's fifteen plus one, let it be fifteen plus one.
I don't really get that move. I know they were trying to avoid a storm, so maybe it was some of that. It is what it is. Once you got stuck it was downhill.
Yeah, it was over. I just rushed it. Tried to get by [Mitchell] Harrison a little too quick. I should have been a little more patient, but it is what it is.
What was your heat race bonus?
Not good. Worse than yours.
I heard from a Honda team it was three grand for them.
No, I'm not at three grand. You can see why they try and cut throats for a heat race win, though. Three grand ain't no joke. Like I said, I'm excited—two weeks off and come back at Salt Lake. - Steve Matthes